If you're interested in creating your own cute stickers or opening a sticker store online, here are some fantastic sticker ideas to think about.
Stickers are cool and can go on lots of things like water bottles and car bumpers. But how can you come up with great ideas? Can you make stickers of different types? And how do you make people want to buy your stickers?
Stay with us because we're going to provide the top ideas for stickers and answer all your questions!
Table of Contents
Idea Sources for Sticker Designs
If you want to find interesting ideas, just search on Google. But if you want something specific, consider checking out the Blinkstore print-on-demand website or marketplaces like StickerYou and Etsy.
If you are looking for the best sticker mockups, then undoubtedly choose Mockey, which is the best mockup generator right now.
Reddit and Tumblr are good places to target niche markets. They can help you discover what your desired audience wanets and what's popular right now.
What Types of Sticker Ideas Are Popular
Naturally, there are countless options available. However, some popular sticker types you can either effectively sell online or obtain for yourself.
1. Car Sticker Ideas
Windshield, bumper, and car sticker ideas have been popular for a very long time. They're still loved by many. People often use them to show off activist beliefs or politics, share funny quotes or short phrases, or even indicate there's a baby in the car.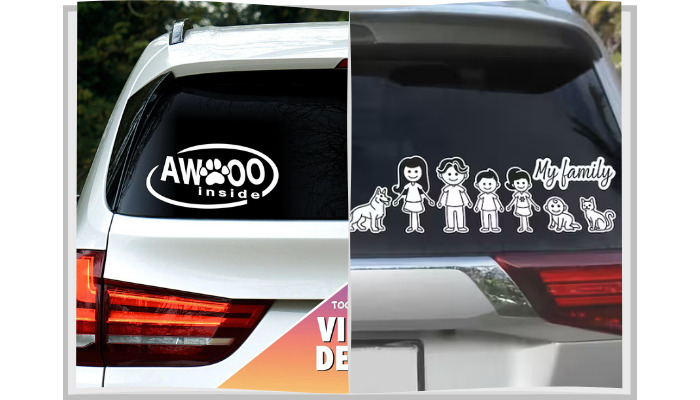 Because they usually have a lot of text, you might want to make yours unique by using custom fonts, but ensure people can still read the main message clearly.
Using plain colors is likely a good idea if you wish to share a precise message because fancy shading may not show up well in bright sunlight.
It's better to go with vinyl because people express their love towards vinyl sticker ideas.
2. Truck Sticker Ideas
Stickers for trucks are getting more and more common for showing who you are, advertising your company, or just making your vehicle look cooler.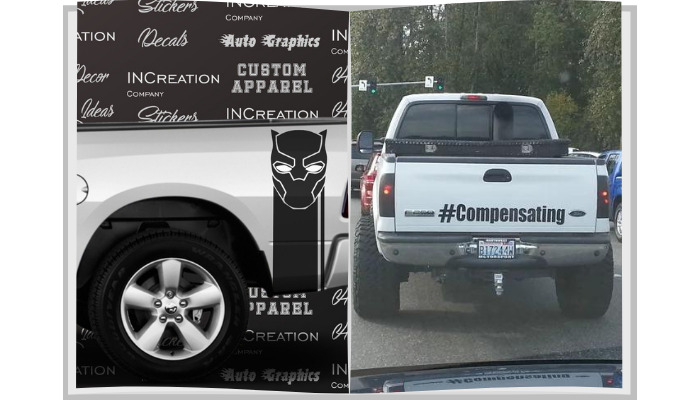 If you want to promote your business or showcase your personality, here are some fun truck sticker ideas that can help.
For business:
Branding and Logo Stickers: Display your logo and brand colors on your truck for a lasting impression
Contact Information: .Make sure your phone number and website are easy to find.
Promotional Offers: Use stickers to show when there are good deals or sales.
Reviews: Use customer reviews to create trust and credibility for your services.
For Personal Life:
Custom artwork: Decorate your truck with personalized designs to show off your creativity and style.
Travel Maps: If you like to travel a lot, try putting stickers on your truck to show where you've been.
Hobbies and Interests: Custom stickers can help you share your passions.
3. Wall Sticker Ideas
Wall decals are awesome, and they're a simple and budget-friendly way to spruce up any room. Kids and teenagers really like these designs. For design purposes, pop culture makes a lot of sense.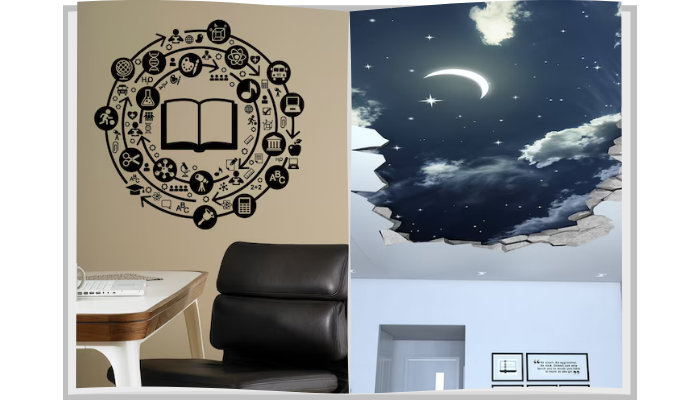 Signs with popular thoughts are like cool stickers. Choose fonts that match the place. Fancy, curly writing can be good for a child's room, but it might not be right for a genuine estate business.
In simple terms, using wall decals can help the interior design look really impressive.
You can find awesome, unique designs on the internet. If you'd like something even more special, try reaching out to your favorite artists on social sites.
4. Water Bottle Sticker Ideas
Sustainability isn't something people talk about; it's also really popular these days. Many folks are pushing to make less harmful waste, so using reusable bottles is the smart choice to stay refreshed in the hot summer.
Similar to your phone, this is an item you'll always have with you, so many people enjoy adding their own custom or DIY stickers to make their water bottles unique.
You should look for stickers that are strong and won't get wet, like vinyl stickers. They're usually smaller, so you can see the whole image without spinning the bottle.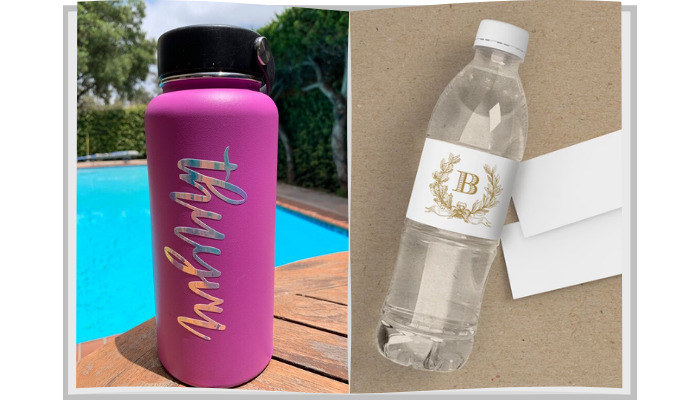 When talking about themes, no strict guidelines are there. Pictures of tropical places and adorable animals have always been popular sources of design ideas and are always a great option.
When talking about themes, there are no strict guidelines. Pictures of tropical places and adorable animals have always been popular sources of sticker design ideas and are always a great option.
Add some cool stickers to your Hydro Flask to make it look more adventurous.
5. Aesthetic Sticker Ideas
Aesthetic stickers are a cool and fun way for companies to communicate with their customers. Sticker ideas aesthetics are attractive designs, usually with pretty pictures, cool writing, and nice colors, that can help businesses market and promote their brand.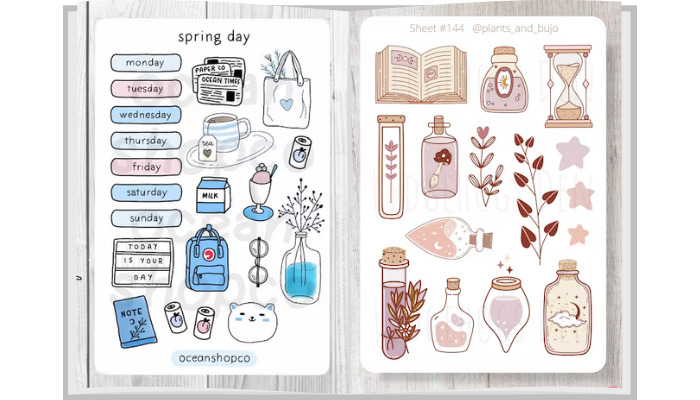 Stickers that look nice can make customers feel like they belong to a brand and want to support it.
6. Phone & Laptop Sticker Ideas
The small variation is that a kiss-cut sticker is gentler and simpler to remove, which makes them ideal for phone cases and laptops. Once you want to take off stickers, you can't really scrub away any sticky leftovers.
Many people enjoy putting unique stickers on their important gadgets to make them feel more special. They often get ideas from popular culture, like emojis and famous brand logos, when creating these sticker collections.
You can be super creative with laptop stickers and make really cool custom designs, like this awesome Spiderman sticker.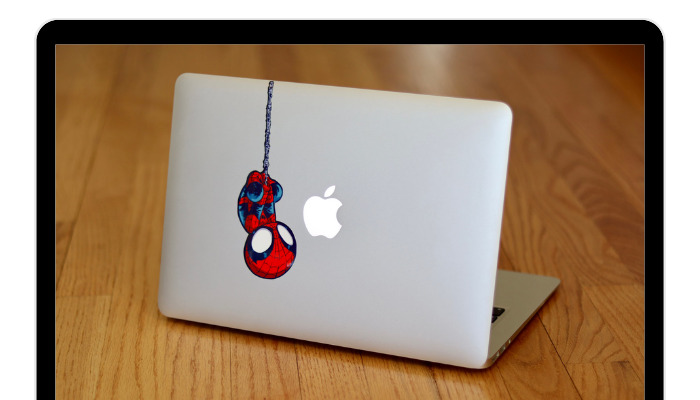 If you're searching for Macbook sticker ideas, these options are the perfect fit for your device.
7. Business Sticker Ideas
It's pretty obvious that people really like stickers! If you own a business, you can make the most of this by using your own special stickers to make more people aware of your brand.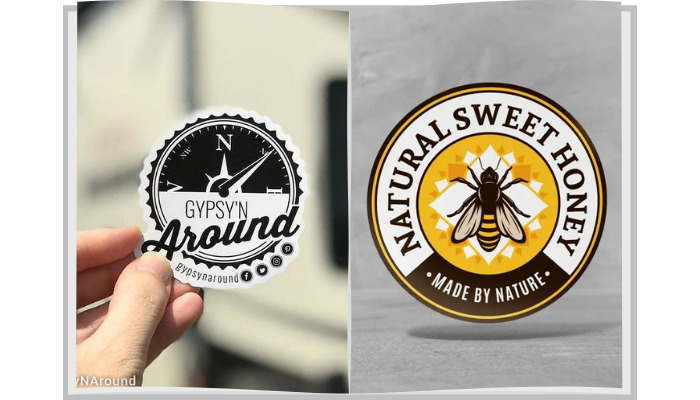 Making hats or creative t-shirt designs can cost a lot of money, but printing lots of sticker pages at once is inexpensive. These stickers can be a nice gift to make your customers happy.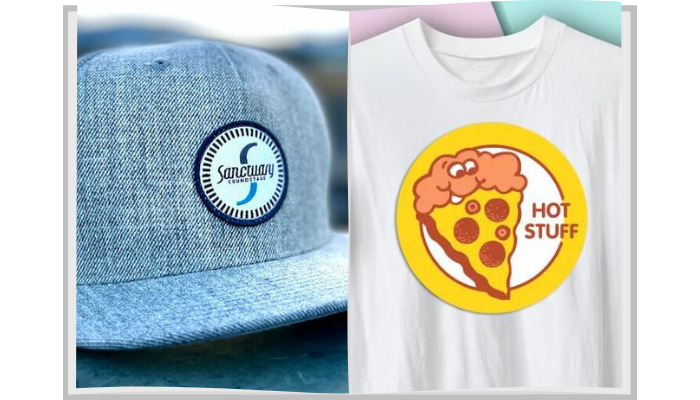 If you have a cool mascot that people know your brand by, it's a good idea to use your logo design.
You can use really good stickers to make cheap merchandise. Stick them on empty shopping bags or business cards to send a nice message to customers.
Customize stickers by adding your logo and using your brand's colors to help people recognize your brand more easily.
These are some of the best business sticker ideas that you will see anywhere.
8. Cricut Sticker Ideas
Buying a Cricut Machine is a significant decision, and making the most of this small device can feel a bit daunting.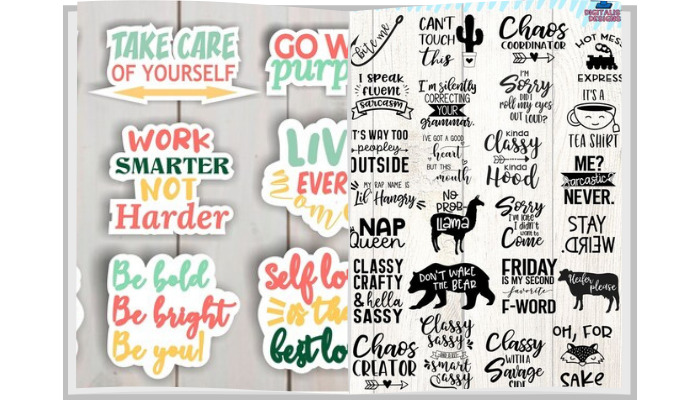 Learning everything about your machine and discovering the right cut files can be time-consuming, even for experienced crafters.
You don't need to create the design file yourself. The task has already been completed for you by someone else! Just upload your file to Cricut Design Space and then start cutting!
Our previous article covered over 100 Cricut sticker ideas that were discussed.
9. Halloween Sticker Ideas
Using Halloween stickers is a fun and creative way for businesses to connect with customers during the spooky season.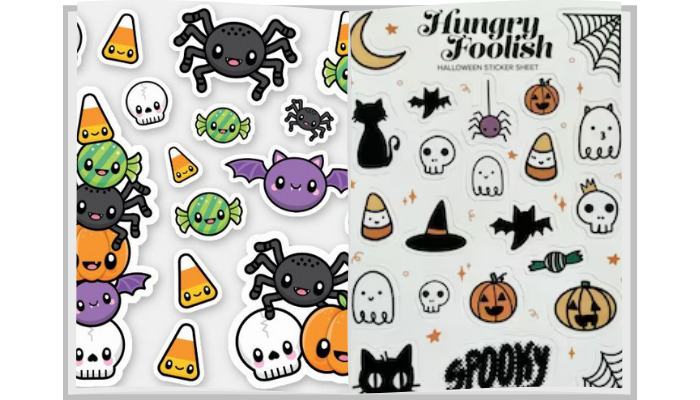 Stickers can have scary or adorable pictures on them and can be used on things, given away, or put on packages.
They make things look more fun and help people remember the brand. Using Halloween stickers in marketing can make customers remember and like a brand more, which can lead to more sales and loyalty.
10. Jeep Sticker Ideas
Using Jeep stickers can be a fun and useful way to advertise your company. You can make personalized stickers with your company's logo, contact info, or catchy sayings.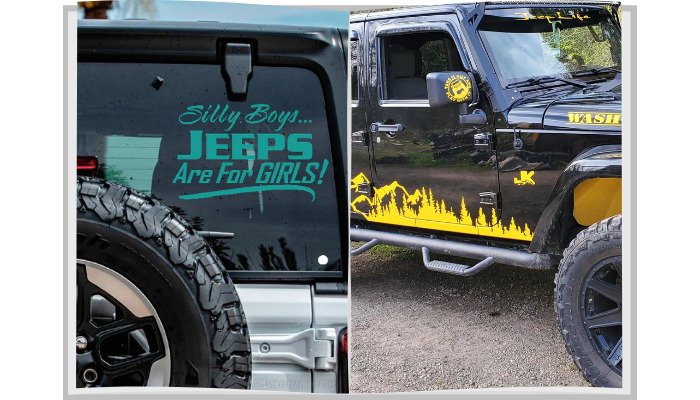 Put them on Jeeps to turn their owners into brand supporters. People who really like Jeeps tend to hang out together, and these stickers are easy to see and remember.
They can also help you start conversations and promote your business naturally.
Using Jeep stickers is a cheap and easy way to advertise and make more people know about the brand.
That's it. Also, you have the option to upload these stickers on Discord mobile while chatting with your friends.
Sell Custom Stickers Online
Determining where to sell the custom stickers and funds you're ready to put into advertising, promoting, attracting customers, and so on.
Some choices are straightforward but offer limited customization, while others let you create amazing online sticker stores.
And the best Print on demand service website is Blinkstore.
Conclusion
You can create excitement about the store and get fresh customers through word-of-mouth by using social media and discussion forums.
We want this list to inspire you when it comes to designing and using custom stickers for decoration.
If you ever require assistance with sticker mockups, our team of skilled developers is here to help. Mockey is free to use, and you can make mockups without having to sign up.
FAQs
How do you come up with sticker ideas?
We come up with ideas for stickers by thinking about what people like and what they ask for. There are Cricut, Halloween, Hydro Flask, Bumper, and funny sticker ideas to look for your business.
What is trendy for stickers?
Travel stickers are trending right now. There are so many ways to expand your love for travel! You could try exploring new destinations, learning about different cultures, trying new foods, meeting new people, or even starting your own travel blog or YouTube channel.
What kind of stickers should I make?
You can make your business more profitable by creating stickers for laptops, Cricut machines, Halloween, car bumpers, and windshields.
What are popular stickers 2023?
Square and circular stickers are traditional choices for circular designs and trendy photo stickers. However, die-cut stickers are also very popular this year and will continue to be a top choice as we enter 2023.