Discover new possibilities and create eye-catching designs with sticker design ideas.
Whether you want to put them on your product boxes or show them off at an event or even stick them on people's laptops or anywhere else, awesome stickers with your brand's cool design are a super flexible way to get your brand out there.
If you want a sticker that's perfect for you and your brand, it's best to make it look special and unique. This article will cover the top 42 trendy sticker design ideas for your business. Once you have your ideas, start creating your very own stickers!
Table of Contents
Cute Sticker Design Ideas
When we were small, it was awesome when our mom gave us adorable stickers. It felt really special! We didn't want to apply them right away because we wanted to save them for some occasion. Even now, we do that.
Stickers are not just for kids; they're tons of fun for grown-ups, too, mostly when you make them all your own. You can be super creative and design stickers that make you happy and show everyone what you love and care about. It's like spreading cheer and sharing a piece of yourself with the world!
Let's begin with bottle stickers.
1. Cute Bottle Stickers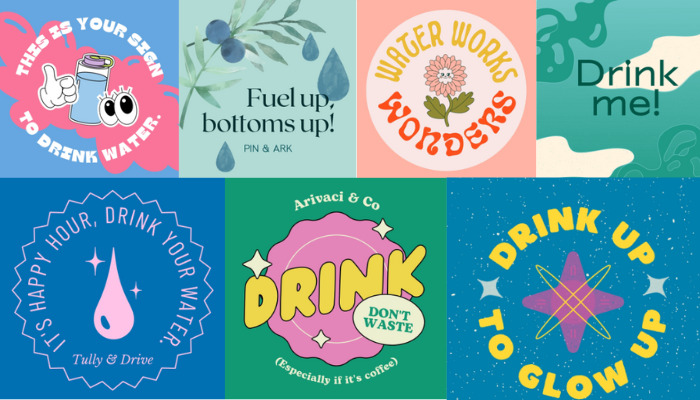 Do you know how everyone's talking about being kind to our planet and taking care of nature? Well, a lot of people are really worried about how plastics are affecting the environment.
So, when you're thinking about making cute stickers for your water bottle, you don't have to follow any rules! You can design whatever you want, as long as it's something that makes you super happy! How about creating a sticker that shows our thankful planet Earth? Because you're totally doing an awesome job at helping to save it! These cute bottle sticker design ideas can be helpful for your organization.
2. Cute Pet Photos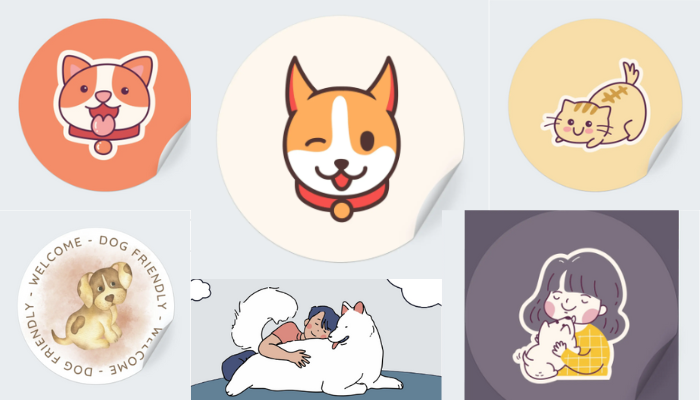 Picture this: You know those adorable photos of your pet snoozing or making silly faces? Well, now you can turn those pictures into stickers for your laptop or phone case! Imagine seeing your furry art wherever you go.
These stickers make awesome gifts for your family and friends too! People love their pets more than anything else.
3. Cute Jolly Pet Stickers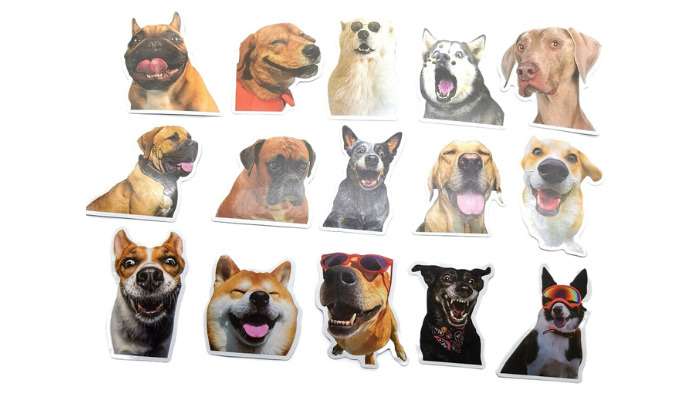 If you feel like being creative, you can make your pet's images even cooler by adding hats, sunglasses, headphones or anything you think is funny or cute. You can use some Design tools such as Canva to have some fun with it. Don't worry; it's not gonna take your time or energy.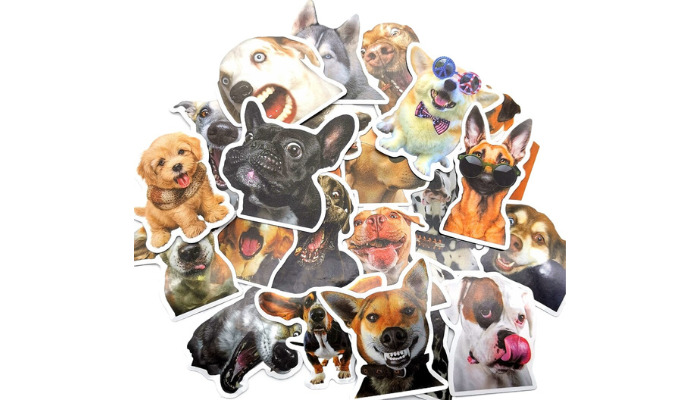 You know how much we love our furry friends, right? They're like family to us! Can you believe that in just the past two years, around 14 million new pets became part of American households? That's like having a whole bunch of dogs and 5 million extra cats, which is almost as many people as there are in New York!
So whether you've recently got a new pet or have had one for a while, let's show them some extra love with a special sticker made just for them.
Car Sticker Design Ideas
If you're a fan of vibrant colors, witty slogans, or intricate patterns, exploring car sticker design ideas can be a fun way to showcase your style and personality on the go.
4. Smiley Face Car Stickers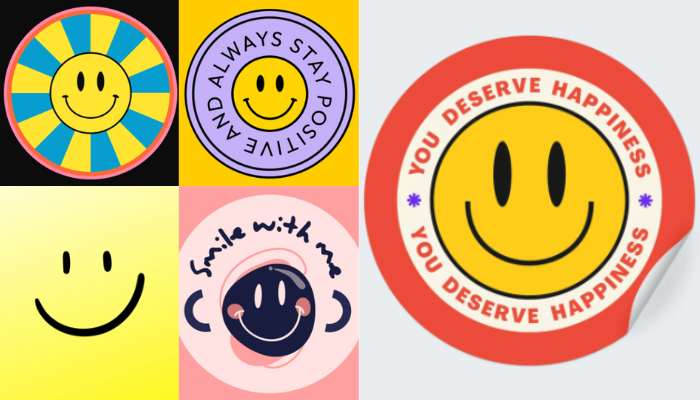 Check out these awesome smiley face car stickers! They're like happy little buddies that stick to your car and make everyone smile. Whether you're driving to school or going on a family trip, these stickers will bring a big grin to everyone's face.
They're super popular because they spread positivity and make people smile. So next time you see one, give it a big smile back!
5. Cactus Car Stickers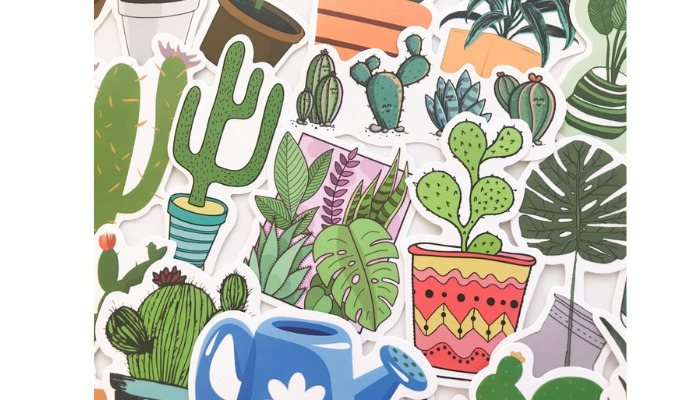 Introducing amazing cactus car stickers! They're like colorful, spiky friends that stick right onto your car. With these stickers, you can turn your plain old ride into a desert oasis on wheels! Stick them on your windows, bumper, or anywhere you want.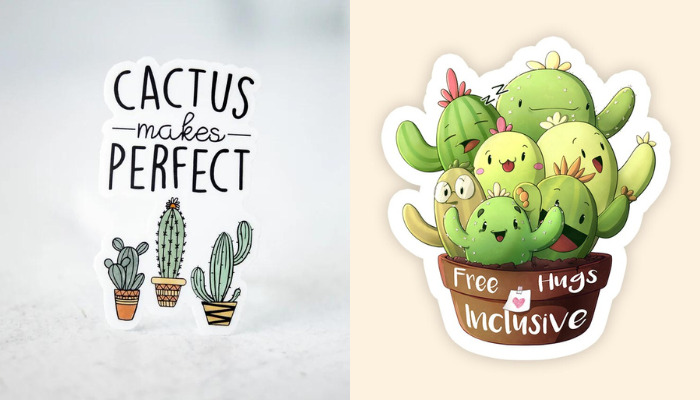 It's like having a cute cactus garden cruising with you. So, hop on the cactus craze and let your car stand out from the crowd!
6. Campfire Car Stickers
Want to add some campfire car stickers to your ride? These stickers are like little pieces of adventure that you can stick on your car and show off to all your friends. They have awesome designs of campfires, tents, and marshmallows roasting over the fire. They'll make your car look super awesome and remind you of all the fun times you've had camping.
7. Mountain Car Stickers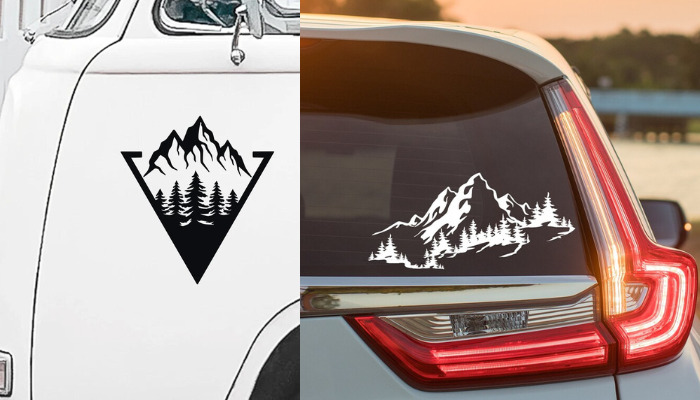 If you love mountains as much as we do, you're gonna flip for these awesome Mountain Car Stickers!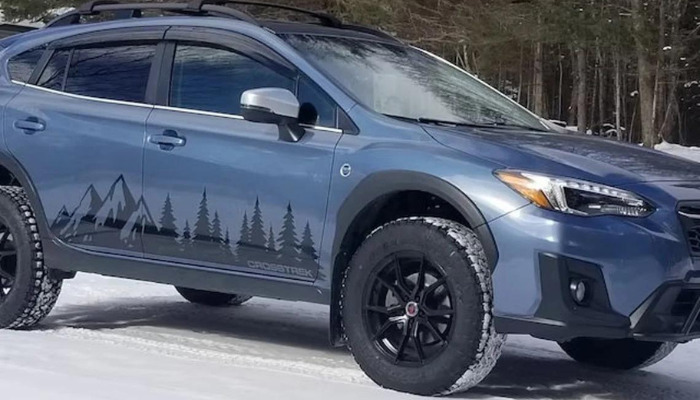 These super cool stickers are perfect for adding some wild nature vibes to your ride. Stick 'em on your car, bike, or skateboard and show off your love for the great outdoors. With vibrant colors and fun designs, these stickers are sure to make heads turn.
Nail Sticker Design Ideas
The nail sticker design ideas are here to save the day! Get creative and let your fingertips become a canvas for endless nail art possibilities!
8. Multi-colored Stripes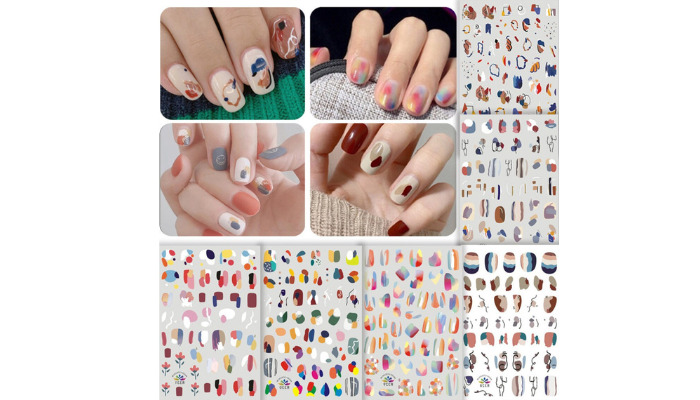 The multi-colored striped nail stickers are like a rainbow party for your nails! 🌈 You can mix and match bright and funky colors to create your own unique style. Just peel them off, stick them on your nails, and voila! Instant nail makeover! They're super easy to use, even for a kid like you.
9. Abstract Waves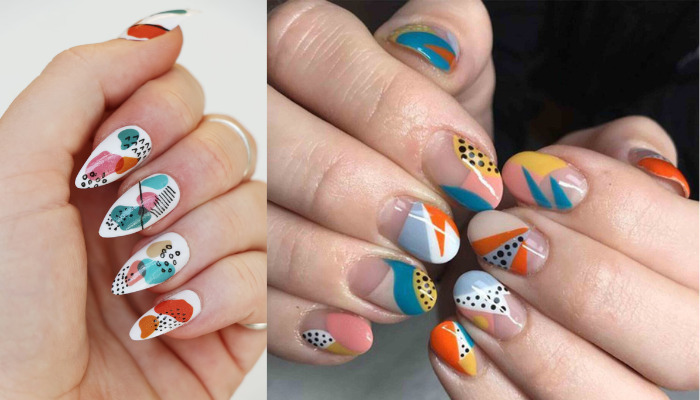 We've got just the thing for you! The Abstract Waves nail stickers are totally rad! They come in all sorts of groovy colors and patterns that will make your nails look out of this world.
10. Heart-shaped Nail Stickers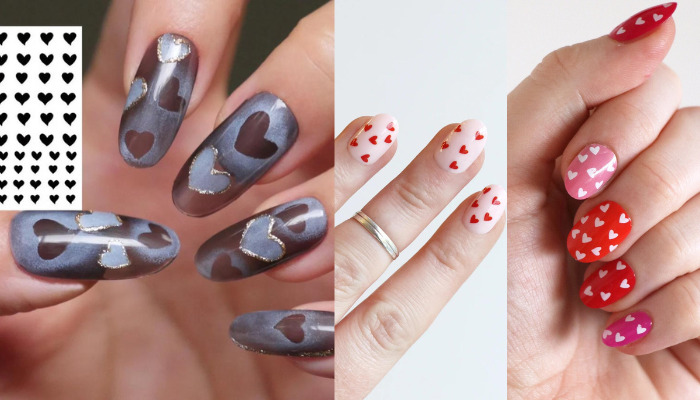 These heart-shaped nail sticker designs are perfect for expressing your sweet style!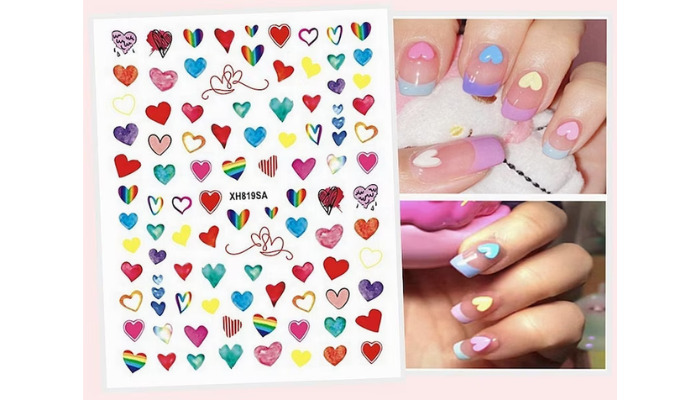 Cool Sticker Design Ideas
Here are cool sticker design ideas. Take a look.
11. Spooky Stickers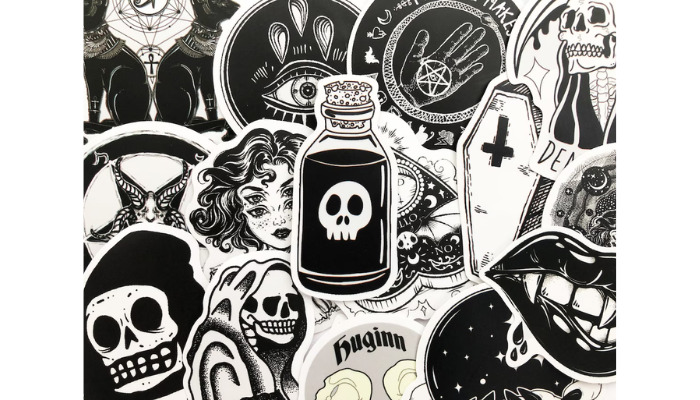 Get ready to add some spookiness to your life. You can decorate your notebooks or even your bedroom walls with these stickers. They come in all kinds of creepy shapes, like ghosts, bats, and pumpkins. Stick them anywhere you want and get into the Halloween spirit all year round.
12. Retro Stickers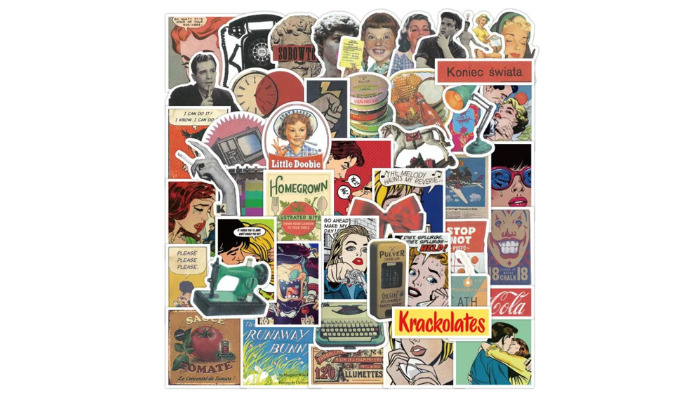 These Retro stickers are like time machines that take you back to the funky styles of the past. Whether you're into bright neon colors, rad skateboards, or groovy music, we've got you covered. Stick 'em on your notebooks, skateboards, or even your bedroom walls to make them pop with retro awesomeness. These are two cool label sticker design ideas for you.
Walking Sticker Design Ideas
Walking sticker design ideas can range from simple hexagonal pattern designs to Celtic knots, adding a touch of personality and inspiration to everyday strolls.
13. Colorful Meta-design
We really, really like this super fun and silly design with bright colors! It shows cartoon people having a blast with their walking sticks.
You can totally make your own version of this cane! It's easy to recreate this cane with acrylic paint and varnish.
14. A Clear Message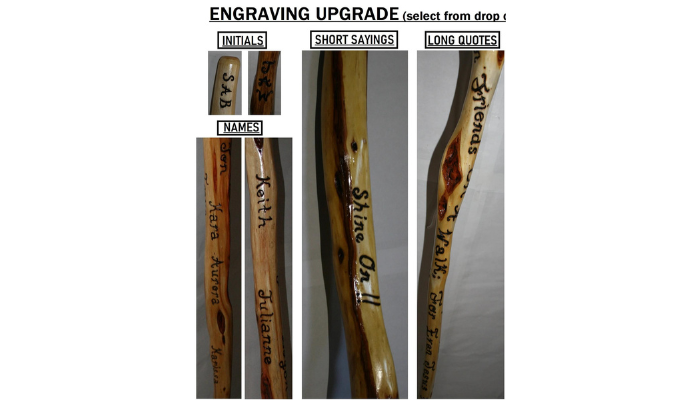 If you're not feeling creative or want to keep things simple, you can try written sticker messages instead of making fancy designs. It's a great way to make a wooden walking stick more special without taking away from its natural beauty. Even if you're just starting out with woodworking, you can easily etch your name or a nice message onto the stick to give it that personal touch.
Popsicle Stick Design Ideas
Let's talk about all these Popsicle stick design ideas, from outdoor flower pots to ice cream garlands.
15. Outdoor Flower Pot Sticker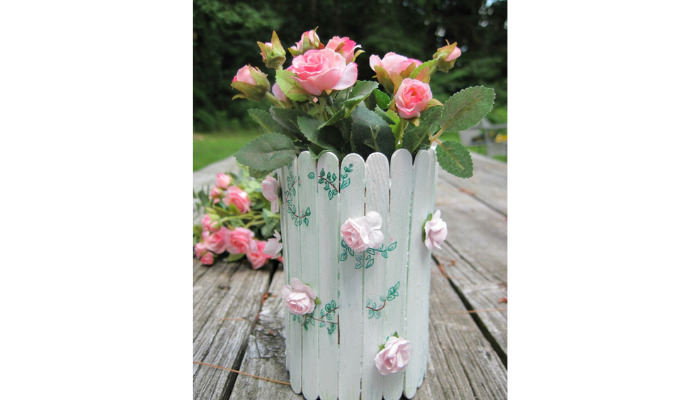 Outdoor Flower Pots Stickers – the coolest way to decorate your plant pots! These magical stickers come in all shapes and colors, turning boring pots into vibrant works of art.
16. Airplane Popsicle Stick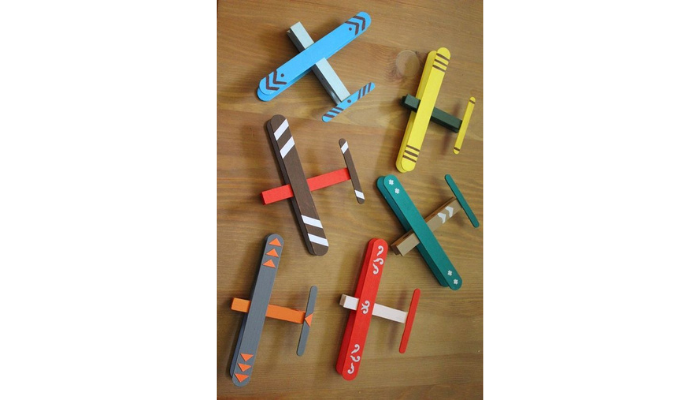 Amazing popsicle stick airplane stickers will make your planes look like they're flying in the sky with style. These stickers are perfect for young aviators like you.
17. Ice Cream Garland
These popsicle stick stickers are cute and perfect for decorating your room or party. You can create your delicious ice cream garland by sticking popsicle sticks together and adding these adorable stickers.
Bumper Sticker Design Ideas
Back in the old days, when people went on trips to cool places, they made these special stickers to get tourists excited. Let me give you an example: in the 1940s & 1950s, famous spots would make stickers with cute cats that looked just like their official signs! Here are the top 5 bumper sticker design ideas for you.
18. No Kids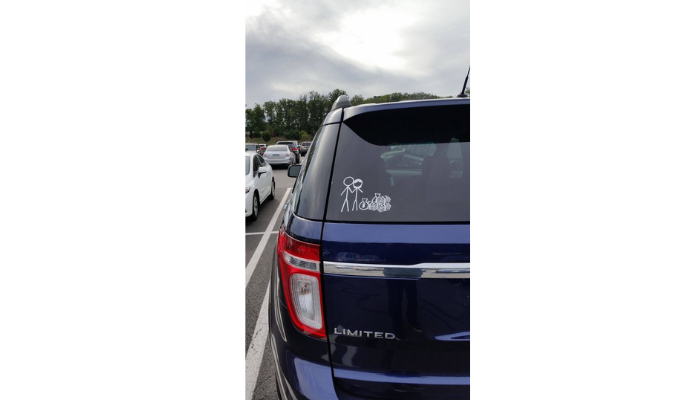 19. Watch Out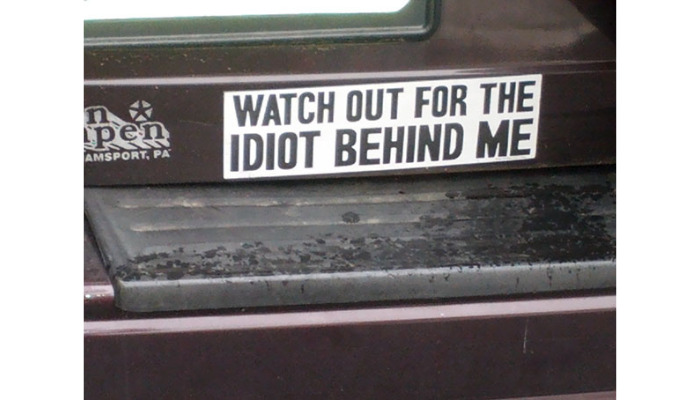 20. Superheroes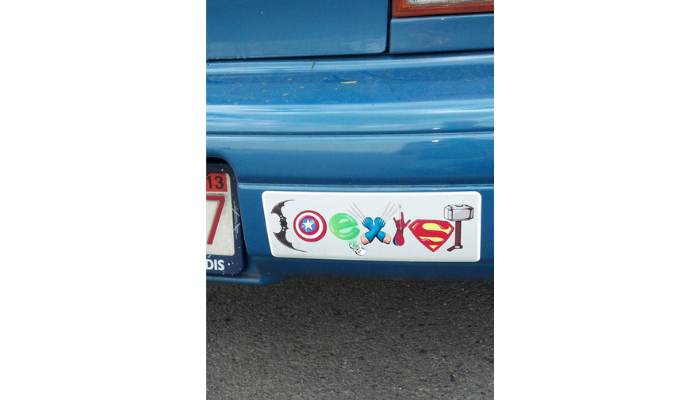 21. Natural Leader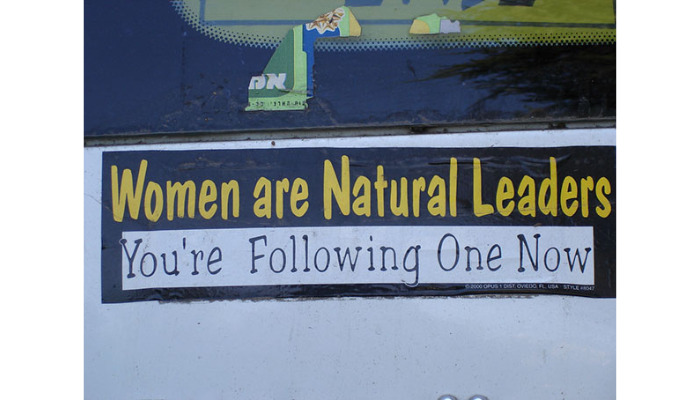 22. Slide to Unlock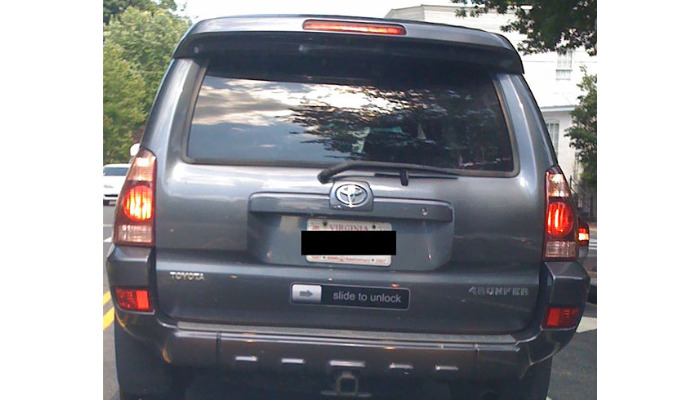 Business Sticker Design Ideas
If you run a small business, we have got some awesome sticker design ideas for you! Creating a sense of specialness and uniqueness for your clients is possible.
23. Pack-ins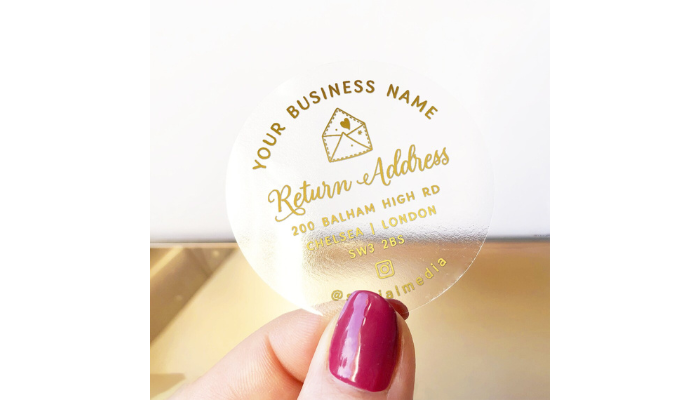 How about making a special sticker just for your customers to show them how much you like them? When you get something extra like a sticker, it feels really nice and makes you want to come back again.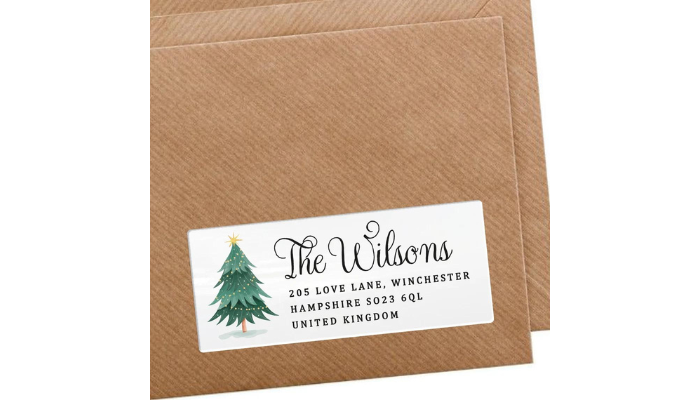 Also, you can take advantage of this chance to request tags from individuals so that you can repost their images on your social network accounts.
24. Logos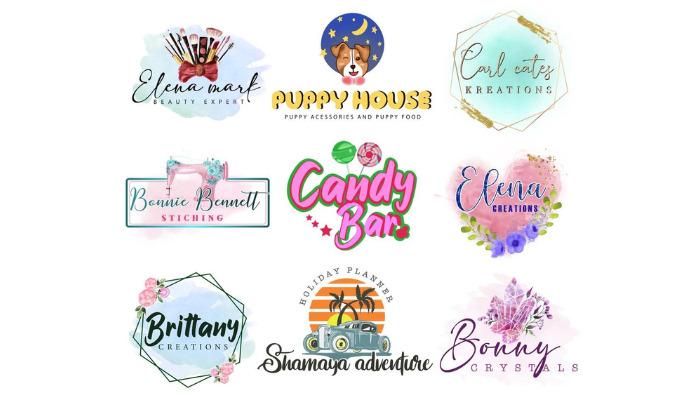 Make your brand stand out by using special stickers with your business logo on them! You can put these stickers on your packages when you send out orders or give them away as awesome gifts during contests or any events.
Here's a secret tip: if you make the sticker design super fun, customers will be more likely to use them. It's like getting free advertising because more people will see your logo!
Helmet Sticker Design Ideas
When it comes to sticker design ideas for motorcycles, you can explore a wide range of options, from fierce flames and tribal motifs to sleek racing stripes and personalized decals that make your bike truly stand out. There are various helmet sticker design ideas to fit your unique style and interests, whether you're a sports team, motorcycle enthusiast, or safety-conscious individual.
25. Fierce Flames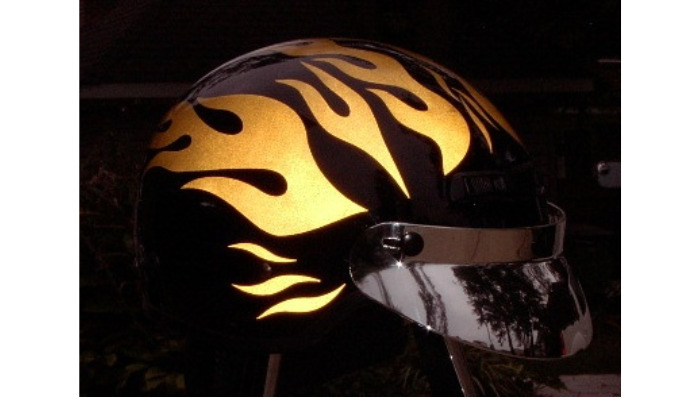 26. Custom Wrap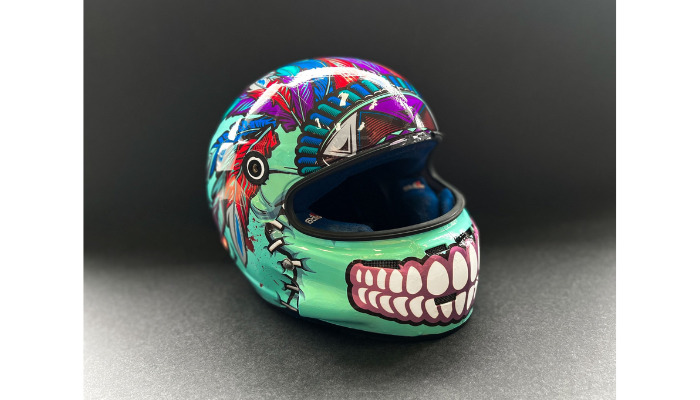 27. Cool Skull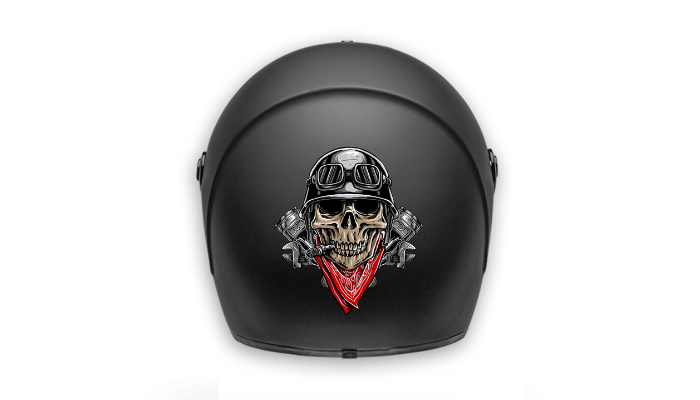 28. All-together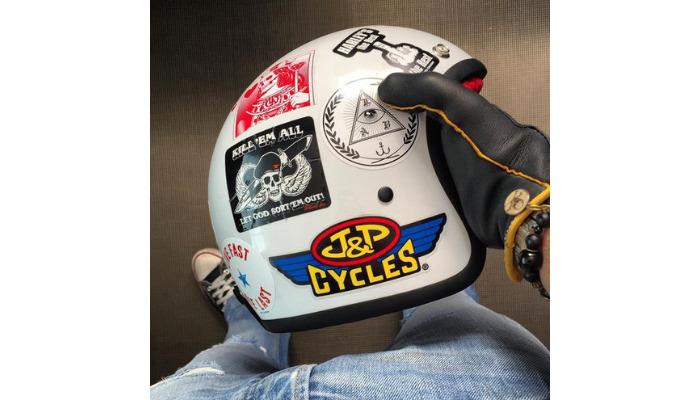 29. Tribal Motifs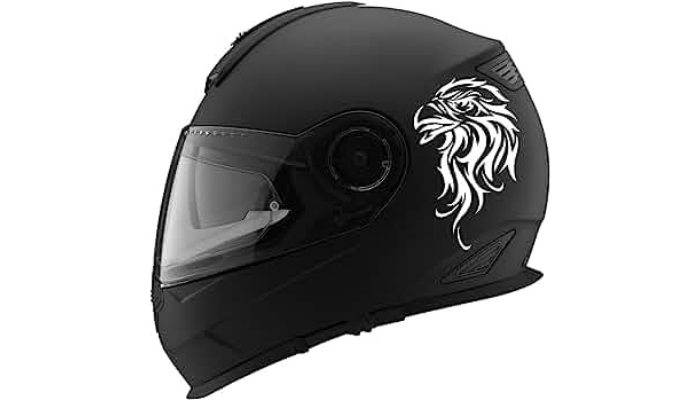 30. Multi-colored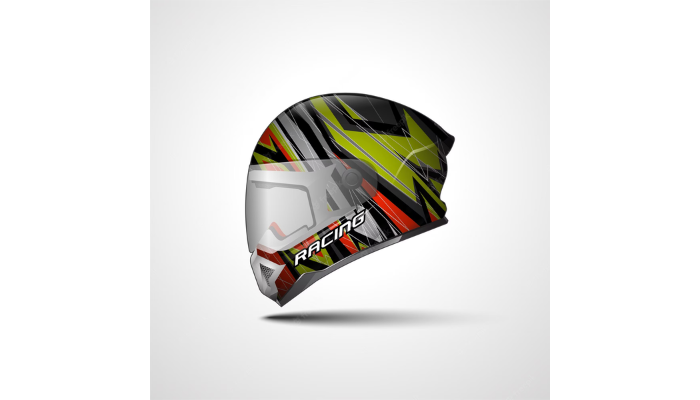 Laptop Sticker Design Ideas
If you're looking for creative laptop sticker design ideas, Pinterest is a great platform to explore for inspiration. In addition to Pinterest, Etsy is another excellent option for discovering a wide range of unique laptop vinyl sticker design ideas.
31. Custom Laptop Sticker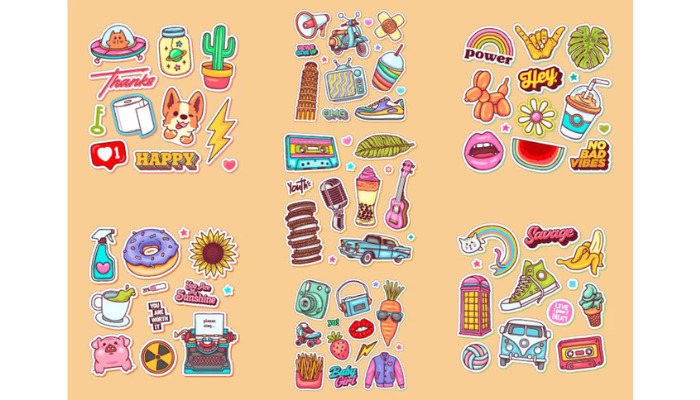 If you're seeking a custom sticker for your laptop, you can find talented designers on platforms like Etsy who can bring your personalized laptop sticker design ideas to life.
32. Cyberpunk City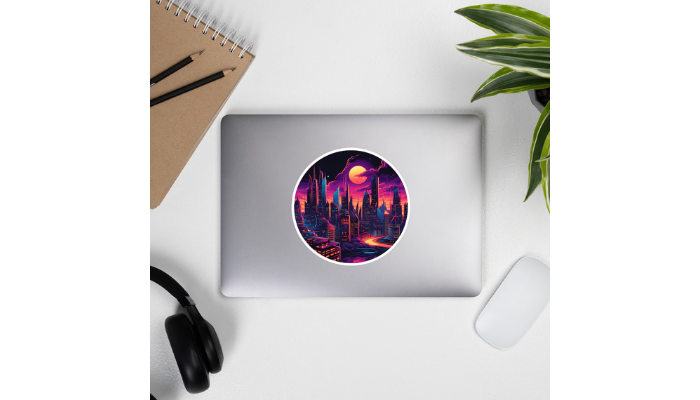 A cyberpunk cityscape laptop sticker design would be a fantastic way to add futuristic and edgy vibes to your laptop's aesthetic.
33. Stormy Wave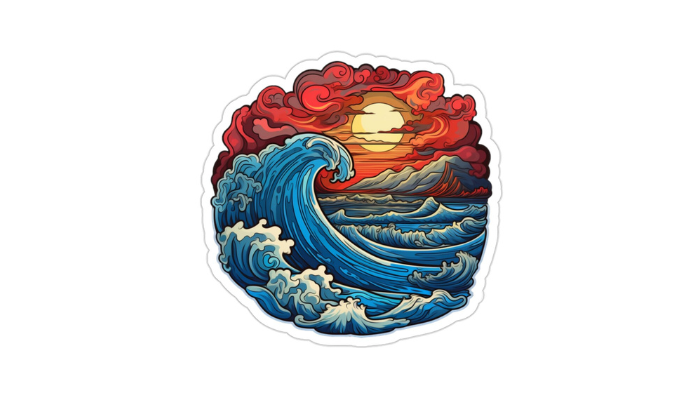 A stormy wave laptop sticker could capture the raw power and intensity of nature, creating a captivating visual impact on your laptop.
34. Bike Riding German Shepherd Dog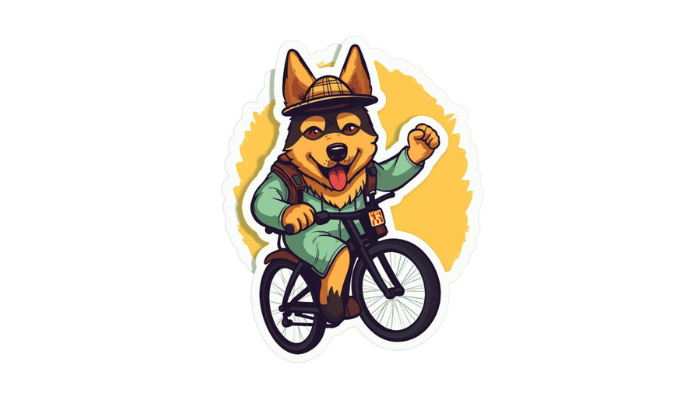 A fun and playful laptop sticker could feature a German Shepherd dog riding a bike, adding a delightful touch of whimsy to your device.
35. Text Sticker Bundle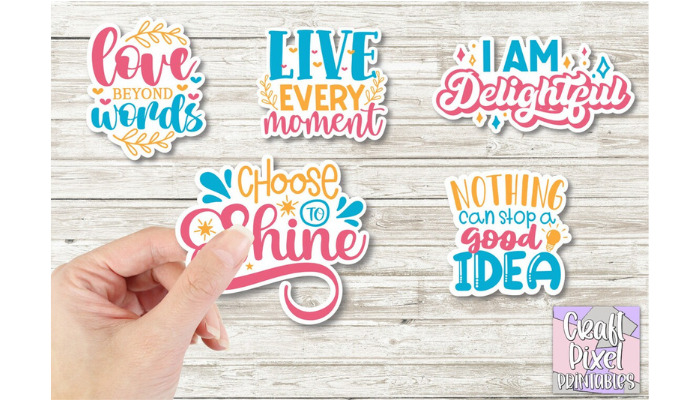 A text sticker bundle is a versatile option that includes a collection of various typography designs, empowering you to adorn your laptop with a range of expressive and stylish text-based stickers.
Sticker Design Ideas for Food
When it comes to sticker design ideas for food, you can get really creative! How about making stickers that look like yummy pizza slices, juicy burgers, or colorful ice cream cones? You can also design stickers shaped like fruits and vegetables to show how healthy and delicious they are. And don't forget about cute animals eating their favorite foods!
36. Cookies Stickers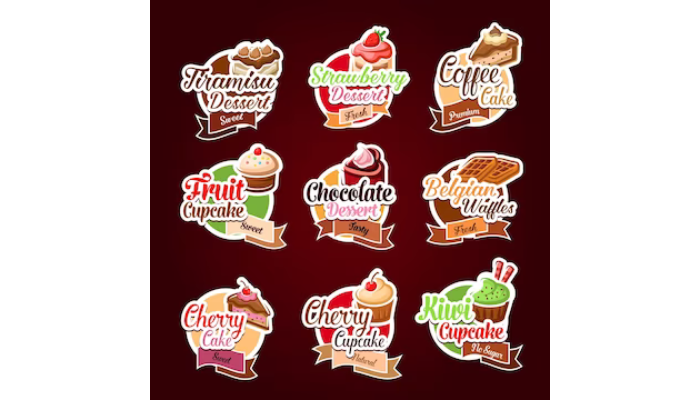 If you have a cookie business, using cookie stickers is a great idea! You can design stickers with different cookie shapes and flavors to make your packaging more attractive. It's a fun and tasty way to show off your delicious treats and make your customers smile!
37. Food Restaurant Logo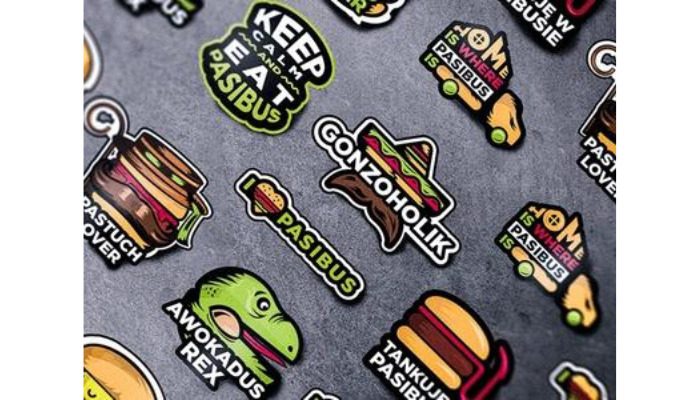 A restaurant logo is like a tasty appetizer that gives you a sneak peek of what to expect inside. It can use clever symbols, vibrant colors, and appetizing imagery to make your mouth water and entice you to come in and enjoy a delicious meal.
38. Indoor Restaurant Sticker Design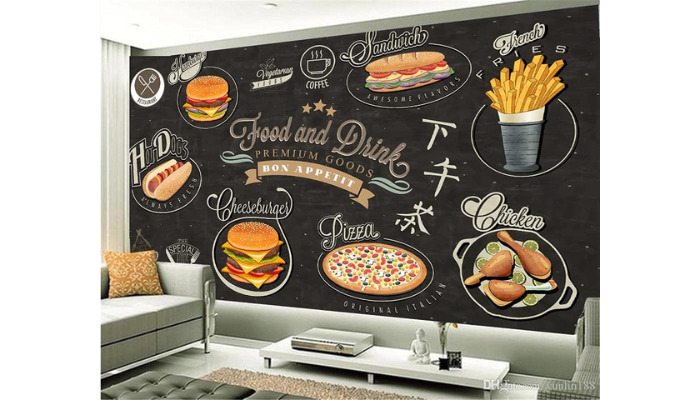 Indoor sticker designs for restaurants can add a special touch to the ambiance! You can use stickers to display mouthwatering food illustrations, catchy phrases, or even create a playful theme that matches the restaurant's style.
Wall Sticker Design Ideas
Take a look at these awesome wall sticker design ideas! The designs are so diverse. It's great because you can put them on your walls and make your room look amazing. They're super easy to put up and take down, so you can change them whenever you want. It's a fun way to decorate your room without using frames and nails.
39. Leafy Tree Wall Decal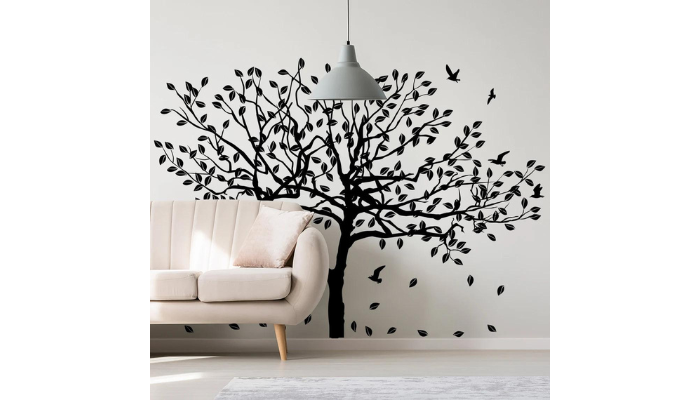 These super nice leaves that remind you of the forest come in lots of different colors and sizes. You can stick them up in different ways, like tilting them or making them higher or lower, and they'll look like pretty autumn leaves falling softly to the ground. You can also mix them with vines or branches to make them look even cooler and more colorful.
40. Colorful Raindrops Stickers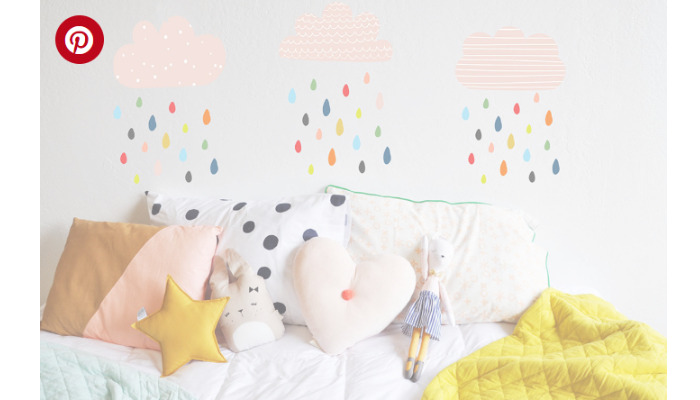 They come in different colors and are perfect for decorating a kid's room. They add a touch of fun from storybooks to the wall decor.
41. Birds and Blossoms Wall Art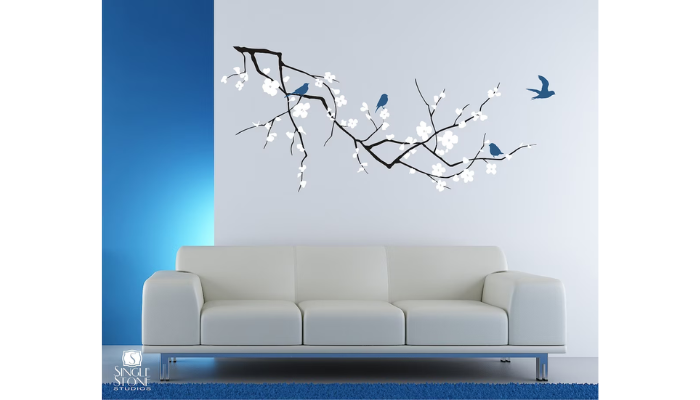 If you're thinking about wall sticker design ideas, how about adding some charm with adorable cherry blossoms and bluebirds? You can place them on either side, and they come in different sizes to fit any big room. These stickers are inspired by nature and look fantastic in open spaces. They're perfect for your living room or kitchen and will bring joy wherever you stick them!
42. World Map Cartoon Decal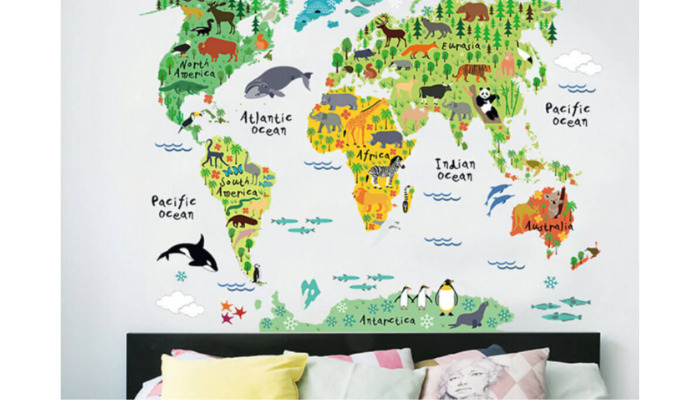 If you're looking to jazz up your room with something cool and educational, you should totally check out these awesome wall stickers! They're not your average decals, though. These stickers are like a big puzzle, so you don't have to worry about losing any pieces.
The best part is that these stickers are designed with learning in mind. They have all kinds of animals on them, just like you'd see in real life! The stickers also show you where these animals come from, like which continent they call home. It's like having a mini-map right on your wall!
Alright, so now that your stickers are all done and looking awesome, it's time to figure out the best way to show them off to the world! A mockup generator like Mockey can help you put your stickers on different things like notebooks, laptops, or even water bottles, without actually sticking them on for real. However, you can make a mockup without any skills. Try now.
Is Making Stickers Easy?
Making custom stickers is not as easy as it seems! Even though stickers are small, it takes a lot of hard work to create them from scratch. That's why people always want stickers. Starting a sticker shop is actually a pretty simple and economical way to become an entrepreneur.
Where Can I Sell My Stickers?
Etsy is really well-known because it's super easy to sign up! Many people sell art here, and It's the quickest and easiest way to sell stickers. If you want to open your own sticker shop, the first thing you need to do is make a seller account. It's easy to set up a store on Etsy if you've created an account previously to purchase something.
FAQs
How can I design my own stickers?
To design your own stickers, Begin by using Canva. Opt for a template. Adjust with captivating elements. Bring forth an abundance of stickers. Place an order for your printed copies.
How to design cool stickers?
To design cool stickers, you need to pick a style that fits your brand or personality, use on-brand colors and fonts, and add catchy graphics or text. Also, you can use tools like Canva to create and print stickers.
What kinds of stickers are popular?
5 kinds of stickers are very popular these days.
Vinyl stickers
Bumper stickers
Popsicle stickers
Car stickers
Nail stickers
Conclusion
We hope this got your imagination going so you can come up with awesome ideas! Lastly, don't forget to have fun when designing stickers; that's what they're all about. Have a blast creating!