Have you ever heard of the furry culture or Furry AI art generator? If not, you're in for a surprise, though! These two worlds have collided, giving birth to a fascinating topic – the furry AI art generator.
For those who don't know, the furry culture is a subculture that centers around anthropomorphic animals, and the furry fandom has been around for quite some time. On the other hand, the AI art generation is a relatively new development that uses artificial intelligence (AI) to create art.
Table of Contents
Take a Furry Art Tour
Unleash boundless creativity with the furry AI art generator free tool. Turning words into cute characters offers endless creative opportunities for everyone. Creators can customize features like fur color, eyes, patterns, expressions, and unique additions to make special and unique characters.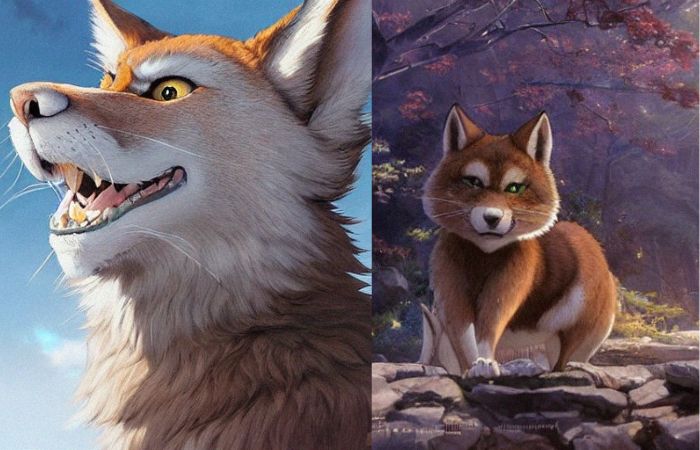 But why bring these two seemingly unrelated topics together? The answer is simple – technology has allowed us to generate furry art using AI, which has opened up a whole new realm of creative possibilities.
This article will dive into the world of furry culture, explore the fascinating world of AI art generation, and take a closer look at the furry AI art generator. Also, we will discuss the impact of this technology on the furry fandom and the wider art community, as well as the ethical considerations that come with it.
So, get ready to learn more about the exciting world of the furry AI art generation!
What Exactly Is Furry Art?
It's a particular type of art that relies on characters combining animal and human life features, frequently showing human characteristics. The artist's creativity impacts how adorable and cuddly these avatars can be or how fierce and wild they are.
AI Art Generator Furry Photos
Let me show you how advanced technology is blurring the lines between reality and imagination in the world of art.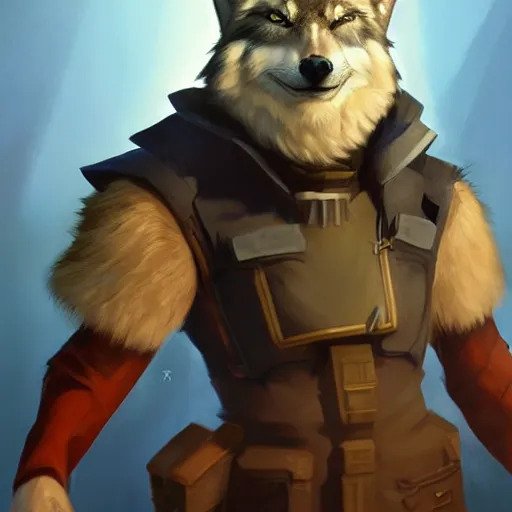 Looks great, isn't it? So if you want to generate such free art and download the already AI generated furry art, I have listed some furry art generators to show you the various Fursona arts.
List of Best Furry AI Art Generators
Here are the best furry AI art generator websites.
SoulGen
This Fursona does not exist
Openart
Neural love
Hotpot
Picso
Artbreeder
Fotor
Dreamstudio AI
Nightcafe
Top 15 Furry AI Art Generators to Create Amazing Art
Here are 15 amazing furry AI art generators you need to check out.
1. SoulGen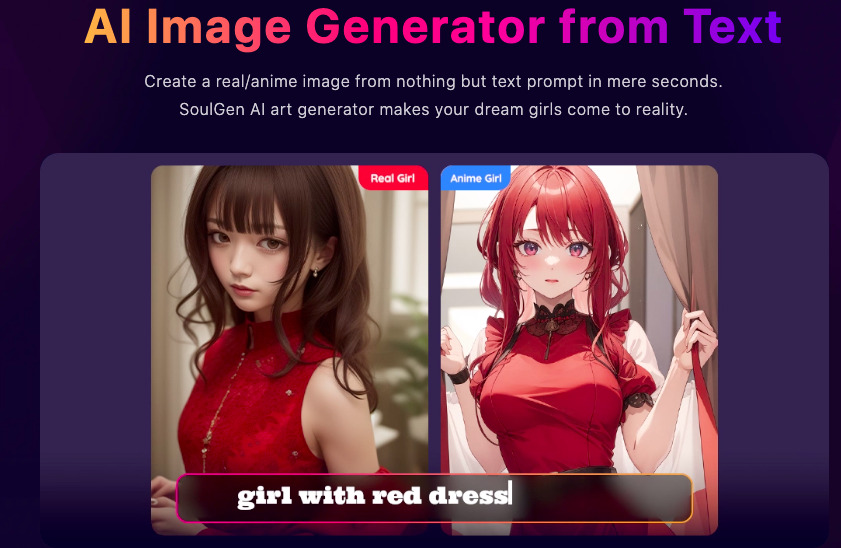 Soulgen is among the best AI furry generators that assists in make both anime and photorealistic furries with its advanced technique simply by inputting text. As an AI furry generator, Soulgen has no limitations when users try to create furry art. Besides, one of its main features is the mind-blowing Looks Like function that allows users to face swap with the favorite images.
Price
Free trial available, 9.99$ per month.
How to Make AI Generated Furry?
Go to Soulgen website and click on Generate. Type what you want about furry description or use the provided prompt. Then, choose anime/real girl, number of generation, or you can also try out the looks like function. Finally, generate your favorite AI furries images and modify looks as wish.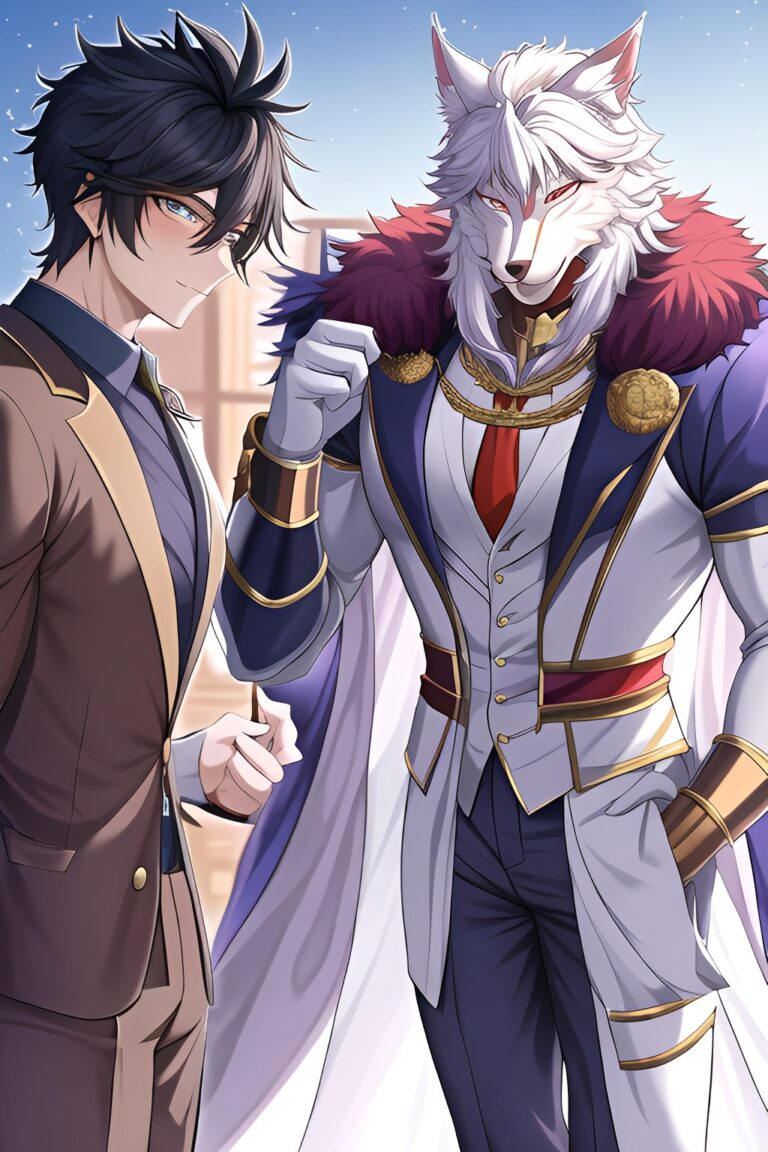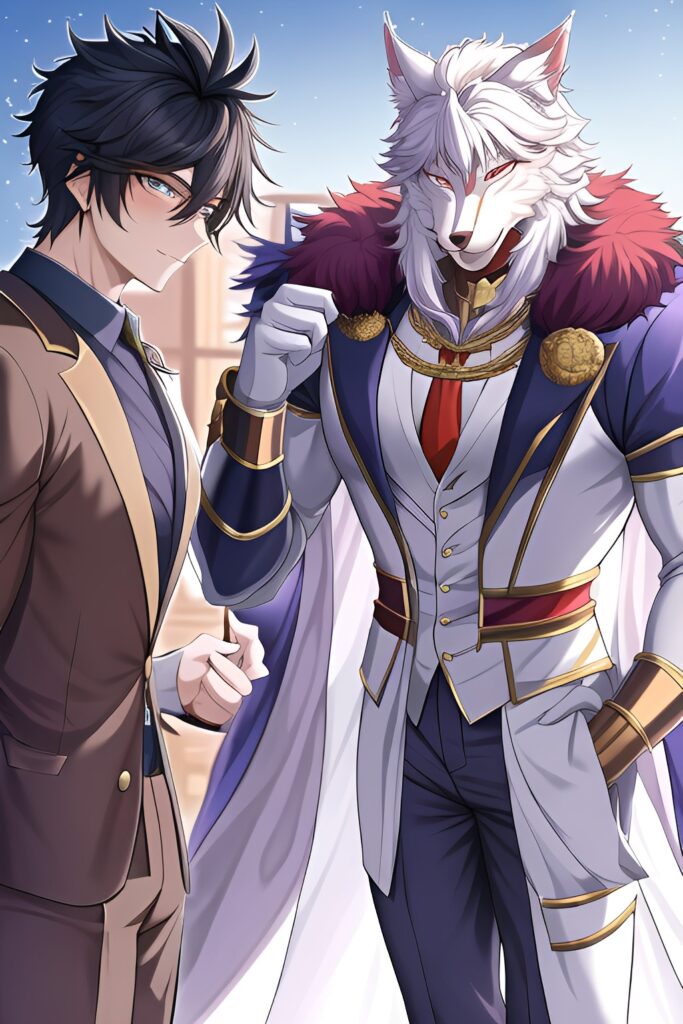 2. This Fursona Does Not Exist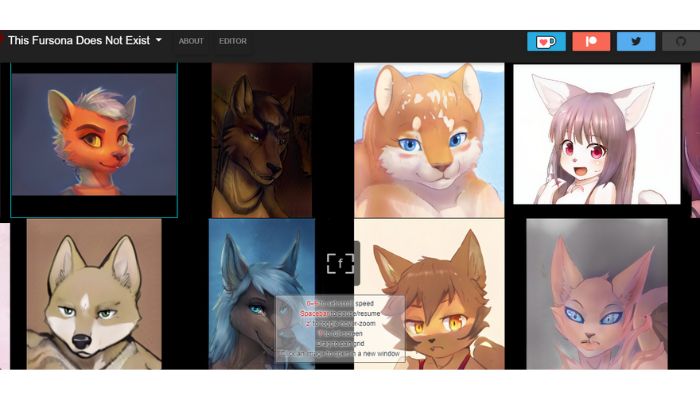 The next furry AI art generator is This Fursona Does Not Exist. The name of this generator is very strange. But the generated art is great. It's a fascinating website that uses AI technology to generate unique and realistic furry characters that don't exist in real life.
With just a click of a button, you can explore an endless array of original fursona designs that are sure to captivate your imagination. It's impressive to see how far technology has come regarding art and creativity, and this website is a perfect example of that.
Note: The pictures are not copyrighted because an AI created them.
Price
100% free
How to Use ThisFursonaDoesNotExist?
You will see a huge number of furry art as soon as you visit the website. The direction you move by holding the cursor will take you in that direction.
Click on the one you like. And once clicked, it will come in full size. After that, you can download the image for free by right-clicking on the mouse.
3. OpenArt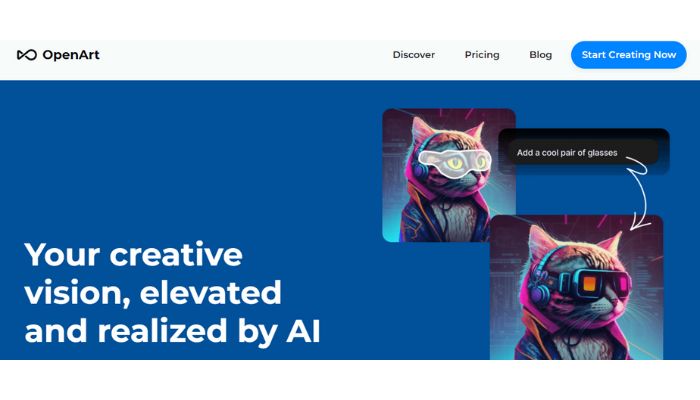 When it comes to furry art, OpenArt can be especially useful because it allows you to create new and interesting characters and designs. Whether you're looking to create a cute and cuddly creature or a fierce and intimidating beast, OpenArt can help you bring your ideas to life.
Of course, while OpenArt can be a great tool for generating furry art, it's important to keep in mind that it's just one tool among many.
Price
100% free
How to Use OpenArt?
This is a very simple tool to use. Choose the style that best fits your preferences and the type of art you want to create.
Input parameters like colors, textures, shapes, and other design elements. Generate the image. Also you can edit and refine the art as well. You can download unlimited time for free.
The excellent way to get the most out of OpenArt is to use it as a tool to help you develop your own unique style and vision.
4. Neural Love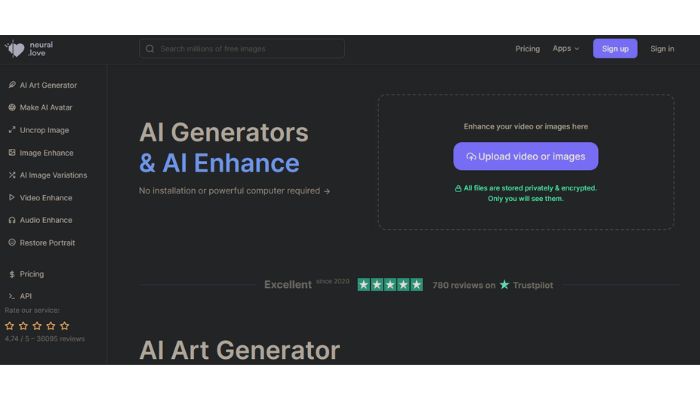 Another AI furry art generator tool is Neural Love. You can use it for free. This is the best furry AI art generator tool when looking for various customization options with high-quality images.
But if you want to generate more than 4 images simultaneously and use some extra features, then you need to use credits. 5 credits are available for free.
Price
Free (5 credits)
How to Use Neural Love?
Visit the website from the link given below. You can use text prompts or voice commands or upload your own images. After clicking on generate, it will ask you to sign up.
After that, Art will be generated within 5 seconds and you can download it.
Tips
You will be able to generate high-quality images even without purchasing premium plans.
You can get maximum credit by using multiple Mail IDs.
5. Hotpot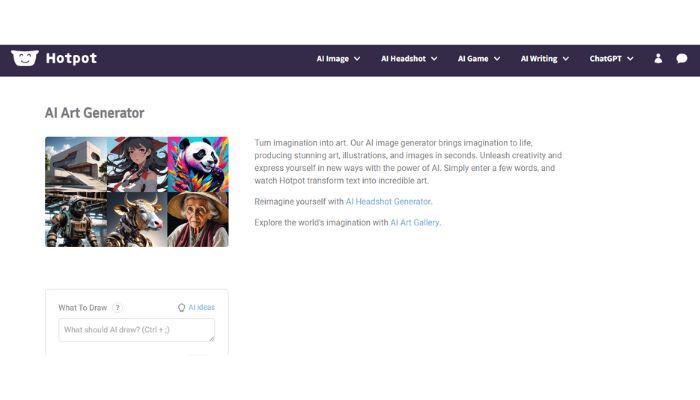 Bring your creativity to life. With the help of the Hotpot furry AI art generator, you can create beautiful works of art, images, and illustrations in a matter of seconds.
With the help of AI, unleash your creativity and find new methods to express yourself. Enter your text, and observe as Hotpot turns text into marvellous artwork.
Price
Free
How to Use Hotpot?
The homepage is designed strangely. When I visited for the first time, I wondered whether it would be right to use this software. But my experience was good.
If you scroll down on the homepage, click the "Try Free" option.
Add the text prompt or your image on the next page and click "Create".
The image will be generated in 10-20 seconds. You can also customize it by clicking on the edit option. After that, the image will be downloaded in PNG format as soon as you click on the top of the image.
6. Picso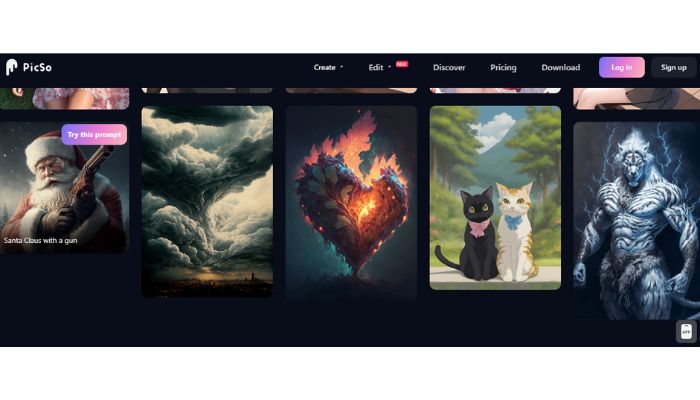 Picso website is also one of the best Furry AI Art generator tools. Generating furry art is very easy. This website is quite popular in generating text to images.
Price
Free (1 credit/day)
How to Use Picso?
On clicking the "Start Creating" option on the homepage, the option to give a text prompt will appear. After giving input, click on create.
You will be able to generate only one high-quality image.
Note:
One credit will be available in a day. There is a limitation in using multiple IDs. If you take the paid plan on Picso, then you will have to pay $9.99 per month(100 credits/month).
7. Artbreeder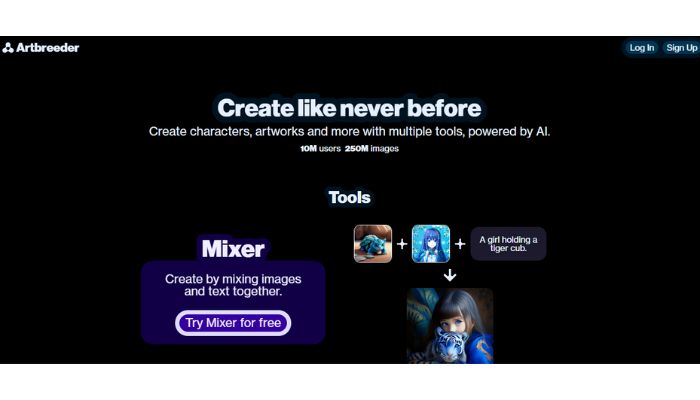 Artbreeder is a cool online tool that lets you create unique artwork using artificial intelligence and deep learning algorithms.
Let's talk about how ArtBreeder can help you generate furry AI art. If you're a fan of furry art, you know that it can be time-consuming and challenging to create new characters and designs.
But with ArtBreeder, you can input images of furry creatures, choose different parameters like color and texture, and generate new variations of your original images. You can even combine different animal features to create hybrid creatures that you've never seen before.
And if you're feeling stuck or uninspired, you can browse other users' furry art on ArtBreeder and remix them with your own images to create something unique. Plus, ArtBreeder's community features make it easy to connect with other furry artists and get feedback on your work.
Price
Free
How to Use ArtBreeder?
Go to the ArtBreeder website. From here, you can either upload your own images or use images from the ArtBreeder library. To upload your images, click the "Upload" button and select the image file you want.
You can choose different styles, colors, textures, and other visual elements to create something unique. You can download it as an image file or save it to your ArtBreeder account for furry art.
8. Fotor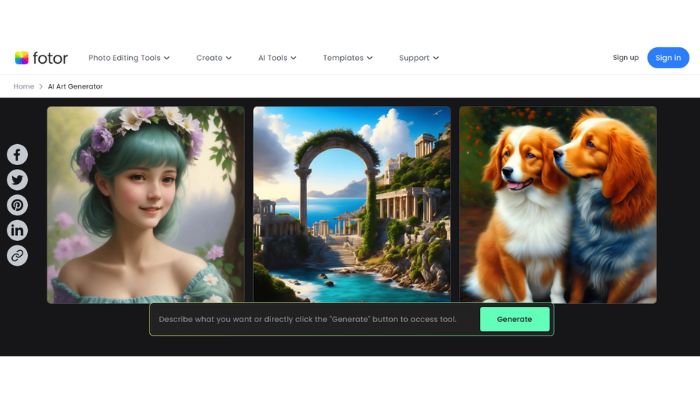 Fotor is a fantastic furry AI art generator website that provides many features to help you create amazing artwork, including furry AI art!
The website has various tools and features that allow you to create furry AI art quickly and easily. With the feature "AI Art Effects", You can transform your photos into stunning furry art pieces with just a few clicks.
Price
Free (3 credits)
How to Use Fotor?
Visit the Fotor website from the link given below. You will get 3 credits by signing up. Generate free art using an image prompt and text prompt.
Customize by clicking on edit. There is one problem, Ads will be seen in the free trial, which can sometimes bother you.
After that, you will be able to download it in JPG and PNG format.
However, if you are looking for a similar website like Fotor, you can check Fotor alternatives for a complete guide.
9. Dreamstudio AI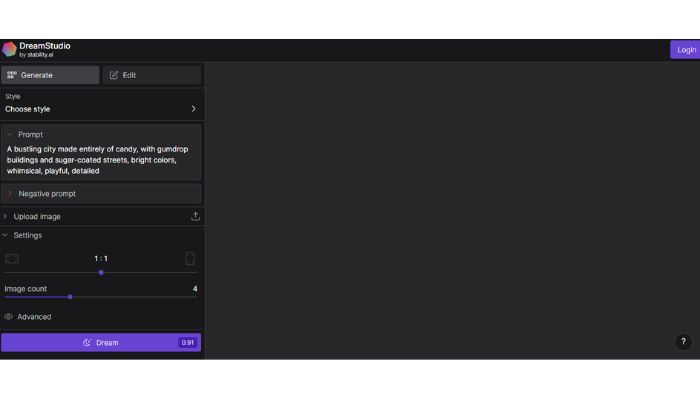 If you're a fan of furry art and want to try your hand at creating your own, why not give Dreamstudio.ai a try? Who knows – you might discover a new passion for digital art!
If you're an experienced artist, you'll find that the platform offers a lot of flexibility and customization options.
Price
Free
How to Use Dreamstudio?
The process is pretty simple. You start by selecting a base character from Dreamstudio.ai's library of pre-made templates. Select the image you want to customize in the 4 images.
From there, you can customize various aspects of the character, including its pose, expression, and accessories.
After that, you can download and use however you like.
10. Nightcafe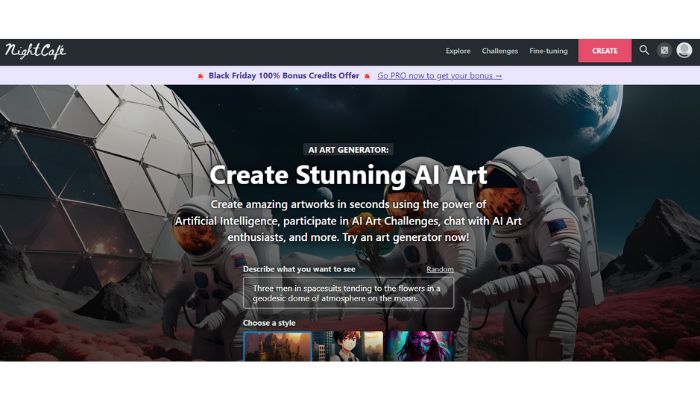 In Nightcafe, a huge collection of AI generated Furry Art will be seen on this website. There will also be an option to customize with its various options. You can also generate anime AI art with Nightcafe software. It would have been great if it was completely free.
Price
Free (Limited access)
How to Use Nightcafe?
Before talking about the steps, let me show you how Nightcafe credits work.
For 1 photo (No credit)
For 4 photos (1 credit)
For 9 photos (2.25 credits)
For 16 photos (4 credits)
Once you visit Nightcafe, signup there. Use the text prompt. Customize by clicking on "edit" after image generation.
You can also publish your customized AI art. Then, download it.
11. TopMediai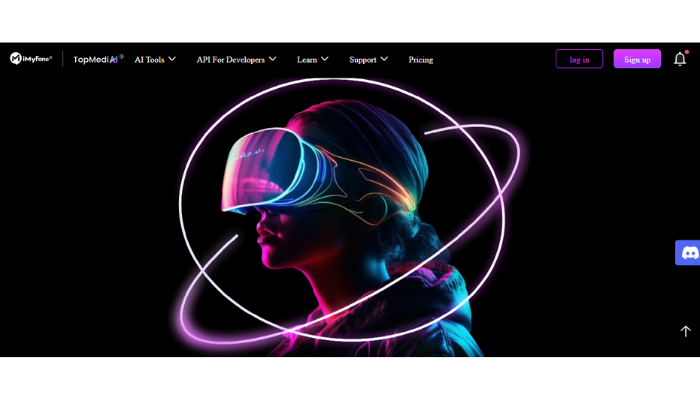 This TopMediai furry AI art generator is a high-tech tool that uses advanced AI to help artists create amazing furry images.
Topmediai tool is known as the text-to-speech generator and is the best 15.ai alternative. But this tool can generate the best furry art.
The tool provides lots of options that you can adjust to change every part of the art it makes.
This creative art generator is well-known for its awesome features and easy-to-use design, which is why both artists and fans love using it.
Price
Basic plan: $9.99/month (150 gold coins)
Premium plan: $19.99/month (400 gold coins)
Pro plan: $59.99/month (1500 gold coins)
How to Use TopMediai?
Open the website and select "Illustration" mode.
Type your desired prompt (e.g., "furry," "hot," etc.) in the bottom-right prompt box to display it.
Once you've chosen the image size, quality, and quantity, just click "Convert."
12. Starry AI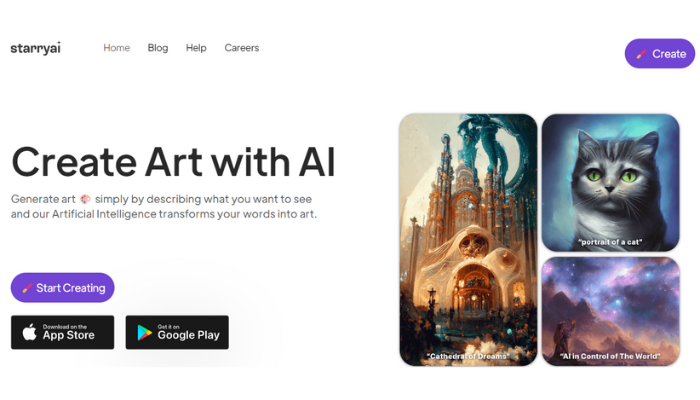 The only furry AI art generator you need to choose is StarryAI if you want full ownership of your art pieces.
Additionally, you have the freedom to use the pictures for your business needs. You just need to pick from three AI models: Argo, Argo 2, and Lyra.
Despite its prompt builder, you must add your own prompt.
Additionally, output settings can be adjusted. Last but not least, you can create artistic styles by using the Lyra builder.
Price
Free
$15.99: 40 credits
$29.99: 100 credits
$49.99: 200 credits
How to Use Starry AI?
Get the app or visit Starryai's website.
Select "Illustration" mode. Describe the character of furry you want to make with the text prompt.
Choose the quality, image size and how many images you'd like to create.
Press "Convert" and let the AI make the furry art.
You can save, share, or preview the furry art to others.
13. Xinva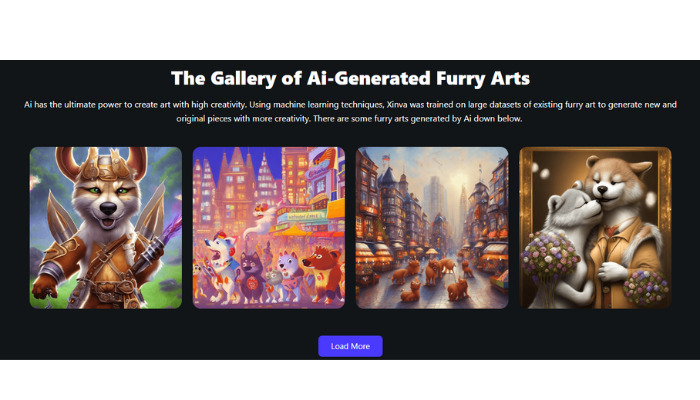 The Xinva Furry AI art generator is really popular in the design and art world.
You can use it to create your own fantasy art, thanks to its AI abilities and machine learning. It's a great tool for making furry art, too!
AI, like Xinva, can make really creative art. Xinva learned from lots of furry art and used machine learning to come up with fresh and unique pieces that are even more creative.
Artists can get great ideas and a good place to start making their own art with this. They can take the pictures it makes, add their own style, and change them however they want.
Price
Monthly: $39/month
Yearly: $239/year
How to Use Xinva?
Imagine your artwork. Describe it with specific terms and in detail in your prompt box.
Next, just click "Generate."
Wait a bit; don't close your main window. You'll get the art in seconds.
Next, just hit the "Download" option at the bottom. Downloading may take a bit longer due to the Xinva technique, which boosts the quality before it gets to the device.
14. Artguru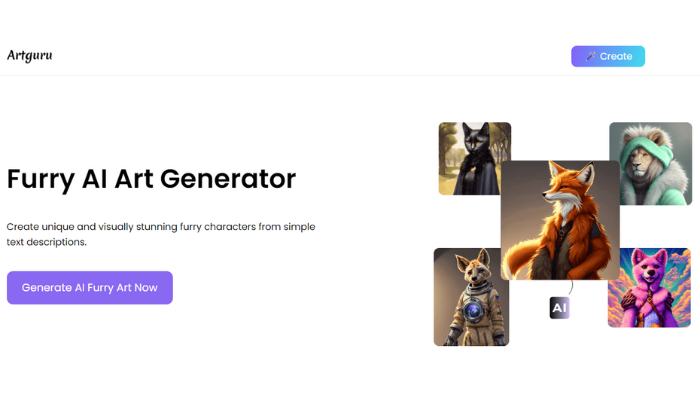 The Artguru furry AI Art Generator lets you be super creative without any limits.
Turning text into cute furry characters is so easy that anyone can do it, giving creators endless creative opportunities.
Artists can choose features like the color of fur, patterns, how the eyes look, and even special accessories, tail styles, and outfits.
This lets them create characters that are completely unique and unlike any others.
Price
How to Use Artguru?
Tell them about the character you'd like to make. You can choose different styles and features.
Artguru offers more options for customizing your creations. You can pick your image size, say how many pictures you want, and more.
After you've adjusted the settings, just click "Generate."
15. 4AiPaw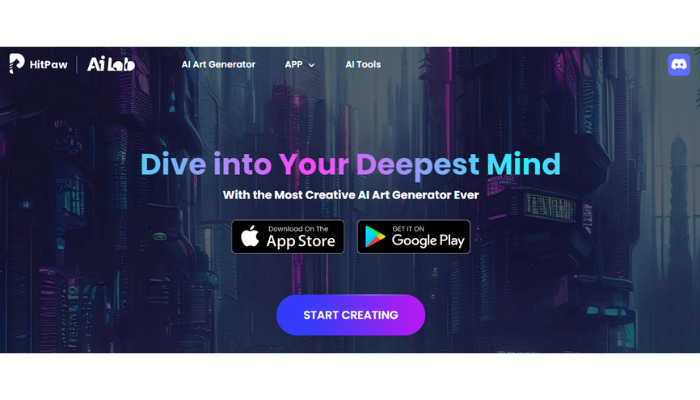 The final suggestion is 4AiPaw Online. It can help you make text prompts easily using its lucky dice.
Use it by adding it to Chrome or on your Android or iPhone with apps. You can change these prompts by hand to match what you want.
This will be both fast and effortless, delivering high-definition results. Also, you can choose the painting style and artist you want from the options provided.
You can also adjust settings for things like color intensity and file size in your output files.
Price
How to Use 4AiPaw?
To begin, go to 4AiPaw Online in your search engine. Then, click "Start Creating."'
Simply click the little AI dice icon in the bottom right to create a prompt. Next, pick a style and artist option.
After finishing, go to the "Generate" option and pick the saturation and size for the output.
To finish, just click "Generate" and wait a bit.
After processing, click "Download" to save.
Bonus Mention
There is a bonus Furry AI generator to consider while making Fursona.
Dream by WOMBO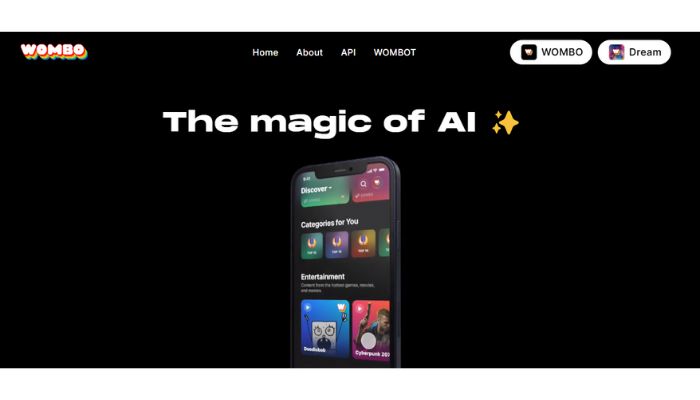 WOMBO is an amazing furry art AI generator website that uses AI technology to create furry art. And not just any furry art, but art inspired by your dreams.
This tool is also a DnD AI art generator that generates AI dungeon characters.
All you need to do is provide WOMBO with a description of your dream, and their AI technology will generate a unique and personalized furry art piece.
Price
Free
How to Use Dream by WOMBO?
Visit Dream by WOMBO. Signup is not required. Use a text prompt. It takes 10-15 seconds to generate. In the free plan, you can generate 1 image simultaneously.
Click on the "Finalize" option and download it.
So we have covered AI furry art generator websites and how to use these AI art generator furry tools.
What Could You Do With a Furry AI Art Generator?
Innovative Animation: A furry AI art generator can truly transform your storytelling or writing career. It gives your narrative a completely new depth by helping you visually bring your furry arts and situations to life.
Creative Study: The Fursona AI generator is similar to a treasure trove of ideas for artists. It can be used to generate ideas for character designs, try out novel ideas, and expand your creative boundaries.
Entertainment and Fun: There's no need to be an expert artist or writer to have fun with it. You can make adorable furry scenes and characters for your pleasure or to show to others who value furry art.
How to Write Good Prompts for Furry AI Art
Round and cute baby cat. ❌
A cute and furry baby feather cat with a happy smile and big eyes is rendered in a 3D realism picture showing the cat in a full-body shot, looking directly at you, with a Pixar-style vibe, and it has a yellow background. ✅
Pink sweater on an owl. ❌
A realistic 3D image of an adorable small owl wearing a pink sweater is highly detailed and looks very realistic, similar to what you'd see in the Unreal Engine 5. ✅
Benefit on the Community of Furry Artists:
Benefits for the furry arts community:
In the community, Furry AI is now acting as a spark for creation. Artists have the ability to push the limits of what could be done by exploring new possibilities in their imagination. Furry AI's usability and accessibility also promote collaboration by allowing artists to interact, exchange ideas, and get inspiration from one another.
The furry art market now has more diversity thanks to the introduction of Furry Diffusion. Now, artists from various backgrounds can express their innovative viewpoints and create furry characters that capture the diversity of the human experience.
Let's talk about the future of furry AI art generators.
Future of Furry AI Art Generator
What does the future hold for these furry AI art generators? Well, it's safe to say that they will only get better with time. As machine learning algorithms improve and become more sophisticated, we expect to see more realistic and detailed furry creations.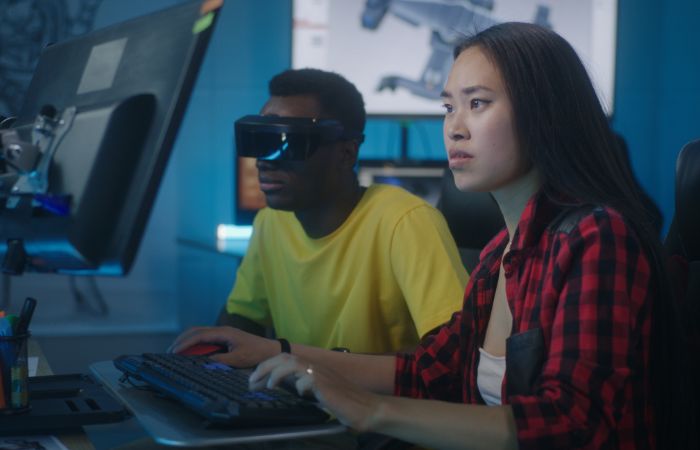 One exciting possibility is that these AI art generators could become a tool for professional animators and game developers. Imagine quickly and easily creating a whole cast of furry characters for your next project without spending hours drawing and designing each one by hand. This could revolutionize how animated movies and video games are made, making the process faster and more efficient.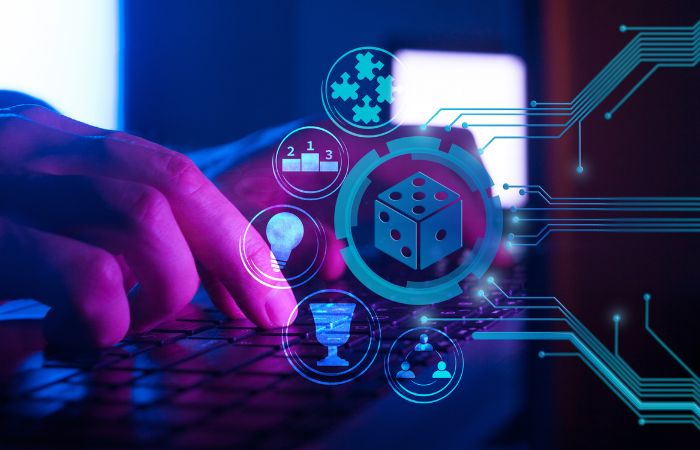 Of course, developing furry AI art could also have some drawbacks. Some people worry that they could contribute to a further fetishization of furry culture or be used to create inappropriate or offensive content. Developers must consider these concerns as they refine their algorithms and create new furry art tools.
Overall, though, the future of furry AI art looks bright. They're already bringing millions of joy and creativity worldwide and will continue for years.
To Conclude
Well, there you have it – everything you need to know about furry AI art generators! From their origins as simple drawing tools to their current status as sophisticated AI systems, these generators have come a long way in a short time.
By staying informed and using these tools responsibly, we can ensure that these generators continue to bring joy and creativity to people worldwide. This YouTube video can also be helpful in learning more about generators for furry AI art.
So why not give it a try? Fire up your favorite furry AI art generator and let your imagination run wild. Who knows what kind of adorable, fluffy creatures you'll come up with – and what kind of impact they might have on the world of art and technology.
FAQs
Can anyone use the Furry AI Art Generator?
Yes, the furry AI Art generator is easy to use by individuals with different levels of artistic skill.
Can you generate a furry character quickly?
Depending on the processing time, furry characters can usually be generated within seconds by the AI, but processing times may vary.
Are the furry characters commercially available?
You are free to use the furry AI arts for commercial projects once you create them.
How do AI art generators protect copyright?
The sources of information used to train furry AI art generators may or may not be protected by copyright, even though the content these generators create is copyright-free.
Is it ethical to use AI art generators?
If you use an AI art generator to improve or inspire yourself, then it's fine to use it. However, using it to take advantage of artists could be harmful.