The 15 ai Alternative takes celebrity voices and character voices to the next level.
Speech synthesis refers to creating AI human speech. A "speech synthesizer" is a program that can do this, and it can be part of a software product.
Regular text becomes talking with a TTS system, while other methods turn written symbols like phonetic transcriptions into speech.
In this article, we'll explore 15.ai alternative text-to-speech software and some other popular options you can use today.
Table of Contents
Text-To-Speech Market Analysis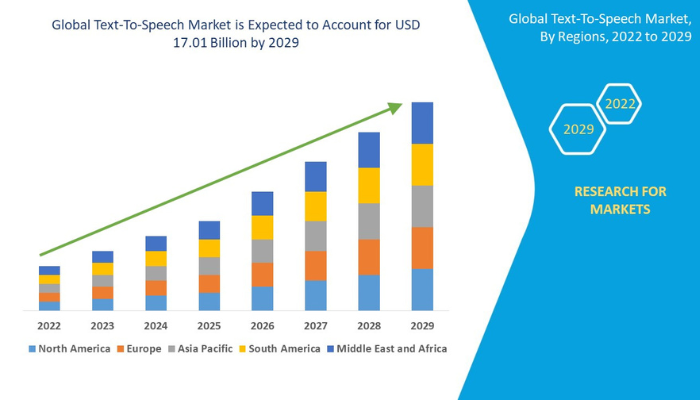 According to a study by Data Bridge, the text-to-speech market in 2021 was worth $2.06 billion, and it's predicted to grow by 2029 to $17.01 billion. This growth is expected to happen at an annual rate of about 30.20% between 2022 and 2029.
What Does 15.ai Do
15.ai is a free AI web tool for making realistic voices from text. The app makes voices of made-up characters from different shows and movies. 
If you wish to use the voices of your favorite made-up characters for various purposes, 15.ai is the best choice.
15.ai instantly generates voiceovers as soon as you type in your text and pick the voice you want on the platform.
The platform mixes various techniques like creating sound, mimicking speech, and understanding emotions to make and provide expressive character voices quickly.
Does 15.ai Still Exist
Currently, 15.ai is offline temporarily as of September 2023. It was briefly taken down for an update in September 2022 but has not yet resumed operation.
That's why users are looking for the best 15.ai alternative AI voice generators.
What Is Similar to 15.ai Voice Synthesizer
Here are the 20 best 15.ai alternative voice synthesizers.
iSpeech
NaturalReader
Speechify
Murf AI
Voice.ai
TextMagic
Play.ht
Resemble AI
Uberduck.ai
Narakeet
Topmediai
TTSMaker
SpeechGen
LOVO AI
Fakeyou
FineShare
Voicera
Baviux
Woord
Zao
Best 15 ai Alternative Speech Generators
Here are the best 15.ai alternative speech generators.
1. iSpeech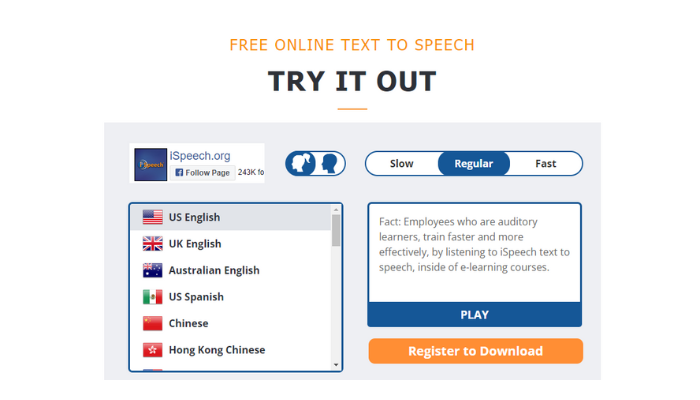 iSpeech is the first 15.ai alternative you should think about.
The increasing use of phones and tablets has greatly transformed the internet. Websites now have to be adjusted to meet the needs of these devices, which are separate from what they used to be a few years ago.
A great website should make it easy for everyone to use, including those with vision problems, learning challenges, dyslexia, and people who aren't reading in their first language.
Approximately 15% to 20% of people worldwide face difficulties when learning languages. Making the text bigger, adjusting settings, or using simple language can make things easier for them.
If you add iSpeech to your website, it will make your site much more accessible. With iSpeech, your website visitors can read and listen together.
Features
The initial TTS SaaS cloud.
Service with patent pending.
The fastest, most powerful, and highest quality TTS.
The best-sounding TTS Audio.
Installing TTS servers is not required.
Cons
There is a limit to the number of words you can enter in the free version. The voices it offers don't sound as good as real human voices. Sometimes, they can sound like robots.
iSpeech Pricing
Free
$100 (900 words)
$500 (10,000 words)
$1500 (50,000 words)
Visit: iSpeech
2. NaturalReader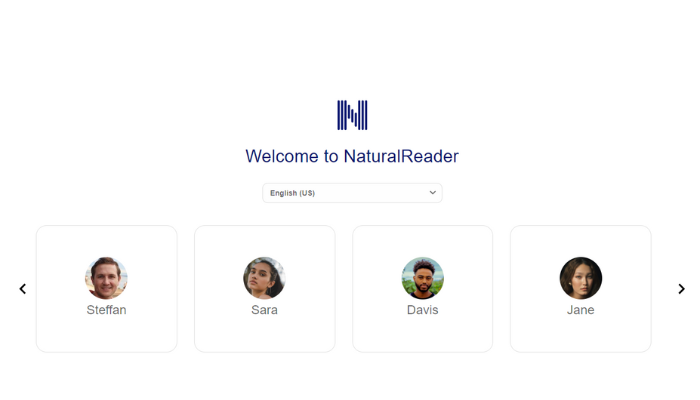 Another great 15 AI alternative is NaturalReader. With the help of the NaturalReader text-to-speech tool, you can download to have text read out loud.
It's great for students who find reading difficult, have cognitive disabilities, or just want text to be read to them.
After you download it, you can use it wherever you like by picking text or copying and pasting it.
NaturalReader is a tool that can make your computer read text out loud from different sources.
The basic version is easy to use for reading text in documents or emails. In the premium plans, students can also make a sound file of text and add the tool to an app's toolbar.
Features
Conversation control
OCR (Optical Character Reader)
Spell checking
Cons
When using the app on devices like mobiles and tablets, you must be online in order to listen to the voices.
NaturalReader Pricing
Free
$99.50 (2 voices)
$129.50 (4 voices)
$199.50 (6 voices)
Visit: NaturalReader
3. Speechify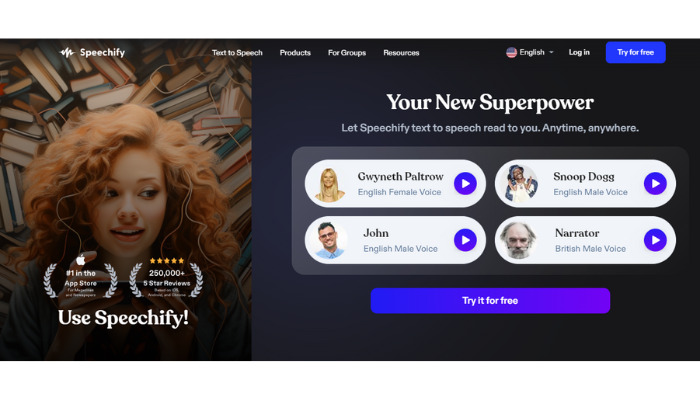 Speechify is unique because it can change written words into spoken words really well.
Speechify is a tool that assists individuals with dyslexia by converting text into spoken words.
Instead of having to read long emails, Speechify can read them aloud for you. You can also make an audiobook out of a photo of a book's pages.
Many content creators, editors, and freelance writers use Speechify because its text-to-speech features help them with editing their content.
We've realized that when we read our own work, our brain sometimes goes on autopilot and misses mistakes. This can lead to obvious readability issues and spelling in our emails and published articles.
However, it becomes easier to catch these errors if someone else reads our work aloud to us.
This is the reason we are considering Speechify as a 15.ai alternative.
Features
PDF import and OCR reader
Translator
Accessible to users with disabilities
Save time
A speed of 900 words
Cons
The software doesn't have many voice choices, and not everyone might like them. Some people might think the voices sound like robots or don't sound natural. Also, sometimes the software says words or names wrong.
Speechify Pricing
Free (10 voices)
Premium: $139/year ($11.58/month with 30+ voices)
Visit: Speechify
4. Murf AI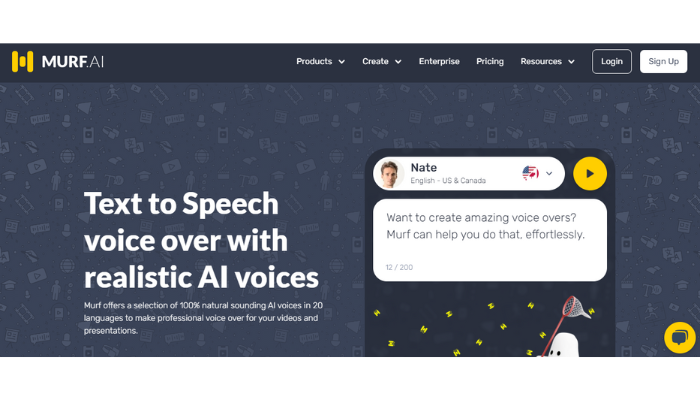 Murf is a top-notch text-to-speech program that lets you make voice recordings with over 120 natural voices in more than 20 languages.
It is affordable and comes with features such as voice cloning, voice changer, and lots of customization options. These features make it easier to create voiceovers.
Murf is the great 15 AI alternative option because instead of hiring any voice actor, recording their scripts, renting studios, and editing the audio to an engineer for editing, you can use this tool without worrying about breaking the bank.
Features
Generate voiceover with background music
Creating clones of your favorite ones
Team collaboration
Voice changer
API
Cons
Very expensive
Limited premium plans
AI voice is less customizable
Non-advanced filters
Murf AI Pricing
Free
Basic: $29/month (60 voices + 10 languages)
Pro: $39/month (120+ voices + 20 languages)
Enterprise: $49/month (120+ voices + 20 languages + unlimited downloads)
Visit: Murf AI
5. Voice.ai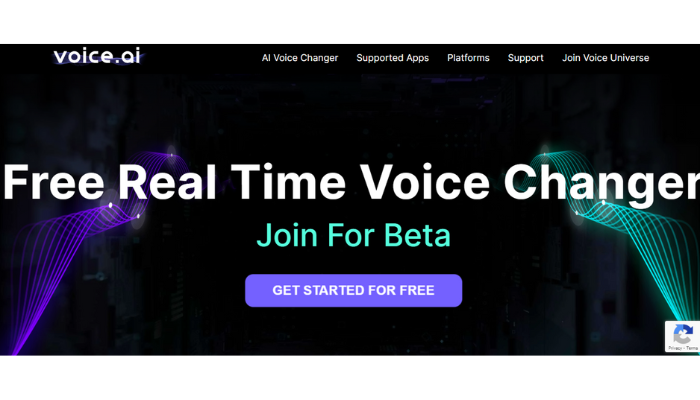 Voice.ai technology, which changes voices, learns from a big collection of private voices with more than 15 million different speakers. It does this to provide the ideal voice for any character.
The Voice.ai SDK changes how we talk to each other in video games and makes role-playing games (RPGs) more exciting. Gamer's characters can now be heard in the virtual world they enjoy.
Voice.ai Voice Changer is one of the best and strongest 15.ai alternative voice-changing tools available right now.
Want to change your voice in real-time and have fun on the live stream or gaming?
Voice.ai can help you sound like a cartoon character, a robot, an alien, a politician, or even a famous celebrity. Give it a try and amaze your audience today!
Features
Voice cloning
High performance
Voice changer in real-time
Soundboards
Cons (According to Customer Review)
Malware starts without permission with Windows
The voices are unclear.
Voice.ai Pricing
Visit: Voice.ai
6. TextMagic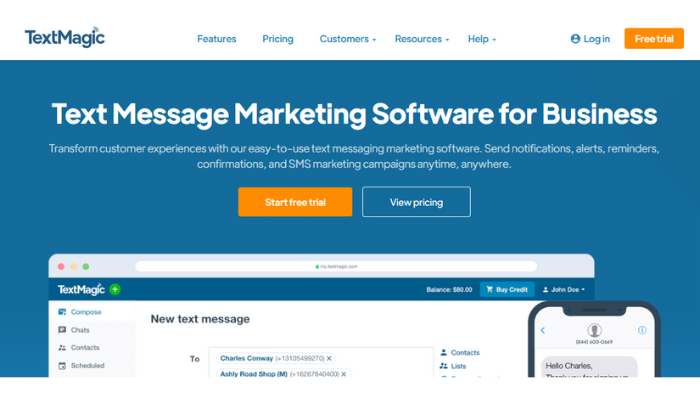 TextMagic can talk in more than 50 different languages, and it also has different voices for some popular languages like English.
TextMagic text-to-speech free tool lets you pick from different languages and voices that sound very natural.
They worked hard to make sure lots of people can use the TTS reader by offering languages that are spoken by many people around the world.
Kids who have trouble reading can use special devices that read the words to them, making it easier for them to understand their lessons.
Features
50+ languages
TTS tool
API
Beneficial for Visually impaired and Dyslexic individuals
Cons
Poor customer service support
TextMagic Pricing
Free (Usage-based billing)
Visit: TextMagic
7. Play.ht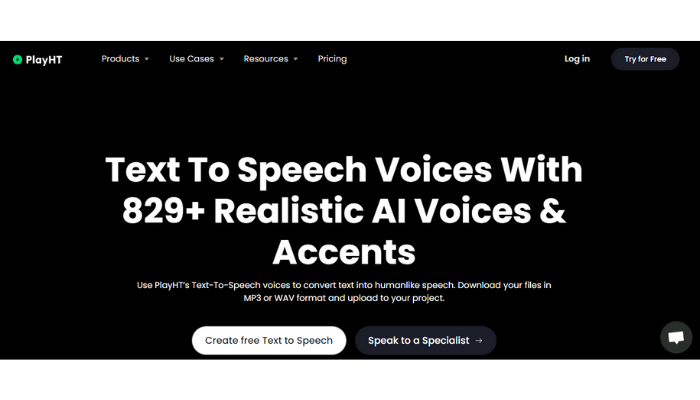 With Play.ht text-to-speech tool, you can convert text to speech in lots of different languages.
It has more than 900 different voices you can choose from, and it works with over 140 languages.
What makes Play.ht unique is that it has really good voices and lets you make the voices sound just the way you want them to.
Play.ht has just brought out incredibly realistic voices that are perfect for different cases, such as podcasts, e-books, IVR, and much more.
Features
It lets people make copies of their favored voices using voice cloning.
Customizable voice options.
Collaboration for teams.
Cons
Voice generation is unlimited only on premium plans
Average customer service
Play.ht Pricing
Free
Personal: $19/month (20000 words)
Professional: $39/month (50000 words)
Premium: $99/month (Unlimited)
Visit: Play.ht
8. Resemble AI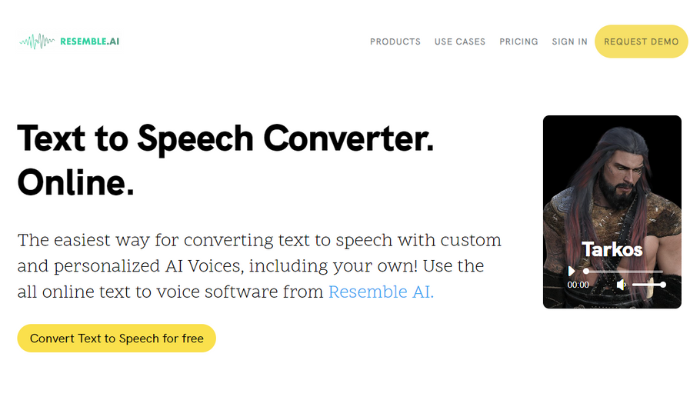 The simplest way to change text-to-speech is by using customized AI voices, even your own! Try out 15.ai alternative Resemble AI's online text-to-voice software.
Why work hard on your text and then use a plain voice? Make it exciting by adding Resemble AI. Use this tool to make your audio more lively.
Distinct characters need recognizable voices. Resemble AI simplifies the process for designers to create voices and manage them using the API.
If you have a recording of someone speaking, you can upload it to this platform with just one click, and they will create a copy of the speech from that audio for you.
Features
Voice cloning
iOS & Android device
API
Audio editing
Cons
Voice limitation: Although Resemble AI's AI voices are good, they might not have the same feelings and subtleties as real people's voices in some situations. Also, Resemble AI can translate and adapt text into only 62 languages, which is less than what other companies offer.
Resemble AI Pricing
Free
Paid plan: $30/month
Visit: Resemble AI
9. Uberduck.ai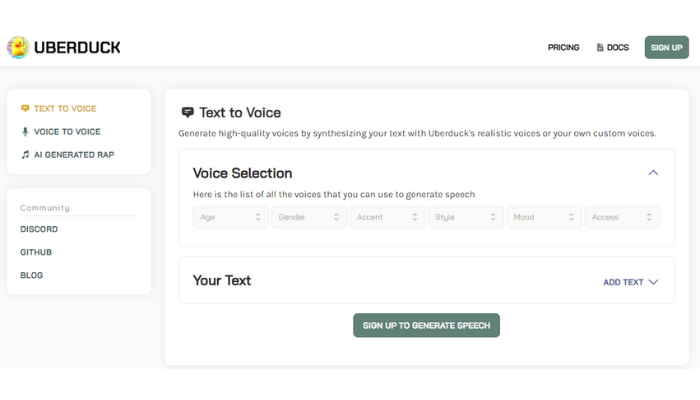 Uberduck can make your text talk like famous people or even make it sound like cartoon characters.
It's a free app that can change your text into different voices, and you can use it to make your videos more interesting.
Uberduck TTS shows 2000+ voices, including famous rappers.
Additionally, Uberduck offers a special plan called "private voice clone" that allows the API to create a personalized voice based on their voice samples.
With the Uberduck tool, people can type any sentence they want, pick a voice they like, and hear the sentence spoken in that voice. The software can also make images.
Features
API
TTS
Voice cloning
Easy UI
Voice library
Cons
One downside of Uberduck.ai is it sometimes makes mistakes. This happens because it uses information from different sources, and some of that information might be wrong.
Uberduck AI Pricing
Visit: Uberduck.ai
10. Narakeet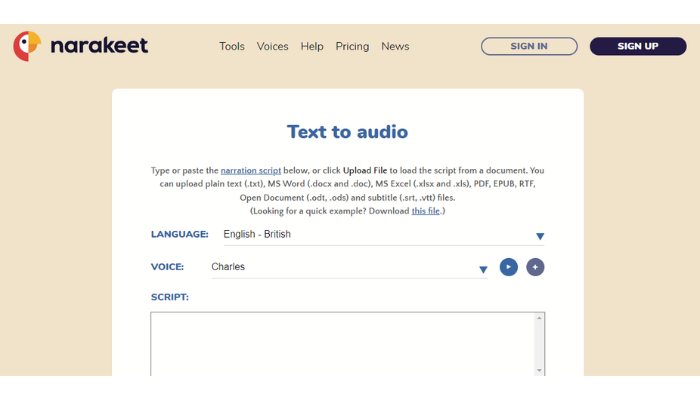 Narakeet turns text into speech. It can speak in 80 different languages using over 500 voices.
People use it to make videos from images, change PowerPoint presentations into videos, and turn images into videos.
All you have to do is write what you want to say in the notes for the person speaking in the video, and Narakeet will make slideshows with voice parts for you.
Also, Narakeet has pre-made designs that make it easy to create videos quickly.
Features
API integration allows voice production
Video narration and background music are available
Various platforms are supported
Cons
Videos can only be 2560 pixels wide and tall.
Pitch, speed, or emphasis cannot be customized.
Narakeet Pricing
Total voice duration determines pricing. For example:
$6/30 minutes
$100/1000 minutes
It offers a subscription plan, but the cost can vary. To find out how much the subscription costs, just reach out to them and ask for a price estimate.
Visit: Narakeet
11. Topmediai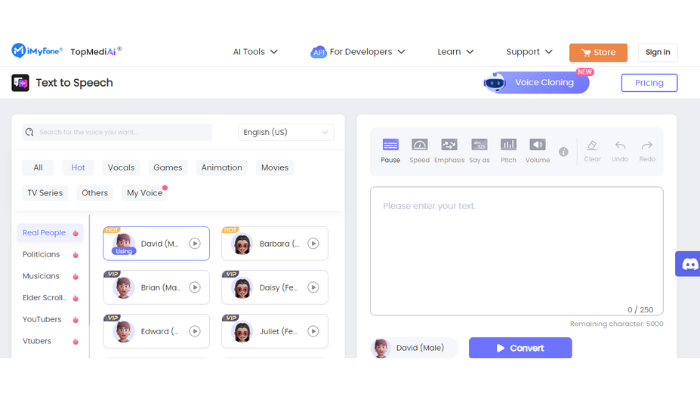 TopMediai Text-to-Speech generator that can make AI voices sound like real people.
You can use it to give your virtual assistants, video game characters, or chatbots voices that match their personalities.
With their technology, make voices that sound like famous people or fit the style of your cartoons and games.
The TopMediai is a modern tool that lets you pick from over 70 languages to create different voices.
TopMediai's advanced technology (Voice Cloning) lets you easily create voices in different styles.
Features
70+ languages & 3200 voices
Voiceover + voice cloning
Save time
Customization
TopMediai Pricing
Free (5000 characters)
Basic plan: $12.99/month (250,000 characters)
Premium plan: $19.99/month (500,000 characters)
Plus plan: $39.99/month (1,000,000 characters)
Clone basic: $14.99/month (2 voice clones)
Clone premium: $19.99/month (5 voice clones)
Clone plus: $39.99/month (10 voice clones)
Visit: TopMediai
12. TTSMaker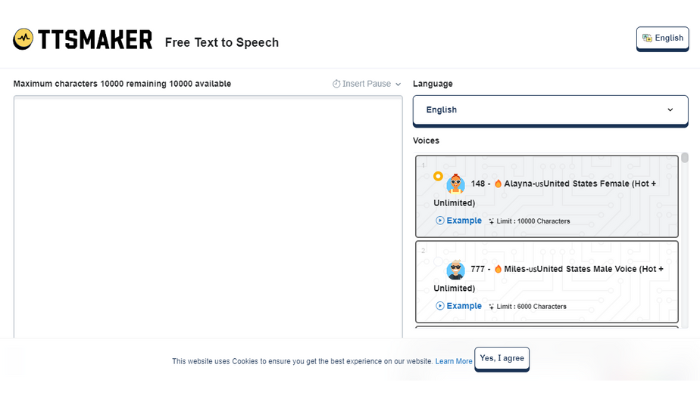 TTSMaker is a text-to-speech free tool that can speak many languages like Korean, English, Japanese, Arabic, Chinese, French, Spanish, Vietnamese, German, and more.
E-books and text can be read aloud, or the files can be downloaded and used commercially.
TTSMaker is an excellent 15.ai alternative tool for turning text into speech.
Features
Speech synthesizer
Free to use
API support
More voices
Cons
There may be some audio quality issues.
Few options for customizing audio.
TTSMaker Pricing
Visit: TTSMaker
13. SpeechGen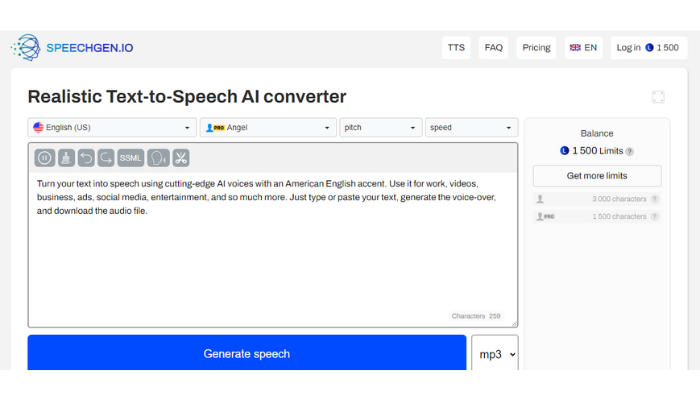 Make realistic Voice Overs on the internet! Just type in your text to produce speech and save it as an MP3 file for any use.
Text-to-speech helps businesses and brands give customers a better experience while saving money.
Use AI-powered voices to read your text aloud. You can change text into speech at no cost, but only for reference.
Features
Downloadable TTS
Commercial use
Long texts
Voice customization
Multi-voice editor
Save money
Cons
The free usage limit is 2,000,000 characters.
SSML support, multi-voice text, and other features require paid plans.
SpeechGen Pricing
Visit: SpeechGen
14. LOVO AI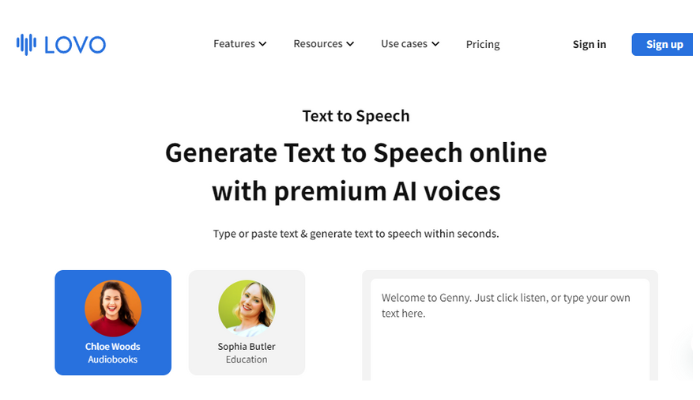 LOVO helps make content faster using AI voices, fake speech, and a tool for making custom voices.
They have over 200 voices. This means people who make games, movies, ads, e-learning, and apps can just write words and get talking from these voices.
Lots of different clients, from big companies such as NBC Universal to smaller artists, use this to save money and make their projects sound more natural with AI voices.
Features
Customer support
Unlimited voice cloning
API
100+ languages
Various voices
Exceptional AI voices
Cons
Voice customization is limited
An internet connection is required
LOVO AI Pricing
Free (14 days trial)
Basic: $19/month (2000 chars)
Pro: $24/month (5000 chars)
Pro+: $75/month (get everything)
Visit: LOVO AI
15. Fakeyou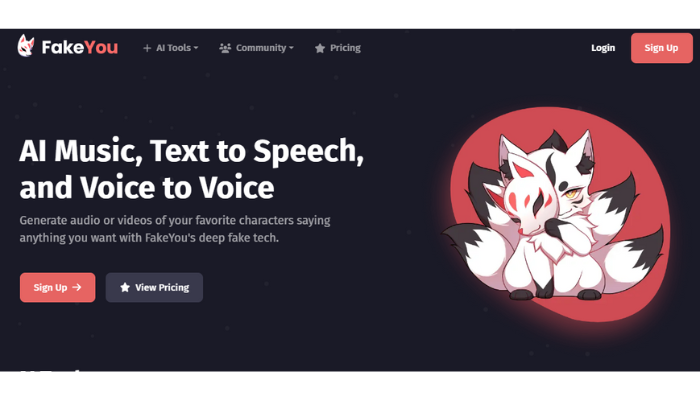 FakeYou is a free tool that lets you make AI-powered deepfake voices easily. Using machine learning, the voice program creates realistic pop culture voices.
FakeYou provides more than 2,000 choices for mimicking voices, like Elsa, Hulk, Donald Trump, and other famous characters from TV and movies.
It can also use free voice models. Besides just turning text into speech, FakeYou can also help make videos.
Features
Cons
There are few natural voices.
Voice confusion
Free users have limited audio saving.
FakeYou Pricing
Plus: $7/month
Pro: $15/month
Elite: $25/month
Visit: FakeYou
5 Other 15.ai Alternatives
There are 5 other 15.ai alternatives as well.
FineShare
Voicera
Baviux
Woord
Zao
Conclusion
To sum it up, 15.ai is an excellent and popular tool that turns text into voices for your projects, making them sound great.
But there are other free options like 15.ai available, and they might work even better for you, depending on what you're looking for.
These 20 tools are great choices for making voices for free in 2023.
FAQs
How to use 15.ai 2023?
To use 15.ai:
1. Visit 15.ai's official website to select your preferred character and emotion.
2. Input the text for audio conversion.
Tap the Play option.
3. If satisfied, click the Download button.
What is better than Uberduck?
The best Uberduck alternatives include Listnr, Murf, Google Cloud, and Amazon Polly. Consider pricing, availability, and features.