Do you love playing Dungeons and Dragons or DnD with your friends? You could benefit from a DnD AI art generator if you answered yes.
You can choose from different styles, themes, races, classes, etc. You can customize your characters' appearance, clothing, weapons, and accessories.
With a DnD ai art generator, you can bring your imagination to life and impress your friends with your awesome creations. You can use these sites to create your own DnD artwork using the best ai art generator for DnD. Let's get started!
Table of Contents
What is DnD AI Art Generator
DnD AI Art Generator is a special computer program that can make pictures of characters and creatures that you might see in a game called Dungeons and Dragons. It uses something called artificial intelligence, which is like a super smart computer brain that can think and make decisions on its own.
Basically, you give the program some information about the character or creature you want a picture of, and the AI does the rest! It uses its smarts to come up with a unique image that no one has seen before. It's kind of like having a really cool robot friend who can draw awesome pictures for you.
Examples of DnD Ai Art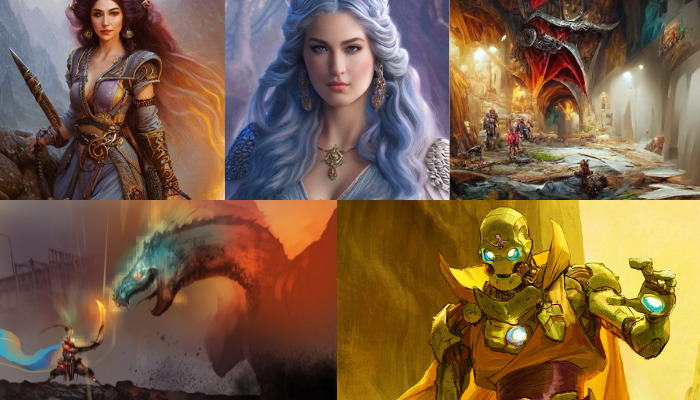 List of DnD AI Art Generator Free Tools
Here is the list of best ai art generators for DnD to use.
NightCafe
Neural Love
StarryAI
Artbreeder
Artflow.ai
Midjourney
Photoleap
Fotor
Freepik
Adobe firefly
10 Best Dnd AI Art Generators
Look at the top DnD ai art generator software.
1. NightCafe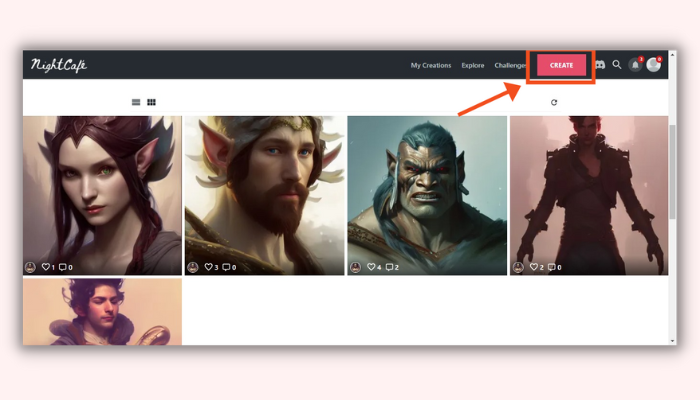 Looking for the best AI art generator for DnD? NightCafe is an AI DnD art generator app that lets you create stunning artwork in seconds using the power of Artificial Intelligence. You can use different methods of AI art generation, such as neural style transfer, text-to-image AI, and VQGAN+CLIP. You can also join a vibrant AI Art community and participate in daily challenges, chat rooms, and social media.
A Step-By-Step Guide
If you want to generate DnD art in NightCafe, you can follow these steps:
Go to https://creator.nightcafe.studio/ and click on "Create".
Choose a creation method from the menu. For example, you can use text-to-image AI to describe what you want to see.
Choose a style from the options or upload your own. For example, you can use "Cubist v2" or "Anime" to give your image a unique look.
Click on "Create" and wait for the AI to generate your image.
Enjoy your DnD art and share it with others if you like.
Key Features
Neural style transfer
Text-to-image AI
Diffusion technology
| | |
| --- | --- |
| Pros | Cons |
| Free to use | The best results require some experimentation |
| Available on web and mobile platforms | Not suitable for professional or commercial use |
| Simple interface | |
| Variety of styles and genres | |
Pricing
Ranges from $0.99 to $9.99 for 10 to 200 credits.
Visit: NightCafe
2. Neural Love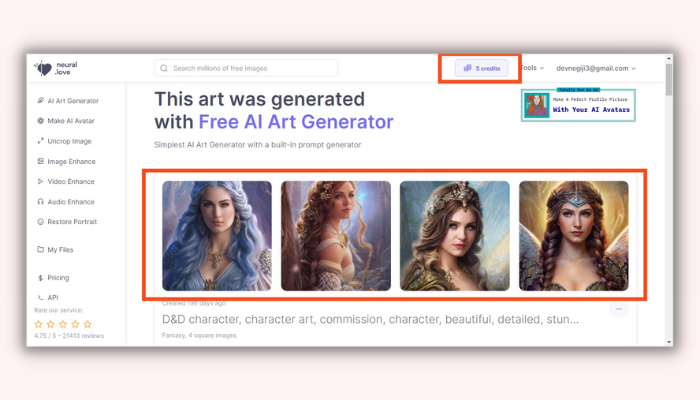 Neural Love is an AI art generator DnD tool that can create realistic and artistic images based on your text prompts. DnD ai art is a term that refers to using AI image generators to create art for Dungeons and Dragons, a popular tabletop role-playing game. This is an AI DnD art generator that inspires new concepts and stories based on the random outcomes they produce.
A Step-By-Step Guide
Go to https://neural.love/auth-initiate/?provider=Google and sign in with your Google account.
Select "AI Image Generator".
Type in a text prompt that describes what you want to generate.
Hit the "Generate" box and wait for the AI to create your image.
If you are unsatisfied with the result, click on the "Regenerate" button to get a different image based on the same prompt.
By clicking "Download", you can download an image you like.
Key Features
NL 0.3 model
Square result
HD mode
Private results
| | |
| --- | --- |
| Pros | Cons |
| Simplicity and lots of various options | Cost |
| Produce more realistic images | Less originality and accuracy |
Pricing
$9.99/month or $99.99/year.
Visit: Neural Love
3. StarryAI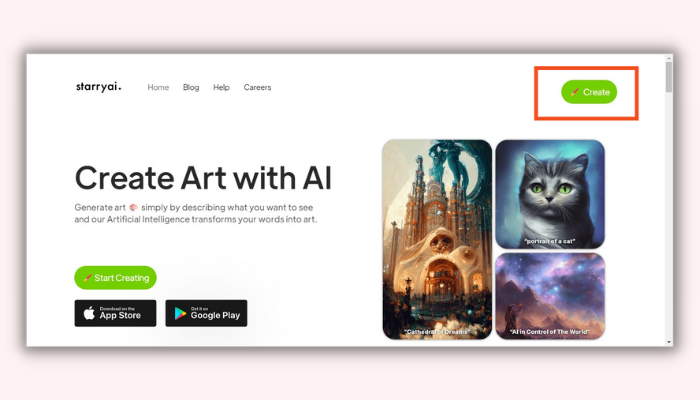 Using StarryAI's AI art generator for DnD, you can create incredible works of art. Each user can create five free artworks per day, without watermarks, and own the artworks they create. Create your own model, style, aspect ratio, and initial image by selecting from different models, styles, and styles.
A Step-By-Step Guide
Download the StarryAI app on your iOS or Android device.
Create an account and log in. You will get five credits (25 images) for free when you sign up.
Click the "Create" box.
Enter a text prompt that describes what you want to see.
Choose a model, style, aspect ratio, and initial image (optional) for your creation.
Tap on the "Generate" button. You can also tap on the "Evolve" button to generate more variations of the same prompt.
Save or share your artwork as you like.
Key Features
Uses the latest AI methods
Choose from various options
Explore the works of thousands of AI artists
| | |
| --- | --- |
| Pros | Cons |
| Easy to use | Limit of 5 free artworks per day |
| High rating from users on iOS (4.7 stars) | Manual or traditional users may not find this suitable |
Pricing
Subscription plan for $9.99/month or $59.99/year.
Visit: StarryAI
4. Artbreeder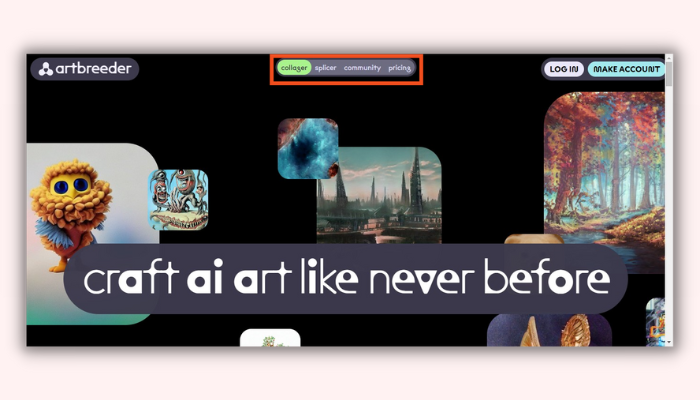 Artbreeder is a DnD ai art generator that uses artificial intelligence to create and edit images. Two neural networks compete with each other using generative adversarial networks (GANs) to produce realistic images. Artbreeder can be used to generate various types of images, such as portraits, landscapes, characters, anime, and more.
A Step-By-Step Guide
Go to https://www.artbreeder.com/ and create an account.
Choose a category of images that suits your DnD art needs.
Browse through the existing images or upload your own.
Click on an image that you like or want to modify. You can also use the "genes" tab to mix different features from other images.
You can also use the "crossbreed" tab to combine two images into one. This can create interesting results and variations for your DnD art.
When you are satisfied with your image, you can save it to your gallery or download it to your device.
Key Features
Various categories of images are available.
Adjust various parameters of the images.
Enables users to download high-resolution images.
Supports collaborative creation and sharing of images with other users.
Uses state-of-the-art generative adversarial networks (GANs) to produce realistic and diverse images.
| | |
| --- | --- |
| Pros | Cons |
| Fast & responsive | Slow loading sometimes |
| Collaborative and community-driven | |
Pricing
Free (25 credits/month)
Basic ($9/month)
Pro ($19/month)
Unlimited ($99/month)
Visit: Artbreeder
5. Artflow.ai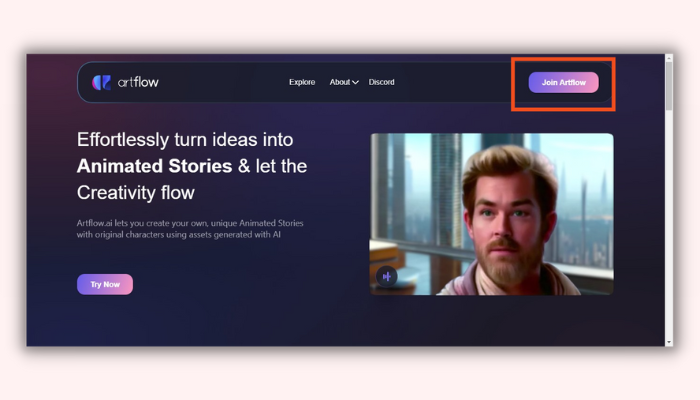 Artflow.ai is a DnD ai art generator that supports artists in their professional development. It also provides a platform where artists can create and share their own animated stories with original characters using assets generated with AI. With just a few clicks, create unique character portraits and scene backdrops using this AI art generator DnD.
A Step-By-Step Guide
Go to https://app.artflow.ai/ and sign up for a free account.
Choose the Create Custom Avatar from Text option and enter a description of your DnD character in the text box.
Tap the Generate button and download it.
Key Features
AI-generated content
Creative control
Easy sharing
| | |
| --- | --- |
| Pros | Cons |
| Fun & easy | Limited language support |
| Versatile and diverse | Waiting time |
| Innovative and original | |
Pricing
Free. Premium plan for $9.99/month or $99/year.
Visit: Artflow.ai
6. Midjourney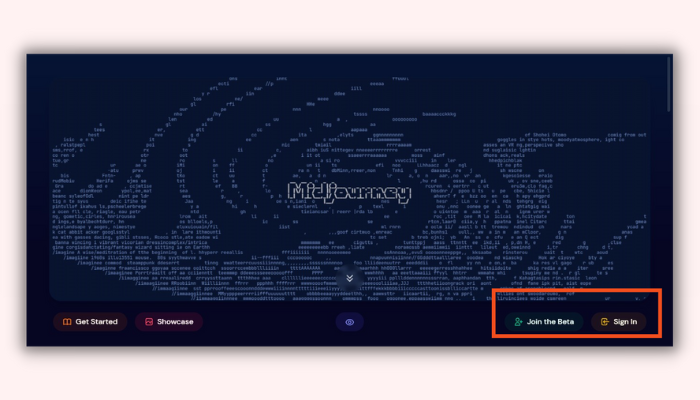 The mission of Midjourney is to expand human imagination by exploring new media of thought. Based on user-generated queries, their AI art generator generates stunning images. In this context, Midjourney is related to DnD AI art because it can be used to generate fantasy scenes and characters for Dungeons & Dragons, a popular tabletop role-playing game.
A Step-By-Step Guide
Sign up for a free Discord account if you don't have one already.
Join the Midjourney Discord server by following this link: discord.gg/midjourney.
Choose one of the #newbies channels and type "/imagine" followed by your text prompt.
Wait for the AI to generate a matrix of four images based on your prompt. You can click on any image to enlarge it or save it to your device.
Key Features
Here are some key features of the Midjourney DnD ai art generator.
Excellence in user-generated queries
A variety of styles and themes are available for users to experiment with
Accessible via Discord, which is free to join
| | |
| --- | --- |
| Pros | Cons |
| Produces high-quality images | Take some time to process the queries |
| No skill is required | |
| Personal or commercial use | |
Pricing
Free (25 images/user). Subscribe for $10/month to receive 200 images, or for $30 to access unlimited images.
Visit: Midjourney
7. Photoleap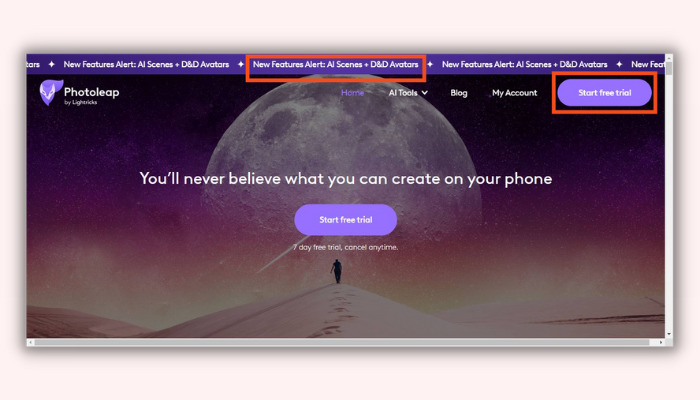 By using its powerful AI image generator and image effects, Photoleap is a creative and powerful photo editing app from Lightricks. This is a DnD ai art generator that converts photos into artistic creations by editing them, adding filters and effects, creating collages, and adding tools.
A Step-By-Step Guide
Open Photoleap and choose a photo from your gallery.
Tap on the AI Tools icon at the bottom of the screen and choose Text-to-Image.
Give your creation a description.
Tap on Generate and wait for the AI to create your DnD art based on your text input.
Tap on Save or Share to export or share your creation.
Key Features
Photo animator
Background eraser
Photo Retouch
| | |
| --- | --- |
| Pros | Cons |
| Generate realistic DnD images | Requires a subscription |
| Create 3D photos | Device compatibility limited |
| High rating with positive reviews on the App store and Play store | |
Pricing
Free trial (7-days).
Paid plan: $5.99/month or $35.99/year
Visit: Photoleap
8. Fotor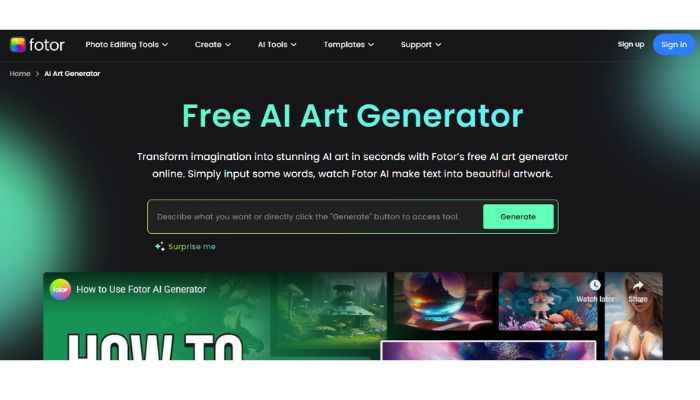 Fotor is a top DnD AI art generator for making unique and one-of-a-kind images for DnD games. Create art of the DND character and generate creatures and landscapes with this tool. This website uses AI to mix images and make unique artworks for DnD movements.
A Step-By-Step Guide
Enter the text prompts into the AI photo generator box.
Pick the ratio, select a style (like 3D, cartoon, or oil painting), and choose how many images you want.
Tap "Generate" to make AI photos.
Key Features
Various styles of art
Excellent customization option
Enhance AI images better.
Adding effects
Removing objects
| | |
| --- | --- |
| Pros | Cons |
| High-quality art | Subscription fee issue |
| Various options for customization | Unusual avatars |
| No skill is required. | |
Pricing
$9.99 (200 credits)
$19.99 (500 credits)
$35.99 (1000 credits)
$59.99 (2000 credits)
Visit: Fotor
9. Freepik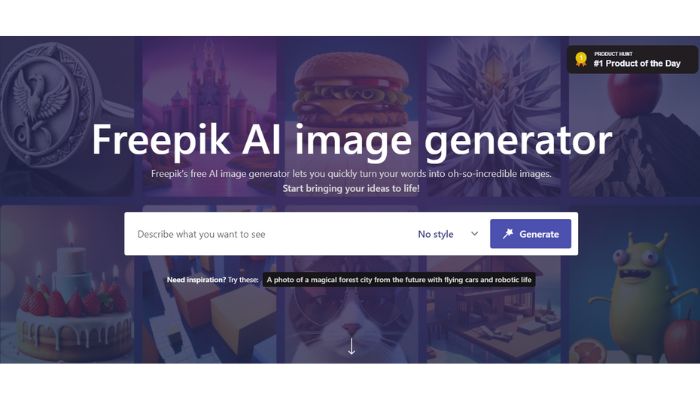 Freepik DnD AI art generator is a great choice for DnD entertainers creating AI art. This tool uses algorithms to create pictures in various styles. You can personalize and edit the images with Freepik's tools to make them uniquely yours. Freepik is user-friendly with an easy-to-understand interface. You can enter prompts like character class, race, and gender, and it will create five images for you.
A Step-By-Step Guide
Head to the AI image generator of Freepik and sign up there.
Enter your prompt.
Get your response.
Key Features
Various types of images
3D images
Clean UI
| | |
| --- | --- |
| Pros | Cons |
| Fast and responsive | Images look similar |
| Available for all devices | Sometimes irrelevant images |
Pricing
Free (20 credits)
Plan starts from $12.99/month (100 images)
Visit: Freepik
10. Adobe Firefly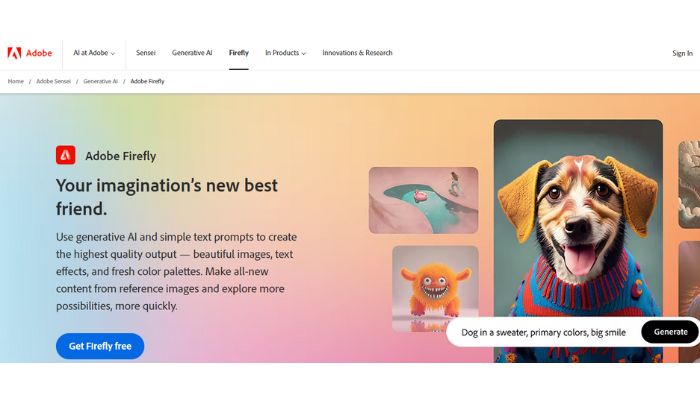 Adobe Firefly is an awesome DnD AI art generator tool for DnD players to create AI-generated art. This tool is user-friendly, making it great for beginners. Create custom art easily to capture your characters' essence in seconds. Adobe Firefly uses a big collection of images to train its algorithm. This means you can keep adjusting your input until you achieve your desired style.
A Step-By-Step Guide
Sign up. Explore examples and try things out.
Type in what you want to create your first AI art.
Adjust settings to customize the art.
Create, save, and share your AI art.
Key Features
Easy to use
Text effect
3D image
| | |
| --- | --- |
| Pros | Cons |
| Professional artwork | Limited customize options |
| Quickly create realistic images. | |
Pricing
Visit: Adobe firefly
If you are looking for these DnD generator alternatives, then check out the 20 best AI dungeon alternatives.
DnD Artificer Ideas
DnD artificers use tools to aid them on their journeys as magic users. Steel Defenders, for example, are homemade companions that can be used as weapons and cannons. Artificers are versatile and adaptable, filling different roles in a party depending on their subclass and infusions. The world of Eberron has the most artisans; however, Ravnica and Wildemount also have them.
Factors to Consider When Building a DnD Artificer
Some factors to consider are:
Ability scores
Race
Subclass
Feats
Spells
Infusions
How to Make a DnD Artificer
To make an artificer, you need to follow these steps:
Select a race that increases your Intelligence, like gnomes, high elves, or human variants.
Choosing a background that matches your interests and skills could include guild artisan, sage, or urchin.
At 3rd level, choose your subclass of the artificer class.
Choose your six abilities and assign them scores.
Choose your spells
Your choice of equipment and infusions is up to you.
FAQs
What is an AI image generator?
The AI image generator generates new images from text prompts using artificial intelligence. For example, The image of a gnome with artificer gadgets will appear if you enter artificer gnome.
How do I use an AI image generator for DnD art?
First, find an AI image generator that can create fantasy-themed images. Then, provide it with the specifications of your desired art, such as character, race and equipment. Finally, use the generated images as inspiration or incorporate them into your DnD game.
Can I use the AI-generated images for DnD?
Yes, you can use AI-generated images for your DnD campaign as long as you have permission to use the images. However, keep in mind that AI-generated images may not always fit the theme or tone of your campaign.
How do AI image generators benefit DnD art?
DnD art using AI image generators can have the following benefits:
Create new characters and worlds quickly
The use of images can inspire new ideas and concepts
Generate magic items, monsters, and more
Different prompts and styles can be fun to experiment with
Conclusion
DnD has witnessed a revolution in its world by using AI art generators. These powerful tools allow players to bring their characters to life with stunning, unique visuals that capture their essence.
You can use a DnD AI art generator to create a unique character, no matter your player level. To learn more, watch this video.
With so many great options available, including the seven sites we've explored in this article, the possibilities for creating amazing AI-generated art for your D&D character are truly endless. However, we have discussed the 10 best DnD AI art generators for you to choose from.