Well, what happens when you combine anime and AI? You get something called an anime AI art generator! It's a computer program that can create anime-style art all on its own. And the best part is, there are some really cool ones that you can use for free!
This article will tell you all about the top 9 free anime AI art generators. That means you can use them to make your own anime-style art without spending a single penny! You can make your own anime artwork if you're an anime fan!
Table of Contents
List of Best and Free Anime AI Art Generators
Unleash Your Inner Artist with these free Anime-Inspired AI Art generators.
Soulgen
Zmo AI
Getimg AI
Waifu Labs
Problembo
Crypko
Deep AI
Fotor
Yodayo
Before we talk about the tools, let us talk about anime in detail so that you don't have any doubts.
What AI Generates Anime Art
There are several AI tools that can generate anime art, such as ZMO AI, Getimg AI, Waifu Labs, Problembo, and DeepArt. Analyzing and learning from anime artwork is done using machine learning algorithms and then generating new artwork based on that knowledge. They can be used to create original characters, scenes, and backgrounds for anime and manga productions or for personal artistic projects.
How to AI Generate Anime Characters
AI can generate anime characters using deep learning algorithms and neural networks. These algorithms analyze large datasets of existing anime characters to generate new ones based on patterns and trends in the data. By adjusting the input parameters and training the model on different datasets, AI can produce a wide variety of unique anime characters.
Which is the best anime AI art generator? The anime AI art generator on Reddit has become a popular platform for anime fans to showcase their creativity and generate unique anime-style artworks using AI technology.
You will find the answer to this question on Reddit related to anime ai art generator. Let's show you a screenshot.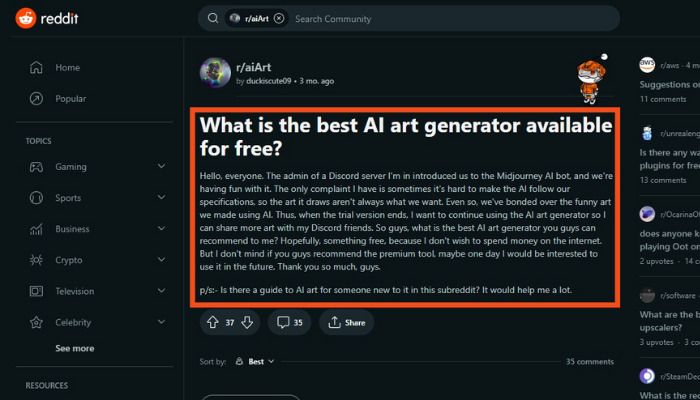 If you do not see it clearly, then we have given its link. You can read it by clicking.
But the problem is that he has talked about only one website. Sometimes you won't get to see many features on a website. So that is why we have talked about 9 tools in this blog so that you get various options.
The 9 Best Free Anime AI Art Generators
A list of the top 9 free tools for animating AI in anime.
1. Soulgen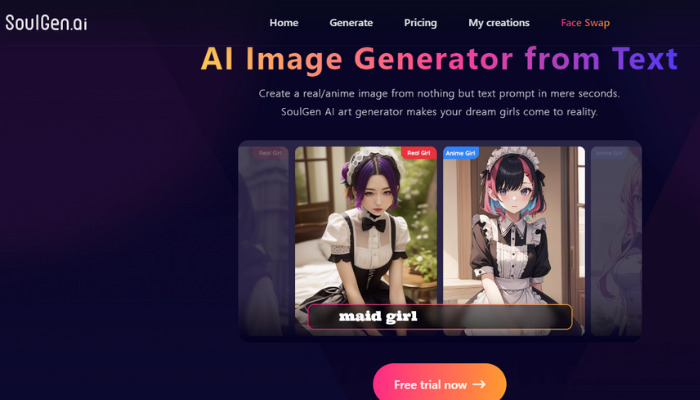 Soulgen is undoubtedly the best anime AI art generator available. There is a reason for it. One of the standout features of Soulgen is its ability to generate anime art from photos. With the help of this anime AI art generator from Image, you can easily create custom anime-style illustrations without having to master the complex techniques of drawing.
Another exciting feature of Soulgen is its ability to generate anime art based on user input. The AI system then generates a personalized anime art piece based on the user's input, providing a fun and engaging experience for anime fans.
How to Use:
To use Soulgen free anime ai art generator, follow these steps:
Log in to your account or get a free trial if you do not have one.
Enter your description or use one of their prompts.
Click Generate and select Real Girl or Anime Girl.
Examples: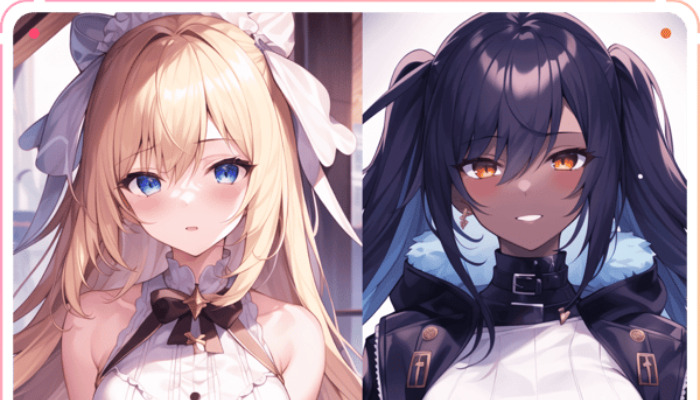 Pricing
Monthly plan starts at $9.99 (50% off for the first-time purchaser), and yearly subscription starts at $69.99 (70% off for the first-time purchaser).
Visit: Soulgen
2. ZMO AI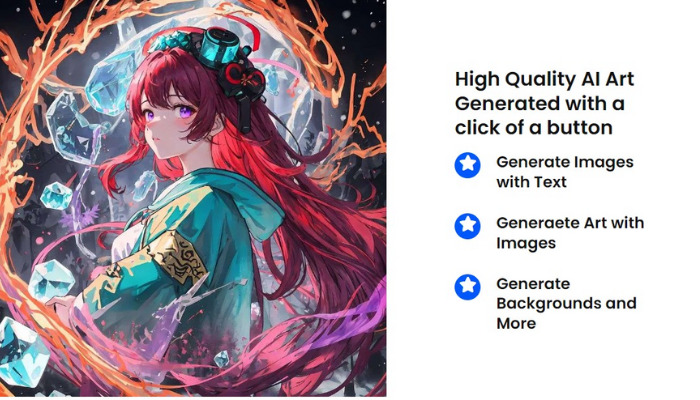 ZMO AI is a website that offers various AI-powered tools for creating and editing images, such as Anime AI Art Generator, AI Designer, AI Remover, AI Models and more. You can use ZMO AI to generate realistic or artistic images from text or image prompts, edit images with natural language descriptions, remove unwanted objects from photos, and showcase garments on different models. ZMO AI is free to use and trusted by millions of users worldwide.
How to Use:
Visit the ZMO AI website, and in the footer section, click the Anime Character Generator option.
You can upload a photo and select an anime-style filter to transform your photo into anime art by clicking the Create anime character option.
There are various options, such as image input, Background AI, and Room design.
You can also use the Text To Image AI Art tool to generate anime art from text prompts.
For example, you can type "a cute girl with blue hair and green eyes" and get an anime image of that description.
Examples: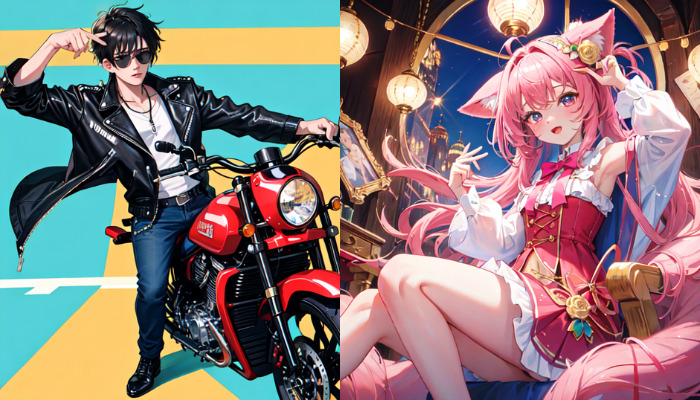 Pricing
Free. Paid version starting from 49$/month.
Visit: ZMO AI
3. Getimg AI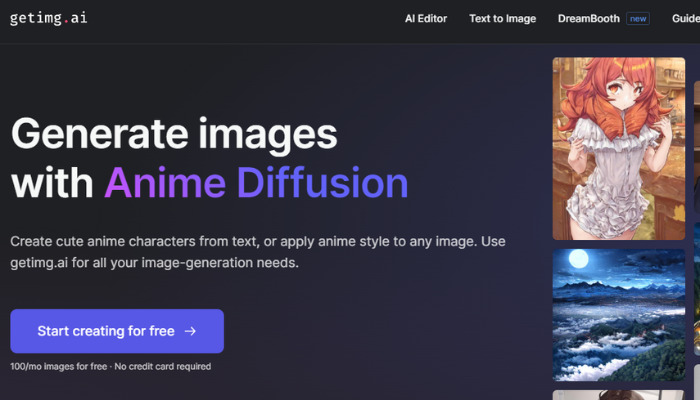 Getimg AI is an excellent Anime AI art generator that allows users to create cute anime characters from text or apply anime style to any image. With this anime AI art generator from image, any photo can be turned into a beautiful piece of anime art. It is different from other image-generation tools in several ways:
It uses Anime Diffusion, a state-of-the-art AI model that can generate high-quality and diverse anime images from text prompts.
It has a Text to Image feature that lets users edit images with natural language instructions, such as 'make it black and white', 'make the person smile', etc.
It has an Image Mixer feature that lets users create variations of multiple images without writing prompts by combining visual features from source images.
How to Use:
Create an account on getimg.ai and log in. You can generate 100 images for free every month and earn more credits by referring friends and followers.
You can either use Text To Image to generate anime characters from text or use Image To Image to apply anime style to any image.
Examples: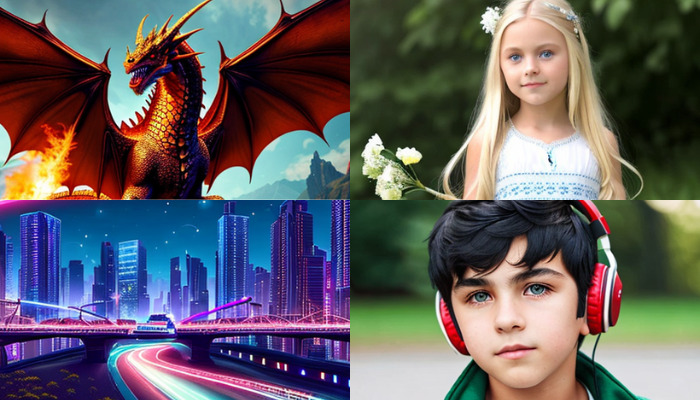 Pricing
Basic at 12$/month, Starter at 29$/month, Hobby at 49$/month, and Pro at 99$/month.
Visit: Getimg AI
4. Waifu Labs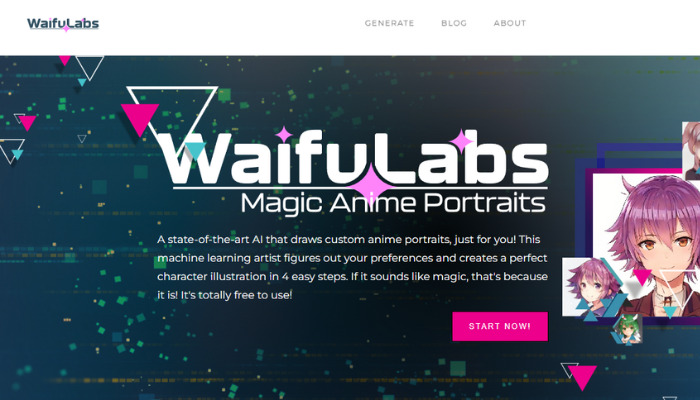 Waifu Labs is a website that allows you to create your own anime Waifu (a term for a female character that you find attractive or adorable) using AI. You can either generate a random Waifu or customize your own by choosing different features, such as hair color, eye color, clothing, accessories, and background. You can also name your Waifu and download or share it with others.
Waifu Labs is one of the most popular and fun anime ai art generator free tools on the web. It is a great way to express your creativity and imagination or just to have some fun with anime characters.
How to Use:
Click on the "Generate" button to create a random Waifu.
You can also use the arrows on the right side of the screen to browse different variations of your waifu. Character<Color palette tune< Details fine tune<Finish.
When you are satisfied with your Waifu, click on the "Download" button to save it as a PNG file.
Examples: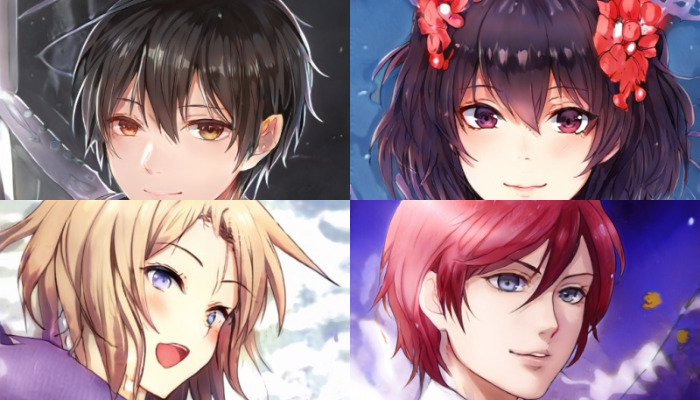 Pricing
Free service.
Visit: Waifu Labs
5. Problembo
Problembo is a website that offers various services. One of its services is an anime ai art generator from photo, which allows users to create unique anime-style images and avatars using text and image prompts.
Problembo's anime image maker is one of the many examples of how AI can be used to create art in different styles and genres.
How to Use:
Enter the text "Problembo" in the search bar in your browser, and in the result, select the "Anime-style image" option.
Enter a text prompt describing the anime character or scene you want to create.
You can enter a negative prompt or upload an initial image for the AI to modify.
Click on "Make Image" and wait for a few seconds. The AI will generate four images based on your prompt and settings. You can choose the one you like best or try again with different inputs.
Examples: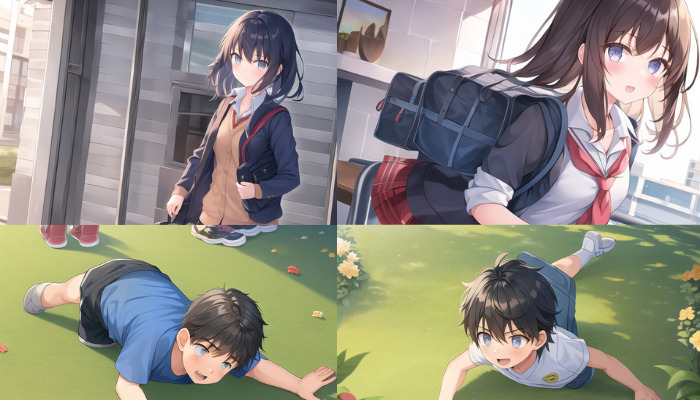 Pricing
Free. Premium account for 4.99$/month or 49.99$/year.
Visit: Problembo
6. Crypko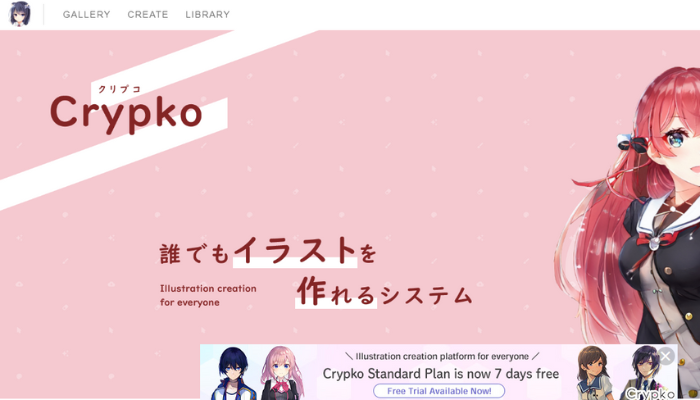 Crypko is a platform that uses AI to generate anime character illustrations. You can create your own characters by using various functions such as generate, fuse, attributes, and canvas. Crypko is also available as a smartphone app called MEMES, where you can use Crypko's technology to create and share anime memes.
Crypko is one of the best anime AI art generator tools because it uses artificial intelligence to create anime-style artwork in a creative way.
How to Use:
To use Crypko,
You need to create an account and choose a plan that suits your needs. There are different plans for personal and commercial use.
Once you have access to Crypko, you can start making characters by using the GENERATE function, FUSE function, ATTRIBUTES function, CANVAS function and other functions provided in the platform.
You can also download your generated images or share them on social media.
Examples: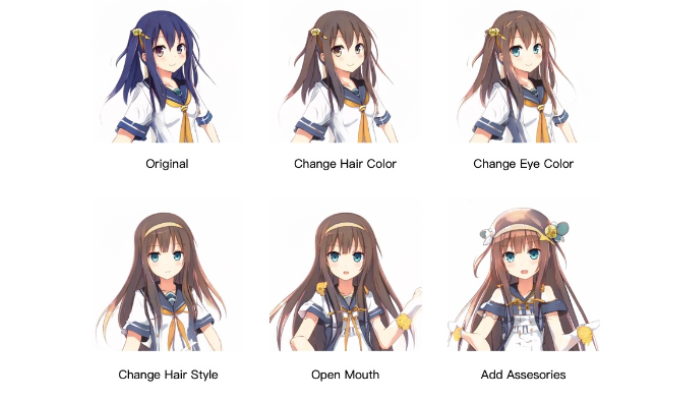 Pricing
Free. Starter = 3.57$/month, Standard = 7.20$/month, Premium = 36.61$/month.
Visit: Crypko
7. Deep AI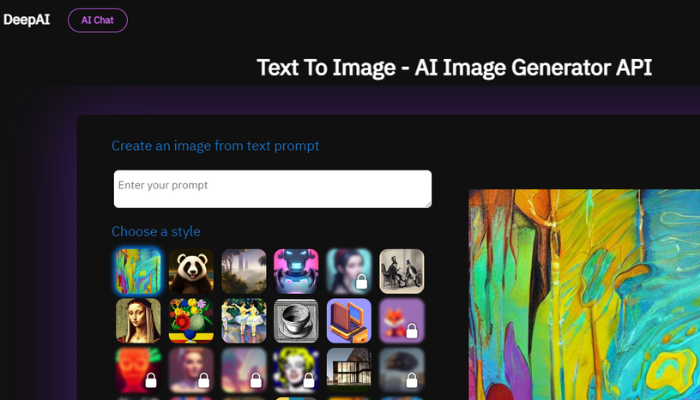 Deep AI is a term that refers to artificial intelligence systems that can perform complex tasks such as image recognition, natural language processing, and computer vision. Deep AI can also be used to create stunning art, especially in the anime genre.
How to Use:
Once you visit the Deep AI tool., scroll down. Click the "Ai image generator".
Then, type your prompt and choose the style.
After that, click the "Generate" option.
Hit the "Download" button.
Examples:
Pricing
5000 requests/month. Paid plans that start from 9$/month for 25000 requests.
Visit: Deep AI
8. Fotor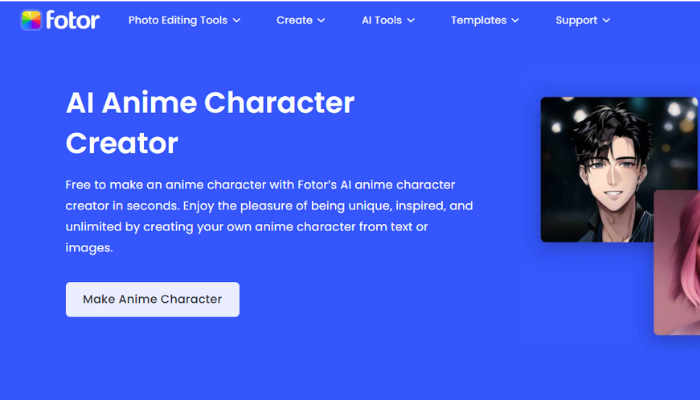 Fotor is also an anime ai art generator free editor that lets you edit photos, make collages, and create graphic designs. Anime AI art is a popular trend that uses artificial intelligence to generate anime-style images from photos or text.
Fotor generates AI headshots, AI portraits, and AI anime that unleash your creativity.
You can use Fotor's AI Anime Character Creator feature to create anime paintings from text and photos. It helps you simplify the texture of a photo and convert it to a style used in animation and illustration. You can also choose from different models and poses to customize your anime art.
How to Use:
Search "Fotor anime" in your browser to select "AI Anime character creator."
Then, click "Make anime character."
Click "Open Image" on the left, and upload any image you want to make into anime. Alternatively, click "From Text" and type your description of the anime character you want to create.
Wait for Fotor's AI tool to turn photos or text into anime in seconds, and you will have three anime images in different styles.
Preview and download your anime pic.
Examples: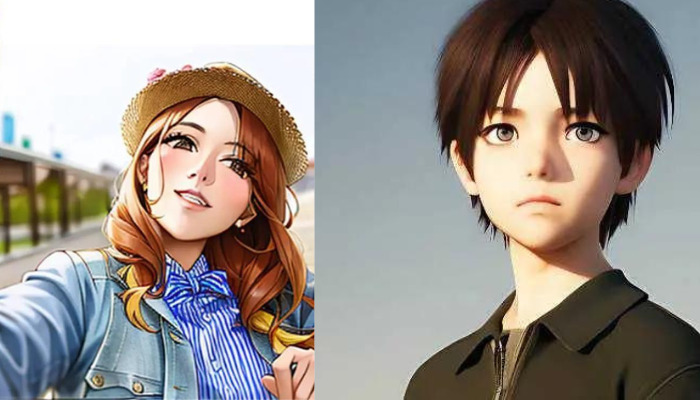 Pricing
Free. Pro plan that costs 8.99$/month or 39.99$/year.
Visit: Fotor
9. Yodayo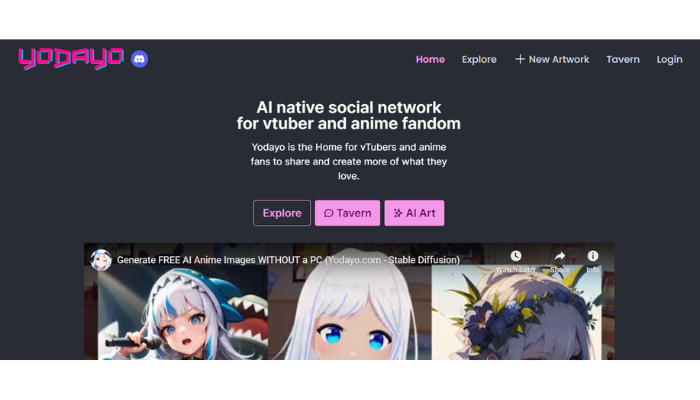 Yodayo is a popular Anime AI known for its impressive ability to generate anime-style artwork. It is particularly well-known for being a free anime AI art generator, allowing users to create their own unique anime characters and scenes without needing to pay for expensive software or hire professional artists. Its user-friendly interface and constantly evolving capabilities have made it a favorite among anime fans and artists alike.
How to Use:
To use Yodayo to generate anime ai, you need to follow these steps:
Go to https://yodayo.com/text-to-image/ or download the app from the App Store.
Enter a prompt in the text box. You can use keywords, descriptions, characters, styles, or anything else you want to see in your anime art.
Click "Generate" and wait for the AI to create your image. You can also adjust the model, priority, and spells to customize your result.
Enjoy your anime and share it with others if you like.
Examples: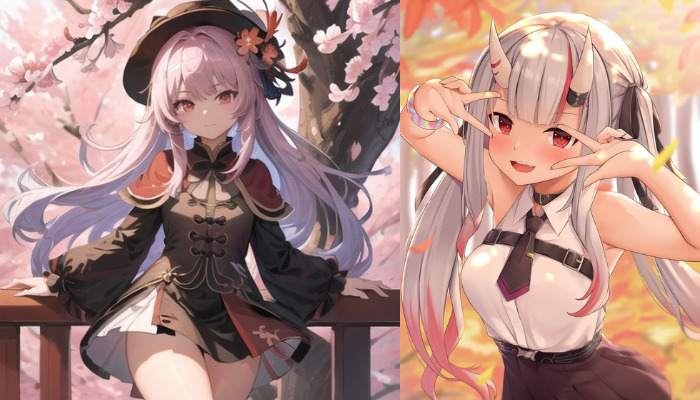 Pricing
Free trial that lasts for 7 days, and a subscription plan that costs 14.99$/month or 119.99$/year.
Visit: Yodayo
Which TikTok Filter Makes Your Photo Look Like an Anime?
The name of the TikTok filter that can turn your photo into an anime picture is AI Manga. It is one of the most popular AI filters on TikTok, with over 22 million videos using it. It can also work on objects, people, and animals.
Still, if you have any doubts related to how to create a professional anime AI art generator, watch this video.
Conclusion
In conclusion, there are many awesome free anime AI art generator sites out there that can help you create amazing anime-style drawings without any fancy art skills! You can experiment with different styles and settings once you've found the right look. Just remember to always be respectful of the creators and the art you create, and have fun exploring your creative side with these amazing tools!
FAQs
Is AI art generator legal?
Yes, using AI art generators is legal as long as the generated artwork does not infringe on any existing copyright or trademark laws. However, the legal ownership and rights to the artwork can become complicated as the use of AI blurs the line between human and machine creativity. It's advisable to seek legal advice on specific cases.
What app do anime artist use?
Anime artists use a variety of digital art applications, including Clip Studio Paint, Paint Tool SAI, Procreate, and Photoshop. Artists can create unique and intricate designs using each program's strengths and features.
Is Dall-E free to use?
No, Dall-E is not free to use. However, OpenAI offers a limited free trial for those who want to experiment with the tool.
Is AI copying artists?
AI can generate artwork in the style of existing artists through machine learning algorithms that analyze patterns and characteristics of their works. However, AI does not copy artists in the traditional sense, as it lacks the intention and creativity of a human artist.