Cool sticker ideas are sure to leave a lasting impression on your friends and family. You can have fun by putting stickers on your pet's face everywhere you want, like on your items! Stickers can also be used to show what you believe in, like supporting a political group or letting people know there's a baby in the car. If you're not sure what stickers to make next, no worries! Take a look at the awesome list of cool sticker ideas to get your creative juices flowing, and have a blast making them!
Table of Contents
How to Design Cool Stickers
To design cool stickers, you need to follow some basic tips:
Keep it simple and catchy
Make your stickers colorful and fun
Readable images and fonts
Personalize your stickers
Using a high-resolution printer or a professional service
What Are Some Cool Sticker Ideas
Here is a list of cool sticker ideas that are on trend.
Stickers with personalized names
Symbols of culture
Fantasy and mythical creatures
Designs inspired by graffiti
Heroes from comic books
Slogans for activism
Sports mascots and logos
Motivation for fitness
Mindfulness imagery and yoga
A zero-waste theme
Blockchain and crypto icons
3D illusions
Symbols of maker culture
Devices and gadgets
Watercolors and drawings
Illustrated food and drink
Botanical and plant minimalism
Hobbies and crafts
Diversity and inclusion
Pet illustrations
Social site icons and logos
Portraits in minimalist style
Characters from video games
Cute and kawaii characters
Zodiac signs and celestial bodies
Typography with pop art
Sci-fi and futuristic designs
Geometric and abstract patterns
Environmental activism and slogans
Meme Culture and the Internet
AR/VR themes
Self-care and awareness
Movie and TV characters
Affirmations and inspirational quotes
Band and music logos
Galaxy themes
Vintage and retro aesthetics
Holographic stickers
Travel destinations
Eco-friendly symbols
Nike trainer stickers
Famous art
Animal stickers
Golden retriever design
Creativity juice box
Eat today?
French fry waterproof
Aquarium laptop decal
Astronaut sticker
Sprinkle stickers on the wall
Best Cool Sticker Ideas
Here is a list of the best 50+ cool sticker ideas you must know.
1. Stickers With Personalized Names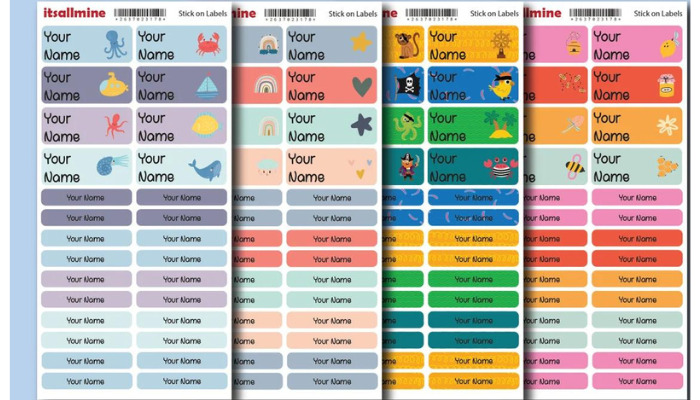 Let's talk about some awesome cool sticker ideas using personalized names! You can create stickers that have your own name or someone else's.
One idea is to design a sticker with your name surrounded by beautiful flowers.
Another idea is to use a fancy, curly font for the name and add a cool pattern with shapes like squares and triangles.
Once you're done, you can stick them anywhere you want and let everyone see your awesome creations!
2. Symbols of Culture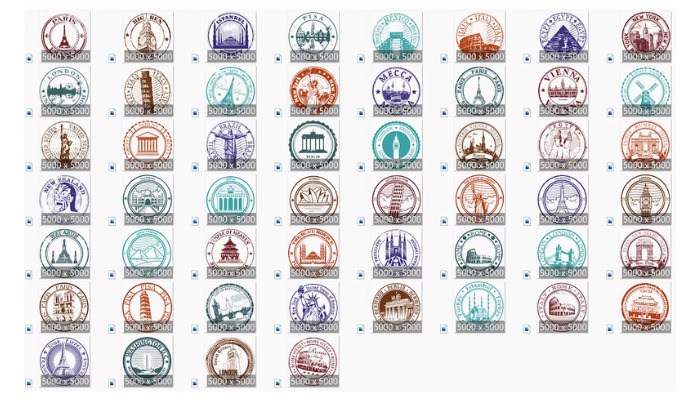 Have you ever seen those cool Celtic knot designs? They're fancy knots that Celtic people used a long, long time ago.
There's this symbol called the Hamsa hand. It's believed to bring good luck and protect against bad things. It has been used for ages.
So, if you're interested, you can explore these symbol stickers.
3. Fantasy and Mythical Creatures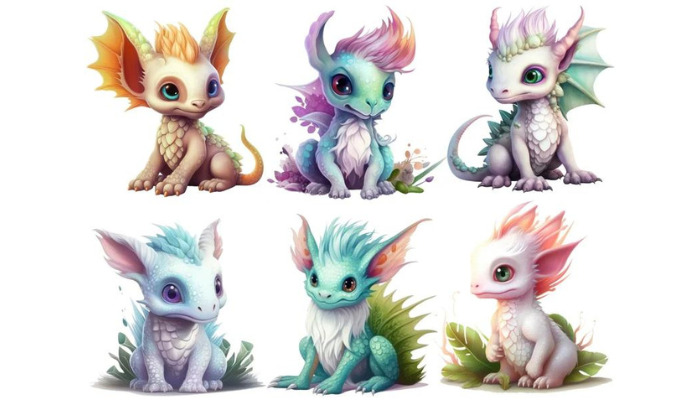 Make your phone, water flask, or laptop more magical. Here are some ideas:
Illustration of a dragon
Mermaid art
Gollum stickers
4. Designs Inspired by Graffiti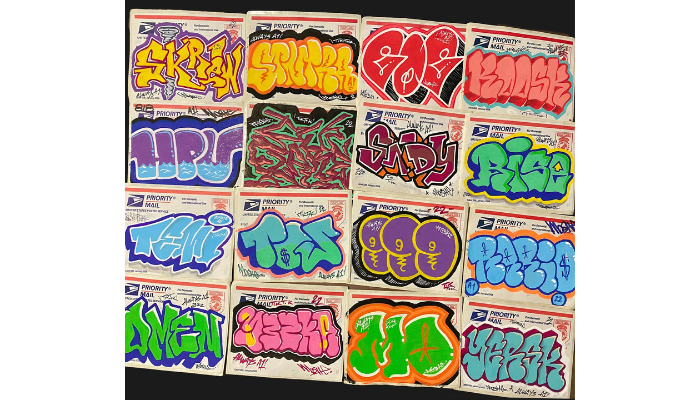 Some companies even create their logos based on street art! You can try it, too, like making art using stencils inspired by Banksy or drawing colorful graffiti tags. It's a fun way to get creative!
5. Heroes From Comic Books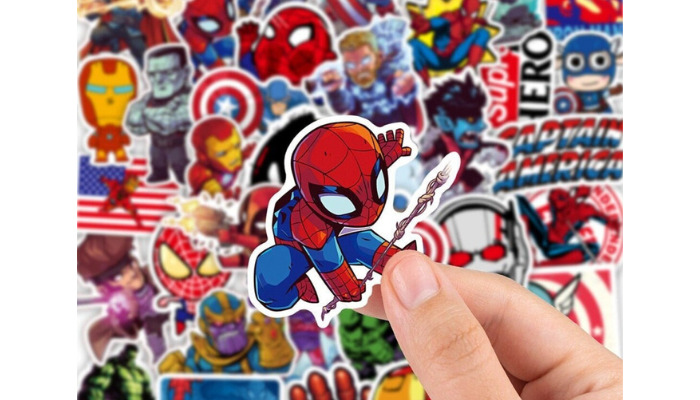 This is one of the best and cool sticker ideas. Superheroes like Superman, Batman, and others can inspire us and remind us of our own heroic abilities. For example, you can have a Spider-Man pointing picture, a Wonder Woman emblem, or a Batman image.
6. Slogans for Activism
If you're actively engaged in doing good through your actions, why not extend it to your words as well? Stickers provide an excellent way to express your commitment to the causes you care about. Here are some examples of stickers you can use to show your support:
These stickers serve as a way to communicate your dedication to important social causes.
7. Sports Mascots and Logos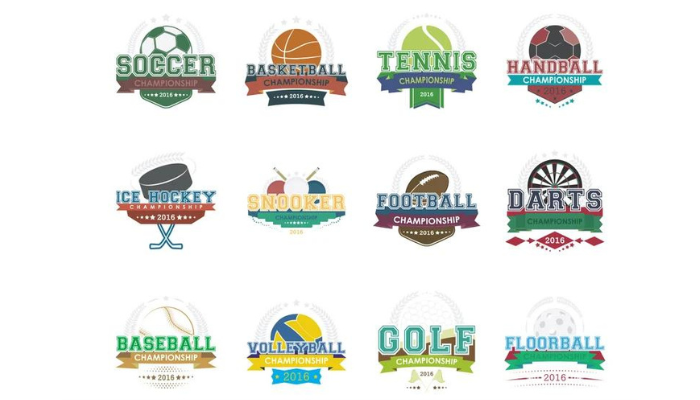 Check out these awesome affiliations in the sports world:
8. Motivation for Fitness
These stickers are not only for coaches; they can add some enjoyment and motivation in a way that you won't forget. Here are a couple of cool sticker ideas:
9. Mindfulness Imagery and Yoga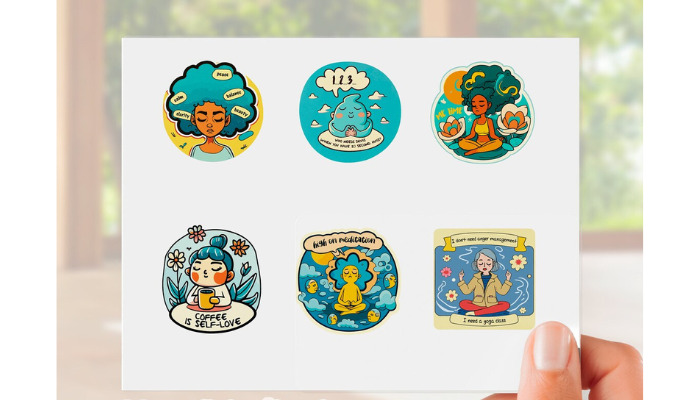 Are you into spirituality? Or maybe you just love learning from the ancient wisdom of the East? Well, here's something cool for you:
10. A Zero-Waste Theme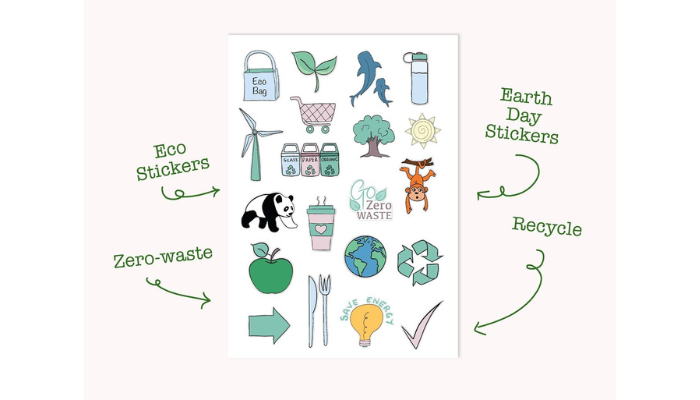 Are you super careful about wasting things? Well, Make the most of this opportunity by sharing your favorite sticker ideas! Check out these ideas:
11. Blockchain and Crypto Icons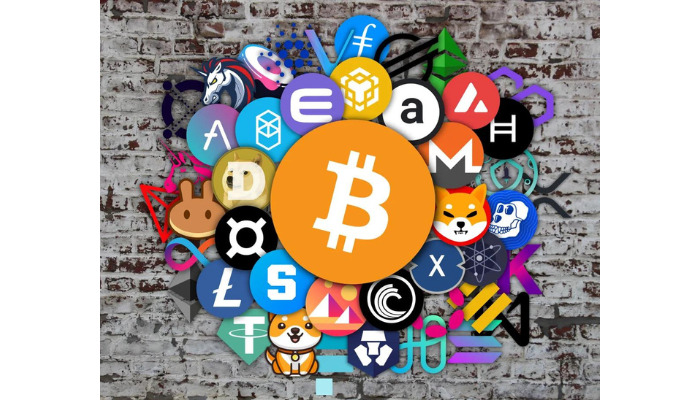 Have you heard about DeFi? If you're all into that crypto and totally loving it, you can show off your love for everything with these awesome stickers for your laptop or car.
12. 3D Illusions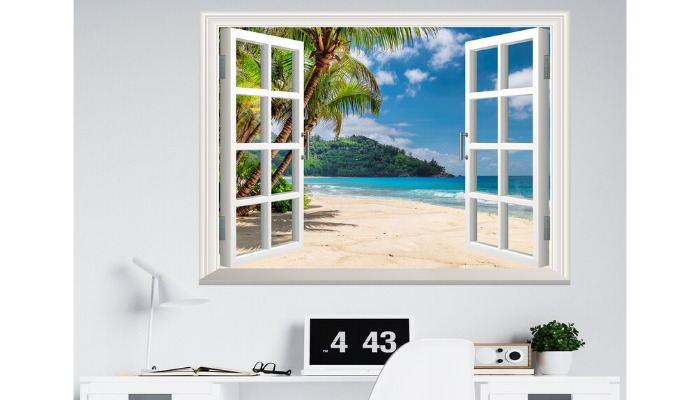 You can play around with optical illusions and weird shapes.
13. Symbols of Maker Culture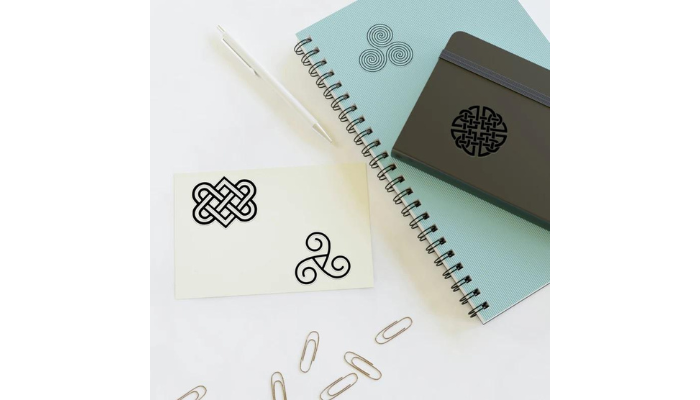 Show off your creativity and passion for DIY projects with these stickers featuring symbols of maker culture, such as gears, tools, circuits and robots.
14. Devices and Gadgets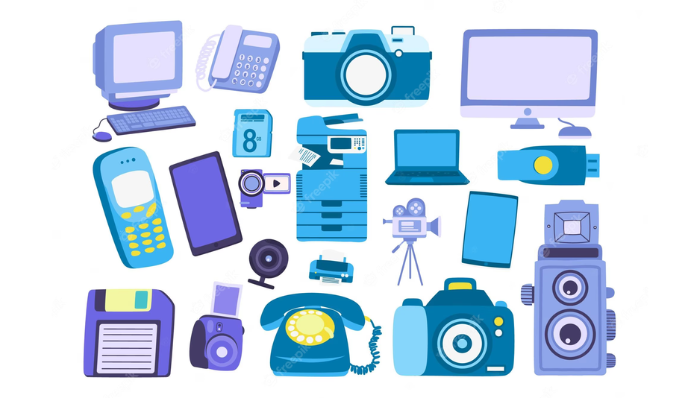 Are you a total, all-out, super-duper tech enthusiast? Well, then, you absolutely gotta display that passion on the stickers!
15. Watercolors and Drawings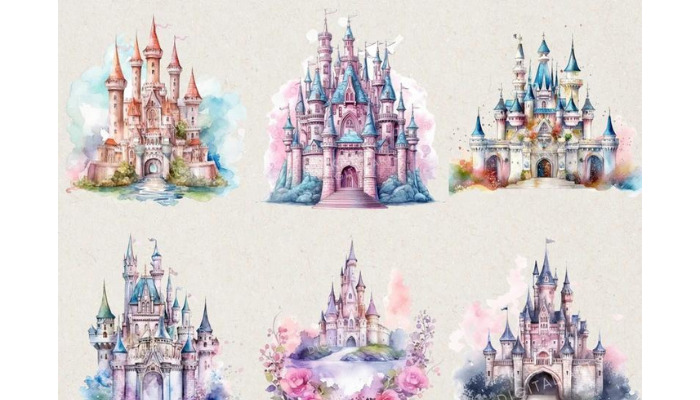 If you really love drawing and making pictures, it's super important to give that passion some attention. Stickers are the perfect thing ever to express your artistic side!
16. Illustrated Food and Drink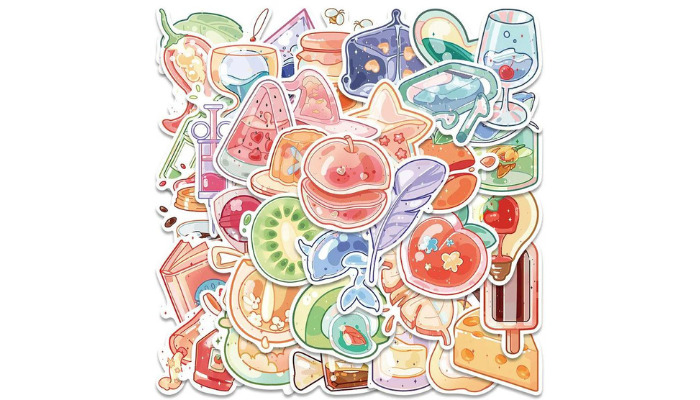 You like food; we like fancy food. You enjoy it; we live for it! Your next design should be inspired by your love of food and good living.
17. Botanical and Plant Minimalism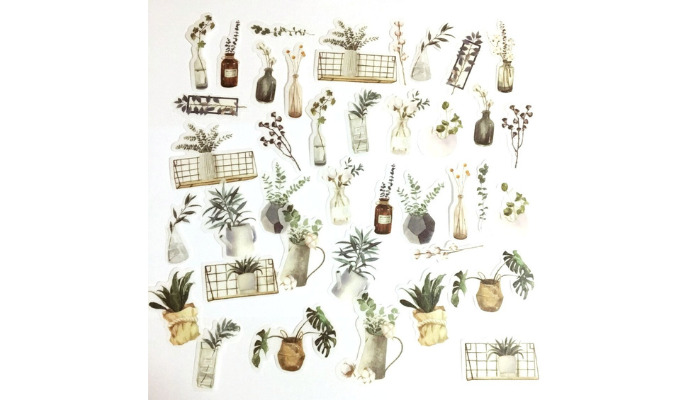 Are you good at growing plants? You can make awesome stickers that go perfectly with your green thumb! Check out these cool sticker ideas for people who love plants just like you do!
18. Hobbies and Crafts
Let's share your awesome interests with everyone! We have got some super cool sticker ideas for all your favorite hobbies and crafts. Check these out:
19. Diversity and Inclusion
If you really believe in being friendly and accepting of everyone, you can encourage others to get along nicely by using a sticker that shows your message.
20. Pet Illustrations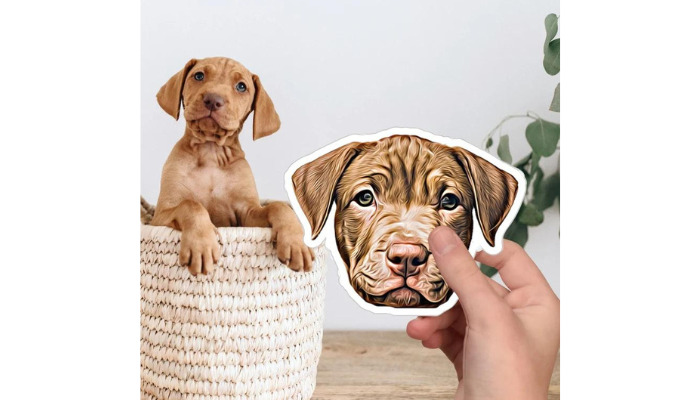 We're totally crazy about pets, and we're proud of it! Show your love for our amazing doggies and kitties with these awesome stickers.
21. Social Site Icons and Logos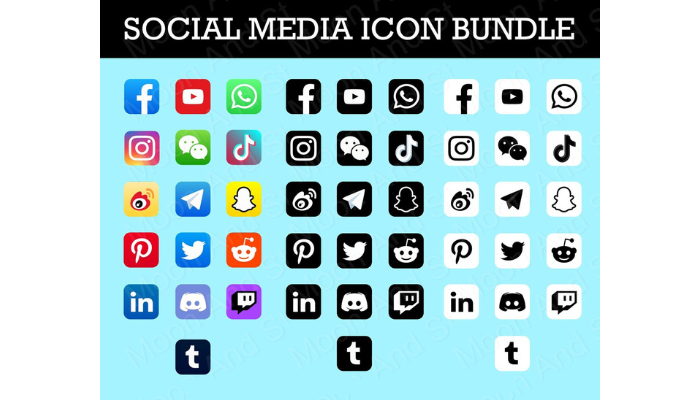 The username and these can be mixed or used separately. Just like when you play around with your Instagram account, you can add the Instagram logo to make it look even cooler. And when you're on Reddit, you can put a sticker of your avatar next to your username. It's like having your own special badge!
22. Portraits in Minimalist Style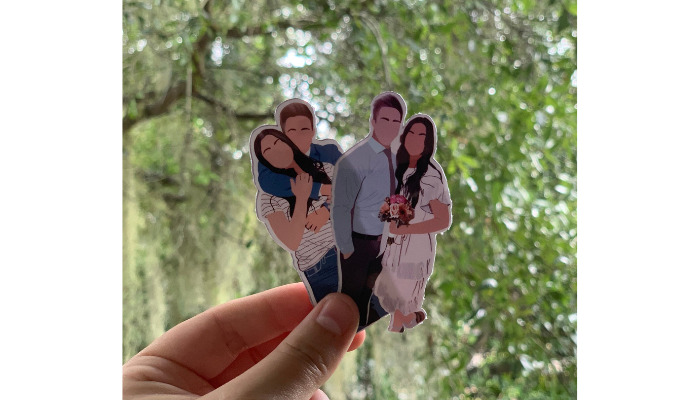 Line art! It's totally in style and fun. It's the perfect chill vibe for stickers on water flasks or cars.
23. Characters From Video Games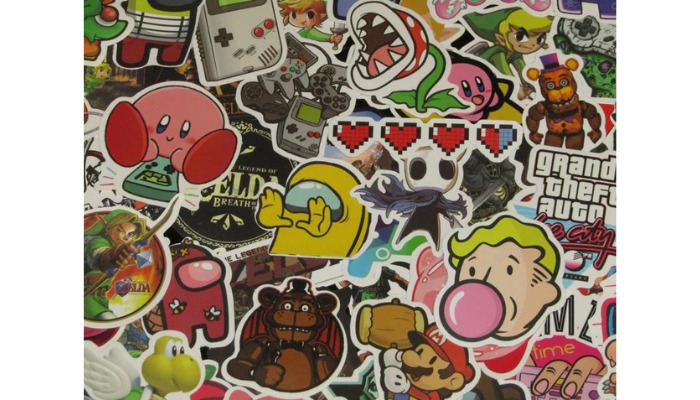 Playing video games can be a super important and fun part of life. It can even shape who you are as a person! That's why it's awesome to give some love to your favorite video game icons and characters by making cool stickers with them.
24. Cute and Kawaii Characters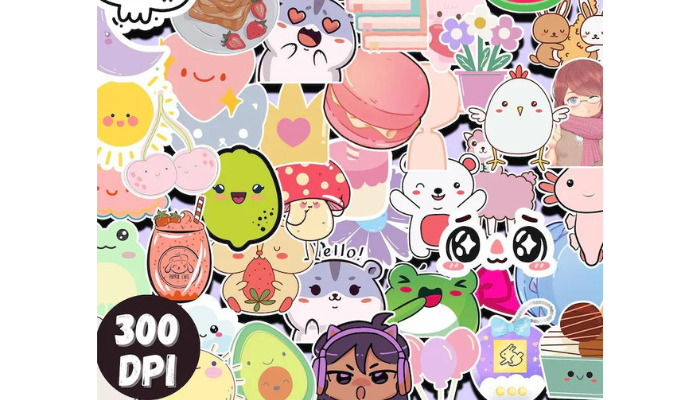 These cool and cute sticker ideas make your life extra cute by adding the Kawaii figures! They're super adorable and will bring lots of happiness to your day!
25. Zodiac Signs and Celestial Bodies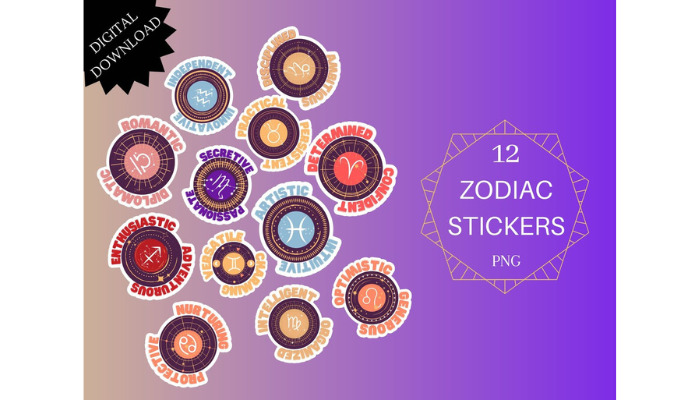 If you're someone who loves looking at the stars, enjoys reading about the zodiac signs, or just really likes things that have to do with space, then you're in for a treat with these awesome cool sticker ideas!
26. Typography With Pop Art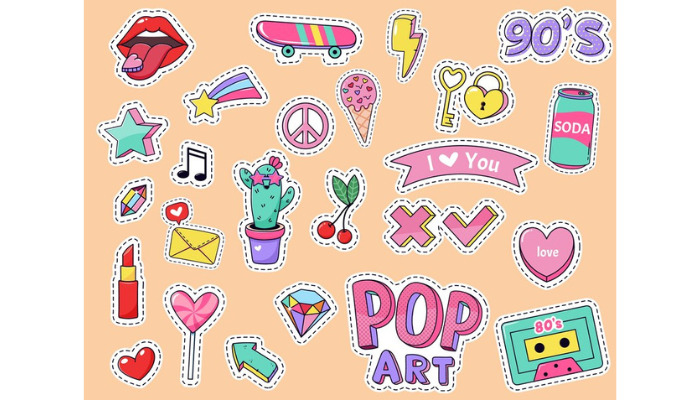 If you want your design to stand out, try cool ideas like:
27. Sci-Fi and Futuristic Designs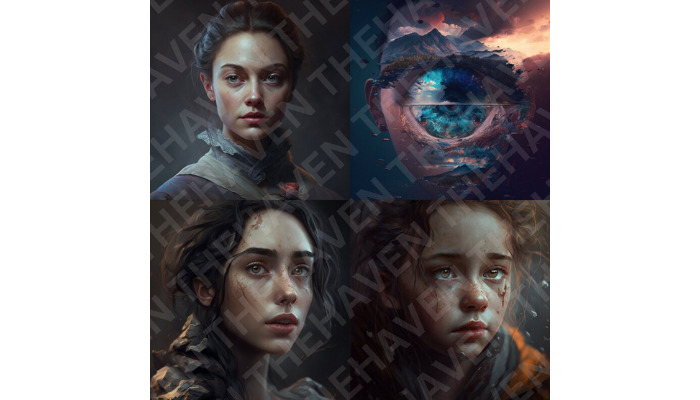 If you're into geeky stuff, check this out:
28. Geometric and Abstract Patterns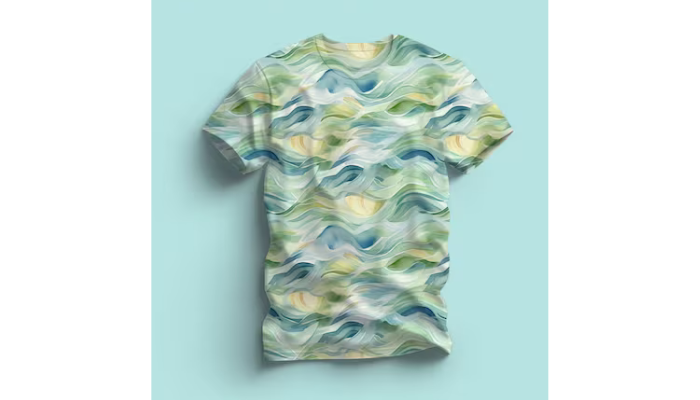 These things can be really fun to use when you want to make your items look cool and special. So, try using the following:
29. Environmental Activism and Slogans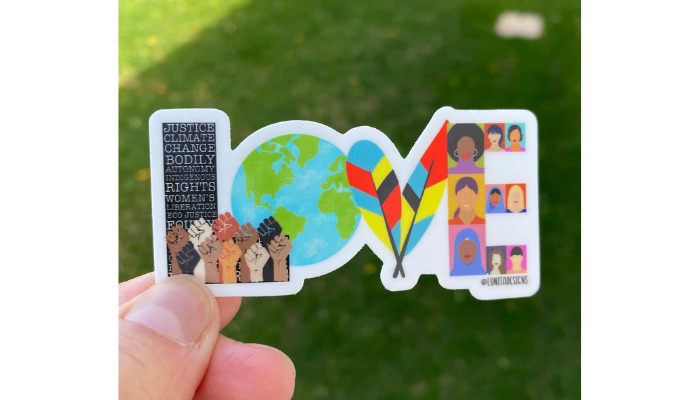 Show off your super Earth-loving spirit by sticking something like this on display:
30. Meme Culture and the Internet
It's time to show off your favorite memes! Stick them up somewhere cool, and let's get creative!
31. AR/VR Themes
Do you really love the metaverse? Well, now you can express it with stickers that have things like:
A drawing of virtual reality goggles and an awesome scene from an interactive game using augmented reality!
32. Self-Care and Awareness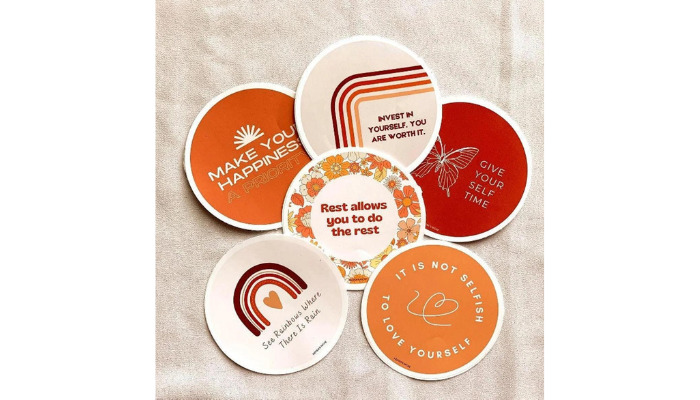 Do you know how lots of people these days are dealing with anxiety and feeling down? Well, it's always a great idea to spread some positivity and support, not just for yourself but also for others. Let me give you a few fun suggestions:
33. Movie and TV characters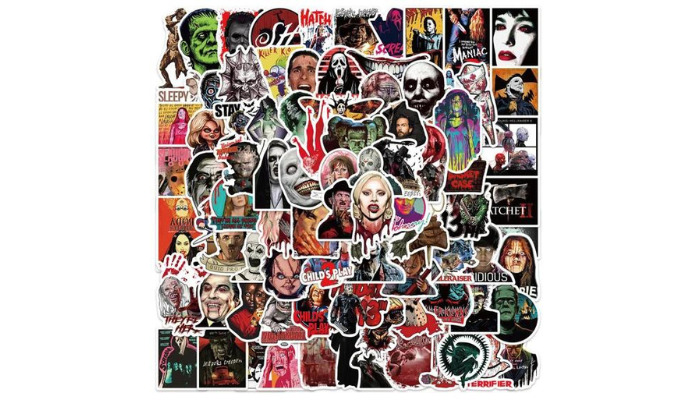 Instead of spending too much money on expensive items, why not create your own fan gear? Let's start with stickers featuring all your favorite characters, like the ones everyone always loves:
34. Affirmations and Inspirational Quotes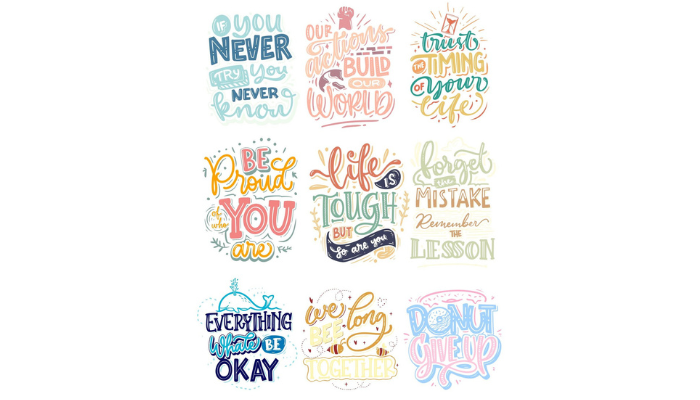 Is it a cheesy saying or something really important for life? You know, those quotes that can go on a cool sticker for your toy car or a fancy picture on your bedroom wall.
35. Band and Music Logos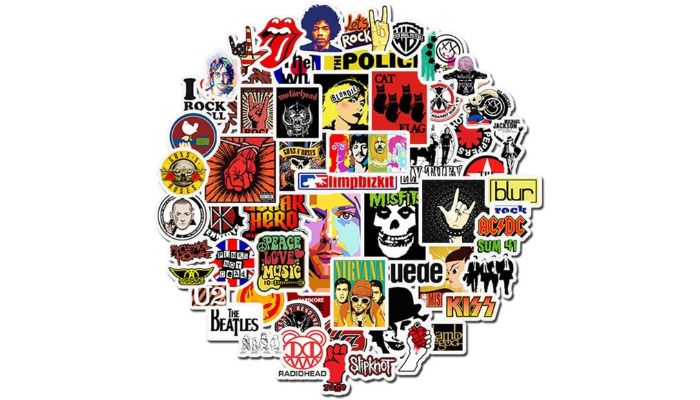 You'll get a great conversation starter and a favorite band too!
36. Galaxy Themes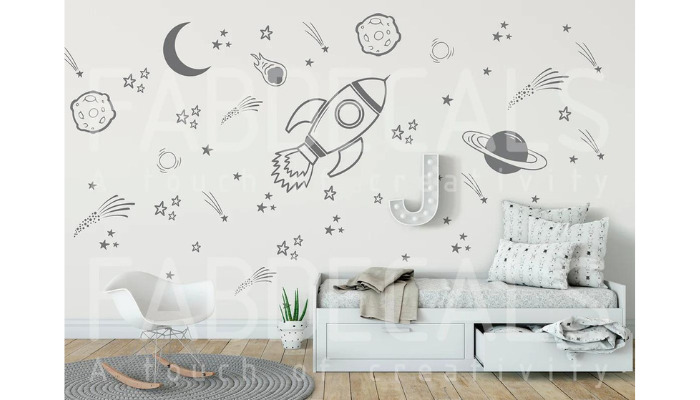 This theme is loved by fans of Doctor Who, Star Trek, Star Wars, and anyone who enjoys sci-fi! It's as endless and awesome as outer space, and you can let your imagination run wild with it.
37. Vintage and Retro Aesthetics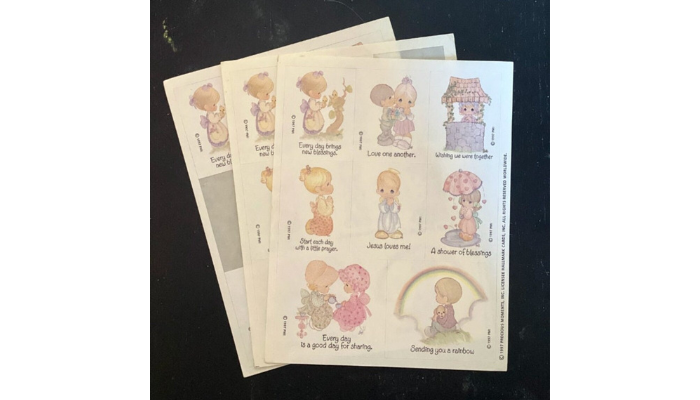 Get ready to feel the awesome vibes of the 90s or whichever decade you love the most! We're talking about awesome pictures that totally represent that time. Here are some ideas:
38. Holographic Stickers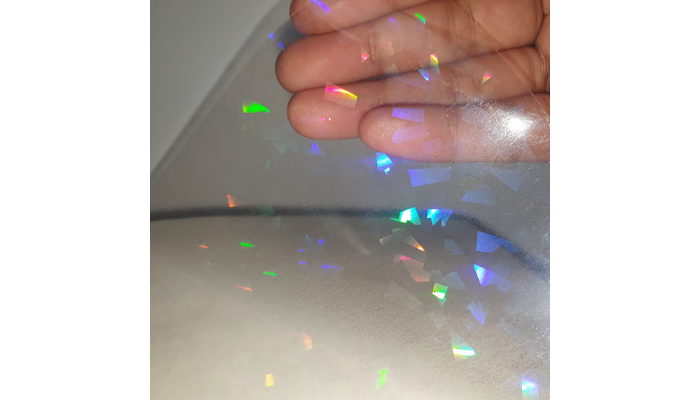 We have written about holographic tote designs in the sticker design ideas article. Well, how about we come up with some awesome new ideas for holographic stickers? Here are some:
39. Travel Destinations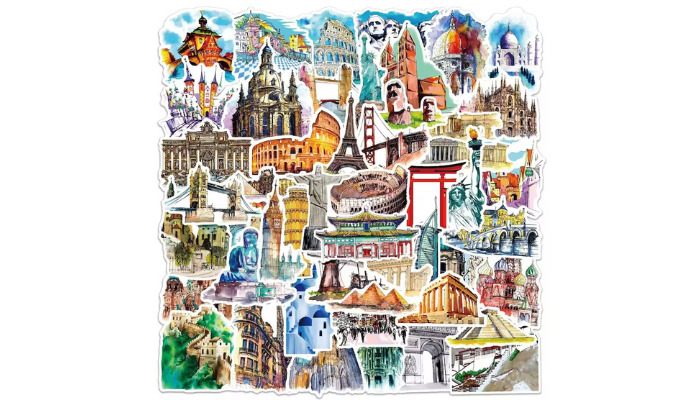 Lots of people really like the idea of going on exciting adventures. They even put stickers on their cars to show how much they love adventure! You can also express your warmth for traveling in all sorts of ways.
40. Eco-friendly Symbols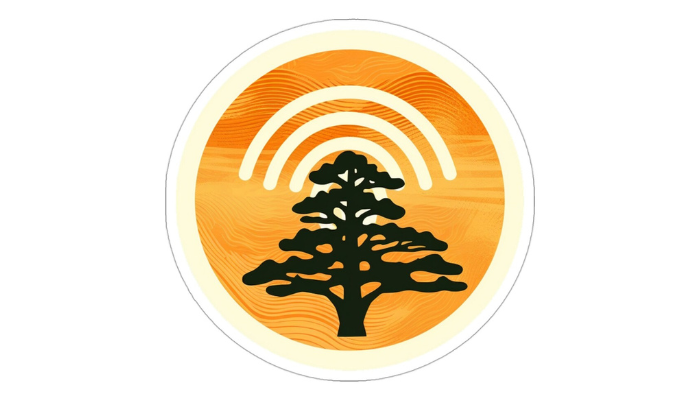 If you're already doing your bit to help the planet, how about spreading some inspiration with a cool nature-friendly design? Think of it like this: you can come up with awesome ideas for "green" stickers!
41. Nike Trainer Stickers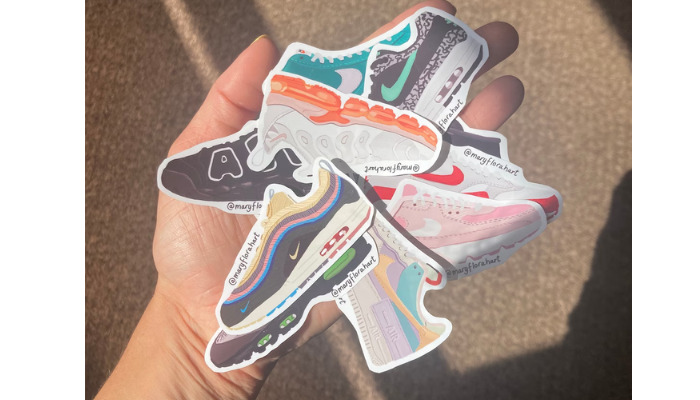 Stick these Nike trainers on your shoes and run faster than ever with style and boost.
42. Famous Art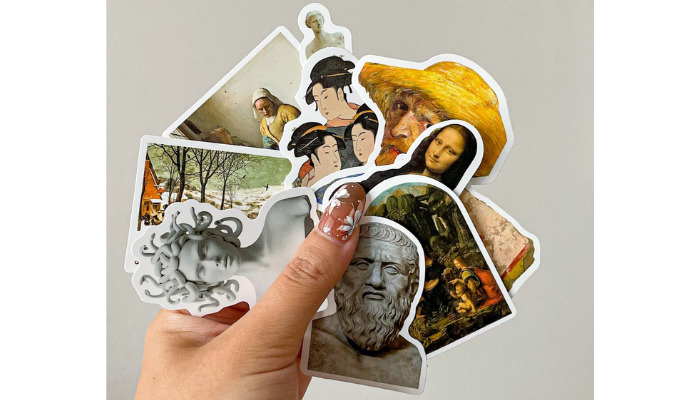 Decorate your walls, laptops, and notebooks with famous art stickers.
43. Animal Stickers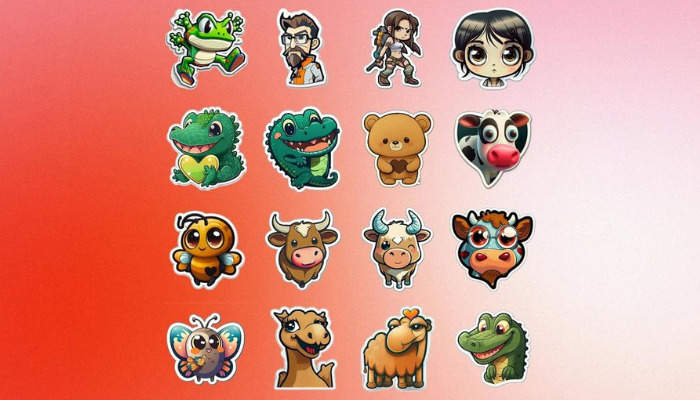 Animal stickers are fun and cute. They can make any page look bright and lively.
44. Golden Retriever Design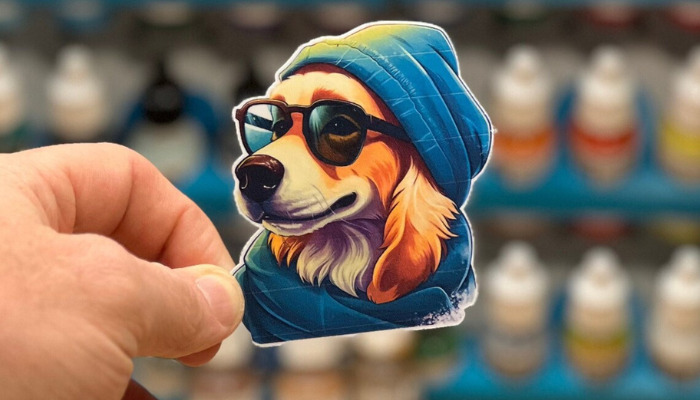 A fluffy friend with a sunny smile A golden retriever sticker to brighten your style.
45. Creativity Juice Box
Stick these colorful labels on your drink and unleash your imagination with every sip.
46. Eat Today?
Here is the sticker: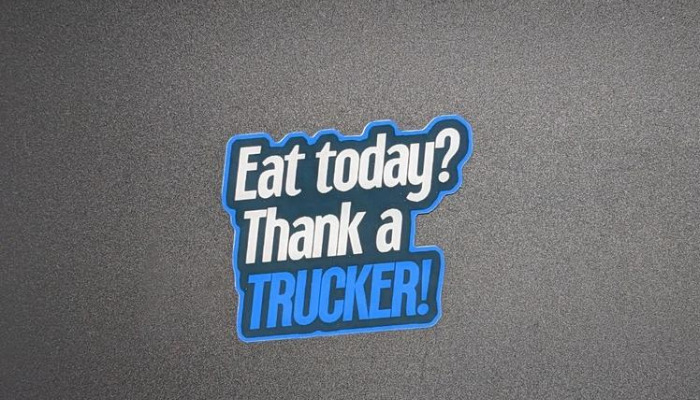 47. French Fry Waterproof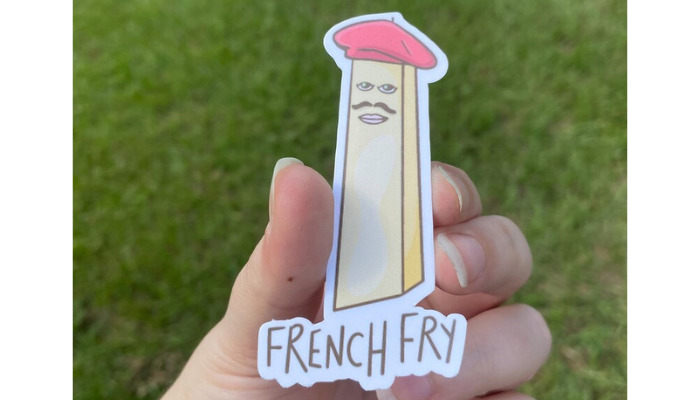 Do you love fries so much that you want to stick them everywhere? Get these awesome French fry waterproof stickers and show your passion for potatoes!
48. Aquarium Laptop Decal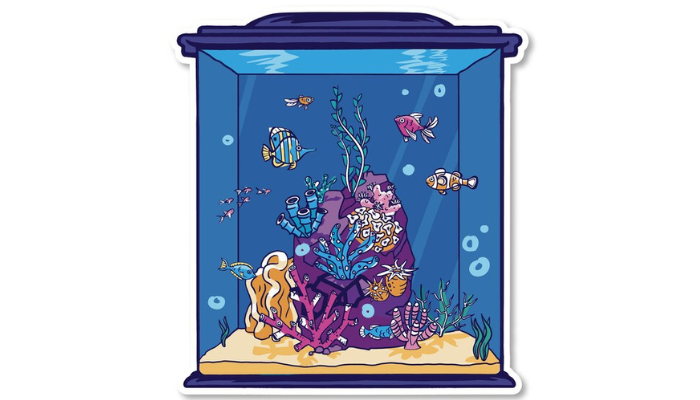 Transform your laptop into a colorful underwater world with these aquarium-themed decal stickers. Choose from various designs of fish, coral, seaweed and bubbles to create your own aquatic scene.
49. Astronaut Sticker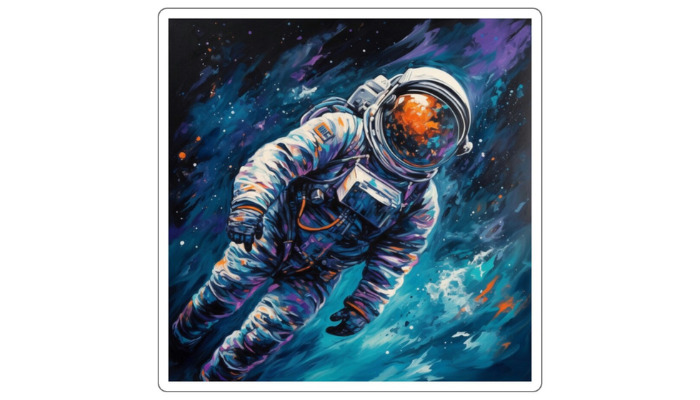 Stick these stickers on your stuff and feel like an astronaut in space. Also, these stickers are called Cricut stickers.
50. Sprinkle Stickers on the Wall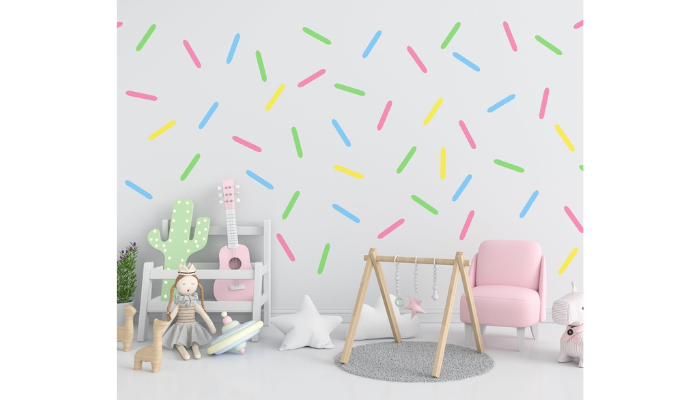 She loved to sprinkle stickers on the wall to make her room a colorful wonderland.
We have taken the sources of all these images from Etsy and Freepik.
What Can You Do With Cool Stickers
Personalizing your belongings and expressing yourself with cool sticker ideas is fun and creative. These stickers are great for decorating laptops, phones, notebooks, water bottles, skateboards, helmets, guitars, and even skateboards. The cards and invitations can be used for craft projects, invitations, scrapbooks, and more. It's easy to find stickers that match your style and mood. You can add some flair to your stuff with cool stickers, whether you want to show off your favorite band, cartoon character, quote, or emoji.
To Conclude
This list of 40 cool sticker ideas will help you get started or explore sticker making further. Discover the perfect designs to show off your individual style as you take advantage of the fun and inspirational cool sticker ideas offered.
This tool enables you to create authentic Yearbook covers for your college by using free book mockups.
Our goal is to inspire you to make custom stickers and generate high-quality mockups without any watermark for free with Mockey to impress your client.
FAQs
What are cool sticker ideas?
These top 5 are cool sticker ideas.
Pet photos
Vegetables and fruits
Fantasy stickers
Comic books
Motivation
Why Gen Z loves stickers?
Gen Z loves stickers because they are a fun and easy way to express their personality, interests, art, and activism. Stickers are also great for branding and marketing their own ventures.