Isn't it true that stickers make decorating almost anything easier? We are no strangers to cute sticker ideas.
We love sticking stickers on our items to make them look awesome! More and more people are getting into sticker design ideas these days. Well, since the pandemic happened over the past years, lots of folks who were feeling bored decided to get all artsy.
This article will cover the best 15 cute sticker ideas for you. You can find stickers with cute animals, cool music, old-school retro vibes, Christmas-themed ones, and lots more!
Table of Contents
Is It Necessary to Have Cute Stickers?
As teenagers, we all were trying to clear up who we really were and what kind of music we liked. Do you know how someone's sticker collection could tell you a lot about them? There was this boy who collected airplane stickers instead of car stickers, and there was a girl who loved robots more than Barbie dolls. It was interesting to see what kind of things people were into just by looking at their sticker collection!
Did you know that stickers on social sites are like saying hi to friends in a fun way? They're not scary at all, and you can even use them to catch up with people you haven't talked to in a long time! Big companies use stickers too, but not to be all serious and distant. They actually want to be closer to their audience and make it feel like they're chatting with a friend.
The Etsy site is the source of these cute stickers.
List of Best Cute Sticker Ideas
Here are the 15 best cute sticker ideas for you.
Cute boho feathers
Cute cat stickers
Laptop stickers
Cute groovy stickers
Popsicle stickers
Retro stickers
Wall decals
Car stickers
Cute boho dreamcatcher
Cute bottle stickers
Cute frog stickers
Be the sunshine stickers
Cute retro music stickers
Colorful galaxy whale stickers
Cute hippie quotes
Best 15 Cute Sticker Ideas
Here are 15 cute stickers to personalize for your business.
1. Cute Boho Feathers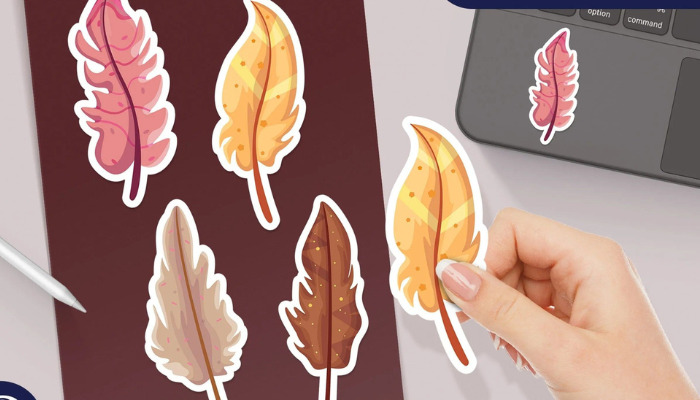 You know, the Bohemian approach is all about using natural materials and fancy designs on clothes. It's all about keeping things simple and easy. This sticker set is just like that too! If you want something cute but not too complicated, these stickers are perfect for giving your items a cool Boho touch.
This set has 4 awesome feathers in pink, light brown, brown, and gold. You can use them alone or put them on top of each other to make it look even cooler! Stick them anywhere you like, like in your diary or even on your gadgets.
2. Cute Cat Stickers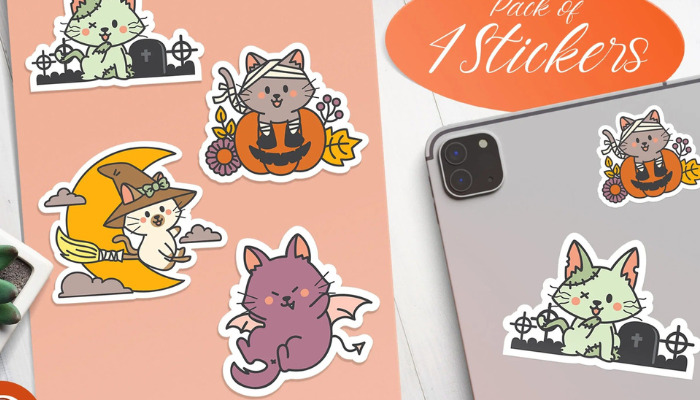 This set of stickers is all about Halloween! It's totally okay to go with the flow and enjoy seasonal trends, isn't it? These stickers are cute and perfect for Halloween, but you can totally use them all year round!
So, in this awesome sticker set, our four cute cats are dressing up as spooky characters. Boo! If you're a kid or a cat lover, you're gonna love these stickers!
You can stick these adorable ideas to anything you want. How about putting them on your water bottle, pencil case, lunch box, or even your suitcase?
3. Laptop Stickers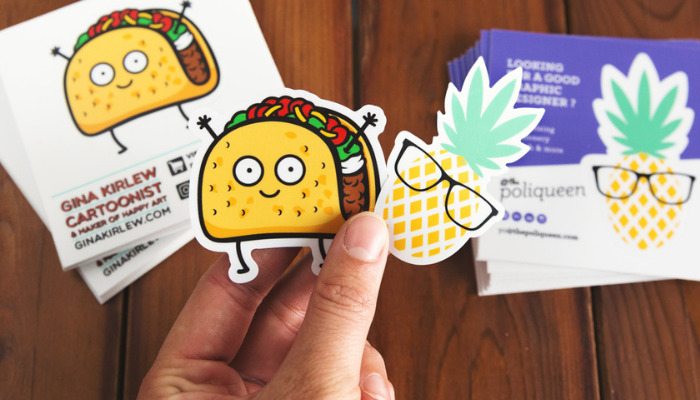 Another type is called a kiss cut sticker. Unlike regular stickers, kiss-cut stickers are cut exactly in the shape of the design without any extra background. They're best for laptops and electronic devices because they have a lighter touch, and you can easily peel them off.
Stickers come in all sorts of excellent designs, like famous characters, cute emojis, and even logos from your favorite brands. So, you can get really creative and make your own sticker pack that's totally unique and totally you!
But wait, there's more! Just like this awesome one we are showing you, let people unleash their imagination in the best way. Especially for ladies who love traveling, they can express their creativity even more.
4. Cute Groovy Stickers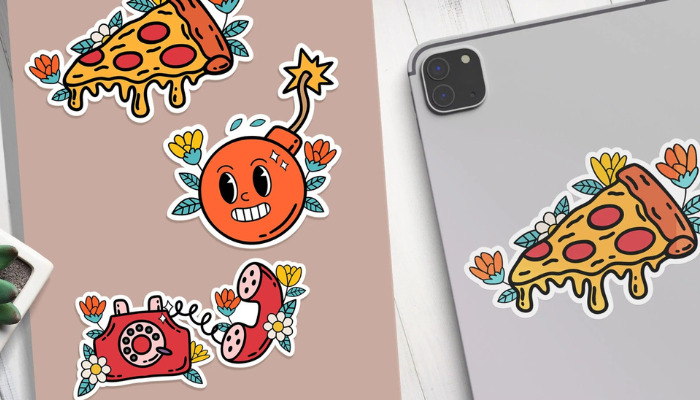 Here's the thing: it's totally okay to connect the telephone, pizza, and a bomb to all of those things with a sticker if it brings us joy.
They can add a lot of laughter and fun to your life when you start using them. You can show off your hunger and excitement by sticking these cute sticker ideas to your fridge. Feeling super hungry? Just order a pizza and make it yummy!
5. Popsicle Stickers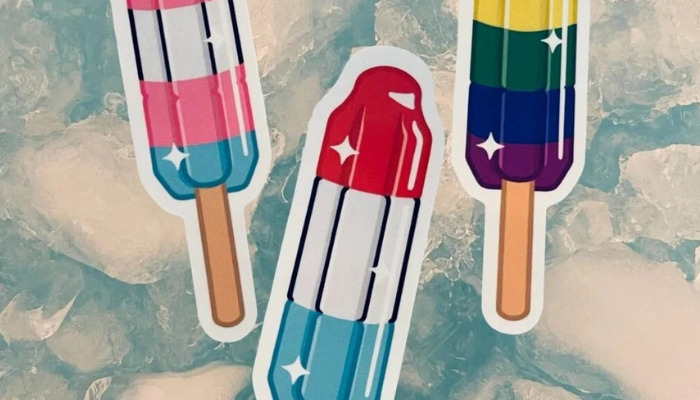 Another one of the best cute sticker ideas is popsicle stickers. Picture a collection of vibrant popsicles with smiling faces, rosy cheeks, and playful expressions. Imagine the joy they'll bring to notebooks, water bottles, or even laptops. Whether you're a popsicle enthusiast or just love cute designs, these stickers are a delightful way to express your personality.
6. Retro Stickers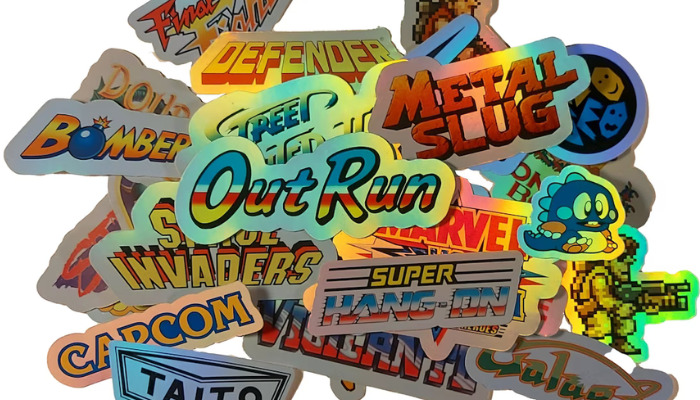 Check out this set of Retro Stickers! They may not be super popular right now, but they're actually pretty edgy. Not everyone might love these stickers, but we think they're so bold that they make whoever uses them look really confident in their own style.
There is a floral-patterned Shaka sign and a yellow mug included. You can use these cute stickers on your journals, lunch boxes, or tablets. You can stick them anywhere you want to add a fun touch.
7. Wall Decals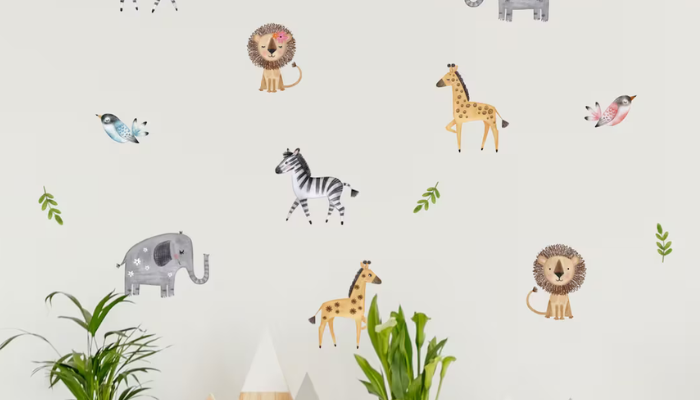 Did you know that lots of people these days are using cute stickers for their room makeovers? The social site and famous people called influencers have made it really popular. These stickers are super cool because they make your room look awesome, and they're not expensive or hard to use. You can just stick them on your walls, and voila! Your room gets a total makeover! Plus, it's a great way to have a room that's totally unique and shows off your personality.
We've got some super cute stickers that you can put up in kids' rooms.
If you want to make a room in your house look amazing without spending a lot of money, check out these awesome wall decals stickers! They're perfect for people who can't paint their flats but still want to add their own touch.
8. Car Stickers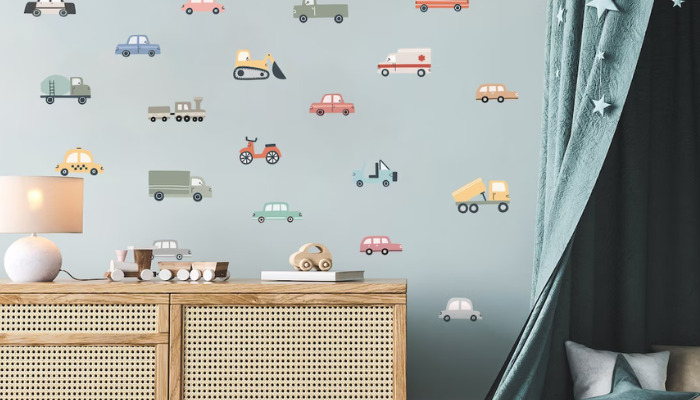 You know those stickers you see on cars? The ones with sayings, funny jokes, or even a sign that says there's a baby inside? Well, even though they've been around for a really long time, they're still pretty popular and haven't lost their charm.
It may be fun to create your own custom font and icons so that it stands out from the crowd. If you want to say something specific through a message, it's better to use bright colors because even light shading can be hard to see when the sun is shining right on it.
9. Cute Boho Dreamcatcher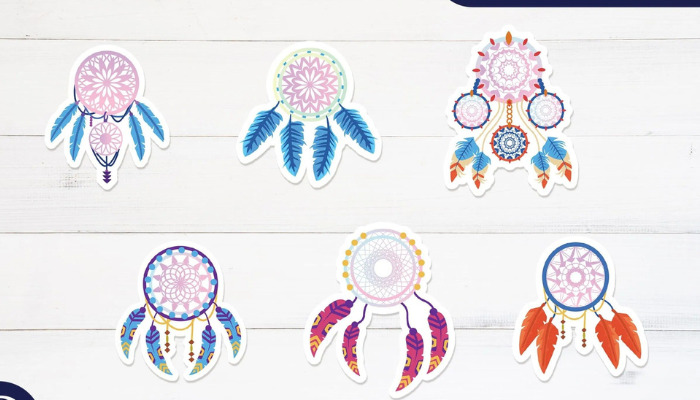 And finally, here are some really cute sticker ideas called the Boho Dreamcatcher! It's part of a bundle of stickers that are all about the awesome Bohemian style. If you have some other stickers with Boho feathers, this one will go perfectly with them!
You can use these stickers to decorate all sorts of things at home. How about sticking them on wardrobes, makeup boxes, mirrors, or tables? They'll make everything look super pretty and fancy in the room!
10. Cute Bottle Stickers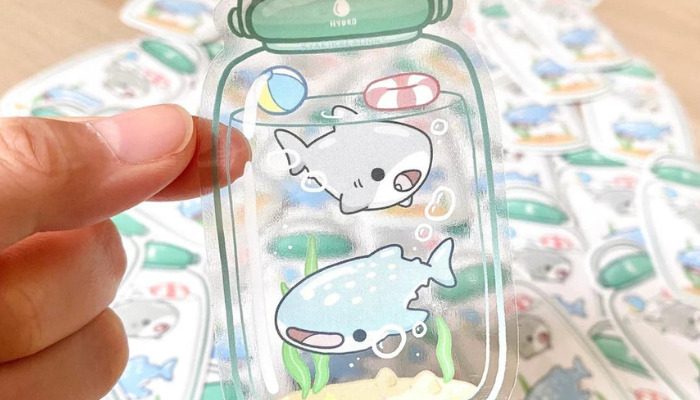 Adorable bottle stickers! These stickers are like magic—they can turn any boring bottle into a colorful masterpiece. You can choose from cute animals, cool superheroes, or even funky patterns. Just peel and stick, and voila!
11. Cute Frog Stickers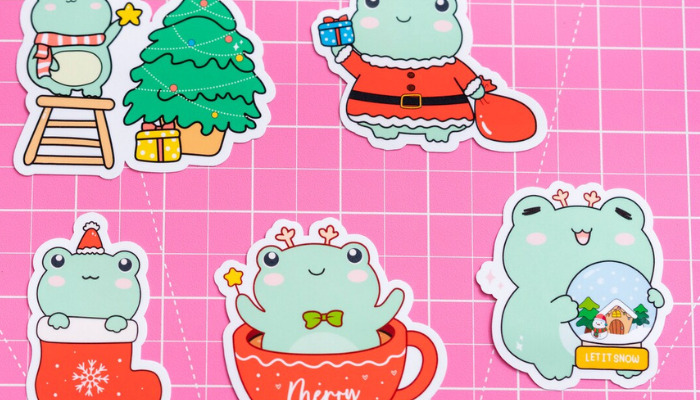 We have this awesome frog sticker, and let's tell you, these little cuties just can't wait for Christmas. They're all dressed up in adorable costumes, ready to spread holiday cheer.
We know we've talked about holiday stuff before, like those cool Halloween cat stickers, but trust us, these designs are always in style! These cute frog stickers can make any room look lively. You can stick them on walls and even windows. It's like bringing a touch of Christmas magic right into your space!
12. Be the Sunshine Stickers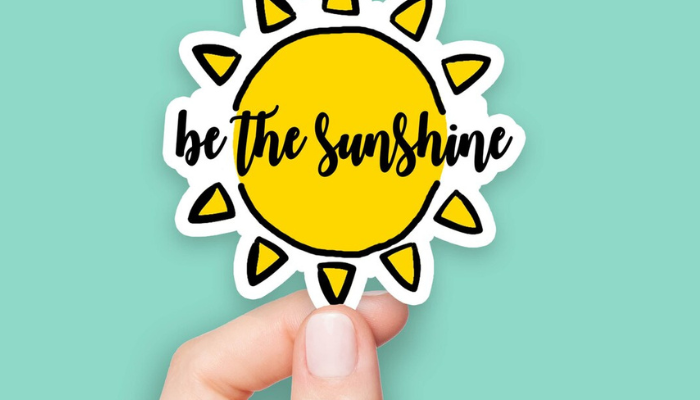 We always feel thankful when the sun shines and makes the flowers in the garden grow beautifully.
Oh, yes! It's a feeling that we can share with these special stickers: Happiness! Even the tiniest things can make us feel really happy.
Stickers are a great way to personalize things and give them a boost of happiness. These are some cute sticker ideas that would look adorable on your guitar, phone, or even bedroom door!
13. Cute Retro Music Stickers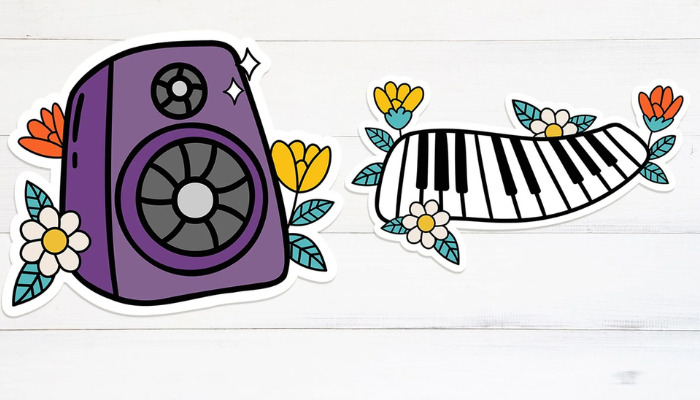 This sticker is also super retro, with pretty flowers on it. It doesn't just look old-school; it's also super eye-catching!
That means when you stick these on your item, everyone will know it's yours, and it'll look totally awesome. They've got nice colors and cute flower designs that catch everyone's attention.
These adorable stickers are perfect for music lovers like you who want to show off their passion. You can put them on keyboards, basses, guitars, or even just on the cases if you don't wish to mess up your instruments.
14. Colorful Galaxy Whale Stickers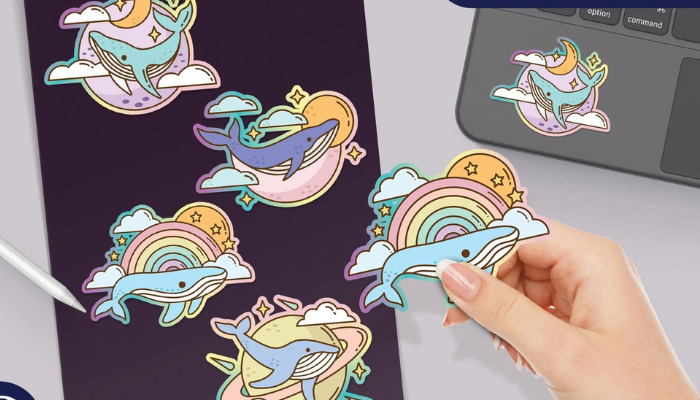 Have you heard about these awesome colorful Galaxy Whale stickers? They're like magic to you! These cute sticker ideas have whales swimming in a galaxy full of colors. You can stick them on your backpack, notebooks, or even your bedroom wall. They'll make everything look super cool and fun. So, if you love whales and dreamy space stuff, these stickers are perfect for you!
15. Cute Hippie Quotes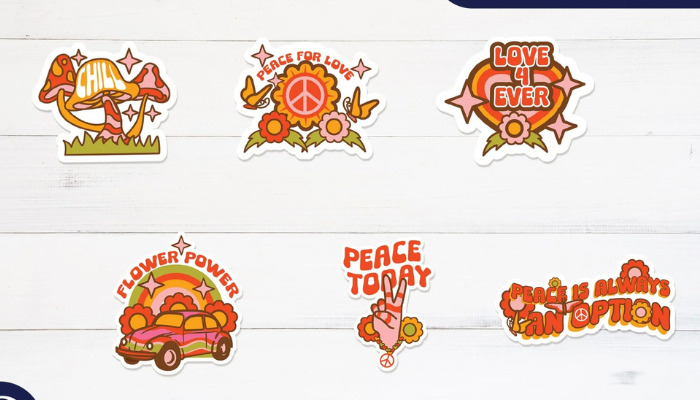 If you're looking for some groovy hippie quotes to jazz up your cute sticker ideas, we've got you covered! Here are: "Peace Today" and "Flower Power." Remember, being kind and spreading good vibes is the coolest thing you can do. So go ahead and decorate your stickers with these cute quotes and let your love shine bright! Peace, love, and stickers, man!
We have also covered 100+ Cricut sticker ideas. If you are looking for creative sticker ideas, discover these cute sticker ideas and innovative designs!
Sticker Designs: Where to Find
Now you don't have to buy pictures or cute stickers from other places anymore! And the best part? You don't have to spend a ton of money on designers to make awesome and fun decals. You can actually create your own! Just check out Creative Market, where you can find creative and cute sticker ideas for your water bottles and other stuff. It's so much fun! Then, you can use a mockup generator like Mockey to create a product mockup to showcase your sticker design to your client.
Conclusion
We have covered 15 cute sticker ideas for your business that we handpicked just for you. You'll probably find them truly fascinating and perfect for your needs. Today's the day to unleash your creativity and start crafting!
Also, there is a DIY cute sticker ideas video tutorial which can be helpful for you in your personal use.
FAQs
What can you do with cool stickers?
Cool stickers can add a touch of personality to your belongings. Whether you want to personalize your laptop, phone, water bottle, or even your car, cool stickers allow you to express your style and interests.
How can I make stickers at home?
To make stickers at home, you'll need sticker paper, a printer, and design software. Create your desired designs on the software, print them onto the sticker paper, and let them dry. Cut out the stickers, peel off the backing, and they're ready to use!