You have an incredible design that you want to create a product mockup with, but there is a challenge. It is impossible for you to learn how to make a mockup with Adobe Photoshop, let alone using complex image editing.
Fortunately, Mockey is a solution for people who are looking for easy to use mockup tools. Mockey is a free mockup generator that is user-friendly and simple to operate.
Table of Contents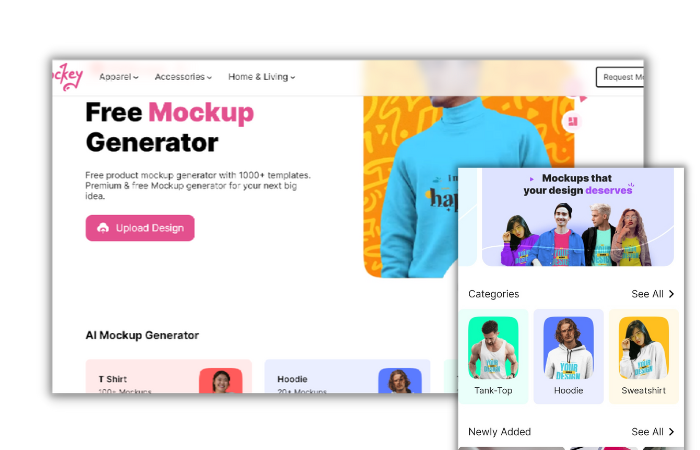 This tutorial on mockups covers the following:
Various popular mockup types, such as T-shirts, Hoodies, Tank tops, and product mockups.
From scratch, how to make a mockup
The utilization of incredible mockup templates
Let's dive straight in because, by the time we're done; you'll have all the essential abilities needed to produce a professional and lifelike mockup with ease and speed.
How to Make Mockups for Free: In Short
Follow the instructions on how to make mockups for free.
Open Mockey
Select mockup types and objective
Add your design or logo
Customize your design
Download your mockup design for free
What Is a Product Mockup
A product mockup is an overview of what your product will look like. It's like a preview of the final product. This is why ensuring your mockup looks as close to the final product as possible is important.
Why Are Mockups Important
Mockups are important because they help people see what something will look like before it's actually made. It's like a preview of what the real thing will be like. It is helpful because it can save time and money.
If someone doesn't like how something looks in the mockup, they can change it before making the real thing.
Which Mockup Types Are Popular
Plenty of creative ideas can lead to a limitless variety of mockups. Almost any concept that one can conceive can be transformed into a realistic mockup.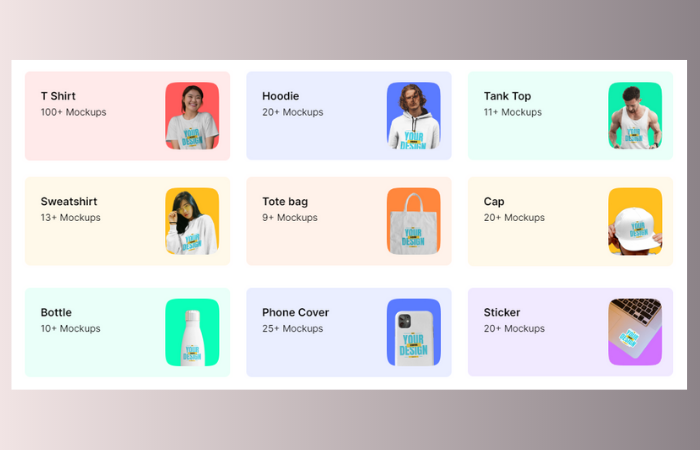 What is the reason for creating a product mockup?
Developing a stunning mockup provides an effective means to present your concept to prospective investors and give them an insight into what you aim to produce, even if the physical product is not yet available.
Generating a product mockup can help you save a lot of money and time on investments before committing to the product.
Let's discuss the various types of mockups available and determine which one would be the most appropriate fit for you and your concept.
There are several types of mockups, which include:
T-shirt mockups
Hoodie mockups
Tank Top mockups
Sweatshirt mockups
Tote bag mockups
Cap mockups
Bottle mockups
Phone cover mockups
Sticker mockups
Poster mockups
Let's explore each mockup category in greater detail to understand their specific purposes.
T-shirt Mockups allow you to display your t-shirt designs on a model or a flat-lay image, giving your customers a better idea of how the design will look on the garment.
Hoodie Mockups Similar to t-shirt mockups, these mockups feature a hoodie as the main item, providing a clear view of your hoodie design and its placement.
Tank Top Mockups let you showcase your tank top designs on a model or flat lay image, highlighting the design's placement and fit.
Sweatshirt Mockups are perfect for presenting your sweatshirt designs in a realistic and stylish way, allowing your customers to visualize how the design will appear on the garment.
Tote bag Mockups enable you to display your designs on a tote bag, giving your customers an idea of how the design will appear when you print on a carry-all bag.
Cap Mockups are specifically designed to showcase cap designs, allowing you to present your designs in a visually appealing and realistic way.
With bottle mockups, you can showcase your designs on water bottles, wine bottles, or any other type of bottle, providing a realistic view of how the design will look on a product.
Phone Cover Mockups let you present your phone cover designs in a realistic and visually attractive way, helping customers envision how the design will appear on their device.
Sticker Mockups showcase your designs in sticker form, allowing customers to see how the design will appear when you print on a sticker.
Poster Mockups are perfect for presenting your poster designs in a realistic and eye-catching way, providing customers with a better idea of how the design will appear on a wall.
After familiarizing yourself with the commonly used mockup styles and selecting the one that aligns with your requirements, it's time to discuss the process of making your mockup quickly.
How to Make a Mockup In 5 Steps
Here are five steps on how to make a mockup with Mockey.
1. Open Mockey
How to make a product mockup for free is a common query. Don't worry. The answer is Mockey.
If you want to make your own mockups, Mockey is one of the best that you can check out. Or, if you want, you can even download it from the Play Store onto your phone or tablet for free!
With Mockey, you can create your own mockups and see what your website or app might look like before you actually make it.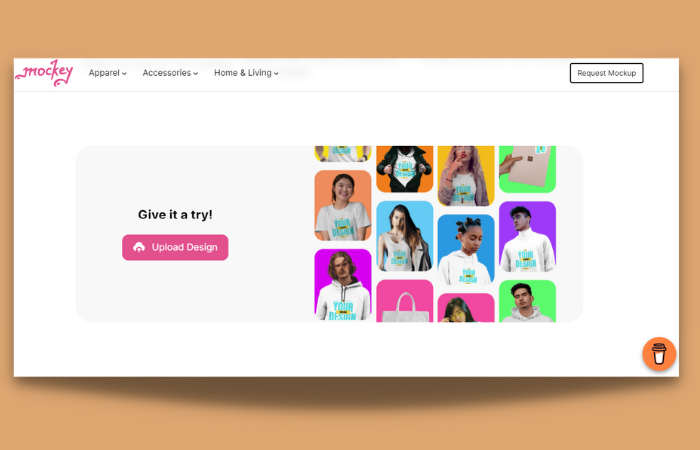 It's like playing with digital legos, but instead of building a tower or a car, you're building a website or an app!
Also, note that You don't need to Sign Up there. You can customize without creating any account.
Next, we will cover mockup types and objectives, which can help you how to make a mockup.
2. Mockup Types and Objectives
Suppose you have an excellent idea for an application. Instead of immediately collaborating with developers and designers and investing resources, you may want to consider creating a wireframe and subsequently mocking it up to visualize its functionality.
If your concept is aimed at an application, it could be useful to design a mockup for both iPhone and desktop versions to display how it will appear on various devices.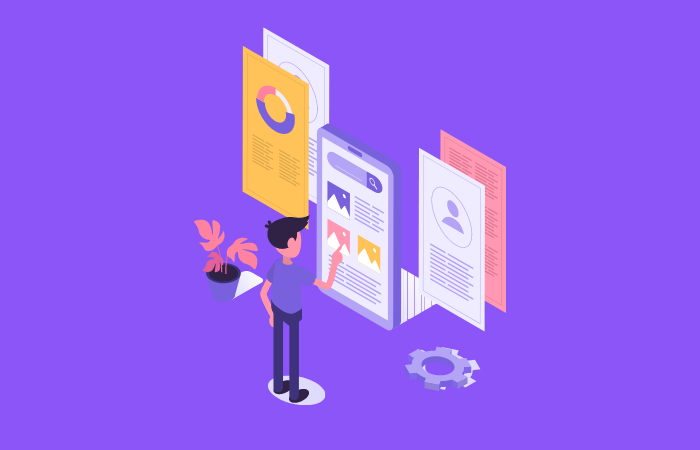 Making a prototype is a fast and effortless approach to displaying your creation to investors.
Consider another example where you might be a small business that has restricted resources to invest in fresh merchandise and designers to produce those product designs.
To avoid the risk of printing a concept on numerous custom t-shirts, hoodies, and other products without knowing how it will look, consider producing a product mockup before submitting it to a merchandising company.
By utilizing a mockup generator that offers product mockup templates, you can easily drag your design onto various mockup templates such as t-shirts, hoodies, and more. This allows for a swift process of creating mockups.
Afterwards, you can evaluate whether your design is too large or too small and whether it fulfills your product expectations.
By doing so, small business owners can make intelligent investment choices for upcoming products, and printers can accurately determine the location of your logo on each item.
Mockups can also be advantageous to advertisers, especially when it comes to renting billboard spaces which can be a costly investment.
With the aid of billboard mockups, one can preview their design and visualize how it will appear in reality.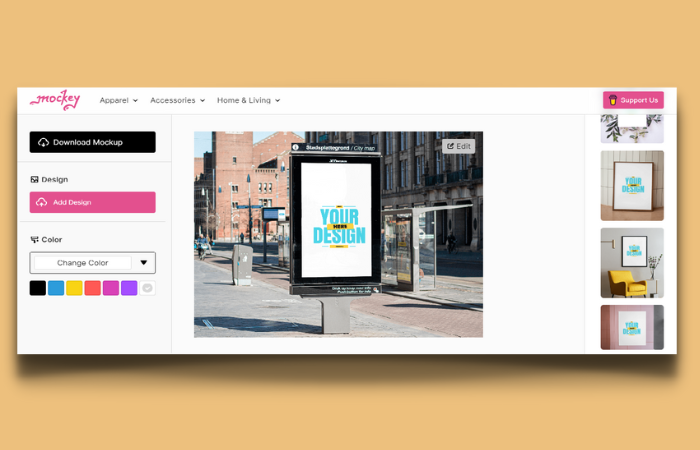 Social media marketers also need to plan their upcoming posts to ensure they align with their branding style if they desire a unified social media feed.
Social site mockups like Twitter and Facebook mockups can be used to visualize how your feed will appear after your next posts to avoid ruining the aesthetic that you have worked hard to make.
Your task at present is to establish the purpose of your mockup. This may involve creating a device mockup to impress investors, using product mockups to generate excitement among customers for upcoming merchandise, or selecting the appropriate advertisement for your next campaign.
After determining the objective of your mockup, you can choose a suitable mockup style and embark on the thrilling task of making your product mockup.
The initial stage involves utilizing a mockup creator that is of the same high standard to produce an exceptional mockup.
We suggest using Mockey for this purpose, as it is an excellent option for obvious reasons.
Mockey enables you to produce professional-looking high-resolution custom mockups within minutes, eliminating the need for complicated editing software.
The design process and workflow are straightforward yet provide robust design features and abilities that cater to designers of all levels, from novice to expert.
We suggest utilizing a mockup template if you're a young designer yet wish to produce a mockup with a professional appearance.
The reason for this is that our mockup templates are designed by professionals and offer complete flexibility to incorporate your own designs.
This means that you can enjoy the benefits of a professional designer's work without having to spend time learning Photoshop and graphic design.
As previously mentioned, you have the option to select a mockup template that aligns with your mockup goal.
If your objective is to develop an online service or application, it's advisable to employ a device mockup template.
However, if you're interested in visualizing how your new design will appear on clothing such as t-shirts or hoodies, we recommend you use t-shirt and hoodie mockup templates.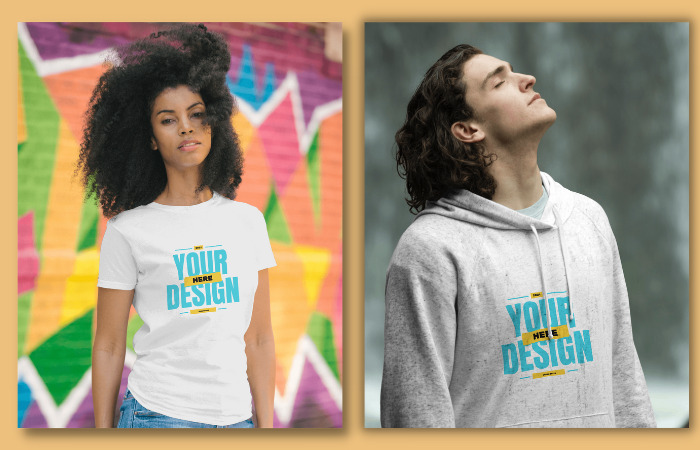 Alternatively, if you possess advanced design skills or enjoy a challenging task, you may attempt to produce your mockup entirely from the beginning.
If you want to create a mockup from the beginning, select a suitable stock photo as the background image that matches your situation. For instance, if you're planning to design a coffee mug, you could opt for a stock photo featuring a coffee shop or coffee table.
To achieve a simpler design, you have the option to include a background color, or, alternatively, create visual interest by incorporating a gradient with color into the background.
In the upcoming section, we will delve deeper into the process of adding your design or logo which can help you how to make a mockup.
3. Add Your Design or Logo
The most thrilling aspect of the mockup tutorial is here! It's time to add the design concept into the mockup template, and this is where your ideas will truly come alive!
For instance, when you want to upload an image or design to Mockey. All you can do is select the "Add design" option to upload your preferred design or logo. Following that, you will receive a prompt to transfer files from your computer to our mockup generator.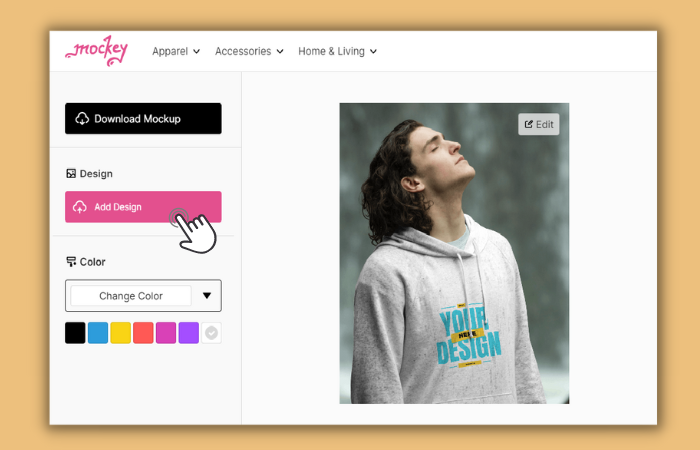 Once you upload the design from your device, you will be able to see your logo in the templates.
Alternatively, you can make the process easier by clicking the "upload design" option in the homepage area and choosing the category you want to customize on the next page.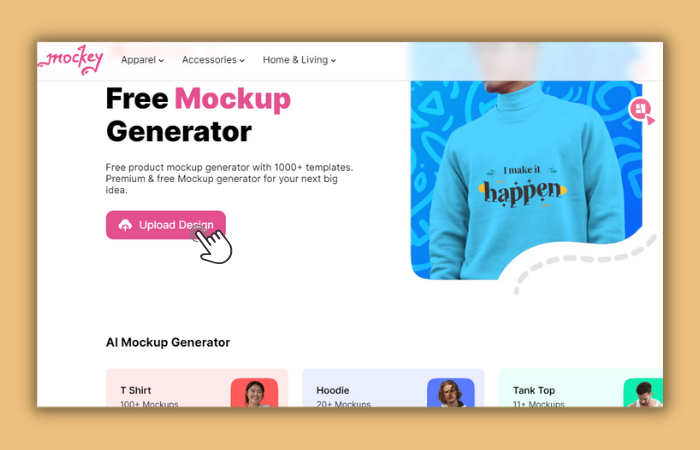 We're nearing completion! It's now the stage where we customize and personalize the product mockup.
4. Customize Your Design
Using a mockup tool has the advantage of enabling you to produce exceptional product renderings while also allowing you to incorporate numerous design elements into your mockup, thereby giving it a professional appearance.
In order to visualize the appearance of your product mockup in reality, it is necessary to personalize your design and add distinctive elements that reflect your own style.
Easily customize your mockup by utilizing the various customization features to swap out the background color or background image, insert your branding elements and logo, and many other design elements.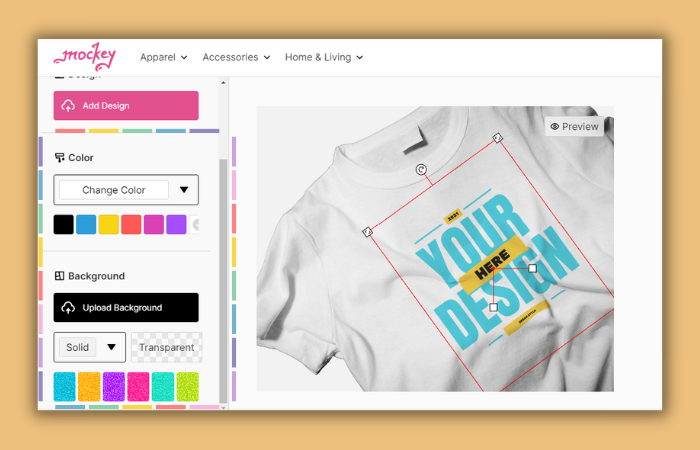 In order to achieve a professional appearance for your mockup design, it is necessary to utilize images of a professional caliber.
If you don't have the means to use a professional camera or hire a photographer, your alternative solution would be to utilize the vast collection of background images available to you.
Starts With Background
With Mockey, you have the flexibility to access professional background images for your mockup. To use it, you must enable the background option at the bottom corner of the left side.
After enabling it, the background of the template will become blank, and you will be able to add new background images.
You can also keep the background transparent.
Mockey offers users the ability to customize their background using a solid color. This feature allows users to create a unique and personalized look and feel for their digital content.
By selecting the solid color option in the background customization menu, users can choose from a wide range of colors to apply to their backgrounds.
Furthermore, Mockey offers users the flexibility to use color codes to achieve the exact shade of color they desire.
This feature is particularly useful for individuals who have a specific color scheme in mind or want to match their background color with other elements of their digital content.
Color codes provide a precise and efficient way to communicate the desired color, as each code is unique and specific to a particular shade.
Customize Product Color
Mockey also helps users the flexibility to change the product color of the item they choose to customize.
Whether it's a t-shirt, hoodie, tank top, or phone cover, users can select the product they want to customize and then choose from a wide range of colors to apply to that product.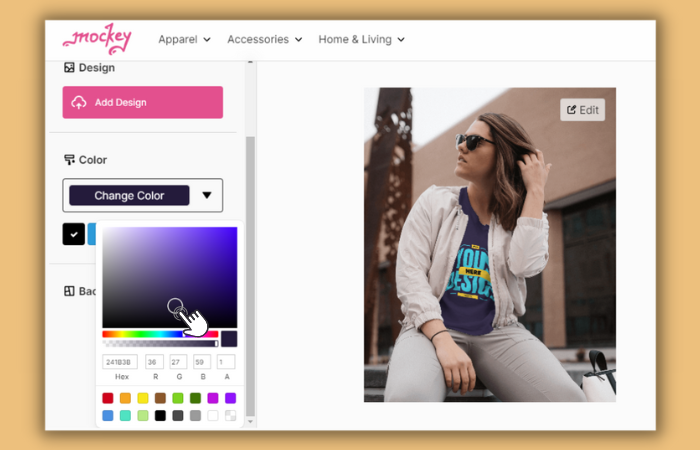 With the ability to change product color, users can create a personalized and unique look for their products that reflects their style and personality.
Adjustment Your Design
One of the essential aspects of customizing any product is the ability to adjust the design. And when it comes to creating personalized designs in Mockey, users have the flexibility to adjust their design in multiple ways.
This allows users to create truly unique and customized products that match their preferences.
One of the ways users can adjust their design in Mockey is by manually adjusting the size of the image.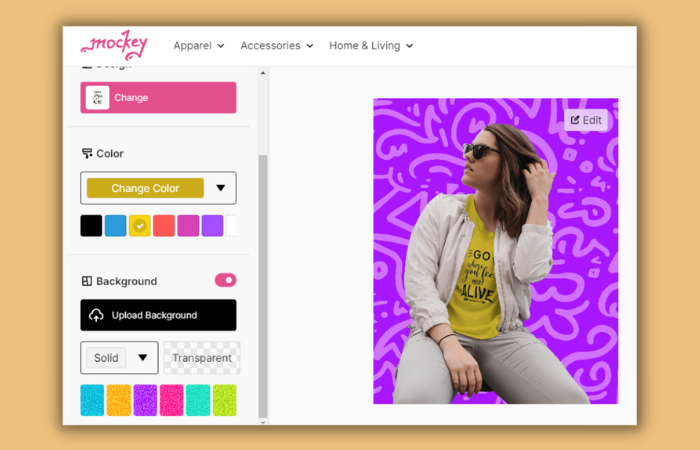 This feature is for those who wish to adjust the dimensions of their image to fit their product perfectly.
Another way to adjust the design is by changing the angle of the image. This feature allows users to rotate the image in any direction, making it possible to change the orientation of the image.
Users can move the image up or down, left or right, to get the perfect placement for their design.
5. Download Your Mockup Design for Free
After creating your graphic design masterpiece, the next step is to download it. It is advisable to save your mockup in the form of a high-resolution PNG file to ensure that the quality and number of pixels are at their maximum level.
To get your mockup, select the "Download Mockup" option located at the top right of the screen.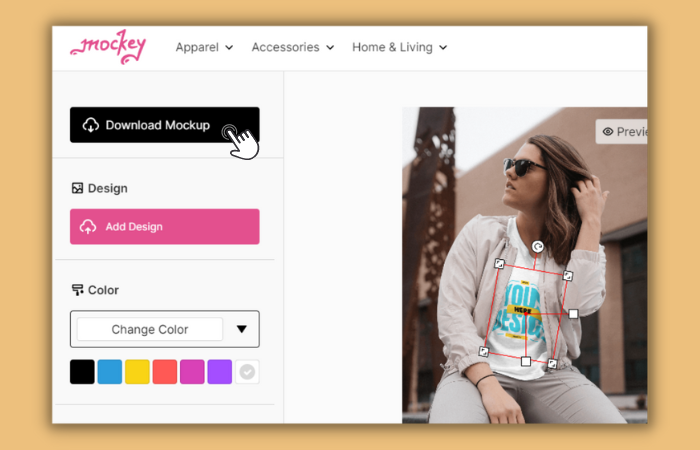 Once you reach this point, you will be able to get your new mockup design in the form of a PNG file by downloading it.
No Watermark With Mockey Mockup Generator
Mockey's biggest advantage is that it is completely free. Unlike other mockup generators that require users to pay for access to high-quality mockups, Mockey offers all its mockups completely free of charge.
This feature is particularly useful for small businesses or individuals who do not have a large budget for design work.
However, Mockey is known for free online mockup generator no watermark tool.
This means that users can use the mockups without any restrictions or limitations, allowing them to showcase their designs in the best possible way.
That's it. You have learned how to make a mockup using Mockey. Right now, we will talk about the new and best templates on Mockey, which are quite attractive in appearance.
Mockup Templates
Let's talk about the new templates on Mockey, which have been released recently.
Template 1: Phone Cover Template
Now, a new template is available that lets you generate mockups of up to 4 different designs together!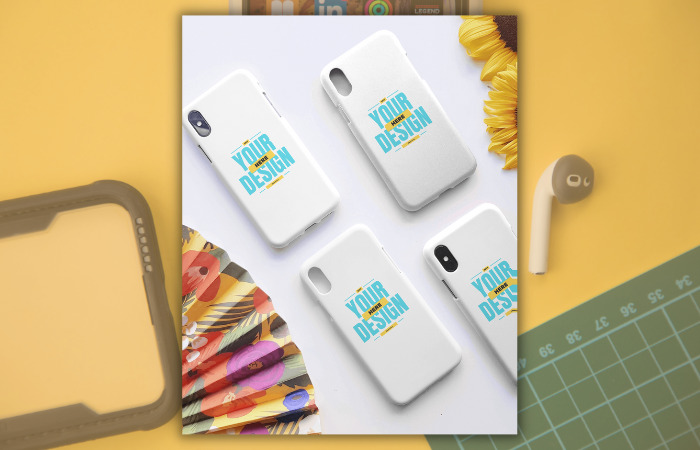 So, what exactly are phone cover templates? Well, they're basically outlines of phone covers that you can fill in with your own designs.
And the great part is that the new template has spaces for not just one but four different designs! That means you can add your four different designs to 4 different phone covers all at once!
You can change the colors, and even upload your own images to make your phone cover templates totally unique.
Template 2: Box Template
Mockey is a tool that lets you make pictures of things that look like they're real, even though they're not.
They've just released a new box template that features a cute little dog peeking out from inside the box!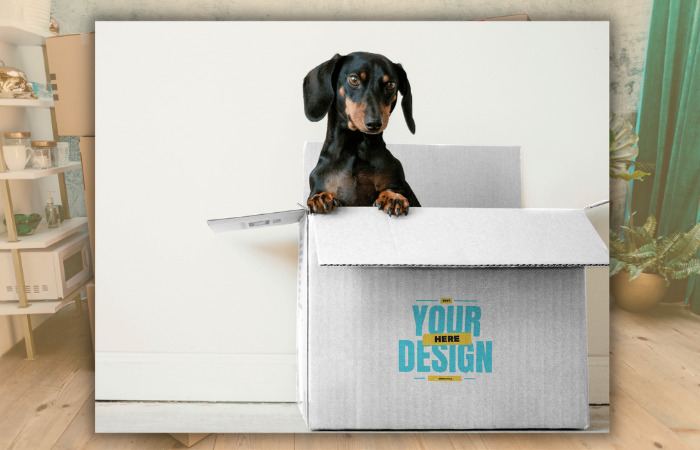 So, imagine you want to make a picture of a box with something inside it.
Maybe you want to pretend you're sending a present to someone, or maybe you just want to show off some cool new toy you got. Well, Mockey can help you make that picture!
Template 3: Can Template
So imagine you're creating a design for a can like a soda can or a soup can. The new template is perfect for that!
They're already set up for you with all the right dimensions and everything. And the best part is, it is located near the ocean.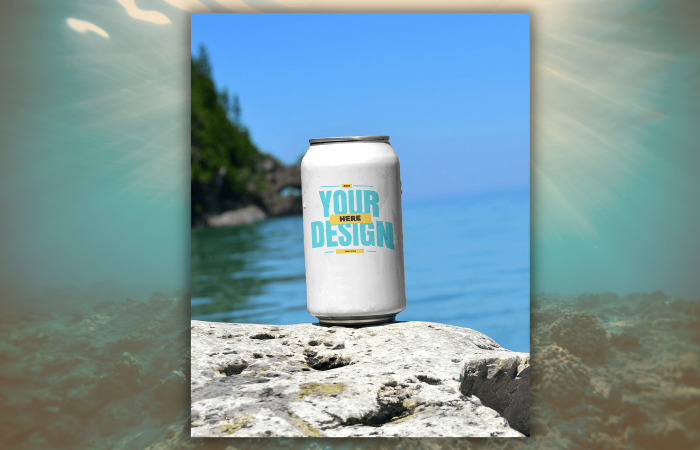 Now, you might be wondering why that is a big deal. Well, think about it.
The ocean is a really cool and beautiful place. It's full of life and color, and being near it can make you feel calm and relaxed.
So if you're designing a can that you want people to feel good about, having it situated near the ocean is definitely a bonus.
Plus, it's just really neat to be able to say that your design was inspired by the ocean. It gives it a unique and interesting story that people will want to hear.
And who knows, maybe it will even inspire other designers to create ocean-themed designs too.
So there you have it, the new can template situated near the ocean. Pretty cool, huh?
Template 4: Cushion Template
So, let's talk about the new cushion template in the living room. It's actually a really fun and creative way to add some color and style to the room.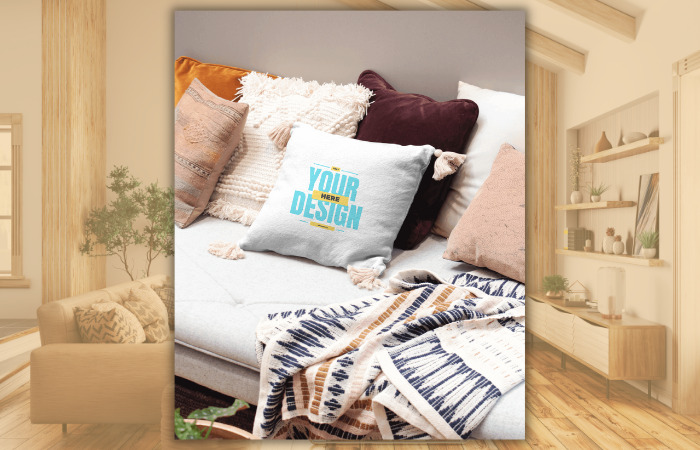 You can use bright colors, and even add some customization features. The possibilities are endless!
Plus, it's a great way to express your own personal style and make the living room feel more like your own.
So, if you're feeling creative and want to add some flair to your living room cushions, try out the new cushion template and see what you can come up with.
And remember, with Mockey, you can experiment with different designs before you actually make them.
Template 5: Car Sticker Template
A car sticker template is like a blueprint or a plan for creating a sticker that will fit perfectly on a car.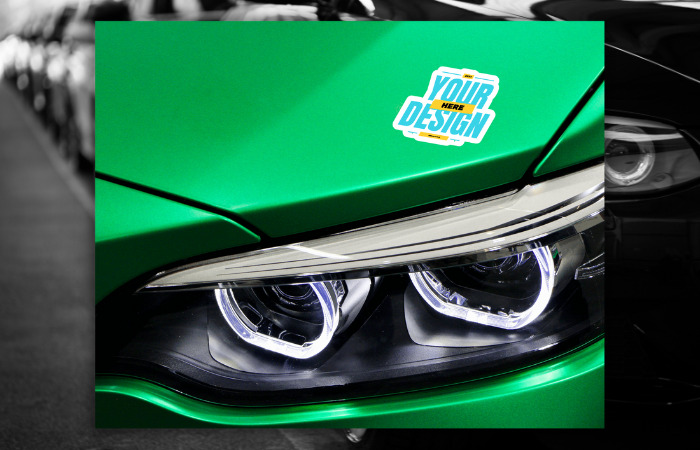 Think of it like a coloring book page but for stickers! The template will show you where to put your design and what size it should be.
So, with Mockey, you can use a car sticker template to create your own custom design and then see what it will look like on a car.
It's a really fun way to be creative and make something that you can show off to all your friends.
When to Create Product Mockups
Here are some common situations when you may want to create product mockups:
Initial design concept: Mockups can be created at the ideation phase when developing initial concepts for a product. These mockups can help you visualize and iterate on different design directions before committing to a final design.
Prototype development: Once you have settled on a design direction, mockups can be used to create a product prototype. This can help you test and refine the design before moving to full-scale production.
Marketing and advertising: Mockups can also be used to create marketing and advertising materials for the product. This includes product images for your website or social media, packaging, and promotional materials.
Tips on How to Make Product Mockups Better
The following are tips on how to make product mockups better.
Use high-quality images: When creating a mockup, it's important to use high-quality images. This will make your product look more professional and realistic. You can either take your photos or use stock images.
Choose the right background: The background of your mockup can make a big difference in how your product looks. Make sure the background is clean and simple so your product stands out.
Use realistic lighting: Lighting is another important aspect of a good mockup. Use realistic lighting that matches the product's intended environment so it looks like it belongs there.
Be consistent: If you're creating a series of mockups, ensure they are consistent in lighting, background, and angle. This will make your brand look more cohesive.
Include the right details: When creating a product mockup, include all the important details for your customers to see. This includes the color, background, and size of the product. If you're making a digital product, include screenshots of the interface.
Conclusion
In conclusion, creating a mockup doesn't require expensive software like Photoshop. Anyone can learn how to make a mockup without Photoshop using free online tools and resources.
For more information, watch this:
By following these simple steps on how to create mockup without Photoshop, you can bring your ideas to life and present them professionally to clients and stakeholders.
Visit: Mockey | Mockey Android App
FAQs
How to make free mockups step by step?
Look at these simple five steps:
Step 1: Open Mockey. No sign-up is required.
Step 2: Select mockup types and objective
Step 3: Add your design or logo
Step 4: Customize your design
Step 5: Download your mockup design for free
How to do mockups in Canva?
Step 1: Simply search for a mockup in the templates section and choose the design you like. 
Step 2: Then, upload your own image and drag it onto the mockup template. 
Step 3: Add text or adjust the colors and download.
Which software is best for mockup design?
These five software are best for your mockup design.
1. Mockey
2. Placeit
3. Smartmockups
4. Canva
5. MockupBro
What is the salary of a mockup designer?
The salary of a mockup designer can vary based on their experience, skill level, and location. On average, a mockup designer in India can expect to earn between 6,00,000 – 8,50,000 INR per annum.