When it comes to sticker design and printing, there are two techniques that stand out: kiss cut stickers vs die cut. When choosing the right sticker type, it doesn't matter whether you're creating stickers for your brand, selling stickers featuring the artwork, or creating personal stickers.
Your primary custom sticker options to think about are kiss cut stickers vs die cut. Kiss-cut stickers only have a cut in their top layer; the paper backing is untouched. Peeling and applying it is easy because of this.
Alternatively, die-cut stickers have full cuts through them, giving them a custom shape. What kind of stickers do you pick, then? What you intend to achieve and the design you use will decide everything.
You can use this guide to decide which stickers will work and your industry if you want to decide on kiss cut stickers vs die cut stickers.
Table of Contents
What Does Kiss Cut Stickers Mean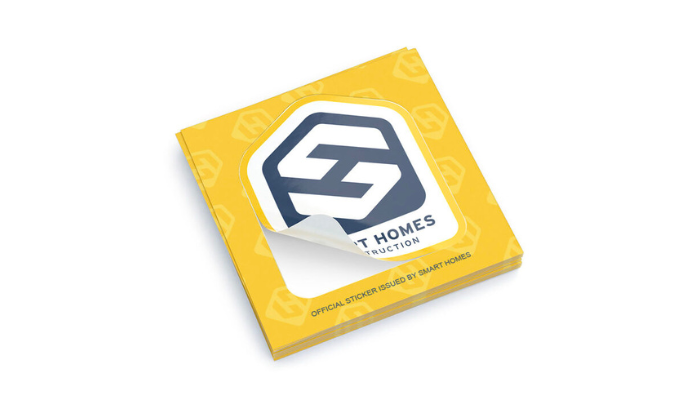 Kiss-cut stickers are personalized stickers that are precisely cut into a particular shape while retaining paper backing to secure the design. Die-cut stickers are different from kiss-cut stickers as they are cut via vinyl layers. This shows that the backing of the paper remains unchanged, facilitating a simpler peeling and applying process for the sticker.
A kiss-cut sticker sheet is the best option if you want to make cute sticker collections. This way, you can print multiple stickers on a sheet, customize their backing, and even print your logo.
How to Print Kiss Cut Stickers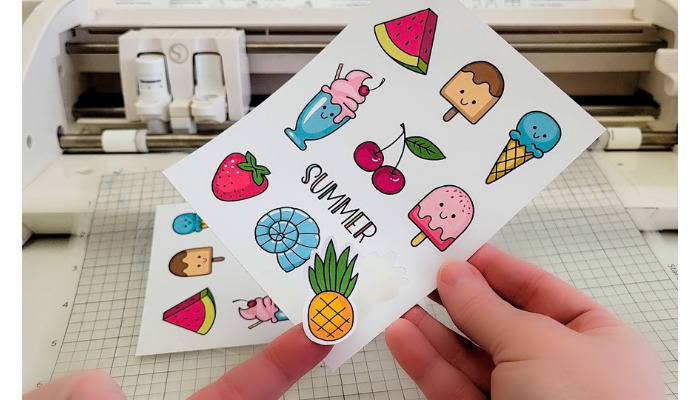 A Kiss-cut sticker is made by using a tool that follows a programmed pattern to cut your sticker material to an exact depth while avoiding cutting via the backing material. Typically, this involves printing the design onto the vinyl sheets, which are then passed through a cutting device. The cutting device navigates the sheet, creating the sticker's desired shape while ensuring the backing material remains unharmed.
Advantages of Kiss Cut Stickers
It's easier to make intricate designs with kiss-cut stickers instead of traditional rectangular stickers because they can be cut into various shapes and sizes. With die-cut stickers, you can make impressive designs that stand out by printing them in multiple colors or holographic tones.
A kiss-cut sticker uses premium, long-lasting vinyl, ensuring strength against tearing, scratching, and fading. Applying stickers onto various surfaces such as metal, plastic, glass, and paper is effortless due to their easy-to-peel nature. With a backing material that prevents creasing, these stickers become an excellent choice for branded giveaways, marketing materials, or product packaging.
Kiss-cut stickers prove to be a budget-friendly option, particularly when compared to alternative promotional materials such as custom packaging and t-shirts. They're an excellent way to give your company an individual touch without going over budget.
Ordering Kiss Cuts
If you wish to get some kiss-cut stickers, just head over to the sticker page! You'll see a pricing calculator on the right side that will give you an instant price.
All you have to do is pick the material you like and tell us the size you want for your stickers. The team will make sure the part you can peel off fits perfectly.
Then, just let us know how many stickers you want and show us your artwork! That's it!
What Is Die Cut in Stickers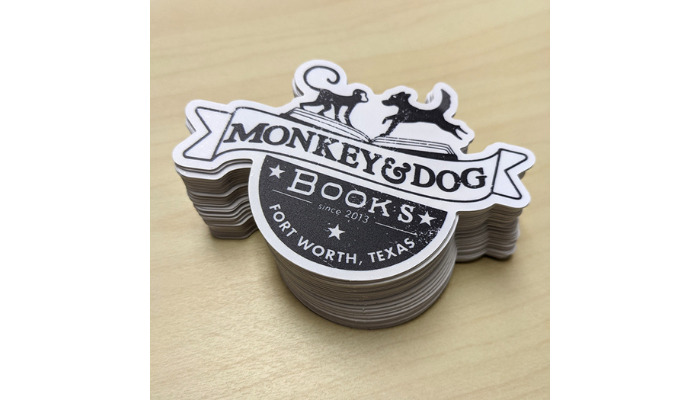 Die-cut stickers are customized types of stickers where both the backing material and vinyl layer are cut through, creating a special sticker that is uniquely shaped.
If you're looking for stickers to use as pack-ins or branding materials, die-cut stickers can give a great look. However, keep in mind that they may get damaged during transportation. Kiss-cut stickers, on the other hand, have extra backing paper around the edges that protect them during transit.
Die-cut stickers, similar to kiss-cut stickers, are cut using a specialized cutting tool. When it comes to die-cut stickers, the cutting tool is designed to cut through both layers. With this feature, you can achieve more accurate and tough cuts, as well as create highly unique and detailed designs.
Benefits of Die-cut Stickers
Customizable in both color and shape, die-cut stickers are an ideal choice for various branding materials and logos. By precisely cutting the sticker to match the design's shape, they offer a unique impression that effectively sets your brand apart from competitors.
Similar to kiss-cut stickers, die-cut stickers are also crafted from durable and scratch-resistant vinyl. They have the utility to stick easily to various surfaces, such as paper, glass, and plastic. However, unlike kiss-cut stickers, die-cuts lack an additional backing to shield the design, making them more sensitive to creasing during transportation.
A die-cut sticker is a hassle-free alternative to kiss-cut stickers, as they have no excess material that may interfere with the application process. Die-cut stickers, with their unique shape and appealing design, are sure to leave a lasting impression.
Ordering Die Cuts
Just go to the special stickers page to cut them into fun shapes. The calculator will instantly tell you how much they cost, showing different amounts you can get. You can choose one of those amounts, or if you want, you can put in your very own number of stickers.
Kiss Cut Stickers vs Die Cut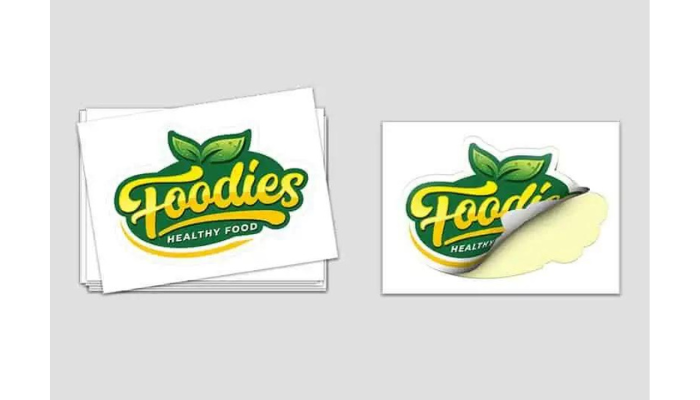 So what do you choose in kiss cut stickers vs die cut? Die-cut stickers are cut differently than kiss-cut stickers. Kiss-cut stickers cut through the vinyl layer but not entirely through the underlying paper, leaving an outer border. As only the top layer needs to be cut, the process is easier and faster.
A custom shape is created by cutting the backing paper and vinyl layer using a die-cut sticker. Die-cut stickers are more expensive due to their increased difficulty and time-consuming production process.
Die-cut stickers are more expensive due to their increased difficulty and time-consuming production process. Die-cut stickers, on the other hand, are excellent for branding and advertising because this cutting technique allows for greater flexibility in design and customisation.
If you want to sell stickers all by themselves or make cool sets, go for kiss-cut stickers or sticker sheets. They're awesome because they're cheap, work great for easy designs, and you can make a bunch at once! Alternatively, die-cut stickers come in intricate designs and shapes.
That's it. We have discussed between kiss cut stickers vs die cut stickers in brief.
Tips for Sticker Design
So, now that you've got some good choices for stickers let me share four quick and easy tips to keep in mind when you're creating your own stickers! Let's get started!
Simple is Best
The most suitable stickers are usually the easiest ones to get. So, when you make your own design, keep it simple and nice to look at. Don't put too many things on it, or it might become too messy and hard to understand.
Make it Bold
If you want your sticker to catch attention, use bold, bright colors.
Think About Shape
It is important to ensure that your artwork matches the shape of your sticker to achieve a polished and cohesive design.
Make It Useful
So, when you're making a sticker, whether it's for your brand or a special event, it's important to think about what you want the cool sticker to be about. If it's for your brand, don't forget to add your logo and use the colors that represent your brand. If it's for a special event, think about what the event is all about or where it's happening. So, make sure your sticker matches its purpose, and you'll be rocking it!
The Right Choice in Kiss Cut Stickers vs Die Cut
Eventually, die-cut stickers are completely cut through both the sticker and its backing paper. Kiss-cut stickers, however, just have their sticker layer cut through. A protective border will be added to the back, where the paper backing will remain intact. Stickers are a great way to market your business, build brand awareness, and boost sales, whatever type you select.
However, we have covered kiss cut stickers vs die cut stickers. We have completely discussed everything about die cut vs kiss cut stickers, including their benefits and advantages.
You can watch this small tutorial on kiss cut stickers vs die cut.
FAQs
Which is better kiss cut or die cut stickers?
Die-cut stickers are better because they can be customized to have a specific shape, which gives them a distinct appearance that customers tend to prefer.
Are die cut stickers better?
If you want your stickers to have a unique form and pattern, die-cut stickers are preferable. The stickers are cut individually from the backing paper and sticker material, resulting in an attractive and polished look.
Are kiss cut stickers waterproof?
To make kiss-cut stickers waterproof, add a laminate sheet on top. A laminate sheet serves as protection for stickers against water, scratches, and sunlight. Certain vendors of kiss-cut stickers provide pre-laminated waterproof stickers.