Do you need some inspiration for your Halloween sticker ideas? Are you looking for spooky ideas for your business this year? Here are the best suggestions for using Halloween sticker ideas to make your business and home look festive. Children of various ages will really enjoy this activity!
Table of Contents
List of Halloween Sticker Ideas
Here are some Halloween sticker ideas to get you started.
3D Epoxy
Invisible ink
Vinyl decals
Door stickers
Halloween wall stickers
Pumpkin
Jar labels
Cowboy ghost
Halloween logo
Transparent Haunted Halloween
Business Packaging
Cute ghost
Halloween cat
Colorful Halloween
Ghost hiding in plant
15 Halloween Sticker Ideas
Here are the 15 best Halloween sticker ideas.
1. 3D Epoxy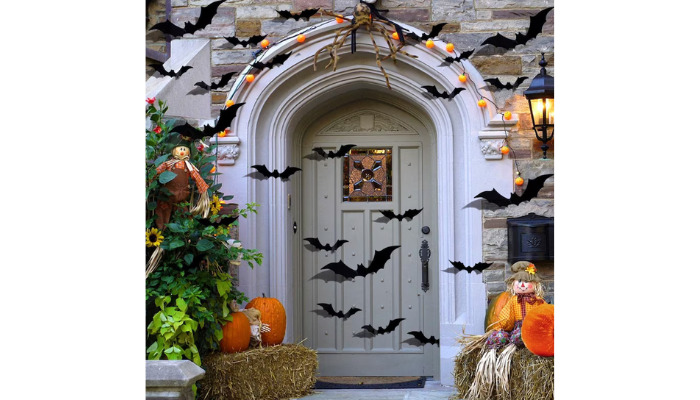 Make 3D stickers of Halloween that bring zombies, ghouls, ghosts, and their buddies to life. 3D stickers use a special material to make your regular flat stickers look more three-dimensional.
Put them on your child's lunchbox, water bottle, or laptop. You can also use them for Halloween projects, like decorating scrapbooks and picture frames.
2. Invisible Ink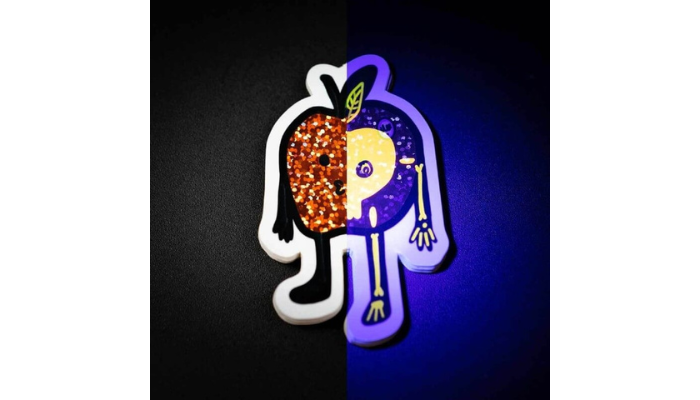 Are you prepared to be the coolest house for trick-or-treating among the residents?
Instead of giving out candies, give Halloween stickers that are made with invisible ink. When you shine a black light on these cool stickers, they become visible. You can also give the kids a small black light flashlight along with the stickers. This will make the stickers amazing.
3. Vinyl Decals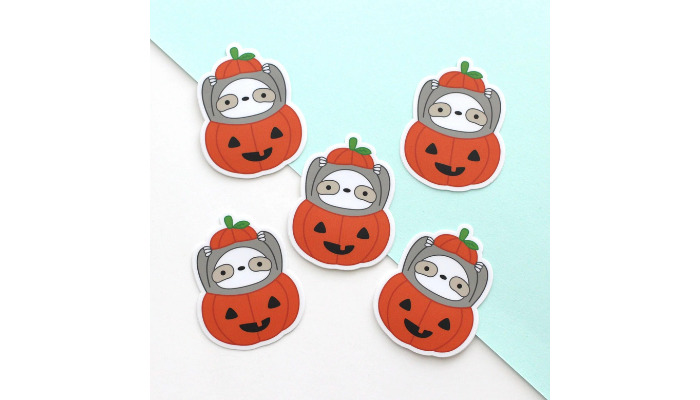 A candle is lit, leaves are falling, and it is time to dig out the ageing arts and enjoy! Elevate your Halloween art and craft skills using vinyl decals. Vinyl Halloween sticker ideas are great for making your own unique glass designs.
Here's a cool idea: Make a spooky glass mug or wine glass by using clear stickers. These transparent decals can even go in the dishwasher!
4. Door Stickers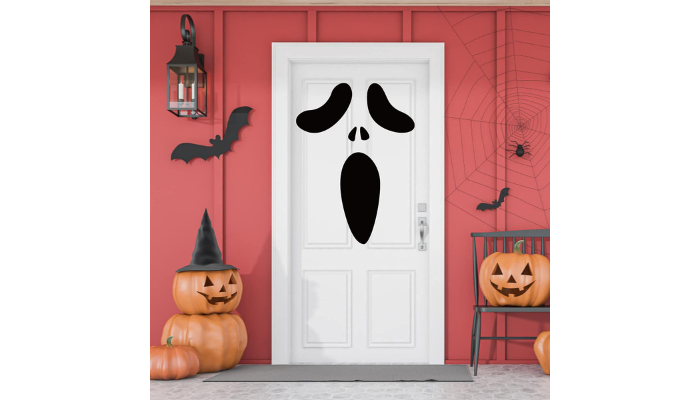 Want to take a chance? Door stickers for Halloween are best for your bedroom and front doors. Use them outside your home to make it spooky and greet or caution those who come for treats.
"Do Not Enter" sticker, or make a friendly welcome with fall decorations. No matter what you choose, door Halloween sticker ideas can really set the mood.
5. Halloween Wall Stickers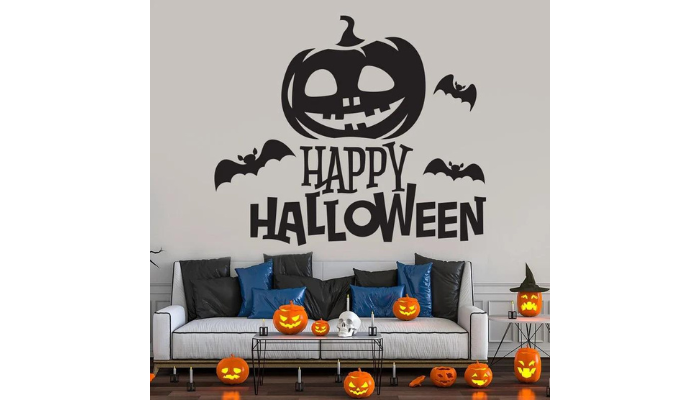 These stickers are a great choice to make spooky houses and mazes or to make your workplace really scary. They can be Halloween greetings, scary characters, or even famous characters such as IT and Freddie Kruger.
Use wall stickers to make fake windows and create spooky hallways.
6. Pumpkin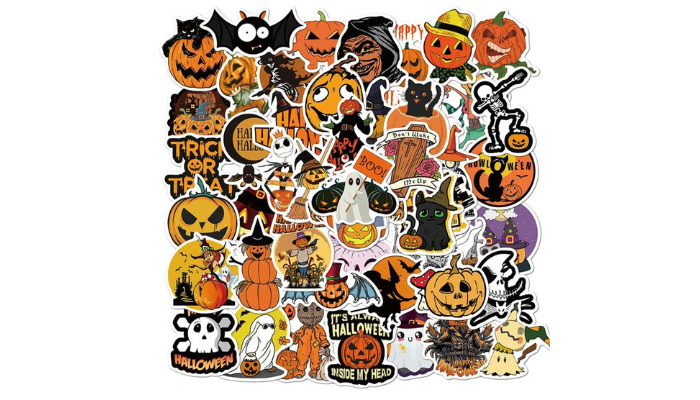 Put stickers on your pumpkin to make it look nice without cutting it. This way, your pumpkins will stay fresh for a longer time, and it's safe for kids. If you prefer the traditional way of carving, you can use stickers to make designs to carve on your pumpkin.
Here's a tip: Try using transparent stickers to make pumpkin designs.
7. Jar Labels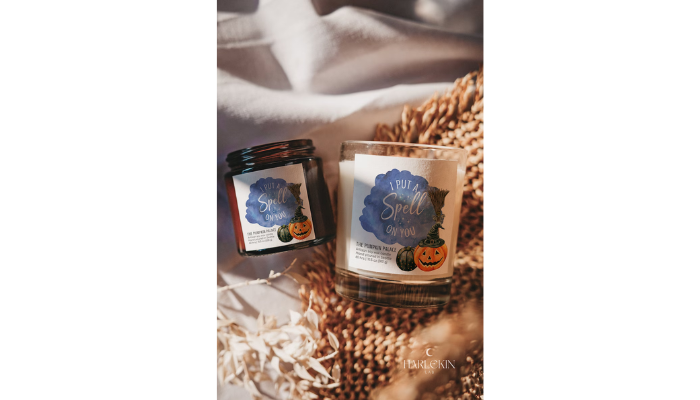 Add a fun Halloween atmosphere to your kitchen using spooky stickers and labels for jars. Make old-fashioned labels for Halloween with brown paper for a spooky vibe and rustic.
Stick these labels on containers and jars and keep them on the kitchen counter to spread Halloween throughout your home.
8. Cowboy Ghost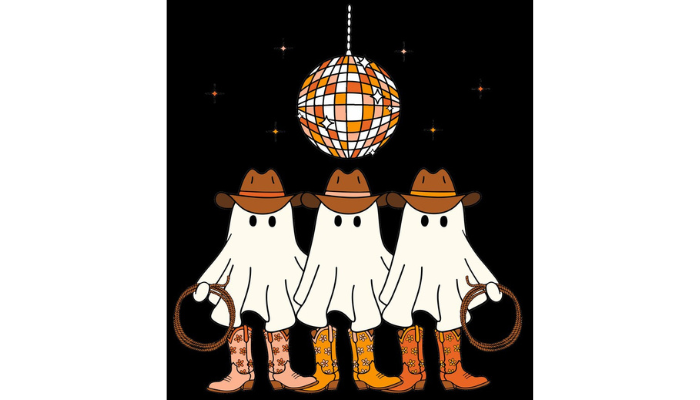 Halloween-themed cowboy ghost stickers are a great way to add some fun and personality to your items. They're quirky and humorous, perfect for the spooky season. You have the option to share these with friends who have an interest in cowboys, ghosts, or both. These items are ideal for Halloween or any occasion where you want to display your spooky side.
9. Halloween Logo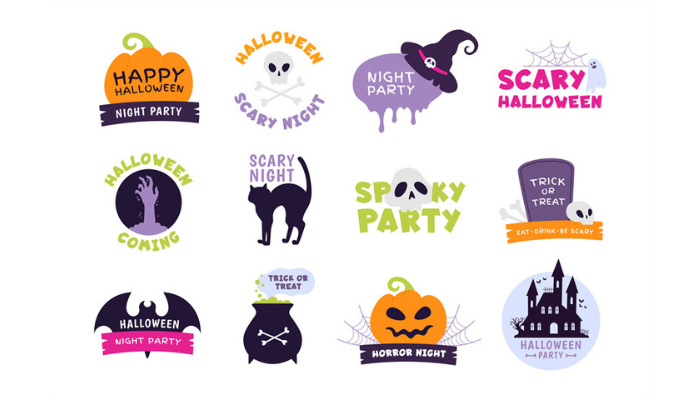 Push your brand's uniqueness by giving it a seasonal touch. People who like your brand will enjoy a Halloween-themed logo sticker. Use your usual design, but add some colors or things related to the season.
You can sell these cute stickers or include them when you send out your products. Using seasonal themes is a nice way to celebrate the different times of the year and tell people about your business.
10. Transparent Haunted Halloween
Halloween stickers that are transparent can transform any glass surface or window into a spooky scene. Decorating your home's windows with window stickers is a great way to make them look good.
Whether you wish to add dark figures for a mysterious vibe or put on cute ghost stickers to welcome your guests, these stickers are an enjoyable and simple way to enhance Halloween.
11. Business Packaging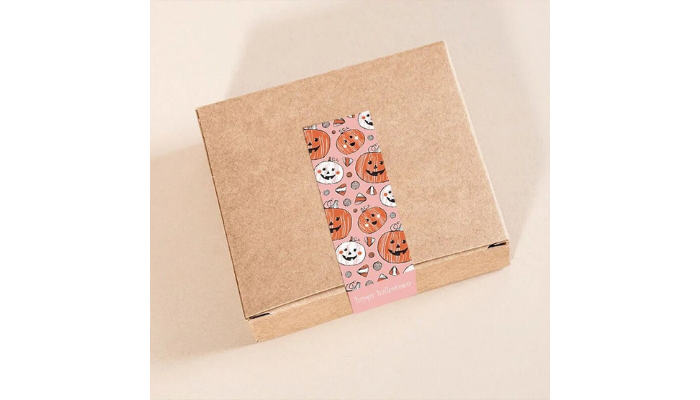 Enhance your business style with Halloween stickers. If you have things you send to customers, like mail or products, make it extra special this Halloween. Add spooky stickers to your packages or items. People will remember the extra work you put in.
12. Cute Ghost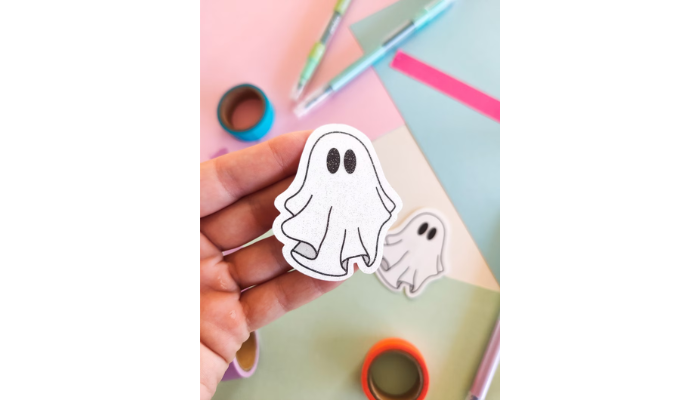 A Halloween sticker with a cute ghost design serves as a decorative piece that depicts a friendly or endearing ghost. This is frequently used for celebrating Halloween, an annual festival that takes place on October 31st.
During Halloween, individuals typically wear costumes, carve pumpkins, and engage in the activity of trick-or-treating. Many individuals enjoy adding Halloween-themed stickers, such as adorable ghosts, to their homes, cars, laptops, and other possessions as a form of decoration.
13. Halloween Cat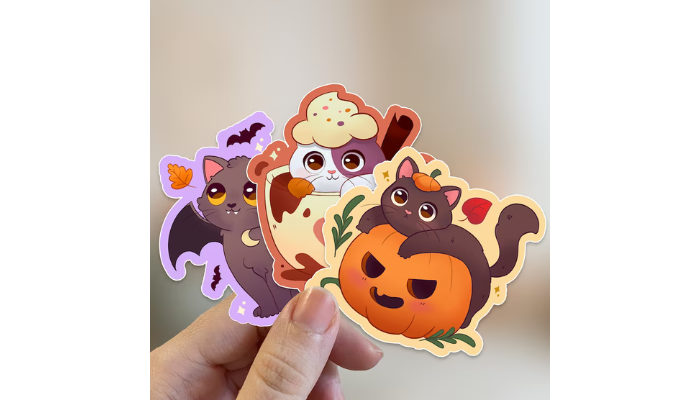 A Halloween cat sticker is a special kind of sticker that shows a cat with a Halloween style. These stickers can look different in various designs, colors, and sizes. Cats that look like they belong to Halloween might have black fur, yellow eyes, and pointy ears and wear things like hats, collars, or masks.
Cat Halloween sticker ideas are cool and spooky methods to show your personality and imagination.
14. Colorful Halloween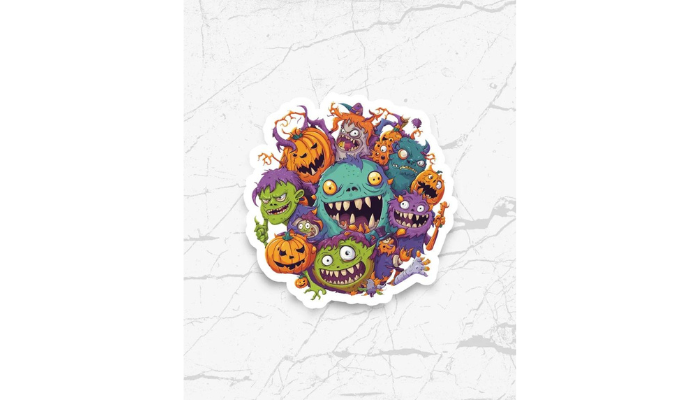 The colorful Halloween sticker ideas are a decoration you can use to have fun during the spooky Halloween festival. It's something enjoyable and simple that both kids and adults can do as a craft project.
15. Ghost Hiding in Plant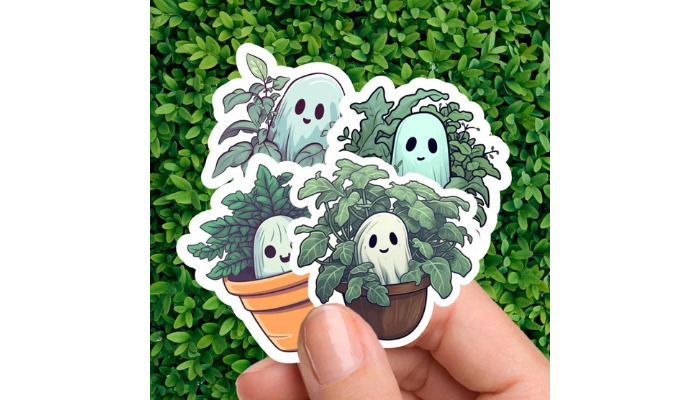 A Halloween sticker with a hidden ghost in a plant is a cool and spooky decoration for your home, office, or laptop during Halloween time.
Mockup Generate with Halloween Stickers
Make your Halloween mockups stand out with Mockey's free mockup generator, featuring charming Halloween stickers. Even with this tool, you can generate realistic Yearbook covers using book mockups.
These mockups are made with the highest quality and precision, giving them a professional impression without any watermarks.
Display your creative talent and present your sticker designs in an impressive way with Mockey's top-notch, watermark-free mockups.
Conclusion
To sum up, the world of Halloween sticker ideas is an exciting and boundlessly imaginative space where we can turn regular things into enchanting pieces of art.
During the exploration, we found many different ideas for Halloween decorations. Some are fun and cute, while others are spooky and eerie. Each idea lets us show our Halloween spirit in a special way.
Allow your imagination to go free, and use the stickers to capture the spirit of Halloween, bringing joy and curiosity to everyone who sees your spooky and delightful designs.
You can upload these Halloween stickers on Discord and use them while chatting with your friends.
On the other hand, we have compiled a list of the best 15 Halloween sticker ideas for you.