Take your Macbook to the next level with custom Macbook sticker ideas that reflect your personality, passion, or sense of humor. A high-end laptop with a beautiful design is the Macbook. Your MacBook would benefit greatly from stickers. These laptop designs offer a variety of options, including sports, movies, and music. These are simple and easy to use, and they give your laptop an attractive and quirky style. We will cover 40+ amazing Macbook sticker ideas for you.
Table of Contents
What Are Macbook Stickers For
A MacBook sticker is a decorative accessory that attaches to the laptop to express your fashion and personalize it. A laptop cover can protect the laptop against scratches and dust and comes in a variety of colors, shapes, and designs. Your laptop will stand out when you apply & remove MacBook stickers.
Does Apple Still Give Stickers
All Apple products, including iPhones, still come with stickers. The purpose of this is to create more visibility for the brand and support the company in a positive way. A single sticker is now included instead of two in the Apple box these days.
List of Macbook Sticker Ideas
Here is a list of Macbook sticker ideas.
Rainbow Apple logo
Batman
Spider man
Think outside the box
Keyboard shortcuts
Painting
Cute cat
Up decal
Cookie cartoon
Disney sticker
Ice age
Banksy
Dog lac
BBQ fire
Montagnes
Superhero Ironman
Snorkeler
Gold apple
Dark knight saber
Fruit sticker
Joker
Matte black logo
Lego man
Hipster glasses
Gaming icons
Newton's law
Forest skin
Disney pooh
Grey marble
Space
Anime
Mountains
Juice box
Headphones
Cinderella
Michael jordan
Pursuit hache
Matrix effect
Panda
Brexit
Best 40+ Macbook Sticker Ideas
Here are 40+ Macbook sticker ideas you'll love. All of the images in this post were found on Etsy.
1. Rainbow Apple Logo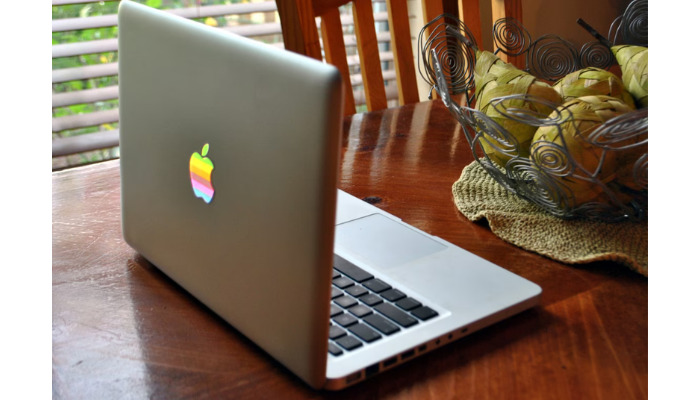 Adding a rainbow apple logo sticker to your macbook will add a splash of color and style to it.
2. Batman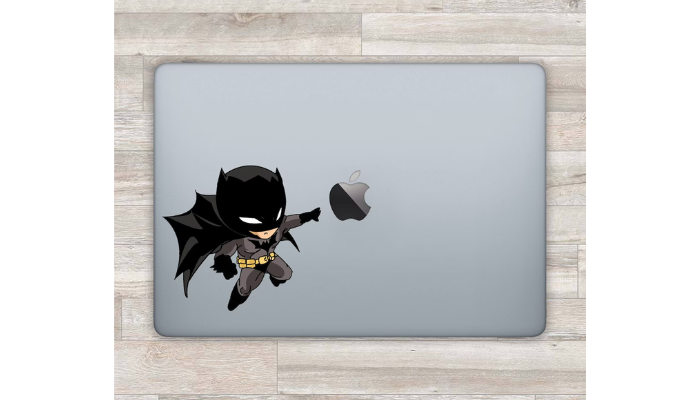 Get this cool and creative Batman sticker for your Macbook to show off your love for the Dark Knight.
3. Spider Man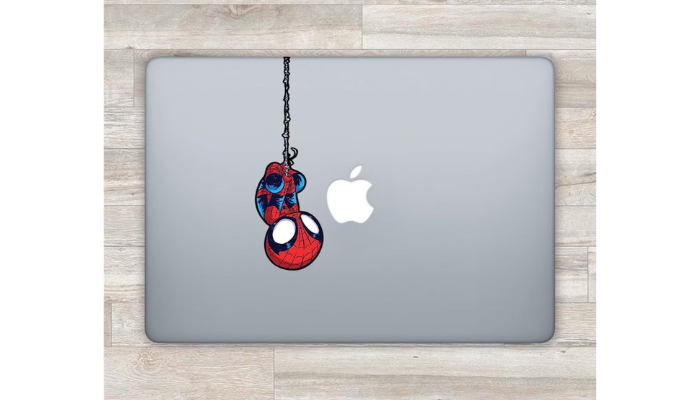 Spice up your Macbook with a spider web sticker that shows off your love for Spider-Man and his amazing adventures.
4. Think Outside the Box
Look at this cute sticker: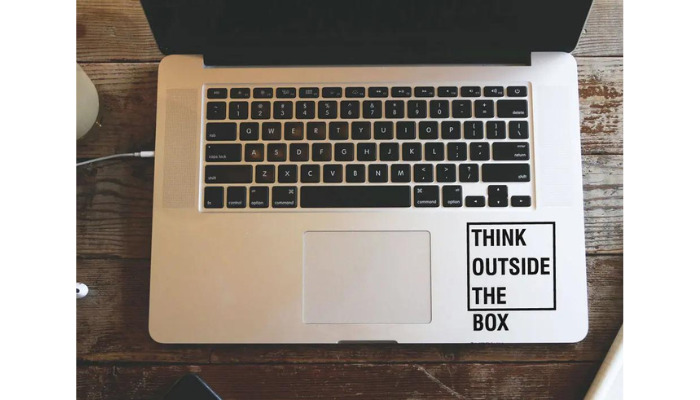 5. Keyboard Shortcuts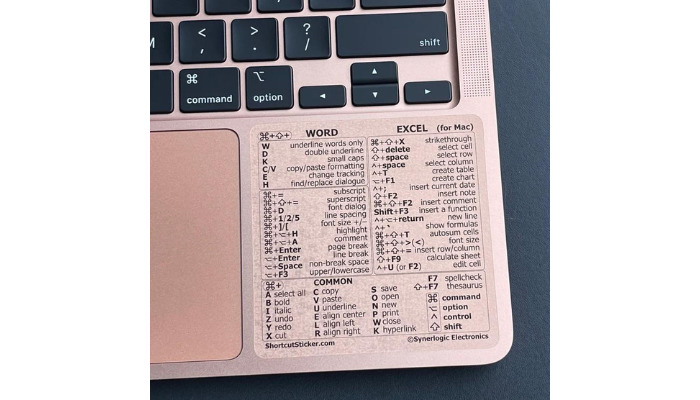 This is one of the best Macbook sticker ideas. This keyboard sticker will help you access your favorite apps quickly and easily on your Macbook.
6. Painting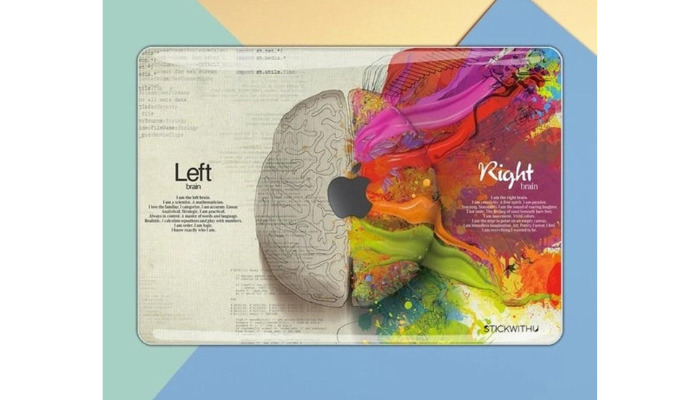 Paint your personality on your Macbook with these creative and colorful cool sticker ideas.
7. Cute Cat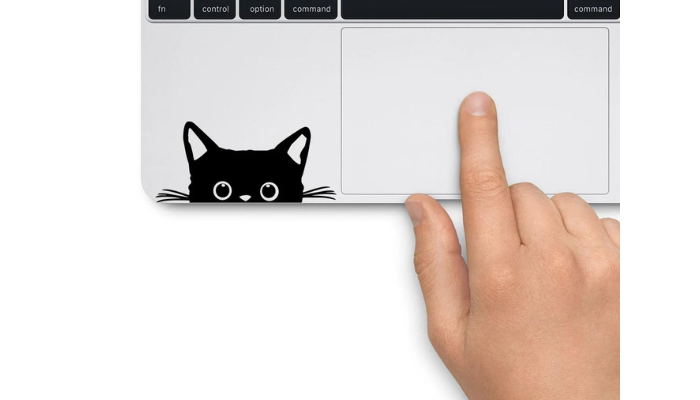 With this adorable cat sticker in a variety of shapes, sizes, and colors, you can spice up your laptop with a little feline flair.
8. Up Decal
Look at this Up sticker decal design: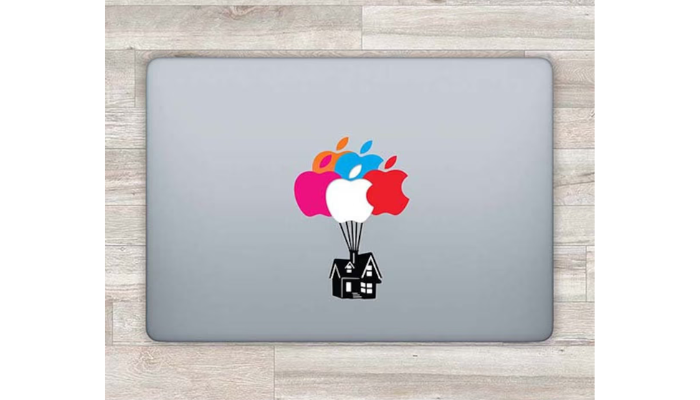 9. Cookie Cartoon
Look at this cookie cartoon design: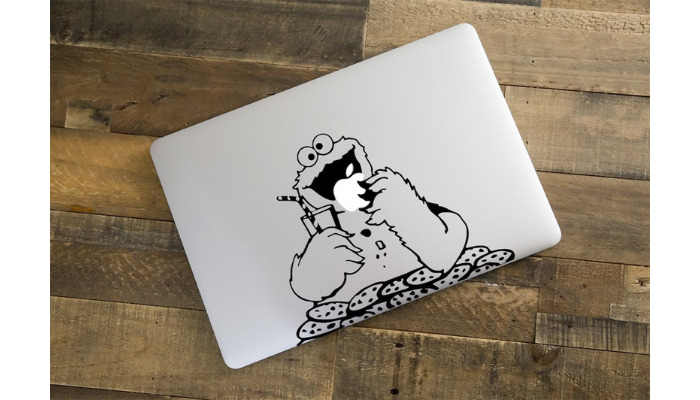 10. Disney Sticker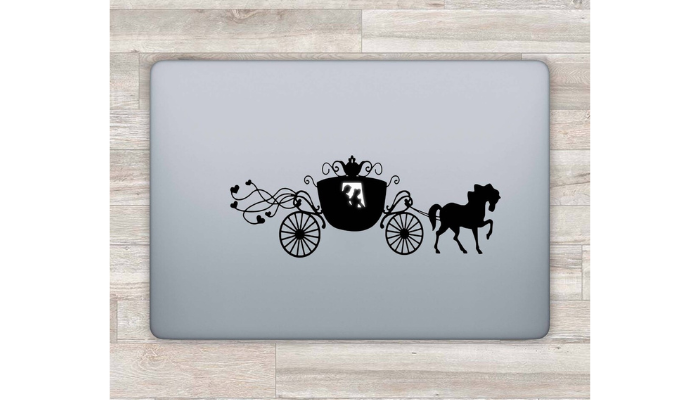 Featuring your favorite Disney characters and scenes, these stickers will truly make your Macbook come to life.
11. Ice Age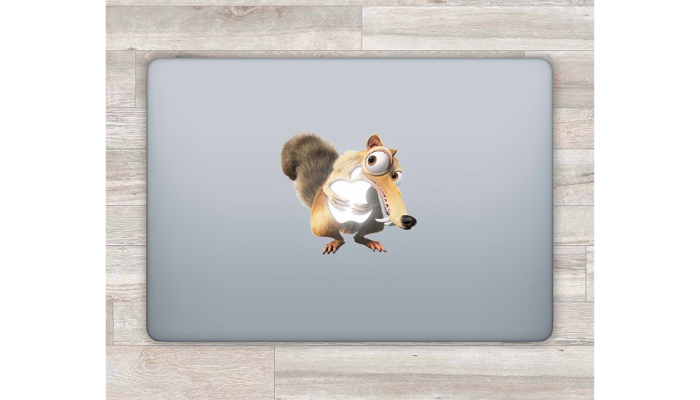 Embrace the Ice Age on your MacBook with these prehistoric stickers.
12. Banksy
Banksy sticker design:
13. Dog Lac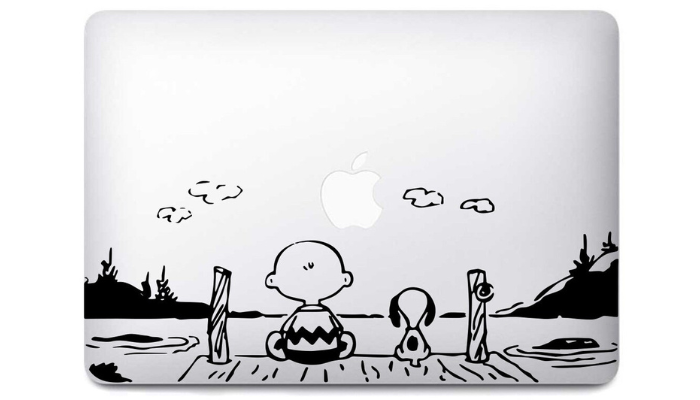 For MacBook Pro and Air, there are dog lac stickers.
14. BBQ Fire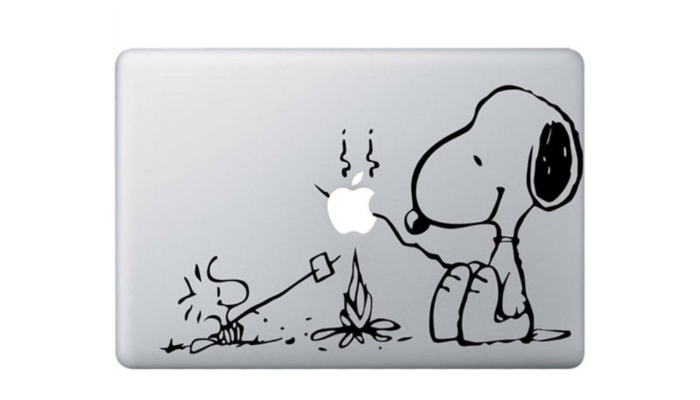 This decoration features BBQ Cartoon stickers for MacBook laptops and Apple products.
15. Montagnes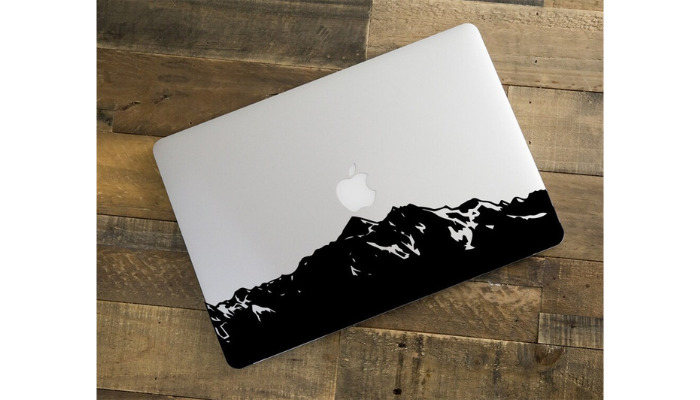 Enjoy this stunning sticker representing alpine lakes, snowy peaks, and forest trails on your macbook.
16. Superhero Ironman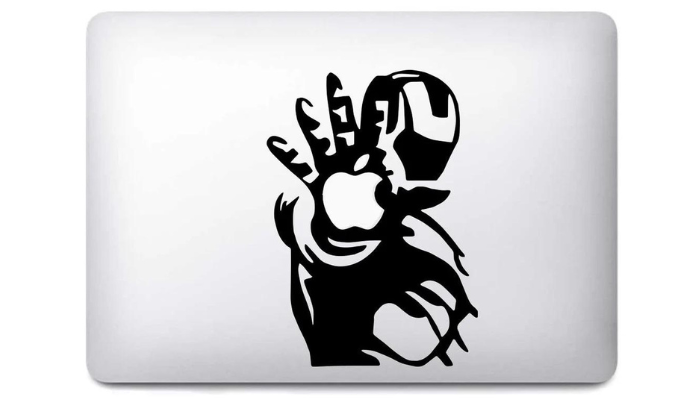 Your Macbook will look great with this Ironman sticker if you love geniuses, billionaires, playboys and philanthropists.
17. Snorkeler
Here is a Snorkeler sticker: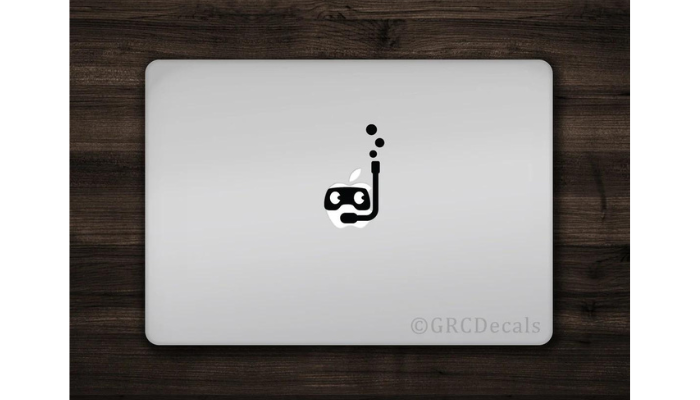 18. Gold Apple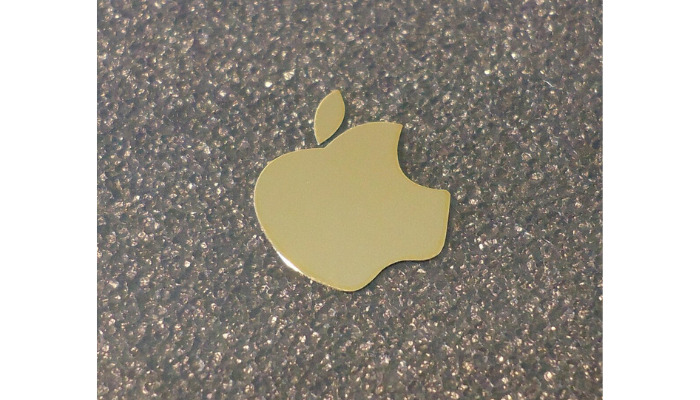 An apple sticker that shines like a jewel will give your Macbook a touch of luxury.
19. Dark Knight Saber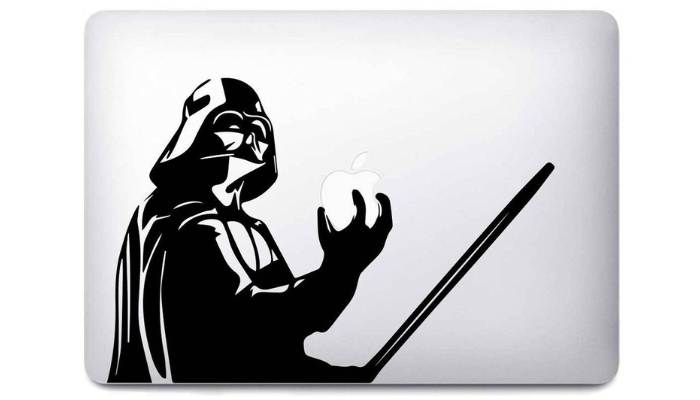 With Dark Knight Saber stickers, you'll be able to unleash your inner superhero.
20. Fruit Sticker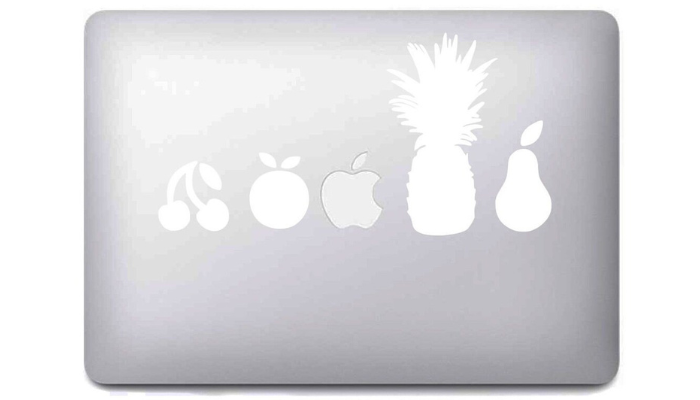 Show off your personality and style with a fruit sticker for your laptop.
21. Joker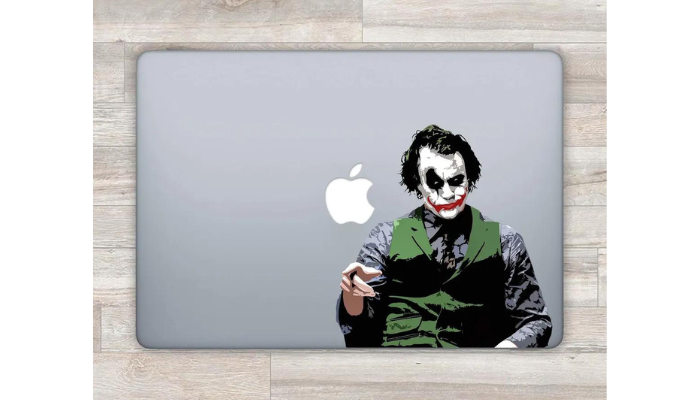 Your MacBook's Joker sticker will make the world know you're not afraid to show off your dark side. This is one of the best trendy sticker designs.
22. Matte Black Logo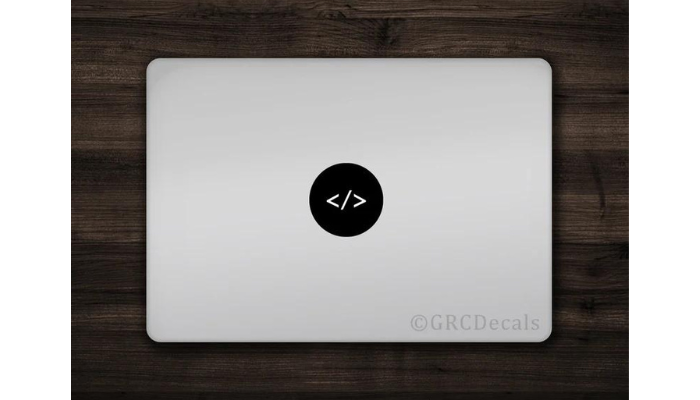 Add an elegant touch to your Macbook with this sleek matte black logo.
23. Lego Man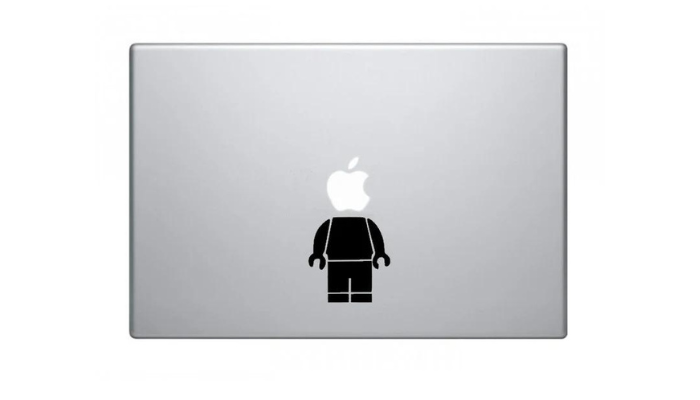 Add a classic touch to your Macbook with this sleek matte black logo.
24. Hipster Glasses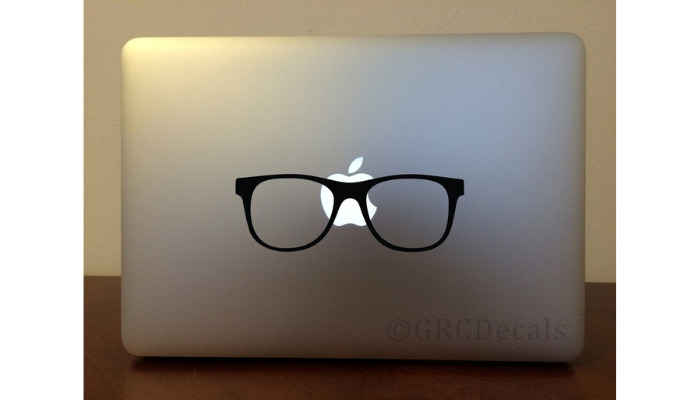 Get a hipster glasses sticker for your Macbook and adorn it with your style and personality.
25. Gaming Icons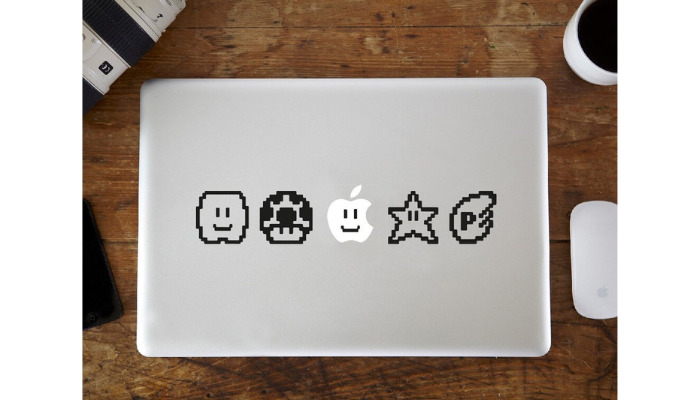 Enjoy these cool and colorful icons of your favorite consoles, characters, and controllers to display your gaming passion.
26. Newton's Law
Look at this Newton's law sticker:
27. Forest Skin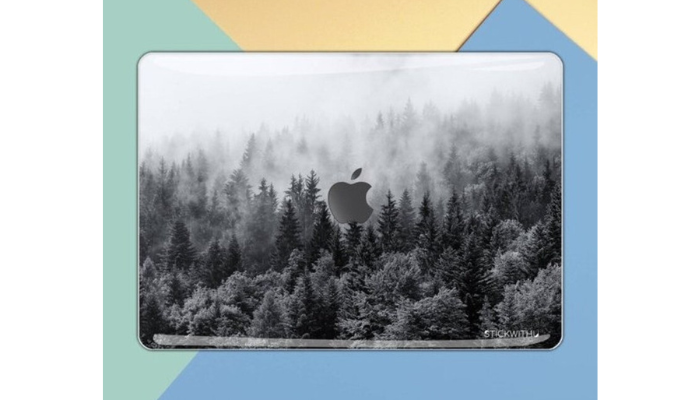 Natural-looking forest skin stickers for your Macbook will give it a more natural look. They feature realistic textures of moss, leaves, and wood.
28. Disney Pooh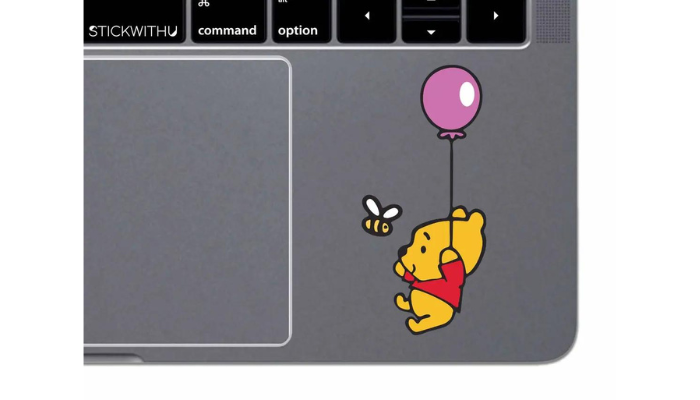 This adorable Disney Pooh sticker is the perfect way to liven up your laptop.
29. Grey Marble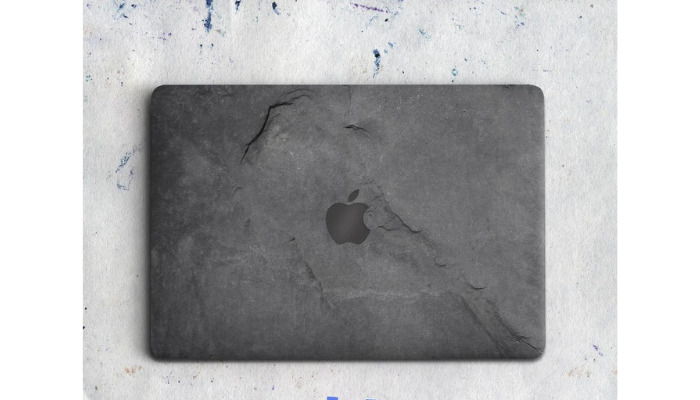 Adding texture and elegance to your Macbook is easy with a grey marble sticker.
30. Space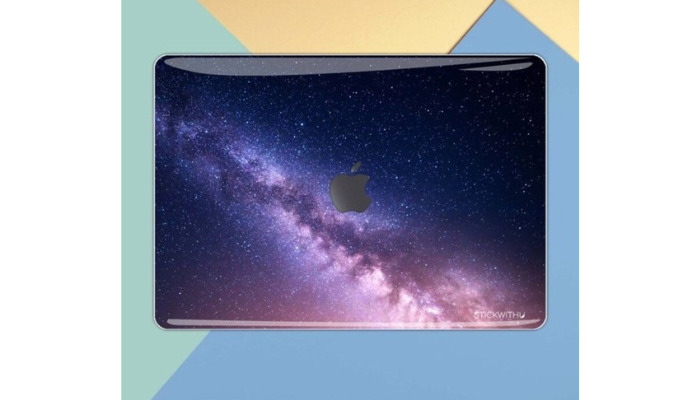 This Macbook sticker set is a stellar way to explore the galaxy.
31. Anime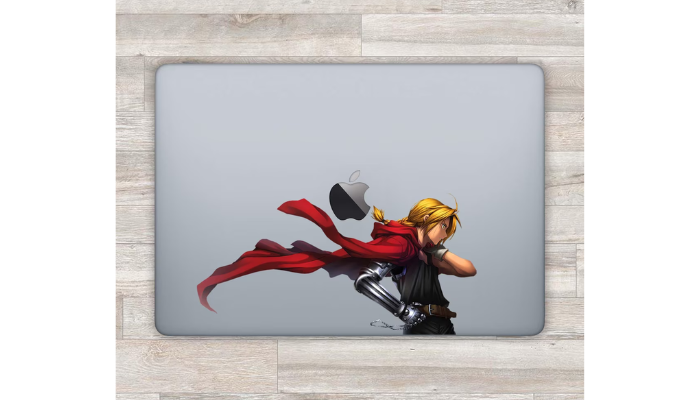 These anime Macbook stickers feature your favorite anime characters, scenes, and quotes.
32. Mountains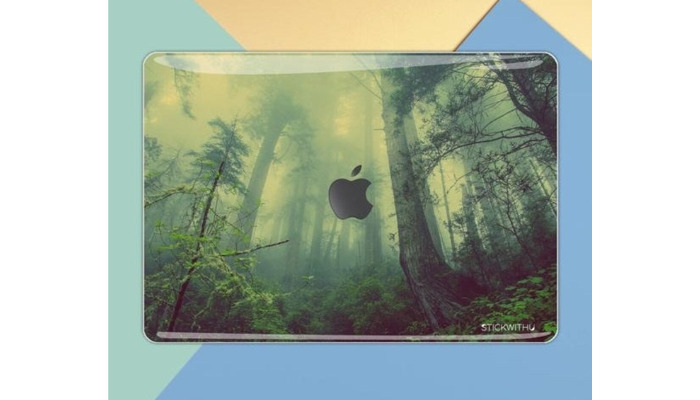 Get these stunning mountain stickers for your Macbook to show your love of nature and adventure.
33. Juice box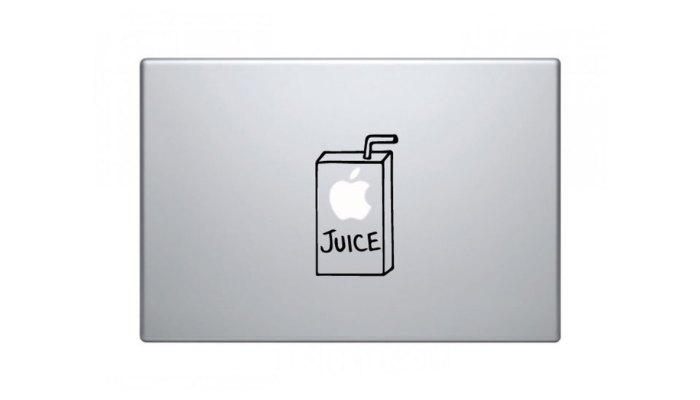 Make your macbook a little more colorful and fun with a juice box sticker.
34. Headphones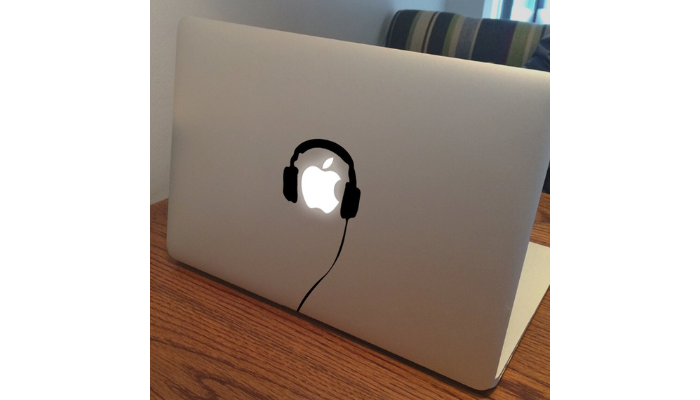 You can decorate your Macbook with these colorful and creative headphones stickers.
35. Cinderella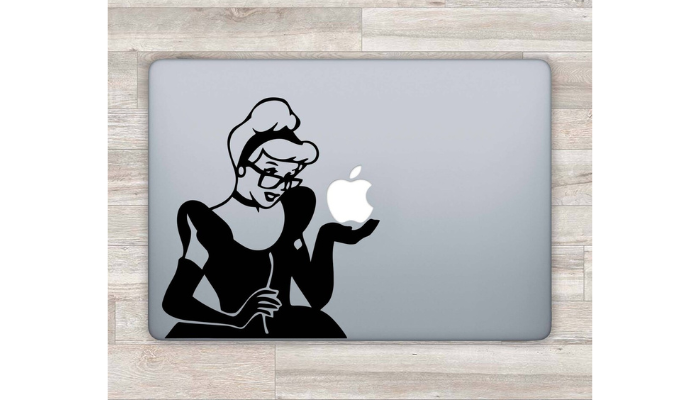 Make your Macbook look like a Cinderella with these charming stickers.
36. Michael Jordan
Look at this Michael Jordan sticker: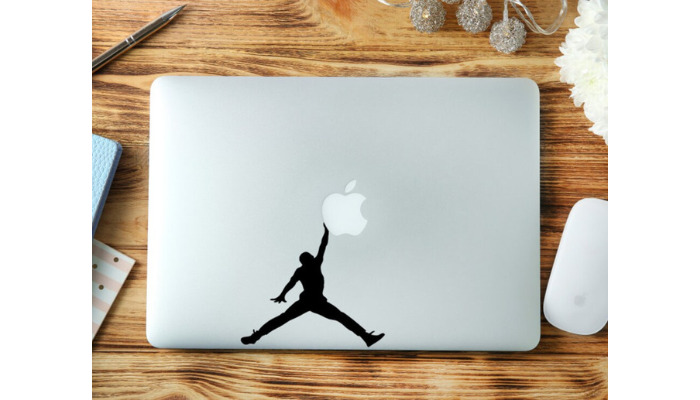 37. Pursuit Hache
Here is a Pursuit Hache sticker: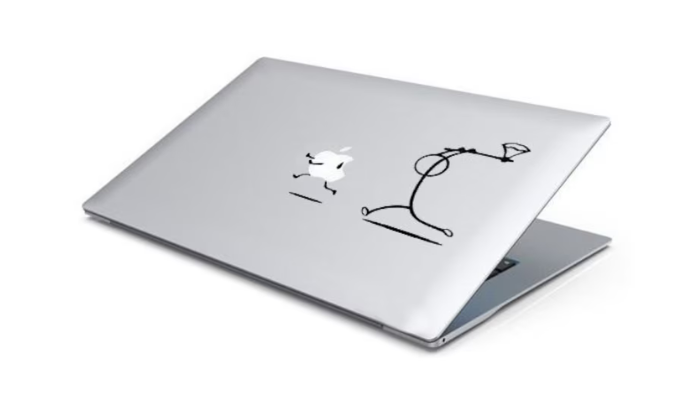 38. Matrix Effect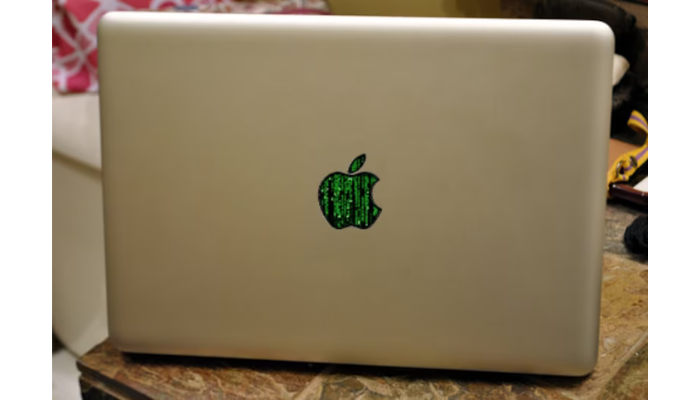 This stunning sticker creates an illusion of code raining down on your Macbook, which transforms it into a portal to the Matrix.
39. Panda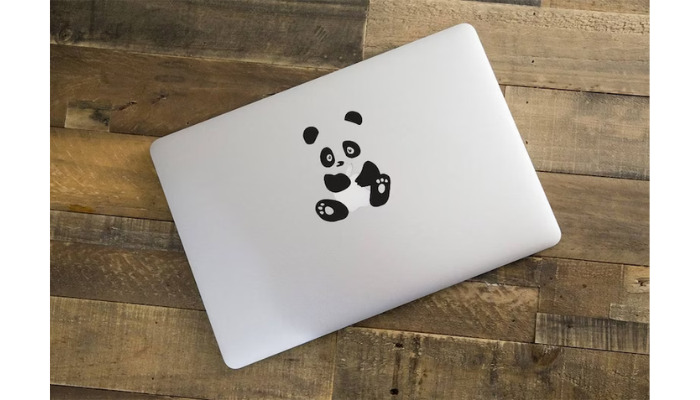 Take your laptop to the next level with this adorable panda sticker in a variety of sizes, shapes, and expressions.
40. Brexit
Here's a Brexit sticker to check out.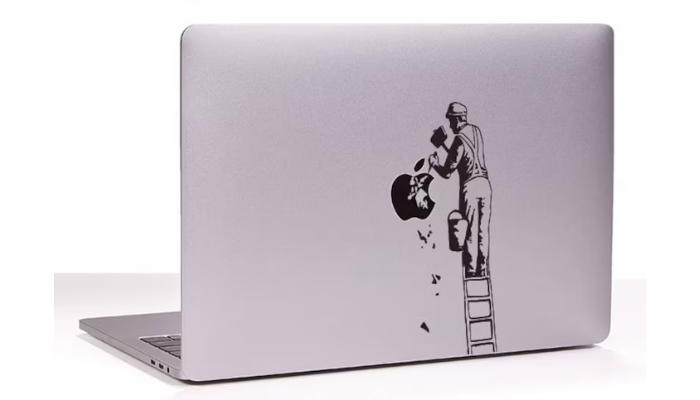 That's it. The following are some Macbook sticker ideas that we have covered.
Can I Put Stickers on My Macbook
Yes, you can put stickers on your Macbook. Your Macbook's performance and functionality could be negatively affected if you cover ports, vents, or sensors with stickers. Additionally, you want to pick excellent stickers that are simple to remove and don't leave any residue.
Mockup Generate With Your Sticker Ideas
Once you have Macbook sticker ideas, you can also use a powerful and user-friendly Mockup generator such as Mockey. With Mockey, you gain access to a plethora of features that assist in creating stunning product mockups, including an exclusive Macbook mockup option. With capabilities, you can effortlessly design and visualize your products.
Conclusion
In conclusion, exploring Macbook sticker ideas is a creative way to make your device more personal and unique. It is possible to make your Macbook a canvas for visual storytelling by carefully curating a collection of stickers that reflect your personal style. Take advantage of the perfect selection of stickers to turn your Macbook into a captivating work of art.
Take a look at this video tutorial on YouTube to see how you can make your MacBook stand out on Macbook sticker ideas.
FAQs
Is it OK to put stickers on laptop?
There is no right or wrong way to put stickers on a laptop. However, they may damage the surface of your device or leave a residue. Stickers should be removable and compatible with your laptop.
Do stickers come off Mac?
Yes, stickers can come off Mac without leaving any residue. Peel off the sticker slowly after heating it with a hair dryer. Use rubbing alcohol or adhesive remover instead.
Why do companies put stickers on laptops?
Laptop stickers are commonly used to express personal interests, add creativity, make a statement, personalize work devices, conceal imperfections, and express personal interests.