Hey, fellow crafter! Don't you think stickers are just for decorating elements? We love coming up with DIY sticker ideas! Our laptop is covered in stickers. If you're into that, too, you gotta check out some DIY sticker ideas for your crafts at home.
Ever since Covid hit us a couple of years ago, lots of people got a bit bored. They turned their boredom into creativity! They started decorating their things with stickers, and it's become really popular!
You can find stickers with Christmas themes, retro, animals, music, and so much more! Just pick the ones that you really love!
Table of Contents
Quick Guide to Make DIY Sticker Ideas
Here is a quick guide to making DIY sticker ideas.
Design your stickers.
Cut out your stickers.
Make the Glue.
Paint your stickers.
Lick your stickers.
A Complete Guide to Make DIY Stickers in 5 Ways
This guide will give you a complete overview of how to make cute DIY sticker ideas in 5 ways.
1. Design Your Stickers
The options for design are endless when creating your stickers while making sticker DIY ideas. Use any drawing tools you like, including crayons, pastels, colored pencils, and markers. Make sure the tool you're using to draw isn't washable. Use leaf paper or notepad paper to draw your sticker designs. When coming up with sticker designs, consider these unique choices:
Draw a picture of yourself, your pals, or your pet.
From books and newspapers, cut out visually attractive images and sentences.
Print out any images you see online or have saved to your PC.
Use online sticker sheets that contain ready-made stickers.
Use rubber stamps to create images.
Put glitter on the image to improve it.
2. Cut Out Your Stickers
You can size the stickers any way you'd like. Use scrapbooking scissors with decorative edge cuts for an extra touch. Make stickers in the shapes of hearts, stars, and other shapes by punching patterned paper using the paper punchers.
3. Make the Glue
The glue is safe to use on kids and is quite similar to the glue on an envelope. It doesn't contain any harsh chemicals but will stick the stickers to the majority of surfaces. To prepare the glue, combine all of the following materials in a basin and stir well.
A package without flavor gelatin.
4 tablespoons of water in a pot.
1 teaspoon of corn syrup or sugar.
Just a few drops of flavoring, such as vanilla or peppermint essence.
For interesting flavors, use a variety of extracts! Apply different tastes to various sticker types, create stickers with unexpected flavors for your buddies, or use flavors that belong to particular holidays, such as Easter, Valentine's Day, or Christmas.
When you're done using the glue, put it in the refrigerator in a sealed container. Overnight, the adhesive will gel. In a basin of boiling water, put the container to melt it.
Envelopes can be sealed using this adhesive as well.
4. Paint Your Stickers
Flip your stickers over onto a piece of aluminium foil or wax paper. Allow the mixture to thoroughly dry after you're done. Just lightly coat the stickers with the glue rather than soaking them in it entirely. Before using the stickers, make sure they are totally dry.
If you have stickers that are not ready to use yet, store them in a box or plastic bag.
5. Lick Your Stickers
To attach your stickers to a variety of surfaces, simply press them against the texture for a few moments after licking the back. Remember to use caution when sticking them because the fresh glue is pretty powerful.
11 DIY Sticker Ideas for Joy
Anyone can make these DIY sticker ideas. In fact, many of my peers enjoy adding cool stickers to their smartphones. Remember, we're gonna print some things, so grab your vinyl paper and printing machine, and let's dive into the world of amazing home crafts with DIY sticker ideas! Just a quick reminder that we'll be printing it, so make sure to have your vinyl paper and printing machine ready.
All the images are sourced from Etsy.
1. Boho Feather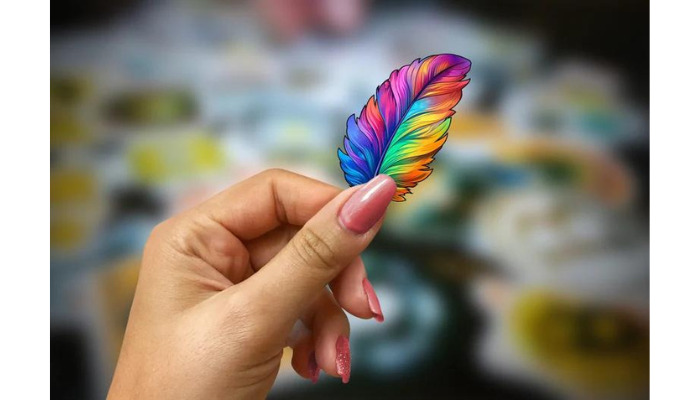 Undoubtedly, handmade patterns and organic materials are related to bohemian fashion. The Bohemian design promotes simplicity, and the sticker collection is no exception.
Four distinct types of feathers—pink, light brown, brown, and gold —come with the set. You can use it all by itself or put it together with other things. You have the freedom to place it wherever you desire, similar to using stickers!
Although we advise using it with journals, devices, or diaries, the choice is entirely yours.
2. Retro Sun and Flowers Sticker Set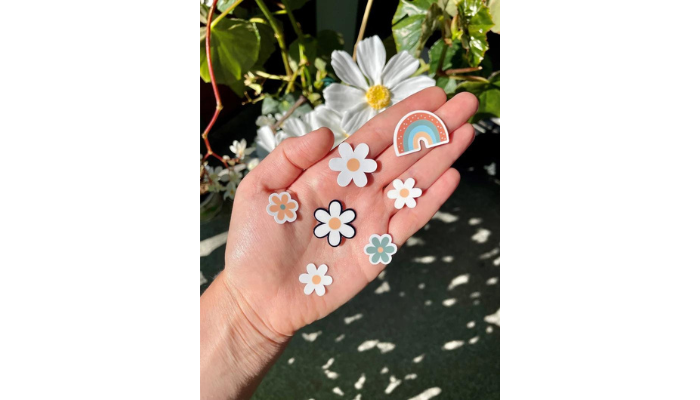 We have these stickers, and they're all about bombs, telephones, and pizza. It might sound strange, but we love them because they make me really happy!
Let's tell you a story about why we like these stickers so much. One day, we were hungry and decided to order pizza using the phone. After waiting for what felt like forever (almost 30 minutes), my patience paid off, and when the pizza finally arrived, we were so thrilled that we felt like there was a big explosion of happiness inside me!
Trust me; these stickers will bring a big smile to your face and make your day amazing. So, go ahead and grab them while you can! Hurry up and have a blast with these DIY sticker ideas.
3. Retro Groovy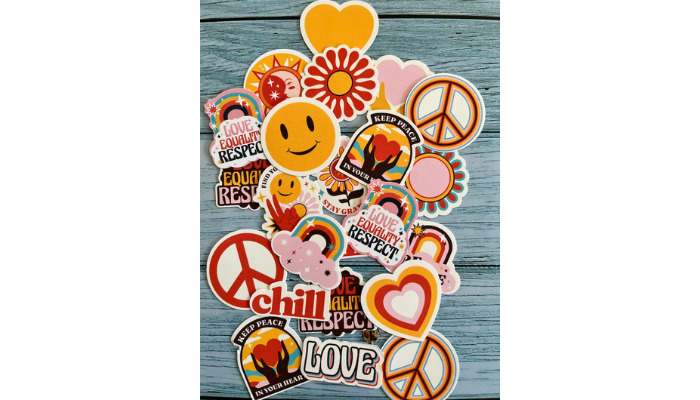 Gardening and the sun bring to mind what you imagine. You can be sure it's a good time for me right now. We are always appreciative that the light shines every day and inspires garden flowers to grow.
Yesss! With the help of this sticker collection, you can spread happiness! Always keep in mind that every little thing, such as stickers, can make us strangely joyful. The method of adding stickers will, in my opinion, add a happy spark to items. You can use these adorable sticker ideas on your bedroom door, cell phone, or guitar. Just keep in mind to increase your print size.
4. Funny Retro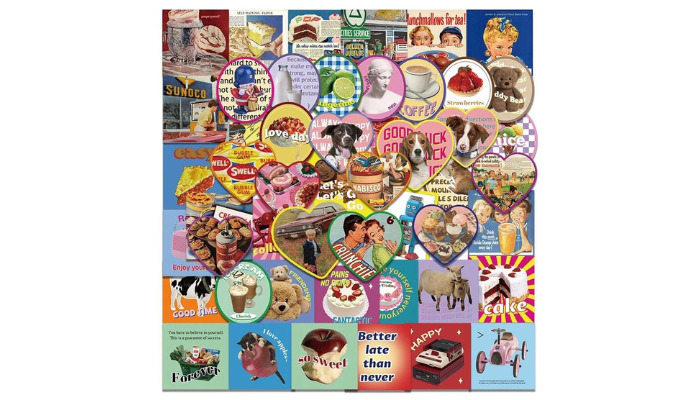 With the help of this colorful and adorable sticker collection, enhance your life! By using the rainbow, planet, sun, and moon with these sets, you may make galactic whales. These stickers are ideal for personalizing your home and enhancing its cute notebook and whale-themed appearance.
5. Halloween Cat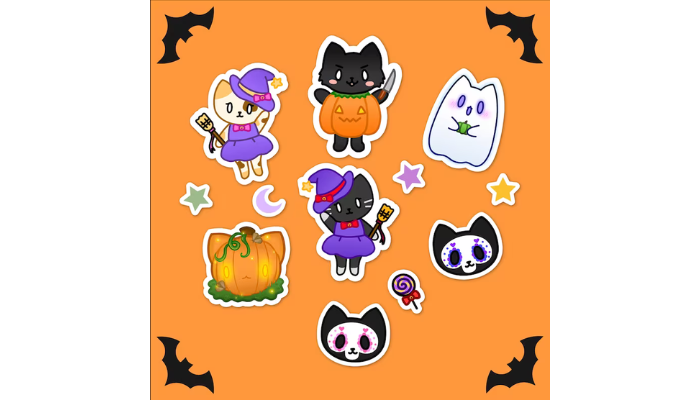 This sticker pack is obviously intended for Halloween. The practice of responding to seasonal trends is quite acceptable, right? Yes, even this collection of absolutely cute stickers. However, these sticker packs will remain in stock throughout the year. It is definitely useful outside of the weeks leading up to Halloween.
You can apply these adorable sticker ideas to anything. It would be a good idea to attach it to a suitcase, water bottle, pencil case, or even a lunchbox.
6. Retro Music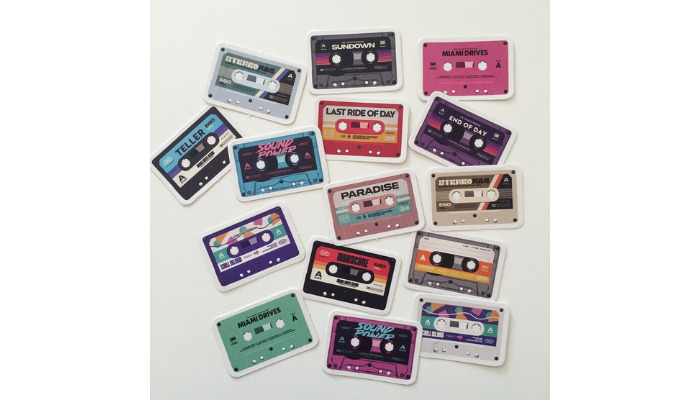 Even though this set of Funny Retro can not be trendy, it still has a certain edge.
Despite the fact that this sticker set may not be everyone's cup of tea, we think it somehow conveys a sense that the person using it isn't afraid to express their individuality. These DIY sticker ideas are very customizable; you can use them on your tablet, lunchbox, or journals.
7. Stickers with Galaxy Whales
This sticker has a retro pattern with floral decorations, which is similar to the idea for an earlier sticker collection. This collection is appealing because of its retro style. In keeping with it, this sticker collection will help the user create a unique personality.
It can grab anyone's attention with its pleasing appearance, simple color scheme, and gorgeous flower patterns.
If you are passionate about music and wish to describe it, these DIY sticker ideas are for you. This way, you can either attach it to any musical instrument, like a keyboard, bass, or guitar.
8. Dreamcatcher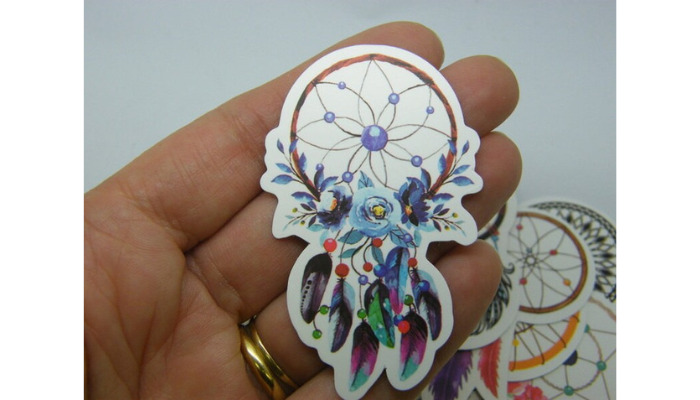 Now that we have presented fish and whales, we have got one more sticker pack to present the frog! Yes, these adorable little ones constantly look forward to Christmas. It will liven up any room when you use these cute stickers of Christmas Frog. It has the capability to be bound to bedroom walls, windows, and drawers.
9. Retro Floral Quotes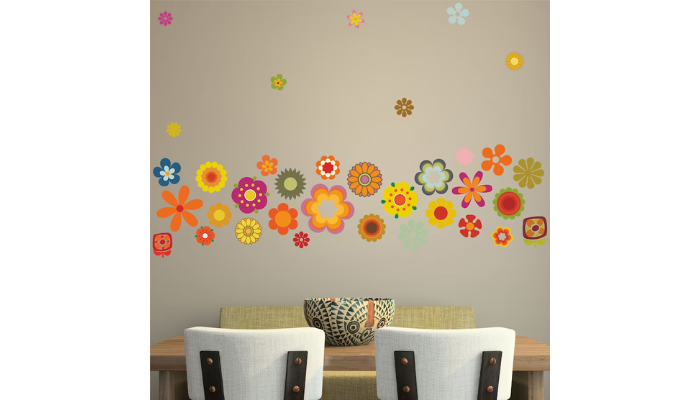 You can make stickers that reflect your personality and sense of style with old florals, text, and colors. To create your retro flowery stickers, follow these steps:
Pick an expression that motivates or uplifts you.
Look for some vintage floral pictures that go with your quote.
Use editing software.
Cut off your design after printing it on sticker paper or ordinary paper.
10. Christmas Frog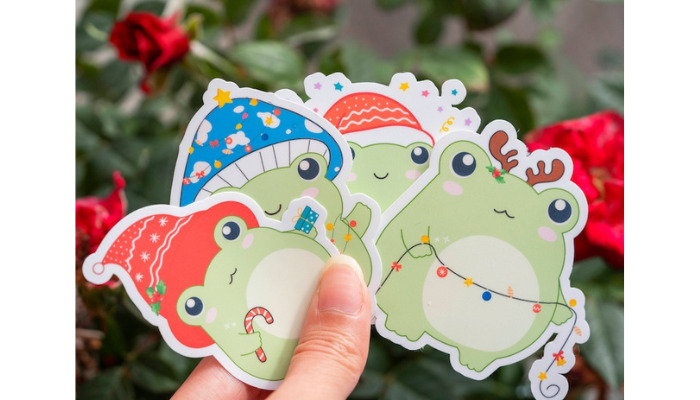 The boho dreamcatcher sticker has a multicolor feathers design. Stickers with bohemian dreamcatcher designs are a lovely way to give your belongings a bohemian touch. The dreamcatcher is a Native American symbol that is believed to bring good fortune and save people from bad intentions. The flowers, beads, feathers, and other decorations on Dreamcatcher stickers are bright and express the creative lifestyle and free-spiritedness.
11. Emoji Stickers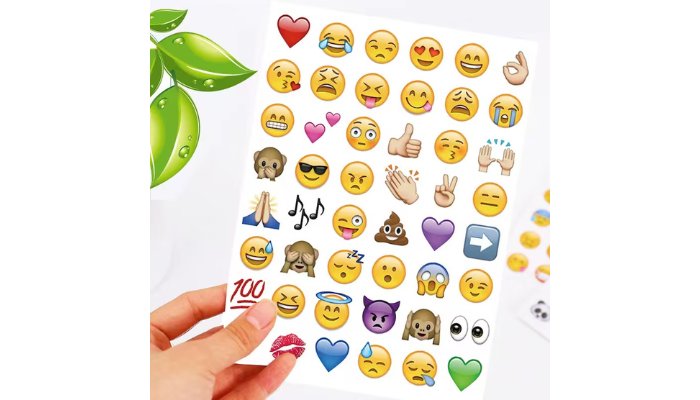 Create your own emoji stickers by using emoji images, a printer, and some scissors. You may discover emoji images on the internet and print them onto either regular paper or sticker paper. Cut out the shapes and use them to convey your feelings.
Generate Mockups With Your DIY Sticker Ideas
Transform your DIY sticker concepts into stunning mockups with the Mockey generator – No Cost, No Watermarks! Simply upload your designs and watch them magically transform into mockups that capture their qualities.
Conclusion
You now have access to our hand-picked list of 11 DIY sticker ideas for fans of home crafts. We sincerely hope you discover some unique and useful DIY sticker ideas here.
Additionally, you can find helpful YouTube tutorials showcasing different and creative methods to create your own DIY stickers.
FAQs
How can I make my own stickers?
Printing your artwork onto vinyl paper makes it simple to create your vinyl stickers. Online, in the office, or at craft shops, adhesive vinyl paper can be purchased to make stickers. Alternatively, you can use a printing provider to have custom vinyl stickers printed.
What are some sticker ideas?
Exotic animals, fruits, pets, and flowers are some great sticker ideas.
What is the best thing to make stickers?
Matte paper is a considerably cost-effective option, which can be laminated for a shiny finish with self-adhesive laminate. By using this process, not only will you add shine to your sticker, but you will also add a layer of weather- and water-resistant protection.
How do you make aesthetic stickers at home?
You can use sticker paper, packaging tape, or homemade adhesive to create aesthetic stickers at home. With drawing tools, magazine cuts, or web images, you can generate stickers. After that, you can apply the glue and cut out your stickers.