Whether you are searching for a Placeit alternative or one that provides templates and tools like Placeit, we've sorted them by category and made it easy for you to find what you need.
To help you keep your budget in check, we've included 50 paid and free Placeit alternatives.
Table of Contents
What to Look For in Placeit Alternatives
When looking for an alternative to Placeit, consider these factors:
Features: Check that the alternative has what you want, such as making a logo, creating a preview, or editing a video.
Ease of Use: Find easy-to-use choices that don't need expert abilities.
Templates: See if there are different designs to pick from.
Cost: Check the costs and determine if it's affordable for you.
Customization: Make sure you can change the designs to look like your brand.
Quality: Make sure the pictures and videos they give you look good.
Support: It's really important to have good customer service to solve problems quickly.
Reviews: Check what other people have said about it to see if they like it.
Integration: If you want to use it, make sure it can work with the other tools you already use.
Free Trial: Check if you can try it for free first to see if you like it before you make a decision.
What are the Free Placeit Alternatives
Discover 16 free alternatives to Placeit tools.
Mockey
Renderforest
Alboompro
MockupsJar
Canva
SmartMockups
Visme
Artboard.Studio
Fotor
Marq
Printify
Media Modifier
Mockup Mark
Mockuuups Studio
Mockup.photos
DesignCap
What are the Premium Placeit Alternatives
Discover the 9 premium Placeit alternative tools.
Flipsnack
Vexels
CorelDRAW
Adobe Creative Cloud
Maglr
PageTiger
Adobe Illustrator
Adobe Photoshop
PicMonkey
16 Free Placeit Alternatives
Here are the free 16 Placeit alternative tools to use.
1. Mockey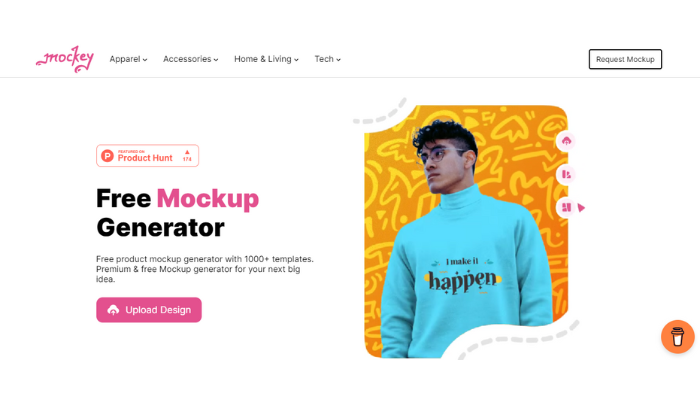 The first and foremost Placeit alternative mockup generator is Mockey.
Why use Mockey instead of Placeit? Any special reason? Obviously, yes. Mockey is a completely free mockup generator.
In other words, you can create any mockup you want, customize it, and download it without having to pay anything. Also, easy to use. You can navigate this mockup generator with a smooth interface.
The best thing about Mockey is that it lets you download mockups multiple times without adding any watermark to them. Mockey is definitely a free alternative to Placeit.
Features
No watermark
100% free
Easy-to-use
Mockey Pricing
Visit: Mockey
2. Renderforest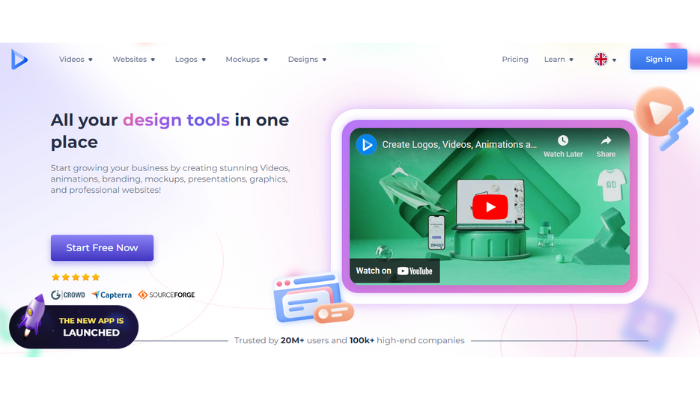 A Placeit alternative online Renderforest Mockup Generator enables you to make accurate mockups of your ideas, products, or branding components.
Besides adding your own texts, colors, backgrounds, images, logos, and you can also modify the mockups.
The following are a few features of the Renderforest mockup generator:
Features
Free plans
Vast templates
High-quality mockups
Easy UI
Renderforest Pricing
Free
Lite: ₹899/month
Pro: ₹1699/month
Business: ₹2499/month
Visit: Renderforest
3. Alboompro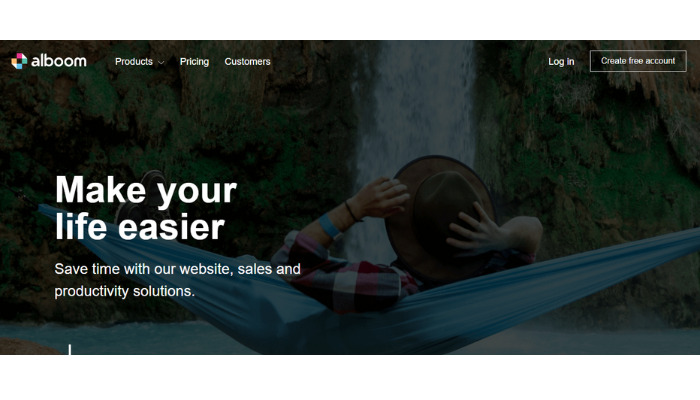 Another free Placeit alternative with great features is Alboompro.
Creative teams can create albums using Alboom Pro's photo editor. Users can add photos, select a theme, and begin creating according to their business needs.
The entire process is simple and guarantees the excellent quality of your finished photo album.
Features
100+ pre-made templates
100% online
Auto-save
Drag-drop
Alboompro Pricing
Basic: Free
Standard: $9/month
Pro: $18/month
Visit: Alboompro
4. MockupsJar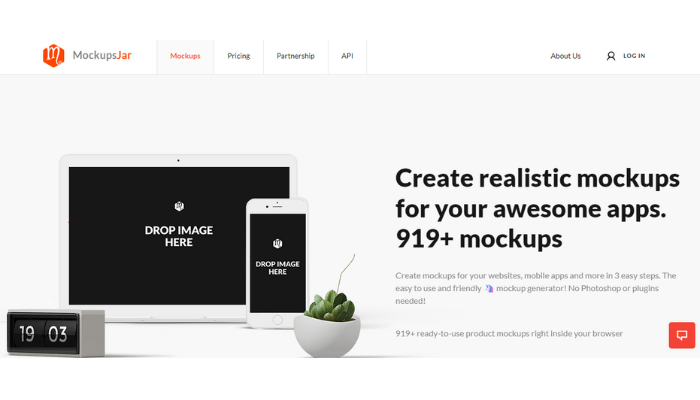 It's easy to generate realistic mockups with MockupsJar, a free mockup creator.
With high-quality mockups, MockupsJar can assist you in impressing clients, customers, and users.
Features
Easy to use
Fun and friendly
various mockups
High resolutions
MockupsJar Pricing
Visit: MockupsJar
5. Canva
Canva is another Placeit alternative tool that enables you to produce realistic representations of your ideas in a range of styles and formats.
It doesn't matter if you're creating a poster, t-shirt design, book cover, website layout, or; it can help you visualize it in seconds.
Features
Realistic and professional
Easy UI
Online and free
Canva Pricing
Free
Pro: $9.99/month
Enterprise: $30/month
Visit: Canva
6. Smartmockups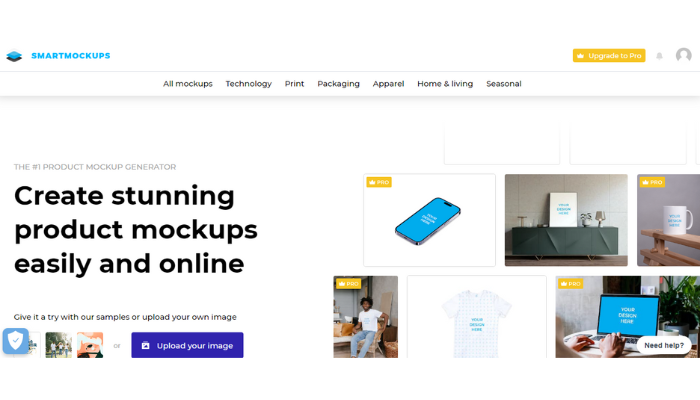 With the help of SmartMockups, you can quickly and easily generate beautiful product mockups.
SmartMockups can help you display your app, social media, website, packaging, print design, or fashion.
Features
The following are some features that set SmartMockups apart from others:
High-quality mockups
Fully customizable
Unlimited export and share
Smartmockups Pricing
Visit: SmartMockups
7. Visme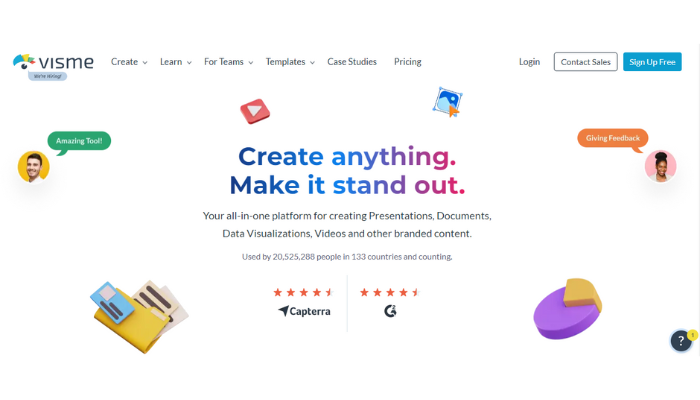 Visme is an awesome Placeit alternative platform that lives on the internet (in the clouds!). It helps all kinds of people, like agencies, non-profit groups, and marketers, make really awesome infographics together and share them instantly!
With Visme, you can use all sorts of fun content blocks and templates to make presentations and colorful data pictures.
Features
Easy to use
Professional templates
Drag-and-Drop
Visme Pricing
Free
Standard: $25/month
Business: $49/month
Visit: Visme
8. Artboard Studio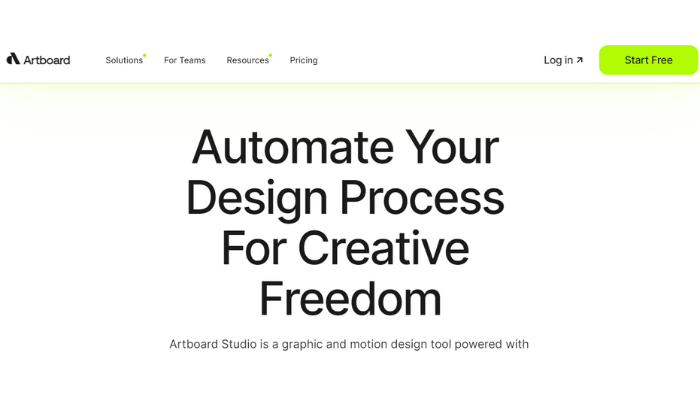 Artboard Studio is an online tool that helps you make mockups of your stuff!
Whether it's your website, app, social media posts, T-shirt designs, pictures, or even your product packaging – you can show them off in a realistic way on devices. Artboard Studio is also really powerful for designers like you!
Features
The top features are:
Easy and fast
Extensive library
Fully customizable
Unlimited export
Artboard Studio Pricing
Free
Professional Plan: $20/month
Visit: Artboard Studio
9. Fotor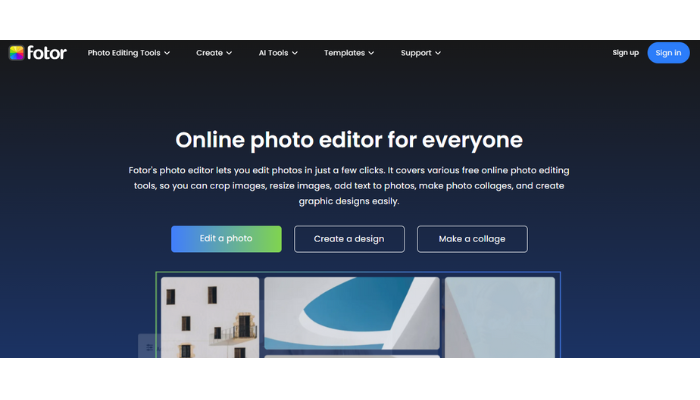 Fotor helps you make awesome professional product mockups and designs! You can also use it to create mockups of T-shirts, iPhones, books, posters, and lots of other things.
Yes, Fotor is known for AI generators such as GIFs, selfies, and AI-generated headshots. But Fotor is a great tool that generates excellent mockups.
It's super handy and can make your mockups look real and professional!
Features
Some features are:
AI-powered mockup generator
3D mockup
Fully editable mockups
Unlimited download
Fotor Pricing
Free
Fotor Pro: $3.33/month
Fotor Pro+: $7.49/month
Visit: Fotor
10. Marq
Marq Placeit alternative helps businesses, both big and small, sell more stuff. It does this by making brochures and managing digital assets. You can create marketing materials with ready-made designs and even add your business logo to them!
With it, companies can bring in pre-made templates and use them to update important lists of people, sales ideas, and contracts. The bosses can then check these updated things to make sure they follow all the company rules.
You can also share marketing ideas or printing materials with your team!
Features
Customizable templates
Custom fonts
Drag-and-Drop
Marq Pricing
Free
Pro: $3/user
Team: $12/user
Visit: Marq
11. Printify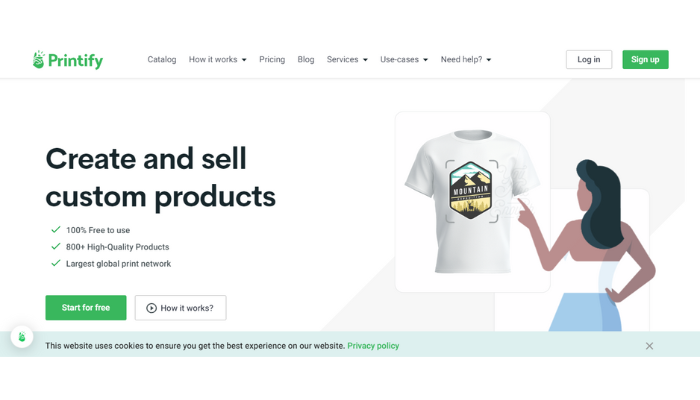 Printify, an online mockup generator, certifies users to fashion genuine and glossy mockups for their products, designs, or advertisements.
The platform offers categories containing T-shirts, posters, books, iPhones, and beyond, making it a versatile and invaluable tool for generating mockups.
Features
Below are some of the features of Placeit alternative Printify:
3D mockups
Fully customizable mockups
Unlimited download
Integration with ecommerce platforms
Printify is an excellent tool for those who wish to produce professional mockups with ease and speed.
You have the option to test it out for free or opt for a subscription plan that offers additional features and benefits. If you're seeking inspiration, you can take a look at the mockups made by other Printify users.
Printify Pricing
Free
Premium: $24.99/month
Visit: Printify
12. Media Modifier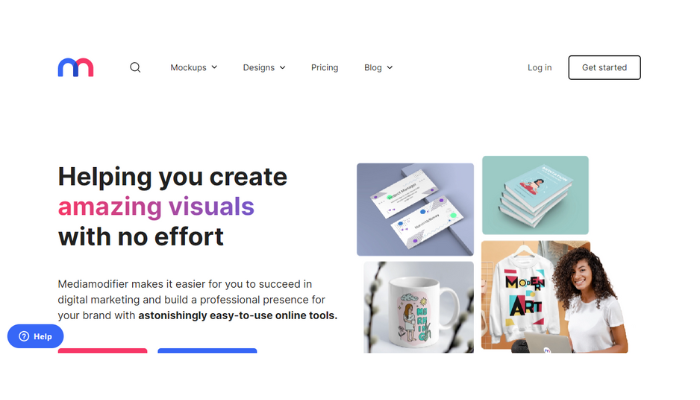 If you're tired of using design software like Photoshop to make your mockups, now's the time to switch. Many organizations are making this change nowadays.
Photoshop mockups offer great flexibility, allowing you to enhance mockups as you wish.
However, it's worth noting that modern online mockup tools are just as powerful as Photoshop for creating mockups.
So, we found Mediamodifier, which is an amazing online tool for creating mockups.
Mediamodifier lets you quickly make mockups. The website has lots of ready-to-use mockups with one click.
Features
High-quality output
1000+ templates
Save time
Highly customizable
Media Modifier Pricing
Starter: Free
Professional: ₹499.50/month
Team: $37.50/month
Visit: MediaModifier
13. MockupMark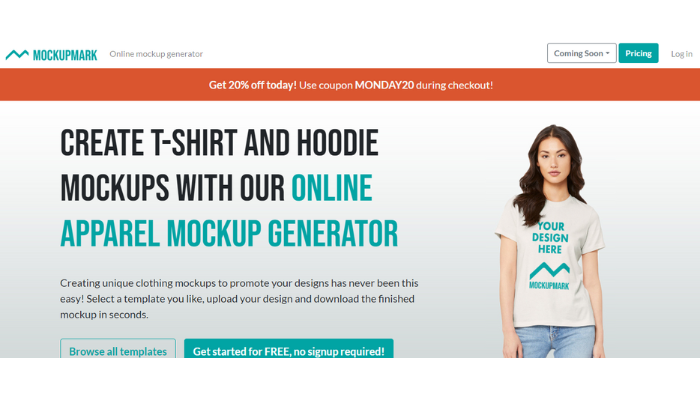 MockupMark is a fresh face in the world of mockup generators when it comes to Placeit alternative. They already offer a nice variety of templates, and they even have some free ones available.
They offer special t-shirt mockups, and what's great is you can sort them by brand, like LA Apparel + Canvas.
Currently, you have only basic choices when it comes to customizing.
You can change the size and location of the images, and the ability to modify the color of shirts is available on only some of their example designs, not all of them.
If you want cool and one-of-a-kind mockups for your images in a hurry, you should definitely take a look at MockupMark.
Features
Some mockups are free
Easy upload multiple mockups
Mockups with some great design
Easy UI
Use it without skills
MockupMark Pricing
Free
Premium: $14.99/month
Visit: Mockup Mar
14. Mockuuups Studio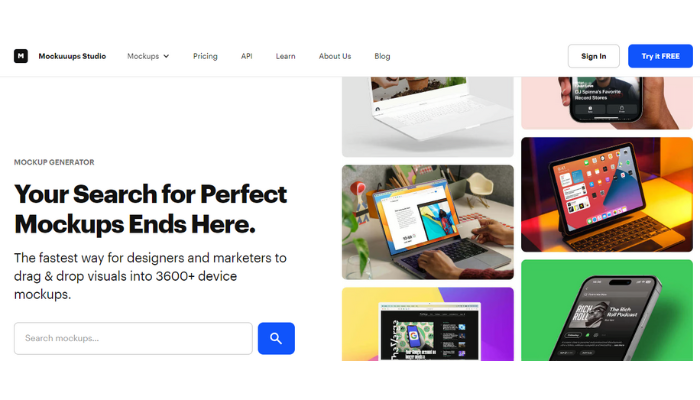 With Mockuuups Studio, make mockup designs. It has more than 3,500 different scenes you can use.
This app has all the features you need to create mockups for your products, great marketing materials, and even visuals for blog posts.
Import screenshots and Mockuuups Studio does everything else for you. The app inserts your design into lots of different views, and you can choose your favorite and save it in no time!
Select a gadget, pick different hand options, and blend them with various background choices. These backgrounds can be transparent, have different colors, or use stock photos.
You can find over 3,500 scenes with different angles and backgrounds all in one place. Now, you don't have to look up mockups on the Internet and download them.
Features
Instant preview
Custom scenes
Growing library
Well-organized
Mockuuups Studio Pricing
Starter: Free (10 mockups)
Professional: ₹1,014.16/month (3,600+ mockups)
Teams: ₹1,521.24/month (3,00+ mockups + Team management)
Visit: Mockuuups Studio
15. Mockup.photos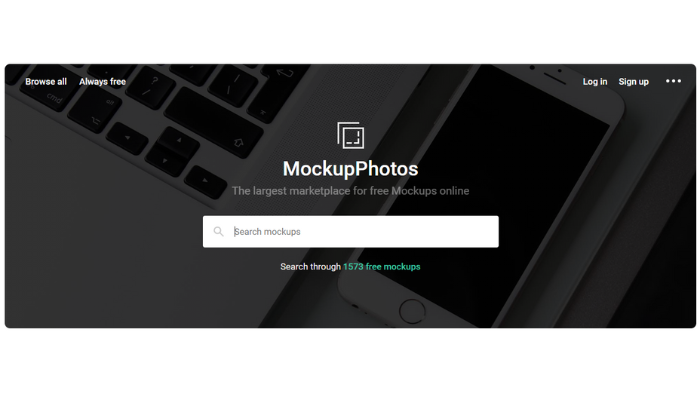 There's another really good free tool called Mockup.Photos that lets you create mockups. They have a lot of templates, currently more than 1500 to choose from.
Many pictures on the website come from places like Unsplash Pexels and the Mockup.Photos team has shared them for free as mockups.
Most of the templates are like smartwatches, computer screens, tablets, and iPhones.
However, some mockups are available in different categories, like billboards, posters, and even free hoodie mockups.
Also, if you are looking for hoodie mockups, customizing the black hoodie templates or white hoodie templates is simple, but make sure your design matches the correct dimensions for the chosen Mockup.
Since Mockup.Photos are completely free; it's definitely worth giving it a try as a mockup generator.
Features
Real-life settings
Awesome templates
Mockup.photos Pricing
Visit: Mockup.photos
16. DesignCap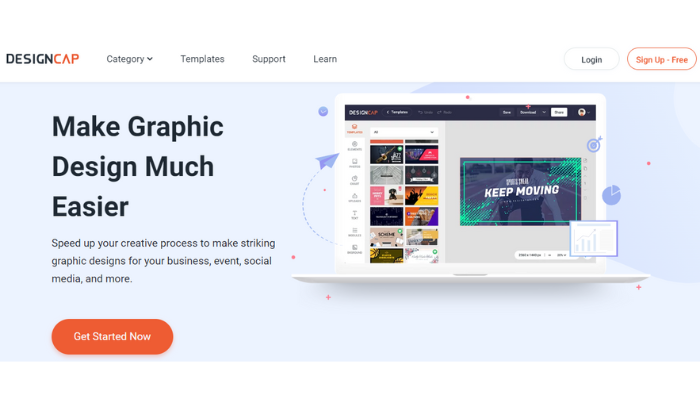 DesignCap is a Placeit alternative that makes it easy for you to create eye-catching flyers and posters.
It saves you time and effort by offering a platform with lots of templates and design elements for you to use.
You can create your own clear and fantastic flyers and posters with different themes.
DesignCap provides a bunch of handy tools to help you make your flyers and posters just the way you like.
You can change the size, position, and rotation, tweak the text font and color, add cool effects, align things neatly, pick a background, and manage layers.
With all these options, you can let your creativity flow and create eye-catching flyers and posters without any limits.
Features
DesignCap Pricing
Visit: DesignCap
9 Premium Placeit Alternatives
A brief discussion about the best 9 premium Placeit alternative mockup generators.
1. Flipsnack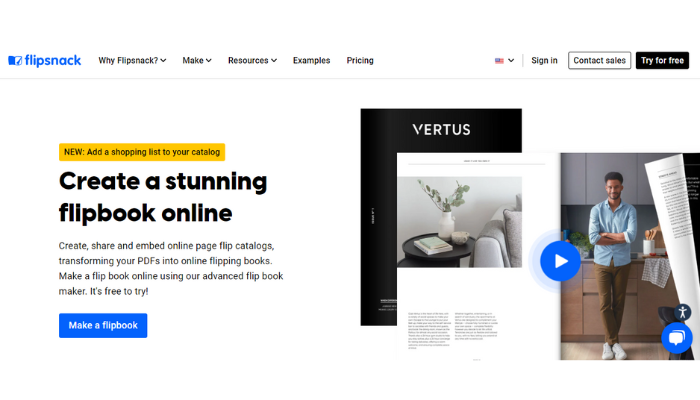 With the help of the Placeit alternative app like Flipsnack, users can design engaging digital publications like catalogs, flyers, brochures, and magazines right in their browsers.
Users can use over 2000 beautifully designed pre-made templates or develop their own page flip booklets straight in Flipsnack.
Additionally, users can upload PDFs and create fun catalogs with page-flipping effects.
In addition to offering easy branding and customization, the user-friendly interface enhances content with audio, video, links, and shopping options.
Features
Easy to use
Upload PDFs
Public sharing
Flipsnack Pricing
Starter: $32/month
Professional: $48/month
Business: $99/month
Visit: Flipsnack
2. Vexels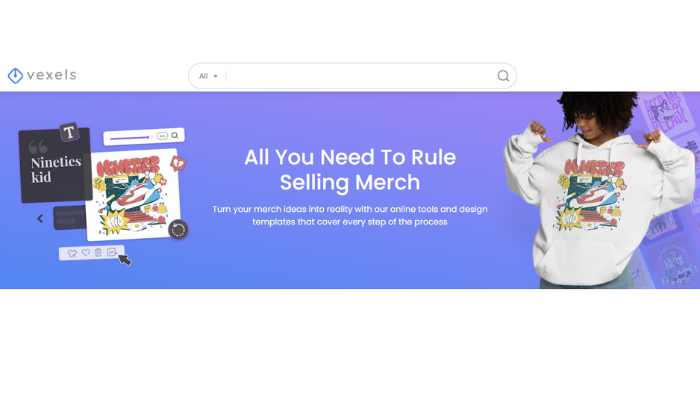 You can make excellent mockups with this Placeit free alternative of your designs online with the help of the powerful and user-friendly Vexels mockup generator.
Choose from 100+ exclusive mockups, upload your design, and modify the colors, and background to give your mockup a unique look. Every week, new mockups that extend to other sectors and businesses are also uploaded.
Features
Simple online mockup editing
Export in various sizes
Ability to adjust your formats and needs
Vexels Pricing
Merch Plus: $36.99/month
Merch: $21.99/month
Merch Ultimate: $74.50/month
Visit: Vexels
3. CorelDRAW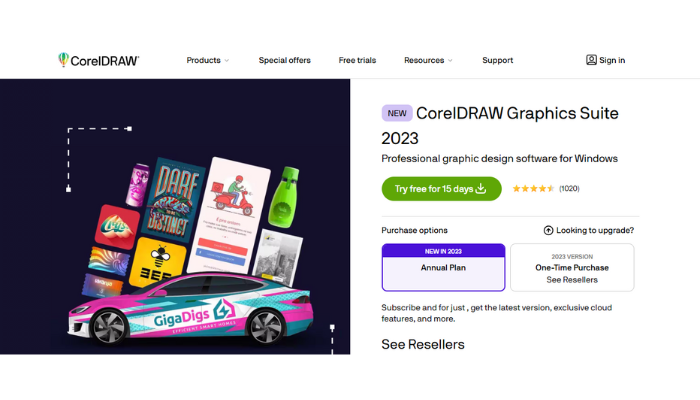 Another amazing Placeit alternative is CorelDRAW.
A graphic design and photo editing solution, CoreIDRAW can be used across a range of industries, including printing marketing, automotive, manufacturing, and more.
Professionals can use the application to handle typography, automate procedures, and create vector photos.
The CorelDRAW software allows designers to create and store web graphics and digital artwork. In addition, it facilitates retouching images and creating documents and brochures.
Features
Range of customization options
Easy UI
CorelDRAW Pricing
Visit: CorelDRAW
4. Adobe Creative Cloud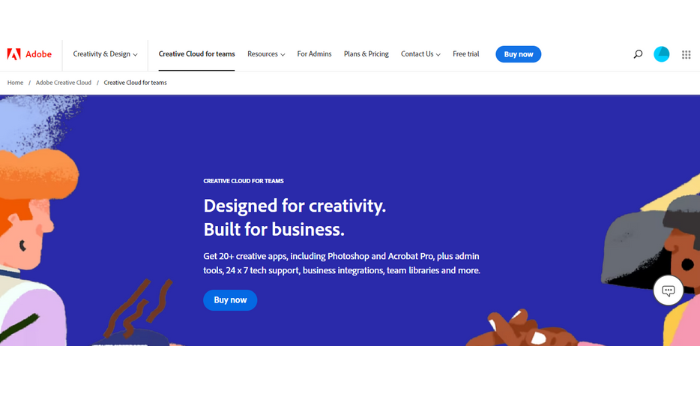 Adobe Creative Cloud is a number of tools for design, video, photography, and user experience that enables businesses to produce, acquire, and distribute content on various devices.
Adobe Photoshop, Premiere Rush, InDesign, and others are cloud applications and desktops for producing and editing pixel art and videos.
Professionals can share colors and sync, and other design components across different apps and devices with Cloud Libraries.
It provides an admin panel that gives administrators access to a dashboard where they can buy or assign seats, deploy licenses, and manage subscription renewals.
Features
Templates
Cloud storage
1000+ fonts library
Adobe Creative Cloud Pricing
Visit: Adobe Creative Cloud
5. Maglr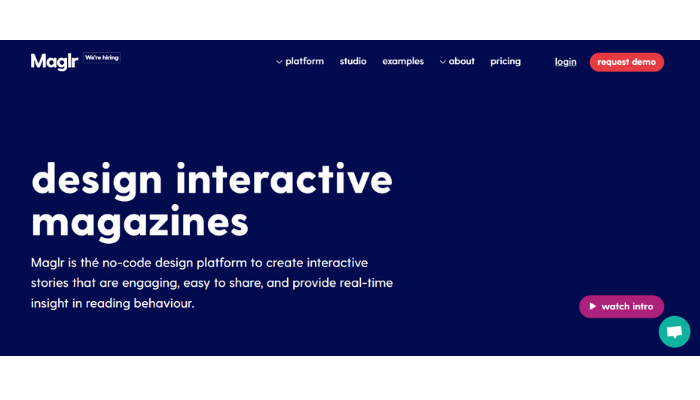 With Maglr, marketers and designers are able to share, edit, and create content, including reports, proposals, corporate presentations, and magazines.
Analytics dashboards allow administrators to view data such as visits and clicks and average session length.
Managers can share specific pages from web pages with the intended audience using the technology, which enables executives to apply codes of information across websites.
Features
Easy UI
Share everywhere
Customization
Maglr Pricing
Basic: €200/month
Pro: €400/month
Enterprise: 1.100/month
Visit: Maglr
6. PageTiger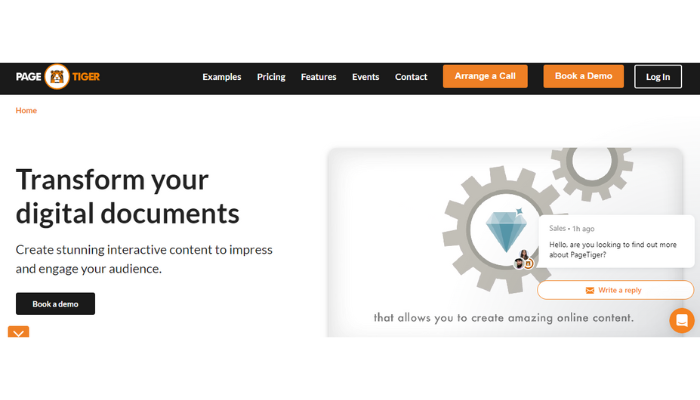 PageTiger is a content management tool that operates in the cloud, offering businesses a centralized platform to generate interactive content.
Users have key tools that let them design personalized content using pre-designed templates, various fonts, icons, locking elements, buttons, Getty images, and other features.
Imagine if you could put lots of different documents together to make a secret clubhouse for your school or club! Well, that's just what organizations can do with an intranet.
With PageTiger, they can add videos, give out special awards, share files, make lists, and even let you and your friends share content on social media!
Features
100+ Customizable templates
PageTiger Pricing
Essentials: $2,980
Essentials Plus: $5,180
Enterprise: $19,800
Visit: PageTiger
7. Adobe Illustrator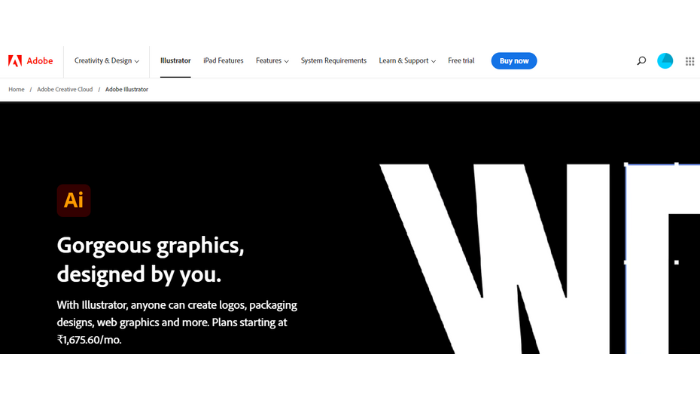 Adobe Illustrator helps businesses make pictures and animations. They can create mobile graphics, package designs, and even drawings for books, all in one handy place!
With this magical tool, the people working in those businesses can also make their own special letters and fonts with different shapes and styles.
Adobe Illustrator helps a bunch of people work together on images. You can put things on different layers and even cut out parts of an image to make shapes.
With Adobe Illustrator, it's super easy for friends to work together and keep track of different versions of their artwork.
Features
Professional templates
Easy to use
Adobe Illustrator Pricing
Free trial
Premium: $20.99/month
Visit: Adobe Illustrator
8. Adobe Photoshop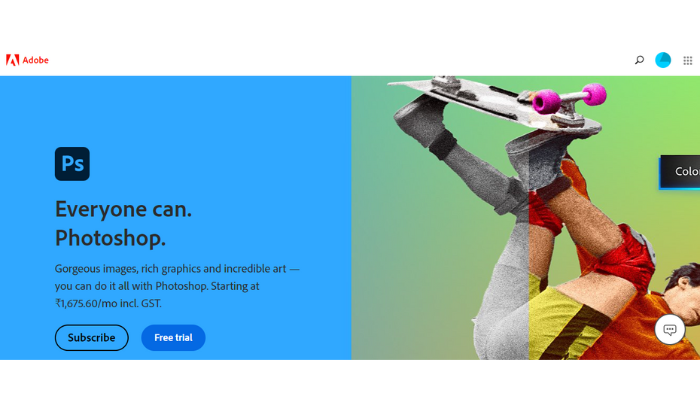 Adobe Photoshop is for editing and drawings on the computer.
With Photoshop, businesses can make their images look even better by fixing and changing things in them. But that's not all – you can also draw, paint, and even make images move like in cartoons!
Imagine you have lots of transparent sheets, and you can draw on each of them to make a big picture. That's how Photoshop works with layers!
Adobe Photoshop helps keep track of projects, watch live streams, use it even when you're not connected to the internet, and manage your data storage.
It helps you work together with your team on different projects, set up the steps to get things done, and create all sorts of texts, pictures, and even 3D graphics!
Features
Resizing & cropping
Filter
Various templates
Adobe Photoshop Pricing
Visit: Adobe Photoshop
9. PicMonkey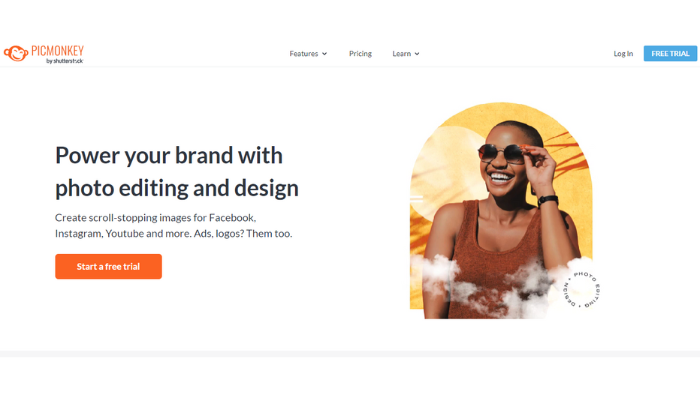 You can create incredible images using PicMonkey, a photo editor and graphic design tool. PicMonkey enables you to edit photos and create logos, flyers, invitations, and social media posts.
Among the features PicMonkey offers is a mockup generator, which allows users to create simple frame mockups with their own images and text.
Steps to Use PicMonkey
To create amazing mockups with PicMonkey, follow these steps:
Open the PicMonkey editor and create a new canvas.
Select Add Photo or Video under Photos & Video.
For creative inspiration, upload a photo from your computer or select one from millions of stock images taken by experts.
Drag the corners to adjust the picture's position.
To add graphics to your mockup, click Graphics > Add graphics.
Type your message by selecting Text> Add Text.
You can change the Text and graphic's size, color, position, and effects as you see fit.
Save as an image or video by clicking Download > Save as.
Features
Easy customizable templates
Text effects
Editable layers
PicMonkey Pricing
Free trial
Premium: $7.99/month
Visit: PicMonkey
Other Placeit Free Alternatives
WoFox
Design Evo
Printful
Brand Crowd
BeFunky
Video Bolt
Creatopy
WePik
The Hoth
Visuals By Impulse
VistaCreate
Wix
WDFlat
Kittl
Biteable
Nerd or Die
Adobe Express
Desygner
FotoJet
Hatchful
Logodesign.net
Snappa
VEED video editor
Jimdo
StreamElements
Conclusion
As a result, individuals and businesses considering a Placeit alternative need to find a reliable and effective solution.
The search for a perfect Placeit Alternative continues to evolve as the digital landscape evolves in order to unlock the full potential of graphic design.
However, we have covered 50 Placeit alternative mockup generators for you.
FAQs
What are the best mockup sites like Placeit?
Some of the best mockup sites like Placeit are Mockey, Smartmockups, Mockup Photos, Renderforest, and Media Modifier. There is a range of mockup templates available for various products and purposes.
Is there a free alternative to Placeit?
Some pages that are like Placeit are Mockey, Canva, InVideo, Smart Mockups, and Renderforest. They provide videos, logos, mockups, and other things.
What is similar to Placeit?
Mockey is very similar to Placeit. However, Mockey is completely free and generates mockups without any watermark.
What is the alternative to Placeit logo?
If you're not a fan of the Placeit logo, you might want to check out Canva. It's an online design tool that boasts thousands of logo templates to choose from, as well as various customization options. Canva allows you to generate various graphics as well.
What pages are like Placeit net?
Mockey is a platform for creating realistic mockups online.
Canva has numerous logo templates and customization choices.
Renderforest focuses on branding and video creation.