Create AI GIFs quickly with these 10 best AI GIF generators. AI GIFs simplify the process of creating the flawless GIF. Make AI GIFs to save time.
Table of Contents
Can AI Generate GIF
Yes, AI tools can generate GIFs from the best GIFs on your website's main page to fun ones for your group chats. There's no need for technical skills; just enter text prompts describing the AI GIF you want.
Top 3 key points why you need an AI GIF generator:
Generate excellent GIFs
Advanced AI support
Improve your storytelling powers
Example of AI Generated GIFs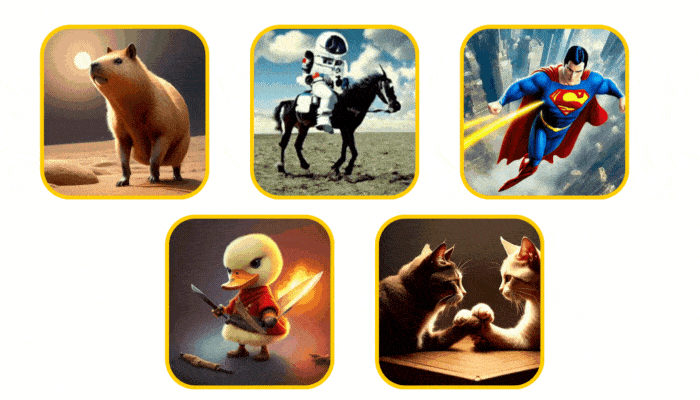 List of Top 10 Free AI GIF Generator Tools
A list of top 10 free AI generated GIF tools.
Gifer
Imgflip
Picsart
Mage Space
Simplified
Neural Love
Gifski
RunwayML
Kapwing
Artbreeder
10 Best AI GIF Generator Free Tools
Here are 10 of the best free AI GIF generators.
1. Gifer
The Gifer is a top-notch AI GIF generator where you can create funny memes and easily share them with your pals.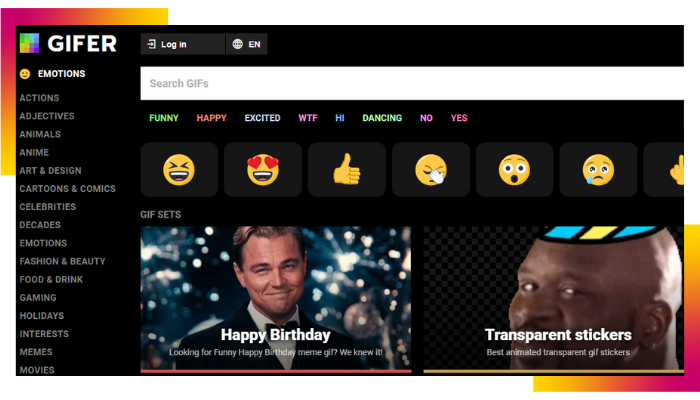 You can look at lots of GIFs from different categories like cartoons, movies, sports, and TV shows.
You can make your GIFs with the Gifer app. It helps you add filters and stickers on them and customize them however you want.
Afterwards, you can upload the GIFs on the Gifer website and let everyone see them. The Gifer website is a simple way to share animated images and make people laugh.
Steps to Use Gifer
To get a GIF, just type a word or phrase in the search bar. You can look at different types of GIFs by tapping the icons under the search bar.
You can download GIFs by right-clicking on it and selecting "Save image as…". You can then save your file by selecting a name and location.
You must create a Gifer account to upload GIFs. Click the "Login" button. Then, you can upload a GIF file by clicking the "Upload GIF" button.
Pros & Cons
| | |
| --- | --- |
| Pros | Cons |
| A vast collection of AI GIFs | Some GIFs are blurry |
| Make your own GIFs | Glitches |
| Easy to use | Some are outdated |
Gifer Pricing
2. Imgflip
Imgflip provides an AI GIF generator program to analyze videos and find the most exciting parts to turn into GIFs.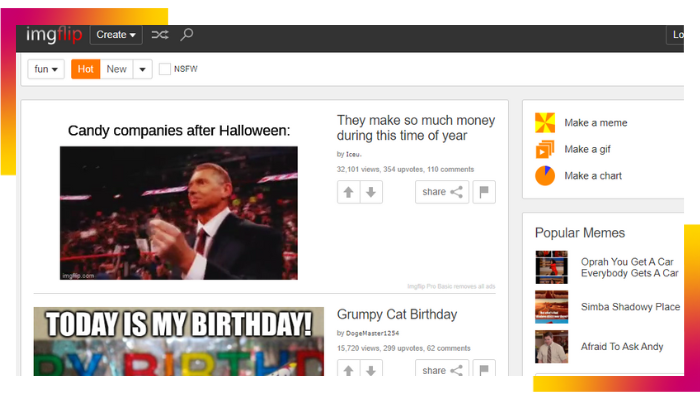 This creates a cool GIF that shows those points in a really awesome and interesting way. This tool is easy to use, so you can add keywords to your GIFs and make them just how you want.
Moreover, it can handle many different types of video files and lets you crop, change size, and control how fast the animation plays.
Steps to Use Imgflip
Imgflip lets you create GIFs by clicking the "Create" option at the top left of the website.
Hit "Make a GIF."
Then, Upload a video/image from your PC.
Next, add filters, stickers, and text to the GIF.
Then save your GIF by clicking the "Generate GIF" box.
Pros & Cons
| | |
| --- | --- |
| Pros | Cons |
| High-quality GIFs | AI limits creativity |
| Customization options | Less engaging GIFs |
Imgflip Pricing
3. Picsart
Picsart is an enjoyable AI GIF generator free tool that allows you to create AI GIFs using text suggestions.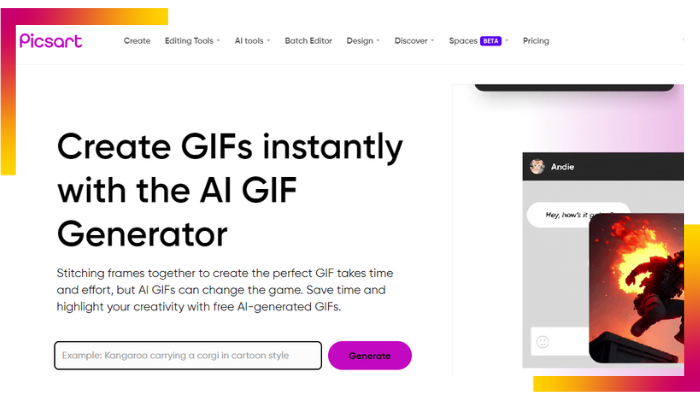 Just type in any phrase or word you want for your GIF, and Picsart will make a completely new and unique GIF that nobody has ever seen before.
You can also pick various artistic techniques to make your GIFs unique. Picsart has an easy-to-use interface that anyone can understand.
You can easily use all the settings by clicking a few times, and you can see the GIFs before you save or share them.
Steps to Use Picsart
Click the AI GIF generator for awesome AI-powered GIFs.
Type a short description for your GIF in the box. Next, edit your GIF's settings and look to fit your style.
To create a unique GIF, tap Generate GIF.
To save your new graphics, click the "Export" option.
Pros & Cons
| | |
| --- | --- |
| Pros | Cons |
| No watermark | Bugs/Error |
| Fast | Cartoonish/ less detailed |
| Multiple categories | |
Picsart Pricing
4. Mage Space
Mage Space is a quick AI GIF generator and has a friendly interface.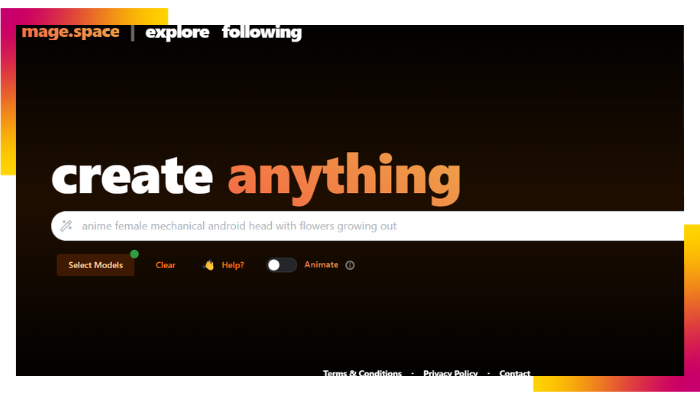 You can make GIFs using more than 60 special AI models for different genres, styles, and themes. You can also automatically increase the resolution of your images with the enhancement segment.
Mage Space is a free tool so that everyone can try out the primary features. You can spend on exclusive memberships for more innovative options.
Steps to Use Maga Space
Create an account for free.
Select "Text-to-GIF" from the left menu.
Type your text prompt.
Click "Generate" and wait. If you don't like the result, just click the "Re-run" option to make a unique GIF using the exact prompt.
You can download the GIF from the icons.
Pros & Cons
| | |
| --- | --- |
| Pros | Cons |
| 60+ custom models | Use older Stable Diffusion v1.5 |
| Easy UI | Less guidance |
| Generate in seconds | |
Mage Space Pricing
5. Simplified
Would you like to make a really good generative AI GIF really fast? If you want an all-in-one AI tool that makes GIFs, you've found it with a Simplified AI GIF maker.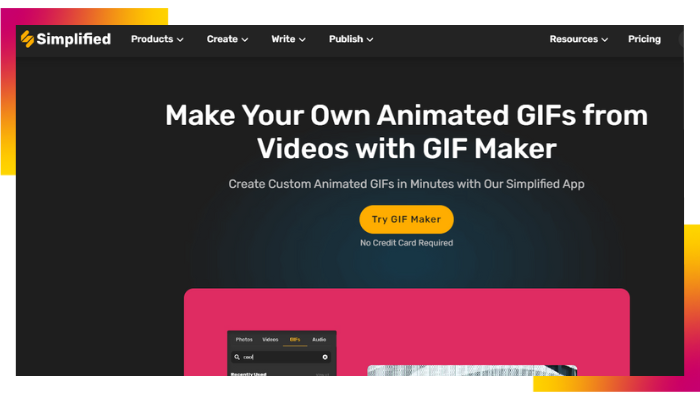 If you want an all-in-one AI tool that makes GIFs, you've found it with a Simplified AI GIF generator.
You can use a Simplified GIF maker to find lots of cool stuff for ideas. You can either make your own or pick a ready template.
To make AI GIFs, Simplified editor is super easy to use. You can use drag and drop, and there are lots of assets you can add, like music, videos, images, and fonts.
Steps to Use Simplified
Create an account for free.
Select the "GIF Maker" option.
Upload your video or image files. You can explore lots of free videos and images in the library.
Customize it. Also, you can add logos, icons, stickers, and text to the GIF.
Organize your videos or images on your timeline by simply drag and drop them. You can change how long each frame lasts and how fast it goes.
Add animations to the GIF by choosing from the choices. Preview the GIF by selecting the "Play" option.
Save your GIF.
Pros & Cons
| | |
| --- | --- |
| Pros | Cons |
| Library of content | Limited features |
| Friendly editor | |
| The tool can turn GIFs into MP4s | |
Simplified Pricing
6. Neural Love
The Neural Love AI GIF generator is a tool you can use for free. It helps you make awesome animated AI GIFs using AI.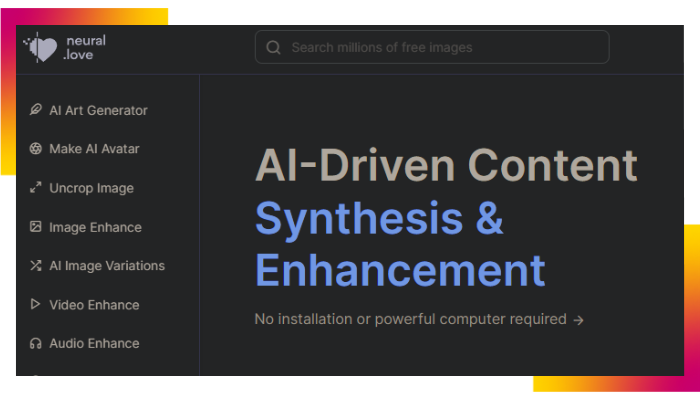 You have two choices: you can use the prompt generator that's already there, or you can type your words to make a special and imaginative GIF.
You can change settings like how many results you get, how many images you see if you want high-quality images, and how private it is.
The Neural Love GIF AI generator uses a network model (NL 1.0.3) to create and improve images when you describe what you want in plain language.
Steps to Use Neural Love
Visit the website.
You'll find an option "Use prompt" that gives you word ideas. You can choose to use those words or type your own in the box.
Tap the "Generate" option.
Customize it
Click the "Download" icon.
Pros & Cons
| | |
| --- | --- |
| Pros | Cons |
| Simple to use | Sometimes inappropriate results |
| Generate infinite images | Can't handle complex results |
| Accurate GIFs | |
Neural Love Pricing
7. Gifski
Gifski is an easy and stylish way to turn videos into really nice GIFs.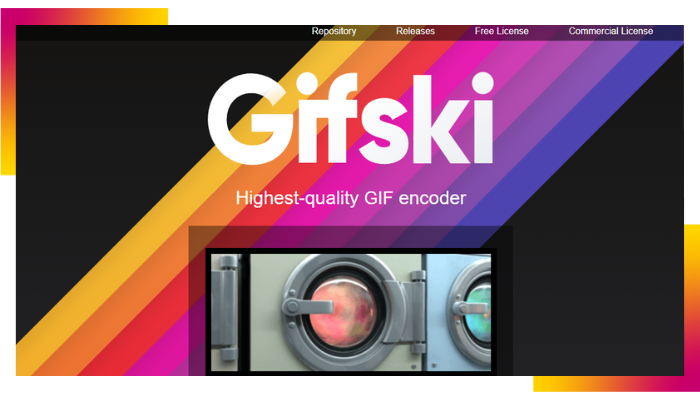 Gifski uses an algorithm that preserves the color and detail of the original video while reducing the file size.
Gifski uses a smart technique to make GIFs look great and take up less space by keeping their colors and details from the actual video.
Gifski can work with videos in any format and size. It also lets you change the speed, size, and looping of the GIFs.
Steps to Use Gifski
You can get Gifski by downloading it from the page.
Find the video file on the terminal or the command line.
You can convert video files to PNG using FFmpeg.
You can change the GIF file's quality and size with various options.
Pros & Cons
| | |
| --- | --- |
| Pros | Cons |
| Simple tool | Customization limitations |
| High-quality GIFs | Compatibility issues |
| Style Transfer feature | |
Gifski Pricing
8. RunwayML
RunwayML is an advanced AI GIF generator tool that uses deep learning to make unique GIFs for experiments.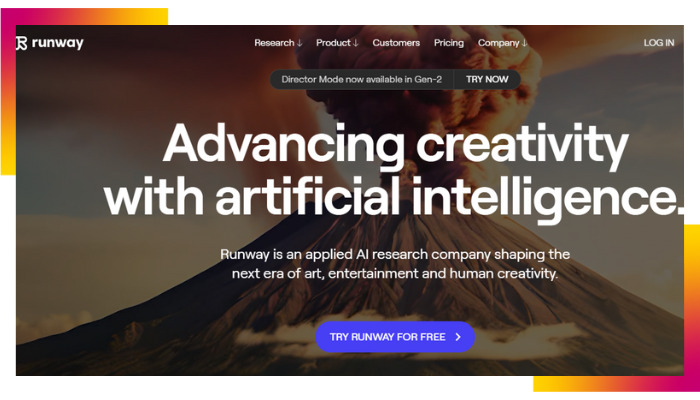 RunwayML offers many different models that change the look of images, edit faces, create new images, and sort things into categories.
RunwayML can make awesome GIFs to show off the creations in AI research.
Steps to Use RunwayML
Sign up for RunwayML free account & app.
Launch the app and start your new project. Select "GIF Maker" from available models.
Upload a video file or browse by clicking the "Browse" option.
Modify GIF settings. Trim video using timeline handles.
Click the "Run" option. Preview or download your GIF.
Pros & Cons
| | |
| --- | --- |
| Pros | Cons |
| Sophisticated tool | Quality issues |
| Training and model features | Advanced features require credits |
RunwayML Pricing
9. Kapwing
Kapwing AI GIF generator is a new and flexible tool that helps you make and change all kinds of media like images, text, audio, videos, and more.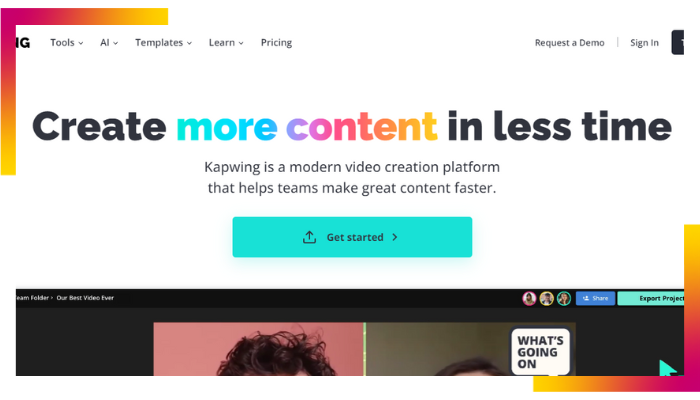 Kapwing has features that make it super easy to create awesome and one-of-a-kind GIFs.
Kapwing provides a bunch of tools that let you do different tasks like changing size, cutting, and adjusting.
Steps to Use Kapwing
Join Kapwing for free and get desktop/web apps.
Launch the app and start your new project. Select "Video Maker" from available models.
Upload media from a computer, URL, or drag-and-drop.
Customize videos with stickers, text, filters, and more.
Preview and adjust your video as needed.
Export video as MP4/GIF and download/share online.
Pros & Cons
| | |
| --- | --- |
| Pros | Cons |
| Modern platform | Subscribers get advanced features |
| Multimedia tools suite | Quality issues |
Kapwing Pricing
10. Artbreeder
Artbreeder is an amazing AI GIF generator with lots of creators. It's special because it has credit systems, and many people use it.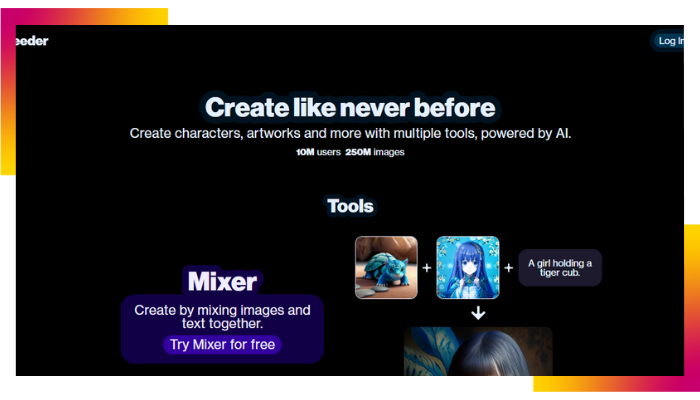 This tool lets you make amazing animations and images from lots of different types, like people, nature, animals, cartoons, and more.
You can also use it to mix and match various styles and traits to make fresh and different versions and mixes.
Additionally, Artbreeder is an exploratory tool designed for working together and exploring, allowing you to find and showcase your creations with fellow users.
You can show your appreciation for, leave comments on, and create your own versions of pictures from other users. You can also become part of the community by joining challenges with this AI GIF generator.
Steps to Use Artbreeder
Visit Artbreeder, create or log in.
In the Tools section, choose Splicer. Mix and edit images with gene manipulation.
Upload the image and adjust genes using the sliders option.
Add an image to generate a GIF by clicking the "+" option.
Click "Save" to save the GIF.
Pros & Cons
| | |
| --- | --- |
| Pros | Cons |
| Diverse GIFs | Less reliable |
| Easy interface | Sometimes produce irrelevant GIFs |
| Collaborative | Less realistic |
Artbreeder Pricing
Also, we didn't mention Midjourney as it is currently not available as a free tool. You can use Midjourney alternative free tools if you love to use Midjourney.
You can also make GIFs in Canva, but it's not a text-to-GIF tool. If you are still looking for a similar tool like Canva to create AI GIFs, check Canva alternatives.
What AI GIF Generator Is Best for You
There isn't one clear answer because various AI GIF generator software are good for different needs. Consider these factors, though.
Formats for input and output
Accessibility and usability
Features & cost
Variety & Style
Conclusion
The AI GIF generator makes it possible for you to create GIFs from images, text, videos, or artistic creations.
These tools also allow you to create both furry art and anime art in the form of GIFs.
They're enjoyable, let you express yourself, and you can use them for lots of purposes like having fun, education, communication, or even promoting.
This article shows you 10 AI GIF generator programs with unique features. Now, you can give them a try to find out which one works best for you based on what you like and need.
FAQs
What is an easy GIF animator for Android?
GIF Toaster, ImgPlay, Ezgif, and Piskel are easy GIF animators for Android.
How to animate GIFs online?
To animate GIFs online, upload your image to make a GIF. Then, customize and download the GIF.
What app can I create a GIF with?
You can use apps such as Gifer, Imgflip, Picsart, and others to turn your image/video into GIFs and make them cooler by adding filters, stickers, text, and extra overlays.