Looking for Midjourney alternatives? Many AI art generators exist, but only a few are as good as Midjourney's.
Midjourney has changed the way we create art by using AI to turn written prompts into beautiful pictures, giving us a special platform for self-expression.
For people who don't have traditional art skills, AI tools have opened up a way to be creative.
Not everyone likes Midjourney for image editing and digital art because they now charge money, and some people want better customer support.
This is the reason we looked into it and will discuss the best 30 Midjourney alternatives.
We looked closely at what they offer and how much they charge to assist you in finding the best fit for what you want.
As a special bonus, we'll show you a tool that can help you with your creative projects and use AI in more ways.
Table of Contents
What is Midjourney
Midjourney uses machine learning and AI to make stunning art. It lets you easily create visually stunning images in clicks.
The AI image generator can make advanced designs for a human artist.
It's great for making colorful and detailed settings, especially in sci-fi and fantasy scenes that look like concept artwork from video games.
Using the AI generator is easy. Give excellent and best Midjourney prompts, and get the desired result.
By blending the endless imagination of AI tools with the creative ideas of humans, this tool can help us discover fresh ways to express ourselves.
Is Midjourney Not Free Anymore
Midjourney is a computer program that makes pictures based on words you type. Right now, anyone can use it for free because it's in open beta.
The Midjourney team said they might ask people to pay for the service later on. The team hasn't said how much it will cost or when it will become available, but they promise it will be a good deal for artists and fans.
Is Midjourney free? So, right now, Midjourney is free, but that could change later on. If you want to use it without paying, you can go to their official Discord server and do what they tell you to do to use their bot.
Why Should You Consider Midjourney Alternatives
Before we talk about other alternatives to Midjourney, both free & paid, let's first list some qualities that show an AI art generator is impressive:
Easy UI: The AI tool should have an easy UI, even if people aren't tech or design experts.
Generate faster images: Although taking more time to create can result in more detailed images, the AI generator should make excellent visuals quickly.
Prompt input flexibility: The tool needs to let users choose different options to make AI art. Some people like a basic way to talk to it, while others wish to use fancier commands and symbols in their generators.
Editing options: After creating content using AI, you can make it better by resizing, adding diversity, or changing objects.
Theme & Art Style: Being able to pick various looks and artistic designs based on what users want can make creating images even better.
Commercial use: Your goals determine what the generator should tell you about when you can use the images it creates, especially if you want to use them for business.
Free option: Your budget determines how important it is to have both free & paid choices available.
What are Free Midjourney Alternatives
Here are 16 free alternatives to Midjourney consider.
Leonardo AI
Stable Diffusion
Catbird
Adobe Firefly
Dream by WOMBO
Blue Willow
Imagine AI
AutoDraw
Lexica
Hotpot AI
Playground AI
Craiyon
Bing Image Creator
Canva
Deep Dream Generator
Prodia
What are Premium Midjourney Alternatives
Here are 15 premium Midjourney alternatives or sites like Midjourney to consider.
NightCafe
GETIMG.AI
DALL-E 2
Dezgo
Prompt Hunt
Fotor
Designs AI
StarryAI
Artbreeder
Mage
Synthesys X
PicSo
Stablecog
InstantArt
The 30 Best Similar to Midjourney
We understand what qualities to search for; let's explore the best 30 Midjourney alternatives free & paid AI art generators that are doing well in 2023.
#1. NightCafe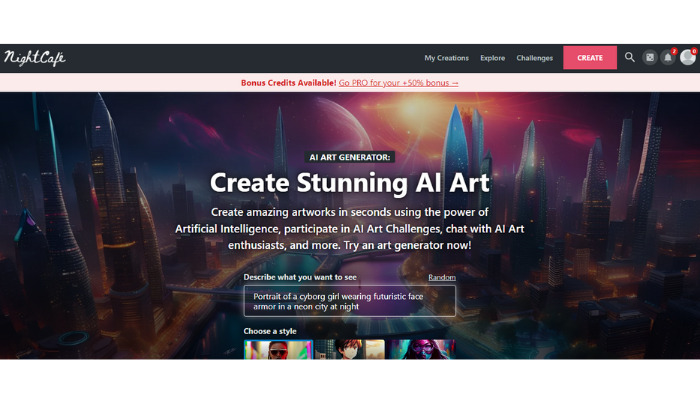 NightCafe is one of the best Midjourney alternatives that bring together artists and AI technology to make, share, and sell AI-created artworks.
If you're looking for a better alternative to Midjourney, NightCafe is the way to go. With just a few words or images, you can have the tool create a special piece of artwork that you will appreciate.
What makes NightCafe special is how it uses advanced AI tech and games.
People who love art, those who just like doing things for fun, and even beginners enjoy using it because of the friendly community and the fun challenges they have every day.
The platform is easy to use, offers many different AI models and ready-made options, and gives out free credits every day.
NightCafe Pricing
Free: 5 credits per day
Beginner: $5.99 (100 credits per month)
Hobbyist: $9.99 (200 credits per month)
Enthusiast: $19.99 (500 credits per month)
Artist: $49.99 (1400 credits per month)
Visit: NightCafe
#2. GETIMG.AI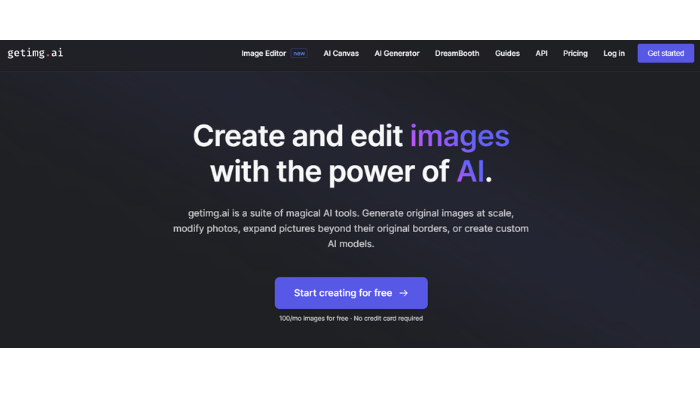 Using GETIMG.AI, people can easily make new pictures, change ones they already have, and even make photos bigger than they were before.
You can start using it without having to install anything first. It includes tools like AI Editor, Text to Image, DreamBooth, and more.
If you wish to turn text into an image, use the GETIMG AI tool. If you want to complete missing parts in an image or create it larger than its actual size, use AI Editor.
GETIMG AI is also a free site like Midjourney.
GETIMG AI Pricing
Free (100 images)
Basic: $12/month (3000 images)
Starter: $29/month (12000 images)
Hobby: $49/month (24000 images)
Pro: $99/month (60000 images)
Visit: GETIMG.AI
#3. DALL-E 2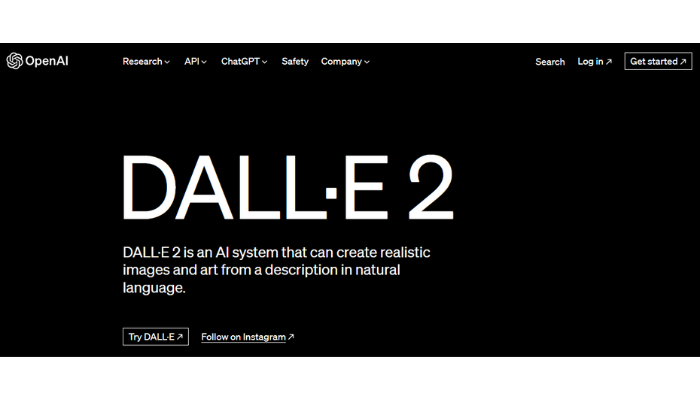 In 2022, OpenAI introduced DALL-E 2, which rapidly gained popularity for its user-friendly AI art creation.
With DALL-E 2, you simply input your idea, and in a matter of seconds, you'll receive four distinct images that mirror your concept.
People who joined before April (2023) get free credits every month, but new users must buy at least $15 in credits to use DALL-E 2.
DALL-E 2 Pricing
Free: For users before 6th April,2023
Paid: 115 credits at $15
Visit: DALL-E 2
#4. Leonardo.AI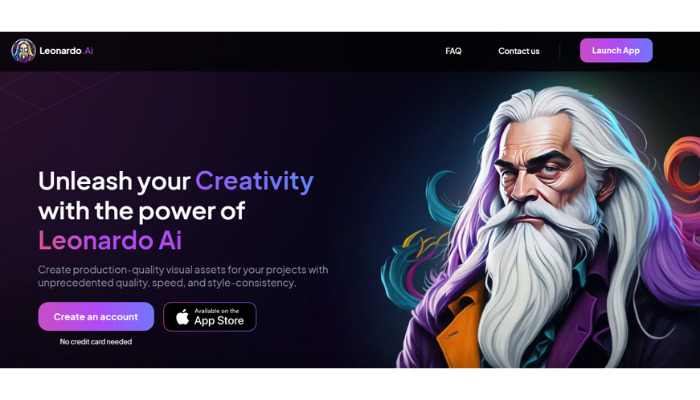 Leonardo.AI is the trendy text-to-image generator that people are currently looking for as an alternative to Midjourney.
It's not available for everyone yet, and only a few chosen users can access it in its early stages.
But you have the option to join the Discord server and see how well it can create very detailed images.
Leonardo.AI was mainly created to make things for games, like backgrounds, buildings, objects, and helmets.
The company has introduced various creative tools to make it easy to create visual content ready for production.
Leonardo.AI can create flawless human faces, especially in the eyes. If you're looking for a strong text-to-image tool, Leonardo.Ai is one of the best Midjourney alternatives.
Leonardo.AI Pricing
Free: 150 images/day
Premium: Starts from $10/month
Visit: Leonardo.AI
#5. Stable Diffusion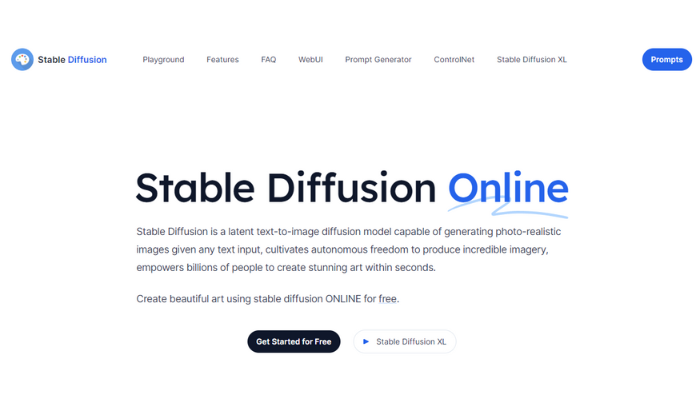 Stable Diffusion makes new images when you tell it what to make or show it some pictures.
It was made by a company called Stability AI, and it uses deep learning tricks to make images quickly and safely.
One special thing about it is that it can work well on regular computers, as long as you have a GPU of 8 GB VRAM.
It makes it different from services that only work on the Internet, and it's easier for a lot of people to use.
Stable Diffusion is the only AI art generator that is a Midjourney free alternative.
Stable Diffusion Pricing
Free
Visit: Stable Diffusion
#6. Catbird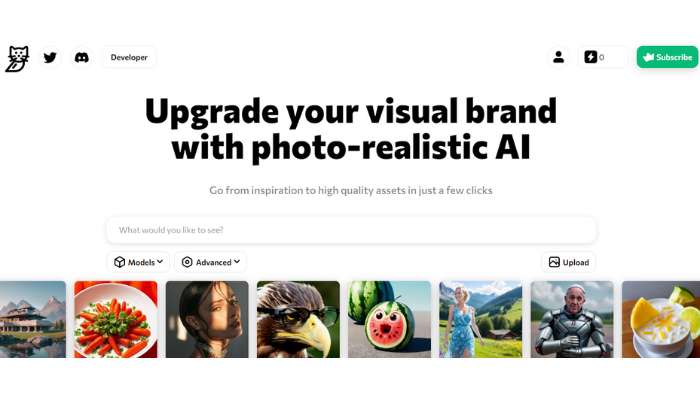 With just one request, people can create pictures using different AI models using the Catbird image generator.
This tool offers results from more than 15 models, making it versatile for various purposes.
While there are potential improvements in image generation on the horizon, currently, the tool displays outcomes from 3 models: Stable Diffusion, Dreamlike Diffusion, and Openjourney.
This AI helps users save time and avoid the need to use each model separately.
The images we made can be used for many things, like advertising photos and doing scientific studies.
Catbird Pricing
Free
Visit: Catbird
#7. Adobe Firefly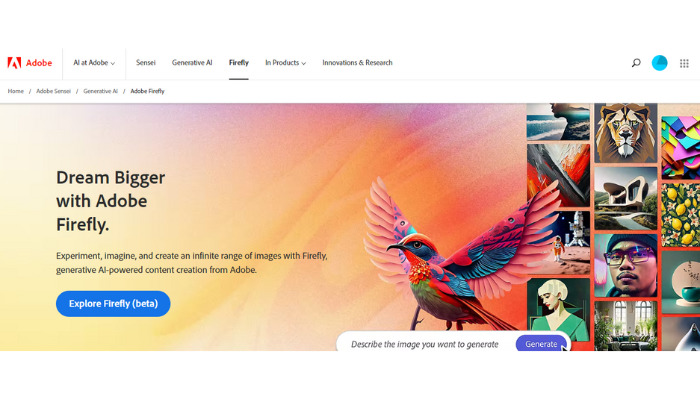 In the world of digital graphics, Adobe is known for its excellent software.
In today's era of artificial intelligence, Adobe is working hard to come up with new ideas. To challenge Midjourney, Adobe has launched its own AI model, Firefly.
It offers various tools for creating images from text, changing image sizes, altering colors, adding text effects, repairing images, turning sketches into images, and more.
Although most of these generators are still being worked on, Adobe has launched this Image generator, and it's currently available for free to everyone.
Midjourney-free alternative: you can describe what you want in regular words. It will give you four pictures in various styles
You can pick what kind of pictures you want, like Art, Graphics, Photos, or none at all. You can also select options like color, mood, lighting, arrangement, and more.
Adobe Firefly Pricing
Free (Beta version)
Visit: Adobe Firefly
#8. Dream by WOMBO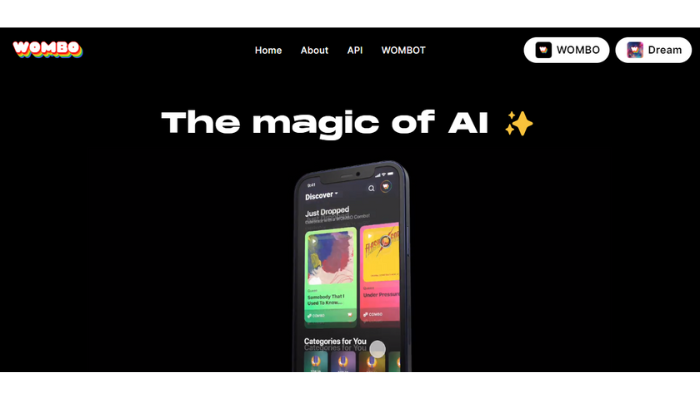 Again, one of the Midjourney alternatives free tools is Dream by WOMBO.
It's easy for anyone to use, even if you're not a tech whiz. Plus, it doesn't cost much, so it won't break the bank.
Surprisingly, it lets people make art designed for NFTs, ensuring they have complete ownership rights to what they create.
A few people have expressed their frustration because images that are not meant to be offensive are being marked as NSFW (Not Safe For Work). The tool only has this drawback.
Dream by WOMBO Pricing
Free
Paid: $9.99 per month
Visit: Dream by WOMBO
#9. Blue Willow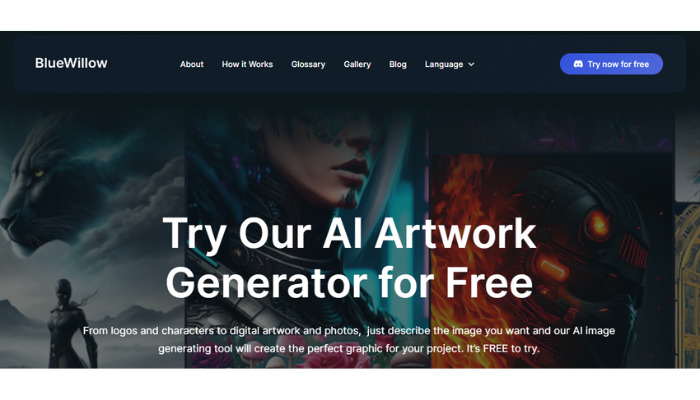 Blue Willow is also one of the great fascinating Midjourney alternatives, and it has attracted over 300 million people on the Discord server.
You can use it for free, and it relies on user donations to operate.
Join the Discord server and immediately make images. People use Blue Willow for making logos, comic characters, digital art, scenery, design ideas, and more.
We experimented with different prompts, and it created some good pictures. However, when it comes to making realistic images, Blue Willow isn't as impressive as Midjourney.
Still, for any type of art, Blue Willow performs really well.
What we really enjoyed about this generator is it can create images quickly, even with many users using it.
In summary, Blue Willow is the free Midjourney alternative, and we highly recommend taking a look at it.
Blue Willow Pricing
Free
Visit: Blue Willow
#10. Dezgo
Dezgo isn't just for making images. It also lets you change and personalize them.
You can use it for your website, marketing, or social media to create amazing images.
Dezgo works for everyone, whether you're a pro, like a graphic designer or just someone interested in tech.
It helps you get creative ideas and make images for your website, ads, or social site platform. Dezgo is the perfect choice if you are looking for Midjourney alternatives.
Dezgo Pricing
Basic: $2/month
Ultra: $30/month
Visit: Dezgo
#11. Imagine AI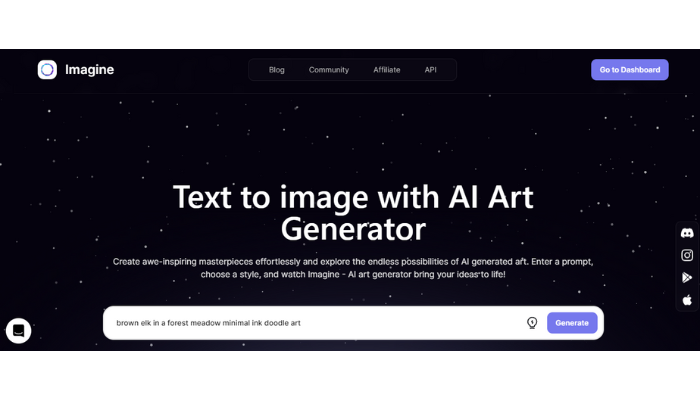 Many users have praised Imagine AI for its impressive skill in creating detailed images. This tool can grab the meaning of text prompts that are incredibly realistic and filled with complex details.
Imagine AI consistently produces impressive artwork, whether it's landscapes or character designs, that can compete with manually generated artwork.
Imagine AI lets users choose how they want their images to look – the style, colors, and even clear details they want.
This means users can make the created images fit their own creative ideas and preferences.
If you're seeking Midjourney alternatives free tools, consider Imagine AI as an ideal option.
One thing that can be improved is having more different styles and types of art to choose from.
Imagine AI Pricing
Free
Visit: Imagine AI
#12. Prompt Hunt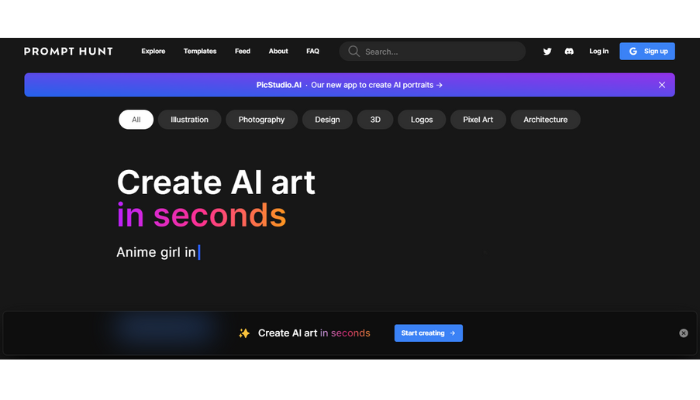 Prompt Hunt lets people make art using different tools like Midjourney, DALL-E, and Stable Diffusion. You can make ideas for art from pictures or words, or you can use ready-made templates.
The platform stands out for how easily you can use it on different devices when compared to Midjourney alternatives.
Prompt Hunt Pricing
Free: 7 days trial
Pro: $9.99 per month
Pro+: $14.99 per month
Visit: Prompt Hunt
#13. Fotor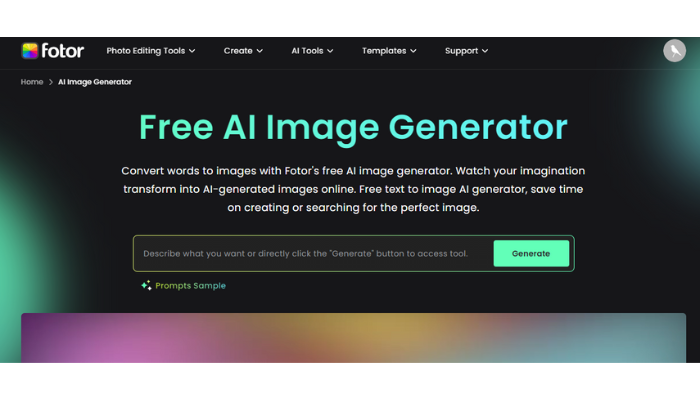 Fotor, a photo editor, has introduced a new tool called an AI image generator.
With this tool, you can type in descriptions of images, and it will create those pictures based on what you wrote.
What's great is they've introduced an AI tool that can turn pictures into other kinds of pictures.
Plus, you can pick the style you want, like oil paintings, anime, cartoons, conceptual art photography, and more.
Furthermore, you can do things like changing the picture shape, picking how many images to make, making more changes, and so on.
Overall, the pictures created are pretty good and are almost as impressive as Midjoruney in the field of conceptual art.
Fotor Pricing
$3.33/month (100 credits + Fotor Pro)
$2.99/month (200 credits)
Visit: Fotor
#14. AutoDraw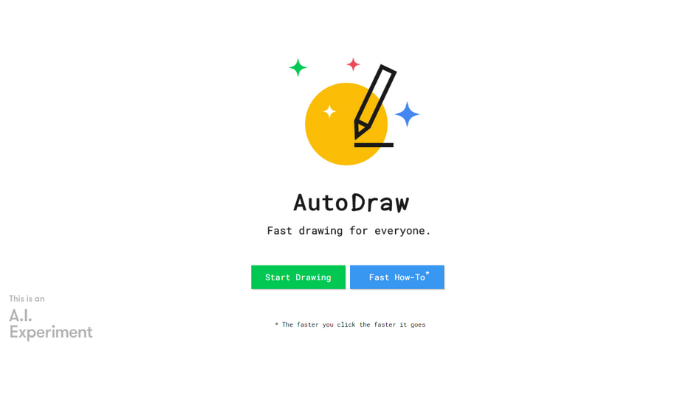 If you like the things you did when you were a kid, you will really enjoy using AutoDraw.
This free Midjourney alternative art generator that uses AI is easy to use and has a design that's easy to understand.
When you draw something, even if you're not a great artist, AutoDraw's clever technology understands what you're trying to create.
It then shows you a selection of nicely-drawn suggestions that go along with your drawing.
Compared to other Midjourney alternatives, the platform is also easy to use on different devices.
AutoDraw Pricing
Free
Visit: AutoDraw
#15. Lexica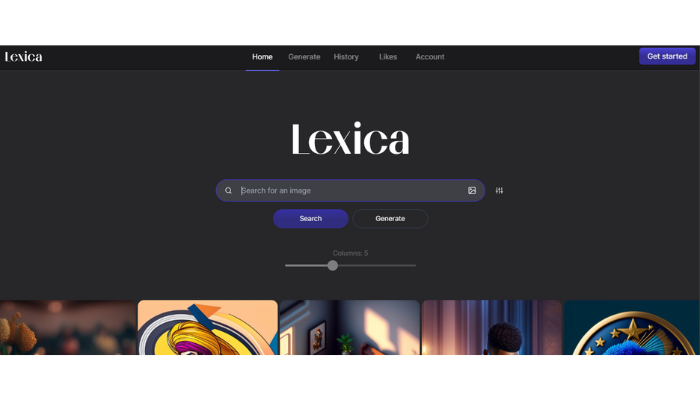 Lexica is a website that uses AI to create images. They've made their image-making AI even better by tweaking it with Stable Diffusion.
Plus, they can help you find images made using Stable Diffusion.
Sure, when it comes to creating images, use either the v3 or v2 model and select dimensions of 768 x 1152.
In our experience, Lexica did a great job and produced high-quality images.
If you're looking for a Midjourney alternatives free generator, this Lexica model, powered by Stable Diffusion, is a good choice, to begin with.
Lexica Pricing
Free: 100 images/month
Paid: $10/month (1000 images)
Visit: Lexica
#16. Designs AI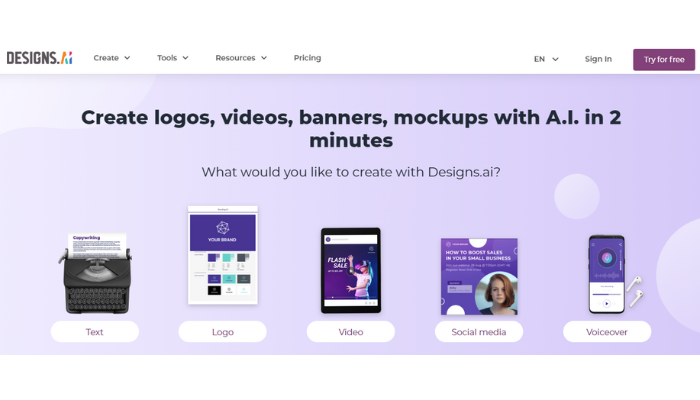 One more of the famous Midjourney alternatives is Designs AI. This generator provides various features to help you make digital support like speech, logos, and even videos.
The Video Maker on the platform quickly creates interesting videos by using the text you provide to find the right video clips. It only takes a few minutes.
The Font Pairer gives helpful suggestions for matching fonts, which is really useful for designers looking for fonts that go well together.
In short, with Graphic Maker, you make vector images in your favorite colors, but the small collection of images it offers might be a drawback.
Designs AI Pricing
Basic: $29 per month
Pro: $69 per month
Visit: Designs AI
#17. Hotpot AI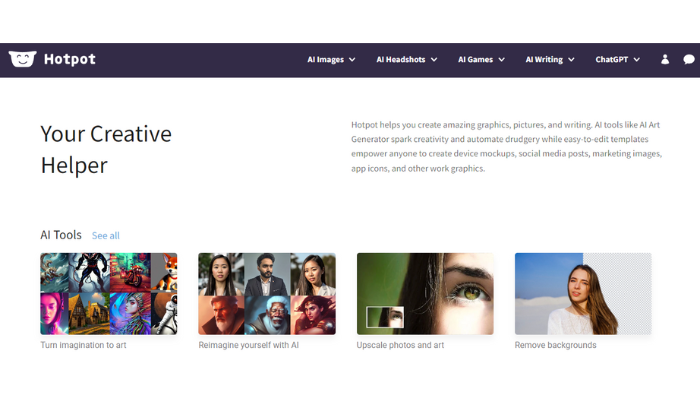 Hotpot.ai's AI painting tool lets anyone make beautiful paintings and images. Just tell it what you want, and the AI will make the picture.
Also, you can change the shapes, styles, and colors to make your artwork unique.
If you're searching for a Midjourney alternatives generator, Hotpot AI is the right choice to start with.
Hotpot AI Pricing
Free
Visit: Hotpot AI
#18. Playground AI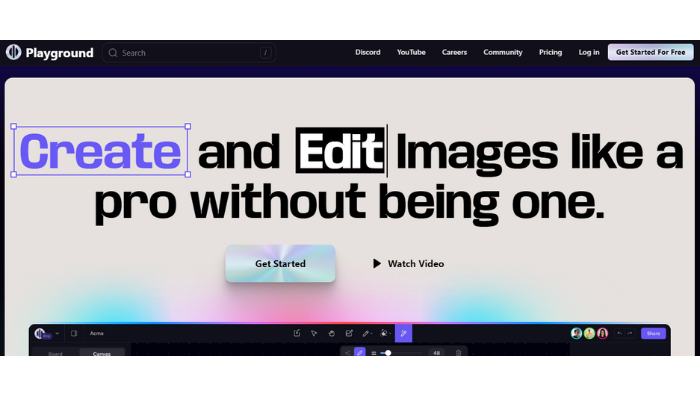 Playground is a tool that creates art using AI, and it's just as good as Midjourney.
You can get up to 1,000 images every day, and you're allowed to use those images for business purposes, too.
It may not make the very best AI art right now, but it's a great chance for new artists to improve without paying monthly fees.
Furthermore, the Pro version removes limits on image size, reducing the need to make images bigger, and provides unlimited options.
It also has quicker image creation and a forever private mode.
Playground AI Pricing
Free: 1000 images/day
Pro: $15/month
Visit: Playground AI
#19. StarryAI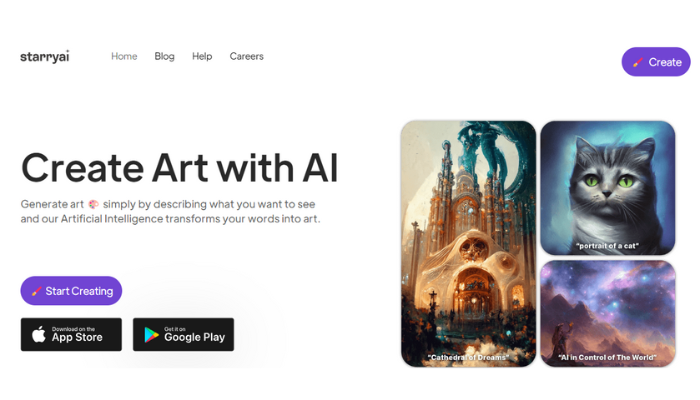 StarryAI is really easy to use when it comes to creating pictures with AI. Just start by giving it a text prompt, then choose a style you like, and you can make the artwork more detailed.
StarryAI has two different ways of working: Altair is for creative ideas, and Orion is for making visual stories, all to turn your idea into reality.
In a short time, your special and excellent artwork is prepared to use however you want.
StarryAI Pricing
Free: 5 credits per day
Starter: $11.99 per month
Pro: $37.99 per month
Pro max: $79.99 per month
Visit: StarryAI
#20. Craiyon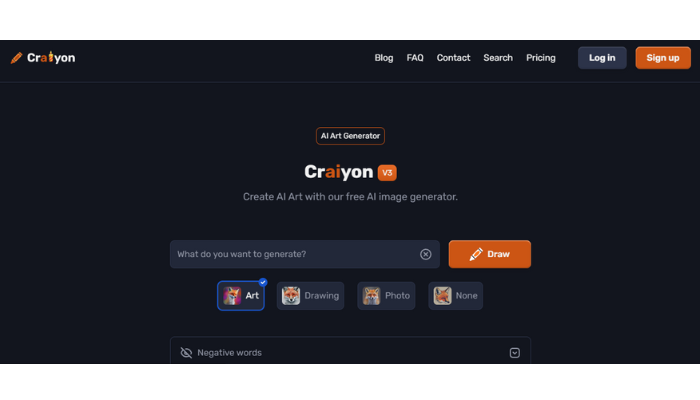 Another better tool among so many Midjourney alternatives is Craiyon, which used to be called DALL-E mini, which is an easy-to-use AI tool for making art.
You just type in what you want, and you can pick from four ways to make images: Photo, Drawing, Art, or None.
You can make the AI create a sunset picture without a beach by telling it not to include beach-related stuff, even if you ask for a sunny scene.
Craiyon stands out because it has a feature, "Next Prompt," that uses ChatGPT to suggest ideas for you based on what you've written before.
It also generates t-shirt mockups with the help of AI, which can assist you in generating ideas for merchandise sales.
If you are really interested in mockups and online stores, then we can suggest Mockey and Blinkstore. Both are free tools and better than Craiyon. Do visit.
Craiyon Pricing
Free
Supporter: $6 per month
Professional: $24 per month
Visit: Craiyon
Other Midjourney Alternatives
Midjourney and Midjourney alternatives make text prompts look excellent with images. Every generator uses AI to help you work better, work together more easily, and get more productivity done.
The honorable mention Midjourney alternatives are:
Bing Image Creator
Canva
Artbreeder
Mage
Deep Dream Generator
Synthesys X
PicSo
Stablecog
InstantArt
Prodia
These 10 Midjourney Alternatives offer:
Change your writing quickly to make it sound more professional, clear, or interesting.
Generate excellent content fast with the help of AI-driven suggestions.
Select some text, and use the toolbar to make it better.
Quickly create summaries and to-do lists to make administrative tasks easier.
Grammatical errors and translation languages.
Make a design plan that follows your preferred method using the available templates.
Share easy-to-follow directions and make the design review process faster using Proofing.
How to Select the Best Midjourney Alternatives
The top Midjourney alternatives have amazing images that look great and let you be super creative. Plus, it's user-friendly.
Use this tool to make drawings that look like real paintings.
Find a generator or tool that has the following:
Affordability: Many software programs cost a lot and can be hard to use. Look for software you can use easily.
Range: Creating different versions of one thought is fantastic because it lets you pick the one you like best.
Flexibility: When your software is versatile, it can adjust to different types and styles you can pick from.
It's up to you what you do with the AI image once it's ready. Make a frame to hang in your room or sell your AI art.
Conclusion
These are a few AI image generators we really like, and they can be handy options for Midjourney alternatives.
We personally prefer NightCafe, Imagine AI, Hotpot AI, and Playground AI, and our personal projects often involve the use of these tools.
While you're thinking about your choices, keep in mind that new and creative ideas can sometimes come from places you wouldn't expect.
Maybe if you change your focus from just making images to finding ways to make your work process better, you could discover new ways to be more efficient and creative.
Whether you create furry art or DnD characters, these generators can assist you in reaching your desired results.
FAQs
What are the free Midjourney alternatives?
Stable diffusion, Catbird, Adobe Firefly, Blue Willow, and Imagine AI are the best and free Midjourney alternatives.
What is the alternative to Midjourney free?
Imagine AI is the Midjourney free alternative tool that has the ability to generate realistic and top-notch images based on written descriptions.
What AI is better than Midjourney?
There are many different types of AI that have their own advantages. Deciding what's best depends on what you need. Options like Starry AI, Craiyon, and Hotpot AI offer various features for different applications.
In the end, good generators not only fix the problems we have, but they also create new opportunities for us!
Right now, most people are looking for an NSFW AI tool such as Character AI NSFW. You can also look to see if there are any settings that you can follow for Midjourney alternative tools.