Maybe you know the name Midjourney, but you haven't really checked it out yet. With AI becoming more common, it's important to find inspiration.
Midjourney is a progressive service that turns prompts into really detailed pictures with the powers of Stable Diffusion and DALL-E.
Let's dive into some of the best Midjourney prompts that will help you get creative and let your imagination run wild! Let's get started.
Table of Contents
How to Write Midjourney Prompts
How to prompt Midjourney with an image? To add a picture to a prompt, start typing /imagine like you normally would. To add an image's URL, just drag the photo file into the box or copy and paste the URL within the box.
Midjourney Prompt Examples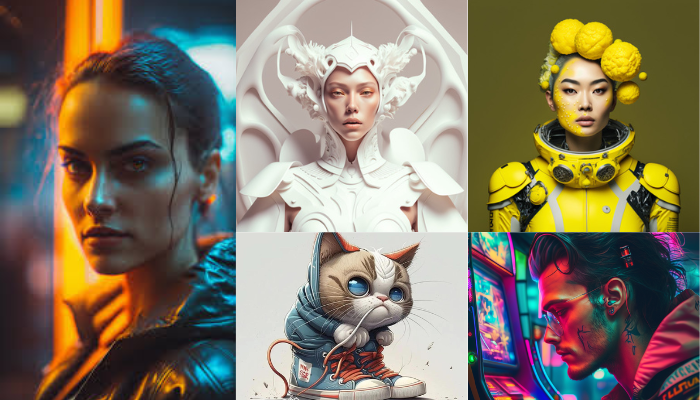 What Are the Best Midjourney Prompts for Portraits
Here are the 20 best Midjourney prompts for portraits.
Japanese Garden in Autumn
Floating Island
Haunted Elegance
An Underwater Haven
Magical Forest
City of Neon
A Pure Nature
Market Colors
Grace Over the City
A Nostalgic Ride
Dance of the Northern Lights
Story of Wrinkles
A Delicate Beauty
New York Pulse
Futuristic City
Abstract Geometry
Seaside Sunset
The Titans Clash
Abstract Expressions
A Zen Garden
What are the Best Midjourney Prompts for Anime Characters
Here are the 20 best Midjourney prompts for anime characters.
Helmet Girl
Scarlet Peace
True Evil
Rainforest Tribe
Chameleon
Action Heroes
Knitting Grandma
Shakespeare Reimagined
Steampunk Cat
Wild West Warrior
The Galactic War
A Mystery Woman
Scientist Inventor Steampunk
Aquatic Wonders
Hacker Boy
Street Boy Racer
Demon Hunter
Egyptian Mummy
Ocean Conquering
Clan of Warriors
Best Midjourney Prompts for Portraits
A list of the best Midjourney AI prompts for portraits.
1. Japanese Garden in Autumn
Try using an anime-like style to create a gentle and romantic atmosphere. Try to use bright colors to show the peacefulness and loveliness of the garden during fall.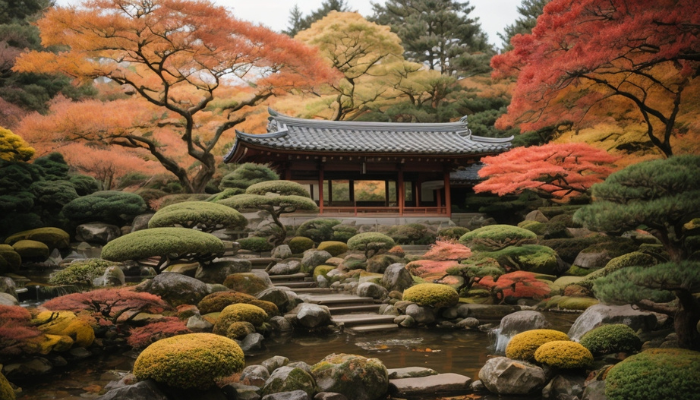 Prompt: In autumn, a calm Japanese garden with a koi pond, tea house, maple trees, and falling leaves is depicted in a digital image with an AI art style.
2. Floating Island
Fantasy worlds are really amazing. Mix together parts of buildings with a special natural view to create a feeling of curiosity and old strength.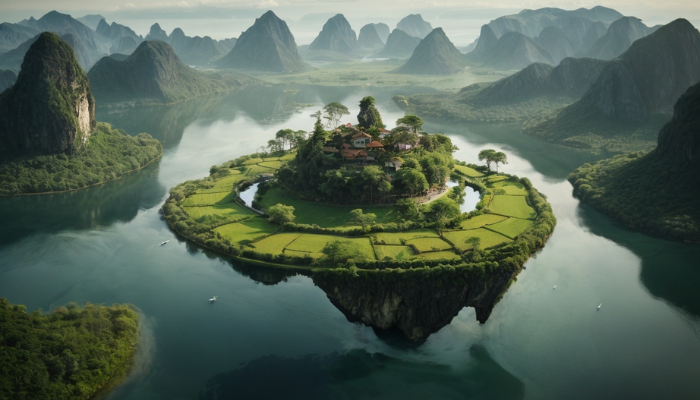 Prompt: A high-fantasy art style depicts the magical geography of floating islands, magical artifacts, and ancient ruins boosted by Final Fantasy environments.
3. Haunted Elegance
Creating the right atmosphere is important for a scary gothic scene. To make something look spooky but classy, try using fog, shadows, and only one color.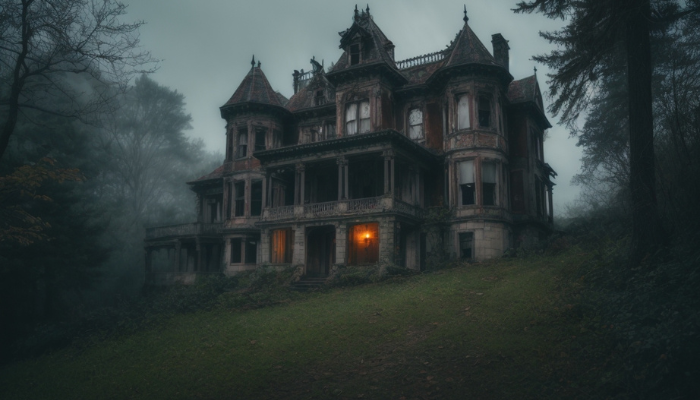 Prompt: A digital painting of a gothic horror mansion on a hill with a full moon, fog, and shadowy figures reminiscent of Castlevania.
4. An Underwater Haven
Water effects and good lighting are really important when filming scenes underwater. Pay attention to how light filters through the wetness and how it affects the surroundings.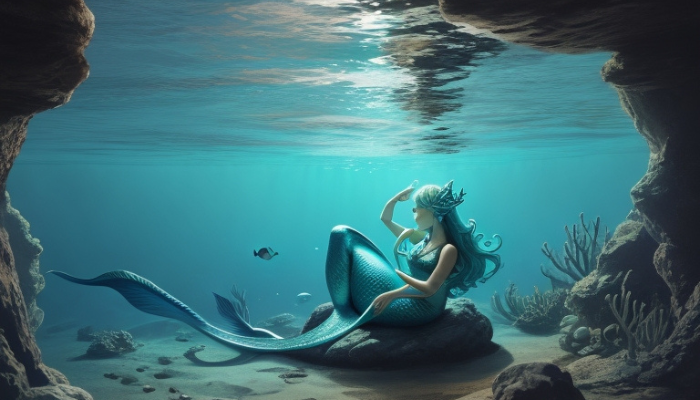 Prompt: A digital art style portrays a quiet underwater scene featuring a mermaid on the rock covered by fish and coral reefs. The focus is on water effects and on lighting.
5. Magical Forest
When making up a pretend world, you can use your imagination however you want. The forest will come to life when you add magical creatures and glowing elements.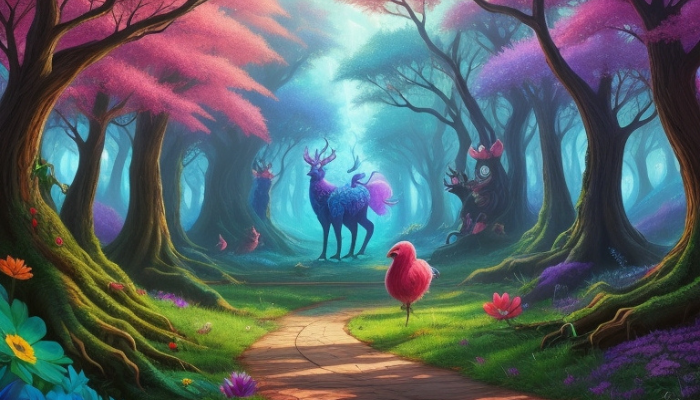 Prompt: A colorful and playful forest full of magical creatures, a river, and glowing plants, painted in a style similar to video games.
6. City of Neon
The idea of cyberpunk is a great place to let your imagination run wild. Try to create a dark and dramatic setting by using bright neon lights with sharp contrasts and paying close attention to the little details in the tall buildings. Creating art is simple with Midjourney. You can use the results to create your stickers and t-shirts.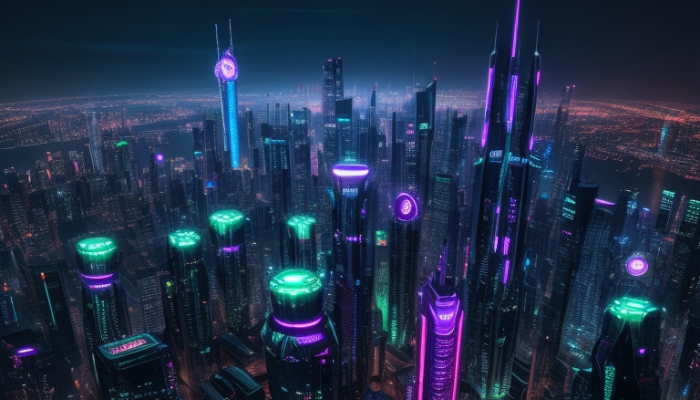 Prompt: At night, a highly detailed digital painting of an innovative cyberpunk cityscape featuring neon-lit skyscrapers, a mixed crowd, and flying cars.
7. A Pure Nature
Capture the feeling of something being very fresh. Even a tiny drop of rain can show us a whole world inside it, and when we look closely, we can see how beautiful even the smallest parts of nature are. Taking close-up pictures, also known as macro photography, is something that Midjourney is good at.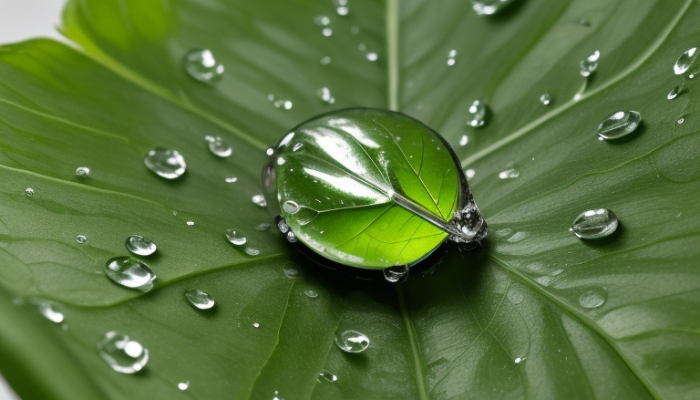 Prompt: A raindrop on a leaf is captured up close, emphasizing its thought and the greenery surrounding it, making a pure atmosphere.
8. Market Colors
Get fully involved in the environment. Taking photos of a busy market with lots of textures and colors can be great.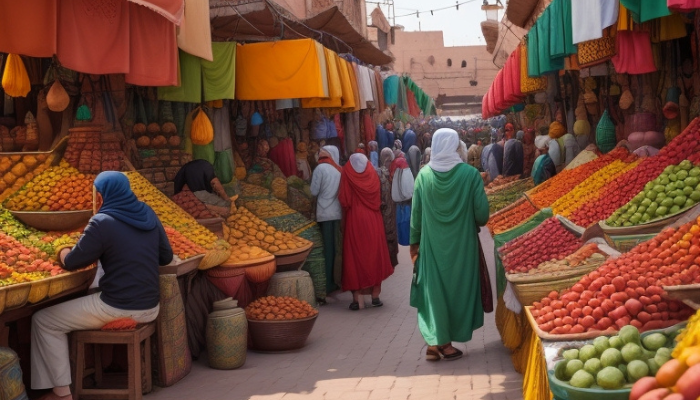 Prompt: A photo of a bustling marketplace in Morocco featuring vibrant colors, rich textures, and a street vendor in the forefront.
9. Grace Over the City
Taking good action shots needs being able to capture the perfect moment with your camera. When a graceful ballet dancer is shown in a rough city setting, it can make a strong picture. This is perfect for decorating your home's walls.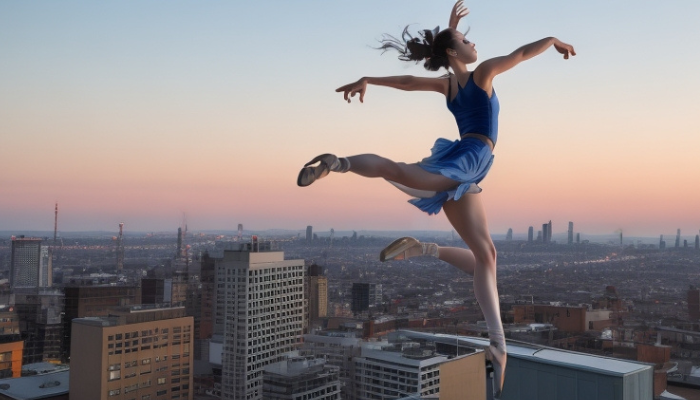 Prompt: An urban rooftop at dusk serves as the stage for a ballet dancer whose movements exude both grace and dynamic energy.
10. A Nostalgic Ride
Try creating a retro look by playing around with photography styles. Driving on Route 66 with classic cars can take you back in time.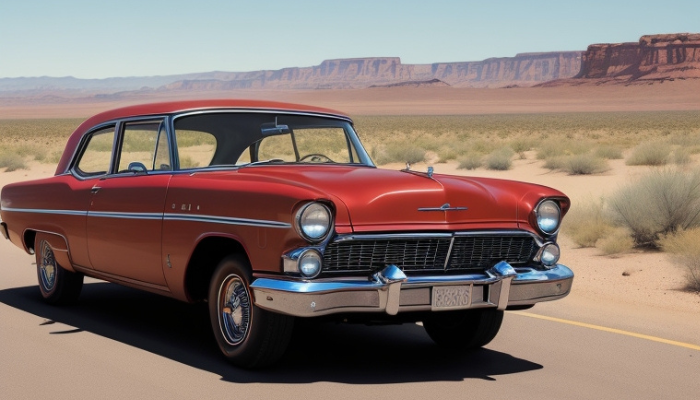 Prompt: Route 66 and a vintage-style portrait of a car, with the result of photography and sandiness for a dreamy feel.
11. Dance of the Northern Lights
Being patient is very important when taking pictures of outdoor scenery. The perfect Northern Lights photograph is achieved using long exposures and multiple exposures. For more accurate results, try using the word "realistic." It will make your outcome look more like real life.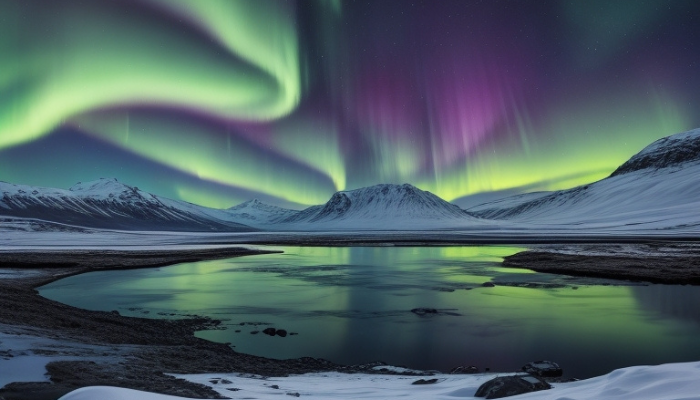 Prompt: A long-exposure shot of the Northern Lights over snowy Icelandic mountains.
12. Story of Wrinkles
Taking portraits is all about grabbing the essence of a person. Good lighting can help bring out the details and history in the face of an older person. The way Midjourney creates portraits is really amazing.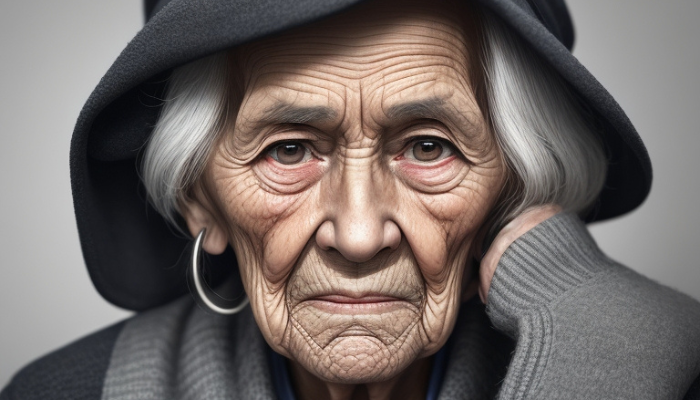 Prompt: An older person with a high resolution that captures the skin, expressive eyes, and natural lighting.
13. A Delicate Beauty
Macro photography lets you explore the small things up close. Be sure to concentrate on taking a good picture of the small drops on the spider web. To get really clear and realistic images, try using "high resolution."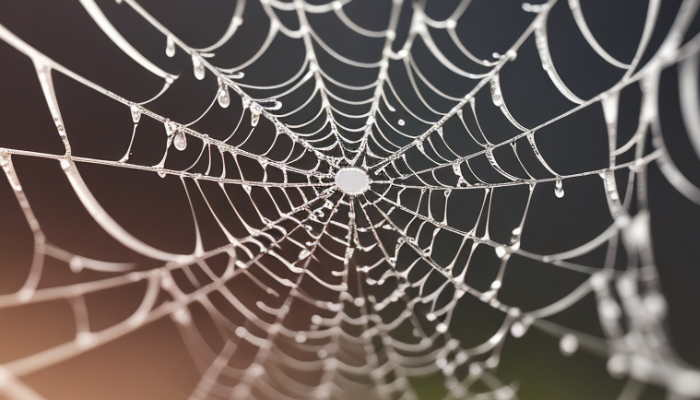 Prompt: A close-up shot on a web with morning dew highlights the complex patterns, giving it a high quality.
14. New York Pulse
Black & white photos are really great and show what it's like in the city. Midjourney is good at creating and improving architectural images.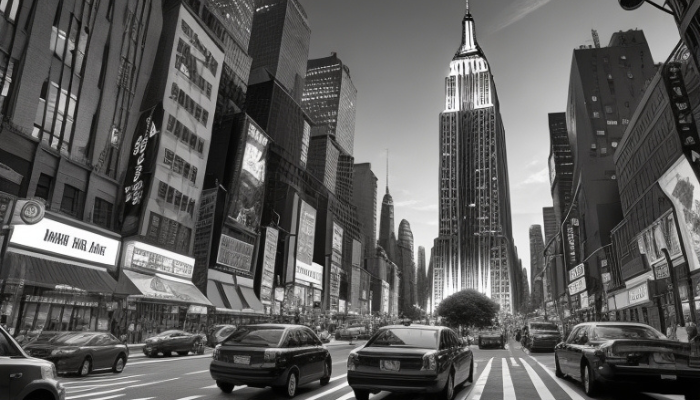 Prompt: A black & white street photograph of a bustling New York in conjunction with the State Building, capturing the vivacity and frenzy of the city.
15. Futuristic City
Use your creativity to make futuristic landscapes. Add concept art and science fiction to imagine a new world.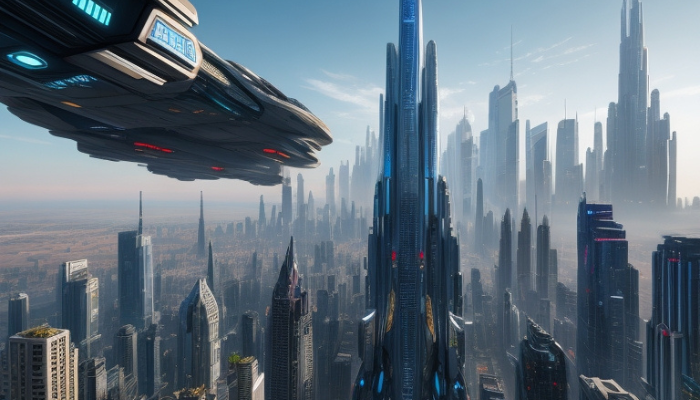 Prompt: A futuristic cityscape featuring towering skyscrapers and flying vehicles inhabited by diverse robots and humans.
16. Abstract Geometry
Have fun exploring shapes and designs with Cubism. Try breaking down everyday objects into smaller pieces to see them in a new way.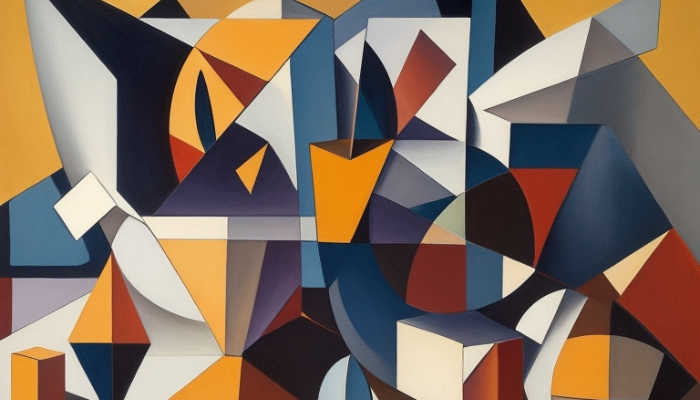 Prompt: A life painting with fragmented geometric shapes, multiple viewpoints, and muted colors, inspired by cubism artists Georges Braque and Pablo Picasso.
17. Seaside Sunset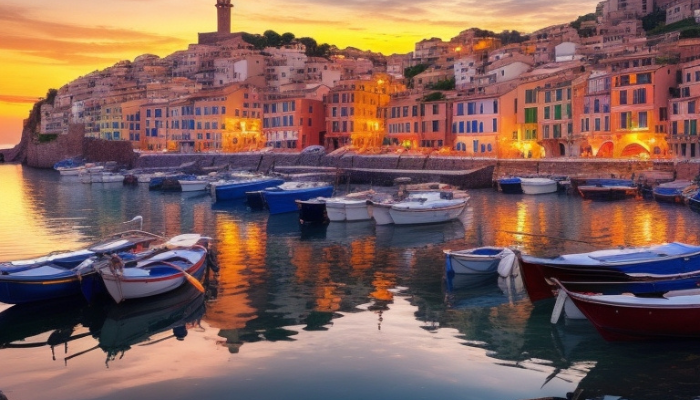 Use the style to play with color and light. It's great for grabbing quick moments, such as sunsets.
Prompt: A picturesque Italian coastal town with vibrant buildings and shimmering water reflecting the sunset, featuring dappled light and visible brushstrokes.
18. The Titans Clash
Use the Romantic movement to add excitement and emotion to the scene. Provide lots of details to make it more vivid for Midjourney.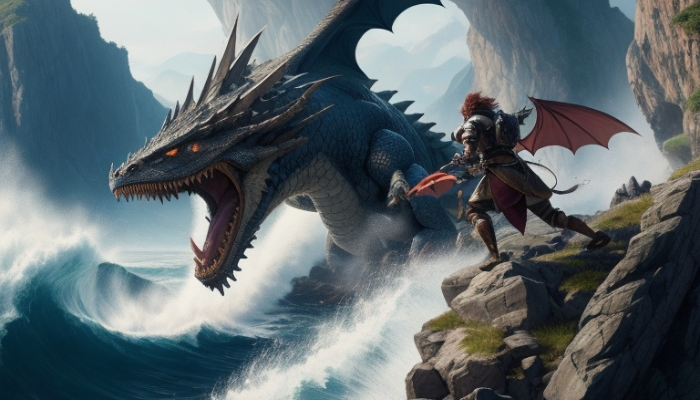 Prompt: A knight battles a dragon on a wave's roar below, inspired by Eugène Delacroix and Romanticism.
19. Abstract Expressions
Yes, the computer recognizes abstract paintings, too, and it might look the same as Jackson Pollock's painting.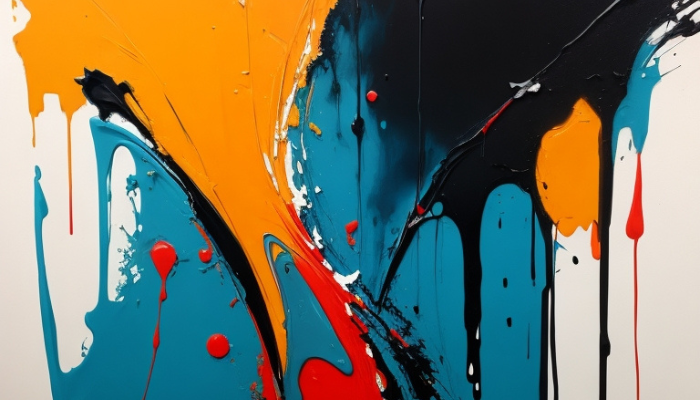 Prompt: An abstract painting with brush strokes, vibrant colors, and dripping paint reflecting inner emotions, inspired by Jackson Pollock.
20. A Zen Garden
Keeping things simple can be effective, and Midjourney understands this, too. This design would make a great poster or t-shirt print.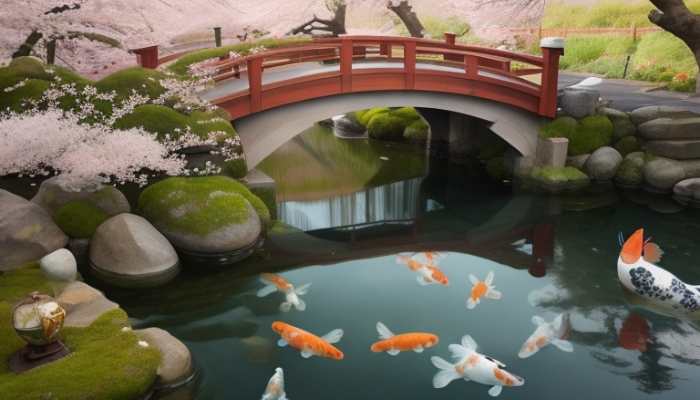 Prompt: A peaceful Zen garden featuring cherry blossom, a koi fish, and a bridge.
Best Midjourney Prompt Guides for Anime Characters
A list of the best Midjourney AI prompts for anime characters.
1. Helmet Girl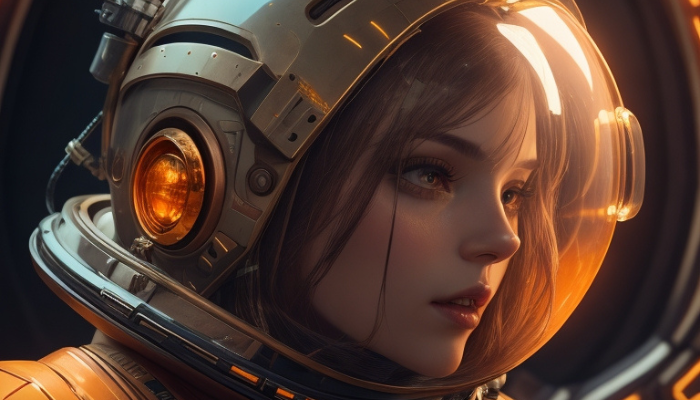 Prompt: A woman is wearing a cyberpunk dystopia-style astronaut helmet with a 32k UHD display featuring dreamlike settings in amber and bronze and elements of woman core, gorecore.
2. Scarlet Peace
We found a really impressive artwork created by Midjourney AI. It looks almost real!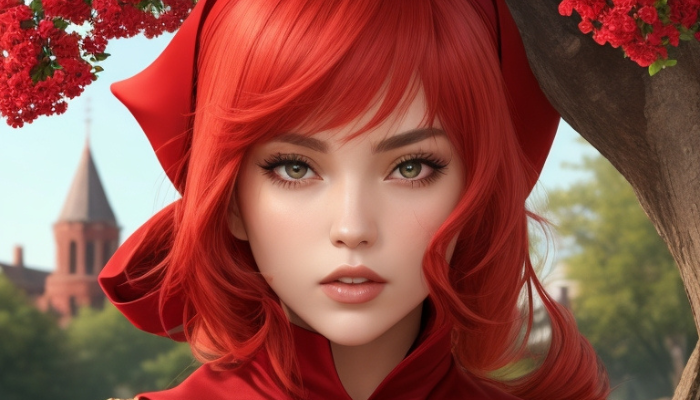 Prompt: From an aerial perspective, a woman in a party costume is seen in water as her face is covered with red melted ice, in the style of experimental filmmakers such as Jennifer Rubell and Louise Bourgeois.
3. True Evil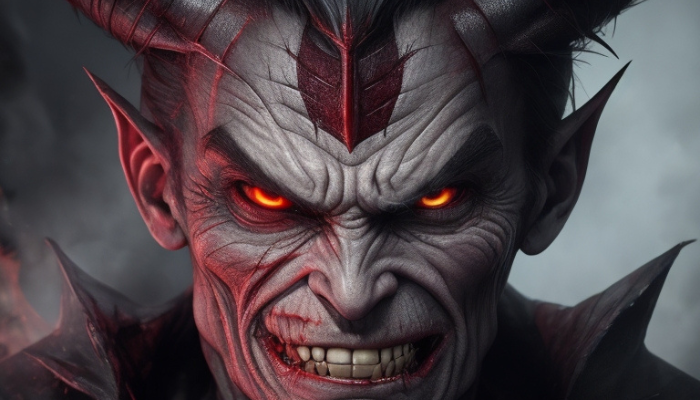 Prompt: An oil painting done in trompe-l'oeil style with intricate, featuring wiccan, gothic, lithograph, macabre, and ornate elements of Evil.
4. Rainforest Tribe
If you want your Midjourney style prompts to glimpse good, use different words like styles, sizes and types of camera lenses.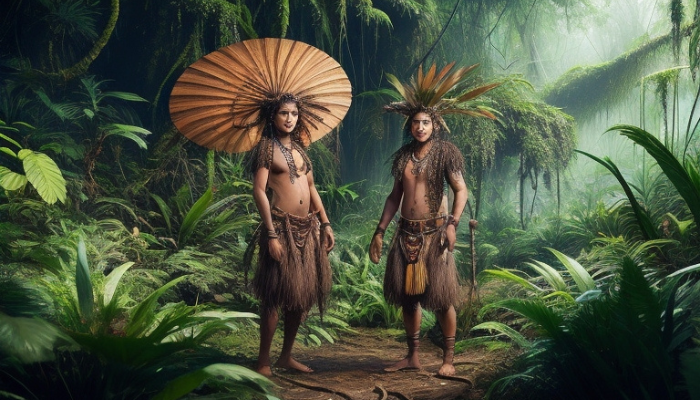 Prompt: Above a pyramid, an ancient woman wearing a feathered headscarf stands prepared to strike.
5. Chameleon
To create really beautiful things, use this one of the best Midjourney prompts.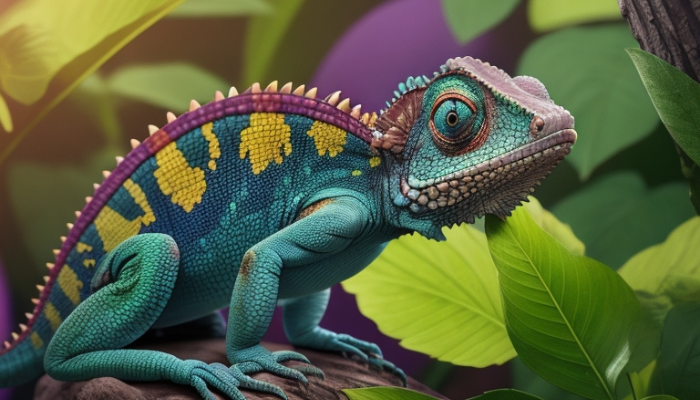 Prompt: A hyper-realistic, symmetrical close-up shot of a lizard in a jungle captured through an anamorphic lens.
6. Action Heroes
With this prompt guide to making superheroes look exciting, use angles and bright colors. Try different perspectives to create the action that stands out.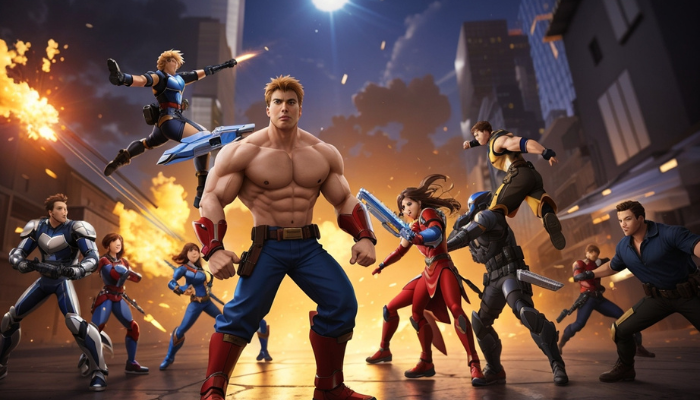 Prompt: A dynamic action scene of superheroes with flying characters fighting in a comic book type, complete with dramatic angles and bold colors.
7. Knitting Grandma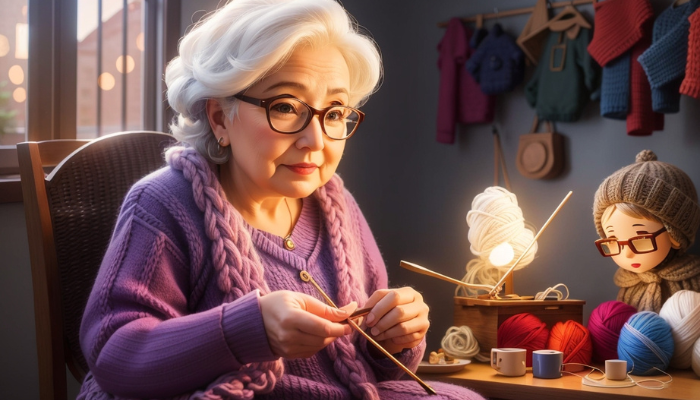 Prompt: A grandmotherly Fortune sits on the comfortable cosmic throne as she weaves the fate of someone together into a continuous collage of fate.
8. Shakespeare Reimagined
We found a really great play that's like a new version of Shakespeare.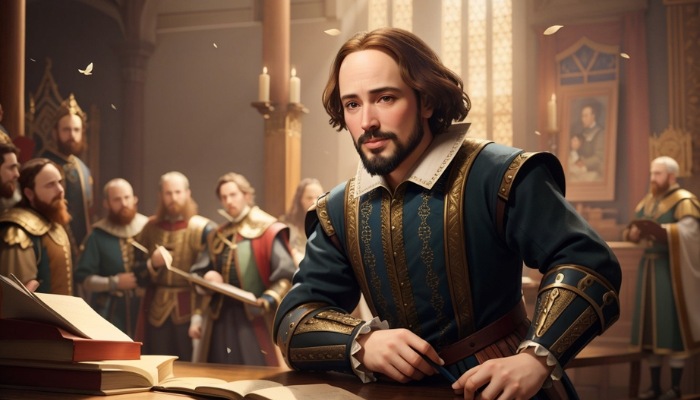 Prompt: Shakespeare's play features yellow mist with an atmospheric set design and acrobatics design.
9. Steampunk Cat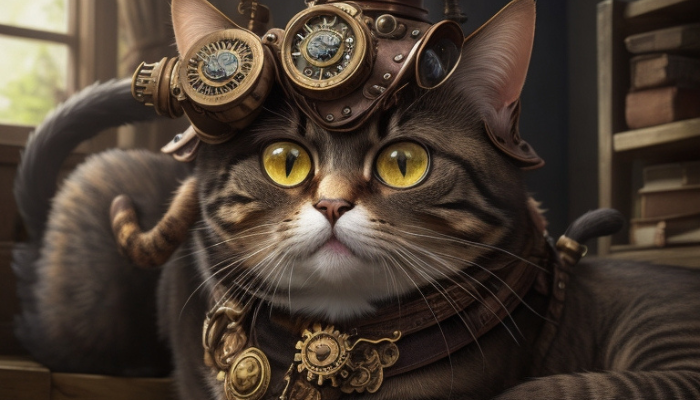 Prompt: A steampunk cat, hyper-realistic, octane render.
10. Wild West Warrior
When creating a post-apocalyptic theme, use rough textures and include details like scars to show that the characters are surviving through tough times.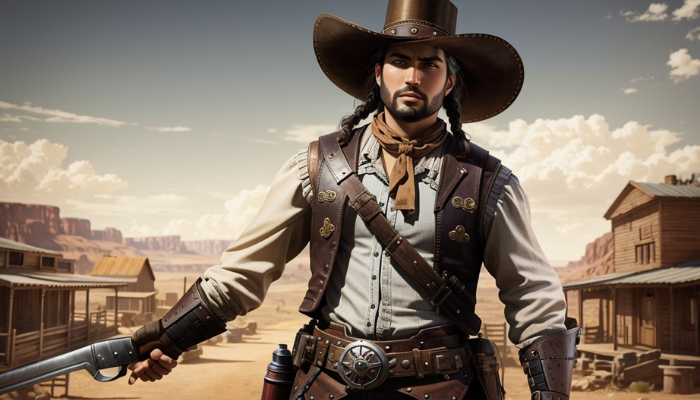 Prompt: A digital painting of an apocalyptic warrior with war scars and weapons standing in the wasteland.
11. The Galactic War
To make a cool space battle scene, use bright colors for lasers and explosions to make them stand out. You also need to show the size of everything.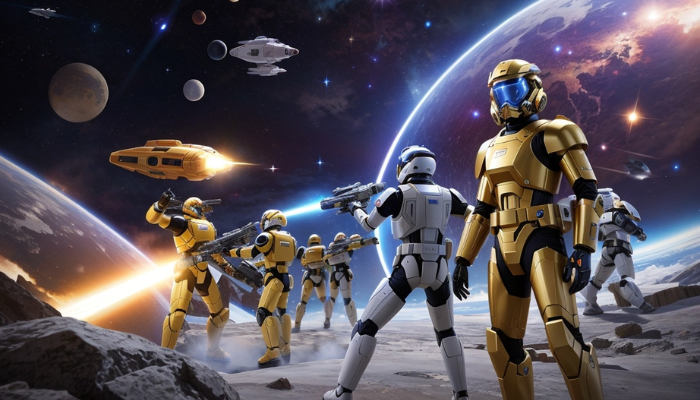 Prompt: A painting featuring intricate spaceships, explosions, and laser beams in an epic battle scene inspired by Star Wars.
12. A Mystery Woman
This style isn't quite Baroque, so Midjourney might not work how you want it to. But it's still a good starting point for creating characters.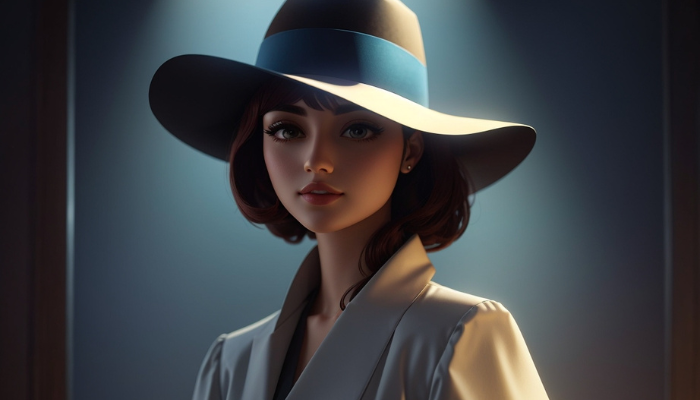 Prompt: A woman with an air of mystery sits on a gothic throne painted in the dramatic Baroque style with slight elements of magical realism and fantasy.
13. Scientist Inventor Steampunk
When making art for a steampunk tune, remember to pay close attention to the mechanical parts, such as leather and metal. Details are important!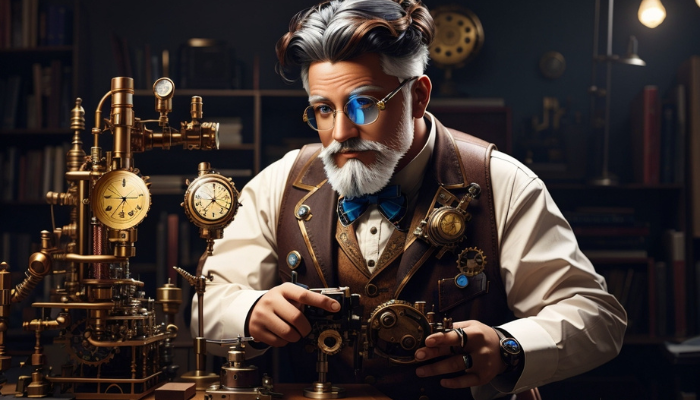 Prompt: A painting featuring the Scientist Inventor Steampunk with goggles, mechanical limbs, and a coat, with a guide on materials and textures.
14. Aquatic Wonders
Taking pictures from above with different lens sizes can create beautiful views. The Barrier Reef has many patterns and colors to capture, which makes it especially stunning when photographed from the air.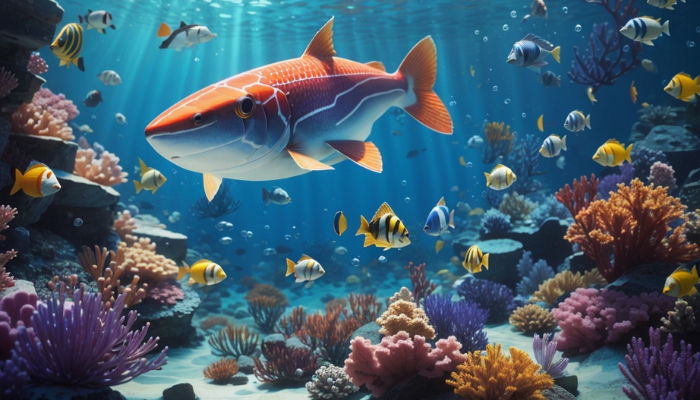 Prompt: An aerial shot of the Great Barrier showcasing the rich colors and intricate designs of the ecosystem, taken at 12mm for utmost clarity.
15. Hacker Boy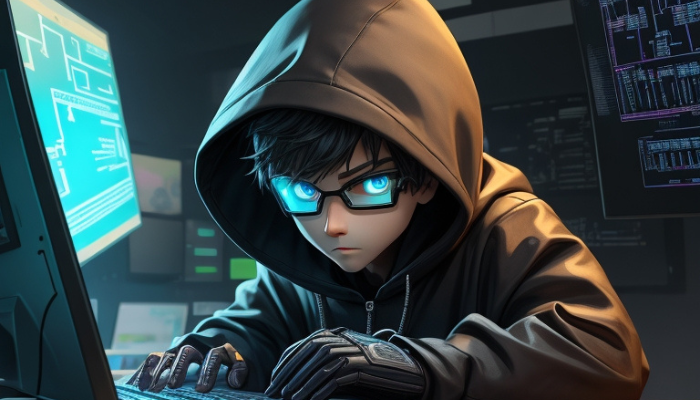 Prompt: A hacker boy with a laptop and a hoodie
16. Street Boy Racer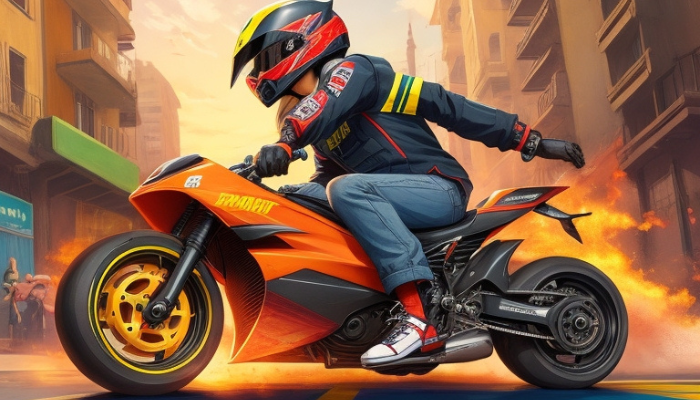 Prompt: A street boy racer with a car and sunglasses
17. Demon Hunter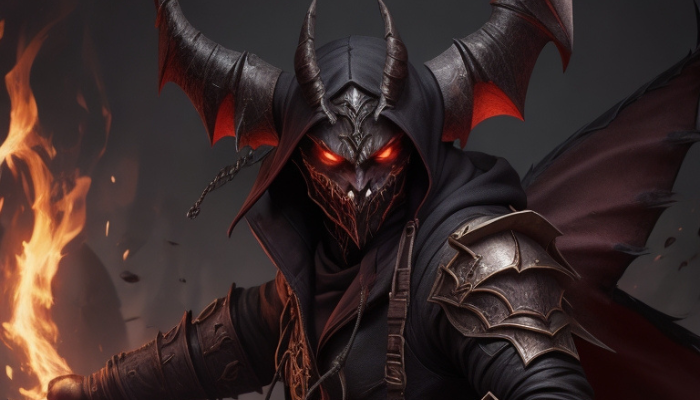 Prompt: A demon hunter with a sword and a crossbow
18. Egyptian Mummy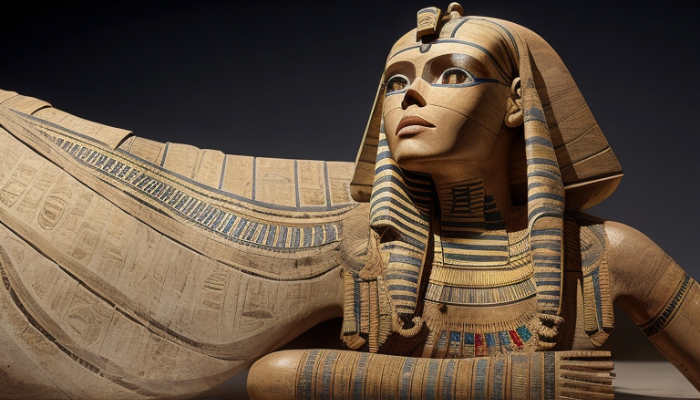 Prompt: Flirtatious and terrifying, an Egyptian mummy emerges from a sarcophagus.
19. Ocean Conquering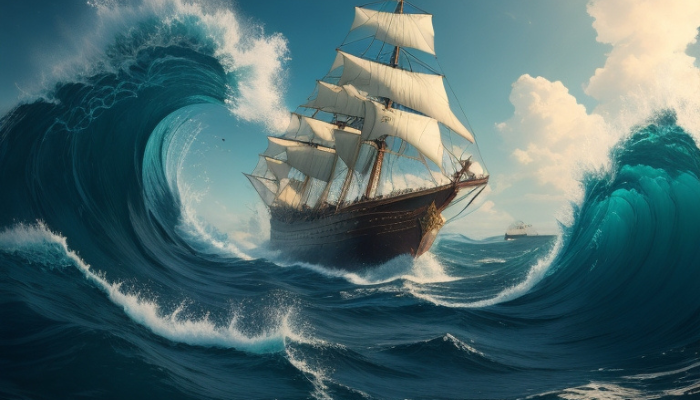 Prompt: A warrior riding on an enormous creature with wings lay wide, as seen from above.
20. Clan of Warriors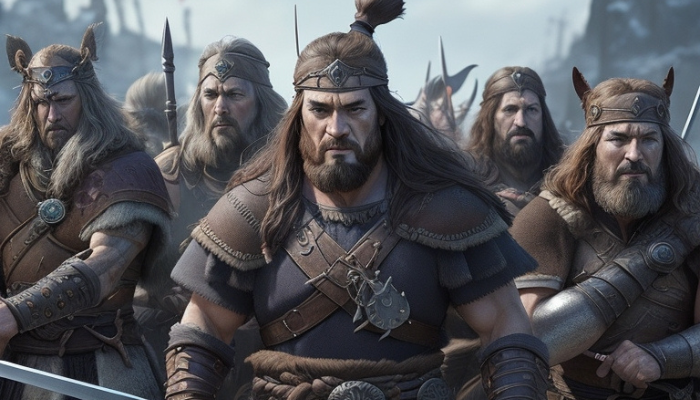 Prompt: A clan of warriors with armor and weapons.
That's it. These 40 Midjourney prompt guides can help you generate the best AI images for sure. These best prompts for Midjourney assistance will also give images better than other Midjourney alternatives.
Conclusion
In summary, here are some of the best Midjourney prompts while testing out the anime AI art generator or AI avatar generator website like NovelAI during our journey. Every picture is unique. Some were created in Midjourney V5, while others used the Niji mode with character-specific and anime models.
Feel free to experiment with different combinations of styles to create the perfect AI-generated art. Use these 40 best Midjourney prompts to continue improving your masterpiece.
FAQs
Is Midjourney down?
We check if Midjourney is working by looking at its status code. If the code is between 400 and 500, like the "not found" error with a 40 code, we say the site is not working.
What are some good Midjourney prompts?
Japanese Garden in Autumn, Floating Island, Haunted Elegance, Helmet Girl, and Scarlet Peace are some good Midjourney prompts.
How do I improve my Midjourney prompt?
Use Accurate Grammar
Be specific
Use easy language
Give reference
How to get Midjourney to write text?
Begin your sentence with the prompt
Repeat your text in the prompt 
Write using quotation marks
Keep it short
Choose your font
Use specific words
Maintain generating variations
Use a photo with the text in your prompt
Why is Midjourney so much better?
Midjourney is a tool that is easy to use and makes good pictures quickly. It's great for people who use Discord a lot and want to try it out quickly.
How to get photorealistic Midjourney?
Use a 6:9 aspect.
Include lighting type
Add 80mm
Use –testp
Use masculine names and feminine names