Do you like creating avatars of yourself online? Well, now you can make them even more cool and personalized with an AI avatar generator!
AI programmed to do things that normally need a human brain to do. AI avatar generator use this technology to create cool avatars for you that look just like you or anything else you can imagine!
This article will tell you about the 15 best AI avatar generators that you can use for free or pay for, and we'll explain how you can use them to make awesome avatars. We'll also talk about the future of AI avatar generators and how they might be used in different industries.
So, if you're interested in creating awesome avatars or AI talking avatars with the help of AI technology, keep reading!
Table of Contents
What is An AI Avatar Generator?
Do you know what an Avatar is? No, not the movie! An Avatar is a picture or a character that represents you online. For example, if you play a video game, you might create an Avatar that looks like you or the character you want to be in the game.
Now, creating an Avatar can be tricky. You have to draw or design it yourself, which can be time-consuming and difficult if you're not good at drawing. However, there are the best AI Avatar generators to help you.
Before that, let's answer some questions related to AI avatars.
How Do I Create AI Avatar?
To create an AI avatar, you need to use software or a website that can generate realistic or cartoon-like images of human faces based on your preferences. Some examples of such tools are Neural Love, Starry AI and more. Also, you can use your photo as a base and apply filters or effects to create your AI avatar.
How Do You Turn Your Photo into an AI Avatar?
To turn your photo into an AI avatar, you must use an online tool that can convert your photo into an anime or cartoon-like avatar. You can upload your photo or enter the URL of an online picture and select your preferred avatar style and facial expression. Then you can download and share your AI avatar online.
List of AI Avatar Generator Free & Paid
Here is a list of the 15 best AI Avatar generators that you can use for your personal or future projects.
AI Avatar Generator
PicsArt
Neural Love
Starry AI
Dyvo AI
AI Avatar Maker, AI Portrait
Portrait AI
Media io
OpenArt
Dawn AI
Lensa
Sommo io
Avatar AI
Appy Pie
Profile Picture AI
Top 15 AI Avatar Generators to Use
Now we will discuss the free ai avatar generator.
1. AI Avatar Generator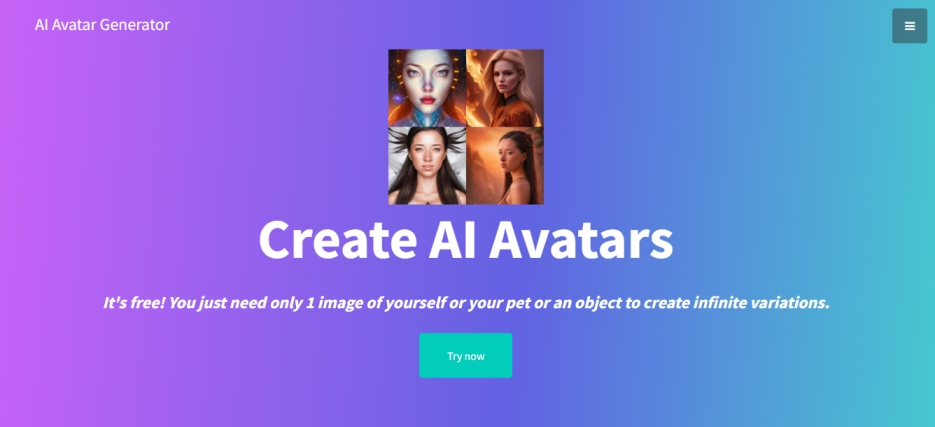 Let's start with an AI avatar generator free tool. To use this tool, click on the "Try Now" option, or otherwise, you can scroll down and start the generation.
This website is not a text-to-image generator. You only need one image of you, your pet, or an item to make an infinite number of variations.
Now upload your image and put some extra feature options. It is clean and easy to use. It will take 10-15 seconds to generate your avatar.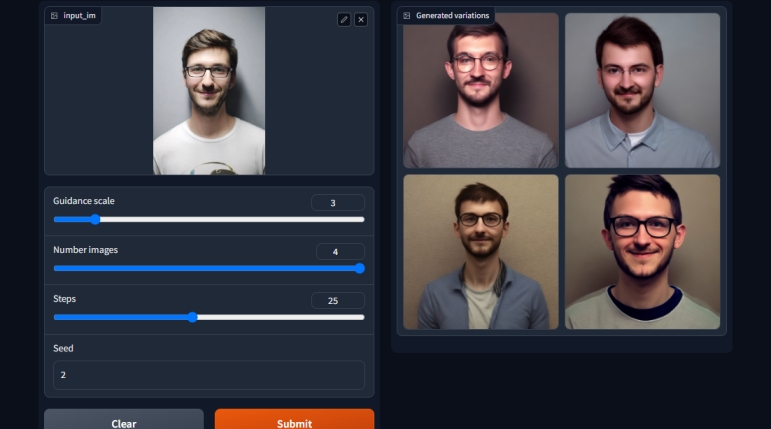 There are only two drawbacks.
You won't get the download option. If you want to download, then you have to take the cursor over the image and download it by right-clicking.
Sometimes an error appears. However, if you refresh the page, it will be correct.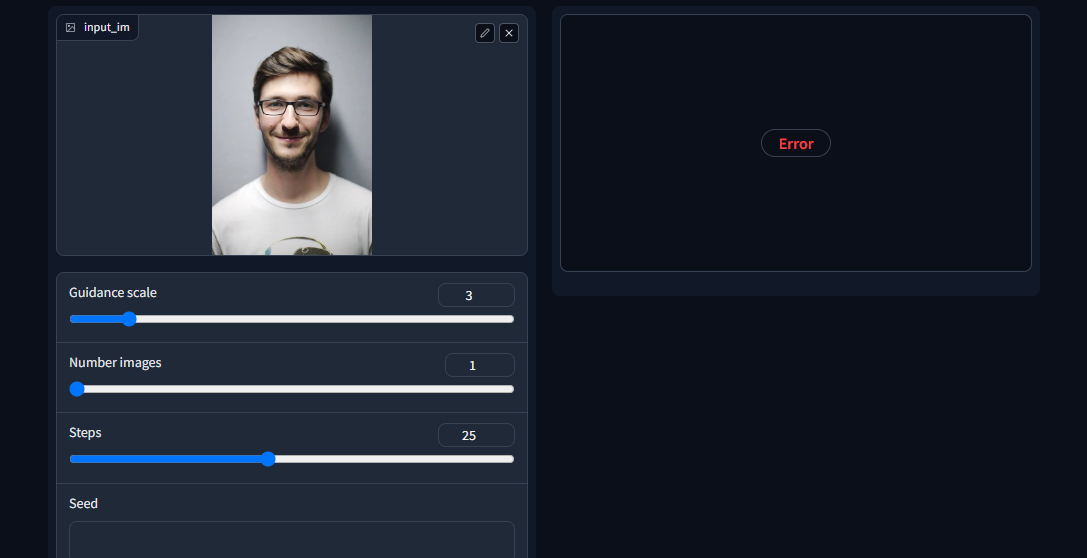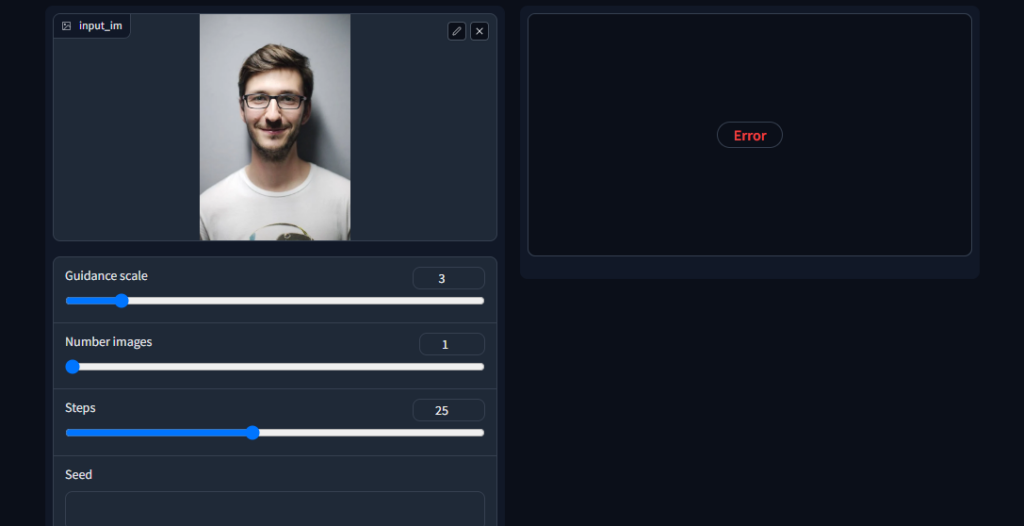 Price
Free
Visit: AI Avatar Generator
2. PicsArt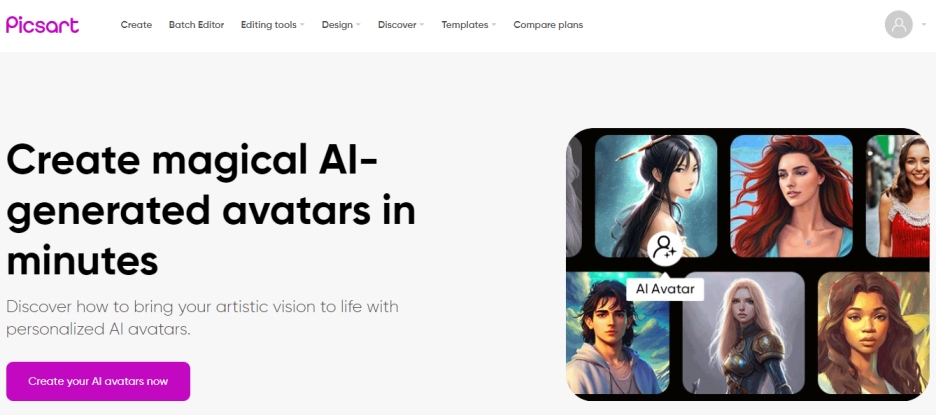 PicsArt is one of the best AI avatar generator free online tools. In PicsArt, you can create your own avatar using AI in minutes. When you use AI in PicsArt, it can help you create a unique avatar that looks like you but with a fun twist!
PicsArt is a mobile app that you can download from Play Store and App Store. To use PicsArt on your phone or tablet, follow these simple steps:
Once you open the app, sign in and click the " search " sign. Then, search " ai avatar ".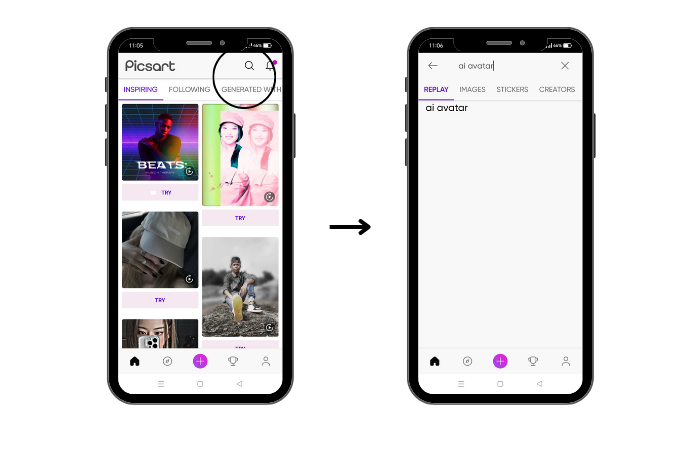 Then, choose the preferred template and tap on it. After that, click on the " choose my photo" option and select your own image.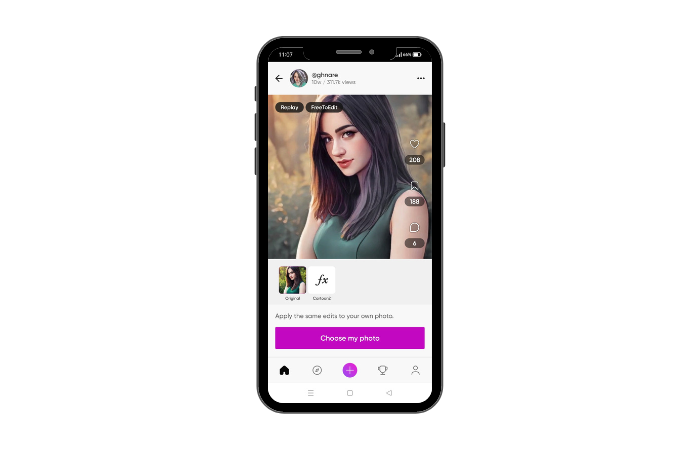 Then, you choose the AI Avatar feature and let the app work its magic. It will even add some fun elements, like cute accessories or funky hairstyles, to make your avatar unique.
Once you modify it, click the "save" option and download it.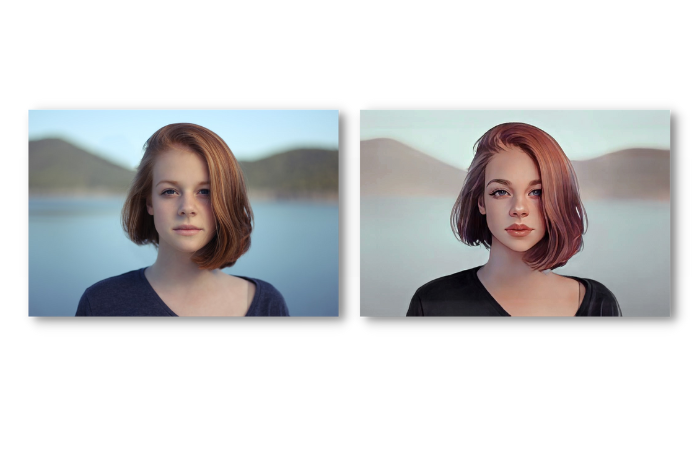 One drawback of Picsart is that you will get to see so many ads in the free trial, which seems irritating.
Price
Free
Visit PicsArt: Play store | App store
3. Neural Love
Have you heard of this website before? If not, then after knowing it, you will not be able to forget it. It has its reason too. Neural love is one of the finest AI avatar generator free tools if you are looking for an AI tool but a paid one. Let me guide you on how you can use this software.
First, you must click the link given below.
Scroll down a little bit, and you have to choose "category." After that, you can upload your images up to 100 images. A minimum of 20 images have to be uploaded.
There is a drawback here. You have to pay $10 for the images. It will take approx 90 minutes. Once the AI is ready, they will mail you. However, you can get higher image quality.
Price
$10 for images
Visit: Neural Love
4. Starry AI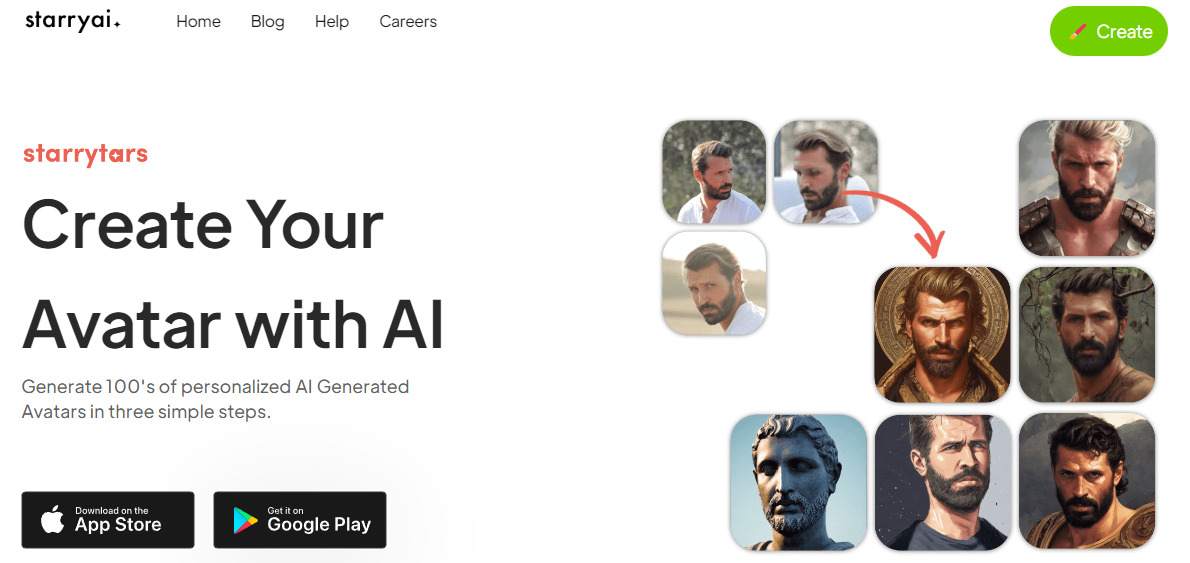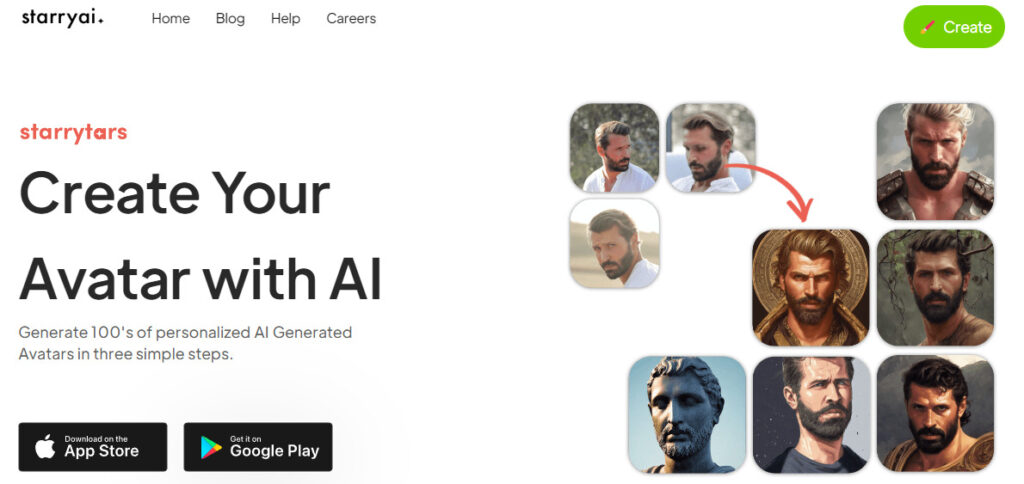 You know how in video games and movies, there are sometimes characters that aren't real people, but they look and act like they are? Those are called avatars, and Starry AI is really good at making these kinds of avatars!
With this AI, Starry AI can create avatars that look and move just like real people, or animals, or even imaginary creatures!
How do they do it? Well, first, they gather a lot of data about what the avatar should look like and how it should move. Then, they use their AI to analyze that data and figure out how to create the avatar. It's similar to solving a puzzle, but instead of using your hands to piece it together, Starry AI uses a computer program to assemble the avatar.
How to use this free AI avatar generator tool? See these simple steps.
Click the " create " option. After that, select which type of AI you want. After selecting, you can upload the image with a text prompt.
You can start with a minimum of 4 images simultaneously. Also, you can choose your style from various settings. The advanced option is only for paid users.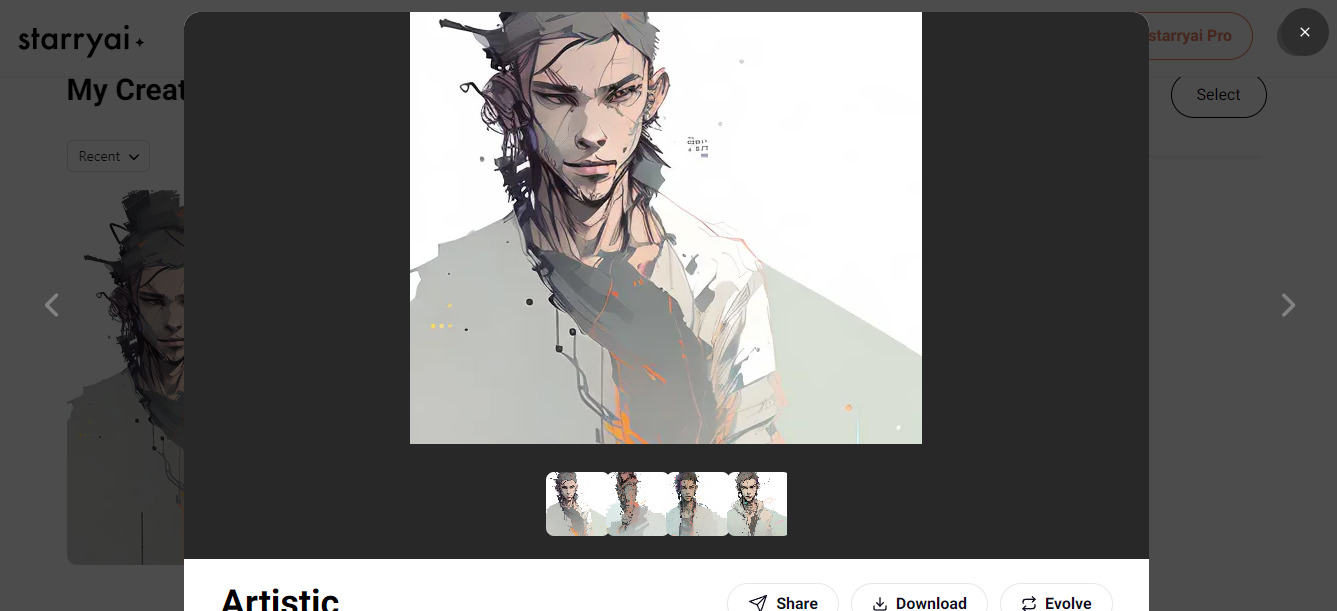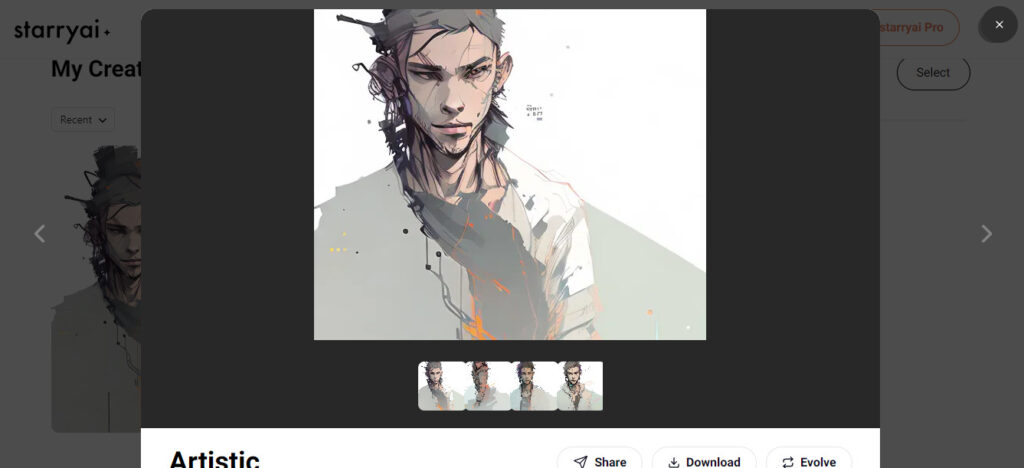 However, you can get 5 credits in the free plan. After that, you can download it.
Price
Free (5 credits)
Visit Starry AI: PC | Play store | App store
5. Dyvo.ai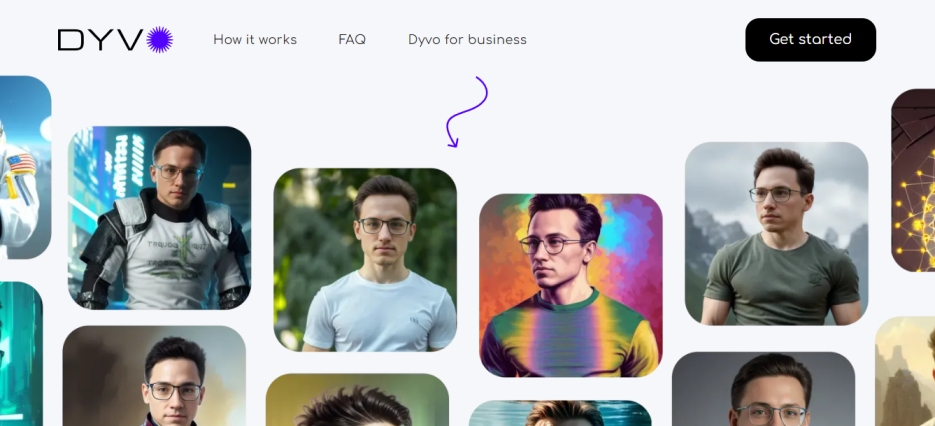 You can use its website or download the app from the store. Create 100+ avatars, images, and profile photographs quickly and easily.
First, visit the website. Click the "Get started" button. You must sign in with Dyvo. Then click on "Create avatar. "
Then, choose your plan and appearance. After that, you can upload your own image. There will be more than six avatars created for each design. Most of them will be excellent, as shown below.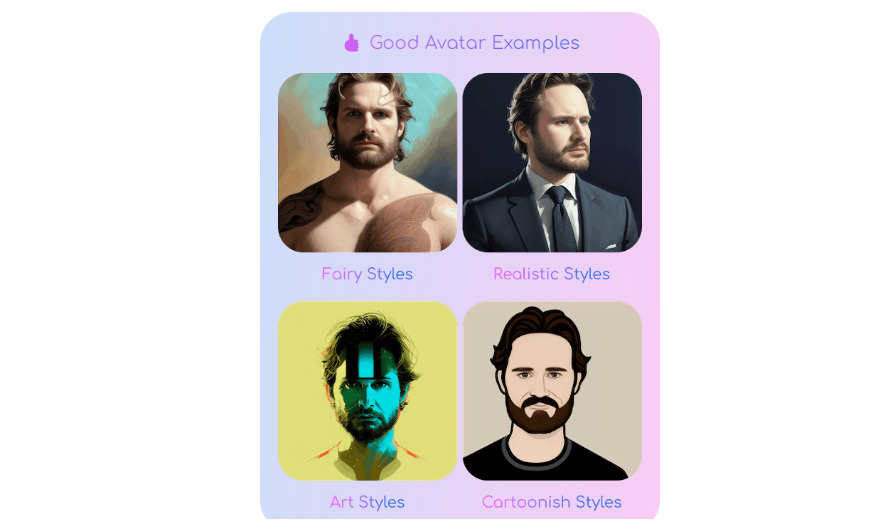 Note: It is a paid app. you have to pay for AI images. Look at the image below for plans.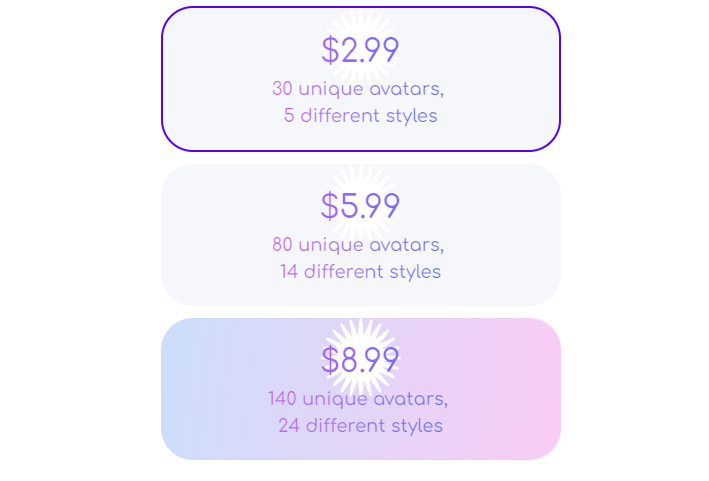 Visit Dyvo.ai : PC | Play store | App store
6. AI Avatar Maker, AI Portrait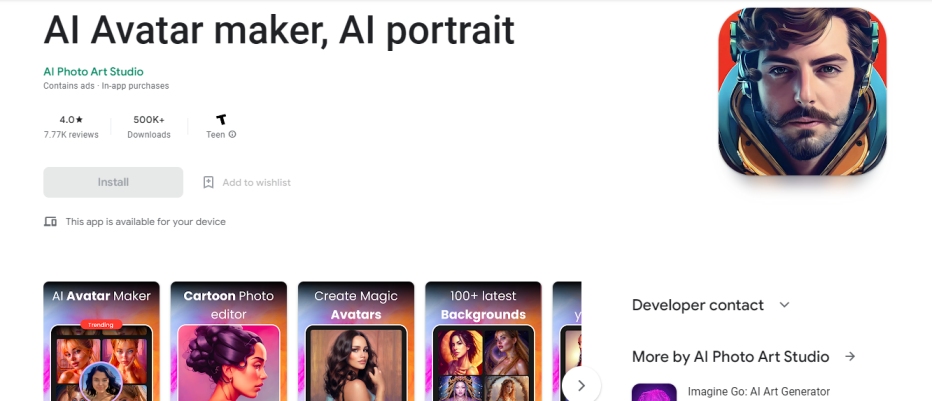 Yes, you heard it right. This is an application.
After installing the app, launch it. Click on the "Create" option.
Due to Ads, users may face difficulty in using this tool. But this guide can help you to use it step by step.
Choose the style in the next step. Then upload your image.
After that, it will be downloaded automatically to your device.
It is very simple to use. The drawback is that it comes with a lot of ads like Picsart. The Ads pop up suddenly when you move to the next step. However, this tool is awesome.
Price
Free
Download: AI Avatar Maker, AI Portrait
7. Portrait AI

Portrait AI is one of the best AI avatar generator free tools out there. The app version of the Portrait AI tool is also available on App Store and Play Store. However, if you want to generate an avatar on the website, you can.
The portrait style is similar to the 18th-century style. Also, there is a share button which can help you to share your avatar instantly.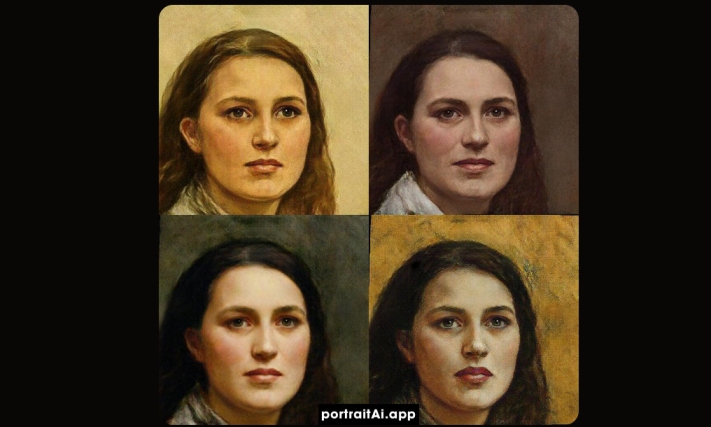 One drawback of using the Portrait AI website is that you will not be able to make some customizations.
If you really want to do some customization, use the app version. You will be able to use more than 100 latest and trendy filters. And many more modifications such as Halloween, Cartoon, Child, Portrait HD and many more.
Portrait AI App Version
Steps to use it.
Open the Portrait AI app.
You have to select your image, or you can take a selfie. Once you upload the image, it will automatically generate the AI.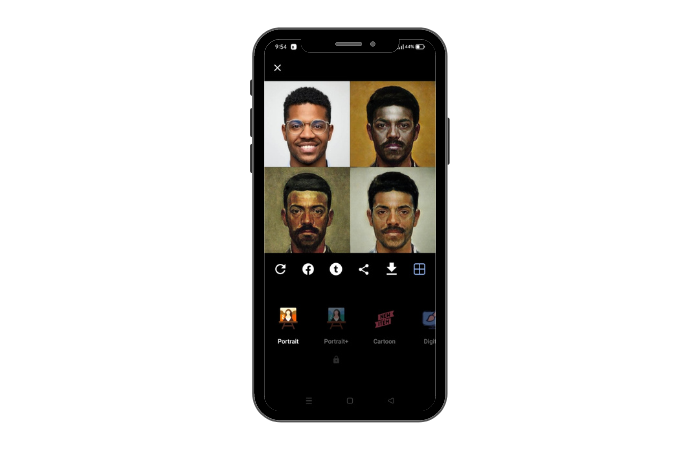 The great thing about using this app is you can get various options. Only "Portrait +" is available to paid customers.
Price
Free
Visit Portrait AI: PC | Play store | App store
8. Media.io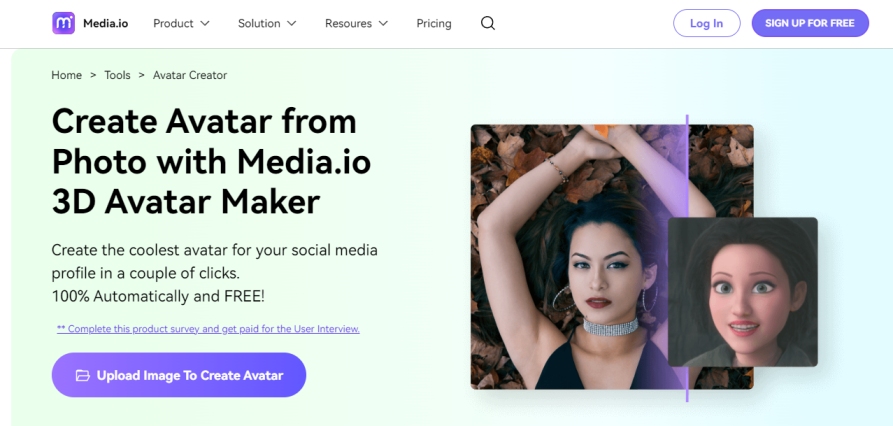 Media.io is a free AI avatar generator tool available on every device with an easy drag-and-drop user interface that instantly lets you turn any picture into a beautiful, dynamic avatar with visual effects. With the help of this avatar maker, you can create multiple avatars from a single image. It has a reliable SSL certificate that safeguards users' anonymity by erasing sensitive data within 24 hours.
Steps to follow:
To add a local file, pick the "Add Photo" button or simply drag and drop your selfies onto the surface.
To create your avatar, simply choose from various styles and your preferred facial expression. Next, select "Start to Process."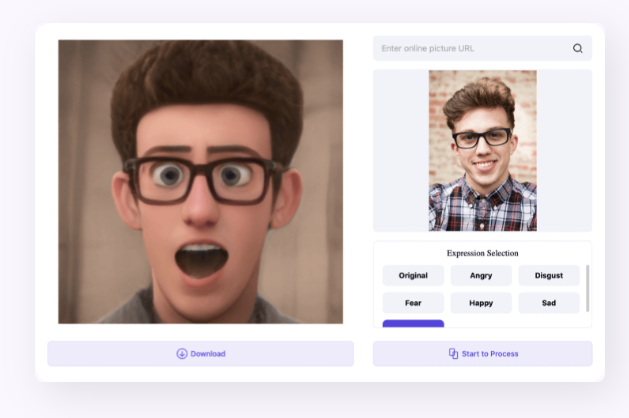 Now select "Download" to save your final character.
Price
Free
Visit: Media.io
9. OpenArt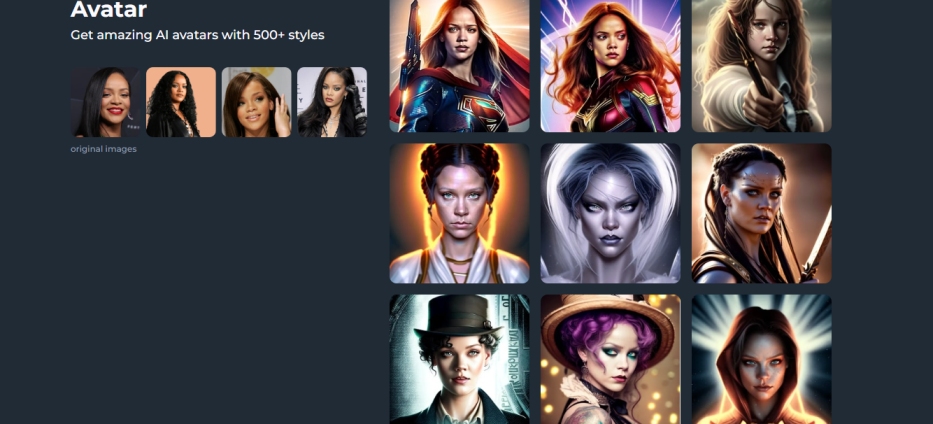 Steps to use OpenArt AI.
Click on "Start Training" as soon as you visit Openart.
Following the completion of your model training, each style produces 8 images. Later, you can decide whether to create more images for each design.
After that, you have to select one option out of two options. 1st option is to personalize the image ($10 per model), and the 2nd option is to use advanced features.
On the next page, select the style package. Look at the image given below to see what kind of package it is.
Lastly, pay $10 to generate the AI.
Price
$10 to pay for package
Visit: OpenArt
10. Dawn AI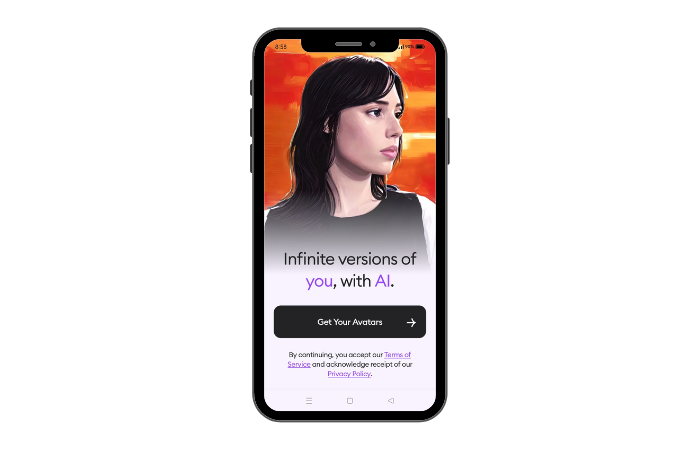 Dawn AI helps you create your own digital character, also known as an avatar. It's a bit like creating your own cartoon or video game character that you can use to represent yourself online. Also its not a web-based tool.
To use the Avatar Generator, you'll need to download the app from the store.
On the next page, you'll see a bunch of different options for customizing your avatar. You can choose things like the shape of the face, the colour and style of the hair, and the type of clothing your avatar wears.
Once you select the pack, you have to buy for rs480 per week.
Then your AI avatar will be generated.
Price
Rs480/week
Visit Dawn AI: Play store | App store
11. Lensa AI generated avatar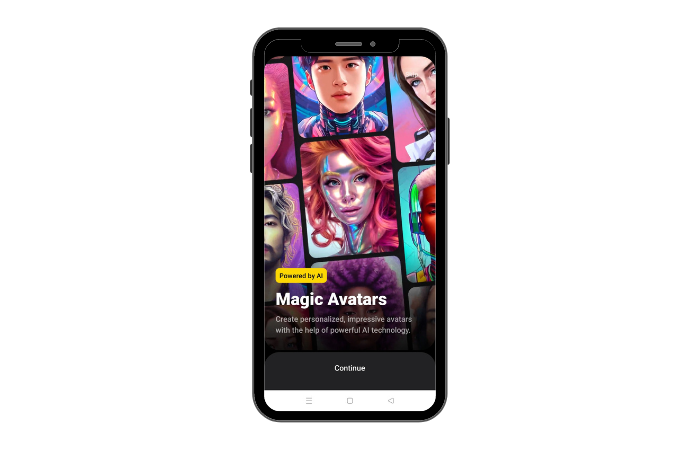 The best feature is its UI. Very easy to use. In Lensa AI generated avatar, you can start your 7 days with the free trial.
Select "type" and your gender (if you selected Human)—various styles to choose from. You must upload 10-20 images of yours.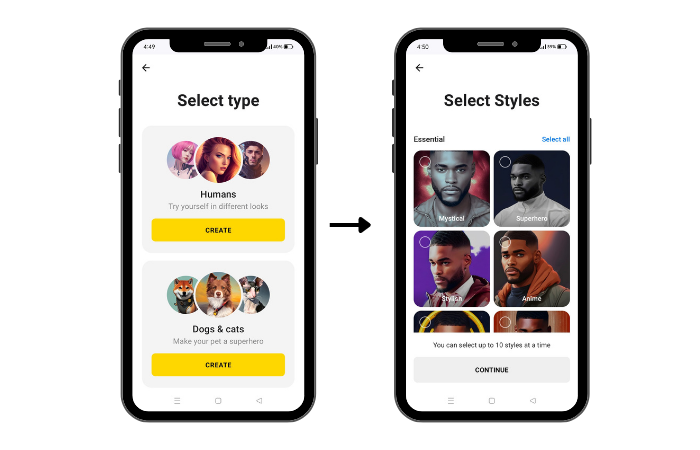 Then you have to purchase the plan, and finally the AI avatar will be generated instantly.
Price
50 avatars 380rs
100 avatars 590rs
200 avatars 790rs
Visit Lensa: Play store | App store
12. Sommo.io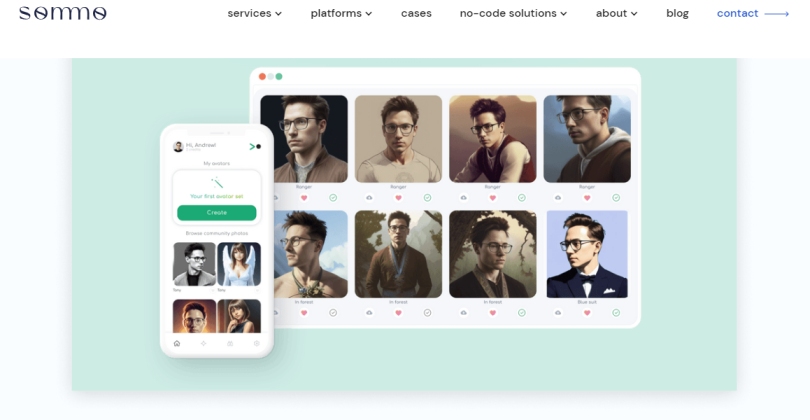 The app is designed for guidance with the Dreambooth and Stable Diffusion v1.5. Users can upload and then crop their photos, start generation, examine results, and make an avatar. Also, users can explore fashions and public photographs. The template is responsive on both PC and mobile devices.
Price
Purchase for $149
Visit: Sommo.io
13. Avatar AI

Most AI avatar creation websites produce results that are hardly suitable for social media. Avatar AI claims that they provide only realistic 4K renders to you, making them ideal for use as profile photos, posts on social media, or even printing on items like posters, paper, or clothing.
Give the AI your best photos, and it will generate them within 40 minutes. So for that, all you need to do is pay 826rs and create the best avatar.
As of now, millions of people purchased. However, you can get discounts if you buy today and get in 826rs instead of 2479rs.
Price
2479rs (You can check the present offer by visiting the website)
Visit: Avatar AI
14. Appy Pie


Create unique NFT avatars to represent yourself in a unique manner. Create custom cartoon images with distinctive appearances using Appy Pie's avatar maker. Your online persona looks cool, thanks to Appypie, which also helps you stick out from the competition. Make lovely avatars right away by using this AI avatar generator!
You can get some features, including unlimited customization, cost-effectiveness, 24*7 customer support, safety and security etc.
Price
You can start with 7 days free trial. PRO plan starts from $6/month.
Visit: Appypie
15. Profile Picture AI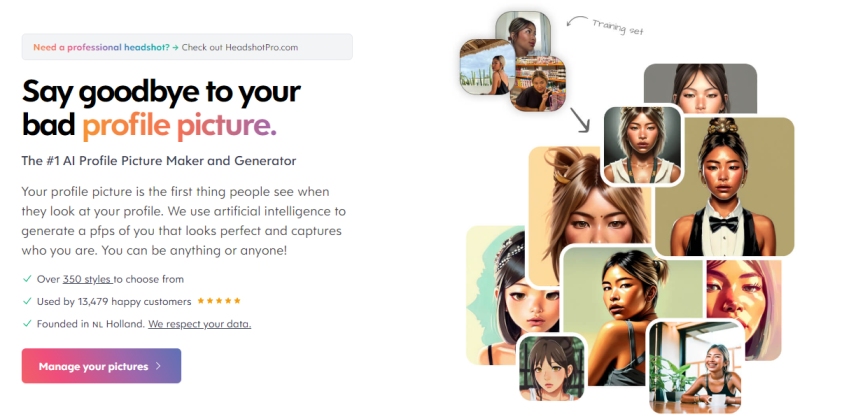 Profile picture AI is one of the best AI avatar generator software. This tool creates a pfps of you using artificial intelligence that appears perfect and accurately depicts who you are.
From 350 styles to user-friendly to customization, you can get everything you are looking for. Once you buy the plan, you are ready to upload your own image.
Price
Look at the price plans below.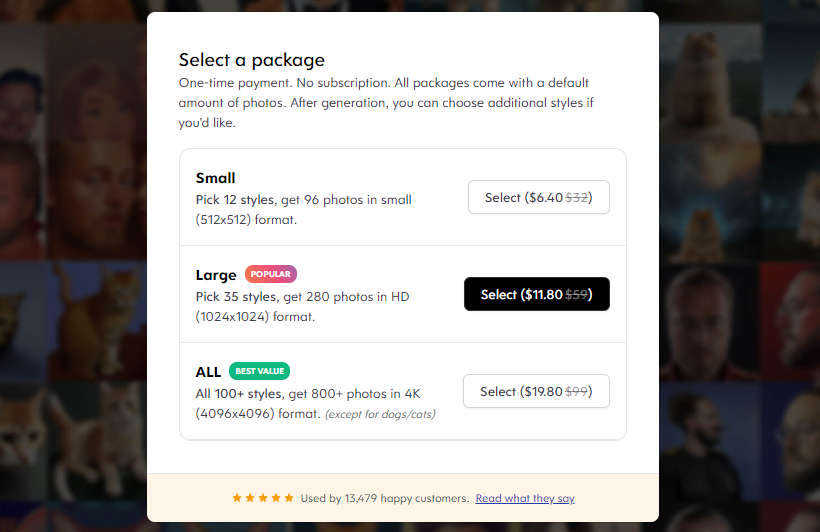 Visit: Profile Picture AI
There are three honorable mention art generators you can also try. These are as follows:
Midjourney
DALL-E 2
If you are searching for more AI generators, consider exploring our article related to Midjourney alternatives.
If you wish to understand more about AI avatar generators, you can check out this YouTube video.
Advantages of AI Avatar Generator
Let's talk about some of the advantages of using an AI Avatar Generator:
1. Time and Cost Efficiency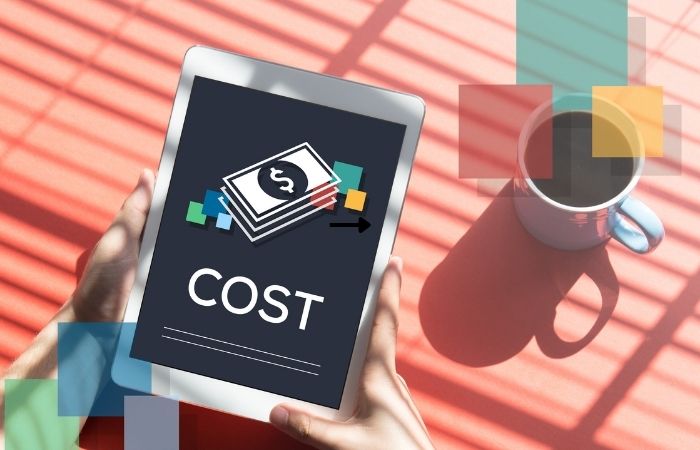 AI Avatar Generators can create a personalized avatar for you quickly and easily, which saves you time and money. Instead of spending hours trying to design an avatar from scratch, you can simply input your preferences and let the AI Avatar Generator do the work for you.
2. Personalization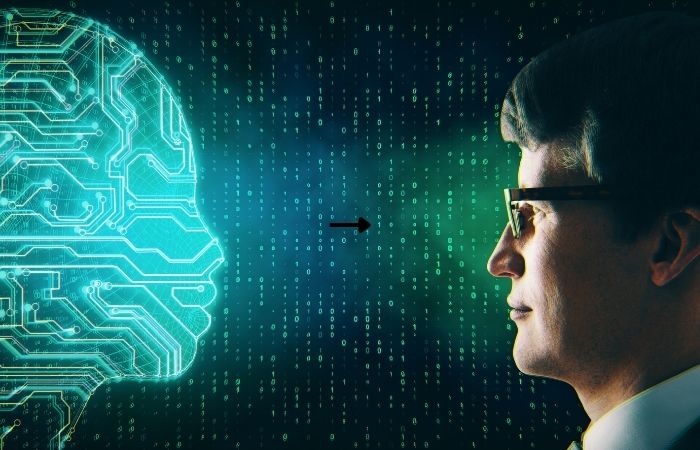 One of the great things is that they can create avatars that look like you. You can customize the features, such as the hairstyle, skin tone, and clothing, to make it look just like you! This makes it easy to create a unique online identity that represents you.
3. Scalability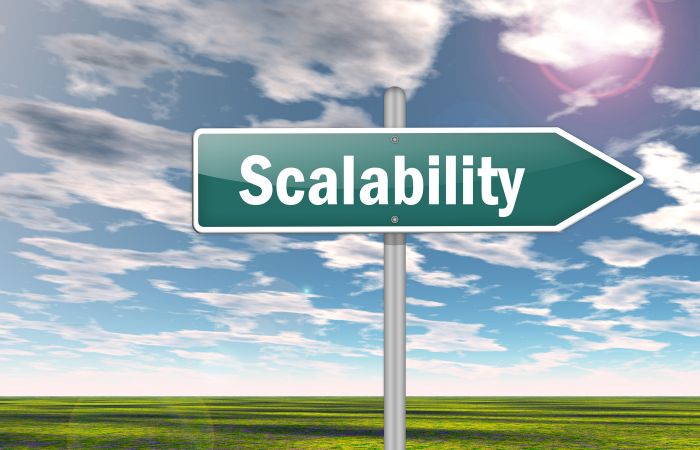 AI Avatar Generators are also scalable, which means that they can create thousands of avatars at once. This is particularly useful for businesses and organizations that need to create avatars for a large group of people. They can use the AI Avatar Generator to create unique avatars for everyone quickly and easily. You can also sell your art to make money, though.
Ethical Considerations
With every cool thing, there are some things we need to think about to make sure it's used in the right way. There are three big things we need to consider when it comes to the AI Avatar Generator: Representation Bias, Privacy Concerns, and Potential Misuse.
1. Representation Bias
It is when the AI Avatar Generator might accidentally make some characters that look more like some people than others, and this could be unfair. We want to make sure everyone is represented equally and fairly.
2. Privacy Concerns
It means that we need to make sure people's information and personal details aren't being shared or used in ways they don't want them to be. We need to keep everyone's privacy safe and secure.
3. Potential Misuse
It is when someone might use the AI Avatar Generator in a bad way like to trick people or cause harm. We need to make sure people use it for good things and not bad things.
So there you have it! Always remember to think about the ethical considerations of things we use and enjoy to make sure we're doing the right thing!
FAQs
How to create an AI generated avatar?
How to create an AI generated avatar? Follow the steps.
Step 1: Choose an AI Avatar generator. Step 2: Customize your Avatar. Step 3: Fine-tune your Avatar. Step 4: Save and share your Avatar.
Is there any free AI avatar generator?
Is there any free AI avatar generator? Yes, The AI Avatar Generator website is completely free to use.
How does an AI avatar generator work?
The AI Avatar generator takes this input and generates a unique Avatar that matches the user's specifications.
Which AI avatar tool is popular nowadays?
Lensa AI software is quite popular nowadays.
Is Dawn AI free?
Yes, you can create your avatar in Dawn AI completely free.
Conclusion
So, we've talked about how an AI Avatar generator can create awesome Avatars for us, and now it's time to show you some of the best ones out there!
There are numerous choices available, both free and paid. Some of the best ones include Bitmoji, Zmoji, and Avatar Maker. From PicsArt to Lensa ai generated avatar, these tools allow you to create Avatars that look just like you or whatever character you want to be!
With AI, you can customize your Avatar's hair color, eye shape, clothes, and more. Some even let you add accessories like glasses, hats, and jewellery. It's so fun to create your own Avatar and use it to represent yourself online!
Whether you're into gaming or social media or just want a cool profile picture, an AI Avatar generator has got you covered. And the great part is that you don't have to be an artist to create an awesome Avatar – the AI does it all for you!
So, if you wish to create your own Avatar and show off your creativity, check out some of the best AI Avatar makers available in 2023. Have fun creating!