Check out these 35 free and paid Canva alternatives to make your designs stand out. Here is a look at some of the most popular graphic design tools, and we'll find which one is best for you.
Table of Contents
What to Look For in Canva Alternatives
If you're looking for Canva alternatives, there are a couple of important factors to keep in mind.
Ease of Use: Find a user-friendly platform without a steep learning curve.
Features: List the features you need and choose a design tool that matches your requirements.
Templates and Design Elements: Make sure there are different templates and design elements available as options.
Cost: Consider your budget. Some Canva alternatives may be free or have a limited free plan, while others require a subscription.
Export and Compatibility: Make sure you can export designs in the right formats.
Collaboration Tools: Consider collaboration tools like real-time editing, commenting, and file sharing if working with a team.
Customer Support: Make sure the Canva alternatives have good customer support.
Reviews and Recommendations: Check reviews and recommendations from other users of the alternative.
Integration: Make sure the design tool can integrate with other software and platforms if needed.
Updates and Development: An up-to-date tool is more likely to remain relevant and offer new features.
What are Free Canva Alternatives
These are free Canva alternatives to look for.
Mockey
BeFunky
VistaCreate
FotoJet
Snappa
Visme
Desygner
Pablo
Fotor
Easil
Pixstudio Pro
Stencil
Mac photos editing basics
Piktochart
Polarr
Design Wizard
Wideo
Kapwing
What are Premium Canva Alternatives
These are premium Canva alternatives to look for.
Limitless Designs
CorelDRAW
RelayThat
Pixlr x
Mega Creator
DesignPickle
Adobe Express
PicMonkey
Photoshop
Luminar Neo
Movavi
PlayPlay
Best Canva Alternatives Free and Paid for You
Here are the best free and paid alternatives to Canva.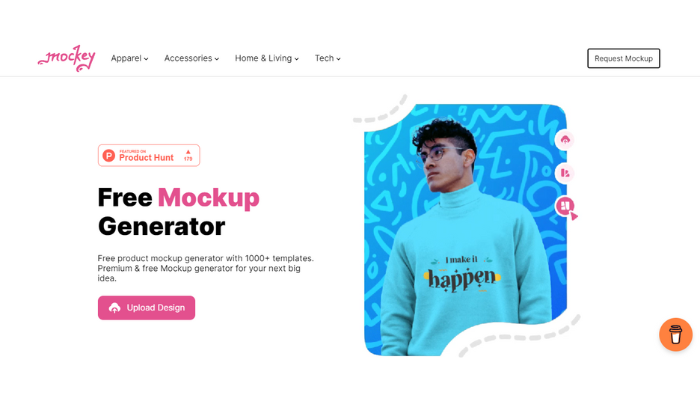 Although Canva is commonly used for graphic design, it also has a feature called mockups. However, not all templates in Canva are free. That's why Mockey is one of the best Canva alternatives when you look for similar high-quality templates to make mockups.
Mockey is easy to use. You can customize with various features and download mockups with no watermark.
Mockey Pricing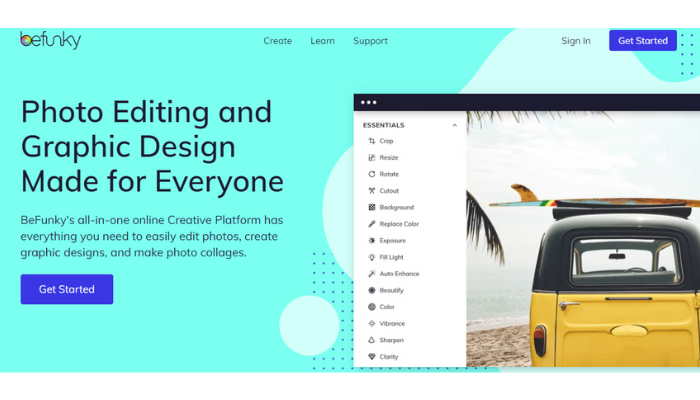 The Befunky is one of the Canva alternatives for picture editing, collage making, and graphic creation.
This tool offers a variety of templates for popular social media platforms. BeFunky enables you to store your designs on your device, Google Drive, or Dropbox account.
Even though you can access around 120 image effects and download a few complete images without making an account, unlocking the app's full potential requires opting for the premium version.
BeFunky Pricing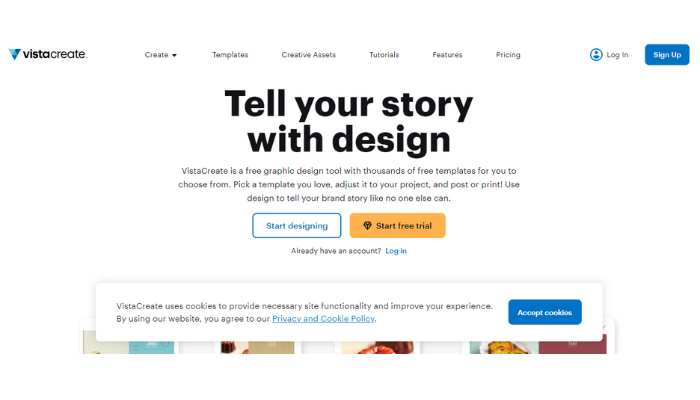 Canva is not the only graphic design tool available online, but VistaCreate is a powerful Canva alternative.
With a vast collection of more than 150,000 pre-made templates, VistaCreate makes sure you'll never run out of new ideas or current trends.
The generous free plan offered by VistaCreate will be sufficient for a large number of users, especially one-person businesses like freelancers that require a capable Canva alternative.
If your organization has multiple members, you might want to think about purchasing VistaCreate Pro. Another great feature of VistaCreate is being able to starred templates.
By enabling fresh features like collaborative editing, you can collaborate with your colleagues to produce brand assets and visual content for your company or nonprofit.
VistaCreate Pricing
| | |
| --- | --- |
| Plan | Price |
| Starter | $0 per month |
| Pro | $10/month (annually)$12.95/month (monthly) |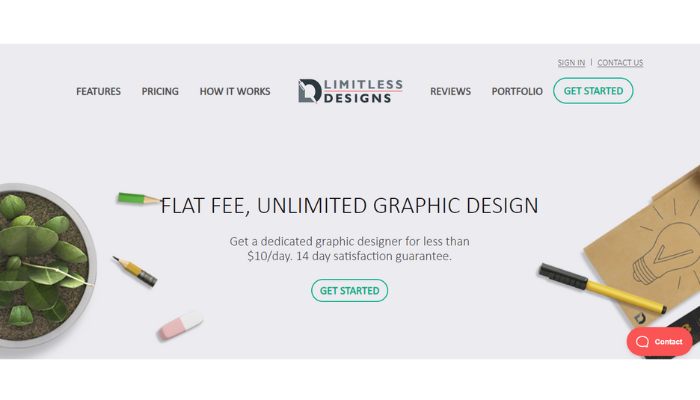 If you don't feel like designing on your own, you will love Limitless Designs! It's just like Canva, but even better.
When you join their Unlimited Plan, they hook you up with a graphic developer who will operate with you.
Because you collaborate with a similar designer, Limitless Designs has the advantage of immediately learning about what you like. This is the best option if your company is still unable to afford its own designer.
As an alternative, use Limitless Designs to handle minor projects to ensure your employees can use design software to work on more crucial projects.
Limitless Designs Pricing
| | |
| --- | --- |
| Plan | Price |
| Starter | $549 per month |
| PRO | $999 per month |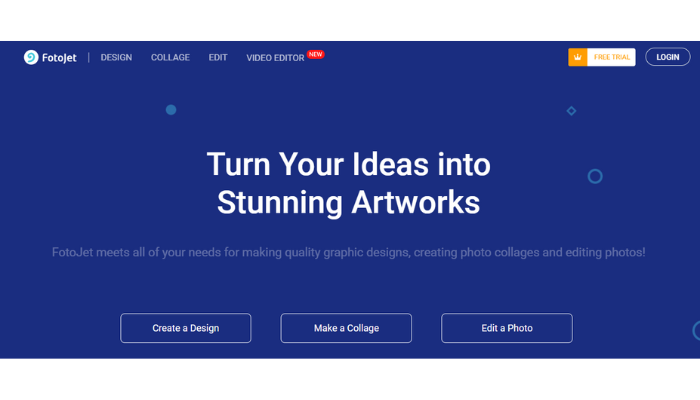 If you find yourself heavily involved in branding projects, FotoJet is the perfect solution for you. A great alternative to Canva, it allows you to utilise custom typefaces.
Additionally, FotoJet provides an extensive collection of templates for creating invitations for major social site platforms. One of the most attractive features is that you can access it offline.
FotoJet Pricing
| | |
| --- | --- |
| Plan | Price |
| Free | $0 per month |
| Plus | $6.99/month or $39.99/year |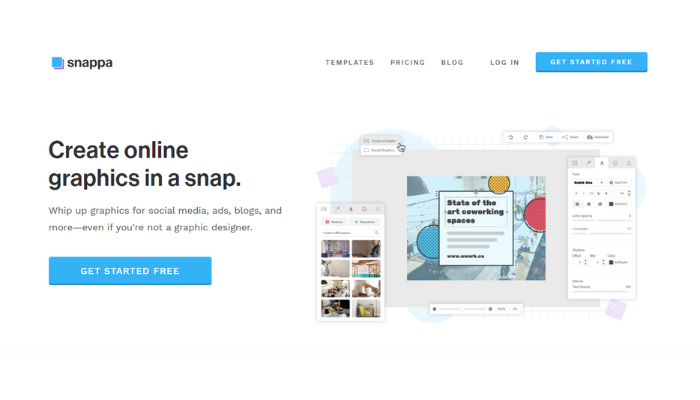 Snappa is also among the top free Canva alternatives. For startups, particularly those who frequently use social networking platforms, Snappa is a great design tool.
In comparison with similar tools, Snappa's free version has no limitations. But you'll need to choose the premium version if you wish to make more than 5 images/month.
Also, the free plan does not support the usage of customized fonts. You can easily blur any video like Canva.
Over 5,000 templates are available on Snappa. Therefore, you are sure to find a template here if you need one for Facebook, email, Twitter, or the majority of other social networking platforms.
Snappa Pricing
| | |
| --- | --- |
| Plan | Price |
| Free | $0 per month |
| Pro | $10/month (annually) $12.95/month (monthly) |
| Team | $20/month (annually) $24.95/month (monthly) |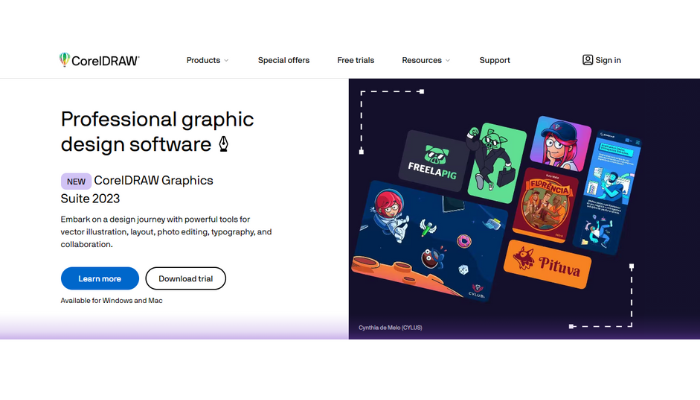 CorelDRAW comprises three applications: Klex, Cloud, and Designer, all of which are user-friendly and completely free. It is possible to get help from the community and tutorials if you get stuck.
If you have prior experience with CorelDRAW, Cloud proves to be the ideal choice. The designer primarily cares about graphic designers, whereas Klex is better suited for users seeking help with various fonts and tasks.
CorelDRAW provides templates for major social networking platforms along with the option to create custom sizes.
CorelDraw Pricing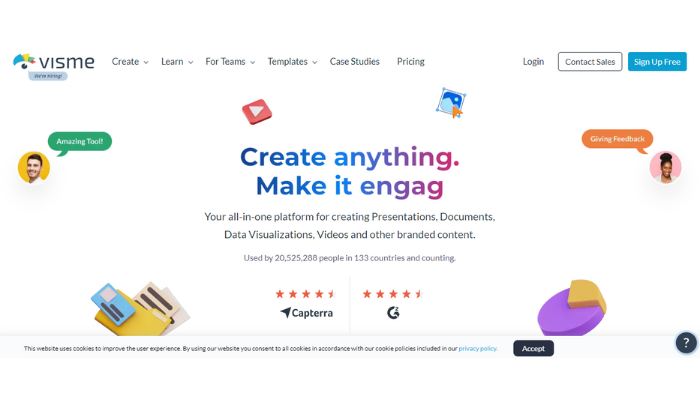 Because Visme focuses on complex designs like marketing documents and infographics, it's more costly than other Canva alternatives.
It's excellent for those looking for websites similar to Canva that, however, enables you to create widgets and charts only for sharing within your organization.
Visme offers a comprehensive set of collaboration tools, encouraging effortless teamwork and seamless sharing of your products with your team.
Whether to draw lines, make gradients, highlight text or curve text, you can easily do this with this design tool.
Individuals, such as social site marketers, will discover these features especially beneficial.
Visme Pricing
| | |
| --- | --- |
| Plan | Price |
| Free | $0 |
| Standard | $25/month |
| Business | $49/month |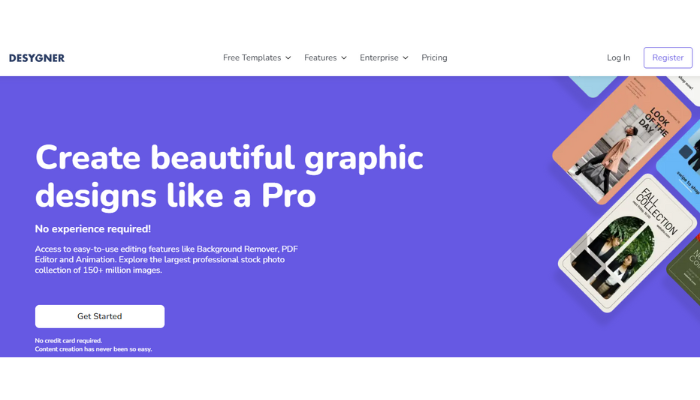 Canva and Desygner share a similar interface. A variety of free templates and images are available for you to use when creating invitations, tweets, Facebook posts, cards, banners, and even business logos.
The only challenge you'll face is if you're suffering from writer's block. The Desygner tool accepts PPT files and PSD types, which is great news if you don't wish to generate pictures or logos.
Desygner Pricing
| | |
| --- | --- |
| Plan | Price |
| Free | $0/month |
| Pro+ | $4.95/month$59.40/year |
| Business | $9.95/month$119.40/year |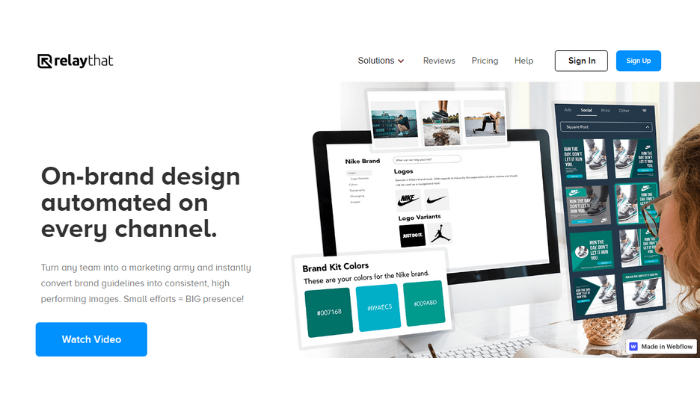 RelayThat is a user-friendly platform providing templates for all major social networking platforms, as well as over 350,000 royalty-free images and over 2,000 Smart Layouts.
The tool has advanced editing powers and a unique function allowing users to preplan their Instagram posts.
It is important to note that RelayThat only lets you upload images without watermarks if you are willing to pay.
RelayThat Pricing
| | |
| --- | --- |
| Plan | Price |
| Pro | $15 per user/month |
| Pro+ | $25/month (2 users) |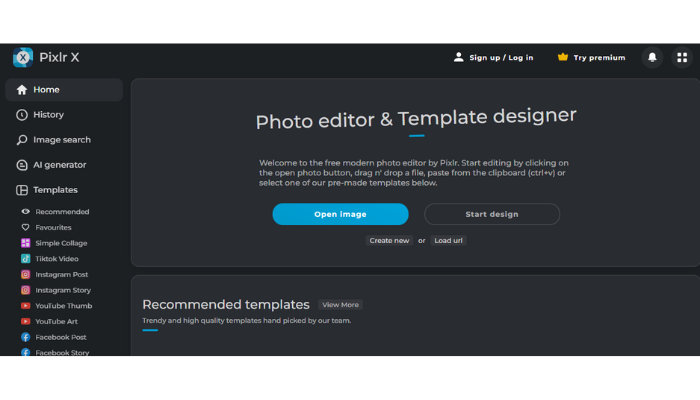 Pixlr X is one of the best Canva alternatives among these top design software choices.
This online graphic design software provides an alternative to Photoshop and Canva. Pixlr X offers a faster design process, while Pixlr E allows you to make more complex designs.
Pixlr X Pricing
| | |
| --- | --- |
| Plan | Price |
| Premium | $4.90/month$29.99/year |
| Creative Pack | $14.99/month$99.99/year |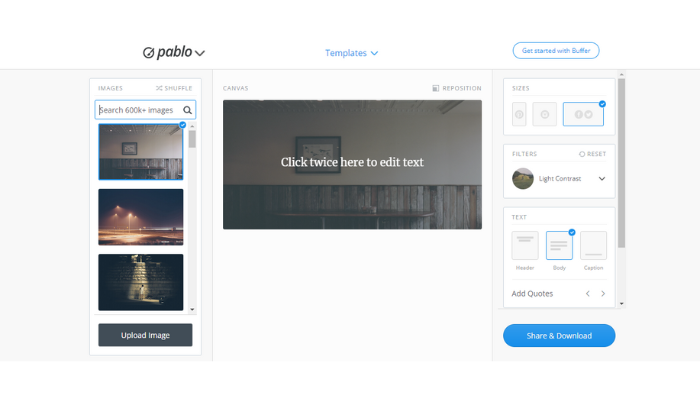 With its advanced features, Pablo is one of the free alternatives for Canva for marketers whose primary focus is social media photos. Don't let its simplistic appearance fool you.
It has a reflexive interface. You have the option of using specified images or uploading custom photos. Unfortunately, there isn't a Pablo mobile app; you can only use it on your PC.
Additionally, it's limited to social sites, despite the fact that it has certain editing effects.
Pablo Pricing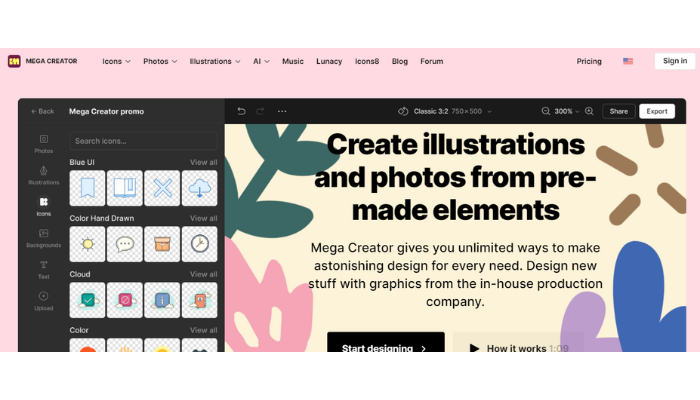 There are 100,000+ cutouts available from Mega Creator, as well as 1,500+ backgrounds taken in equal environments. With these images, you can create an image that is unique to you.
Mega Creator Pricing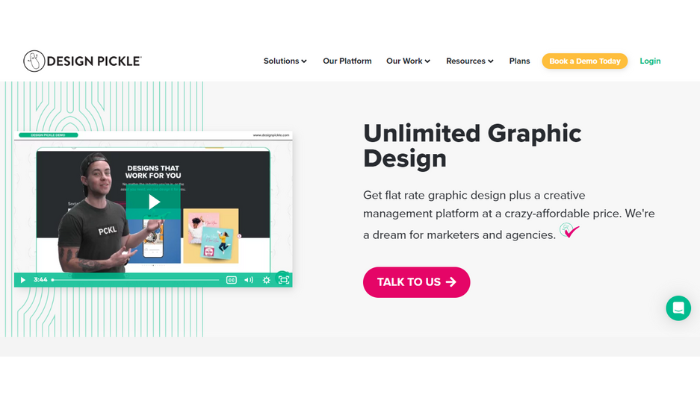 DesignPickle will help you out if you get into a design bind. Time is the biggest advantage of DesignPickle.
This means, if you're looking for the best free Canva alternatives, it's not a particularly expensive tool.
DesignPickle Pricing
| | |
| --- | --- |
| Plan | Price |
| Graphics | $499 |
| Graphics Pro | $995 |
| Graphics Premium | $1495 |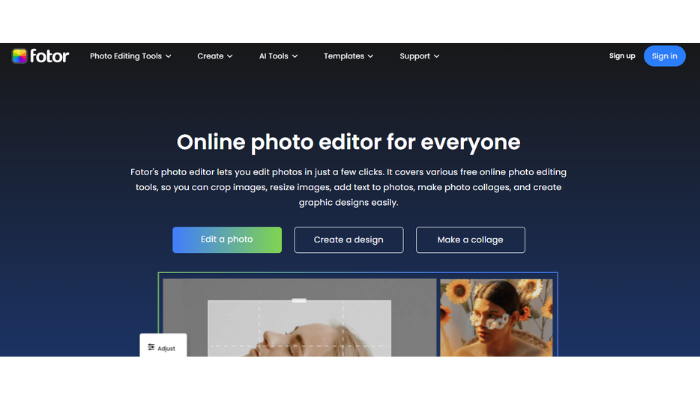 Over 300 million people trust Fotor. With its powerful cloud-based software, you can edit photos and make graphic designs for virtually any purpose, whether you are creating an advertisement or playing a birthday party invitation.
For all of the major social media networks, there are a ton of design templates accessible. Other features of Fotor include stickers, a built-in picture editor and fonts.
Fotor is a user-friendly design program. If you run into trouble, just check some tutorials. Fotor's pricing will likely be the most challenging aspect for you. Fotor also designs AI-professional headshots, portrait images, GIFs, and AI-generated selfies.
Fotor Pricing
| | |
| --- | --- |
| Plan | Price |
| Fotor Basic | Free |
| Fotor Pro | $8.99/month$3.33/month (billed annually) |
| Fotor Pro+ | $19.99/month$7.49/month (billed annually) |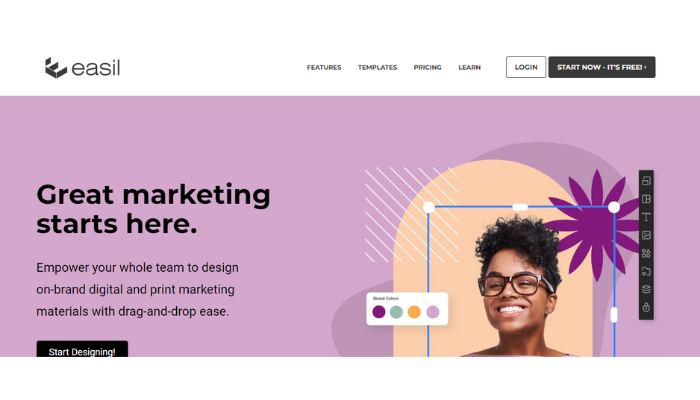 With regard to the Canva alternatives, Easil has advanced editing features. Uploading brand assets, creating templates, and printing the images directly from within the tool are all features that users can use.
Excellent brand tools are also available on this design platform.
Easil Pricing
| | |
| --- | --- |
| Plan | Price |
| Free trial | 30 days |
| Basic | $0 |
| Plus | $7.50/month (per user) |
| Edge | $59/month |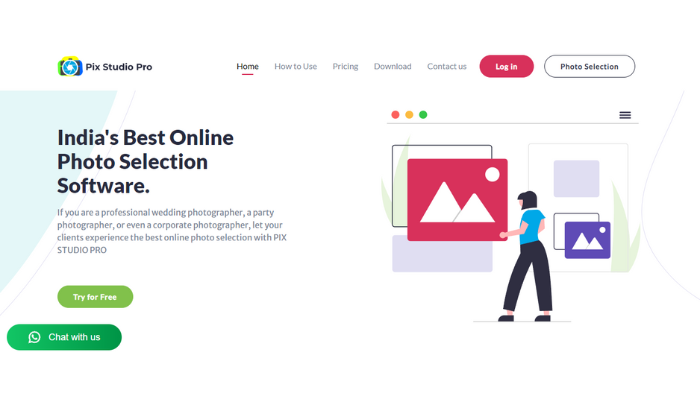 You can easily create stylish graphics with PixStudio, an easy-to-use and Canva alternatives free graphic design tool.
You have the option of starting from fresh or using one of their ready-made templates. Easily find the right template for your assignment by categorizing the templates.
YouTube thumbnails, social networking, Design logos, and more. Only some clicks separate you from your finest designs.
Pixstudio Pro Pricing
| | |
| --- | --- |
| Plan | Price |
| Free trial | $0 |
| Premium plan | $9.99 (billed monthly) |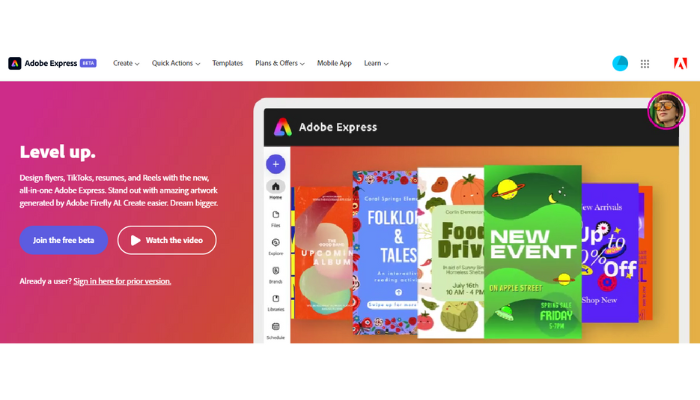 You can depend on Adobe Express for all your design needs. Formerly it was Adobe Spark.
Users have access to the whole collection of beautiful layouts, fonts, and royalty-free stock photos.
Due to its integration with Adobe products, this design tool can be used with Photoshop in a smooth manner.
Adobe Express Pricing
| | |
| --- | --- |
| Plan | Price |
| Free trial | 30 days |
| Premium | $9.99/month |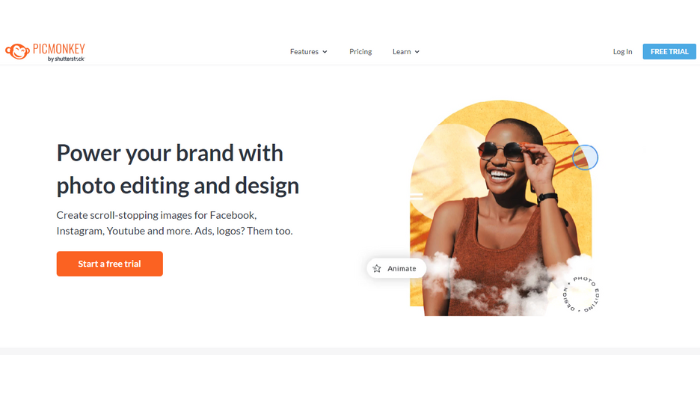 Besides wide photo editing abilities, PicMonkey gives users the ability to make collages, apply effects, and use filters to their images.
When it comes to making images for social media and the web, PicMonkey isn't a good and free alternative to Canva because its original intent was photo editing.
However, it provides various design and template resources that can be used for it.
PicMonkey Pricing
| | |
| --- | --- |
| Plan | Price |
| Free trial | 7 days |
| Basic | $7.99/monthly |
| Pro | $12.99/monthly |
| Business | $23/monthly |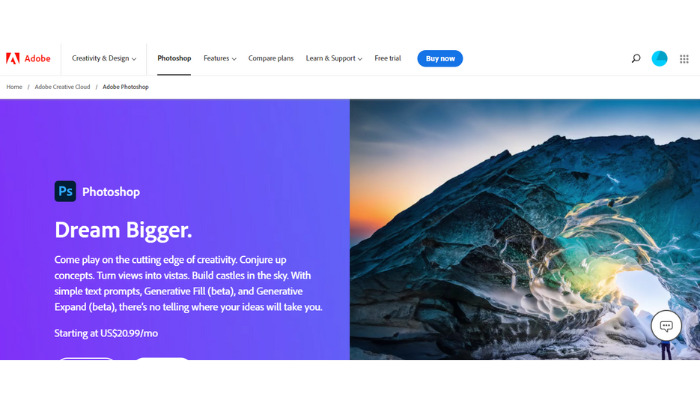 For many people, Photoshop is too complicated for their needs or ability level. Despite this, it is still the best tool available for editing images.
Create unique and custom designs using Photoshop. There's no doubt that its products are worthy of mention when it comes to Canva alternatives.
Templates for social media are not available in Photoshop. Therefore, Photoshop is unnecessary if you just want to make something simple.
Photoshop Pricing
| | |
| --- | --- |
| Plan | Price/month |
| Photoshop plan | $20.99 |
| Photography Plan (20GB) | $9.99 |
| Photography Plan (1TB) | $19.99 |
| All Apps Plan | $54.99 |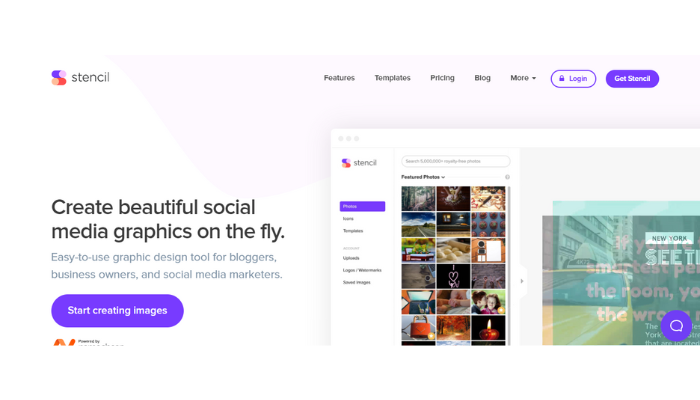 This is a fantastic tool that can increase your social site engagement. Besides royalty-free images, stencil also offers a library of quotes, infographics, and Google Fonts.
However, the free plan only allows for the creation of 10 photos each month. Regardless, it's probably not necessary to have more than that if you use it for personal use or for a small business.
Stencil Pricing
| | |
| --- | --- |
| Plan | Price |
| Free | $0/month |
| Pro | $9/month (annually)$15/month (monthly) |
| Unlimited | $12/month (annually)$20/month (monthly) |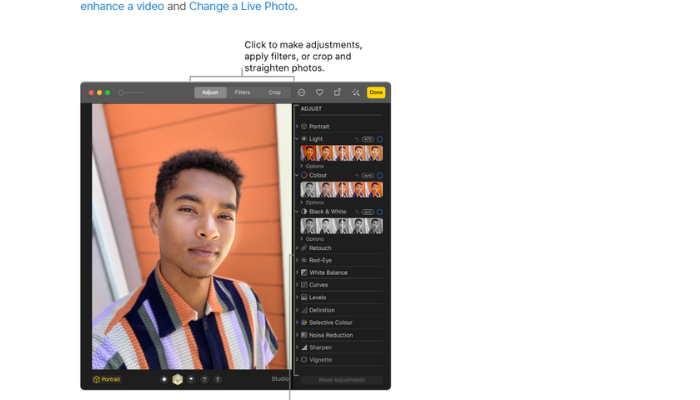 There is often no need to use anything other than the free image editor on your Mac. If you only need to quickly crop or resize a picture, this is the tool for you.
Adding text, arrows, and other simple shapes is also possible. It has a limited set of functions, including the absence of icons and the inability to make collages.
Similar to Canva, this software is free.
Mac Photos Editing Basics Pricing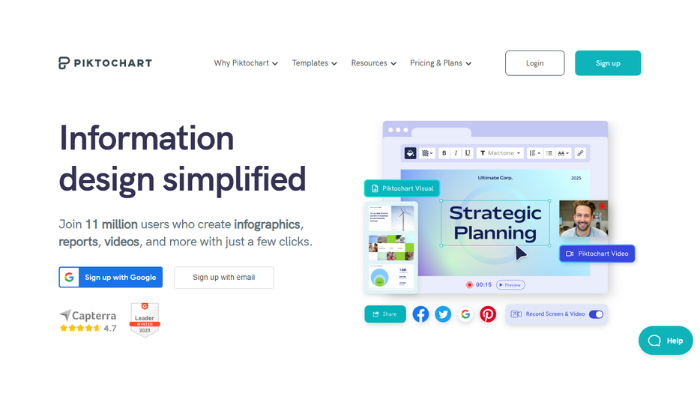 For those who just want to create charts and infographics, this tool is a great choice. Teachers and Students can get discounts on the paid one, regardless of whether the free version is available. Another one of the worthy Canva alternatives.
In addition to a template, Piktochart offers over 4,000 icons for use in infographic creation.
Also, you can make infographics without using any templates if you're ready to take the challenge.
Piktochart Pricing
| | |
| --- | --- |
| Plan | Price |
| Free | $0 |
| Pro | $14/month (annually)$24/month (monthly) |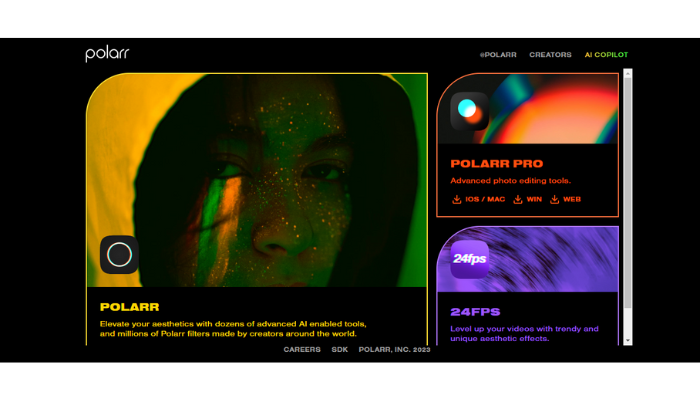 Polarr is a photo editing software out there! Okay, so it doesn't have all those fonts, social site templates, or ready-made images.
It's got these amazing free filters and a video editor! You can use it to make social media banners, icons, or even awesome invitations. You can just import & export things right from the app.
Polarr Pricing
| | |
| --- | --- |
| Plan | Price |
| Free | $0 |
| Pro | $3.99/month (monthly)$29.99/year (annually) |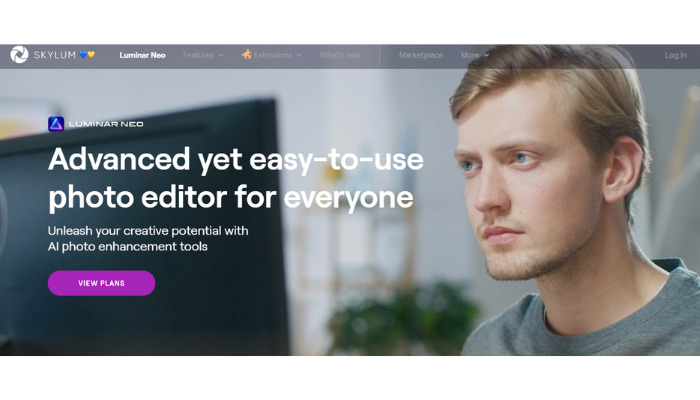 Create stunning images using AI. This is a good option for a Canva free alternative. The Luminar Neo program simplifies complex editing techniques and provides authors with the tools to express the most bold ideas.
With features like Canva, the software is excellent. Reasons why we adore Luminar Neo:
Using it is very enjoyable.
This tool is quite simple to use.
Photos that once took a long time to finish can now be done in a matter of seconds with just a few clicks.
In comparison to other image editors, Luminar Neo makes it quicker and simpler to add charm to your images.
You can concentrate more on style and creativity with Luminar Neo than on software skills and technique.
Luminar Neo Pricing
| | |
| --- | --- |
| Plan | Price |
| Free trial | 7 days |
| Subscription Price | From $8.25/month |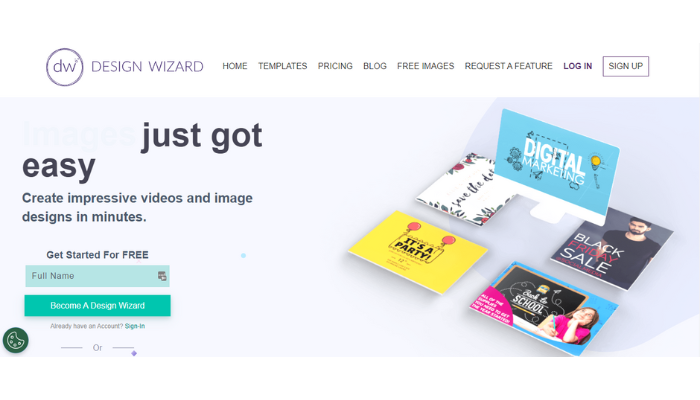 Design Wizard may help you get through your design burden quickly because of its over one million photos and excellent Hubspot and Marketo connectivity.
You can easily add personalized touches to your images and videos with the support of this excellent Canva alternatives tool.
Other great features of this website include free fonts, image storage, and personalized color schemes.
Design Wizard Pricing
| | |
| --- | --- |
| Plan | Price |
| Free | $0 |
| Pro | $7.42/month (annually)$14.95/month (monthly) |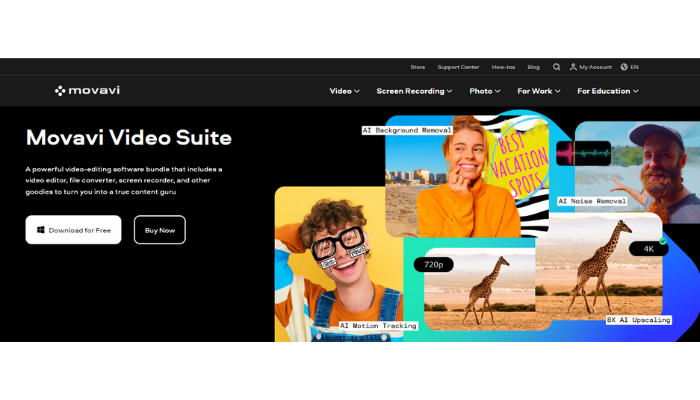 Movavi tool is one of the best Canva alternatives for making and improving videos and audio. It comes with a video editor that has both simple and advanced tools.
You can resize videos, add filters and transitions, and make shaky videos more stable. It even comes with free music to make the sound better.
Movavi is like Canva, as it lets you customize a lot of things easily. You can use more than 180 filters, and if you want extra transitions and effects, you can buy them in the Effects marketplace.
Movavi is a better alternative to Canva.
Movavi Pricing
| | |
| --- | --- |
| Plan | Price |
| Free trial | $0 |
| Premium | rs1999/year |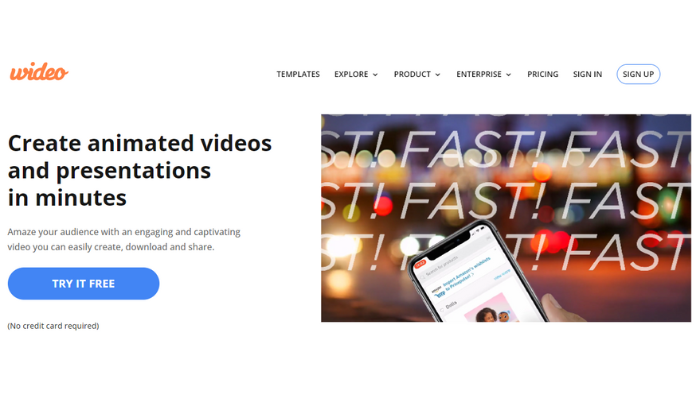 Wideo is an online tool that helps you make presentations and animated videos using templates. With it, you can make videos that last up to thirty minutes.
These videos can be used for projects like Zoom backgrounds and recording your computer screen.
Wideo offers different tools for making videos, like text editing, special animation effects, and a quick video preview option.
After finishing the video project, you can either save it in HD or quickly put it on YouTube, HubSpot, or Facebook.
If you have the premium version, you can also share the video links and add them to your website.
Wideo Pricing
| | |
| --- | --- |
| Plan | Pricing |
| Free plan | $0 |
| Premium plan | $228/$468/$948 (annually) |
If you are looking for one of the free Canva alternatives for video editing, Wideo is the best video editor tool.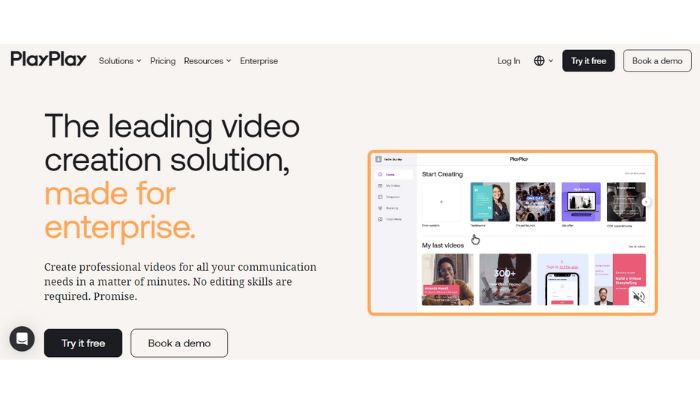 PlayPlay is a website where you can make really good videos for promotional videos or internal communications. Branding and simplicity are key components of PlayPlay.
You also get more than 300 templates you can customize, a collection of high-quality images, and lots of engaged elements to choose from.
It also has fancy video-editing features like automatic subtitles, tools to change video formats, and ways to include cutaway shots.
Apart from having top-notch features for experts, PlayPlay is made to work well in business settings. The complete version follows GDPR rules, adding extra security with two-factor authentication.
PlayPlay Pricing
| | |
| --- | --- |
| Plan | Pricing |
| Free trial | 7 days |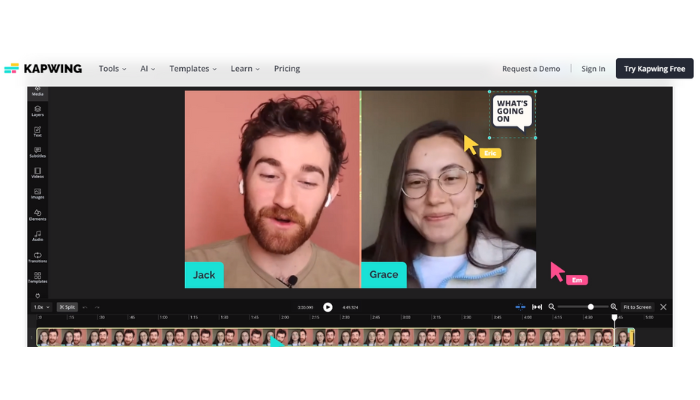 Created by people who make content for others who make content, Kapwing brings together project organization and video creation.
With Kapwing, teams can make sure all their content matches their brand by using a single design template. Users can work on projects together and share their thoughts at the same time.
Kapwing has tools like meme creator, video editor, and ready-to-use video templates. Kapwing is simpler than expensive video editors but might be a bit harder than Canva for some people.
Kapwing is the best and most free alternative to Canva.
Kapwing Pricing
| | |
| --- | --- |
| Plan | Pricing |
| Free plan | $0 |
| Premium plan | $192/annually |
5 Other Canva Alternatives
Here are 5 other Canva alternatives to look for.
Marq
Venngage
Prezi
Affinity Publisher
Polotno Studio
That's it. We have discussed 35 free and premium Canva alternatives for you and your business.
Can I Get Canva Pro for Free
Canva Pro is free to try for the first 30 days. To start using Canva Pro, just provide your credit card info or your preferred payment method.
Is Kittl Better Than Canva
Kittl, an alternative to Canva, doesn't let you crop or cover parts of your designs, making it less versatile in this aspect. Canva lets you create product mockups easily, but Kittl doesn't offer that feature. However, Kittl gives you more options to edit text compared to Canva.
Conclusion: Select the Best Canva Alternatives
As a result, Canva alternatives offer users a wide range of options for advancing their graphic design and creativity.
By exploring Canva alternatives, you can find the right choice for your innovative journey regardless of your advanced features and design style.
While Canva is still a favorite of many designers, marketers, and enthusiasts alike, the existence of these alternatives opens up a world of possibilities.
FAQs
What is a free alternative to Canva?
A free alternative to Canva is Pablo. It has many templates, effects, and stock photos to create stunning visuals. You can also use Snappa, Stencil, VistaCreate, or Visme for similar purposes.
Is there anything similar to Canva?
Some similar to Canva tools are Visme, Adobe Express, Snappa, and Easil.
Is there a better app than Canva?
Similar or even more features than Canva, such as Fotor, MockoFun, and Adobe Express.
Is there an AI like Canva?
There are AI design tools comparable to Canva. A new app called Microsoft Designer is now available. This app uses the OpenAI DALL-E 2 model to help users create designs at a quicker pace.