Explore the 15 best and most free AI selfie generators to make attractive and adorable AI generated selfies quickly.
Just upload your own photos and see your creative ideas turn into a unique and top-notch AI generated selfie photo thanks to these free AI selfie generators.
Table of Contents
What is an AI Selfie Generator
The selfie AI generator offers a wide range of creative styles, including Disney characters, anime, oil painting, game art, and illustration. The wide variety of AI selfies makes it simple to create one that suits your professional demands or personal tastes.
It's never been quicker to create original digital art, whether you're going for the fine details of the colorful aesthetics or an oil painting of anime.
Can AI Create My Image
AI technology is always getting better, and lots of people want AI avatar generators to make really good images. AI image generator selfie software makes your presence look better, attracting more people to your website and business.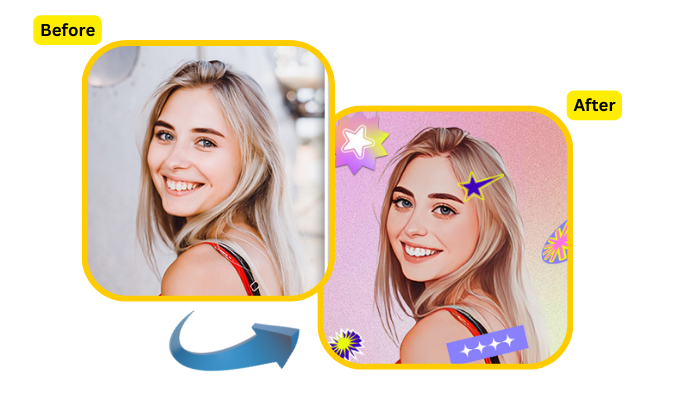 With the help of a free selfie AI generator, you can quickly make an AI image of yourself.
What to Look For in an AI Selfie Generator
If you want to make a creative AI version, you'll like it to show off your special qualities. Being able to not only upload a photo but also adjust it using prompts gives you more ways to make it unique. A variety of effects or filters can also boost creativity.
An AI generator selfie tool must include the following features:
The final output of AI-generated art is of a reasonable quality.
Image processing should at least be capable of generating a result. Combining both images and text is great because it helps users make adjustments to the image until they get the precise outcome they desire.
A straightforward and neat design that makes the user's experience better.
Great for work
Are There Any Free AI Selfie Generator
Here is a list of 15 free AI selfie generators to use.
Instant portrait
Perchance
Dzook
Veed.io
Canva
Picsart
AI Pet Portraits
AI Gahaku
Snapbar
Media.io
Facetune
YouCam Makeup
NightCafe
Fotor
Artbreeder
15 Free AI Selfie Generators
You can now generate AI selfies for free with these 15 tools.
1. Instant Portrait
Do you ever wonder what a painting of yourself would look like? Well, there's a fun app called Instant Portrait that can make it happen. All you have to do is upload a picture of yourself, and the app's AI will create a portrait that looks like you.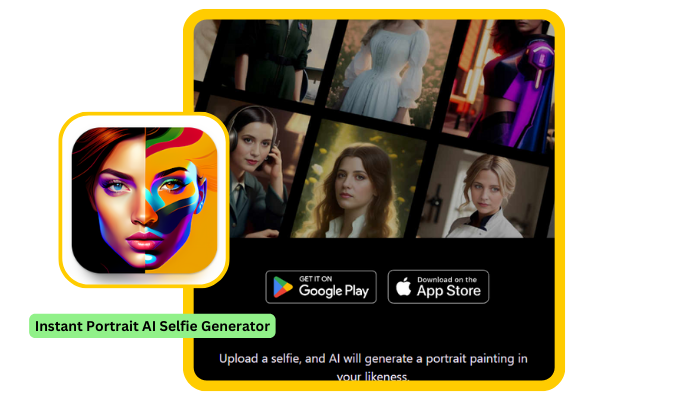 You can get it from the App Store or Play Store or just use your web browser. No need to sign in or try it out first and it's also really quick to use.
It's not the best choice if you want to create the perfect result, but for everyday use, there are countless options available.
Pros
Fast and user-friendly.
It provides diverse styles and themes.
No skills needed.
Cons
It's just for portraits.
Sometimes, it does not retain your face's original details.
Pricing
2. Perchance
AI Selfie Generator by Perchance is a website where you can make realistic or creative selfies using text descriptions. It uses the Stable Diffusion text-to-image feature. It's totally free, no need to sign up, and there are no restrictions or watermarks.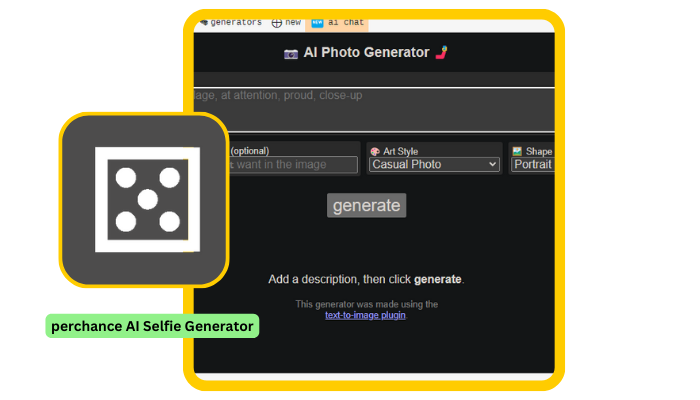 You can pick different art styles like cartoons, watercolors, oil paintings, and sketches and change how strong and bright they look.
You can also create pictures of whole people or just their faces.
Pros
No watermark
Realistic selfies
Portrait human images
Cons
Not consistently produce accurate results.
No adjustment or editing features.
Pricing
3. Dzook
If you want to make portraits of people's faces or even make them move like in cartoons, Dzook could be a good choice for you. This cool app learns from art and uses algorithm tricks to turn your selfies into art versions of you, which you can share on social media.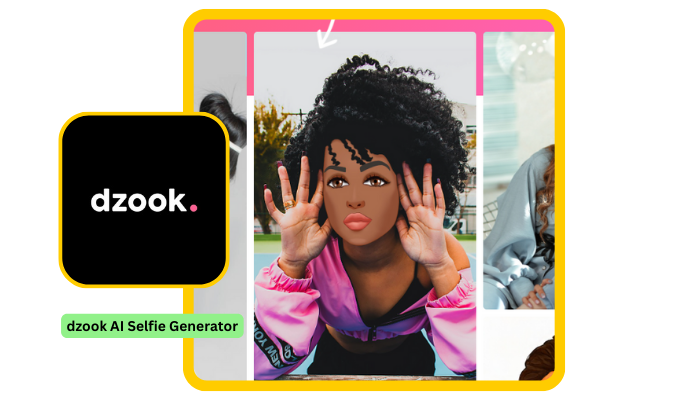 The tool joined forces with Snapchat to create a special Zombify lens just for Halloween. It lets you see how you'd look as a spooky zombie!
Pros
Easy UI
Various features
High-quality results
Cons
Pricing
4. Veed.io
Take pictures based on your ideas and turn them into amazing selfies with the Veed.io AI selfie generator. Simply enter a prompt, click "Generate selfie," then see selfie pictures pop up on the screen according to what you wrote!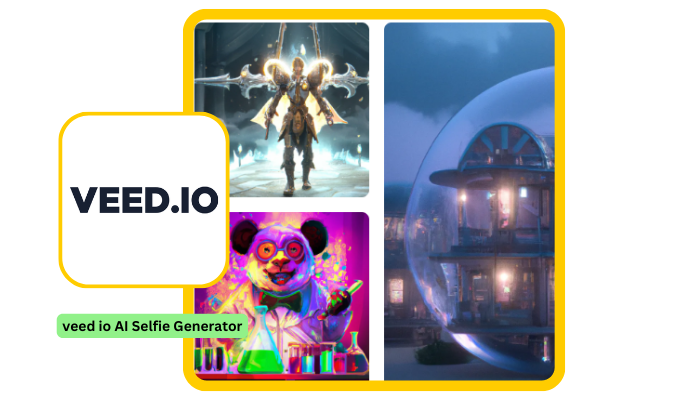 Get sketches, AI generated selfies, and pictures quickly. Once you have an art style you like, you can refine your prompts.
Pros
Free and easy customization
Realistic results
Cons
Pricing
5. Canva
Canva is an amazing app that many people like to use for editing photos and creating designs like banners, posters, and logos. It's especially handy for graphic designers and content creators.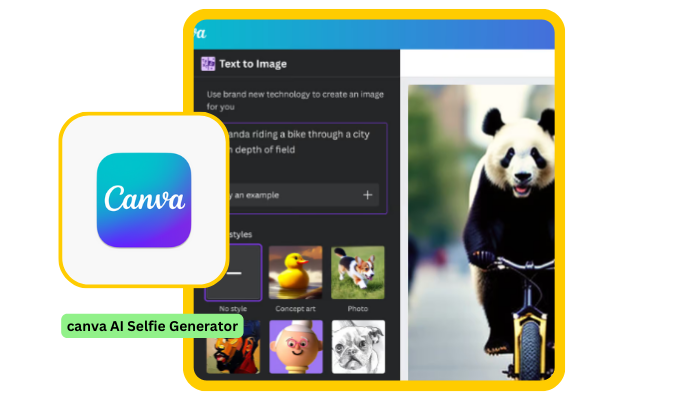 This AI image generator selfie tool quickly turns your text request into AI-generated images!
You can use it on your computer or phone by going online or downloading it from the App Store or Play Store, whether you have an Android or iOS device.
Pros
Free forever
Text to an image in seconds.
Offers various styles to pick from.
Provide 4 image choices per prompt.
Cons
Image quality depends on prompt precision and detail.
Copyright and exclusive rights depend on local laws.
Pricing
6. Picsart
Quickly create pictures using specific prompts in a few seconds with the Picsart AI selfie generator. Personalize your pictures using various styles, feelings, designs and colors that take inspiration from famous artists.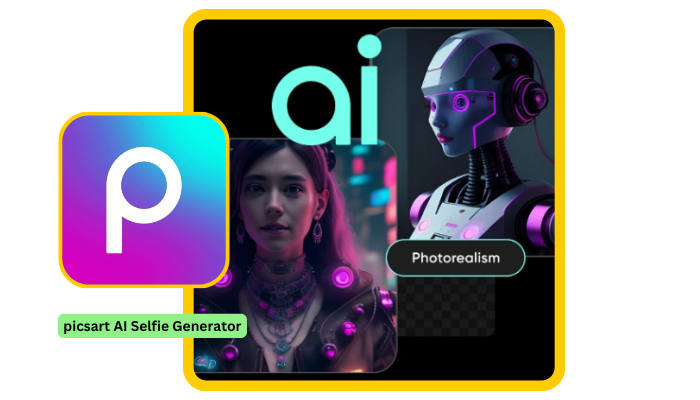 The 8K resolution provides incredible texture and detail to the images you create.
Picsart tool has a popular feature called AI GIF generator, but another top-notch feature is that it generates AI selfies.
Pros
It's an all-in-one creative editing platform.
The app is very user-friendly.
Great for creating selfies, AI avatars, and GIFs.
Cons
AI Avatars may require 30+ minutes to generate.
Pricing
Note: Midjourney and Jasper are better at images and writing. However, if you are looking similar to Midjourney, look at the Midjourney alternatives.
7. AI Pet Portraits
Not only do people like taking selfies, but pet owners also enjoy snapping pictures of their pets. Thankfully, AI can help make these pet photos look really good.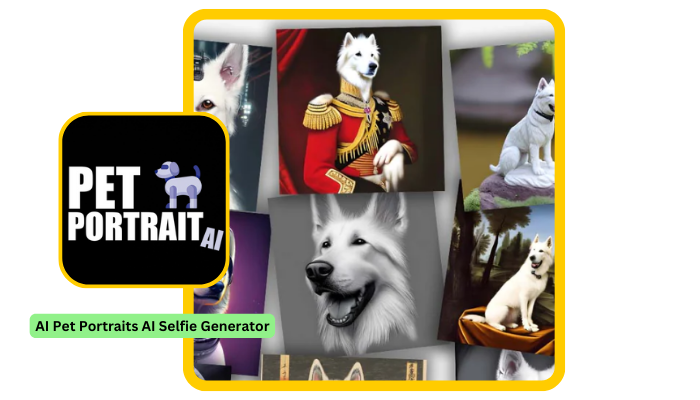 AI Pet Portraits is really good at making free pet selfies for you. They offer you lots of options to pick from.
After you've added four pictures of the pet, the AI selfie generator will provide you with sixteen different styles. It's quite impressive that you can use it in your web browser and get quick results sent to your email.
Pros
Amazing results
Easy to use
Cons
Pricing
8. AI Gahaku
The AI Gahaku selfie AI generator free tool is an ideal tool for beginning AI designers. You can easily turn your major photo into a masterwork.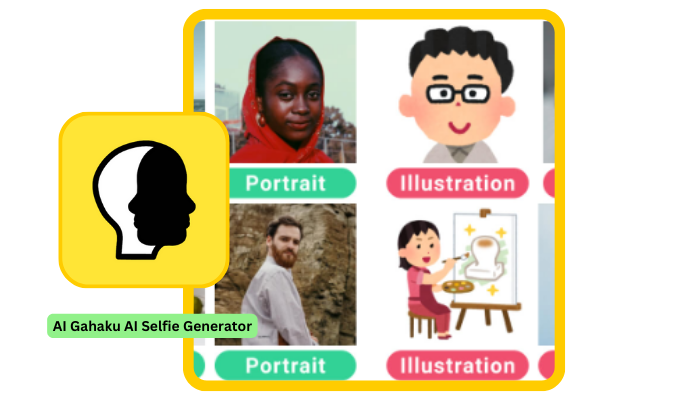 It's simple to use because it lets you fix flaws on the face and make touch-ups to make your AI-generated selfie look more realistic.
Pros
Craft stunning oil painting masterpieces for personal or commercial use.
You can make a sketch from your image.
Simple images become pixel art.
Explore at least 10 diverse painting styles.
Cons
Few customization features
It lacks high-quality output
Pricing
9. Snapbar
The Snapbar generator is perfect for folks who enjoy taking selfies. This AI selfie generator lets you make your selfies look better by adjusting the features to match your creative ideas.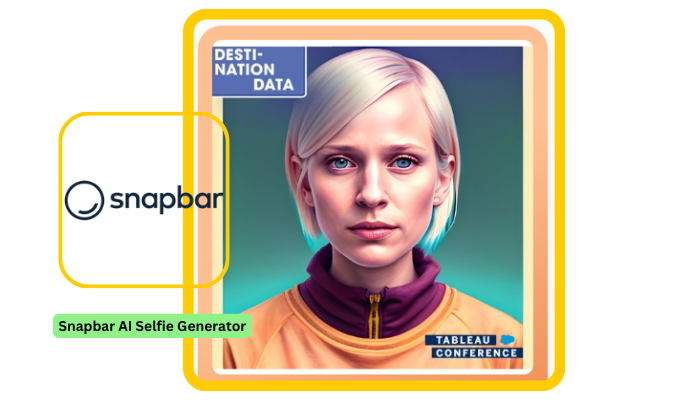 Furthermore, it's great for businesses looking to add a modern touch to classic photo booths using advanced selfie technology.
Pros
Corporate Headshots
Easy customization
Good customer support
Professional quality selfies
Cons
The image result depends on the prompt.
Pricing
10. Media.io
Media.io offers AI generated selfies that let you easily create polished photos on your phone or computer, all right in your web browser.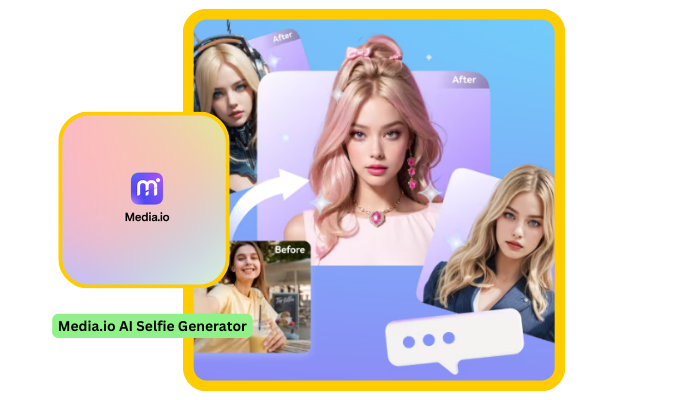 With the Media.io AI selfie generator, you can enhance your selfie by adding creative filters and styles that make it look even better.
Pros
AI retouching option
It provides diverse selfie styles
It applies virtual makeup
Cons
The website's UI needs better functionality and presentation.
Pricing
11. Facetune
Facetune, made by Lightricks, is an AI tool designed to help you improve your selfies and create unique digital artwork. You can make the photo look better by using this AI selfie generator to fix spots, improve the skin, and make other adjustments.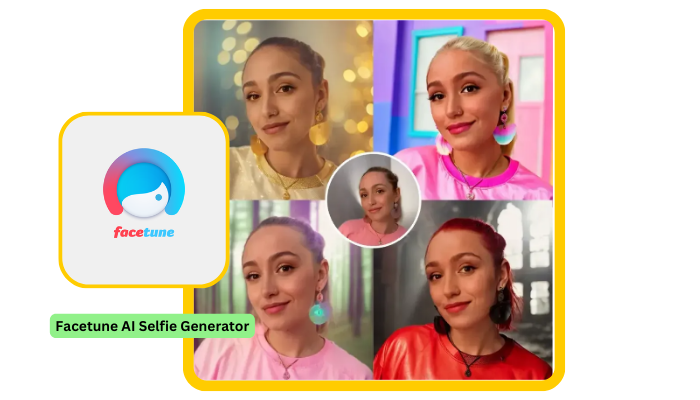 It can be used on any decent internet browser, and there are also apps available for iOS and Android users. You can get the Facetune app App Store or Play Store, but make sure your iOS version is 6.0 or newer.
Pros
It supports a free trial of 7 days after you sign on with your mail.
Customize the selfie background to your liking.
Edit facial features.
Cons
Not suitable for commercial purposes
Pricing
12. YouCam Makeup
The YouCam Makeup is a handy app that can make your face look better by smoothing out wrinkles, getting rid of eye bags, and fixing other imperfections. This AI selfie generator also provides five different cartoon styles that you can operate as a starting point for creating AI-made photos of yourself.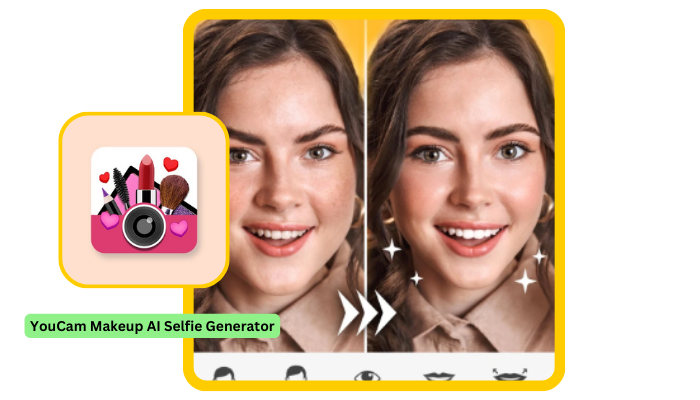 You can get it on Play if you have an Android phone. If you're using an iOS device with version 6.0 or newer, you can find the app in the App Store.
Pros
Blemish removal
Real-time makeover
Aging simulator
Cons
Sometimes, not great results
Pricing
13. NightCafe
The NightCafe tool isn't just for making AI selfies. It's a great AI art maker that can create really good pictures in many different styles, often starting from text. You can upload a picture and add text to change how it looks.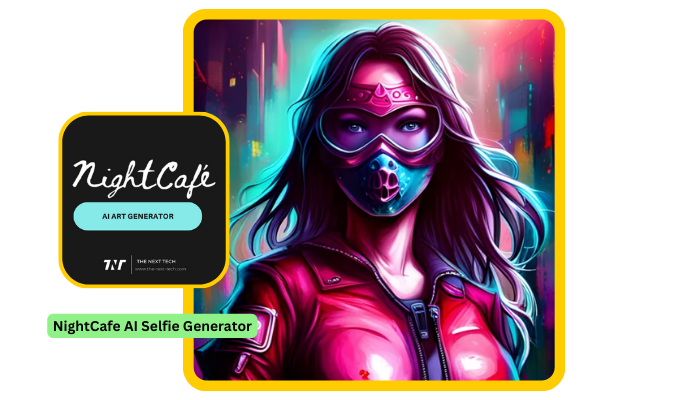 You can put tricky prompts in this box, and it's really good for having fun or doing professional work because the pictures look great.
Pros
Easy UI
Free trial
Amazing outputs
Cons
Needs proficient crafting skills.
Image generation queues
Pricing
14. Fotor
Give the Fotor AI selfie generator a try! It can easily create a fantastic and stylish AI selfie using your own picture. Just upload your personal selfies or photos, and let the Fotor AI do its thing.
Soon, you'll have a special, top-notch AI avatar that you can show to your friends or use as a unique profile picture.
Fotor also has a great AI tool called AI Headshot Generator, which is popular nowadays because it generates professional AI headshots for LinkedIn profiles.
Have fun and be amazed by this AI selfie generator, which turns you into an AI character. Try it today!
Pros
Super easy
Free trial
Customization photo editor
Cons
The PC version is not great.
Pricing
15. Artbreeder
Artbreeder AI selfie generator lets you create pictures by blending different features like portraits, landscapes, and album covers.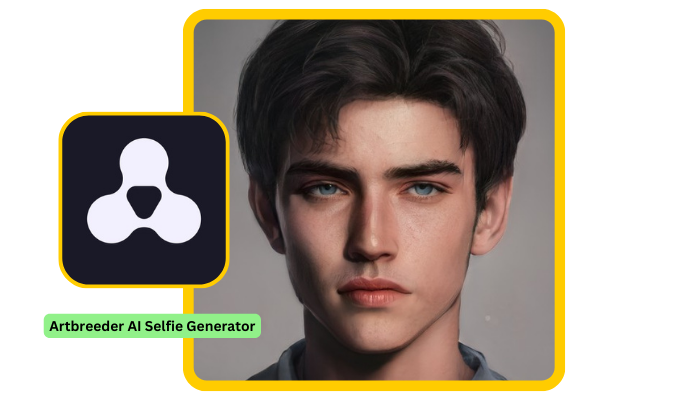 Artbreeder Collager allows users to make collages by using prompts and also has a feature, "Splicer ", for making stunning portraits by blending and customizing their unique characteristics.
Pros
Slider feature
Collaborative nature
Cons
Sometimes, generate generic images.
Pricing
Why AI Selfies Are Important
Here's why you should create AI selfies.
1. AI Selfie for Social Media
AI tools make it easier than ever to create an excellent AI selfie for social networking platforms.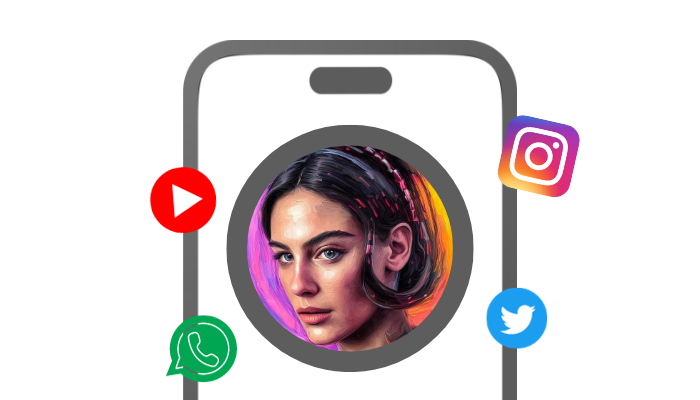 Whether you love YouTube, Twitter, Instagram, or Facebook, an AI selfie generator helps you create cool and special selfies in lots of different ways to make your profile more interesting.
2. AI Selfie for Gaming
You can use the best AI selfie generator to make awesome profile photos for the gaming profile, too!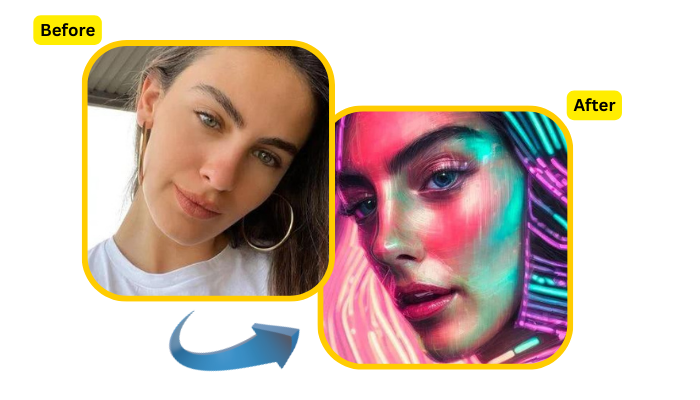 If you want to become a video game character, you can use an AI selfie generator free tool to transform yourself into cyberpunk, fantasy styles, or Viking! It's easy and fun!
3. AI Selfie for Business
Using the YouCam Makeup tool, you can create customized and great-looking headshots without the need for a costly professional photographer, saving both time and money.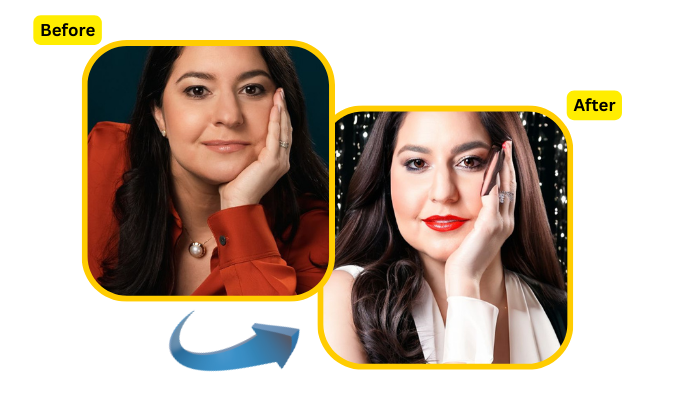 Explore More Free AI Tools
Find out what other free AI tools are available.
Mockey AI Mockup Tool
What is Mockey? Mockey is a free mockup generator. Mockups are visual representations or prototypes of designs or products. The purpose of these tools is often to provide feedback, to test, and to present information.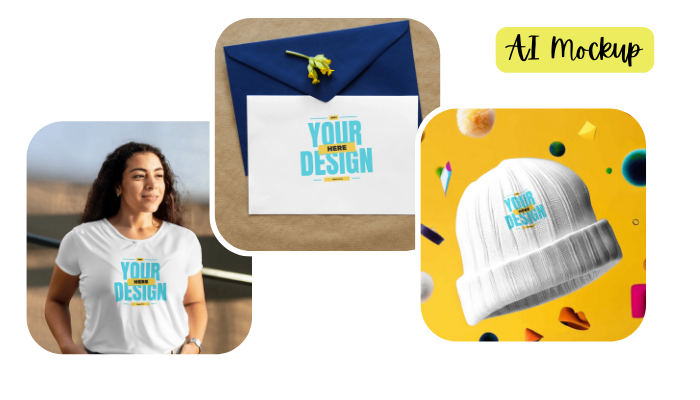 Just upload your design or logo, customize it with an easy editor, and download your mockup for free without a watermark. Here is an example of how a mockup looks.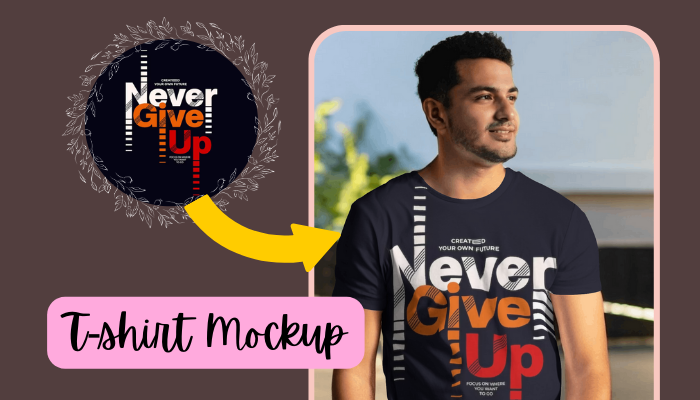 Visit: Mockey Website | Mockey App
To Conclude
You can tell that using these AI selfie generator tools has made it super easy to get flawless pictures. We provided a carefully selected list of the best AI selfie generators for you to try. Don't wait any longer – install them and easily enhance your photos!
You can also check NovelAI alternatives for AI image generation because we have also discussed some AI design tools there.
FAQs
What is an AI generated selfie?
Using AI algorithms, AI-generated selfies create or enhance self-portrait photos. A self-portrait with these algorithms can be improved by modifying facial features, adding filters, and enhancing image quality.
How do you get AI selfies?
Get AI selfies by downloading a dedicated app or using an online service. With the app, you can add various filters and effects to your selfies using AI.
How can I generate my AI photo?
You can create an AI photo using software or apps that use AI. You can upload an image, select the effects and enhancements you want, and then let the AI generate a modified image for you.