Discover the best AI headshot generator free apps that create realistic and creative style profile photos quickly.
Table of Contents
Introduction
Over the last few years, AI has become majorly important to our lives. Smartphones, social media, and banking are all impacted by AI.
One such app is AI headshot generator, where you can create AI generated headshots without visiting a studio.
Yes, anyone can get excellent close-up pictures without having to hire an expert photographer, thanks to the best free AI headshot generators.
Employers, businesspeople, and job seekers can create amazing headshots with these 11 AI headshot generator free online tools.
Is There a Free AI Headshot Generator
Here are the 11 free AI headshot generators compared:
| | | | |
| --- | --- | --- | --- |
| Website | AI Headshot Quality | Generating Speed | Price |
| PFPMaker | Very High | Very High | Free |
| Picofme.io | High | Very High | Free |
| Artguru.ai | High | Medium | Free |
| Remini (Mobile app) | Very High | Medium | Free Trial |
| Facetune | Very High | Very High | Free Trial |
| Kahma.io | High | High | Free Trial |
| Media.io | Very High | Medium | Free Trial |
| Magickimg | High | High | Free (5 credits) |
| Simplified | Very High | Medium | Free (5 credits) |
| Neural Love | Very High | Medium | Free (2 credits) |
| Artbreeder | High | High | Free (3 credits) |
11 Best AI Headshot Generators for Free
Here are 11 of the best and most free AI headshot generators.
With the PFPMaker AI headshot generator, you can create headshots from a single image. Make a lasting impression in emails, chat messages, and professional social networks like LinkedIn.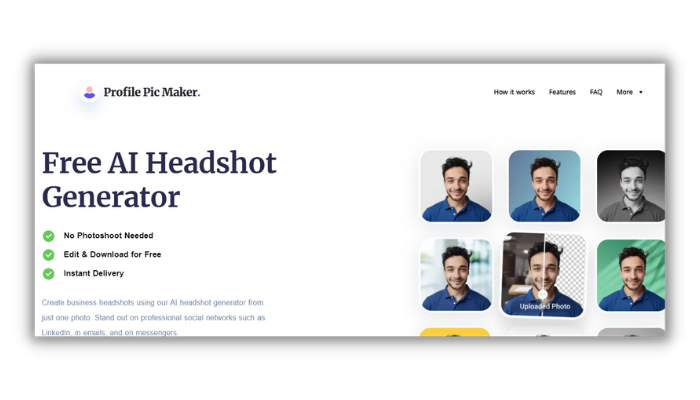 You'll get messages 40 times more frequently if your headshot is polished. Improve your profiles and make an unforgettable impression.
Features
Face enhancer
Professional profile photos
200+ styles
Self-serve Service
Interface Rating
4.7/5 Stars (188 customer reviews)
Ease of Use Rating
Output Examples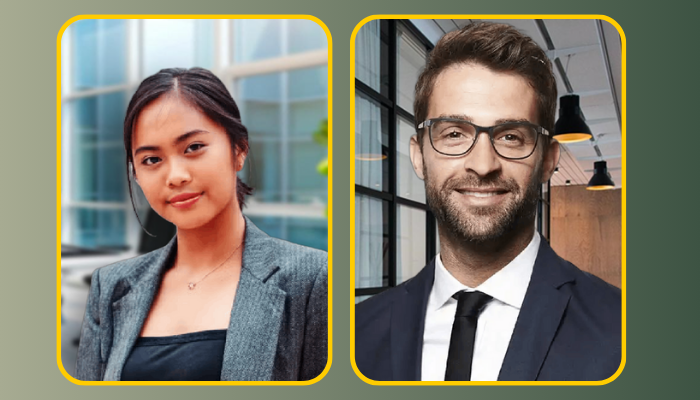 Pricing
You can generate visually appealing profile pictures with Picofme.io with a few clicks. With the selection of background filters, along with image background removal, the profile will turn out amazing and allow you to pull in more audiences.
Picofme.io allows all the photo formats. The profile pictures created using Picofme.io work really well as a social media, messaging, or resume profile photo.
Features
Trendy design
Halloween, glitch, borders, black & white, comics, patterns and many more templates
Transparent background
Filter option
Interface Rating
Ease of Use Rating
Output Examples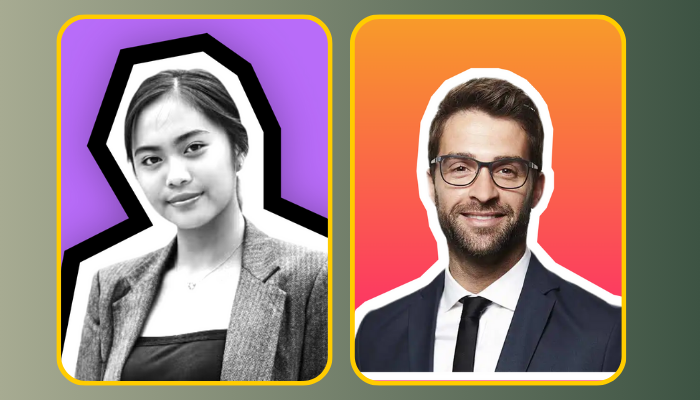 Pricing
Using the Artguru.ai AI headshot generator, bring your thoughts to reality. Just tell the AI what you want, adjust some settings, and watch it transform your profile picture into gorgeous AI generated headshots in a matter of seconds.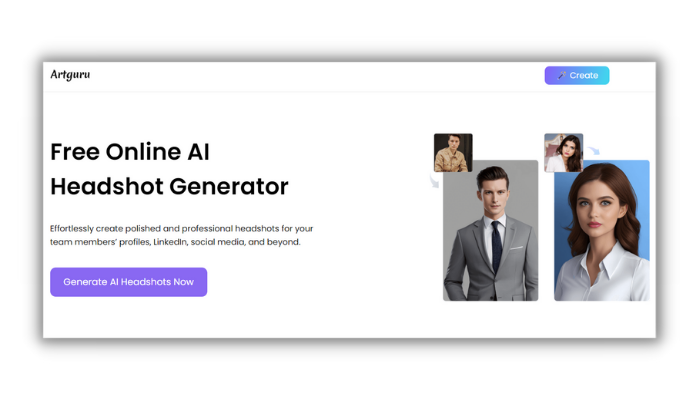 Improve the way others see you on social media with customized AI avatars made from your photos. With the help of your selfie, Artguru creates AI avatars that highlight your unique qualities.
Select from a variety of looks to get the ideal look and easily edit your selfies. In a matter of a few clicks, become a fashionable version of yourself.
Features
Different backgrounds, styles, and sizes option
Describe in prompts
Realistic and high-quality result
Interface Rating
Ease of Use Rating
Output Examples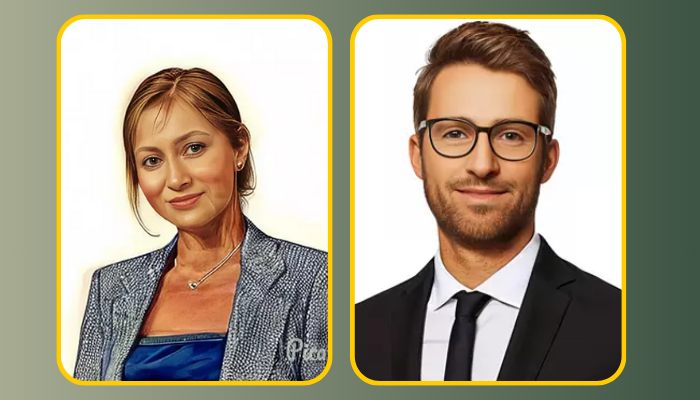 Pricing
4. Remini (Mobile App)
With just a single tap in the Remini app, transform yourself into a professional or in AI avatars and generate stunning AI self-portraits. In just a few minutes, the AI can create amazing headshots if it is trained using your actual images.
To help the AI understand your appearance, select 4–12 photos. Choose wisely, as the images will be created from the photos you upload!
Features
Generate unique avatars
Pet avatars
Artistic styles
Interface Rating
Ease of Use Rating
Output Examples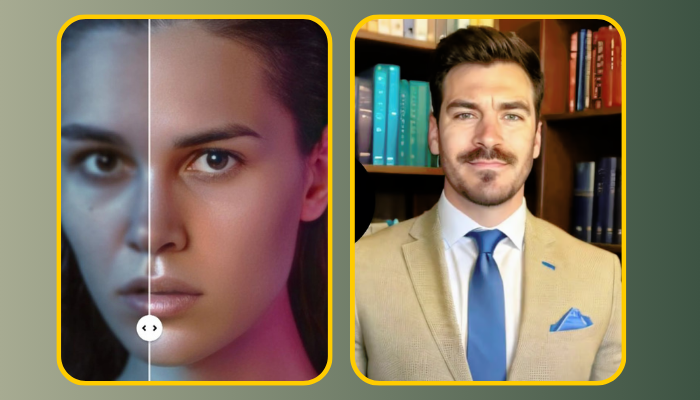 Pricing
Discover the wonder of Facetune in just one tap. Explore exciting new styles by selecting from thousands of AI generated headshot presets or creating your own personalized prompts.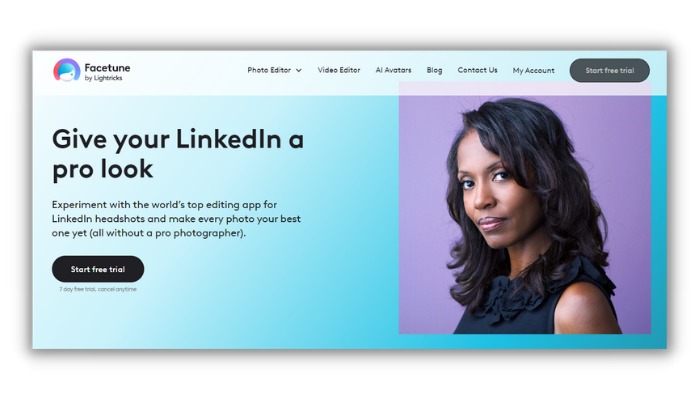 Your creative face features remain unchanged, but there are stunning color pops and dramatic lighting effects added throughout. You look the same, but you show a whole different attitude.
Features
Remove object
Photo retouch
Background remover
Effects & filters
Blur & crop images
Interface Rating
Ease of Use Rating
Output Examples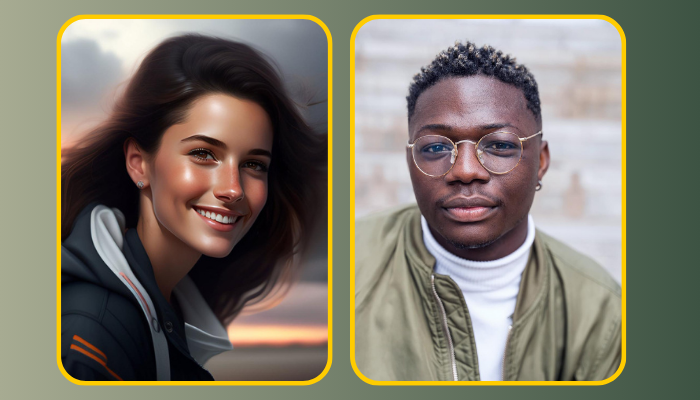 Pricing
Kahma.io AI technology lets you make beautiful selfies and photographs of your family and friends. Whether it's for a birthday or an anniversary, this is the ideal gift.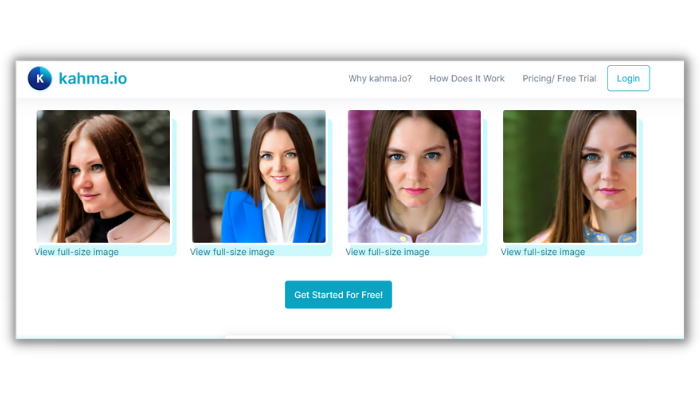 They create new pictures of the person in entirely different situations based on the model you provided in the photos. Just provide a few candid selfies to receive stunning headshots.
Join the thousands of satisfied clients who received fantastic new photos.
Features
Personalized digital twins
8k photo quality
AI self-portraits
Social media integration
Interface Rating
Ease of Use Rating
Output Examples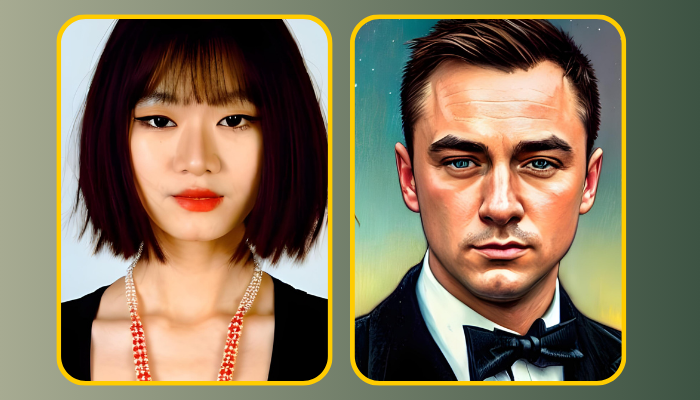 Pricing
Use Media.io headshot AI generator to produce realistic-looking headshots. Get realistic, high-quality headshots online in a matter of clicks to help you post your profile and increase your possibility of success.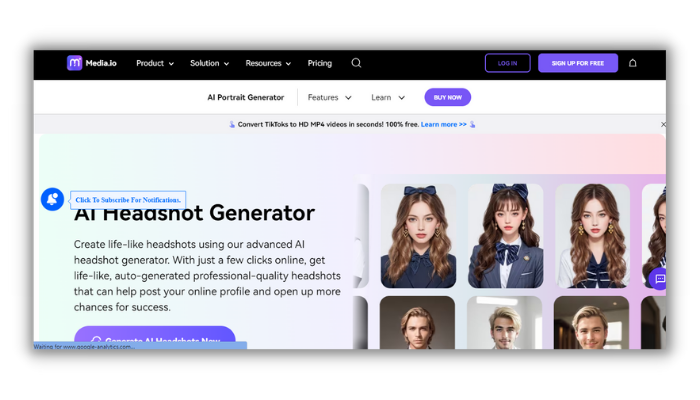 With the help of this online program and cutting-edge AI technology, you can quickly create headshots that are up to par.
This improves the process and reduces the cost compared to typical photographic services. Plus, it is less expensive than other AI headshot generators, with great results.
Features
Various photo styles
User-friendly
AI headshots for every platform
Interface Rating
Ease of Use Rating
Output Examples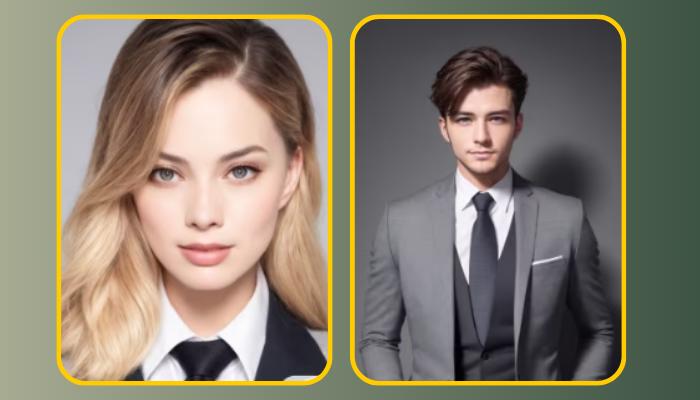 Pricing
Magickimg is a headshot AI platform that uses deep learning to produce groundbreaking images. Using AI, the advanced tools maximize the potential of your photos by changing and enhancing them.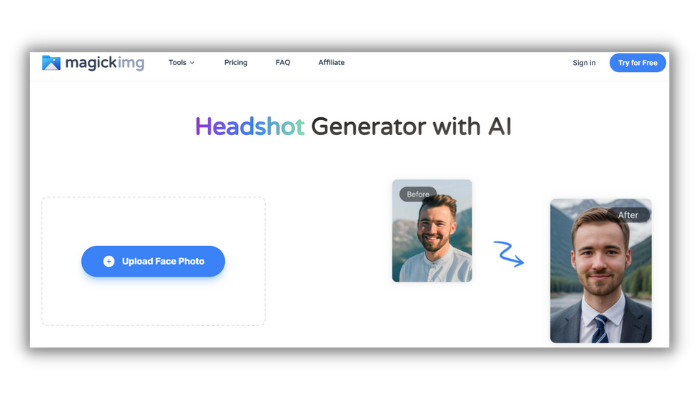 Discover how technology and creativity can come together with deep learning and cutting-edge AI image editing features.
Magickimg offers five credits for free users each month. You can buy a subscription membership in order to receive additional credits.
Features
Image enhancement
Deep learning
Fast and easy UI
Secure service
Interface Rating
Ease of Use Rating
Output Examples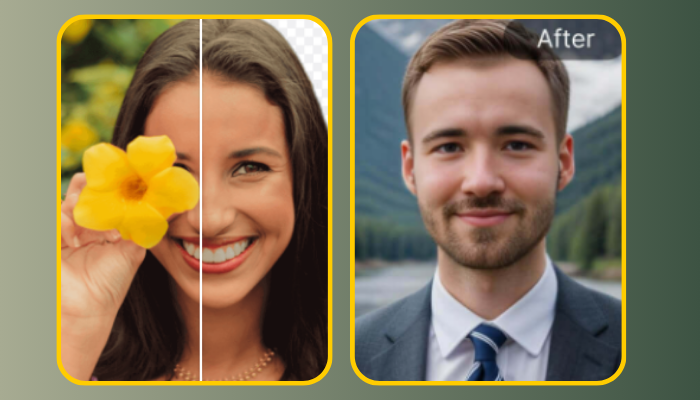 Pricing
No more spending a fortune on pricey photo shoots. You can produce gorgeous, professional headshots with Simplified AI Headshot Generator at a lower price.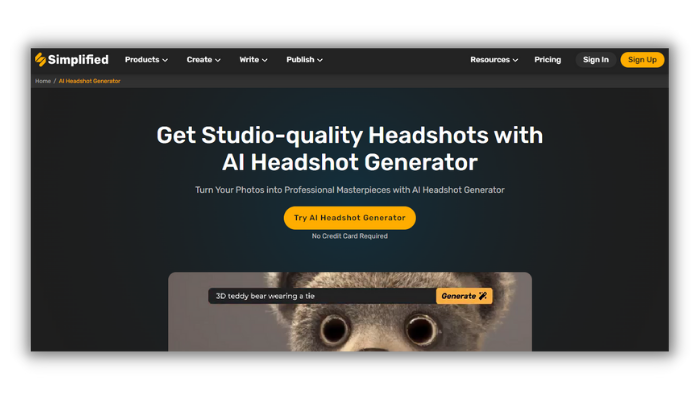 Forget about searching nearby for a qualified photographer. You can always get AI generated headshots free images from anywhere.
Features
Different styles
Mobile friendly
Customization in details
Interface Rating
Ease of Use Rating
Output Examples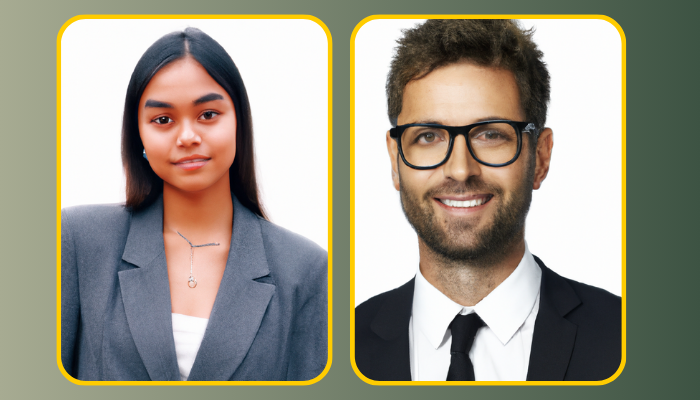 Pricing
Create realistic, high-quality portraits using artistic inspiration. Various media, such as old sketches, drawings, paintings, and photographs, can be used to create a realistic representation of a topic.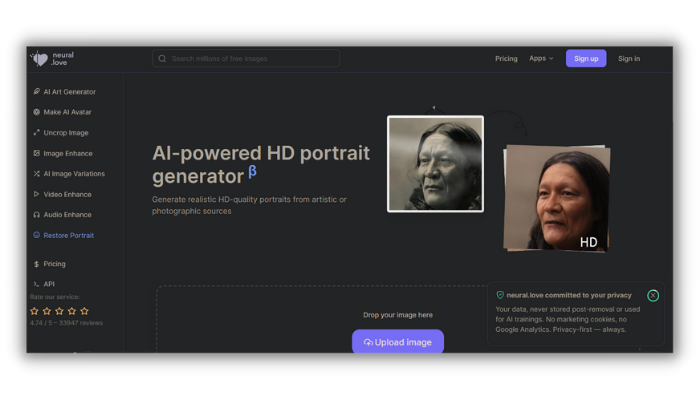 You will need three credits to use the headshot generator. There have already been 210 554 improved portraits.
Features
Restore old images
Generate artistic images
Outpaint images
Fast processing
Interface Rating
Ease of Use Rating
Output Examples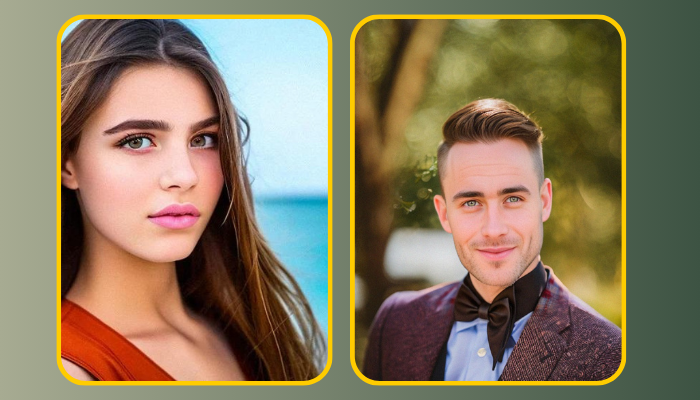 Pricing
Create artwork, characters, and more using a variety of AI-powered tools in Artbreeder. Create by combining text and graphics.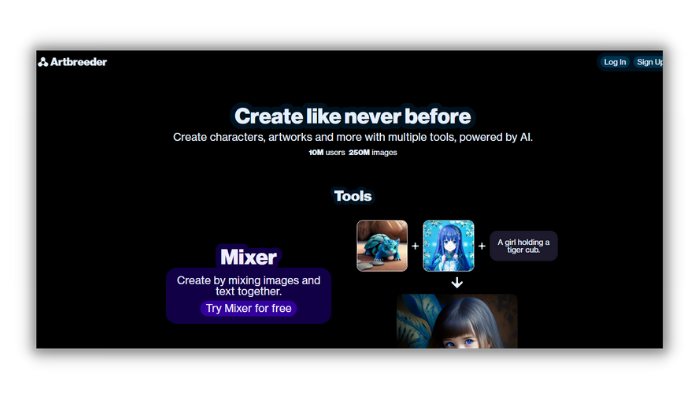 Use simple shapes, text, and images to create a visual representation of the image. Edit the genes of images and mix the images together.
Any image in the Artbreeder library can be expanded. There is no better creative collaboration than Artbreeder.
Features
Mixer
Collager
Splicer
Outpainter
Community
Daily contests
Interface Rating
Ease of Use Rating
Output Examples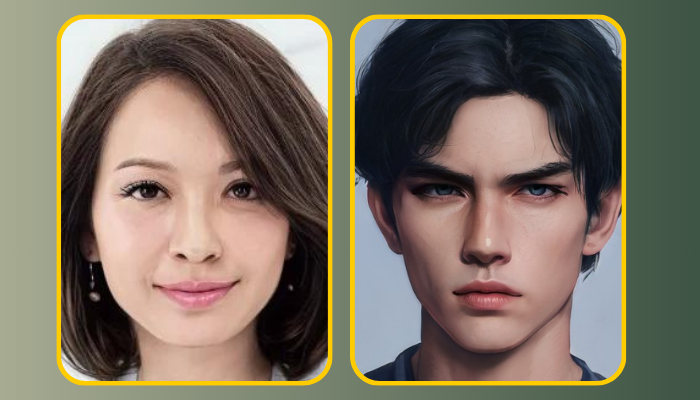 Pricing
How to Generate AI Headshots
To generate AI headshots,
Tap the "Generate Headshots" option.
Upload several selfies
Next, select a style for your AI headshot that you love. These AI design tools will quickly produce realistic and attractive AI headshots by automatically identifying the features on your face using your selected style.
Lastly, preview and save the AI-generated headshots for social media profiles, resumes, and other purposes.
Watch this quick tutorial video to discover how to make AI generated headshots.
Generate AI Headshots for Social Media
You can increase your exposure and interaction by making unique and eye-catching profile headshots for Facebook, Twitter, YouTube, Instagram, and more.
With these AI tools, speed, and a variety of styles of art, make sure your presence stands out from the crowd.
Make Headshots from Text
Some AI headshot tools or AI selfie generators allow you to create original AI avatars using text descriptions. With only a few clicks and as much data as you can provide, the tool will quickly realize your vision for your perfect headshot.
Explore Trendy AI Tools
Now, people are looking for AI mockup tools as print-on-demand or dropshipping services are growing very fast.
Before opening an online store, people generate mockups of how a design or logo looks good in a t-shirt or hoodie. So, to generate mockups, there are no free mockup tools available right now except Mockey.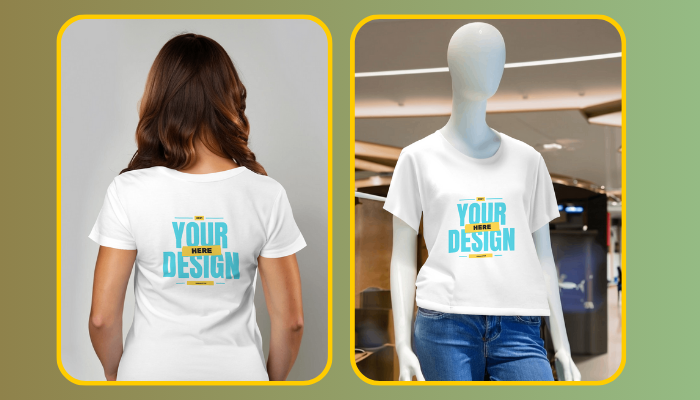 Mockey offers 1000+ templates with 20+ categories and high-quality images without any watermarks. So, try now!
Conclusion
To conclude, there are a lot of effective headshot generators available on the market for close-up photos. Among them, we compiled a list of the most useful options.
Most people are searching websites like Midjourney because the Midjourney generator also provides great AI headshot images. But Midjourney is not free. For that, you can check free Midjourney alternatives.
Take amazing headshots without visiting a studio or paying a photographer. Be a corporate star by saving money and time. We wish you luck!
FAQs
What is the best AI headshot generator?
PFPMaker, Picofme.io, Artguru.ai, Remini Mobile app, and Facetune are the best free AI headshot generators.
Can AI generate headshots?
Yes, AI can generate realistic and professional headshots in a few seconds.
Is the AI headshot generator safe?
Yes, the AI headshot generator is safe to use. It doesn't provide any security issues and operates within legal and ethical boundaries. A confidential and safe user experience is assured by protecting user data.
Are AI headshots worth it?
The AI headshot enhances your online presence and first impressions. AI headshots are a cost-effective alternative to traditional headshots.