Making mockups that look professional is an essential duty for any business owner or marketer.
This is due to the fact that mockups improve the visual communication of your product ideas to clients, investors, and coworkers. Additionally, they're fantastic marketing tools.
So, what is a mockup? Can you generate without the help of a designer? Well, we do have answers.
This post will help you with the question of what is a mockup, different types, and other related topics. It's going to be a long discussion, so let's dive right in.
Table of Contents
What is a Mockup?
A mockup showcases a product or design through a creative rendering. Mockups are models, images or scenes that show how a proposed product, design, or process would look. They are usually used for demonstrations, education, and marketing.
Mockups are an old concept. Yes, it was made in a variety of ways, including by hand drawing or creating them physically.
However, you no longer need to spend endless hours creating your mockup or be a great artist, all thanks to technology.
These days, you can rapidly make a prototype with a tool in a few minutes, saving you valuable time, money, and energy.
Mockups help prevent misunderstandings and clear up any uncertainties by showing your colleagues and clients exactly what the final design might look like in detail, even before you start making it for real.
Also, you can use it to show customers what your product will look like before they buy it so they know what they're getting.
If you want to learn how to create a no watermark mockup with simple steps, we've got a whole guide that focuses on that.
So, you have got the answer to this question: what is a mockup? Now, let's discuss the types of mockups.
6 Types of Mockups
Across all enterprises, mockups are handy for getting a good idea of what a product will look like before making it.
Due to the different requirements in various industries, you can find various types of mockups, like product mockups, branding mockups, print mockups, and more.
Let's take a closer look at 6 types of mockups to figure out which one is right for your industry.
1. Product Mockups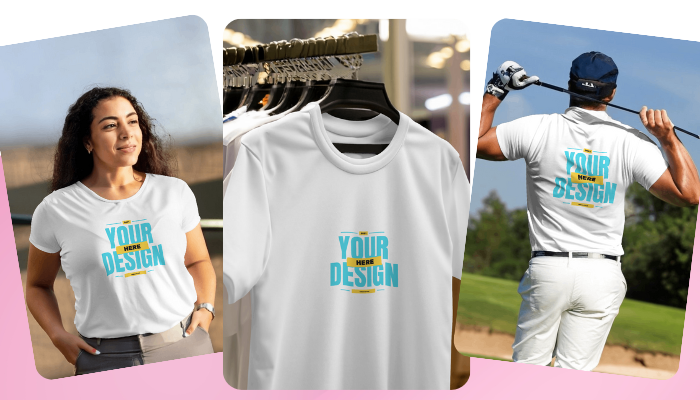 Product mockups are digital renditions of product designs that are realistic. People usually use it at the beginning of a project to get a clear idea of what the final product will be like.
Product mockups are also used in ads. For instance, lots of online stores prefer using t-shirt mockups to put their designs on a template instead of taking pictures of each shirt in all different styles.
Mockup templates simplify the design part of creating product mockups. If you need free templates for t-shirts, hoodies, or other products, take a look at Mockey's mockup generator.
2. Branding Mockups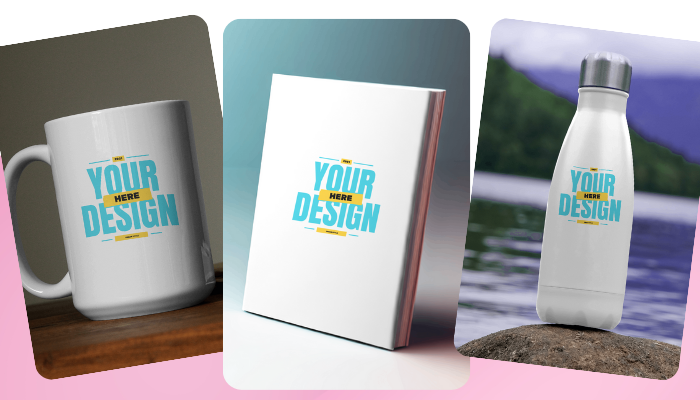 Branding mockups show product images with company logos or mottos. You can make more people know and trust your brand by putting your logo on items like books, cups, bottles, and other objects.
Mockups for branding can help businesses that are thinking about launching a unique marketing campaign.
Before deciding how to spend the funding on various branded items, the owners can be presented with branding design ideas to assist them in choosing which objects to brand.
The main products of a company do not need to be directly related to branded items.
A small neighborhood restaurant, for example, might sell pens with its logo on them in addition to serving food.
Even though the restaurant isn't related to writing, they can make people remember their brand by putting their logo on pens.
Using branding mockups helps you see how different designs would work for your company and decide which ones are the best fit.
3. Print Mockups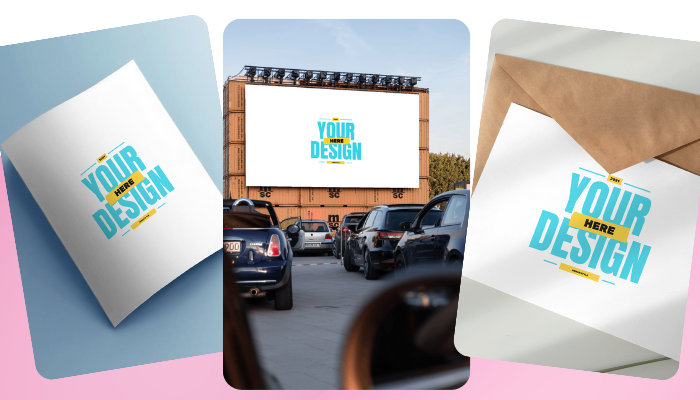 Print mockups are a realistic rendering of what a print design might look like once it's turned into a physical print. It helps you see how it will appear after it's been printed.
Making print mockups lets you see how your design will look on objects like postcards, flyers, and poster mockups.
Apart from checking how everything looks on the page, a print mockup can also make sure that the text is easy to read before it gets printed.
Creating a print mockup can reduce stress, cut costs, and contribute to environmental conservation by trying out and examining design concepts.
Moreover, using print mockups is a great way to make attractive pictures of your ebooks, lead magnets, and different printable marketing elements. Instead of just showing a plain screenshot of the cover page, try making a stunning mockup that can help get more people to download and become potential leads.
4. Packaging Mockups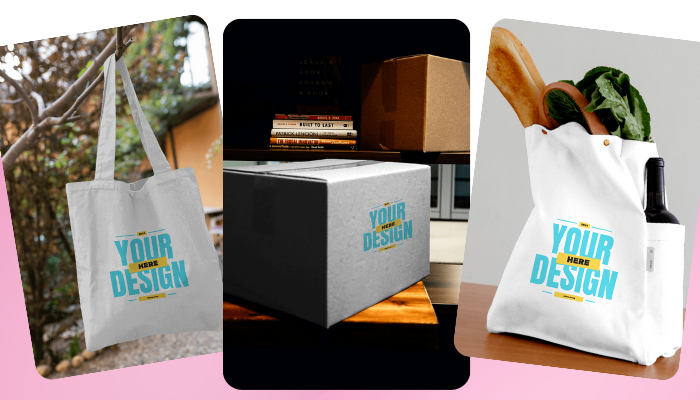 Packaging mockups are like an image that shows your logo and design on different types of packaging, such as Tote bags, plastic bags, boxes, and more.
The way you wrap your product is not just about putting it in a bag or box when it comes to marketing.
When you put something in a package, it silently tells your customers how good the item inside is.
Creating a sample packaging design can greatly improve the quality of the packaging.
What font size, background color, and font color to use will become clear when you make packaging mockups.
Designing a mockup can assist you in making packaging that matches your company's principles and ensures your customers have a memorable unboxing experience.
5. Device Mockups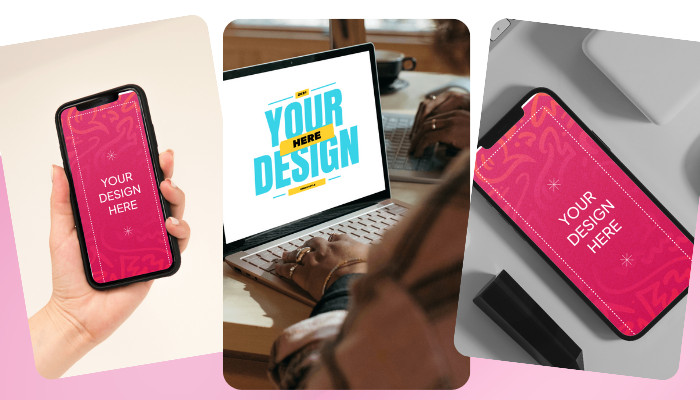 Device mockups are a picture representation of a device that allows you to customize the screen—be it a computer, tablet, phone, or smartwatch—with your own design.
Using device mockups in marketing allows you to share eye-catching designs of your websites or apps instead of just a basic snapshot.
Tech companies can also benefit greatly from this kind of mockup, which helps them decide how their website or app will look.
Device mockups can help small tech startups save money for a few months on development and help them concentrate on projects like marketing and research.
6. Social Media Mockups
Before publishing your content to the website, you can input and view it using social media mockups, which are a representation of several social media platforms.
It is essential that you create posts, videos, and images that are proportionate for mobile devices since around 55% of internet traffic comes from mobile devices.
Using a social media mockup helps brands and businesses make sure their posts look good on all kinds of devices by checking their size and layout.
Furthermore, a social media mockup can be useful graphics to include in marketing plans, blog posts, or to publish on social media.
Difference Between Mockup and Wireframe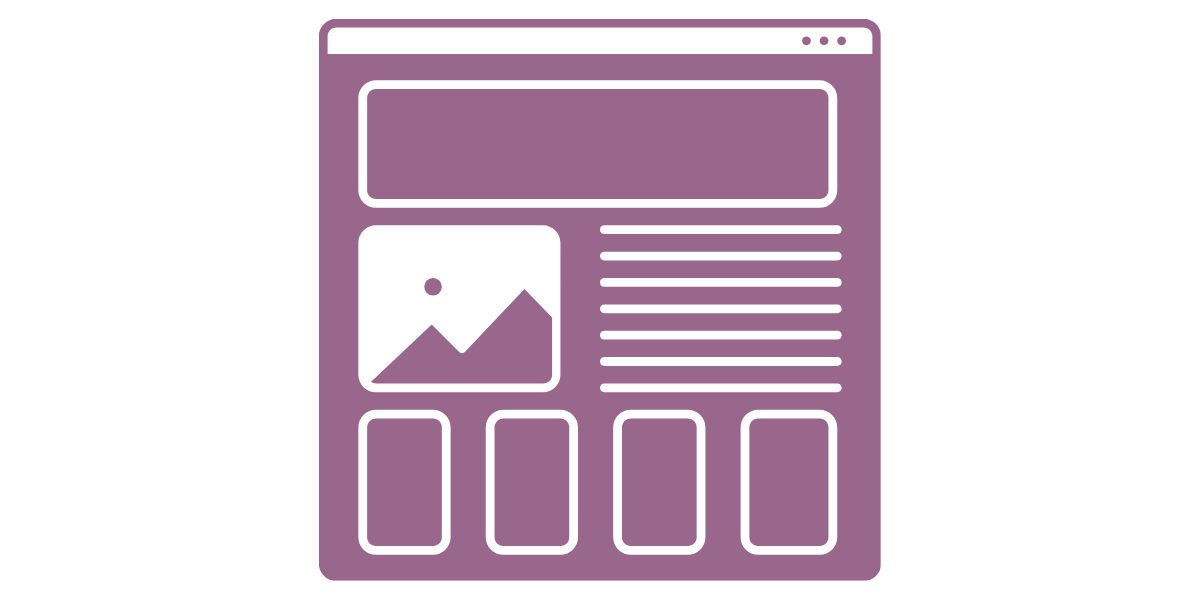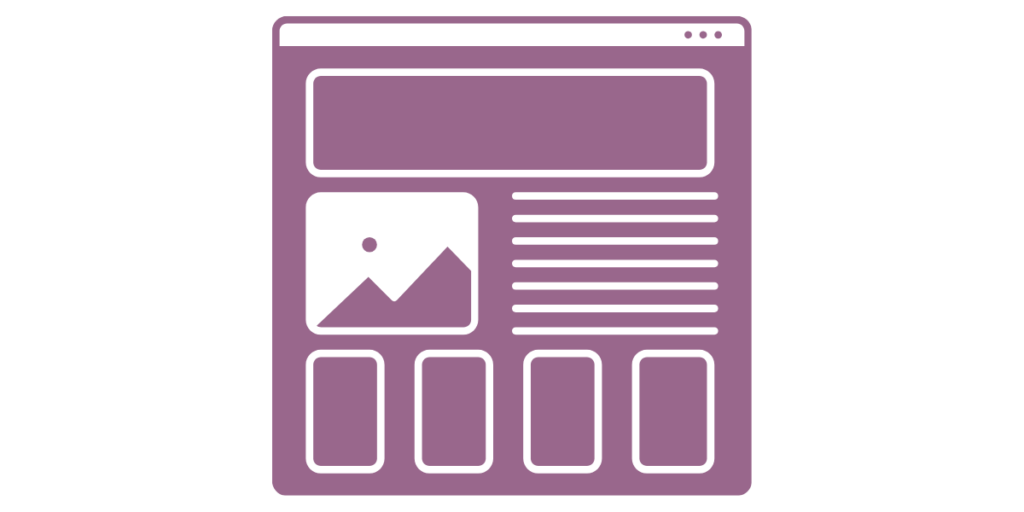 In design, a mockup is created after a wireframe and is like a more complete and polished version of the design compared to the wireframe.
There are a few key distinctions that can make it easier for you to understand the difference between wireframes and mockups:
Wireframes are typically monochromatic, while mockups are rendered with color.
Wireframes help the purpose of defining functionality, while mockups are designed to address visual aspects.
Wireframes display the basic components of pages, while mockups add depth and substance to the design.
To put it simply, think of a wireframe like a house's basic plan. It's a simple, two-dimensional drawing in black and white that outlines where rooms are and how they connect.
Imagine a wireframe as the basic plan for a house and a mockup as a colorful picture of what the house will look like. The mockup includes details like the house's color, the decorations inside, and even the materials used for the fireplace.
You can easily change these pictures to display new wallpaper. Similarly, mockups can help people see how a page might look different without changing its layout.
Difference Between Mockup and Prototype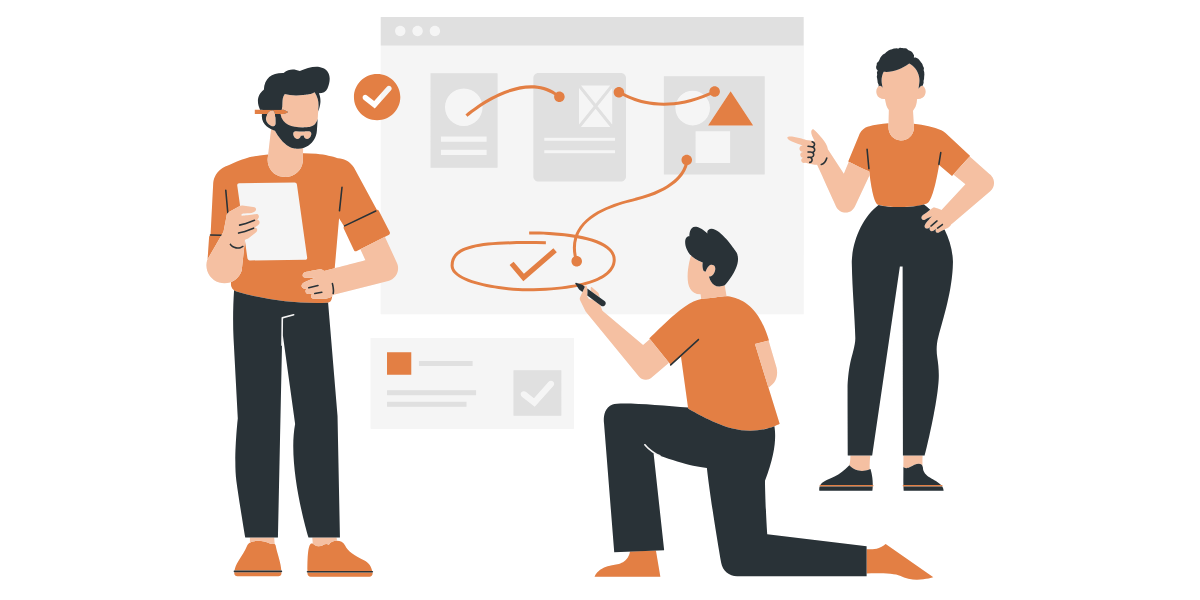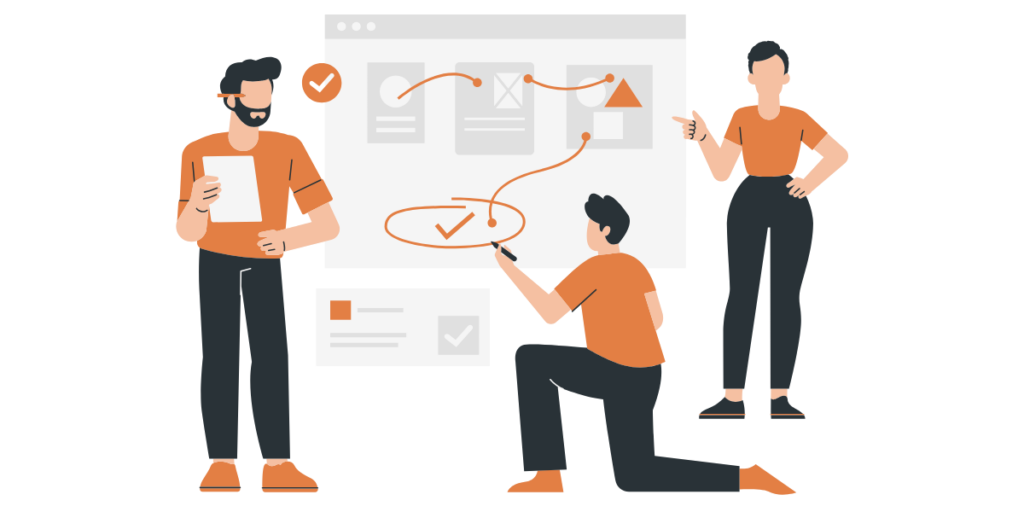 Mockups are like images of a web page before it's made, while prototypes are like practice versions that work almost like the real customer experience. Mockups are still pictures, but prototypes let people see how the website will actually work.
Returning to the architectural comparison, think of a mockup as a picture on a PC screen. In contrast, a prototype is like a 3D virtual program that allows you to actually walk through a house. The picture helps you see how colors and room layouts come together, while the virtual program lets you virtually move from one room to another, giving you a feel for the open layout.
Similarly, a prototype allows people involved to feel like they're real users and offers them a nearly real experience before making a web page live.
Why Is Mockup Important?
Without mockups, it could be really hard to show your audience what you wish to make or sell.
Since more than 65% of people around the world learn better through visuals, it's a smart choice to make a picture or model to show your ideas.
Mockups have many possibilities. You can use them in different parts of a company, like marketing, design, meetings, or research. Mockups can help everyone in these areas and give them good results.
Create professional mockups to show your product to the target audience.
A mockup helps:
Let you see your final goal clearly.
Bring your team together.
Convinces investors to join.
Grow your collection of marketing materials.
Get your audience interested.
Bring in more potential customers.
Aids buyers in making choices.
1. For Marketing Team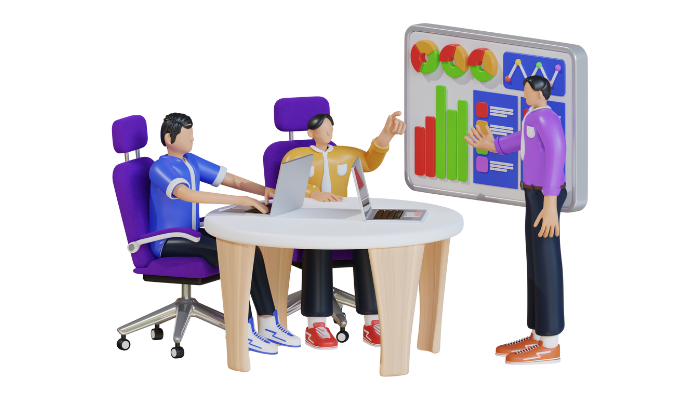 Mockups are known for being a cost-effective and successful way to advertise in the department of marketing.
For a long time, marketing crews have been using mockups to show neat and polished ads. These ads help people see how a product can be useful to them and make them want to do something about it.
2. For Design Teams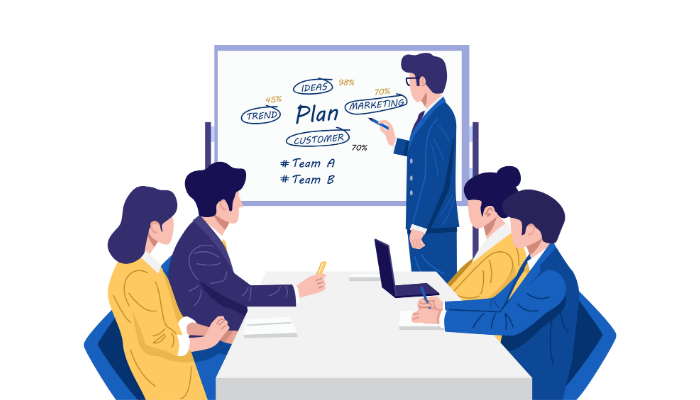 Design teams find mockups helpful. Mockups are like a map that helps the team know what they need to design by showing them the final result. When a mockup is done well, it makes sure everyone in the team understands what they're working towards, which leads to an outcome that matches the actual design.
3. For Investors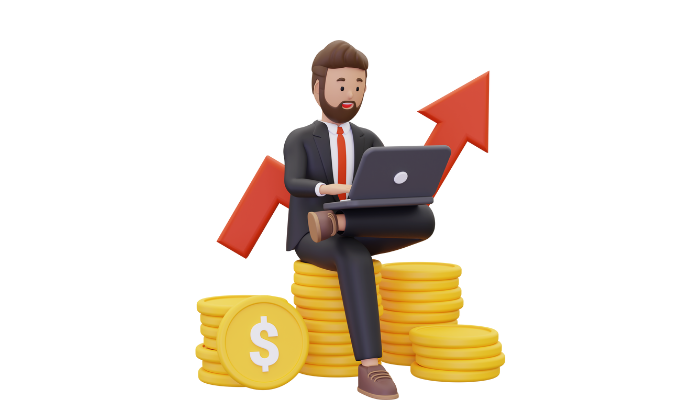 Investors have found that using mockups is helpful. When you make a special mockup, it helps potential investors understand your ideas by seeing them visually.
A neat and professional mockup can convince investors to support and invest in the product.
If you want to make your presentation to investors more impressive, think about including some mockup photos in your pitch deck.
What Are Free Mockup Tools?
Having the right free tools is crucial for making good mockups.
It is true that most mockup tools provide a wide selection of high quality images, as well as a vast set of templates, however not all of them are completely free of charge.
However, there is a mockup generator that is 100% free and comes with a lot of features to use. Let's get into more detail about this.
Mockey AI
What makes Mockey the best and most free mockup generator on the internet?
When you want to make a really detailed mockup of your logo or design without too much hard work, the best generator to use is Mockey.
A large selection of templates lets you instantly incorporate the design into a scene using Mockey's software.
Mockey is the perfect Smartmockups and Placeit alternative generator if you are looking for high-quality templates.
In the past, experts like photographers, developers, or designers used to make mockups by hand. But that's no longer the case!
You can quickly upload your design or logo by clicking "Add Design," and it will instantly create a polished mockup for you.
How to Create Mockups
Let's show you a simple guide for making a mockup using Mockey.
1. No Signup is Required to Create Mockups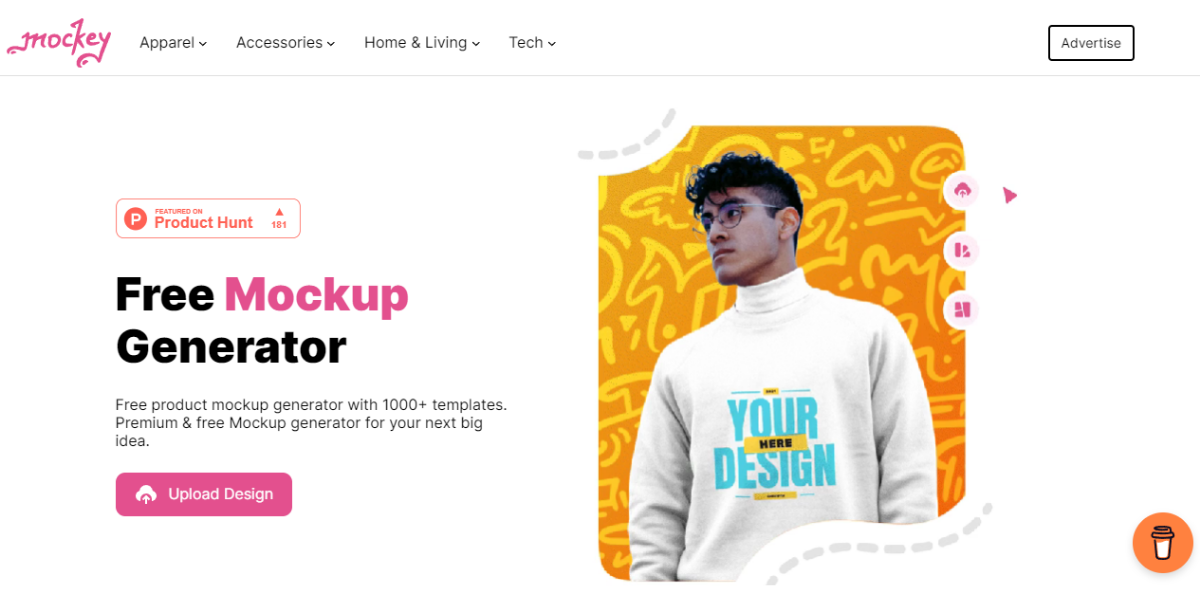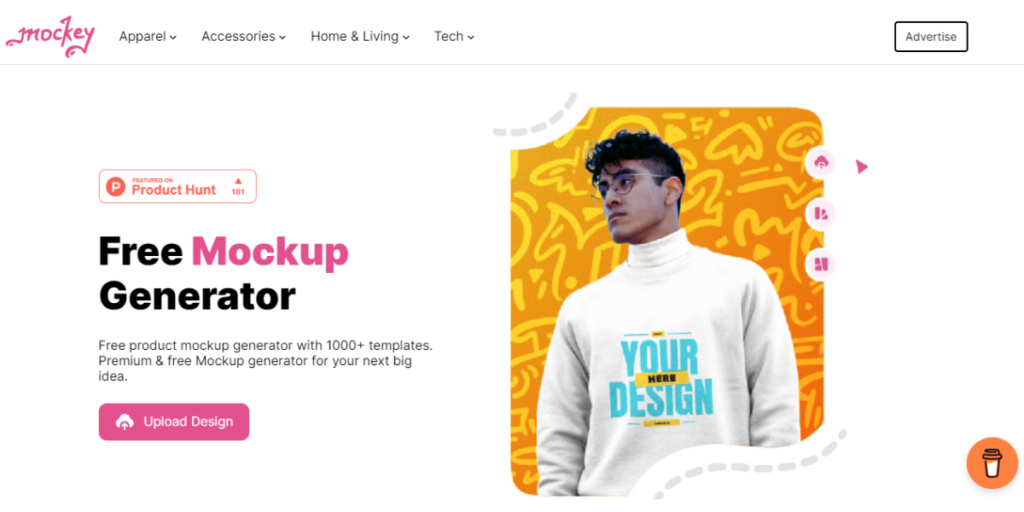 In Mockey, you don't have to create an account. You can make mockups as soon as you visit the official website.
With this free website, you can access many professionally made templates for various types of mockups and presentations.
2. Upload Design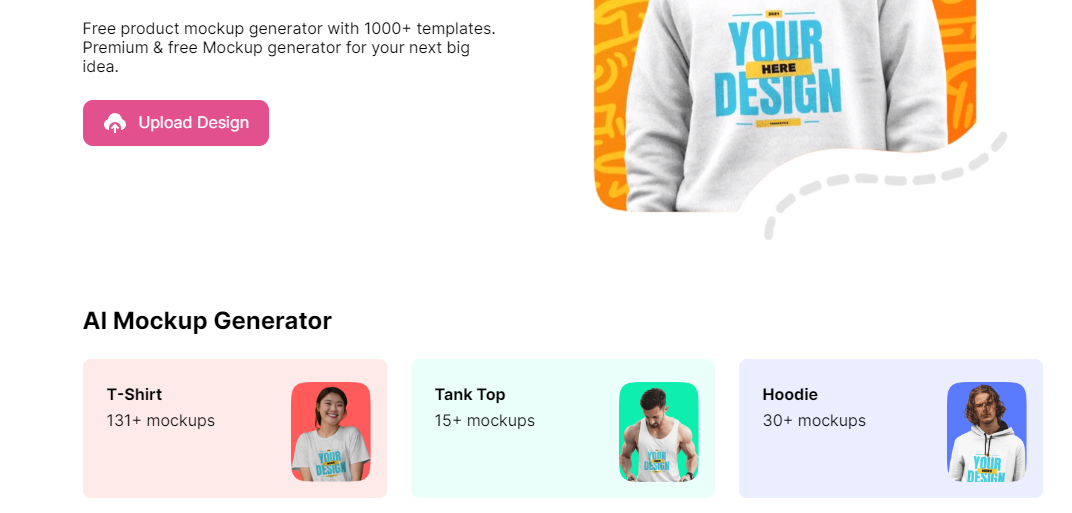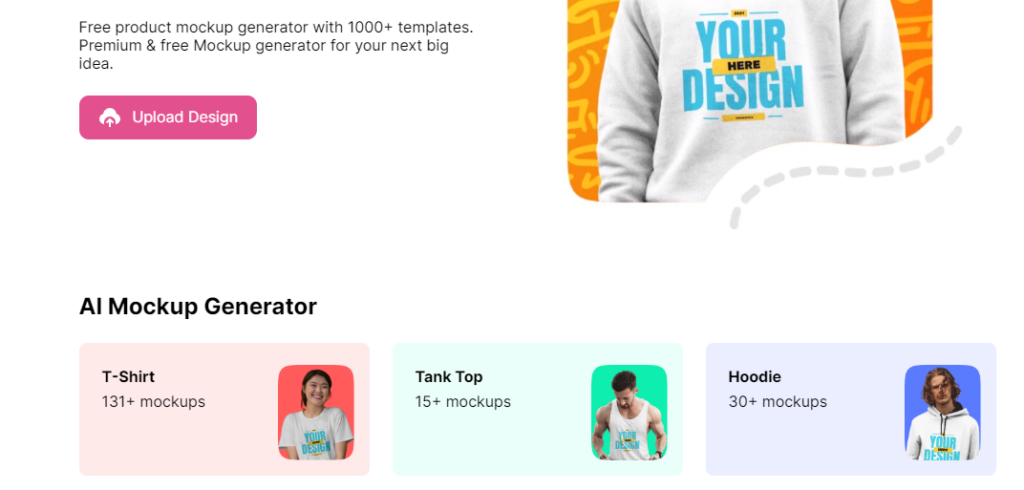 On the homepage, you'll find an option, "Upload Design." After you tap on it, you'll be able to upload your design either from your computer or your mobile device.
This is where you can personalize, take a preview, and download all the mockup projects.
3. Choose Your Template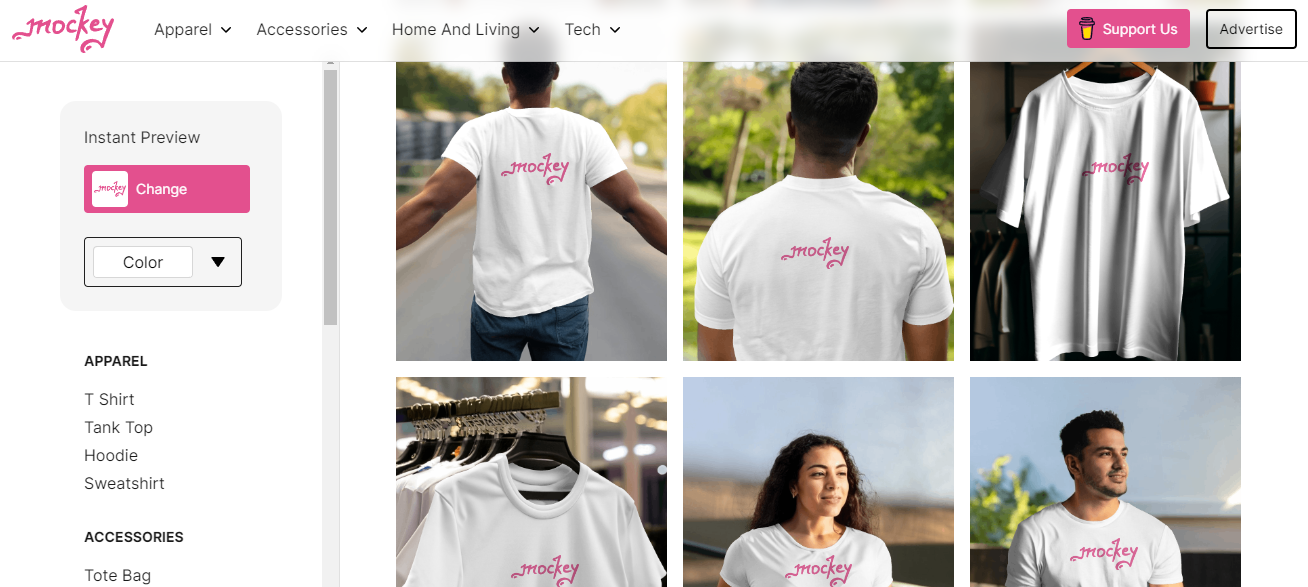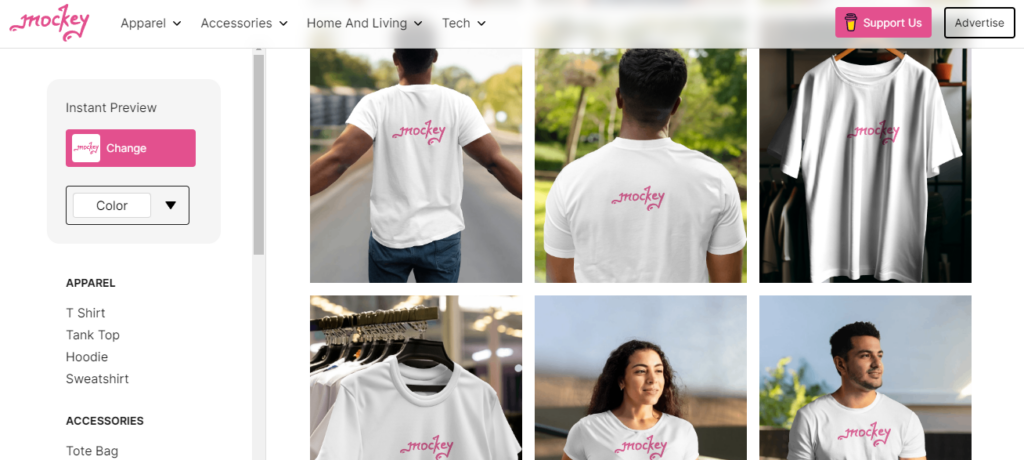 When you begin a new project, you have the option to select from a vast collection of templates created by expert designers, with over 1,000 to pick from. You have the option to select from more than 20 different categories.
4. Free Customizable Feature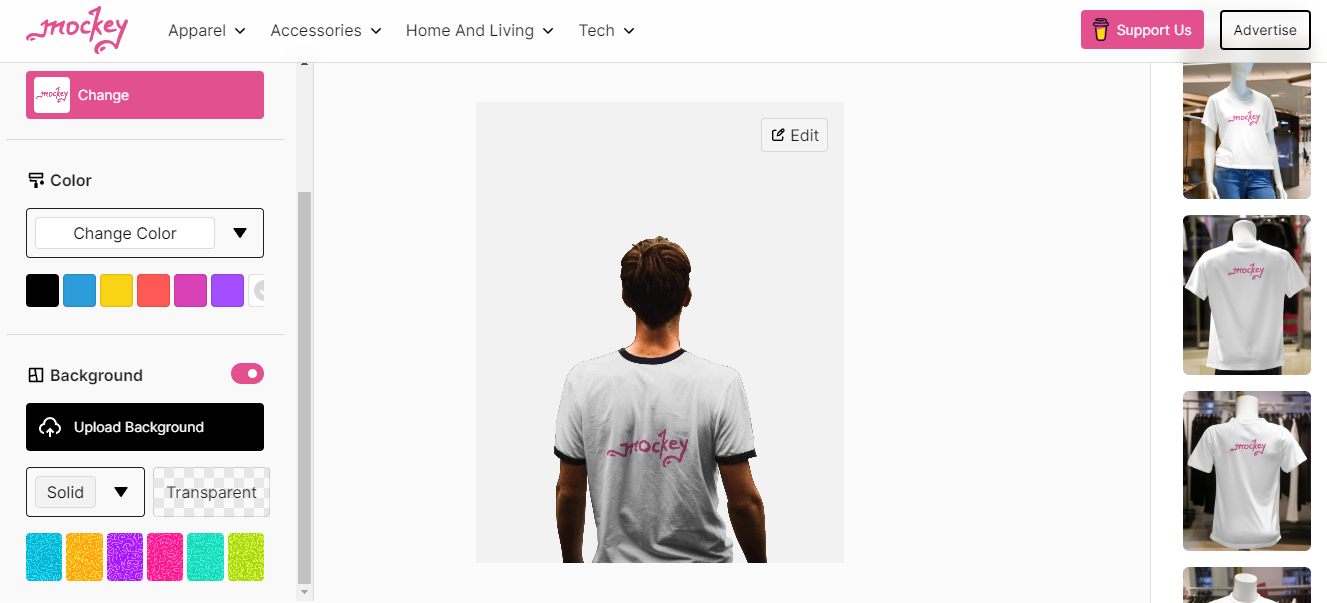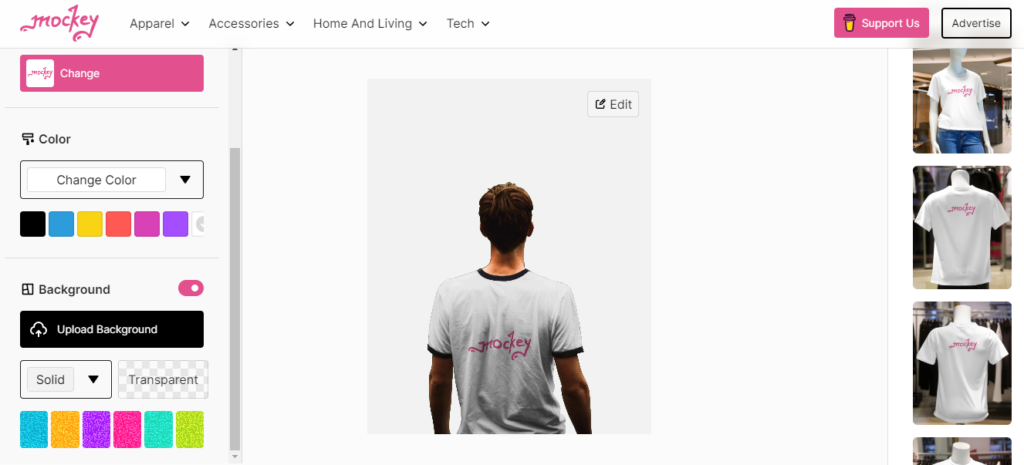 Now, you have the option to personalize your design using the editor section. You have a few options to play with here! You can make the background transparent, pick a ready-made template, switch up the colors, and adjust the size of your design. Give your creative project a makeover!
5. Download with No Watermark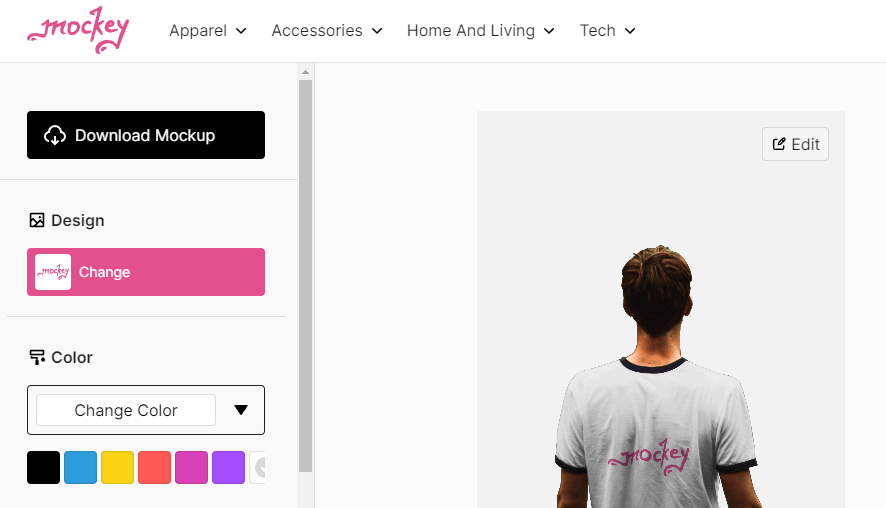 Once you've made the changes you wanted, it's time to get your customized mockup. Simply click on the "Download mockup" button, and it will save to your device.
Your design can be downloaded without any watermarks.
Get Free Mockey App
One more good thing about Mockey is that you can get Mockey App from the Play Store for free, and there are no extra charges or fees, just like the website version.
In the app, you'll also find a section where you can check out the latest mockup templates that have been added.
Conclusion
To conclude, you got your answer to the question, "What is a mockup in design?". Also, you got all your answers related to mockups and how they can really help your business and marketing efforts.
Using Mockey's mockup generator, you can swiftly and effortlessly make mockups for your upcoming project.
You can pick from many mockup templates that you can fully customize. We're sure you'll discover one that suits you.
Why wait? Go to the website and begin creating the next mockup right now.
FAQs
What is a mockup in UI design?
What is a mockup in UI design? UI mockups are representations of what a finished digital product will look like. It shows how elements are arranged, the colors used, the fonts, and the icons.
What is the purpose of a mockup?
Mockups are visual representations of designs, products, or concepts. It is designed to bring a concept or wireframe to life and lets a designer evaluate how different visual elements interact with one another.
What is a design mockup?
What is a mockup design? A mockup is a detailed preview of your product's design that shows what the final product will actually look like.
What is an example of a mockup?
An example of a mockup is a digital design prototype displaying the layout, colors, and elements of a website or app without highlighting its functionality.
What is a mockup generator?
What is a mockup website? A mockup generator is an AI tool for print-on-demand. It helps you make a realistic picture of your design on a product without making the real product. This way, you can show off the designs to possible buyers and see how they'll look on the actual product.