This article will discuss how to make a frame mockup in 3 easy steps. Have you ever seen a picture of a room with a pretty picture frame hanging on the wall? Well, sometimes those frames are not actually real!
Table of Contents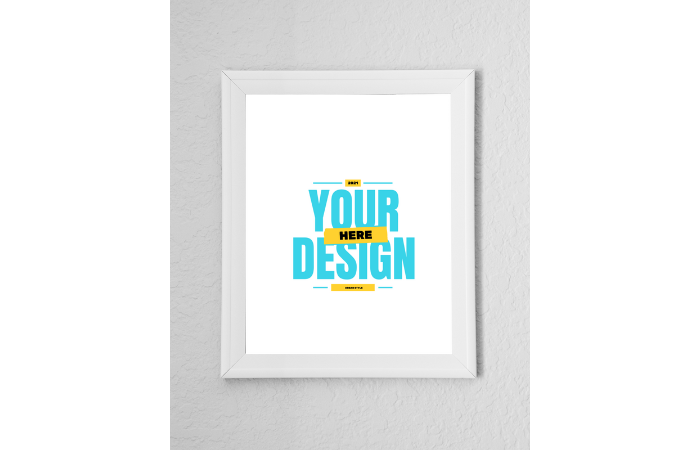 They are something called "mockups", which means they are just a pretend picture of what the frame would look like if it was really there. Mockups are super useful because they let you see what a design would look like in real life before you actually make it.
This article will teach you how to make a frame mockup in just three easy steps! You don't need to be an expert designer to do this – just follow along, and you'll have your very own mockup in no time. So, let's get started!
Steps on How to Make a Frame Mockup
To make a frame mockup, follow these 3 easy and simple steps.
Before that, you must know we will generate a frame mockup on the Mockey website with step by step tutorial.
The Mockey free mockup generator lets you quickly and easily create a variety of mockups, including a frame mockup PSD that you can customize with your own designs. So let's start.
Step 1: Choose Your Mockup Design
Step 1 is to choose your mockup design. This means you get to pick what your frame mockup is going to look like. There are lots of different designs to choose from, like a simple frame on a white background or a frame in hand or other decorations around it.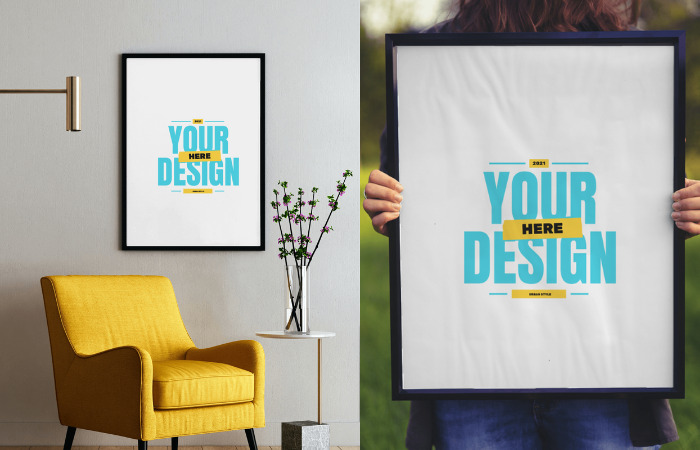 So for that,
Visit the Mockey website or download the Mockey app for your smartphone or tablet. Then, select the "Poster" category by clicking on the Home & Living option on the top bar.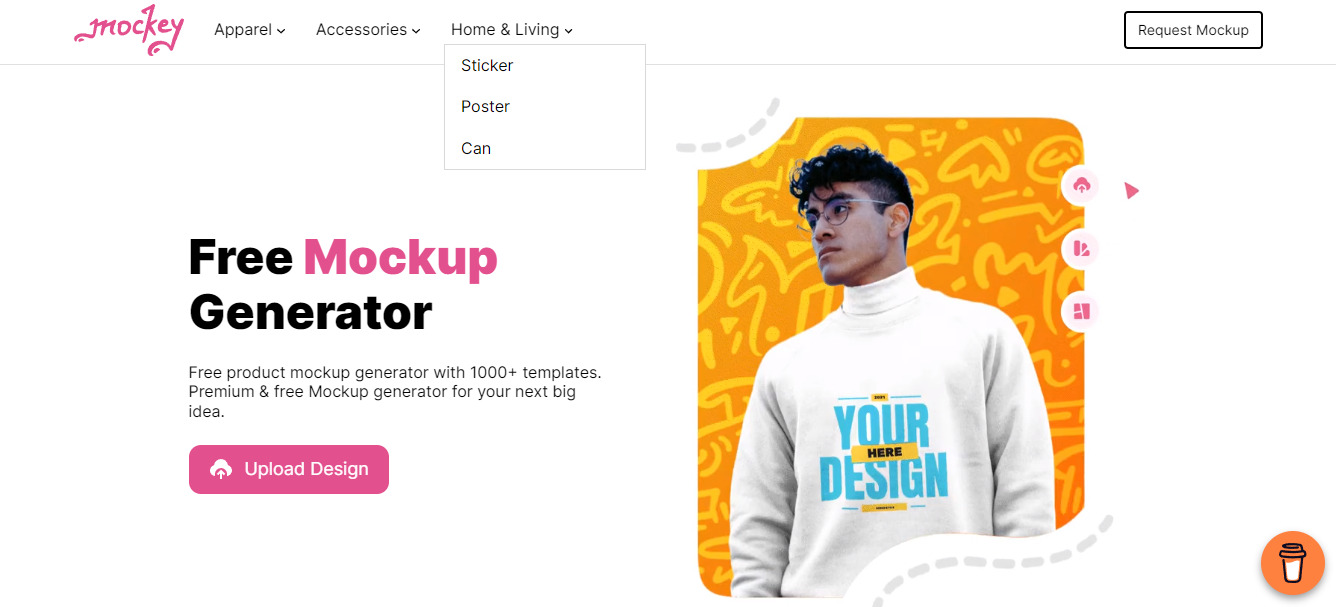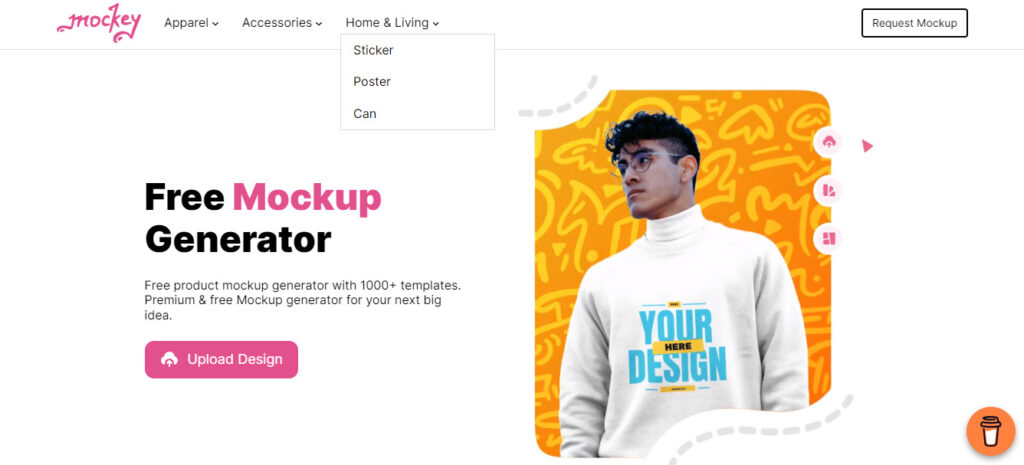 Then, click on the "add Design" option. This can be a picture, drawing, or logo.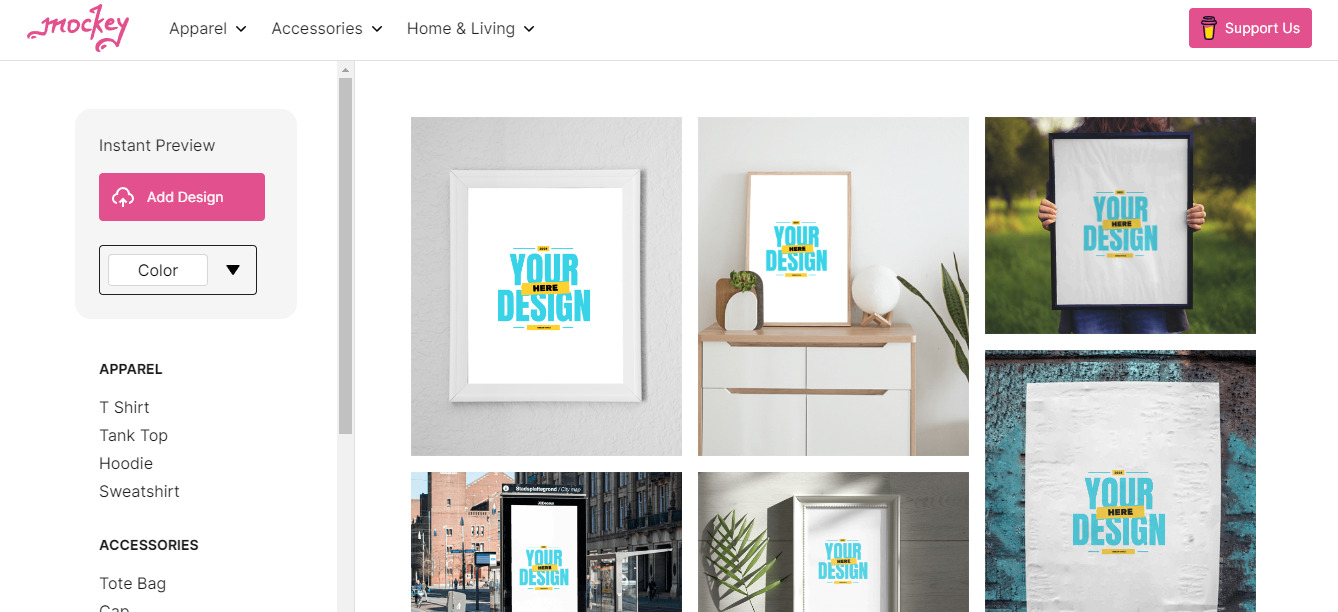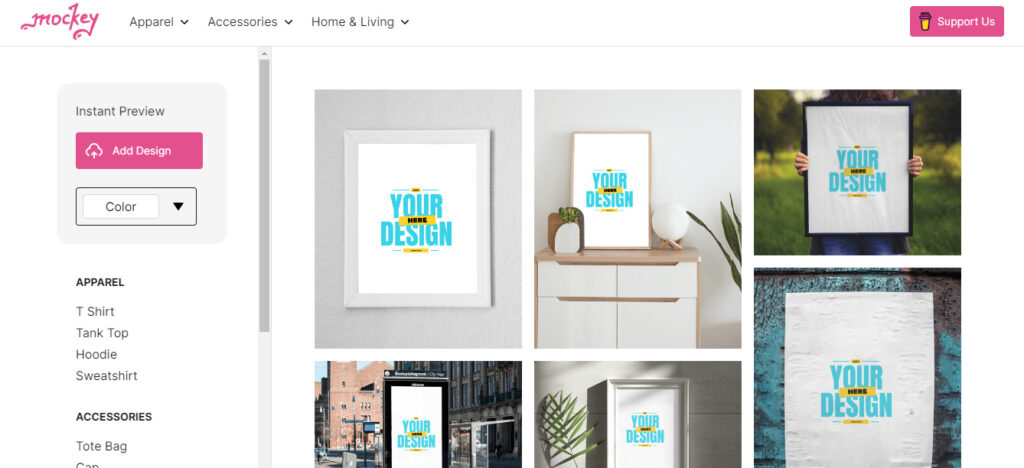 When you're choosing your design, think about what kind of picture or design you want to put inside the frame. You want to pick a mockup that will show off your picture or design in the best way possible.
Once you've picked your mockup design, it's time for step 2 – customizing your mockup. Stay tuned to learn how to add your own designs to your mockup!
Step 2: Customize Your Mockup
Step 2 is all about customizing your mockup. This means making your frame mockup unique and special, just like you! To do this, use the Mockey editing features.
Once you add your design or logo, you can see the various templates to choose from.
After selecting the template, it might take a few attempts to get it just right, but that's all part of the fun, so don't worry!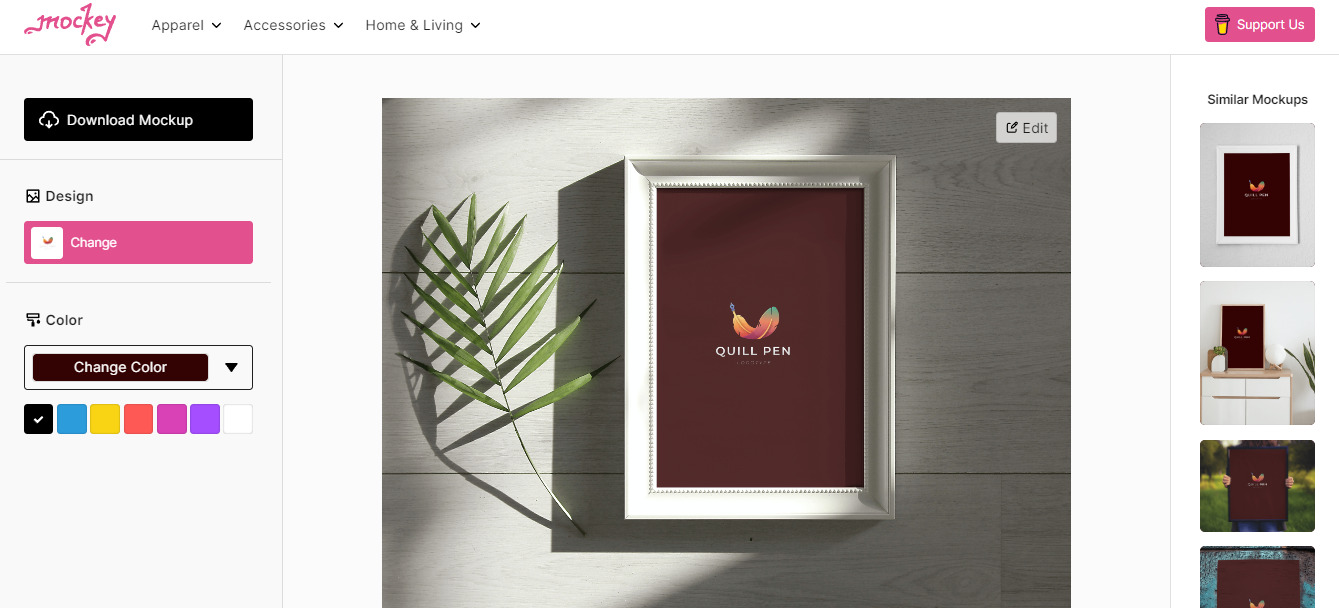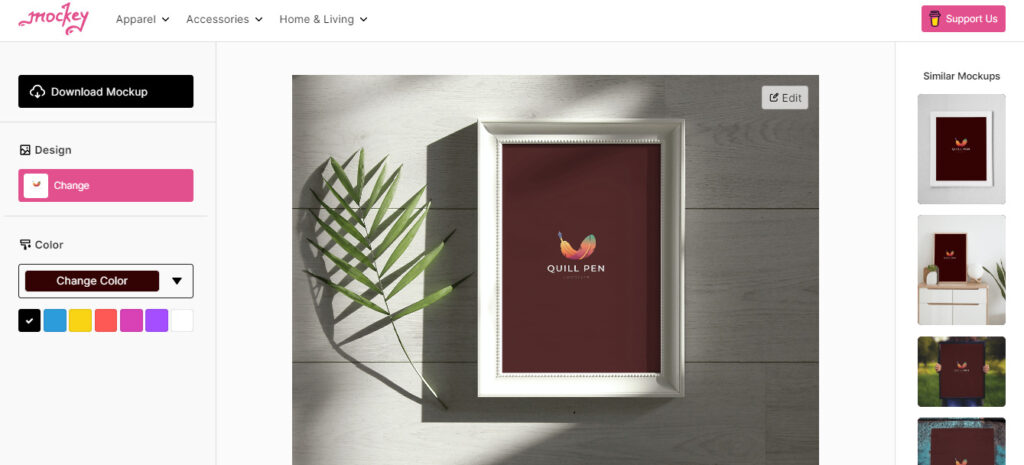 After selecting the template, you can customize it with various features such as adjusting the logo, colour modification and many more. Get creative and have fun with it!
Now that you've customized your mockup, it's time for step 3 – finalizing and saving your mockup. Stay tuned to learn how to do this!
Step 3: Finalize and Save Your Mockup
Step 3 is the last step in making your frame mockup. It's time to finalize and save your creation!
To finalize your mockup, you'll want to ensure everything looks perfect. Check for any mistakes or things you might want to change. You want your mockup to look just the way you want it before you save it.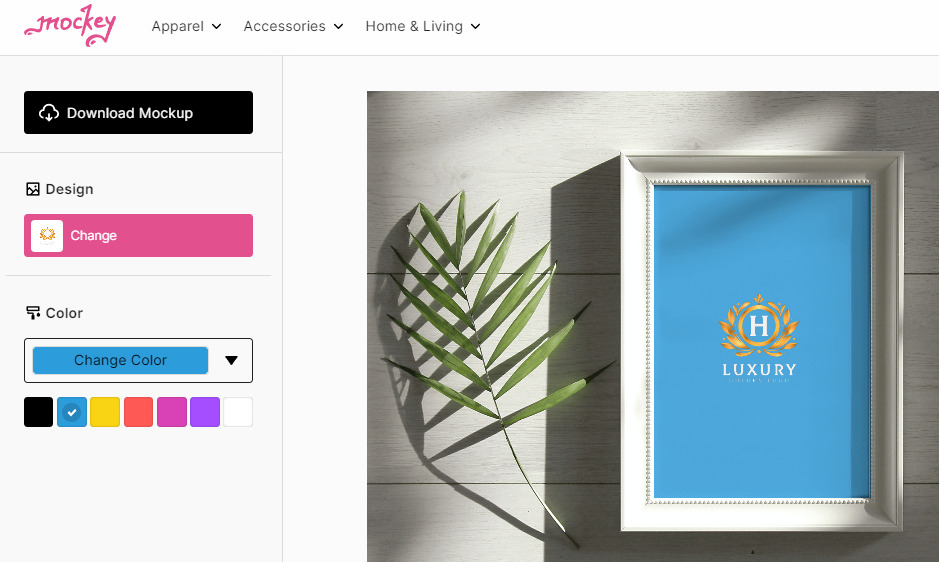 Once you're happy with your mockup, it's time to save it! You can save it in PNG format. This means you can share it with your friends and family or even print it out and hang it up on your wall.
After you save your mockup, make sure to give it a cool name so you can easily find it later. And don't forget to have fun!
Making frame mockups is a great way to express your creativity and make something totally unique.
Conclusion: Create a Professional Mockup
Congratulations! You've just learned how to make a frame mockup in three easy steps. We hope you had fun and learned something new.
With Mockey, a frame mockup psd is a really cool way to see what your designs would look like in real life. With just a few simple methods, you can make something totally unique and special.
Don't be afraid to try different mockup designs or customize them in your own way. The possibilities are endless! And remember, the most important thing is to have fun and be creative.
Thanks for reading, and happy mockup-making!
FAQs
What is a frame mockup?
What is a frame mockup? The answer is a frame mockup is a digital or physical design template that shows what a picture or artwork would look like in a frame. Mockups are often used by designers, photographers, and artists to showcase their work in a realistic way.
What are some popular mockup designs?
There are many different mockup designs available, ranging from simple frames on a plain background to more complex designs with decorative elements. Some popular mockup designs include frames with flowers or foliage, frames with different textures or patterns, and frames with a vintage or rustic look.
What software do I need to make a frame mockup?
To make a digital frame mockup, you can use Mockey. However, you can also make frame mockups by hand using paper, markers, and other materials.
Can I use frame mockups for commercial purposes?
Yes, many frame mockups are available for commercial use, but be sure to check the license and terms of use before using them for commercial purposes. You may need to give credit to the original creator or purchase a commercial license.