Hey there! Are you a designer or marketer looking to create product mockups for your latest project? Look no further! These steps will walk you through how to create product mockups using Mockey.
Whether showcasing a new product design, mockups are a great way to give your audience a visual representation of what the final product will look like.
Table of Contents
Not only do Mockey helps with free mockup development, but it also makes it easier to customize your design to be unique and eye-catching. So grab a cup of coffee and start creating some amazing mockups with the help of Mockey.
How to Create Product Mockups Using Mockey
Follow these five step-by-step guides on how to create product mockups using Mockey.
Step 1: Select Your Preferred Model
The first step is to select the preferred model. This means if you are designing your mockup for cloth, You can choose your favourite model.
Step 2: Change Product Color
The 2nd step is to change the color. You can change the color of the product as per your choice.
Step 3: Background Modification
Background modification can easily be done using Mockey, which allows you to customize the background to your desired look.
Step 4: Similar Product, Two Different Images
This method is for those users who want to generate mockups for two similar products while using two different images.
Step 5: Customize Your Images and Download
The final step will help you to customize your photo and make any necessary adjustments to complete your mockup file.
Let's briefly talk about these five steps one by one.
STEP 1: SELECT YOUR PREFERRED MODEL
When selecting your preferred model, a mockup generator site can be a great way to visualize your options and make an informed decision. Mockey allows you to upload your design or logo and see it displayed on various products and models, such as t-shirts, bags, hats, and more. Now, please follow these instructions:
Launch the Mockey website or install the Mockey app from the Google play store.
You can upload images in two ways. The first is that you can add images by clicking the "Upload Design" box.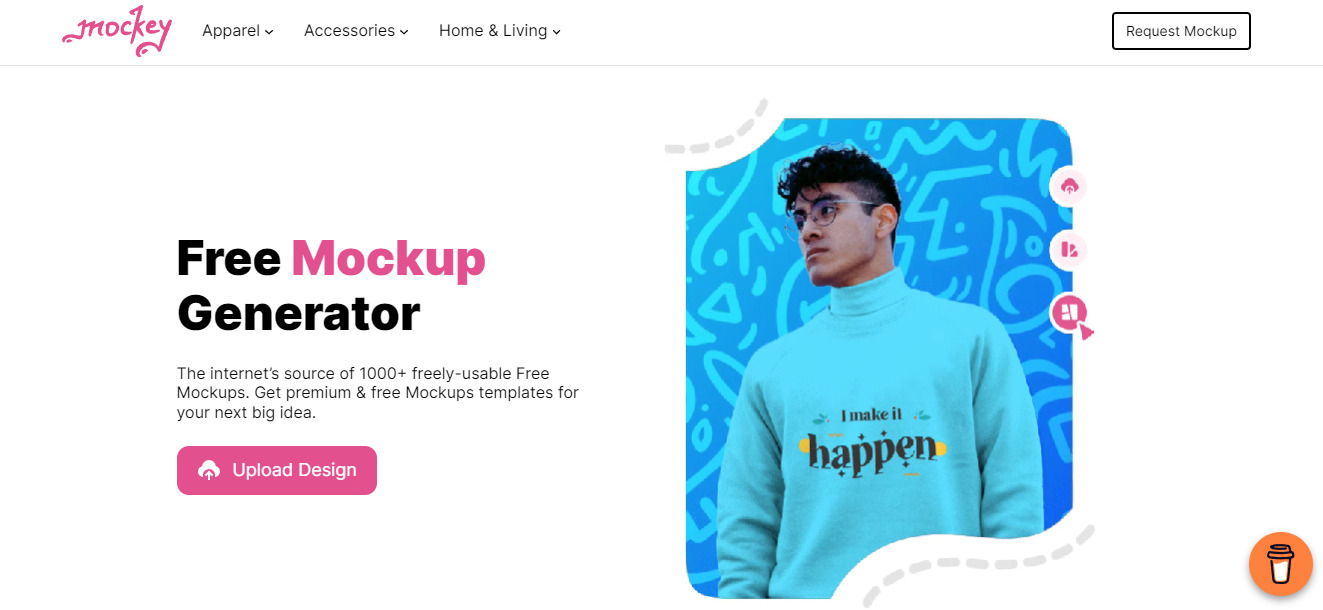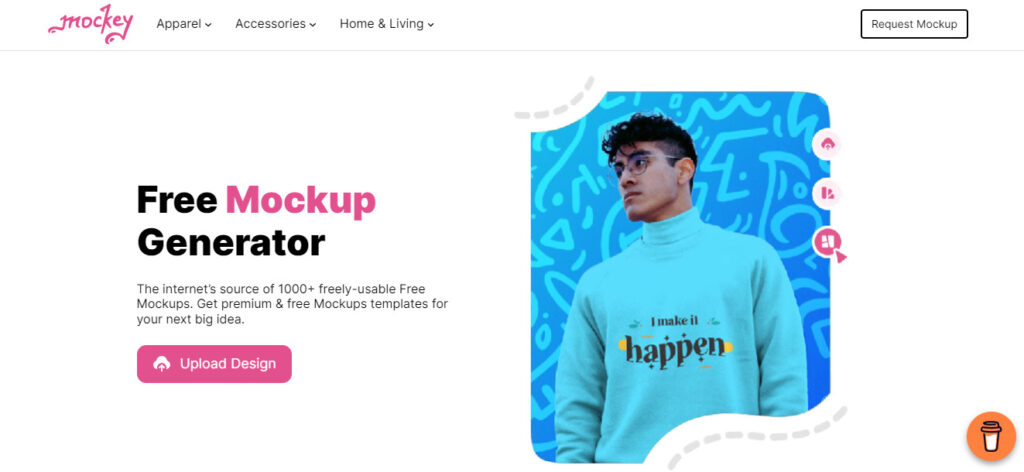 And the second way is that you select the category and add the image by clicking on the "Add Design" option on the next page.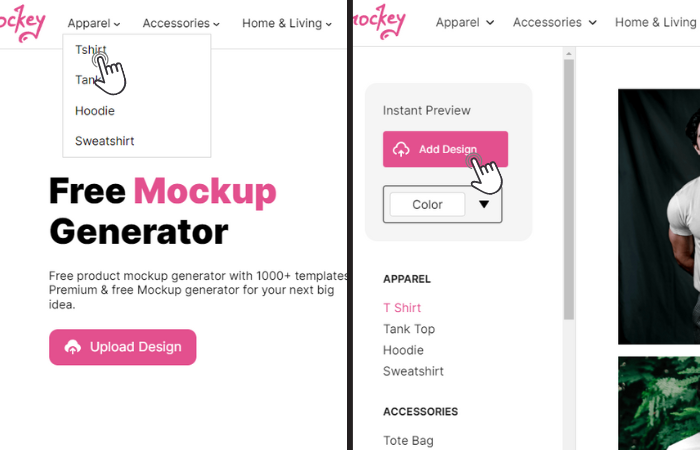 After clicking that option, you can select your image and press open.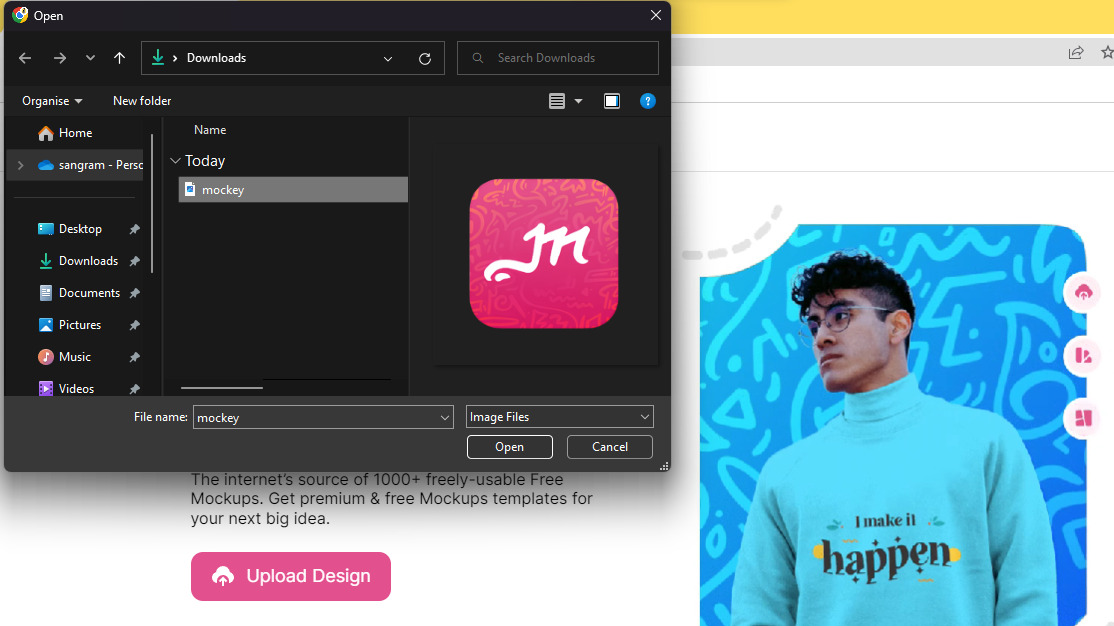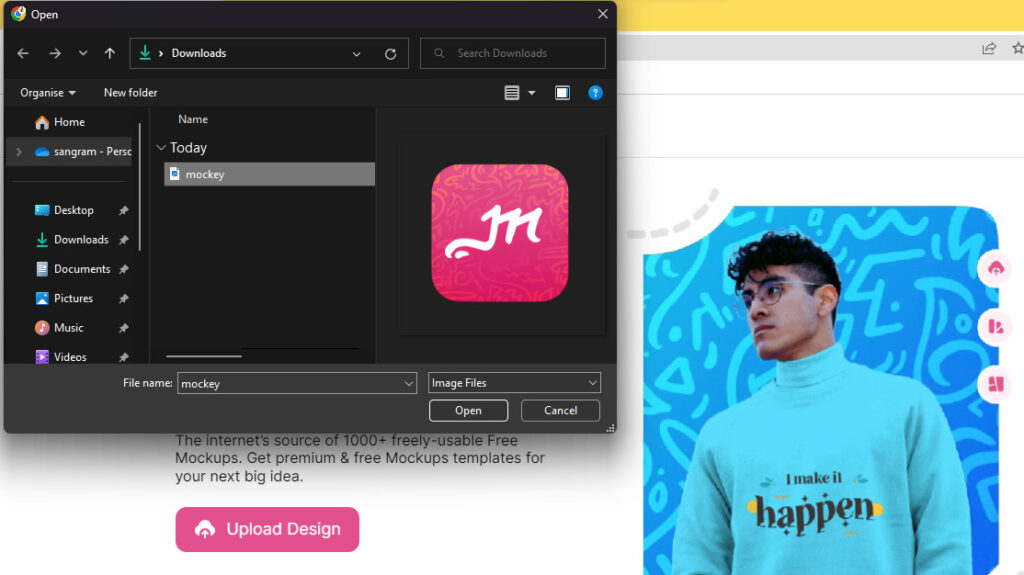 You will now see a huge number of different models. You can choose your category, including T-shirts, TankTop, Hoodie, Sweatshirt, Caps, and many more.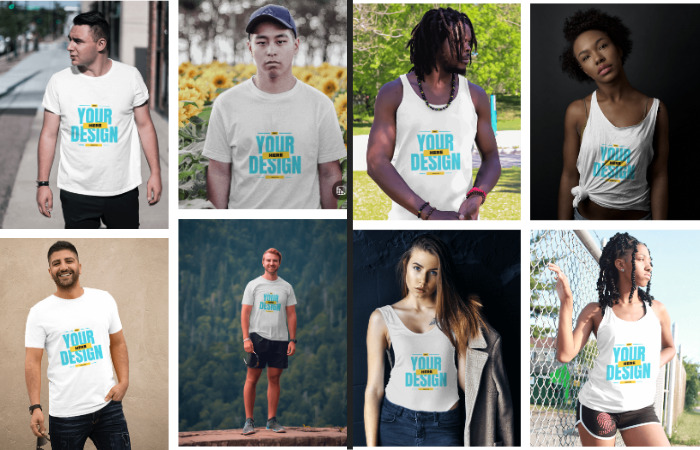 You can select the preferred model for the Tote bag or bottle if you wish.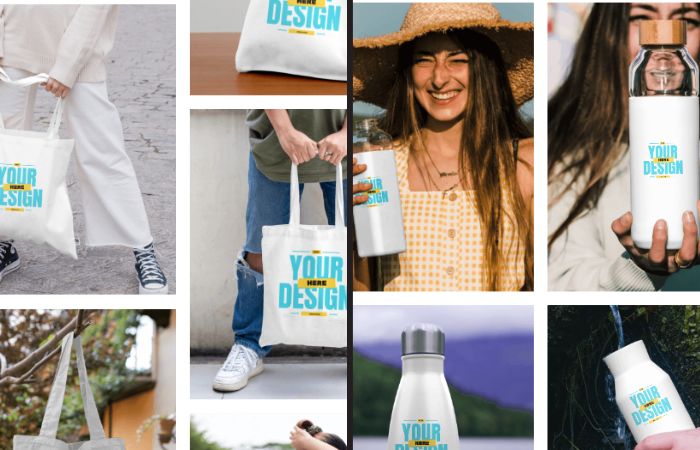 After deciding, you will enter the next step, which will help you change the product's color.
STEP 2: CHANGE PRODUCT COLOR
Changing a product's colour using the Mockey website is a straightforward process.
After selecting the model, you will navigate to the next page, where you can change the color. For this tutorial, we have selected the T-shirt category.
You will see a section called the " change color" option on the left side of this page. After clicking it, you can select the new color for the t-shirt.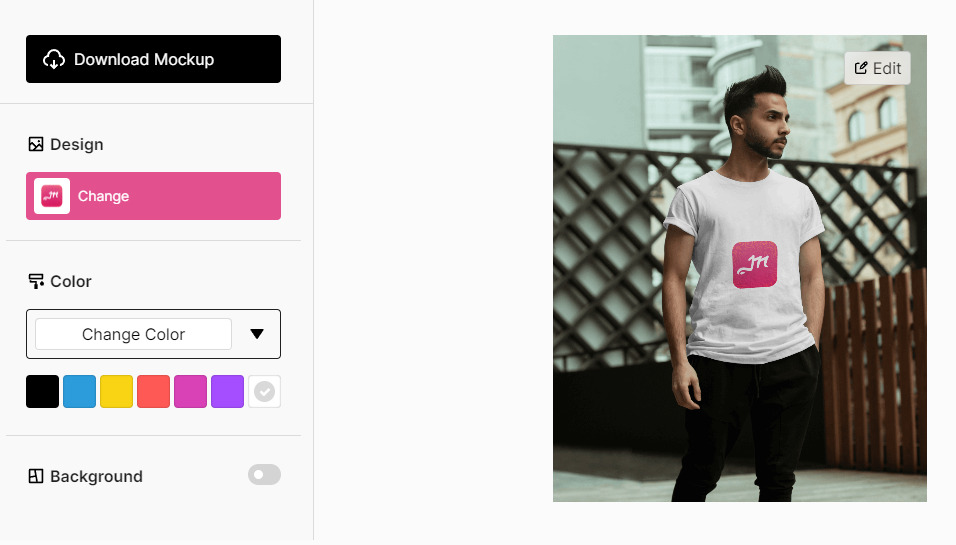 Additionally, if you have a specific color in mind, you can also enter the HEX or RGB number for the t-shirt. Simply, enter the HEX or RGB code in the designated field, and the color will automatically apply to the product.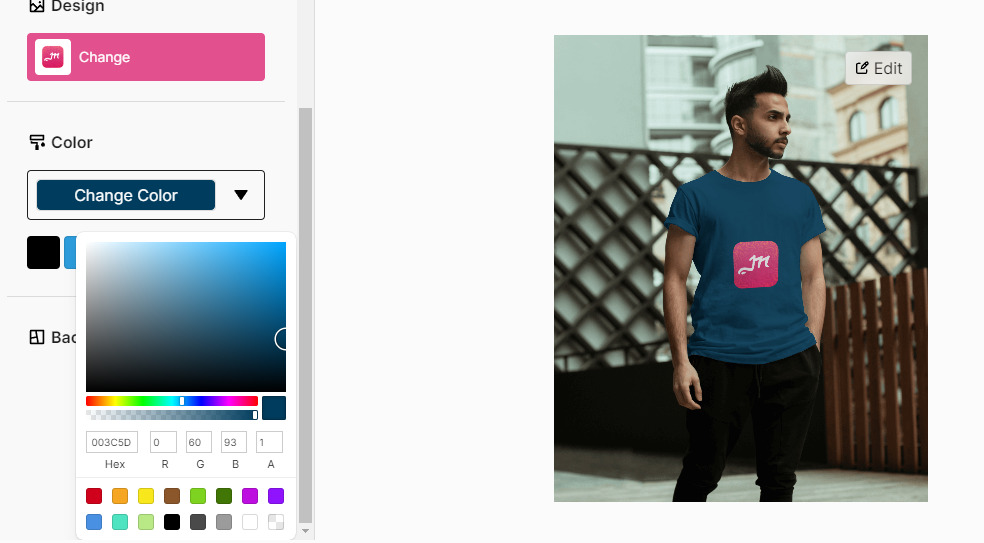 If you have selected the other category for changing color, the process will be similar to the step mentioned above.
Let's head to step 3, which will help you with background modification.
STEP 3: BACKGROUND MODIFICATION
The next step is to modify the background of the photos. The site offers an option to create professional-looking background modifications with minimal effort.
You must first enable the background option to use the background modification feature on Mockey.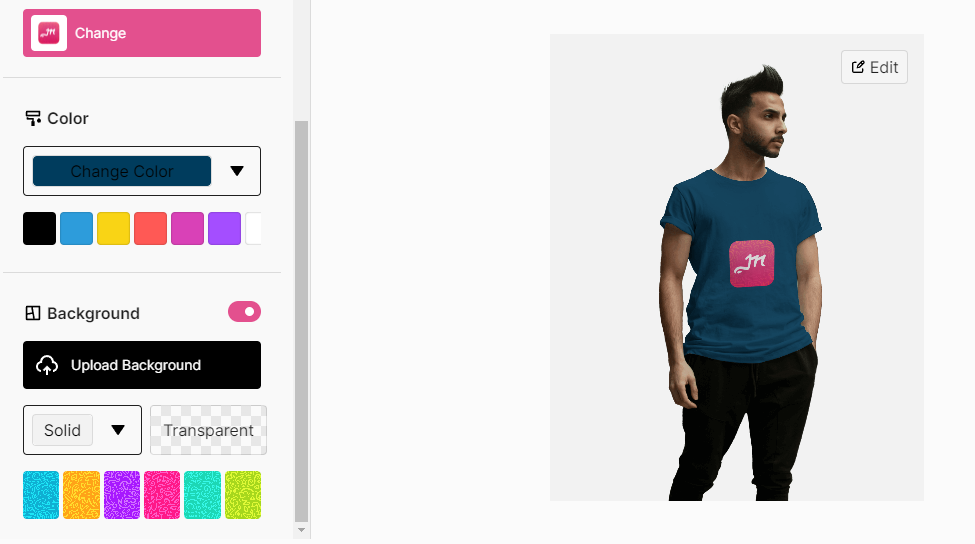 Once the background modification option is enabled, you can upload your preferred background image by clicking on the "Upload Background" button. And, once the image is uploaded, it will be set as the new background for the photo or image.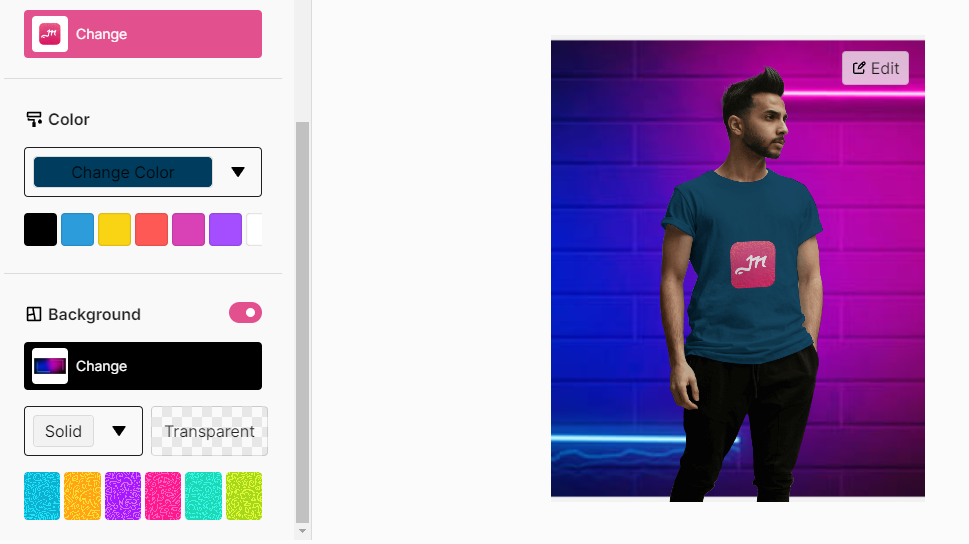 There is an option to select solid colors or transparency as the background. You can use RGB or HEX code for the specific color.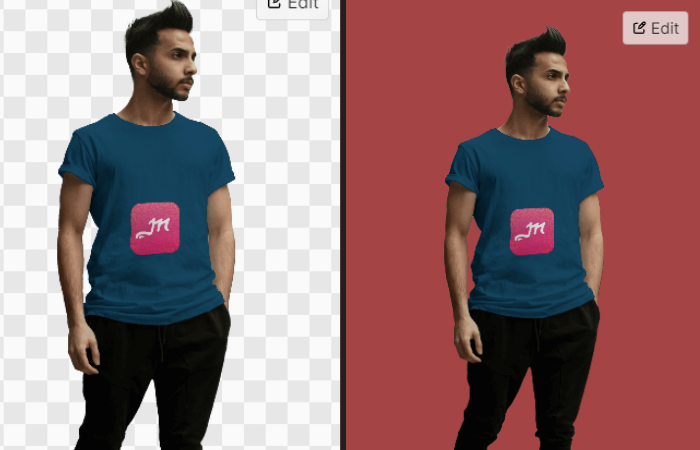 Also, there is a color design option to help you make your backgrounds more unique and eye-catching.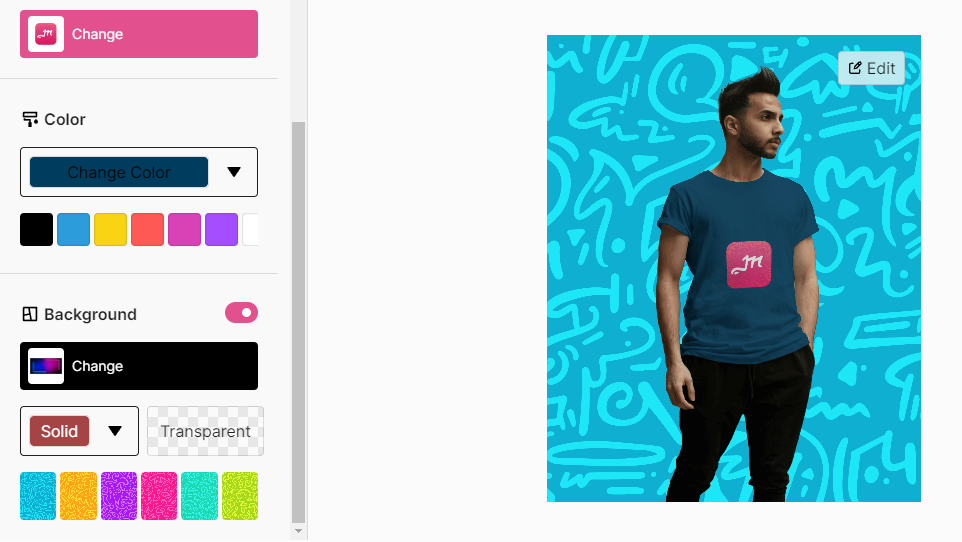 Mockey is a great choice for anyone looking to enhance their background images and make them stand out.
STEP 4: SIMILAR PRODUCT, DIFFERENT IMAGES
This method is for those users who want to generate mockups for two similar products while using two different images. If you don't want to follow this step, you can skip this.
Mockey helps you to create mockups for two similar products by allowing the user to create separate mockups for each product and then compare and contrast them. This can be useful for testing different design concepts and features and gathering user feedback.
You will take the help of the t-shirt, cushions, and mugs category, which showcases this feature. However, we will use the cushions category.
After selecting the category, you will navigate to the next page, where you will get to add images.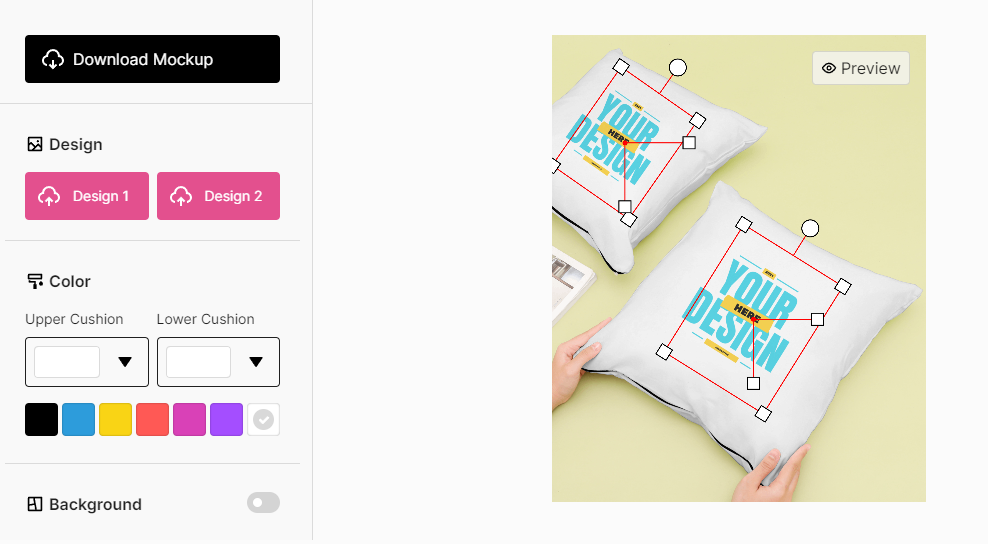 Now, you can add two different images to generate the mockups.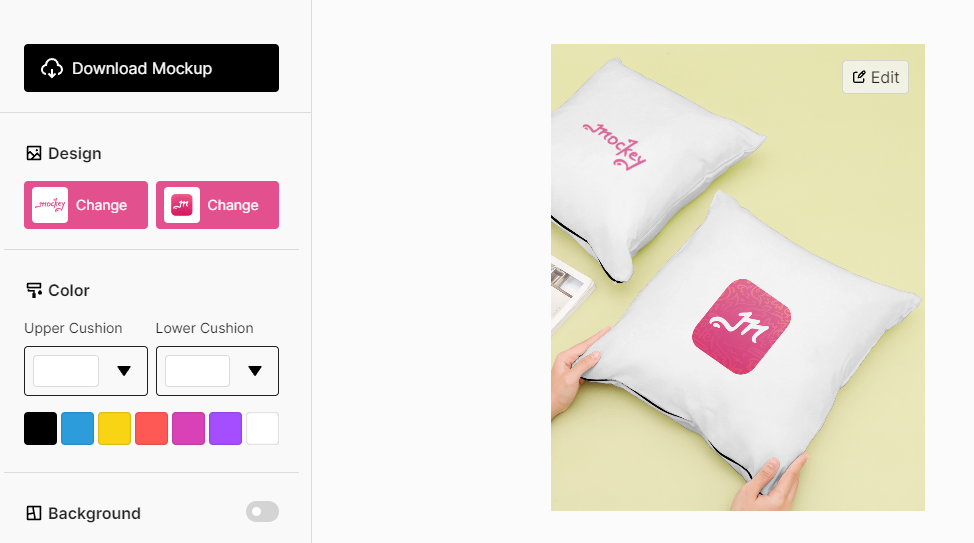 Mockey allows you to change the color of each cushion individually.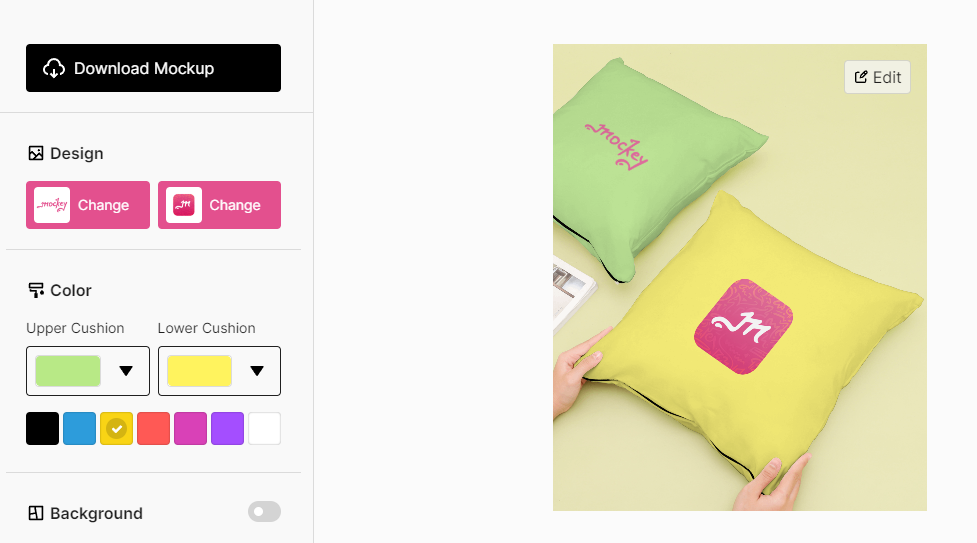 Also, there are a few options which we have already discussed to create unique and visually appealing mockups in our 2nd and 3rd steps.
METHOD 5: CUSTOMIZE YOUR IMAGE AND DOWNLOAD
The Mockey website offers a convenient and easy way to customize your photos according to your preferences.
When it comes to resizing the image, you can adjust the size of the image manually. Depending on your needs, this allows you to make the image larger or smaller.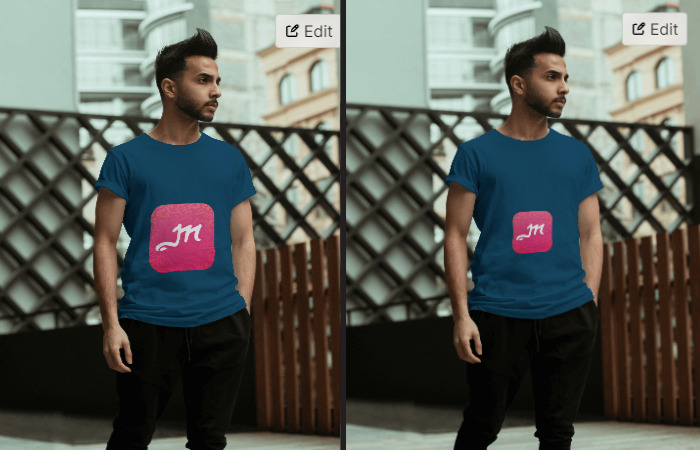 Placing the image wherever you want on the t-shirt can be done by dragging and dropping the image to the desired location. 
Also, you can change the angle of the image, which allows you to change the orientation of the image.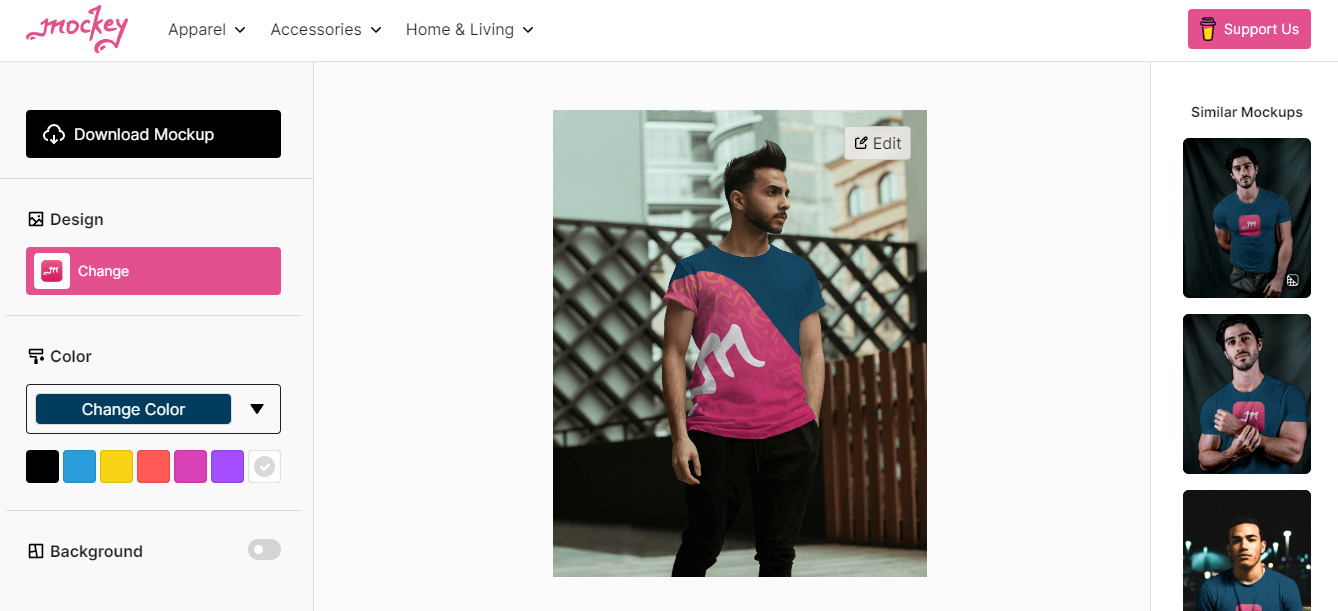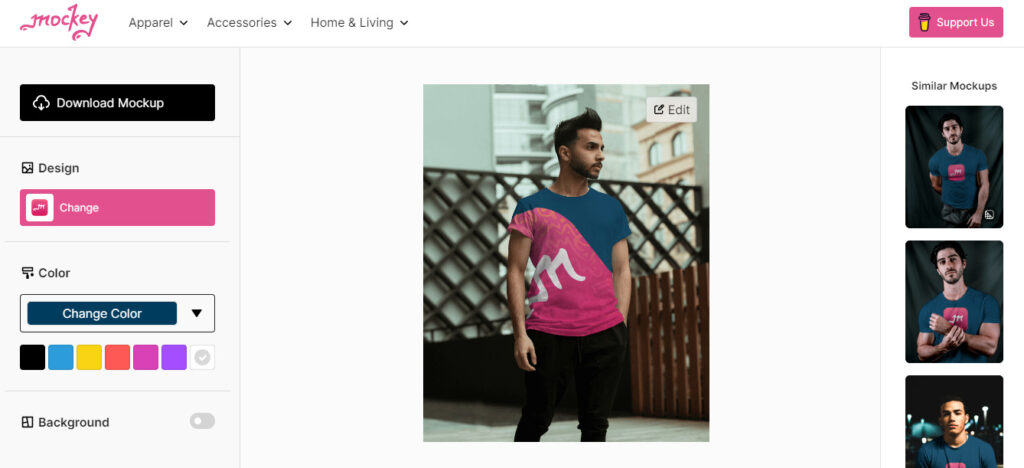 Finally, after you have finished customizing your image, you can easily download the mockup to your device by clicking on the "Download Mockup" button. You will save the image to your computer in the format of PNG.
All these five methods will assist you on how to create product mockups using the Mockey app/website.
Visit: Mockey
To Summarize
To sum up, creating product mockups with Mockey is a simple yet effective way to promote any product. With Mockey, you can easily create realistic and detailed product mockups that you can use for website displays, online marketing campaigns, or even traditional print media.
The possibilities are endless! So what are you waiting for? This 5-step guide has provided the basic information on how to create product mockups using Mockey. Get started with Mockey today and see how easy it is to create stunning visual representations of your products!
FAQs
What Type of Software Is Used to Make Mockups?
Usually, you will need the Mockey tool to generate a mockup. Its customized option to design several products is the best choice for designers. Also, it has been used to produce a significant number of mockups.
What Is a Product Mockup?
A mockup of your product represents how it will appear when it is complete. Product mockups can be used in presentations to investors, stakeholders, or administrators to collect feedback on the product concept just before mass manufacturing. Mockups of finished products are often used to display products in actual settings.
Why Is 1st Creating a Mockup Crucial Before Publishing?
Mockups allow you to see the finished result even before the manufacturing process begins. Mockups are simple to edit. You can simply modify your design in the mockup tools before coding is involved. The developers will be grateful that they don't need to revise the product design.
Where Can You Generate Free Mockups?
Without a doubt, on the internet, there are plenty of excellent resources for finding free mockup templates for a designer. Let's talk about 10 Incredible Sites for Designers to get mockup templates for free.
Mockey
Iconfinder
Futuramo
Placeit
FreePik
Designmoo
Pixeden
Graphic Burger
Mockplus
Mockup World
What Kinds of Mockups Are There?
5 types of Mockups for Products
Apparel mockups
Physical mockups
Still photo mockups
Moving photo mockups
Digital mockups
Mockups—Are They Prototypes?
Mockup: A mockup shows the final product's appearance through a high-fidelity rendering of your concept.
Prototype: A prototype is an initial version of a product that highlights the functionality and offers your stakeholders a preview of the finished product.