Have you ever heard of AI Art Generator? These innovative tools use artificial intelligence algorithms to create stunning pieces of artwork.
Demand for AI is increasing day by day, whether you create furry art or even generate AI landing pages.
AI art generators can produce a wide range of styles and genres, such as abstract compositions, lifelike portraits etc.
Table of Contents
So, without further ado, let's dive into our top 10 picks for the best AI art generators on the market today.
What Is the AI Art Generator
So, what exactly are AI art generator? This amazing technology uses artificial intelligence algorithms to create unique pieces of art.
Essentially, it's like having your very own digital artist that can produce stunning visuals in minutes. And the best part is that you don't need any artistic skills to use it! Just feed the AI with instructions, and watch it work its magic.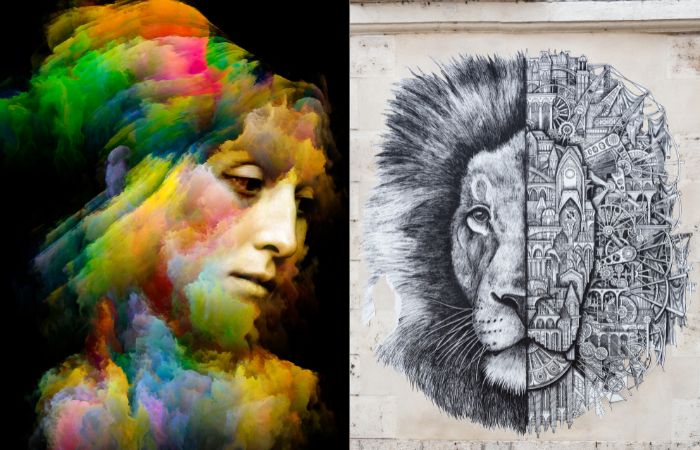 It's worth checking out if you're interested in exploring the intersection of art and technology.
We have selected some websites which come with some free and some paid plans. These websites' pros, cons, prices and features have also been listed for you. So that you know which site is better for you. Let's start with DALL-E 2.
Let's discuss people's queries and give answers.
What Is the Best Free AI Art Generator?
These top 5 tools are the best Free AI art generators.
DALL-E 2
NightCafe
Images ai
Dreams by WOMBO
Midjourney
What Is the Free Online AI Art Generator?
DALL-E 2, Images ai, and Craiyon are free AI art generators.
What Is the Best AI Art Creator?
NightCafe Creator gives you the ability to create AI art using algorithms and methods from text, images, or styles.
What Is the Best Realistic AI Image Generator?
Based on text or image prompts, Midjourney generates photorealistic images using Discord. Among AI art generators, it produces the highest quality images. If you're looking for a generator similar to Midjourney, you should explore some Midjourney alternatives.
List of Top 10 AI Art Generator Sites
Here is a list of the top 10 AI art generator websites.
1. DALL-E 2
It's the latest version of an incredible AI system developed by OpenAI that can generate stunning images from textual descriptions.

How Does it Work
You give DALL-E 2 a textual prompt, like "a green teapot with a picture of a frog on it," and it generates an image that matches that description. But that's just the beginning. DALL-E 2 can also create surreal and imaginative images that you might never have thought of, like "a snail made of harp strings" or "a pumpkin wearing a top hat."
Price
Free (unless you choose to buy more credits)
Features
Generates highly detailed and imaginative images
Create images with highly detailed textures, shading, and lighting
Generate multiple images based on a single textual prompt
Offers a glimpse into the future potential of AI technology
Visit: DALL-E 2
If you believe that the DALL-E does not meet your requirements or preferences, there are several alternative tools available that you can explore. These alternatives offer similar functionalities and may better suit your specific needs. Here are a few noteworthy free DALL-E alternative tools:
2. NightCafe
One of the well-known names in the field of art generators is NightCafe. It is famous for offering more choices and algorithms than others. Also, it is extremely simple for beginners to understand.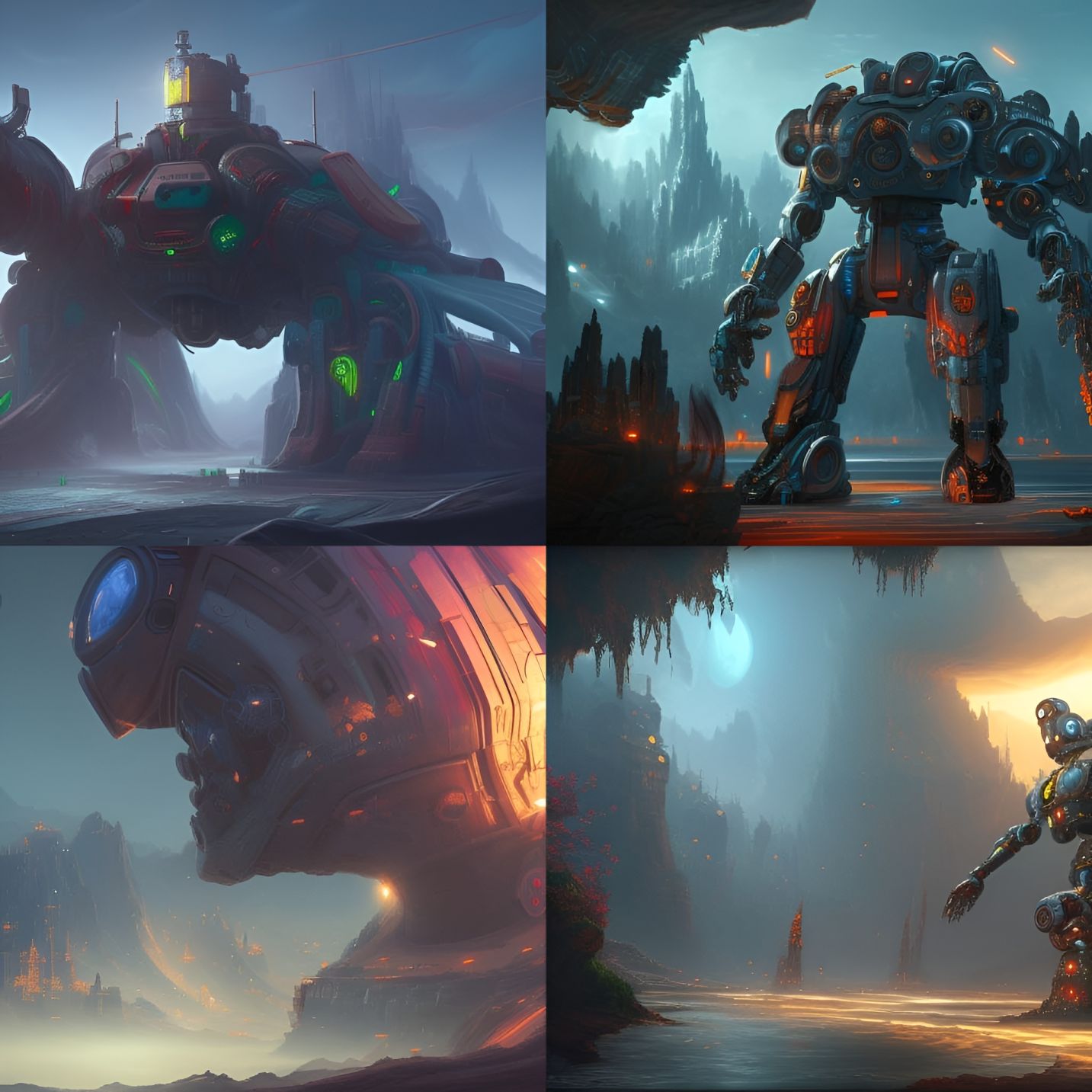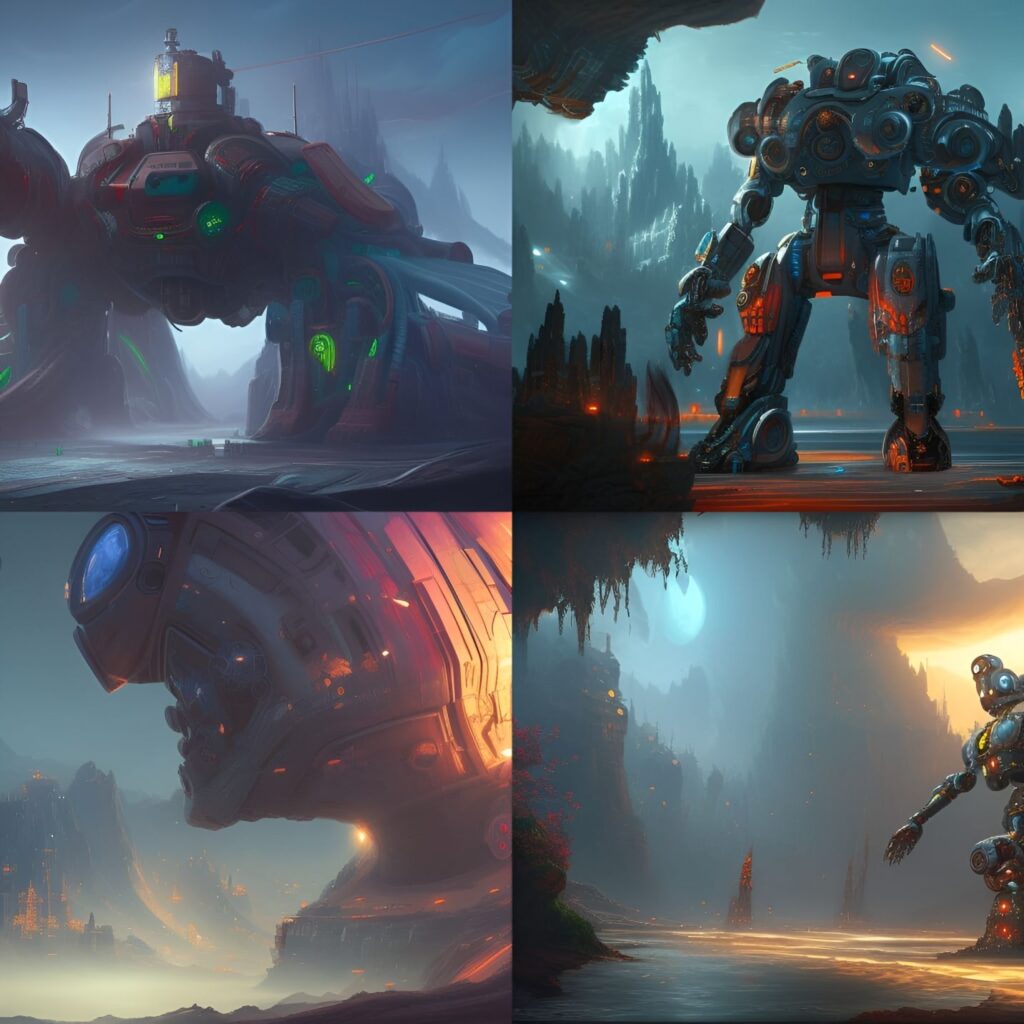 Although NightCafe is focused on a credit option. Let me explain to you.
How Does it Work
Once you visit the website, you will have 5 credits. More credits will be required to generate multiple images simultaneously.
1 image (0 credit)
4 images (1 credit)
9 images (2.25 credits)
16 images (4 credits)
Enter your text prompt and create high-quality images. This AI art generator from text prompt produced a stunning abstract piece based on the written description of a dream.
| Pros | Cons |
| --- | --- |
| Easy to use | Limited access |
| High-quality images | |
Price
Free. Plans start from $5.99 per month (100 credits)
Features
More algorithms
Participate in community activities to earn credits
Download all of your photos in bulk
Visit: NightCafe
3. Images.ai
Images.ai is a fantastic website that offers an impressive library of high-quality AI art images to choose from. They've got a nifty search feature that allows you to enter keywords, and then their AI system will scour through their library to find images that match your search criteria. Pretty cool, right?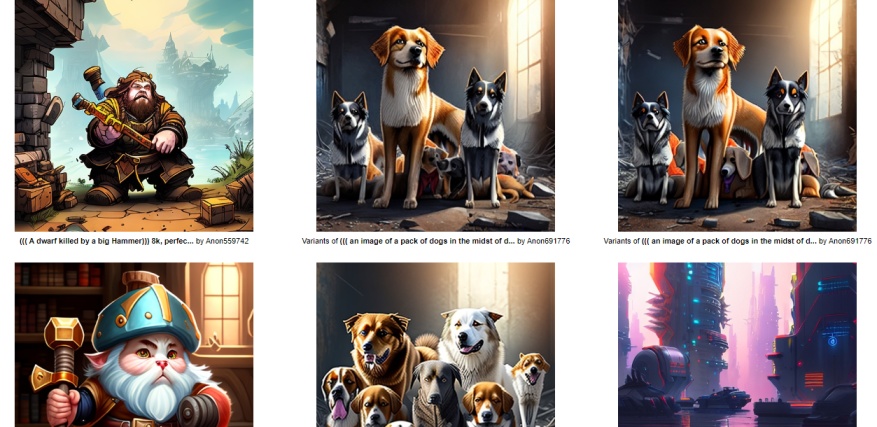 But wait, it gets even better! Images.ai also has a handy editor tool that allows you to customize your chosen image to suit your needs.
And the best part? Images.ai is incredibly user-friendly and easy to navigate.
How Does it Work
You can browse the library by entering keywords related to the type of image you're looking for, such as "business," "nature," "food," or "travel," among others.
You can then browse the results and choose the image that best suits your needs. After choosing, click on the "Facelift" option. Then type your email Id. After that, the rendered image will be sent directly to your mail. It's completely safe.
| Pros | Cons |
| --- | --- |
| Free | Limited templates |
| High-quality images | Can't create personalized images |
Price
100% Free
Features
Starts in less than 10 seconds
Generate memes from the images
Choose from a range of sizes
Visit: Images.ai
4. Dream by WOMBO
Dream by WOMBO is one of the AI art generator free websites. The significant success of this app earned it the top spot for best overall tool in the Google Play 2022 awards. With the help of this, you can make art with just a few quick prompts.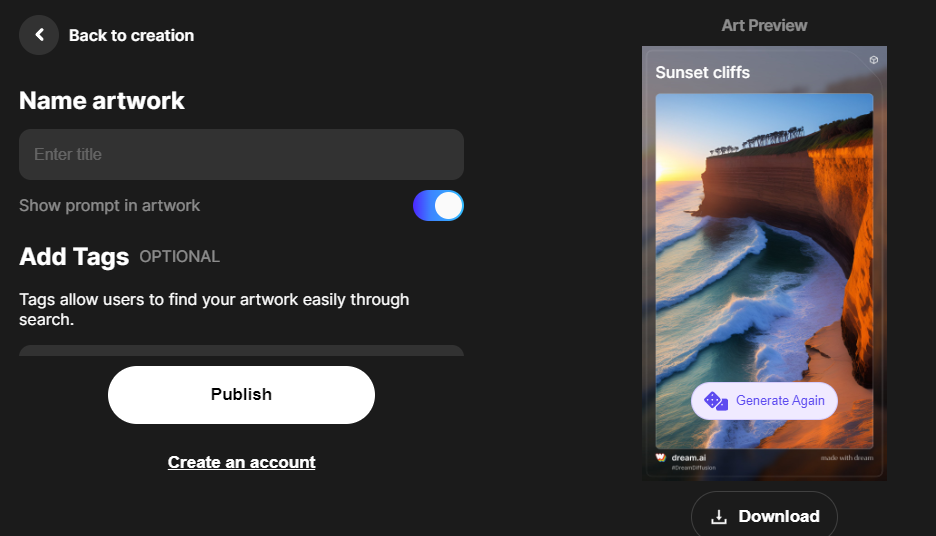 The ability to select from various design styles, including comic, realistic, abstract, expressionism, comic, passionate, and more, is an additional benefit of the Dream AI art generator.
It has an easy-to-use, free desktop and mobile version.
How Does it Work
You must create a new account to begin. Then write the prompt. Pick an art style. You can customize your artwork by adjusting the colour, texture, and other settings. Analyze and give your AI art a name. Once you're happy with your artwork, you can save and share it.
| Pros | Cons |
| --- | --- |
| Numerous templates | Per prompt, one picture |
| Mix up your own photos | Cost of the subscription for complete access |
| Mobile app | |
Price
Free ( Limited access ). You can spend $90 annually, $10 monthly, or $170 for a lifetime subscription to advance your use of this app.
Features
Desktop and mobile versions
Various templates to select from
Realistic recreations
So, give it a try and see what amazing artwork you can create with just a few taps!
Visit: Dream by WOMBO
5. Midjourney
How enjoyable and simple it is to create digital art, I frequently experiment with AI art makers. Despite all of my interactions with various AI makers, I was not very excited about Midjourney.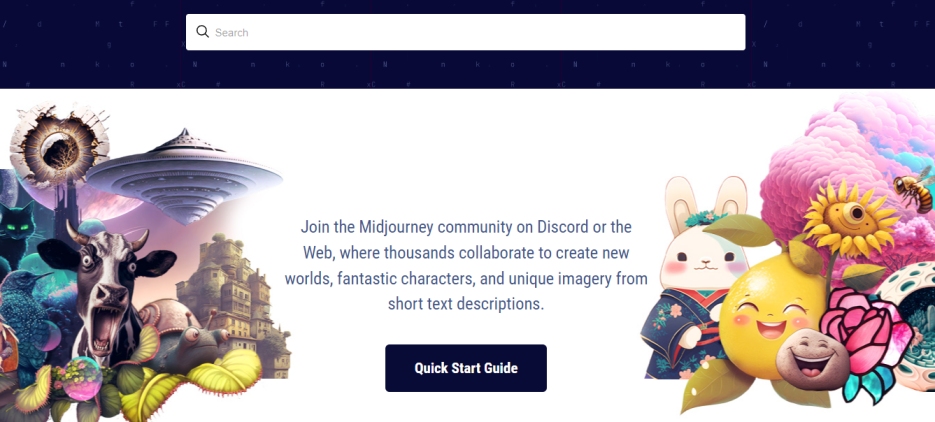 But I was wrong. This image's output was so sharp that it was difficult for me to believe it wasn't a real photo of the text I entered. Because of how excellent this software is, award-winning artwork has been created using it.
How Does it Work
Follow our specific guide for using it.
Launch Midjourney.com, and choose the "Join the Beta" option. Or you can visit " Midjourney Discord." A Discord login is needed.
Search for Newbies Channel. This means to choose any newbies-* channel that you can see on the left side.
Use a Command on Discord to communicate with the Midjourney Bot. Write "/imagine prompt. After that, give a space and write the text you want to generate."
The Bot generates four choices in about a minute.
Next, read the instructions written in the below image carefully.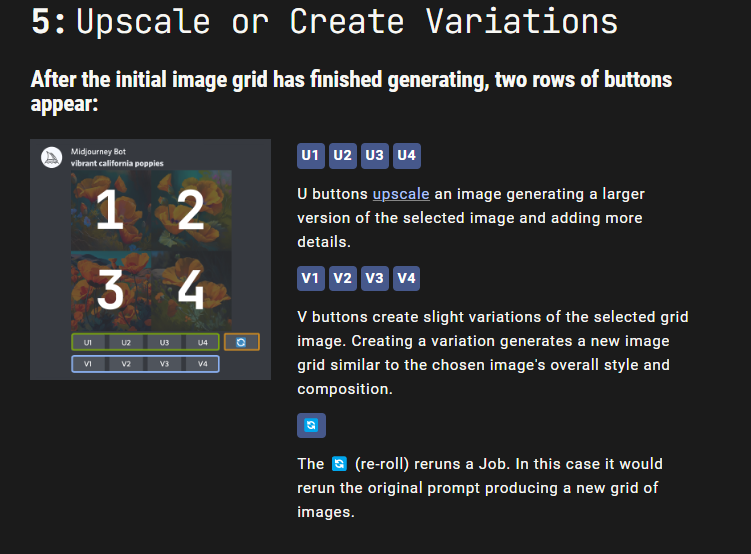 Lastly, select that image to expand to its full size. Save the image to your device. Also, you can see others' input & outputs in the chat, which is a really cool feature of the Midjourney app.
Note:
You can access free renderings( up to 25).
| Pros | Cons |
| --- | --- |
| Extremely good quality results | Set-up is difficult |
| Discord community | Cost |
Price
Starts from $8 per month
Features
Discord supports
High-quality images
Generate images for various purposes
Visit: Midjourney
6. Craiyon
Craiyon AI art generator, which was initially known as DALL-E mini, is NOT connected to OpenAI or DALL-E 2; but rather is an alternative.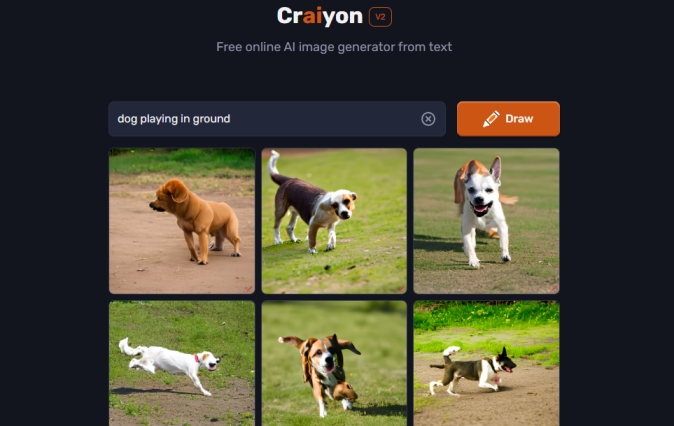 Just because it does so with less accurate reproductions, hence its name, DALL-E 2 mini.
Opposite to DALL-E 2, Craiyon produces low-quality outputs. The advantage is that you can modify the prompt endlessly until you achieve the precise result you were hoping for. This AI generator is a powerful choice because the website is easy to use.
How Does it Work
Visit the Craiyon website and the text that you want to generate. No sign-up is required. It will take 1-2 minutes if you use it for free. However, you can choose the premium option.
Then, various images will be shown. Choose the image you want to download. Then save it to your device.
| Pros | Cons |
| --- | --- |
| Easy to use | Have to take a premium plan for fast results |
| Unlimited images | Distorted photos |
| Free | |
Price
Free. The premium plan starts from $5 per month (wait less than 45 seconds), $ 20 per month ( wait less than 20 seconds)
Features
Absolutely free
Simple UI
Unlimited ideas
Visit: Craiyon
7. Fotor
Fotor is another fantastic AI art generator that generates images very rapidly. The fact that Fotor is easy to use and absolutely free. But you can only download 10 images for free each day. You only need to make an account to get started.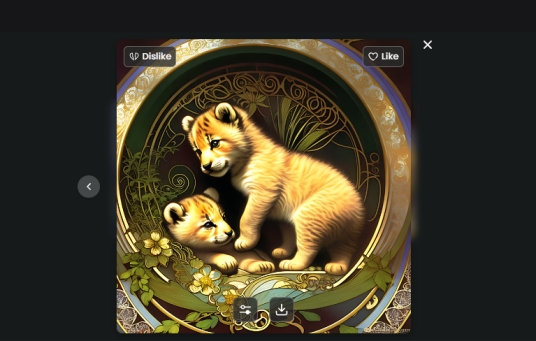 Fotor requires users to provide specific prompts, just like other generators. The AI can even produce images from designed images. For those looking for a particular size, it offers various ratios for various sizes.
Users can experiment with other options on Fotor, such as ratios, styles, and more, to maximise creation.
How Does it Work
You will automatically sign in with your Gmail when you enter the website. If you are not, then you will have to sign in. Fotor ai art generator from text prompt, you can generate high-quality images.
One thing to consider is that you will generate only 4 images in the free version. However, after generating the image, you can customize it by clicking on edit, and after that, you can easily save it on your device.
| Pros | Cons |
| --- | --- |
| Upload your own image | Ads |
| Simple to customize your image | 4 images to generate in the free version |
| No restriction on the image prompt | |
Price
Free ( Limited access )
Features
Generate images faster
Various customization options
Beautiful AI images
Visit: Fotor
8. MyHeritage
Basically, this website uses artificial intelligence to turn your photos into stunning pieces of art. It's like having your own personal Picasso or Van Gogh. You can upload a photo of yourself, a loved one, or even your pet and watch as the AI transforms it into a work of art in just a few seconds.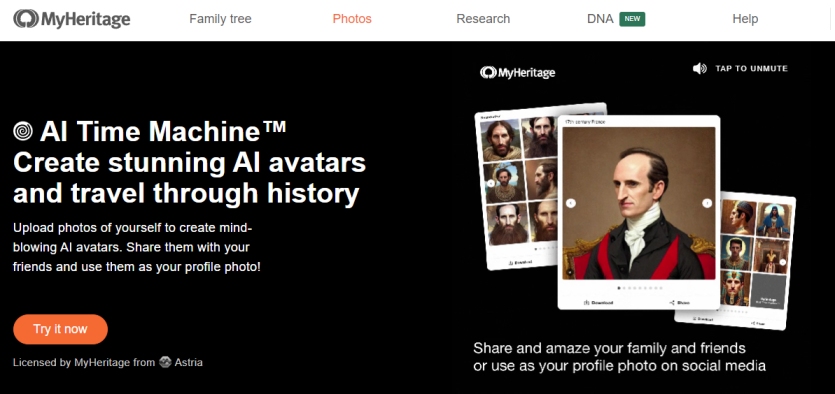 You can choose from various artistic styles, such as Renaissance, Impressionism, or Pop Art, to name a few. So, if you've ever wondered what you or your furry friend would look like as a classic painting or a modern piece of art, this website is worth checking out.
How Does it Work
Using it is incredibly simple. All you have to do is upload your photo, select your preferred style, and voila! You'll have a beautiful piece of art that you can save and share with your friends and family.
| Pros | Cons |
| --- | --- |
| Several options | Wait ( 30-90 minutes) for the result |
| High-quality renditions | Unlimited access for Paid users |
| Create excellent profile images | |
Price
Free. The premium plan starts from $12
Features
Artistic styles
Affordable premium edition
Accurate output
Visit: MyHeritage
9. Photosonic
While it's possible that most people haven't heard of this AI art generator, it does a decent job of turning text into art. PhotoSonic is a website that handles the extra effort for you.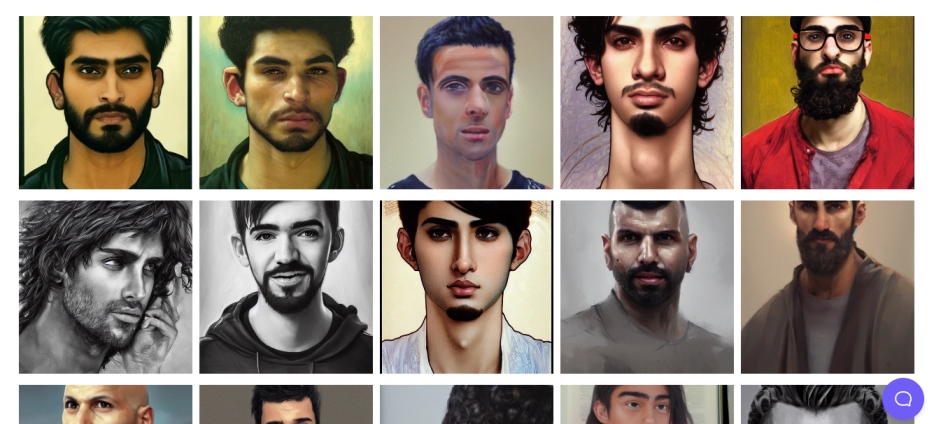 You can instruct the AI to draw almost anything because it takes complex lengthy prompts. Therefore, you can command it to sketch pretty much anything.
How Does it Work
You receive 10 credits after Signing up. Credits start at 100 images for a monthly fee of $10, but this ai art generator free website offers a free trial period. Enter text and click on generate.
Using this tool, you can select the output dimension from horizontal, Square, and vertical choices based on your requirements. The pictures are then available for download in an easy zip format.
| Pros | Cons |
| --- | --- |
| Recognises differences in text instructions | Limited credits |
| Fast image creation | Sometimes you may face technical difficulties |
| Free trial | Sometimes generate blurry images |
Price
Free (10 credits access). The monthly fee is $10 for 100 credits.
Features
Easy to use
Good collection of AI images
Visit: Photosonic
10. Pixray
Pixray is another simple AI image generator that can be used on your desktop. However, Pixray takes much longer than other AIs to produce a result.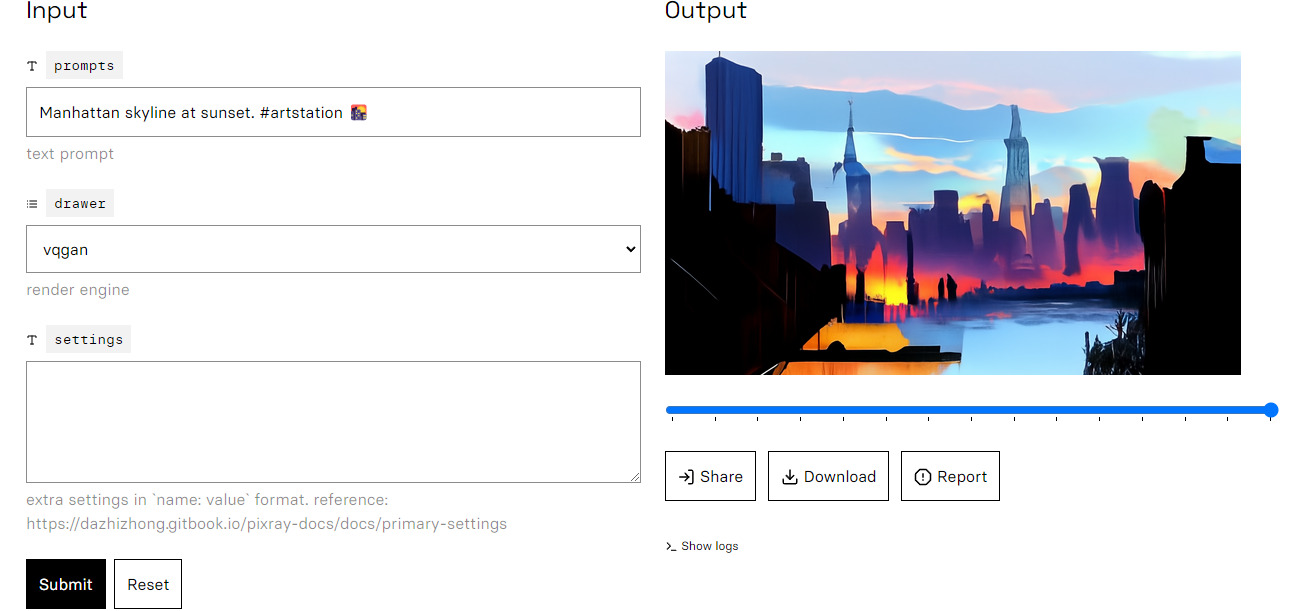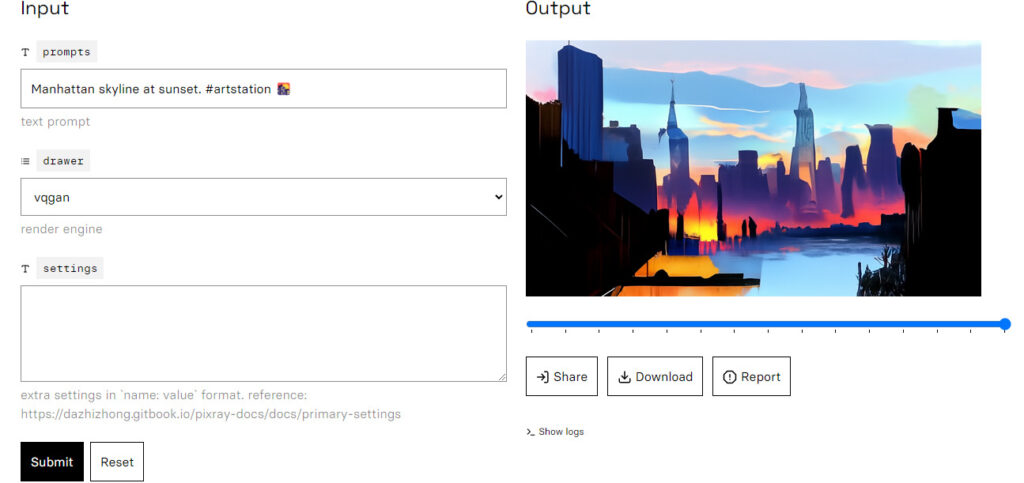 Pixray needs about six minutes to produce a single picture instead of services like Images ai and DALL-E 2, which can output an image in less than a minute. It's almost free, but not completely.
Apart from having the option to download the picture, you don't get many options.
How Does it Work
You can input text prompts by visiting the website. However, it takes a lot of time to generate the image. When the image appears, you can change a lot by clicking the "Tweak it" option. It takes a lot of time for those changes too.
You can use this software if you have patience. That's why we have put it on the bottom list. By the way, this website is free and produces good images.
| Pros | Cons |
| --- | --- |
| Simple to use | Creating an image requires a lot of time |
| Nice output of images | Lacks options for customization |
Price
Free
Features
Customize through text prompt
Visit: Pixray
AI Art Generator: Best 5 Key Features
Here are 5 key features of AI art generators to consider.
Generic Algorithms
An AI art generator uses fancy algorithms to make amazing pictures. They can take all sorts of things as input, like pictures, words, or even just random things, and then they learn from other art to make their own unique and awesome artwork.
Transfer Styles
The AI art generator can transfer the styles of famous artworks or different artistic styles. So, if you have a picture and you want it to look like a famous painting or a specific kind of art, these programs can help you! They make it possible for you to create artwork that looks just like the work of famous artists or different art styles that you like.
Innovative Analysis
AI art generator tools that let you be really creative! They give you a bunch of choices and things to try out, so you can make all sorts of amazing artwork. You can even change different settings to make the art look exactly how you want it.
Realistic Rendering
An AI art generator makes art that looks just like real paintings or photos! These special algorithms can copy the way artists paint with brushes, the way things feel when you touch them, and even how light shines on objects.
Inclusive and Interactive Interfaces
The AI art generator has an excellent UI that is easy to use. Artists can make art and see it happen right away! You can change things and add special effects with just a click and see how it looks right away. It's like playing with art that moves and changes! Even if you're not an expert artist, you can still join in.
The Benefits of Using the AI Art Generator
Using the AI art generator is beneficial for businesses, artists and creative people! These tools give you tons of benefits. They let you come up with endless ideas for your artwork and try out different styles and settings. You can get creative and explore all sorts of possibilities!
These tools let anyone make awesome art, even if they're not good at drawing or haven't had any training. You can use them to create beautiful pictures and join a community where artists help and inspire each other.
Where to Sell AI Generated Art
Now that we have that covered, let's dive into where you can sell your AI-generated artwork.
Here are the top marketplaces to sell your unique pieces.
1. Online Marketplaces
One of the easiest ways to sell your art is through online marketplaces like Etsy, Amazon, or eBay. These platforms allow you to create your own store and sell your art to a global audience.
2. NFT Marketplaces
In art, NFTs are becoming more and more popular. These digital tokens allow artists to sell their unique pieces and retain ownership of their work. Platforms like OpenSea, Rarible, and SuperRare are great places to start if you want to sell your AI-generated artwork as NFTs.
3. Art Galleries
While traditional art galleries may not be as familiar with AI-generated art, there are a growing number of galleries that specialize in digital and new media art. You can do some research to find galleries that may be interested in your work, and remember to reach out to them directly.
4. Social Media
Platforms like Instagram and TikTok can be great places to showcase your art and reach potential buyers. Use relevant hashtags and engage with other artists in your community to increase your visibility.
5. Commissioned Work
Finally, don't forget about the potential for commissioned work. Many businesses and individuals want to incorporate AI-generated art into their marketing campaigns or personal collections. Think about contacting potential clients personally to offer your services.
See Also: 10 Free Automatic Thumbnail Maker For YouTube
Use Best AI Art Generator to Unleash your Creativity
The AI art generator is a fascinating technology that has opened up new possibilities for artistic expression. While some argue that it takes away from the authenticity of art, others see it as a tool to enhance creativity and push the boundaries of what we can create. These websites will generate AI art with no watermark.
Who knows what incredible works of art we'll see in the future, made possible by this innovative technology? The possibilities are endless, and it's an exciting time to be a part of the art world.
So let's embrace the AI art generator and see where it takes us on our creative journey.
FAQs
Can you sell AI-generated Art?
Yes, you can sell AI-generated art. In fact, AI-generated art is already being sold at galleries, online marketplaces, and even auction houses.
How to make AI-generated Art?
You will need to use an AI art generator to make AI-generated art. There are many different AI art generators available, ranging from simple online tools to more advanced software programs that require some technical knowledge to use.
Who owns AI generated Art?
There is no owner of AI-generated art. Artwork is protected by copyright as soon as it is developed, giving the creator the authority to determine how it will be used.
Can I use AI-generated Art commercially?
It depends on a few factors, like the specific AI art generator you're using and the terms of service of the platform you're generating the art on.
How to make money with AI generated Art?
One way is to sell the Art as unique digital pieces through online marketplaces or your website. Another way is to license the Art to businesses, such as for use in advertisements or on products.