Are you looking to boost your business and create more opportunities for attracting customers and making sales?
Are you frustrated because the landing pages you make aren't bringing results? Well, it's time to discover the top AI landing page generator sites available right now.
You can create mobile-friendly, conversion-optimized landing pages automatically.
In this article, we'll show you the 40 best landing page AI generator tools.
We will talk about why AI landing page generators are good and the important features they have.
Table of Contents
What Is a Landing Page and Examples
Typically, landing pages are designed to encourage visitors to take a specific action. A newsletter, a product purchase, or an RSVP are some examples.
Landing Page vs. Home Page
Homepages have basic details about your business. A link leads a visitor to more information on other pages of your site. Meanwhile, landing pages drive conversions by being standalone pages.
Benefits of AI Landing Page Generator Tools
AI landing page builder allows you to create mobile-friendly and conversion-optimized landing pages personalized for your audience. The tools are simple to use and don't require any coding or design knowledge. Today, you can begin to discover the best landing page AI generator. The key benefits you will get:
Conversion optimization ability
Study visitor behavior to pinpoint effective elements
Ability to enhance personalization and targeting
Save resources and time
Best 40 AI Landing Page Generators
Here are the best 40 AI landing page generator websites.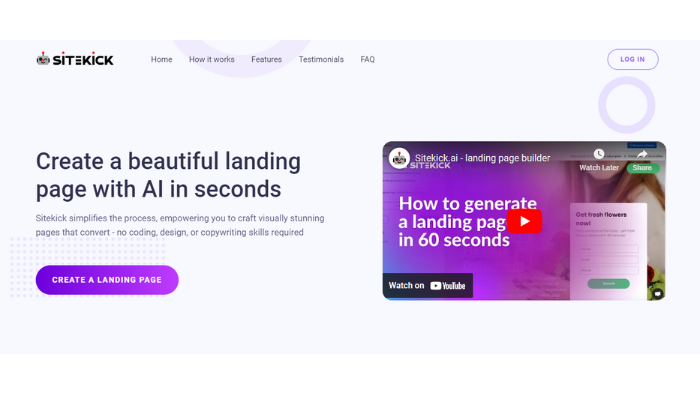 Make an amazing landing page using AI within seconds with Sitekick AI landing page generator. Sitekick makes it easy for you to create beautiful pages that turn visitors into customers, even if you don't know how to code, design, or write.
Features
Instant landing page design with a click
Versatile design and code
Gain top Industry expertise
Get copyright-free, high-quality images
Pricing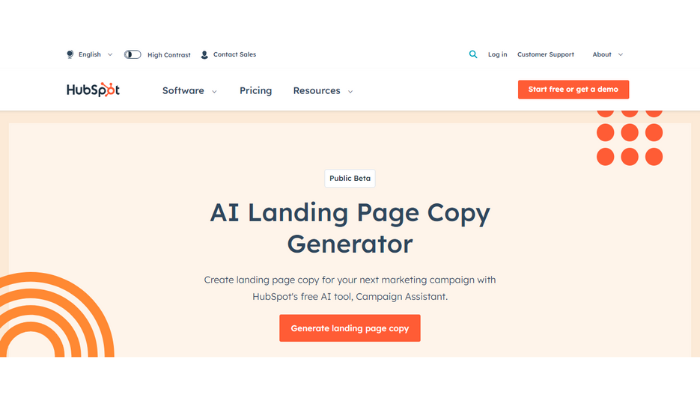 HubSpot's Campaign Assistant AI design tool, available for free as part of their marketing platform, can help you optimize your landing pages for your upcoming campaign.
Features
Campaign Assistant
Instant generate a landing page
Pricing
| | |
| --- | --- |
| Plan | Price |
| Starter | $18/month |
| Professional | $800/month |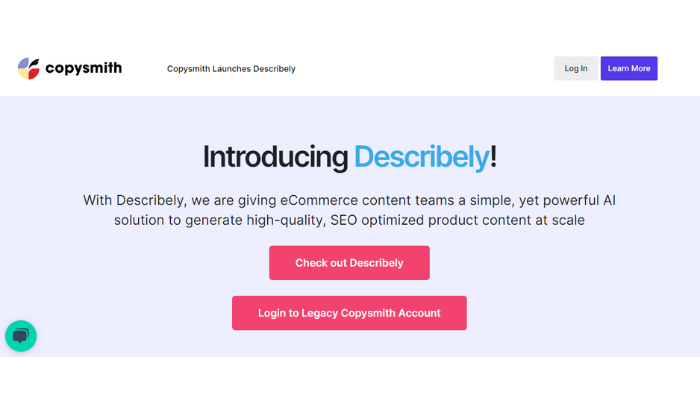 Copysmith introduces Describely. Describely offers eCommerce teams an easy-to-use but effective AI tool for creating lots of excellent, SEO-friendly product content.
Features
Limitless, premium content generation
Generate product content in bulk
Strong catalog management
Syncs with eCommerce platforms
Pricing
| | |
| --- | --- |
| Plan | Price |
| Starter | $228/year |
| Pro | $490/year |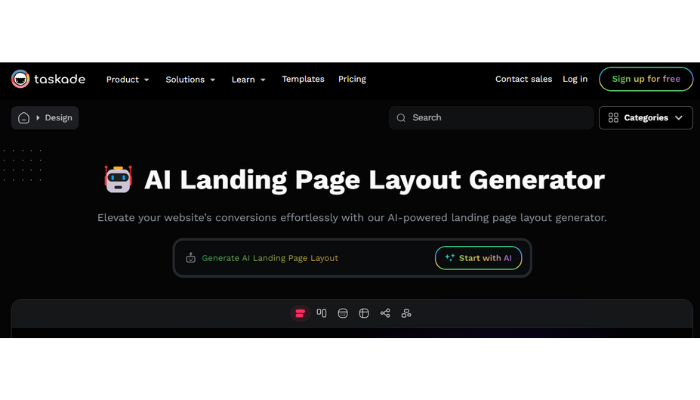 Boost your website's success easily using this AI-powered tool that creates effective landing page designs, leading to more people taking action on your site.
Features
500 templates
Real-time syncing
Collaboration
Project Views
Administrations & Security
Pricing
| | |
| --- | --- |
| Plan | Price |
| Pro | rs1019/month |
| Business | rs2625/month |
| Ultimate | rs5333/month |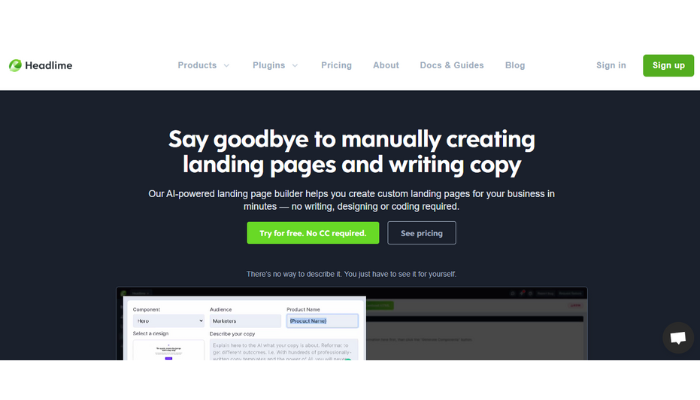 Wave farewell to the days of making landing pages by hand and crafting written content. This AI landing page generator, supercharged with AI, assists you in producing personalized business landing pages within minutes. You won't need to worry about coding, designing, or writing anything yourself.
Features
Explain the product
Drag and Drop
Download and use
Pricing
| | |
| --- | --- |
| Plan | Price |
| Individual | $59/month |
| Business | $399/month (3 members) |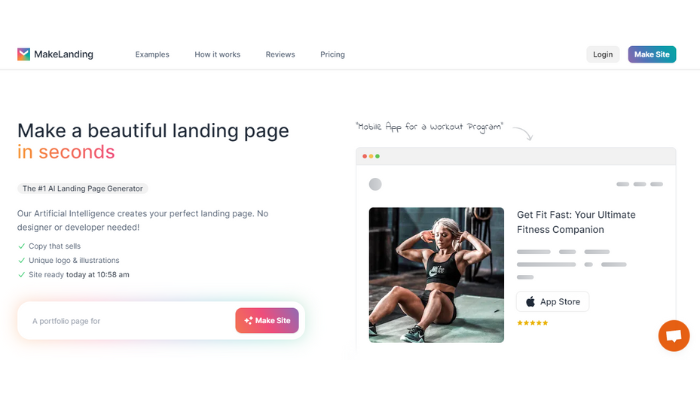 Create an attractive web page in just a few moments. The clever AI designs a landing page that's just right for you. No need for a developer or designer!
Features
Beautiful templates
Best illustration
Easy editor
Fast & friendly
Pricing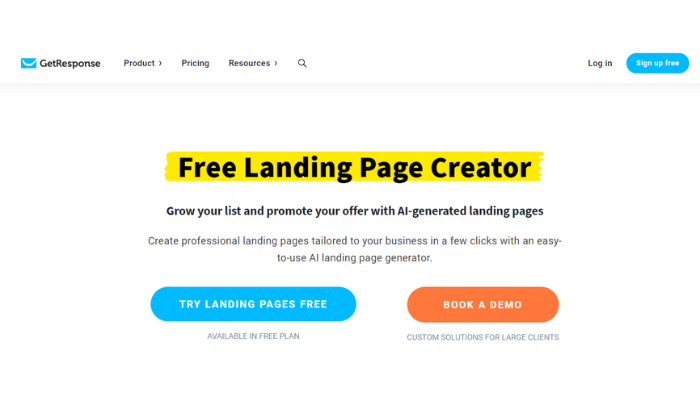 Boost your contacts and advertise your product using the Getresponse AI landing page generator free tool. Design customized landing pages for your company quickly using a user-friendly AI tool.
Features
Ready-made templates
Customization
Complete layout with graphics
Free stock photos
Pricing
Free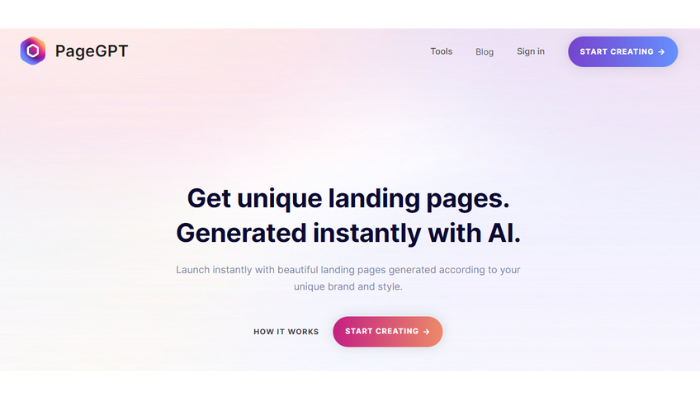 Get special landing pages. Created instantly using AI. Start quickly with attractive landing pages that match your own style and brand.
Features
Unlimited custom effect
Custom effect
Animated text
Pricing
| | |
| --- | --- |
| Plan | Price |
| Free trial | 7 days |
| Page bundle | $39/3 pages |
| Single page | $19/page |
Create a complete landing page using AI, turning your product description into a full page within a few clicks.
Features
Eliminate guesswork
Custom templates
Pricing
| | |
| --- | --- |
| Plan | Price |
| Starter | $39/month |
| Data-driven teams | $49/month |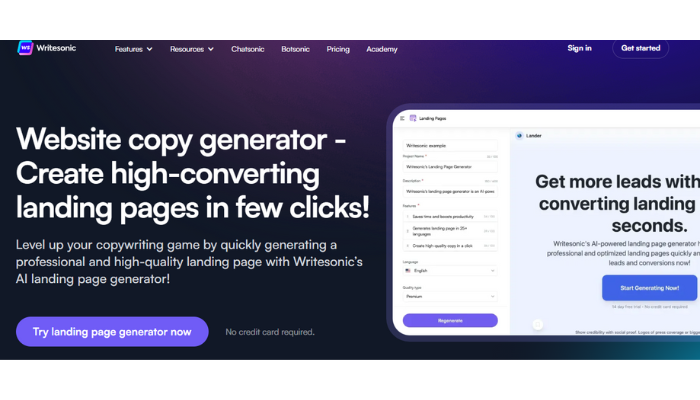 Use the Website Copy Generator to easily make landing pages that get more people interested. Improve your writing by using Writesonic's AI tool to quickly create professional landing pages.
Features
25+ language
Professional looking page
Click worthy CTA's
Pricing
| | |
| --- | --- |
| Plan | Price |
| Unlimited | $16/month |
| Business | $12.67/ month |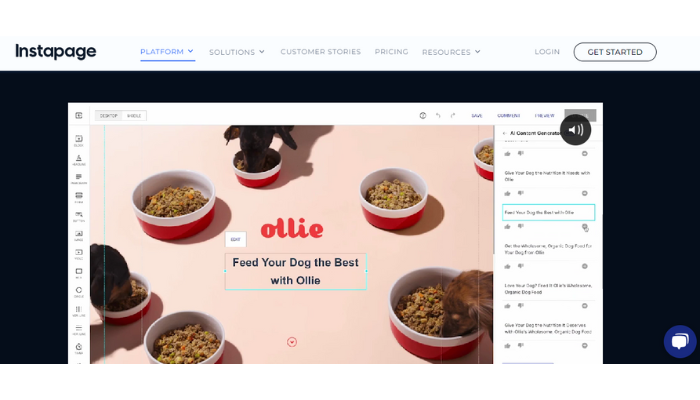 With the Instapage AI landing page generator, Create a responsible landing page that generates content instantly once you click on it. Develop smart content that accelerates the experimentation process. A new method for dynamically allocating traffic using artificial intelligence experiments.
Features
Spark creativity with fast content variations
Quickly A/B test AI content for diverse audiences
Accelerate the page with suggested headlines and buttons
Pricing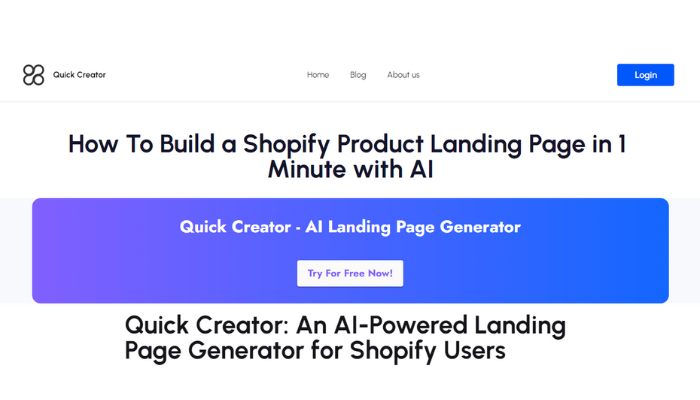 Quick Creator uses AI to help Shopify users easily make landing pages. Making a landing page is made simple with it. The ready-made designs are made for different business goals, like announcing a sale, showing a product, or gathering customer info.
Features
Pre Designed templates
Create pages in seconds
Pricing
| | |
| --- | --- |
| Plan | Price |
| Starter | $9.90/month |
| Pro | $29.90/month |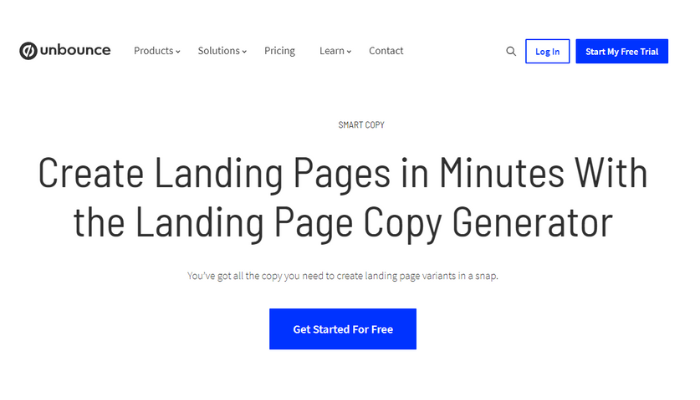 Generate landing pages quickly using Unbounce. You have all the text you require to make different versions of landing pages easily. The template collection is categorized by campaign goals and industry, making the process simpler.
Features
Drag and drop
Smart copy
Smart traffic
Pricing
| | |
| --- | --- |
| Plan | Price |
| Launch | $99/month |
| Optimize | $145/month |
| Accelerate | $240/month |
| Concierge | $625/month |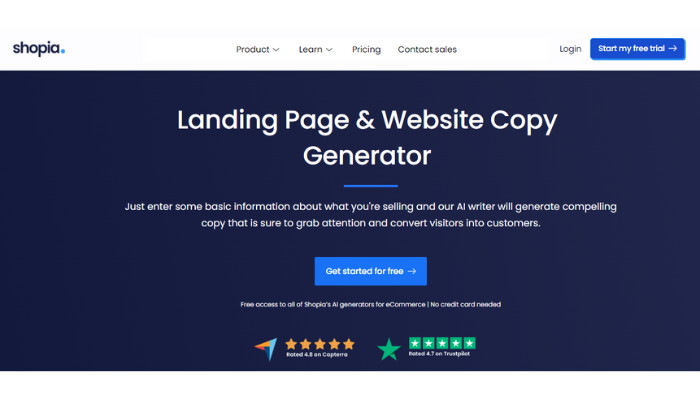 Create a landing page and website text generator with the Shopia AI landing page generator. Provide a few details about your product, and the AI writer will make persuasive text that captures interest and turns visitors into users.
Features
100% customizable
Vector icons for free
1 Homepage Design (Mobile & Desktop)
Pricing
| | |
| --- | --- |
| Plan | Price |
| Standard | $6/month (1 user) |
| Pro | $13/month (5 user) |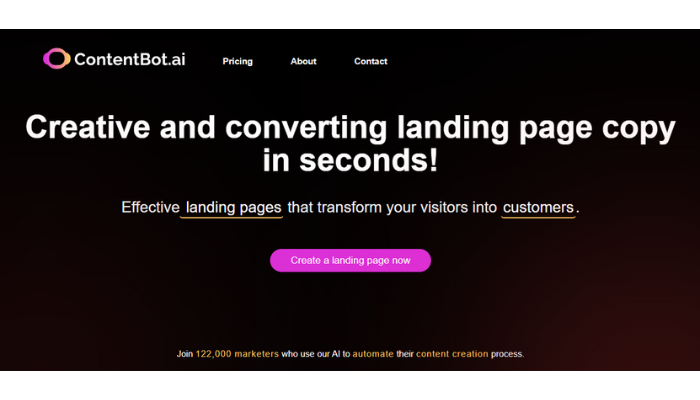 Create landing page text quickly, effortlessly, and inexpensively. No need for a copywriter. Contentbot simplifies making content so you can preserve money without losing quality. Make ideal landing page text from scratch.
Features
Drag and drop
Ready-made templates
Pricing
| | |
| --- | --- |
| Plan | Price |
| Starter | $9.5/month |
| Premium | $29.5/month |
| Premium+ | $49.5/month |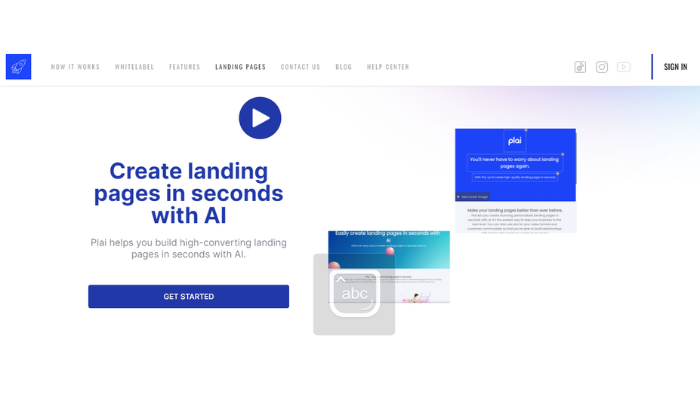 Plai uses AI to quickly create effective landing pages that drive more visitors to take action on your website. By automatically making landing pages that work well, Plai makes it easy for you to enhance your website's user experience. You don't have to rely on a group of marketers – just input your website link and begin!
Features
Pricing
| | |
| --- | --- |
| Plan | Price |
| Startups | $97/month |
| Agencies | $147/month |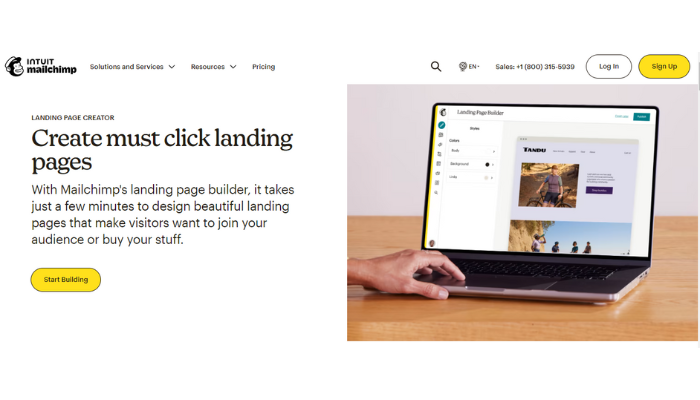 Using the Mailchimp AI landing page generator, you can quickly make attractive landing pages. You can try out the products, messages, and concepts before launching. This way, you can discover your potential customers and improve how many people take action.
Features
Content studio
Drag and drop builder
A/B testing
Personalized onboarding
Pricing
| | |
| --- | --- |
| Plan | Price |
| Standard | $6.91/month |
| Essentials | $4.63/month |
| Premium | $138.25/month |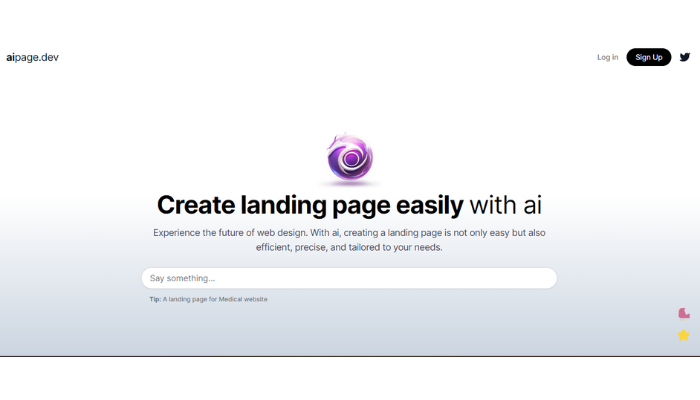 The AIPage tool is a smart landing page builder that uses AI from OpenAI. It lets AI handle the design and coding of landing pages. With just text prompts, this tool makes personalized pages that are effective at getting more conversions.
Features
Mobile friendly
Clean UI
Stronger prompts
Pricing
Free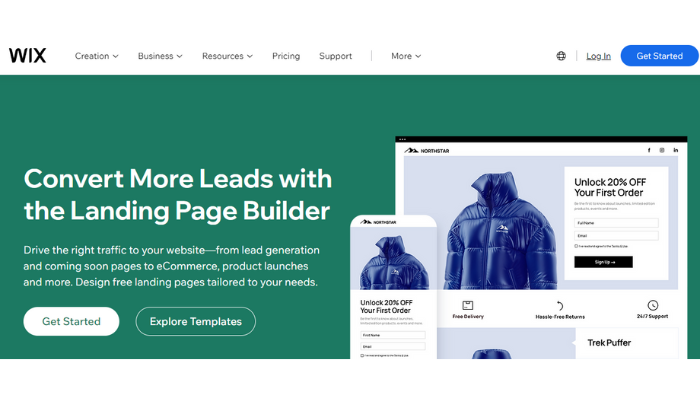 Generate additional potential customers using the AI landing page generator. Attract suitable visitors to your site—create pages for gathering leads, upcoming content, online selling, new product introductions, and other purposes. Craft customized landing pages for free based on your requirements.
Features
Quickly create in minutes
Wix analytics
A/B tests
100% customizable templates
Pricing
| | |
| --- | --- |
| Plan | Price |
| Standard | $6.91/month |
| Essentials | $4.63/month |
| Premium | $138.25/month |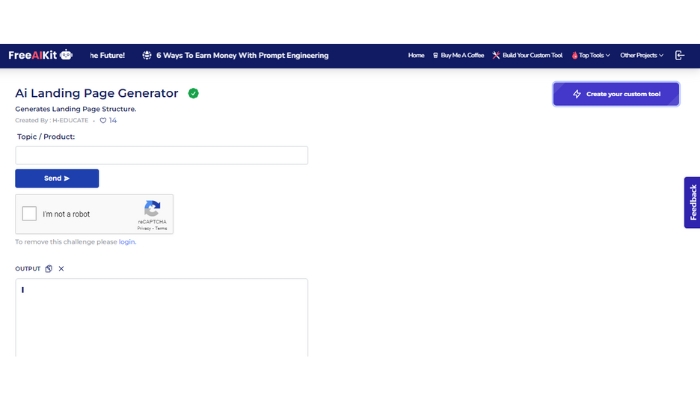 Creating landing pages is made easy with the help of the free AI landing page generator, which is a robust tool. Using smart AI, it creates a landing page just for you based on what you need. This software saves you effort and time by arranging your content and making it better for search engines.
Features
Image and content generation
Detailed Tool Collection
SEO assistance
Pricing
Free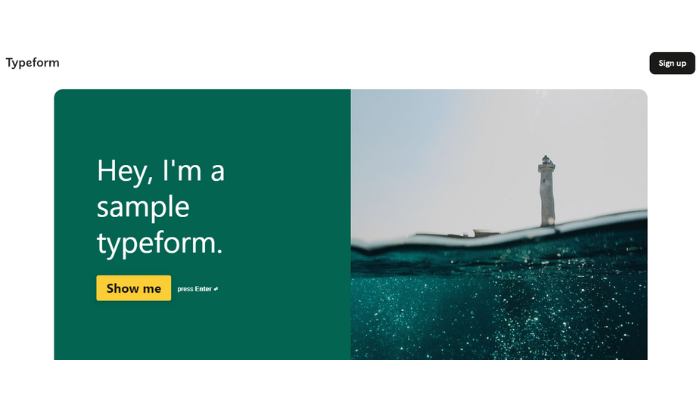 Create the perfect landing page without needing to code using the Typeform landing page generator AI tool. Make a stunning page quickly and start getting lots of leads. Just choose a ready-to-use template and launch your page easily, even if you don't know how to code.
Features
No code
Collect accurate data
120+ integrations
Pricing
| | |
| --- | --- |
| Plan | Price |
| Basic | $25/month |
| Plus | $50/month |
| Business | $83/month |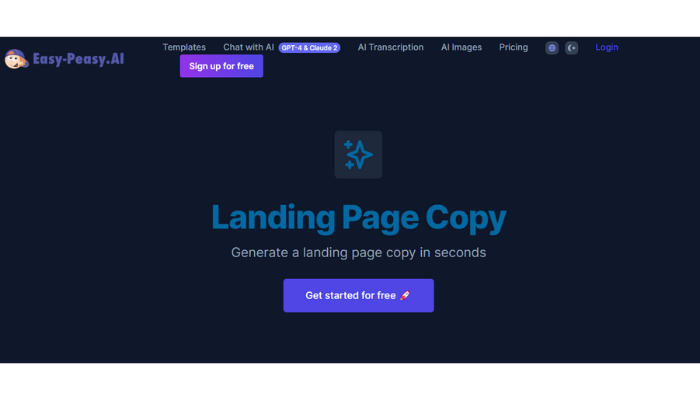 Harness the strength of AI to assist you in crafting flawless content. With AI's support, you can produce copy that precisely suits your audience and message, allowing you to outshine your rivals.
Features
100+ templates
Accurate & faster writing
Easy customization
Pricing
| | |
| --- | --- |
| Plan | Price |
| Basic | $4.99/month |
| Unlimited GPT-3 | $9.99/month |
| Unlimited | $20/month |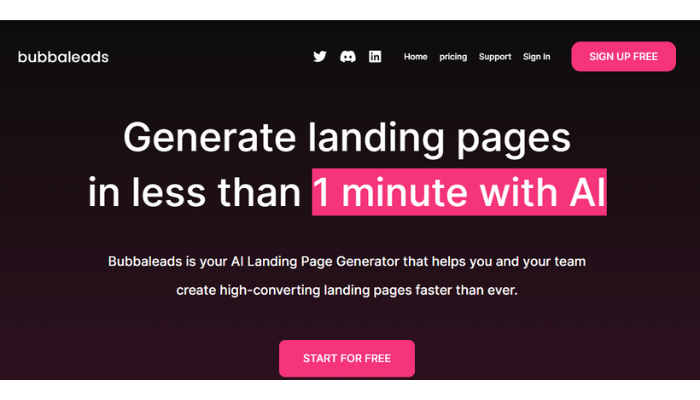 Create landing pages AI in under 1 minute. Bubbaleads is an AI generated landing page tool that assists your team in making effective landing pages quickly.
Features
Conversion-optimized structure
Automated content creation
Best practices for Google SEO implemented
Pricing
| | |
| --- | --- |
| Plan | Price |
| Starter | Free (1 page) |
| Lite | $19/month (5 pages) |
| Pro | $29/month (15 pages) |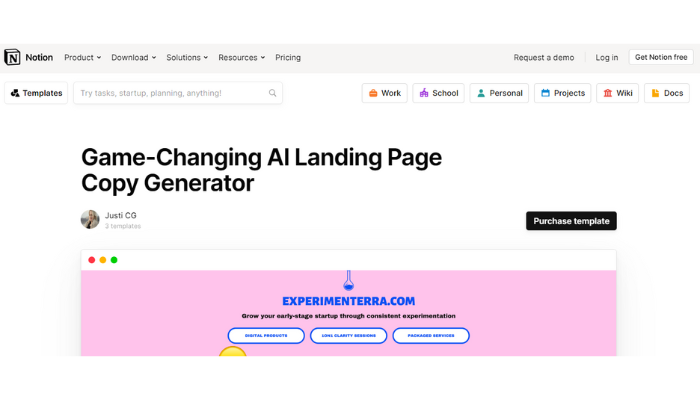 Farewell to Copywriting Challenges! Easily create powerful landing page content using AI-guided tips in minutes, not days. Making high-converting pages is now incredibly easy. They won't go back to their old way of writing conversion copy for landing pages.
Features
Custom templates
Accurate content creation
Pricing
| | |
| --- | --- |
| Plan | Price |
| Plus | $8/month |
| Business | $15/month |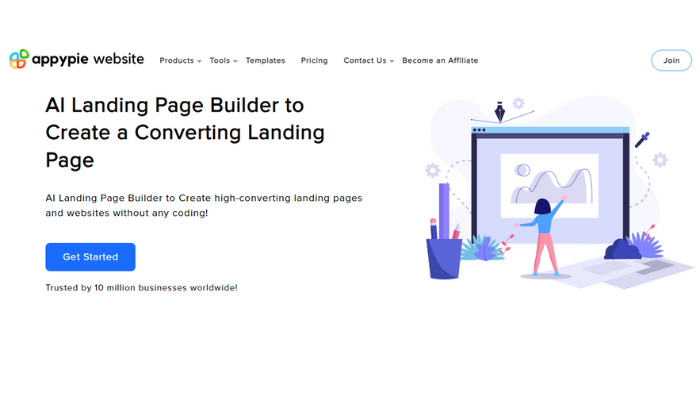 Make beautiful landing pages quickly using Appypie. Use the AI-powered tool to save up to 90% on costs and create SEO-friendly blogs. Try out this innovative way of working. Make impressive landing pages with AI technology in minutes. Just input your content and let Appypie handle everything else!
Features
No coding skills needed
Optimized content
Easy to use
Pricing
| | |
| --- | --- |
| Plan | Price |
| Start | rs99/month |
| Grow | rs1499/month |
15 Bonus Mention
Here are 15 additional mentions of AI landing page generators that you can also take into consideration.
Paperflite
Toolify
Landingi
ChatGPT
lndr
Spotdev
Writemagickit
Rytr
Copymatic
Gptdemo
AI landing page generator
Kajabi
There's an AI for that
Hyperwrite
Simplified
Landing Page Building Tips and Tricks
The most important thing is to do careful A/B testing to figure out which versions of the landing page work best. This helps you keep improving the page for more suitable outcomes over time.
Tracking performance measures is another important practice to do well. By regularly keeping an eye on things like how often people click on your content, how often they leave quickly, and how often they complete desired actions, you can learn useful insights about how well your pages are doing.
Finally, don't hesitate to try out new specialities with your landing page AI generator. Use various templates, change your messages, and experiment with different design and color elements to find out what your audience likes the most.
Future of AI Landing Page Generator
The upcoming possibilities for AI landing page generator software are really exciting and promising. We're starting to notice a new trend where machine learning and AI are being combined with other marketing tools like email marketing and systems that manage customer relationships.
Conclusion
A great tool for making attractive product pages is an AI landing page generator. Generate landing page with AI to help freelancers, content managers, and marketers create unique landing pages quickly. These pages bring in visitors, make leads, get customers, and earn money. The best part?
Also, don't forget to explore all these 40 best AI landing page generator sites.
FAQs
Which AI can generate landing pages?
Unbounce creates landing pages for you. Just provide your business name and business/product description, and it will take care of writing and adding images.
Can AI design a landing page?
Using Sitekick, you can make your website look great without needing marketing experts. Just enter your website link, and Sitekick's AI will create landing pages that work well and match what you need. It's easy and saves you time!
Can you build a free landing page?
Absolutely yes! With Getresponse's landing pages, you can draw in visitors and turn them into fans of your brand. You can make and share up to 10 landing pages without coding – and it's all free!