Owning a Yeti cooler is wonderful. These Yeti cooler sticker ideas are famous for being well-made and looking attractive.
They have a great appearance, are comfortable to use, and they work incredibly well. It's difficult to think about improving something that's already so close to being perfect, but it's possible!
When it comes to coolers, even though they might look nice, they're quite common. The one you own is just like many others of the same type. Many people have the same cooler as you.
But most of us don't want to be just the same as everyone else. Well, that's where things like sticker designs for your cooler can help.
This article will cover 20 Yeti cooler sticker ideas for you.
Table of Contents
Why Is Yeti So Popular
At Yeti, we strive to design top-quality and durable products for outdoor enthusiasts, ranging from coolers to tumblers. There are several reasons why Yeti has gained popularity, including:
Yeti makes tough and durable items that last long. They can handle tough situations and keep things hot or cold for a while. There is no need to worry about bears eating their iced drinks with Yeti coolers.
Many people consider Yeti products as a symbol of style and quality. Wealth and adventure are often associated with Yeti products. People buy Yeti products not just for their usefulness but also because they look nice and are recognized by others.
Yeti Cooler Stickers
Stickers are already attached the right way with the stickiness they require to hold onto the plastic surface. They usually appear nice and are a great way to make your cooler unique by giving it your own special vibes.
In contrast, decals last much longer. This is especially true if they're exposed to more dust. Plus, you might have to work hard to remove their sticky parts after taking them off. Usually, they only last around 3 to 4 years on average.
| | |
| --- | --- |
| Pros | Cons |
| Covering large areas provides a protective surface | Not as long-lasting as decals |
| Customizable | Scratches or salty water can cause them to come off |
| Your cooler will look great with them. | |
Do People Put Stickers on Yeti Coolers
There are several reasons why you should put any of these on your cooler. But three are especially important:
Express yourself
To keep your cooler safe
Identify yourself
1. Express Yourself
Enhancements to the cooler let you show your nature in a significant manner. For example, if you're really patriotic and want people to know, instead of informing everyone you fulfil directly, there might be better ways to do so.
Many people have laptops and phones that they often carry around. People really like using stickers and skins to decorate their devices. It's the same for laptops, too.
These DIY sticker ideas let you show the style you use the most. When it comes to your coolers, you will enjoy it when your cooler speaks for you.
2. To Keep Your Cooler Safe
It is highly probable that your cooler, be it a Yeti or any other brand, has an exterior made of plastic. When you first buy it, it will look really nice. But over time and exposure to the weather, the plastic part will lose its color and get a few scratches.
This occurs earlier in cheaper coolers, and although Yeti coolers are not of low quality, all coolers will experience this over time. However, you can prevent this. How? By using stickers on your cooler!
These cute sticker ideas completely protect the plastic. The sticky part doesn't harm the plastic. Furthermore, it enhances the appearance of your cooler!
3. For Identification
Picture yourself at a party with many coolers that look like yours. They're exactly the same in terms of the brand, type, model, and even the color! What if you accidentally misplaced your cooler? How could you tell which one is yours?
You will have a lot of difficulty if the cooler looks the way it did when you purchased it. But if you added a sticker or skin to it, the task would be easier. You should remain attentive to that matter.
List of Yeti Cooler Sticker Ideas
Here are some Yeti cooler sticker ideas.
Personalized
Bullet Flag
Camera Decal
Wave
Rural Boutique
SCS Wrap
Custom Name
Cattle Brand Symbol
Glacier National Park
Artwork
Purple Tree Camo
Roadie
Marlin Wood Blue
Tiger
Big Chief
Racing
Mountain
Bear
Beach Vibe
Makeover Sticker
20 Yeti Cooler Sticker Ideas Examples
These are 20 Yeti cooler sticker ideas for customization.
1. Personalized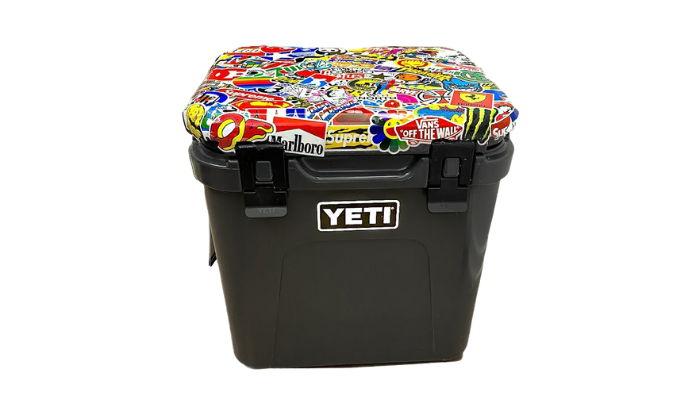 2. Bullet Flag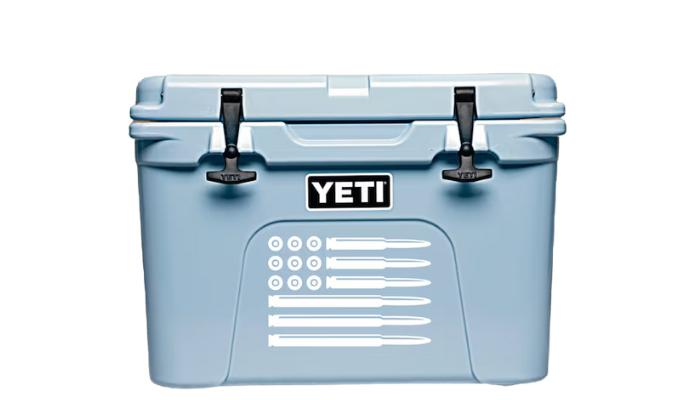 3. Camera Decal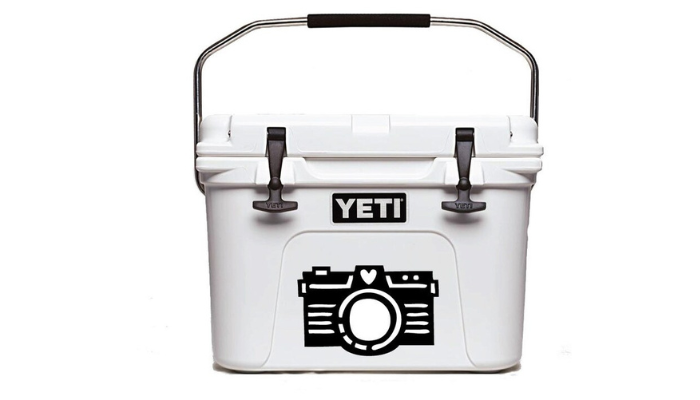 4. Wave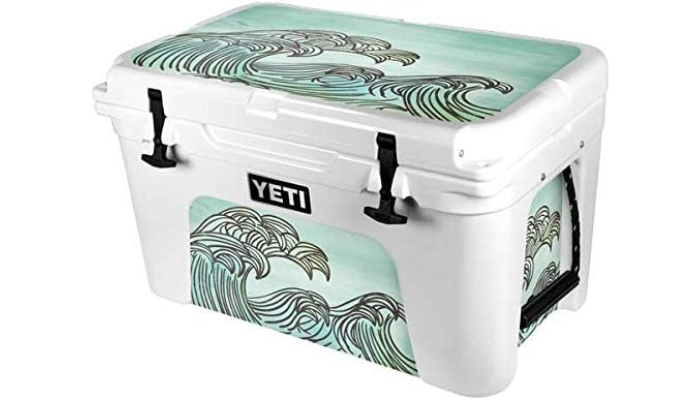 5. Rural Boutique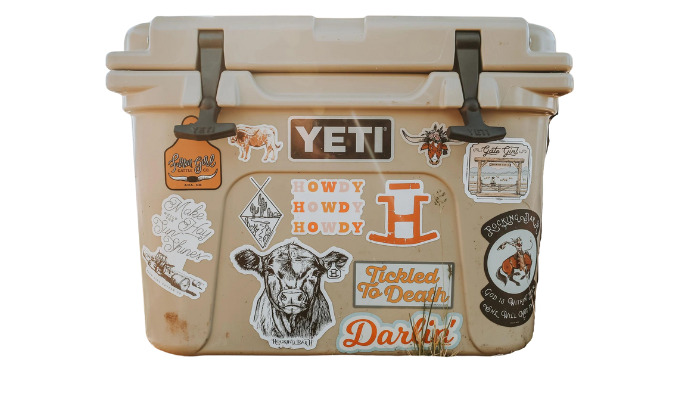 6. SCS Wrap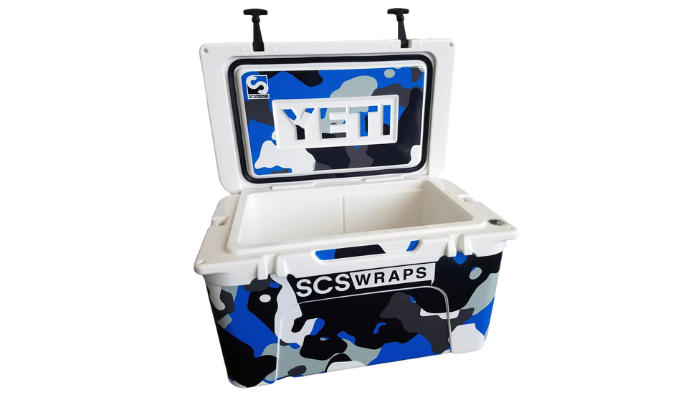 7. Custom Name
8. Cattle Brand Symbol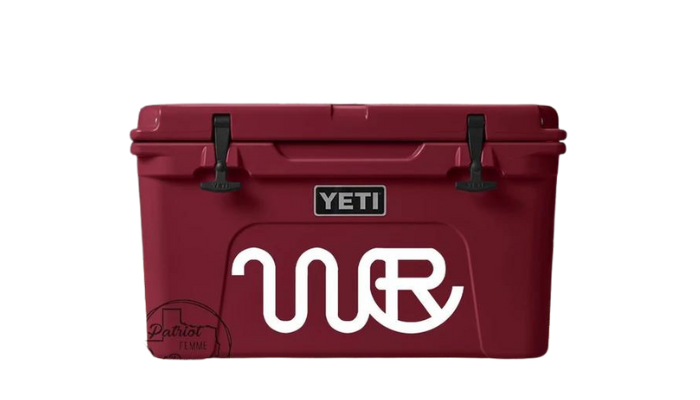 9. Glacier National Park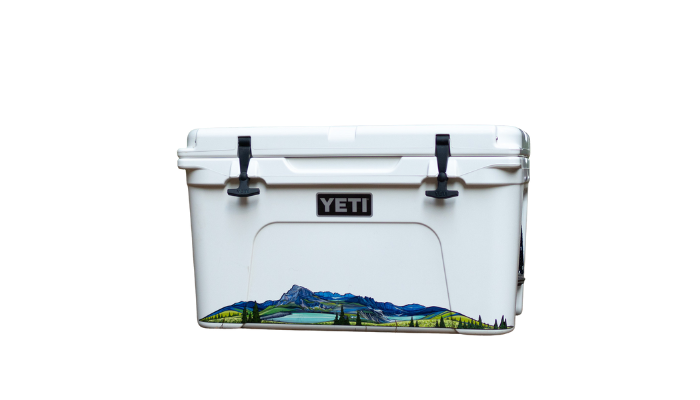 10. Artwork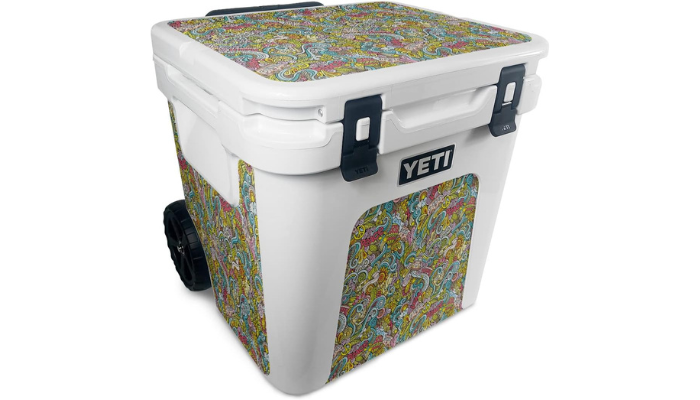 11. Purple Tree Camo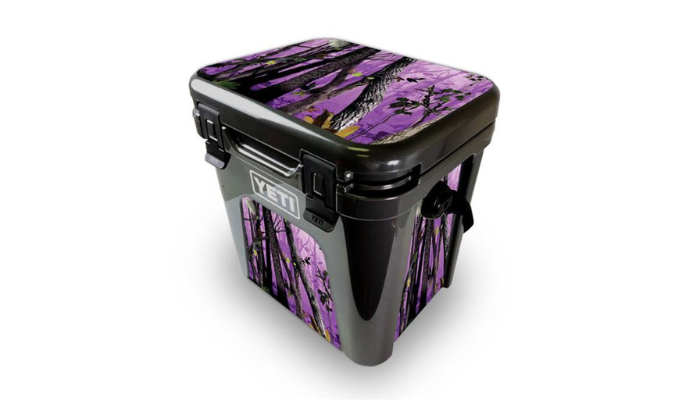 12. Roadie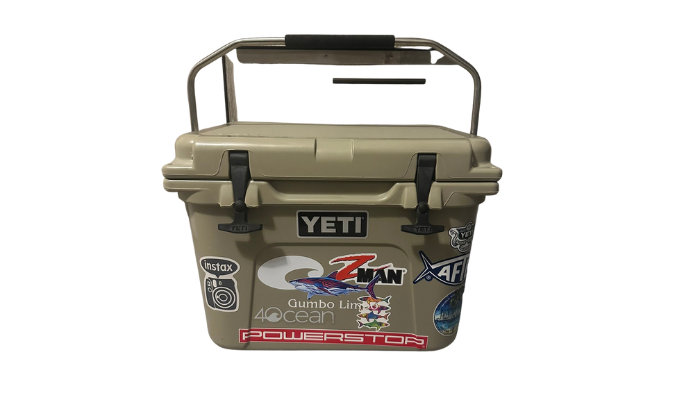 13. Marlin Wood Blue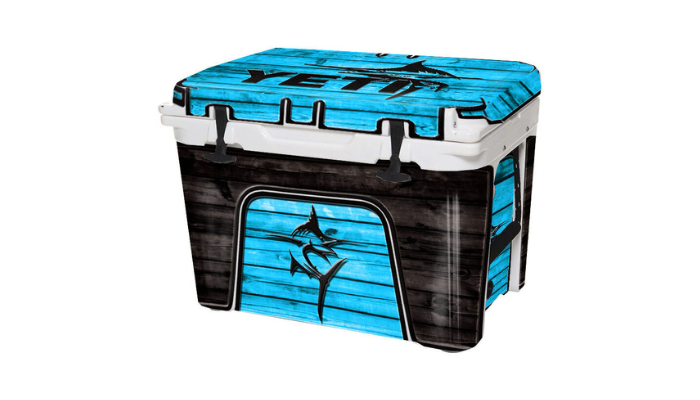 14. Tiger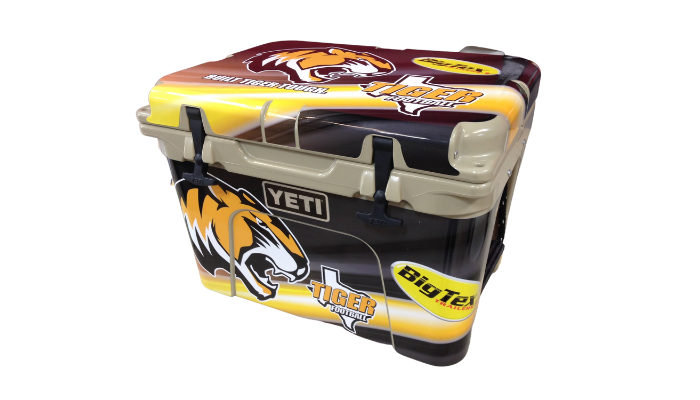 15. Big Chief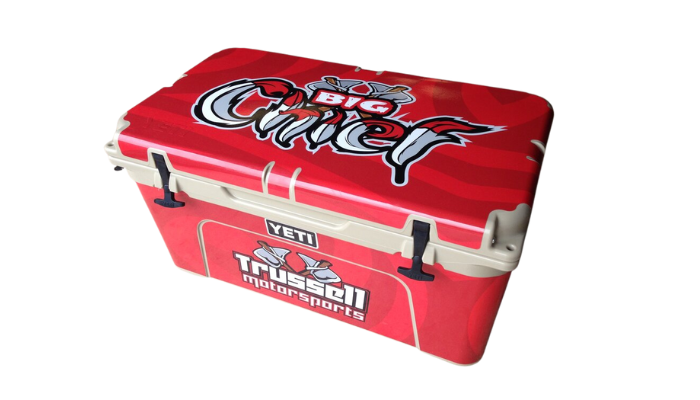 16. Racing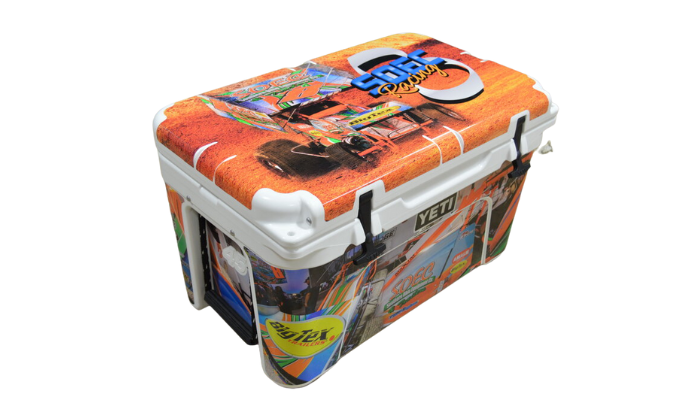 17. Mountain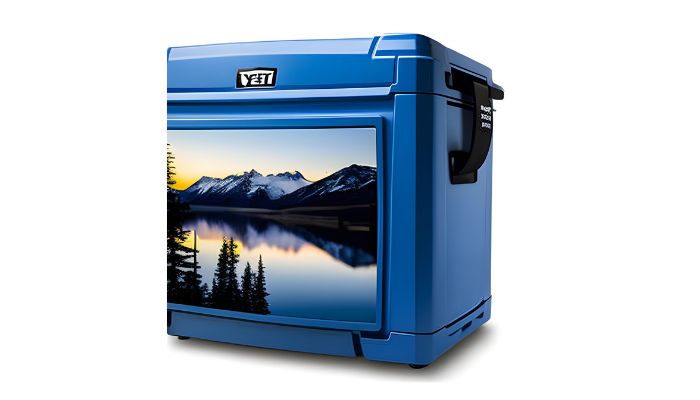 18. Bear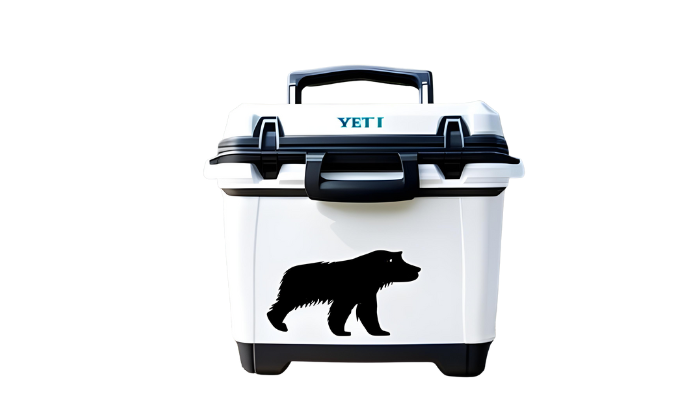 19. Beach Vibe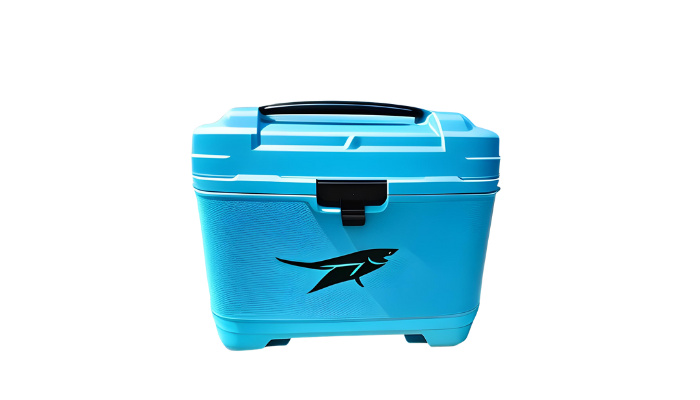 20. Makeover Sticker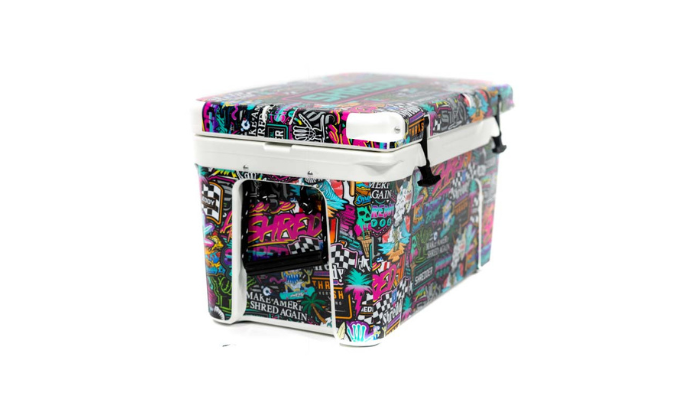 This Is How You Make a Cooler
Numerous choices are available for personalizing the Yeti cooler. On Amazon, various sellers focus on different types of decorations like stickers and skins. We want to take a moment to review a few of these options.
Once you have your Yeti cooler stickers, don't forget to use the mockup generator. This is the only tool that helps you see how your cooler stickers will look in real life.
Looking for a free and easy way to generate mockups? Try the Mockey mockup generator! Customize any product mockup and download as many as you want, completely free and without any watermarks.
Add Stickers to Your Cooler
How do you put a sticker on your cooler?
The key is to decide how you want to position it on the cooler which side should be facing upwards. If you're using decals, keep water or a heat source like an iron close by, especially if that's how they stick best.
Remove a part of the backing from the sticker and attach that part to the cooler.
Gently place the sticker on the cooler while slowly removing the backing paper. This will keep the sticker facing the right way.
After you finish, press down to remove any air bubbles and ensure the sticker sticks properly. If needed, you can also use water or heat if that's the recommended way for the specific sticker you're applying.
If you have a sticker, just remove the backing and stick the sticker onto the cooler.
Sticker Sheets
Do you want many stickers for your YETI? The sticker sheets let you showcase your personal style wherever you like. You can put stickers on one page with the low-cost sticker sheets, which are printed on 8.5 x 11-inch gloss vinyl sheets.
Then, it's a no-brainer to use high-quality vinyl. You should use strong four-mil vinyl.
Conclusion
You can make the Yeti cooler look amazing and keep them safe with cool sticker ideas. They're tough, won't cost you much, and will make your things special. If you decide to give it a go, you'll be glad you did – trust us!
We have also covered 20 Yeti cooler sticker ideas that can assist you during your travels to the beach or any other destination. Also, you have learned why or how to use the stickers.
FAQs
How do you put stickers on Yeti coolers?
To place stickers on Yeti coolers, first, make sure the surface is clean. Then, remove the backing from the sticker, put it in the right spot, and press it down firmly.
How to get YETI stickers for free?
You can get free YETI stickers in a few ways. One way is to sign up for your YETI drinkware on their website, and they'll send you a pack with five stickers. Another way is to fill out a form on their website to ask for stickers. If you prefer, you can also purchase YETI stickers on Amazon.
What material are YETI stickers?
YETI stickers are created from strong vinyl that can handle water, sunlight, and scratches. They stick well to smooth surfaces like coolers, laptops, cars, and tumblers. You can discover many YETI stickers on Etsy.
Do YETI stickers come off?
YETI stickers are tough and can handle different weather conditions, yet they can still be taken off. To remove one, you can use an adhesive remover, scraper, or hair dryer. Just make sure not to harm the surface below the sticker.