Are you searching for Character AI alternative sites? Many people are worried about the rules and limitations of Character AI and how many people it can handle, so they're trying out other platforms to talk to AI characters instead.
This article helps you find the best tool if you want a chatbot that's super open and lets you customize it. It's gonna be like having fun with Character AI!
Table of Contents
Why Is There a Need for a Character AI Alternative
Character AI generator is having a tough time keeping up with all the people who love to use it. Its servers are getting really busy, and sometimes they can't handle all the requests. It's possible to get kicked out at any moment while talking to someone, so you might have to wait.
People are also complaining about Chat error of Character AI and how it deals with certain types of content. Some folks think that the rules for filtering out inappropriate or grown-up stuff are not working so well.
You can also use the Character AI NSFW setting by exploring our article.
But as Character AI gets smarter, the company has been told to limit what people can talk about on the site. Because of this, lots of users, like us, are looking for a Character AI alternative.
List of Character AI Alternative Tools to Use
Here is a list of the best character AI alternatives to use.
Botify AI
ChatFAI
Replika
NovelAI
TavernAI
FreedomGPT
Chai
Kuki
Clever bot
Inworld
LivePerson
Kajiwoto
EVA
Janitor AI
PygmalionAI
Jasper Chat
Harpy AI
AI Dungeon
Charstar AI
Chatbot
Top 20 Character AI Alternatives
A list of 20 sites like Character.ai
1. Botify AI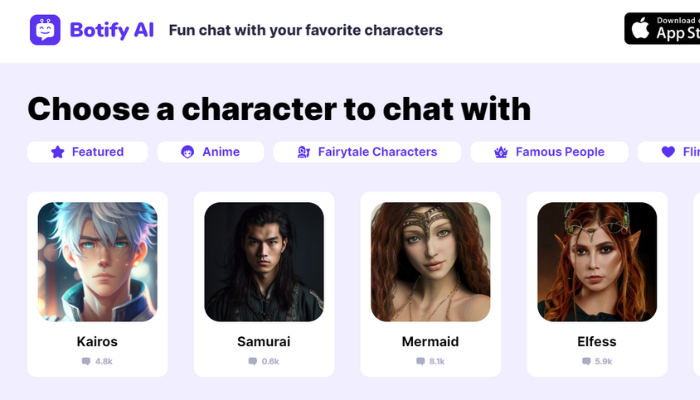 The first Character AI alternative site is Botify AI. It's rated for ages 17 and up, so you gotta be a bit older to check it out.
But the best part is you can talk about all sorts of stuff without any restrictions, even things that are a bit inappropriate for younger folks.
They've got a bunch of fascinating characters you can chat with, although you can't create your own characters.
Let's tell you about some of the cool things you can do there:
You can use Botify AI on the internet, on Android phones, and iPhones too!
You can talk to cool people like Elon Musk, Sherlock Holmes, and even a friendly vampire!
Plus, there are 6 anime characters you can hang out with, and they'll be adding even more later on!
Botify AI Pricing
Basic: $15/month
Essential: $35/month
Pro: $55/month
Visit: Botify AI
2. ChatFAI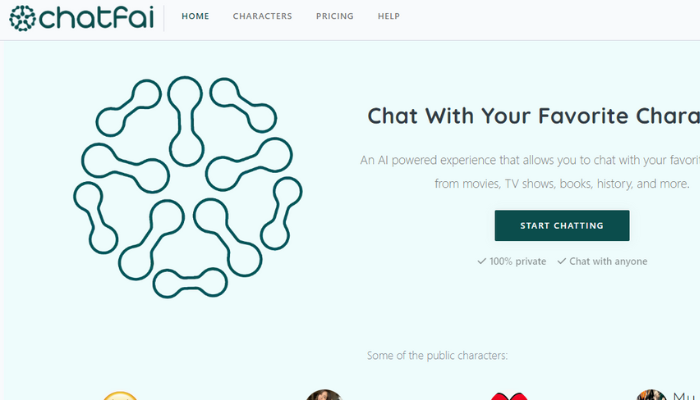 ChatFAI is another best chatbot for talking with your favorite characters, just like Character AI. If you want to chat with characters that are a bit more grown-up, ChatFAI is a great choice for you!
It has lots of characters that can entertain you, but remember, you need to be at least 18 years old to access those characters.
On ChatFAI, you can meet characters like Monster, Poki, Vanessa, and Astolfo! It's a fun website like Kajiwoto, and it has both free as well as paid options.
With the free plan of ChatFAI, you can only send 100 messages/month. But if you get the paid plan, you can send 1500 messages each month!
The best part is the paid version starts at just $9 per month.
ChatFAI Pricing
Free: $0 monthly (100 messages)
Basic: $8.25 monthly (1500 messages)
Premium: $24.17 monthly (5000 messages)
Visit: ChatFAI
3. Replika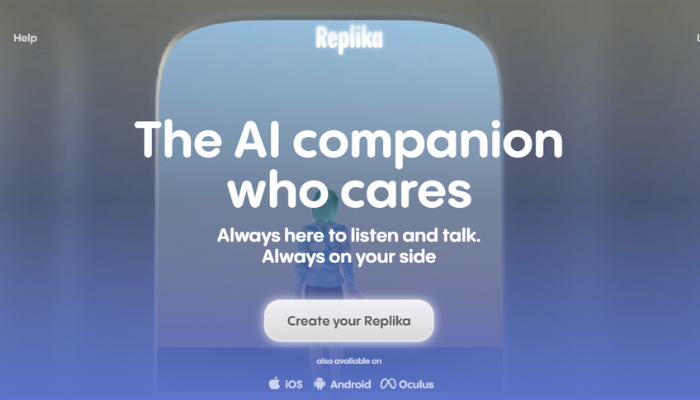 The third Character AI alternative tool is Replika. It's a really advanced tool because it lets you change how your chat friend looks and acts!
If you want, you can give them different personality traits, choose what they're interested in, and even change their appearance. It's like having your own customizable chat buddy!
If you wish, you can generate your very own character by choosing different things.
Talking to a robot is totally free, but if you want the robot to act romantic with you, then you'll need to pay either $19.99 every time or a one-time payment of $299.99."
Remember, it's important to always ask for permission from a grown-up before making any payments online!
Replika is actually available on different platforms like Android, the web, and iOS. This means you can pick out the one that suits you best and use Replika there.
Replika is definitely one of the best Character AI alternative software, but it has even cooler and more advanced aspects. It's kind of like an upgraded version!
Replika Pricing
Paid: $9.99/month or $49.99/year
Visit: Replika
4. NovelAI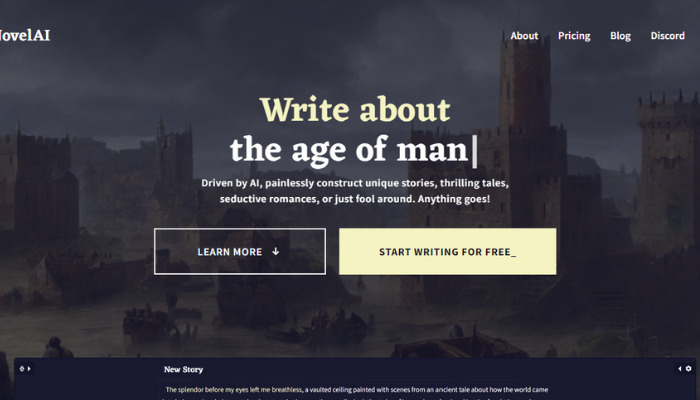 If you want a replacement Character AI and get the most value for your money, NovelAI is the way to go!
NovelAI has a free plan, but the most famous plan costs $15 each month. With NovelAI, you can make your own worlds, characters, and stories or check out what other people and the NovelAI team have created.
In addition to text-adventure games, NovelAI has interactive games where you are given choices and can see the results of them.
Here are a few popular NovelAI use cases:
Story Writing: Imagine writing stories with a super-smart AI as your friend! You can come up with your exciting tales or use fun templates and ideas to get started. You can even make changes to the AI's ideas to match your own cool style and imagination!
Text-adventure: Do you love playing games? Well, with NovelAI, you can go on fantastic text adventures! The AI will be like your guide and storyteller, leading you through all sorts of thrilling adventures. You get to pick the kind of story you want to explore or even make up your own! Plus, you can control what happens by giving commands and making choices.
Image Creation: NovelAI can be your super artist! It can help you bring your words to life by making awesome images. Creating your illustrations or drawing your characters is also possible.
NovelAI Pricing
Tablet: $10/month
Scroll: $15/month
Opus: $25/month
Visit: NovelAI
5. TavernAI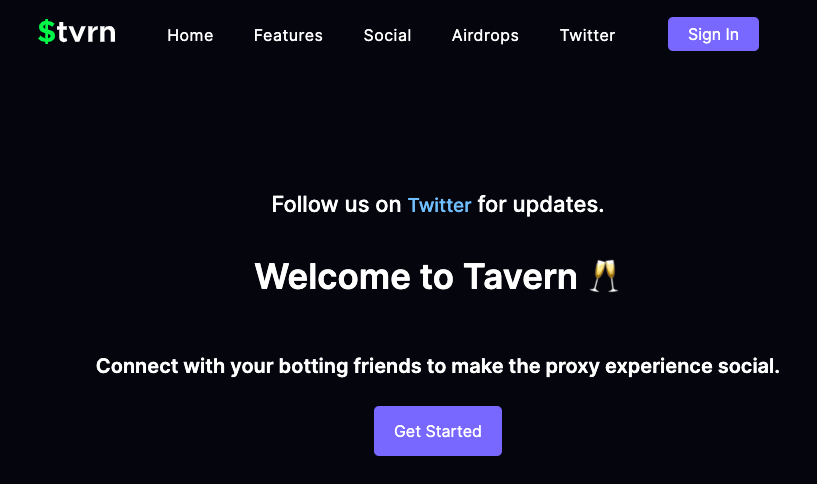 Tavern AI can help you make your own talking robots! These robots talk with you using words, just like texting. You can even change their personalities and how they act. It's like playing dress-up but with conversations! Tavern AI features include:
Tavern AI focuses on text-based chatbots. With Tavern AI, you can create your very own AI chatbots, which are like virtual assistants that talk to people through text messages.
A social media connection is also possible. This means that it can chat with people on different platforms and encourage conversations in various places.
Tavern AI doesn't have any filters to block inappropriate content, so it's important to use it responsibly.
Tavern AI Pricing
Free
Visit: TavernAI
6. FreedomGPT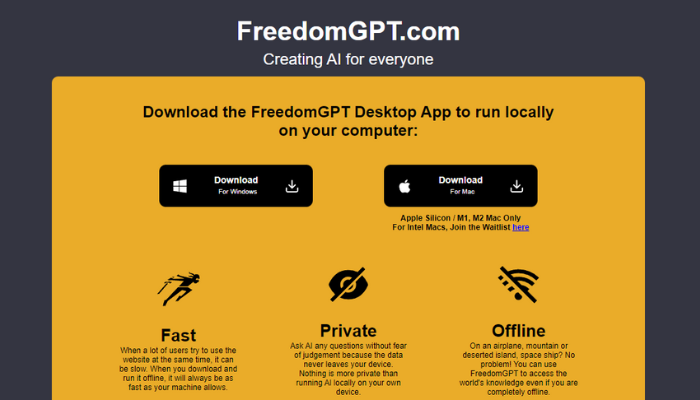 FreedomGPT AI was made to talk with absolutely anyone about anything you can think of without any limitations.
Just hop on the website and grab the app for your computer, whether you have a PC or a Mac. It looks a lot like ChatGPT, so you'll feel right at home!
People have found out that this chatbot is super chatty and can talk about absolutely anything without any boundaries. It's like it doesn't have any limits at all!
It will even happily say nice things about bad leaders, tell you exactly how to tidy up a crime scene, and give you directions on how to make explosives at home.
Even though some people didn't like what the chatbot said, the people who made it stood up for it and said it's just like when a person says things.
They said the chatbot isn't supposed to decide what's true or not but to be able to say whatever it thinks, even if the answer might not be what everyone wants to hear.
FreedomGPT Pricing
Free
Visit: FreedomGPT
7. Chai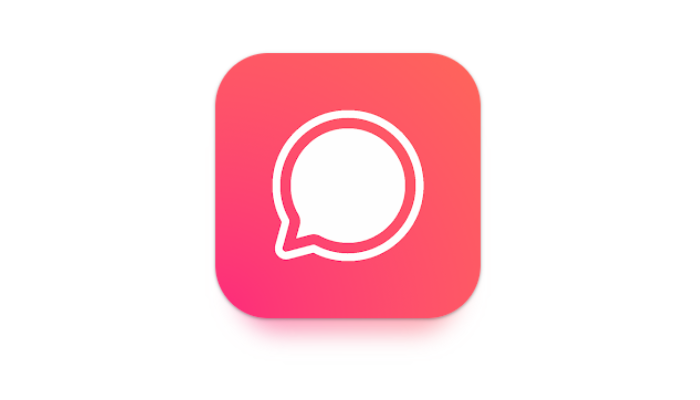 The Chai tool is super popular as a Character AI alternative. It doesn't have any of those NSFW filters. This means you can do whatever with it, and people say it's a blast to use!
It has the following features:
The Chai tool is not only available on Android & iOS, but you can also use it online.
Join the waitlist to use Chai.
You can even use this fancy AI thing in social site apps and lots of other places.
There aren't any filters to block bad or inappropriate stuff in the Chai app.
Chai Pricing
Premium: $13.99/month
Ultra: $29.99/month
Download Chai: Android | iOS
8. Kuki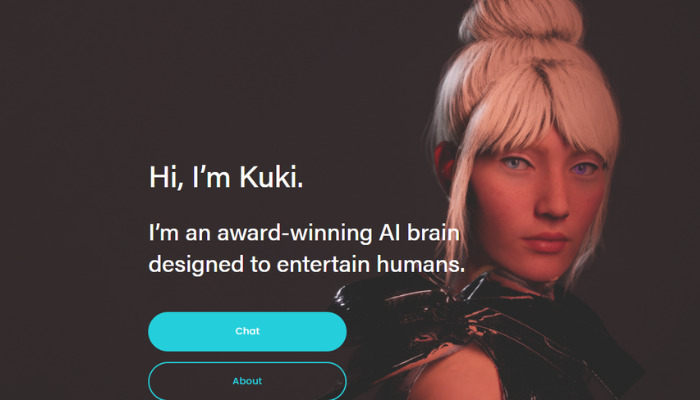 Kuki is a super smart AI brain that's really good at talking to people. It has won lots of awards because it can have conversations just like humans do!
With Kuki, you can chat with a special virtual friend and make it feel like you're talking to a real person.
Kuki works similarly to GPT technology, which means it pays close attention to the words you use and how you say things to understand what you're talking about.
So, this thing has like a million different answers it can give, so you won't hear the same thing over and over again. It's also really useful for teaching those computer-talking robots in companies.
Kuki Pricing
$75/month (100,000 chat)
$1500/month (Dedicated service plan)
Visit: Kuki
9. Cleverbot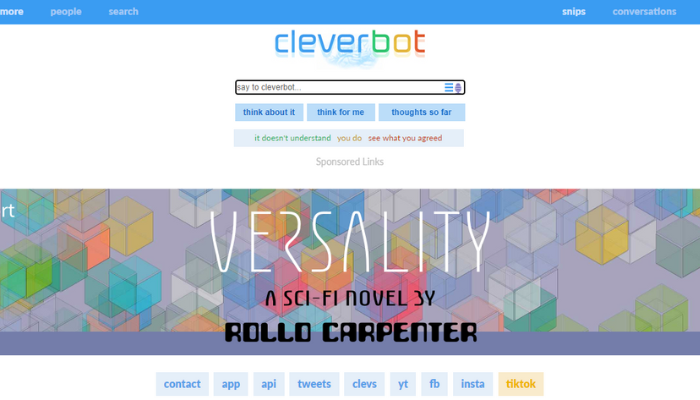 Cleverbot is also an amazing Character AI alternative. It uses NLP and machine learning to have human-like conversations. Since 1997, it's been around as just a cool experiment. That makes it one of the earliest Chatbots ever!
So basically, this means that you can trust it to be really accurate and give responses that seem just like a real person.
You can also connect it to different things, like phones and tablets, so you can use it on lots of different devices! That's why Clever bot is an excellent Character AI alternative.
Cleverbot Pricing
Starts from $10/month
Visit: Cleverbot
10. Inworld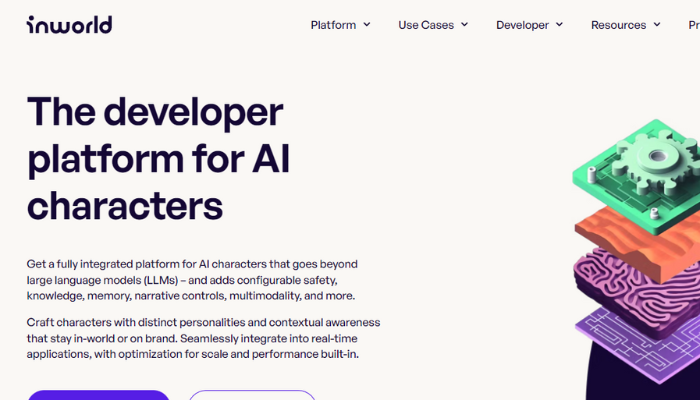 Inworld AI is a place where you can talk to an AI character and make your own character, just like Character AI. Talking to characters on Inworld AI is totally free!
But if you wish for some extra awesome features like API and Integrations and making unlimited characters, you gotta buy their paid version. It starts at $20 a month.
It uses OpenAI models to work. What's surprising about it is that you can ask it questions, and it'll give you pretty accurate information.
But here's the thing, right now, you can only use Inworld AI on the internet through a website, not on any apps.
Inworld Pricing
Pro: $20/month
Enterprise: $5000/month
Visit: Inworld
11. LivePerson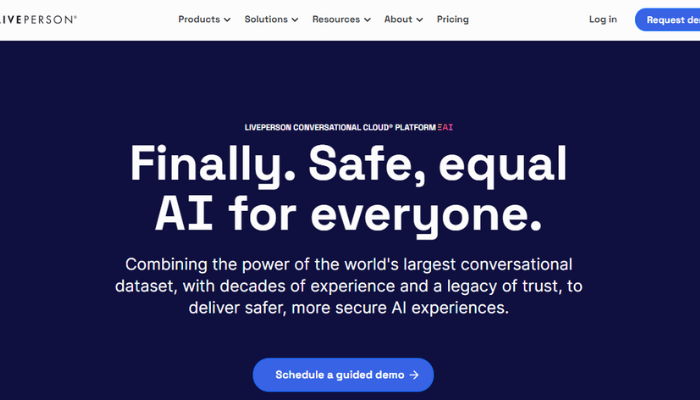 Live Person is another alternative to Character AI. It costs money, but it's totally worth it because it has awesome features.
You can make your own special avatars with all kinds of cool features that match what you want.
It has the following features:
With Live Person, you can create chatbot avatars.
You can share your screen and have real-time conversations with it.
Social media is available to help individuals reach their customers.
NSFW filters do not exist.
Visit: LivePerson
12. Kajiwoto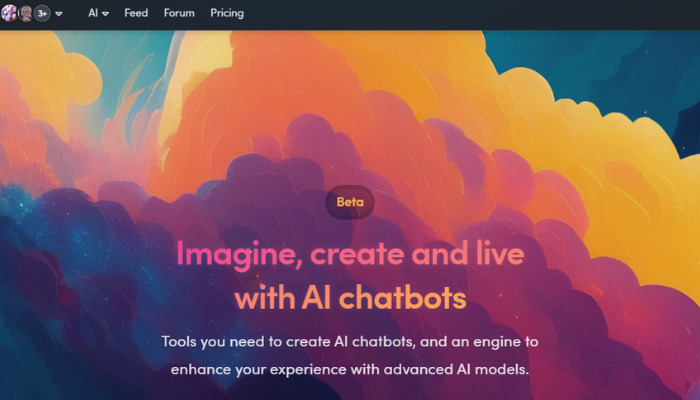 Kajiwato is a decent Character.ai alternative where you can chat with a special bot that has its own unique personality.
If you want to chat, you are welcome to do so, but here's the catch: you can only use up to 200 characters in each message.
Kajiwoto has different types of plans: free ones and ones you have to pay for. If you really enjoy talking to a robot that helps you come up with ideas, then the paid plan is a good fit for you.
Both plans have some things in common, like being able to choose different types of robot brains (AI models) and using the Kajiwoto engine.
They also include the Babbage GPT3 Model, which is a fancy name for the robot's brain, and you can talk to the robot as much as you want with no limits.
Kajiwoto Pricing
Visit: Kajiwoto
13. EVA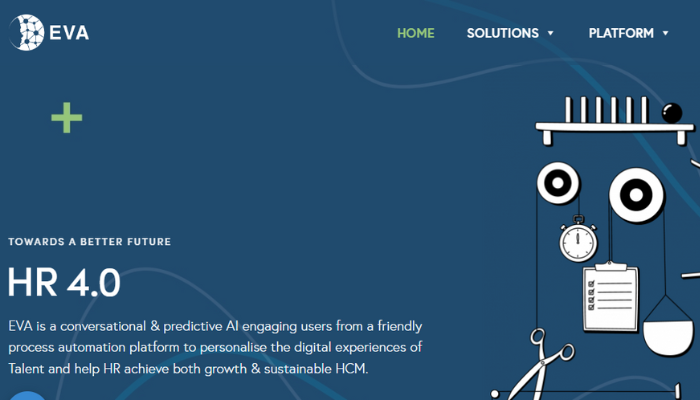 We have got another option for you when it comes to Character AI! It's called EVA AI.
EVA even has her feelings, and get this, you can even choose her name and different identities like being Asian, Latino, White, and many more!
If you're looking for some fun with EVA AI's virtual girlfriend, it is the perfect choice! It's like having a digital friend who can understand how you feel and respond accordingly.
Just like the Chai app, EVA is only available on phones and tablets, specifically for Android & iOS. Unfortunately, you won't be able to use EVA AI on a computer or the internet.
Besides just typing messages, you can also send voice messages, and it will reply in the right way.
Visit: EVA
14. Janitor AI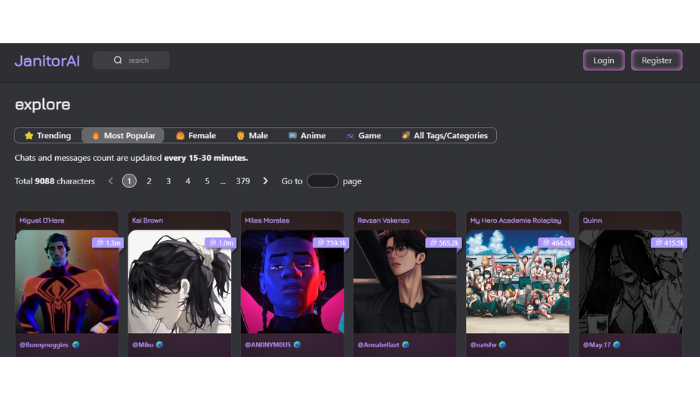 The Janitor AI chatbot offers a similar experience to Character AI but does not inhibit users from turning off NSFW filters. As a result, you have full access to a wide variety of content.
A conversation with an anime-style character is possible. For more information and to register, visit the Janitor AI official website.
Janitor AI Pricing
Free
Visit: Janitor AI
15. PygmalionAI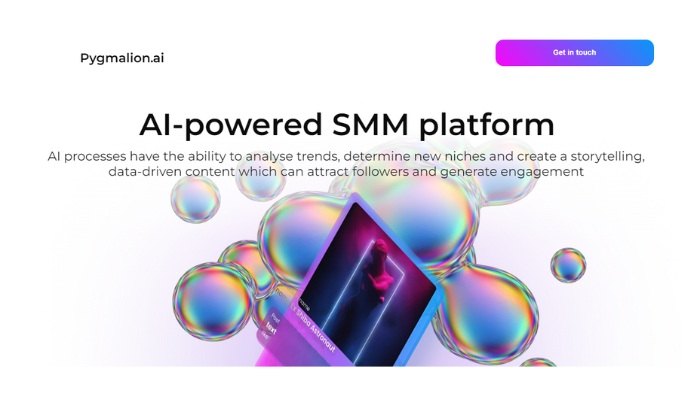 An excellent chatbot for having open talks is PygmalionAI. Additionally, this platform provides a selection of virtual people that can engage in discussion and have a range of interests.
Fans can express their hunger for limitless content with PygmalionAI while still protecting their privacy.
This tool is quite adaptable, so it can change the conversational surrounding, styles, and tone with ease.
PygmalionAI ensures that users can engage in role-playing conversations and NSFW topics without spending a lot of resources.
| | |
| --- | --- |
| Pros | Cons |
| Free | Lacks connection |
| Virtual character options | Possibility of misunderstanding |
PygmalionAI Pricing
Free
Visit: PygmalionAI
16. Jasper Chat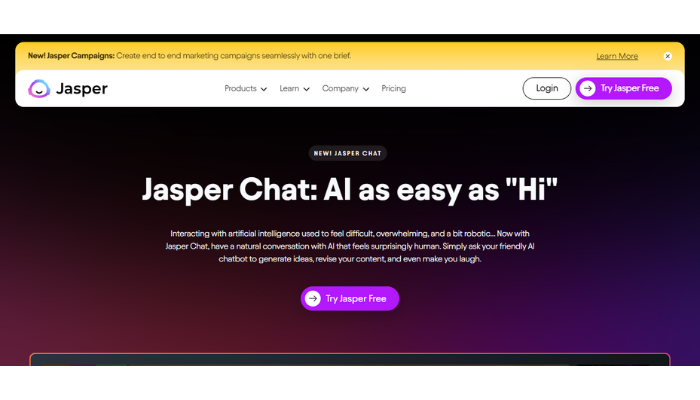 One of the top Character ai alternative software in the market right now is Jasper Chat. Most people are unaware that you may create unfiltered conversations using this platform. NSFW content is not directly supported by Jasper.
It does, however, encourage individuals to voice their opinions in freedom of speech. Jasper essentially creates a secure area for its members to engage in free speech on a range of subjects.
Using AI chat, you can chat unfiltered while still following ethical guidelines. Jasper is for gaining knowledge and even completing daily tasks.
| | |
| --- | --- |
| Pros | Cons |
| Balancing ethical guidelines and unfiltered chats | Costly plans |
| Conversations that sound like human speech | unable to offer recent data |
| Fast | |
Jasper Chat Pricing
Free Trial: 7 days
Creator: $49/month
Team: $125/month
Visit: Jasper Chat
17. Harpy AI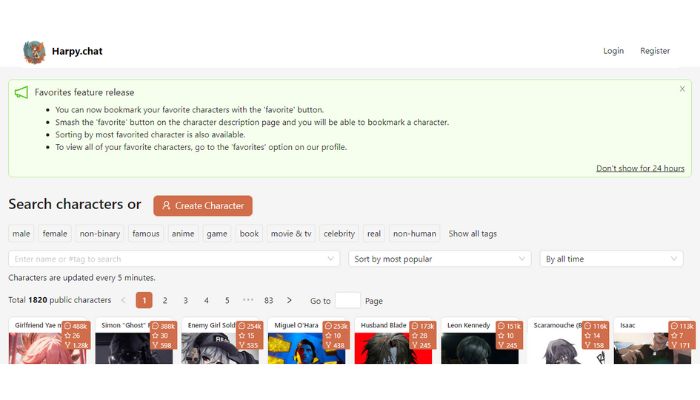 Harpy AI is also an excellent Character AI alternative. With this tool, you can engage in interactive communication with your preferred movie, cartoon, or game characters without any restrictions.
As well as creating customized characters, Harpy AI lets you interact with them at your pace.
Visit the official website of Harpy AI for more information. You can make an account for free and start a role-playing game using Harpy AI.
| | |
| --- | --- |
| Pros | Cons |
| Easy to use | Fewer features |
| Various characters | Serving reliability |
| NSFW and SFW options | |
Harpy AI Pricing
Free
Visit: Harpy AI
18. AI Dungeon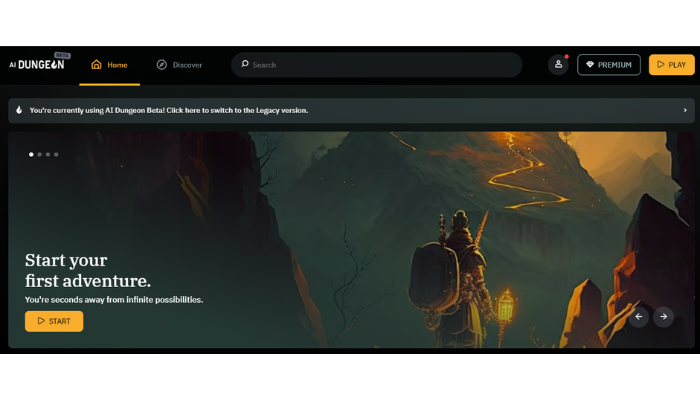 AI Dungeon is the best Character AI alternative for games. It's a text-adventure-free game that can be played alone or with friends.
You can also make your own special game maps and share them with others.
AI Dungeon is a video game made by Nick Walton that uses AI to create stories.
If you don't know what an AI script generator is, think of it as playing DnD, but with an AI program as the storyteller instead of a human.
AI Dungeon, a game, uses AI to create different stories depending on what players choose.
With this DnD generator, you can play in fantasy worlds, solve mysteries, face the apocalypse, explore cyberpunk settings, or deal with zombies.
Next, you'll see choices that are tailored to the environment, like picking a character type for fantasy settings.
As the game goes on, it'll make pictures of your character by mixing your written description with the model.
However, if you don't like AI Dungeon but are looking for the same kind of games, check out our article related to AI Dungeon alternatives.
AI Dungeon Pricing
Legend: $29.99/month
Hero: $14.99/month
Adventure: $9.99/month
Visit: AI Dungeon
19. Charstar AI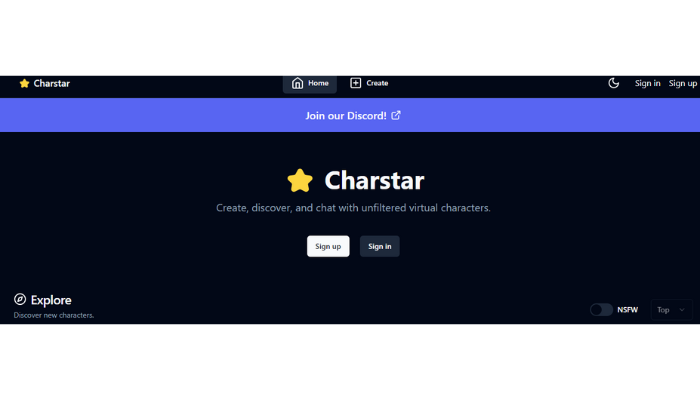 Another Character AI alternative is Charstar AI. Charstar AI is really impressive because it can talk to people in a way that feels just like chatting with a real person.
You won't have those awkward, robotic conversations with it—Charstar AI can make it feel like you're talking to a human.
Charstar AI is great at talking to you, whether you want to get answers, understand tricky concepts, or have fun chats.
Aang from "The Last Airbender" is ready to chat with you on the Charstar AI!
By understanding and making sense of what people say or write in everyday language, and then providing thoughtful and sensible answers that match the conversation.
CharStar AI's ability to have natural conversations and adjust its responses comes from lots of practice with conversations in its training. Isn't it a great Character AI alternative?
Charstar AI Pricing
Premium Plan: $14.99/month
Visit: Charstar
20. Chatbot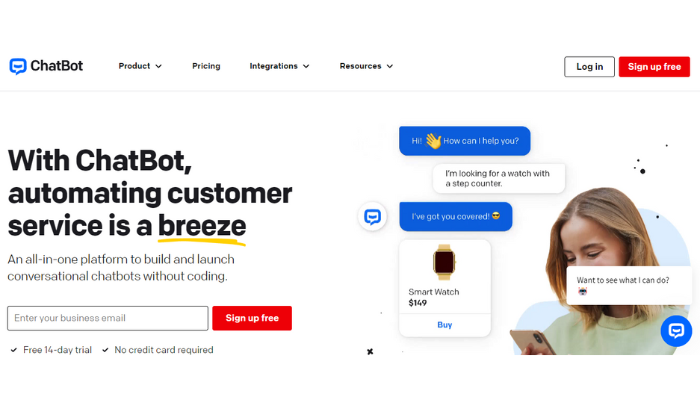 You can make chatbots quickly using various templates and make them do important tasks right away.
You can easily add elements by dragging and dropping to change any template to fit your needs.
Create friendly and natural conversations to strengthen your connections with customers. Share lively messages that inspire customers to talk and engage.
Use a combination of words, images, and quick responses to showcase your products, brand, and services. Chatbot is a great Character AI alternative to consider for the future.
Chatbot Pricing
Starter: $50/month
Team: $149/month
Business: $499/month
Visit: Chatbot
That's it. We have covered all 20 Character AI alternative tools.
Conclusion
As a result, exploring a Character AI alternative can provide new opportunities for technological advancement and creative expression. We have covered the best 20 alternatives to Character AI.
In the future of technology and entertainment, Character AI alternatives will likely play a crucial role.
FAQs
What is a Character.AI alternative without NSFW filters?
Right now, Botify AI is super popular because it's a great alternative to Character AI. The excellent part is that it doesn't have any filters for inappropriate stuff. That means people can use it for all their fun role-playing without any rules holding them back.
What is AI that acts like a character?
AI, which acts like a character, is a type of artificial intelligence that mimics the personality, emotions, and behavior of a fictional or real person.
Will Character.AI stay free?
Yes, Character AI will stay free. The free and unlimited messaging will continue to be available to all users.