We are happy to welcome you to the world of Sticker storage ideas! If you collect stickers or run a sticker company, you might struggle to find an ideal manner to store your stickers.
In spite of this, storing and organizing these delightful adhesive wonders effectively can be a challenge as your collection grows. We have compiled 20+ great sticker storage ideas that have worked for me over the years.
Using these sticker storage ideas in combination is the best way to stay organized like we do!
Table of Contents
Is There a Good Way to Store Stickers
A binder, box, or album are excellent places to store stickers because they keep them cool, dry, and dark. By storing your stickers in these containers, you will protect them from moisture, dust, and sunlight, which can affect their color and adhesive.
If you want to organize your stickers easily, you can categorize them by size, shape, color, and type. For example, you can use dividers, labels, or envelopes to sort your stickers by theme or category.
List of Best Sticker Storage Ideas
This is a list of the best sticker storage ideas.
Protective page binder
Folder in accordion
Magazine holders
Plastic bins
Ziplock bags
Spice jars
CD cases
Photo albums
Pizza boxes
File cabinet
Cookie tins
Cork Board
Plastic sleeves
Bookcase
Jewelry box
Planner pouch
Clipboard
Mason jars
Scrapbook album
Rolling cart
20+ Sticker Storage Ideas for You
These 20+ sticker storage ideas will blow you away.
1. Protective Page Binder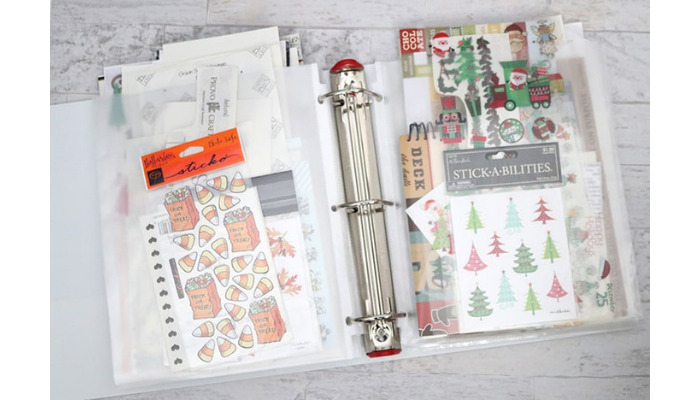 Organize your cool stickers with a protective page binder. Sticker sheets and labels can be inserted into clear plastic sleeves or pockets. Then, you can arrange them according to your preferences in terms of theme, size, color, etc. Additionally, a protective page binder helps keep your stickers from tearing, wrinkling, or being lost.
2. Folder in Accordion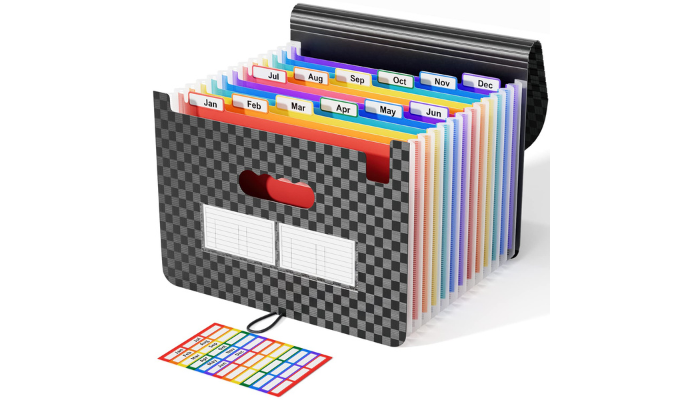 Try the folder in the accordion approach if you need to arrange a lot of folders and papers. This is an easy way to keep your folders organized and tiny. All you need is an accordion file organizer and some sticky labels. Add folders based on the categories or dates you have labeled in each section of the accordion. By doing so, you can discover what you need quickly and free up some space in your storage area.
3. Magazine Holders
Magazine holders are not just for magazines. They can be used to store craft materials, including stickers, labels, and more. They are simple to access, stack, and arrange. Try out this simple and affordable storage solution right away!
4. Plastic Bins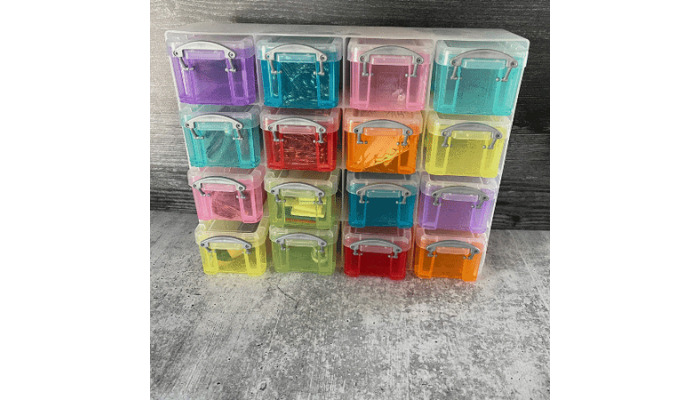 For storing stickers, plastic bins are flexible and durable containers. On a pegboard, you can hang them, stack them, or label them. To match your choices and demands, they are available in a variety of sizes, shapes, and colors.
5. Ziplock Bags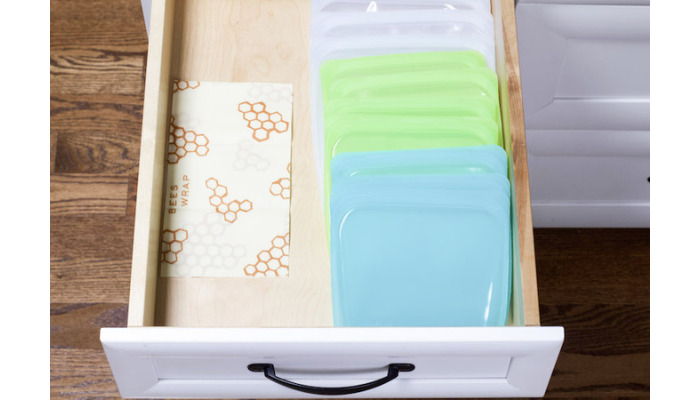 Stickers store well in ziplock bags. Due to the transparency of ziplock bags, you can see your sticker collection with ease. Additionally, they shield your stickers from moisture and dust.
6. Spice Jars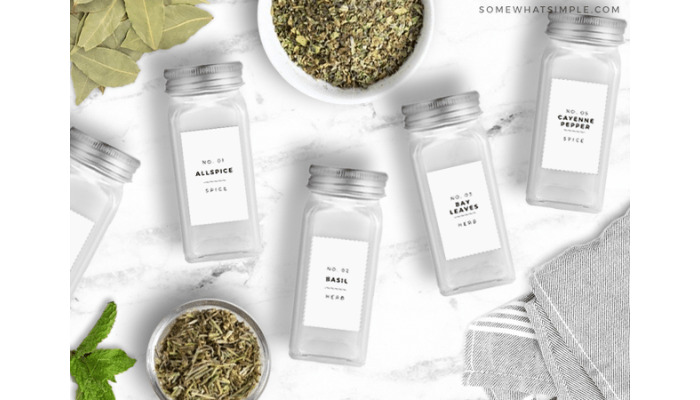 Stick-on containers that fasten to cabinet doors or walls can be used to store spice jars. This saves space and makes spices easy to access.
7. CD Cases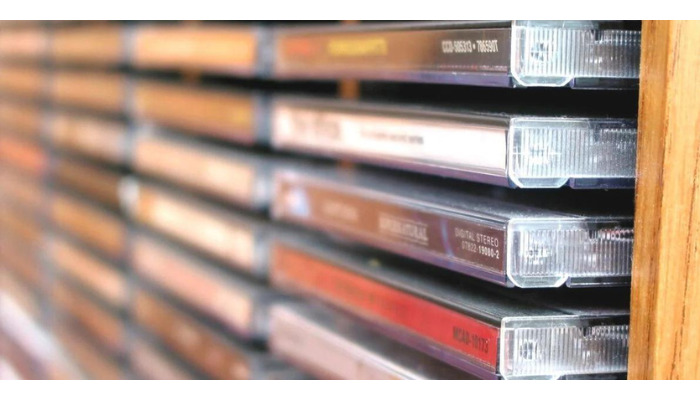 If you have old CD cases lying around, you can use them to store stickers. Simply remove the labels, then place the sticker sheets inside. For simple access, you can stack them or hang them on a wall.
8. Photo Albums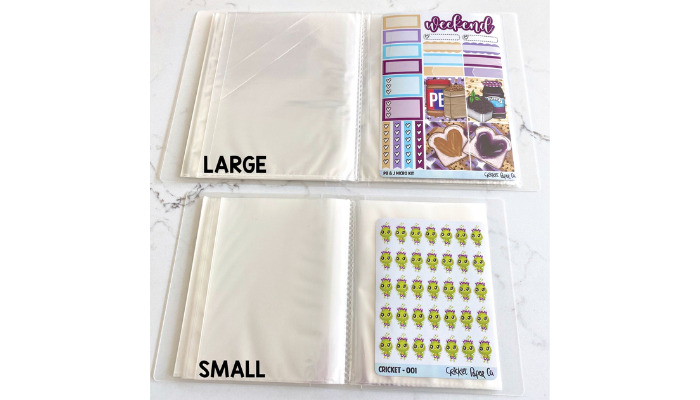 Creating photo albums is an excellent method of safeguarding and showcasing your treasured memories. But what if you want to add some flair and personality to your albums? Decorating photo albums with stickers is a fun and effortless way to add a touch of uniqueness to them.
9. Pizza Boxes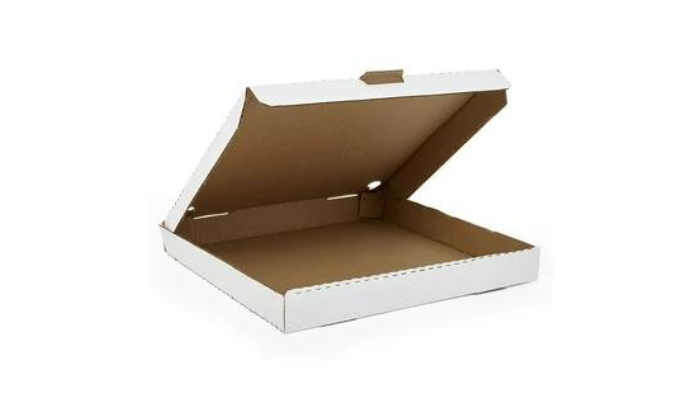 You can make your pizza boxes more unique by decorating them with stickers. For recycling pizza boxes and finding stickers you need for your projects, here are some pizza box sticker storage ideas.
Pizza box album
Pizza box wall art
Pizza box storage bin
Pizza box sticker maker
10. File Cabinet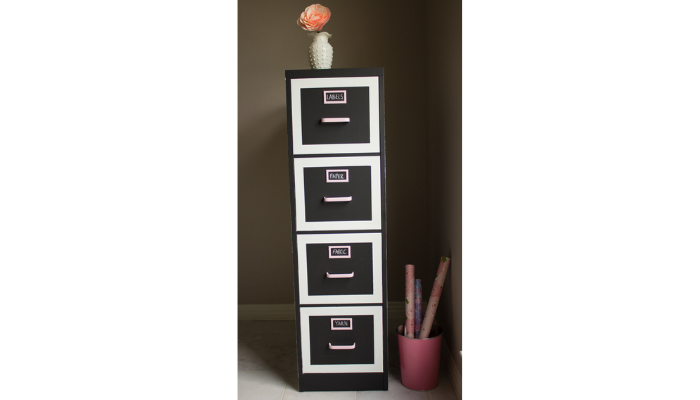 File cabinet sticker storage ideas are a great way to organize your stickers in a neat and tidy way. To organize your stickers by gentle color, style, etc. and make it simple to find what you need, use file dividers. There are several advantages to using a file cabinet as a storage solution for your stickers:
Storing your stickers vertically helps save desk and floor space.
Your stickers are shielded from dust, moisture, and sunlight to keep them safe.
It allows you to store large or small sticker sheets without folding or cutting them.
11. Cookie Tins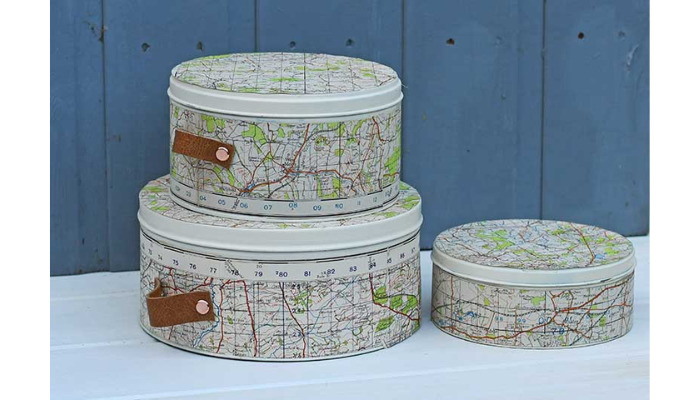 Cookie tins are good for organizing stickers. Here are some ideas on how to use cookie tins for sticker storage:
Organize your stickers by theme, color, or size and label each tin for easy access.
Personalize your cookie tins with stickers, paint, mod podge, or washi tape.
You can stack your cookie tins on a shelf or a desk to save space and display your sticker collection.
12. Cork Board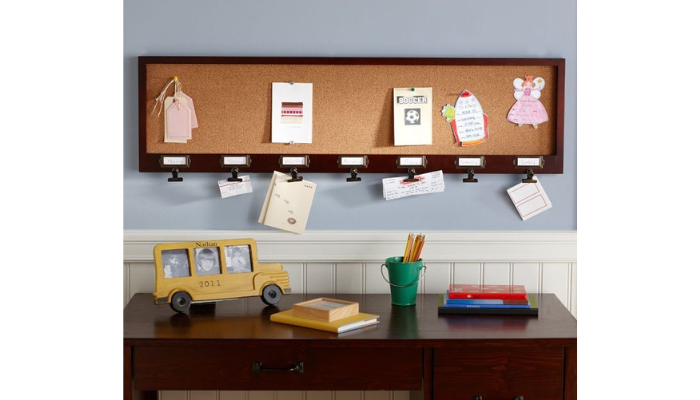 Cork Boards keep notes, reminders, and photos organized and can also store and display stickers. Ideas for cork board sticker storage:
Make a sticker storage book with a photo album and cork.
You can use a cork board as a wall decor by arranging your stickers in a creative pattern or design.
You can use a cork board as a storage unit by adding some hooks, clips, or baskets to hang your sticker sheets or rolls.
13. Plastic Sleeves
Storing and organizing stickers can be made easier with the use of plastic sleeves. Protect and conveniently store your stickers with our covers.
14. Bookcase
If you have a passion for collecting stickers, you may consider exhibiting them on a bookcase that reflects your unique personality and style. Transforming an old bookcase into a sticker storage masterpiece is easy with just a few materials like paint, fabric, or wallpaper.
If you need a way to organize your stickers, a bookcase with drawers or compartments is a great option. You can sort them by theme, size, or color for easy access and tidiness.
15. Jewelry Box
To keep stickers safe and organized, use a jewelry box. Some jewelry boxes even have drawers or lids that you can label for easy access.
A jewelry box can save you space and money. Reuse it instead of buying separate containers for stickers. A jewelry box fits on a desk, shelf, or nightstand without taking up much space.
16. Planner Pouch
Keep your stickers neat and tidy with a planner pouch that fits your style and needs. Find the perfect pouch for your planner stickers, whether clear, zippered, or disc-bound.
No more losing or damaging your precious planner stickers. A planner pouch simplifies sticker storage and access. Find the perfect match for your planner and style with various options in size, color, and design.
17. Clipboard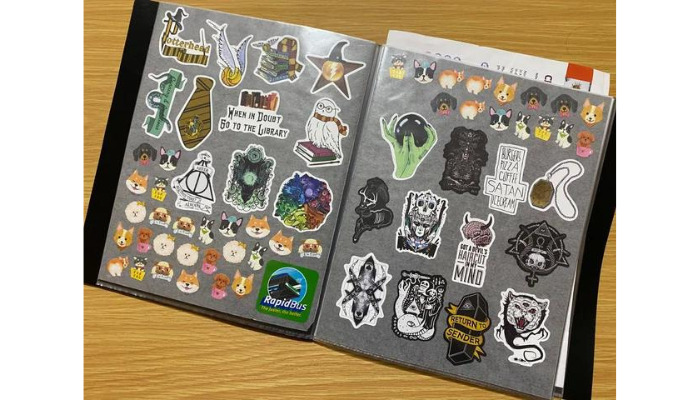 Use a clipboard to organize your sticker collection. Hang your sticker sheets on the wall with a clipboard for easy access and display.
A clipboard is a simple and inexpensive way to organize your stickers. Organize stickers with different clipboards for different categories like a planner, scrapbook, or bullet journal. To make your clipboards more personalized and fun, you can use washi tape or stickers.
18. Mason Jars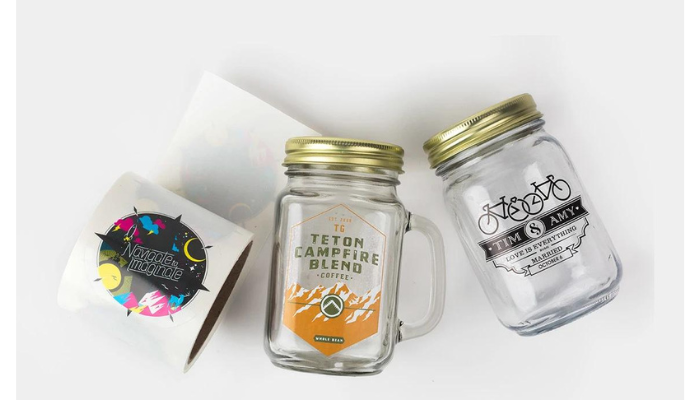 One fun DIY idea is to showcase your preferred stickers on the exterior part of a mason jar and then stuff it with goodies like sweets, coins, or other tiny objects. If you know someone who loves cute stickers, you can use the jar as a thoughtful gift. Simply attach a tag with a heartfelt message and tie it with a bow.
19. Scrapbook Album
Make your own reusable sticker album with scrapbooking materials. Feel free to decorate the cover and spine of your album with your preferred paper, stickers, and embellishments. To create pages for your stickers, use wax paper or release paper. This will allow you to easily stick and peel off your stickers as desired.
20. Rolling Cart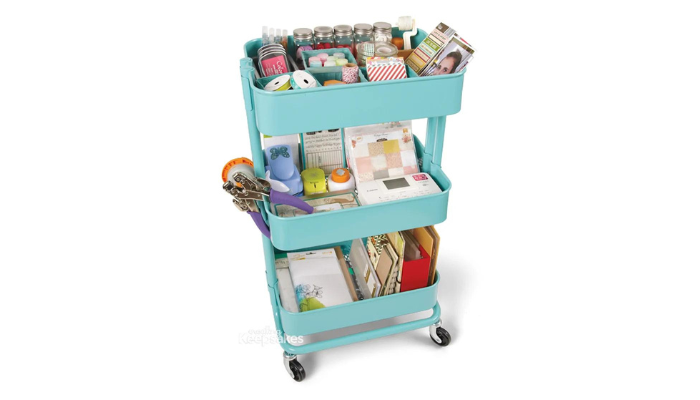 Use a plastic rolling cart with drawers to store your stickers in different compartments. You can label the drawers with the sticker names and use dividers to separate them by size or shape.
That's it. These are 20 amazing sticker storage ideas for you.
If you have any doubts about how stickers will look on any product, you can use the Mockey mockup generator. A Mockup generator is the only and best way to showcase your stickers on any product. We recommend you use Mockey because there is a strong reason behind it. It is completely free and can generate high-quality mockups without any watermark with various templates.
Additionally, you may want to check out this video that relates sticker storage ideas.
FAQs
How do you make sticker storage?
You can make sticker storage in many ways. Here are popular ideas:
Store stickers in photo albums or binders with page protectors.
Organize stickers with recipe/photo boxes and tab dividers by category.
Store stickers in envelopes or ziplock bags.
Use labeled craft drawers or bins to organize your stickers by themes or sizes.
How do you store and display stickers?
Stickers are fun to collect and display, but they need proper storage and care to last long. You can store stickers in binders, photo albums, boxes, or folders that are dry and dark. Avoid direct sunlight and humidity to prevent fading or peeling.
How do you store sticker rolls?
It is recommended that sticker rolls be stored away from direct sunlight and interior lighting and in a cool, dry environment. Keep them in their original packaging until needed, and store them horizontally, not vertically.
Conclusion
To summarize, exploring various sticker storage ideas can greatly enhance your sticker collection's organization and preservation. There is something for everyone when it comes to sticker storage ideas, no matter if you're an avid sticker collector, a planner addict, or someone just looking to declutter their space. You can keep your sticker collection in a neat and organized manner by using the correct sticker storage ideas.