Mockey is the best and only free Renderforest alternative tool, as it offers 1000+ templates with 20+ categories and no watermark images.
Table of Contents
Introduction
We are sure you are looking for an alternative to Renderforest, and if you are, then you have come to the right place. It is best to use the Mockey tool.
This article will explore the five most important reasons why Mockey is a better Renderforest alternative and why you should consider it.
What to Look for in Renderforest Alternative
These elements must be in Renderforest competitors.
The tool must be free.
A background remover option.
High-quality templates.
There should not be any watermark on any photo.
Many categories
Easy customization feature
5 Reasons Why Mockey Is Better Than Renderforest
These are the top five reasons why Mockey is one of the best sites like Renderforest when it comes to mockups.
1. Free Forever
| | | |
| --- | --- | --- |
| Website | Mockey | Renderforest |
| Free forever | ✅ | ❌ |
The first and most important reason to use Mockey is because it is a mockup generator that is completely free to use. Yes, you can use every template, all different categories, for free. For creating mockups, you do not need to sign up or create an account at all. You are unable to customize the mockups in Renderforest without signing in to your account first.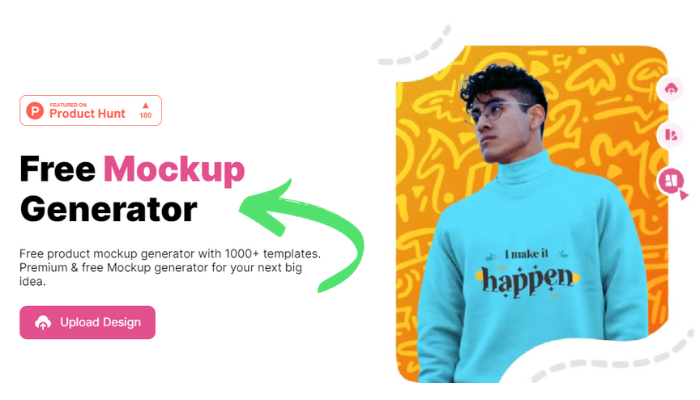 How Can I Make a Mockup for Free
To make a mockup for free:
On the home page, click "Upload Design" to add your design.
Then, choose your category as per your need and select your preferred template.
Now, customize it in the editor section on the left side. You can change colors and backgrounds or resize your design.
Once you have completed it, download the mockup in PNG format.
2. Download Images With No Watermark
| | | |
| --- | --- | --- |
| Website | Mockey | Renderforest |
| No watermark in all template | ✅ | ❌ |
There is no doubt that even Renderforest will agree that they don't provide download mockups without paying. You need to pay for a premium plan in order to download mockups in high quality without any watermark. So, for high-quality mockups, you must buy the Premium version in order to get them.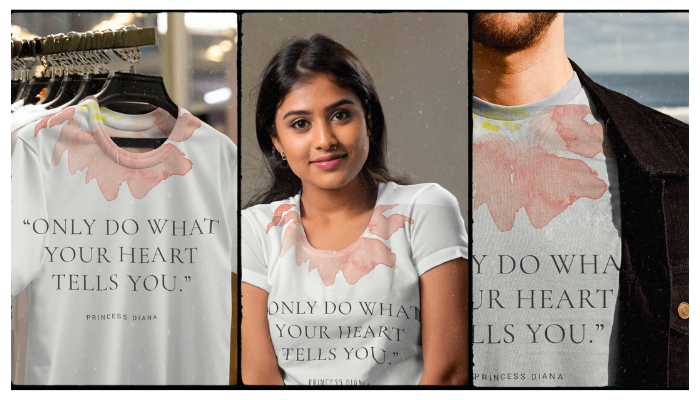 In this case, it is recommended that you use Mockey if you wish to ensure that your mockups do not carry any watermark on them.
3. Free Background Remover Option
| | | |
| --- | --- | --- |
| Website | Mockey | Renderforest |
| Free background remover | ✅ | ❌ |
Using Mockey, you are able to easily and for free remove your background images from your PC or mobile phone. Currently, there is no option in Renderforest to do this.
You can choose to have your background transparent in this tool, or you can create a custom background by uploading your own image.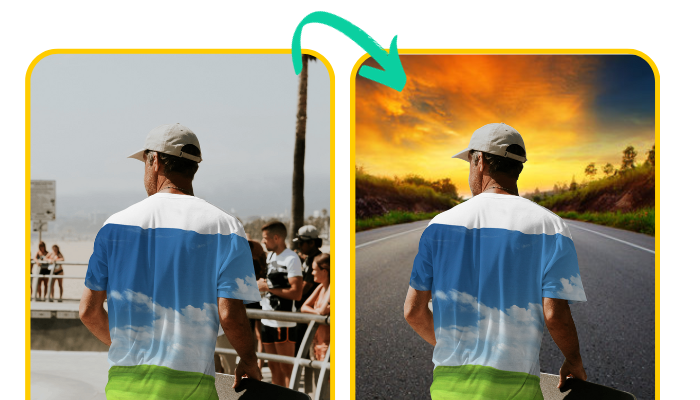 Furthermore, there are some ready-made images available that you can use to enhance the mockup so that it conveys the intended message. That's why this tool is one of the best websites like Renderforest.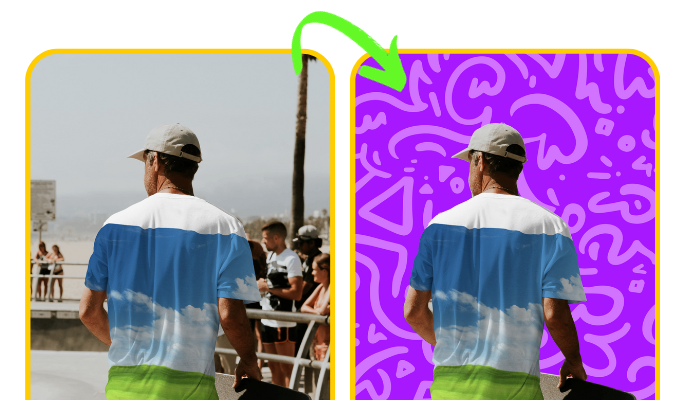 4. User-Friendly App
| | | |
| --- | --- | --- |
| Website | Mockey | Renderforest |
| App in Play Store | ✅ | ❌ |
Mockey is one of the best apps like Renderforest., and here's why: It's free on the Play Store with no in-app purchases, so you can enjoy all its features without any extra costs. You can check out the latest mockup templates added with this mockup generator, too.
You can only get Renderforest from the App Store, but the mockup feature isn't in the app.
5. Free Customizable Editor Section
| | | |
| --- | --- | --- |
| Website | Mockey | Renderforest |
| Free customizable editor option | ✅ | ❌ |
Many mockup generators, such as Renderforest and similar websites, don't let you customize things for free, like changing colors or the background in your design.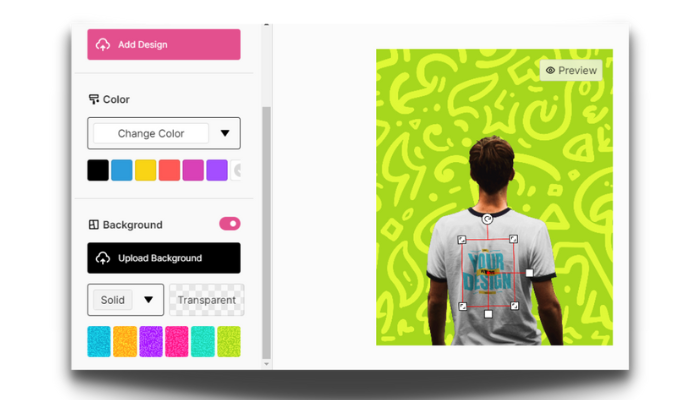 Only the Mockey tool provides everything for free. The reason it is a great Renderforest alternative right now is that it offers some fantastic features and benefits.
That's it. These are the five best reasons why Mockey is the best Renderforest alternative mockup generator.
Applause Mention – 20+ Categories
Mockey offers a wide variety of AI mockup categories, including things like T-shirt mockups, hoodie mockups, beanie mockups, and many more. In fact, there are over 20 different categories to choose from!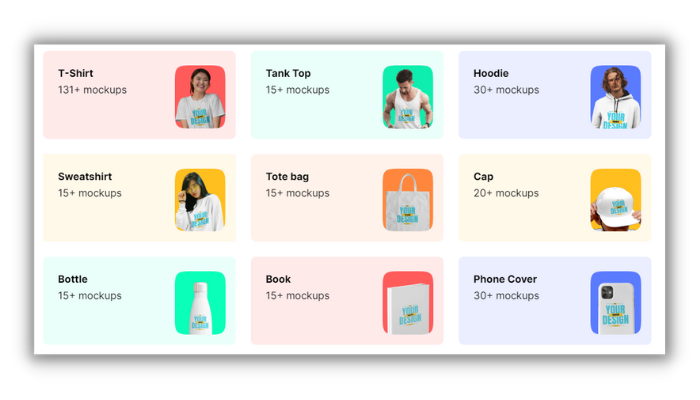 In other words, whether you are looking to visualize your designs on clothing or other items, it has plenty of options available so you can visualize your designs how you want.
Let's talk about some questions that people have asked about this topic.
For Whom Is Mockey Designed?
Creators of T-shirts.
Owners of e-commerce merchandise businesses.
Entrepreneurs in the print-on-demand industry can create top-notch, polished product mockups to enhance their e-commerce store or direct-to-consumer brand.
Designers who prefer to simplify the mockup creation process without relying on Photoshop or paid software.
Sellers on Blinkstore can easily create endless previews of their own custom t-shirts, hoodies, and more to share on their social media.
If you are a marketer looking to make your products look great on social media and ads, boost your content with high-quality, free mockup designs. Find the best source for realistic mockups online.
Fashion designers can use this tool to easily and freely visualize their designs on realistic mockups.
Is Mockey Copyright Free?
Mockey provides its users with the ability to use more than 1,000 templates for free without worrying about any royalty fees.
Is Mockey Alternative to Placeit?
Here are the reasons why Mockey is the best Placeit alternative:
Free with no watermark.
Faster than Placeit.
No sign-up is required.
. It is an easy and free customizable editor.
These four reasons are also the reasons why this tool can be considered as an alternative to Smartmockups.
Visit: Mockey website | Mockey App
Conclusion
Although Renderforest is a good tool for creating mockups online, if you're aiming to create really impressive mockups that captivate your audience, it could be a good idea to explore Renderforest alternatives like Mockey. It can help you streamline your work and elevate the quality of your mockup designs.
If you're curious to learn more about what makes a great mockup generator in 2023 and why Mockey is a great choice, watch this video. In it, we'll go through all the features of this tool and show you what you can do with them.
However, we have completely discussed every point in this topic related to the Renderforest alternative.
FAQs
Can I use Renderforest for free?
Yes, there is a free option on Renderforest that lets you use some of their video editing and mockup tools, but with some limitations. But there are videos and mockups with watermarks on them. If you want to use more features and get rid of watermarks, you can pay for paid plans.
What is Renderforest video maker?
The Renderforest platform creates professional-quality videos online that offer many templates and tools that are easy to use, so anyone can make great videos without being an expert. It's perfect for businesses, marketers, or anyone who wants to create engaging videos.
How do you make an animation in Renderforest?
To make an animation using Renderforest, just follow these simple steps:
Visit Renderforest's website.
Choose an animation template.
Customize text, music, and visuals.
Preview your animation.
Click Export to render and download your video.
Can I use Renderforest?
Renderforest is a website that lets you create mockups, videos, animations, and logos without needing to be a technical expert. It's easy to use! It has a lot of templates and ways to change things, so anyone can use it.