Looking for an easy tutorial to make Canva transparent background? You won't believe how simple it is to make a background transparent. We've got this awesome guide for you, and it's super easy to follow. It'll show you exactly how you can do it in Canva!
Plus, it tells you why having a transparent background is awesome. So, get ready to make your images look super cool!
Table of Contents
Should I Use Transparent Background
Transparent backgrounds can make images blend well with different backgrounds, but they can also reduce contrast and visibility.
Is Transparent Background on Canva Free
Yes, transparent background on Canva is free. This will save the design as a PNG file with no background color. You can use this feature for logos, stickers, watermarks and more.
A White Background Vs a Transparent Background
Imagine you have an image with nothing but white all around it. When you look at that image by itself, it might not seem too different in different places. But when you put that image on top of another image, you'll see a big difference! The white background becomes really noticeable and can distract you. Now, imagine you have a picture with a special transparent background. That means it doesn't have any white around it. You can easily put that picture on top of another picture without any disturbing white background.
Benefits of Making Canva Transparent Background
Here are some possible benefits of making Canva transparent background:
You can create logos, stickers, icons, and other graphics with no white edges.
You can layer multiple text or image elements on top of each other.
Allows you to adjust the opacity, brightness, contrast, and other settings to suit your design.
By removing the background, you don't have to crop or delete unwanted parts of your image.
The design looks more crisp and clear on different platforms and devices.
We have given answers to the questions asked by the people. Now let's discuss how to make a background transparent in Canva.
6 Steps to Make Canva Transparent Background
Here are 6 steps to make background transparent Canva.
Pick an image to edit.
Click Edit image and then select Background Remover.
Tap the Share option and then click the Download option.
Look for the PNG format.
Check the checkbox for Transparent background.
Hit Download.
How to Make a Transparent Background in Canva in 6 Steps
Here is a 6-step tutorial on how to make background transparent in Canva.
1. Pick an Image to Edit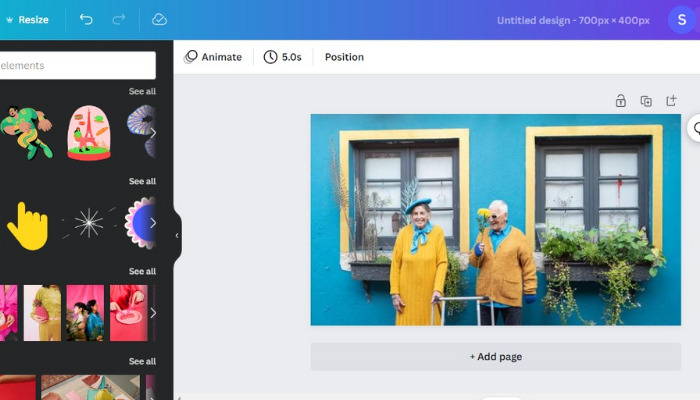 To begin, please ensure that you have successfully logged in using your registered credentials. If you don't have an account yet, you can create one by visiting Canva's official website and following the account creation process.
Locate and select the option to start a new project, depending on your requirements.
Now, it's time to choose the specific image you wish. You can either upload an image from your personal collection by clicking on the "Uploads" tab and following the instructions to add the desired image file from your device.
2. Click Edit Image and Then Select Background Remover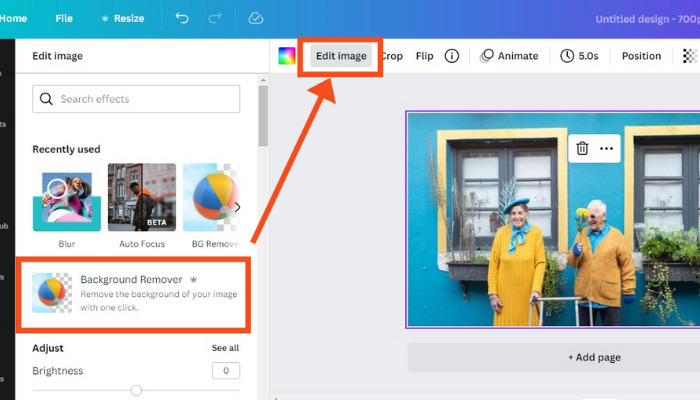 In the next step, you want to get rid of the background in your image. Look for the "Effect" button and give it a tap. Then, find the option "Background remover." After you do that, the background will disappear, and you'll be able to see just the main part of your image. It's like making your design see-through or transparent.
3. Tap the Share Option and Then Click the Download Option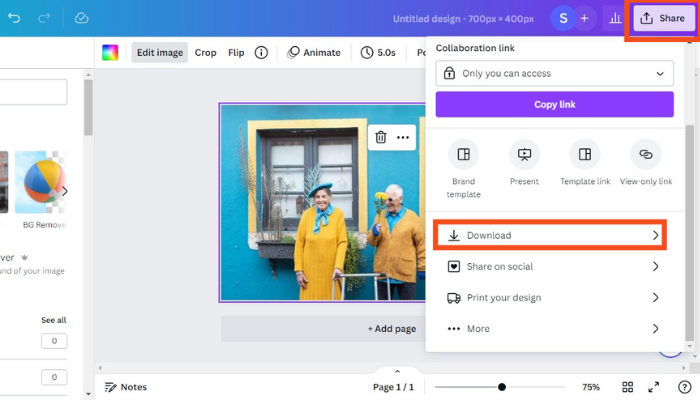 Okay, now it's time to share your amazing creation with others! To do that, look for the "Share" button on the screen. It looks like an arrow pointing upwards. When you find it, give it a tap or a click.
After you tap the Share button, a bunch of options will pop up. Look for "Download." Once you see it, go ahead and give it a tap or a click.
4. Look for the PNG Format
Now, You want to make sure you choose PNG. Why? Well, imagine you have a picture of a cat. So, when you put your cat picture on the rainbow background, it will look like the cat is floating on top without any extra stuff around it if you use the PNG option.
But if you accidentally choose a different file type, like JPEG or GIF, it's like using a different magic spell. These spells don't have the power to make the background disappear.
5. Check the Checkbox for Transparent Background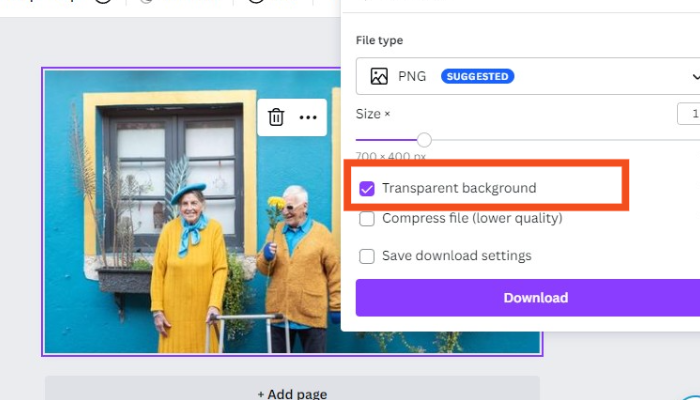 Let's move on to the fifth step! It's all about the Pro options. When you look at the Pro options, you'll see some boxes you can check, and one of them is the Transparent background box. You just have to put a mark or check in that box.
Remember, if you want your picture to look super awesome and let the background show through, don't forget to check that Transparent background box.
6. Hit Download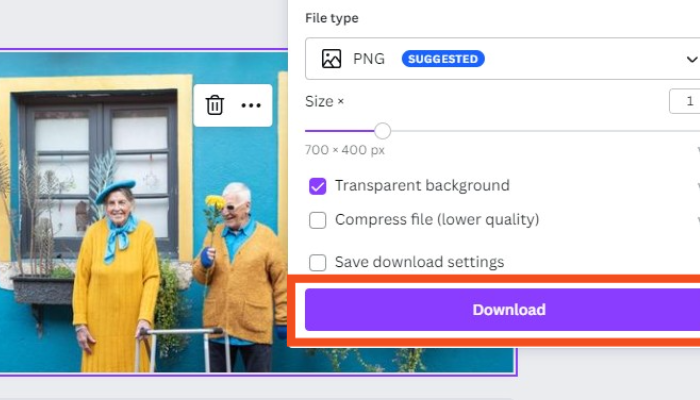 Hit the Download option. That's it. Hope these Canva tips can help you.
Canva Transparent Background with Existing Image: Quick Guide
Here is a quick guide to make transparent background in Canva.
Pick an image to edit in Canva.
Click on the background.
Look for the Transparency option and adjust.
Click Download
How to Make Transparent Background in Canva With Existing Image
You know, sometimes we want to do cool things with our images, like making the background transparent. But did you know that there's a difference between making the whole background transparent and just changing the background of the image?
When we make the background of an image transparent, it means we're making it see-through! But when we talk about changing the background, it means we're adjusting it to make it look different. Let's make a transparent background Canva with an existing image in 4 steps.
1. Pick an Image to Edit in Canva
We have discussed how to follow this step. Move to the next one. You can take any simple image or framed image created by Canva.
2. Click on the Background
Click the background of the image.
3. Look for the Transparency Option and Adjust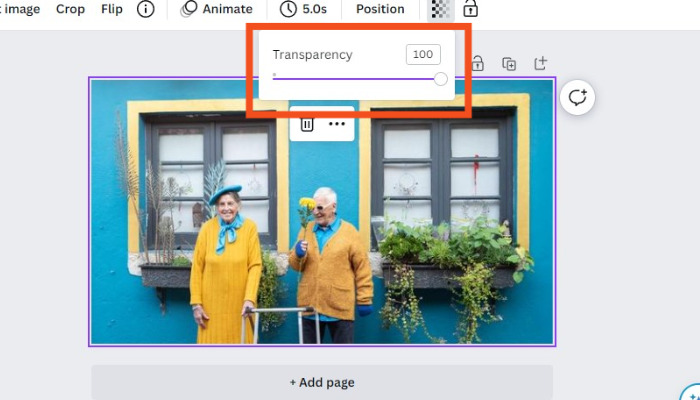 To make the picture see-through, look for the checkerboard option in the top-right corner. That's the special button for transparency. Once you tap it, you'll notice a slider that goes from 0 – 100. Just slide it around based on what you like. If you want the picture to be more transparent, move the slider towards 0. But if you want it to be less transparent and more solid, slide towards 100.
4. Click Download
Click the Download option. Have fun playing with transparency! After that, it's up to you whether you want the image background to be transparent or add any gradient in Canva.
We have discussed the Canva transparent background making process. Now let's cover how to make objects transparent in Canva.
Making Transparent Objects in Canva
First, find the image or box with words that you wish to be transparent. When you hit it, a menu will appear beside the image.
There's an arrow on the right side. If you tap on that arrow, more choices will show up. Look for "Transparency" and tap on it.
There will be a slider that you can move to make the image or words transparent.
Once you're happy with how transparent it is, you can keep working on your project or save it to your computer.
Add Images to New Background
You can enhance an image's visual impact by removing the best parts or changing the background. PNGs with transparency allow you to layer or combine images. Make product images and logos that look great. In addition, you can create a professional logo that looks great anywhere.
Does Canva Have Transparent Backgrounds
Yes, Canva designs have transparent backgrounds, so they can easily fit into your own creations. After you're done making something awesome, you can download it too! Try these steps:
First, look on the left side and find the search bar.
You can type in what you want or just explore different designs. When you find a design you like, tap on it.
Then, tap on the "Download" button.
Make sure to select PNG under "File Type."
Also, check the box next to "Transparent background." Finally, tap on the "Download" button one more time.
FAQs
How to make PNG transparent?
To make PNG transparent, use an image editor that supports transparency. Select the area to be transparent and delete it. Save the image in PNG format.
How to make image background transparent?
To make the image background transparent, use an online tool like remove.bg or Photoshop. Upload your image and download the result. For Canva users, select the image and click Effects. Choose Background Remover.
Is Canva free without watermark?
Canva is free without watermarks for most designs. However, some premium elements and photos require a subscription or a one-time purchase.
Conclusion
You have learned step-by-step guides to make Canva transparent background to design a stunning image with a professional look. Canva is a really excellent tool that helps you add different parts to the designs, like a business logo, a special mark on your pictures, and lots more. If you want your design to be extra special and stand out, Canva is perfect for you. All you have to do is click a few times, and ta-da! You'll have an amazing design that everyone will notice!
Also, for some info, you can watch this video for a quick tutorial on Canva transparent background.