Do you like to create beautiful designs for your projects, presentations, or social media? Maybe you've heard of these two popular online platforms that can help you do that: Envato and Canva. But what are the differences between them? Which one is better for your needs? That's why we'll discuss a detailed comparison in this article: Envato vs Canva. Let's get started!
Table of Contents
Short Head-To-Head Comparison Between Envato vs Canva
Here is a short head-to-head comparison between Envato vs Canva.
1. Stock Content
Envato has 12+ million stock contents. In comparison, Canva has 100+ million stock contents.
2. Fonts
Envato has 33,000 fonts, while Canva has 3,000 fonts.
3. Website Templates & 3D Graphics
Website Templates & 3D graphics are available in Envato, but you will not get to see them in Canva.
4. Suitable for Beginners
Envato is not suitable for beginners, while anyone can use Canva.
5. Price
Envato offers a variety of paid plans and services that range from $9.99/month to $99.99/month. Canva plans are available for free with limited features as well as at $12.95 per month for a premium plan.
Short Verdict Between Envato vs Canva
Envato is a better option if you want high-quality and sophisticated design assets that you can edit with your own tools. However, you might prefer Canva if you wish to create stunning designs without external tools.
Now, before we briefly discuss Envato vs Canva, let's talk about an overview of Envato and Canva.
What Is Envato Used For?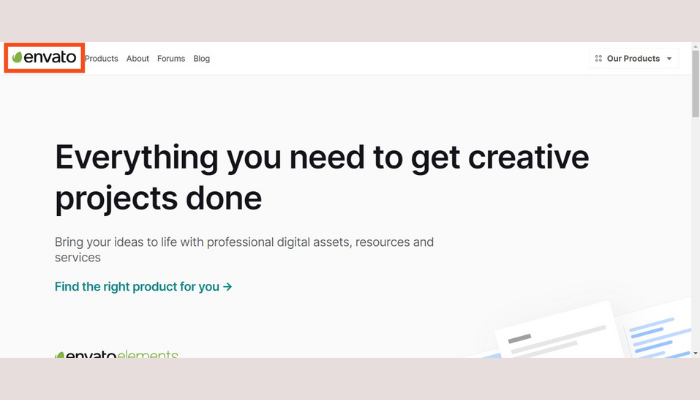 Envato is a platform that offers various products and services for creative people. It allows users to access millions of digital assets, such as graphics, videos, music, web templates, and more. Users can also buy and sell their own assets, create mockups and logos, and learn new skills from tutorials and courses. Envato aims to help users bring their ideas and projects to life with high-quality and affordable resources.
Envato Resources
Envato offers a variety of products and services for creative projects. Some of their products are:
Envato Elements
Envato Market
Placeit by Envato
Envato Tuts+
1. Envato Elements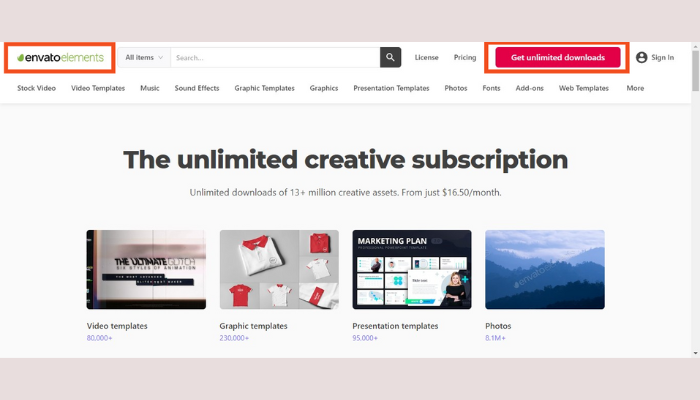 With a subscription-based model, users gain unlimited access to a diverse range of high-quality graphics, templates, videos, audio tracks, and more.
Envato Elements empowers individuals and businesses to enhance their projects with visually stunning and engaging content, boosting productivity and saving valuable time. Whether you need design elements, website themes, or stock media, Envato Elements is a go-to platform for creative professionals.
2. Envato Market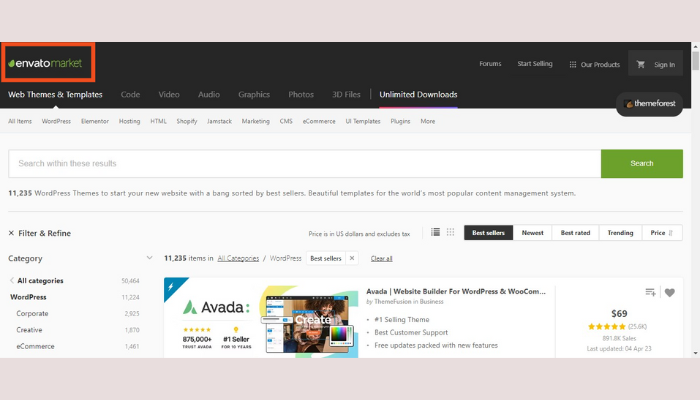 Envato Market helps you to buy or sell a range of assets, such as WordPress themes, website templates, stock videos, royalty-free music, and more. Since Envato Market was established more than 15 years ago, creatives have earned over $1.3 billion USD through its various sites. With Envato Market, you'll find a wide range of creative assets not available with Envato Elements.
3. Placeit by Envato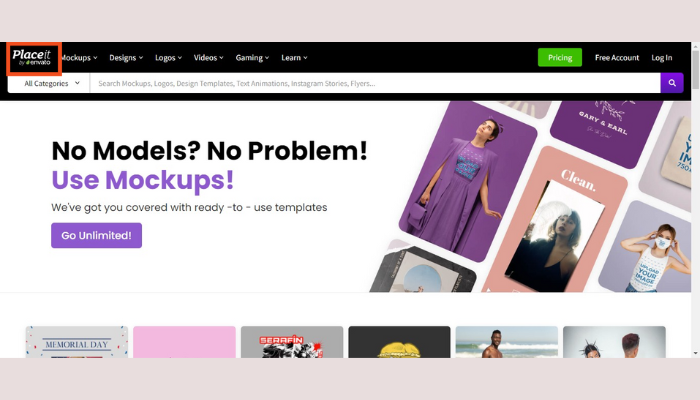 In 2018, Envato acquired Placeit, a design company hailing from Mexico. Placeit, as its name suggests, serves as a primary tool for designing mockups, allowing you to effortlessly incorporate online designs into numerous mockup templates and craft stunning product shots.
It goes without saying that Placeit is utilized primarily by brands rather than individuals. Placeit, while a graphic design tool like Canva, falls short in comparison to Canva when it comes to features, template collection and content library, lacking the same level of excellence and advancement.
4. Envato Tuts+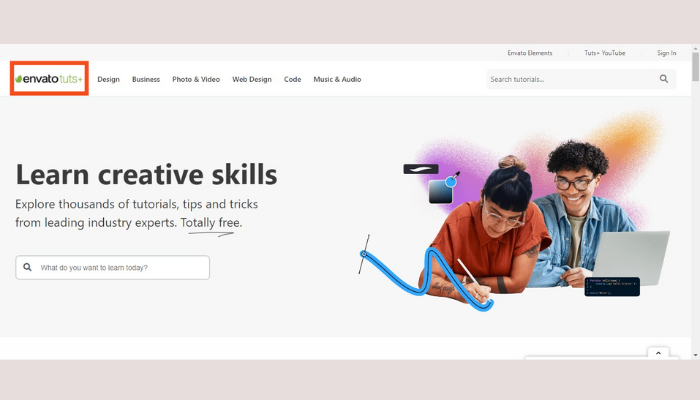 Creatives can learn about a variety of topics from Envato Tuts+. It offers thousands of free tutorials and courses such as design, code, photo and video, business, and more. You can learn from experienced instructors who have worked for companies like Apple, Adobe, and Ubisoft.
You can also explore popular categories such as WordPress, Photoshop, Illustrator, After Effects, and more. Envato Tuts+ is part of the Envato network, which also includes Envato Market and Envato Elements.
Here is a video with more information.
What Is Canva Mostly Used For?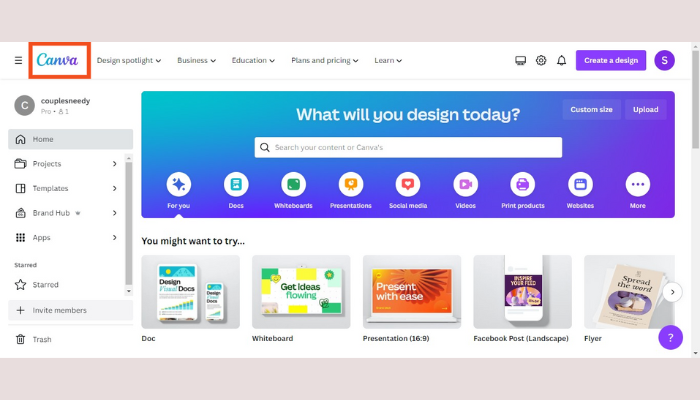 Canva helps users to create and edit various types of visual content. Users can choose from thousands of templates, photos, fonts, and icons or upload their own. Canva also enables users to collaborate with others, share their designs, and print them easily. Canva is mostly used for creating engaging and professional-looking graphics for personal and business purposes.
Brief Discussion Between Envato Elements vs Canva
Here is a brief discussion between Envato vs Canva.
1. Stock Content
In terms of stock content, here are some of the major differences between Envato and Canva:
| | | |
| --- | --- | --- |
| | Envato | Canva |
| Variety of Stock content | Over 12 million assets | Over 100 million assets |
| Quality of Stock content | High-quality and sophisticated | Simple and easy to use |
Envato
Presentation Templates
87,000+
Audio
120,000+
Graphic elements
125,000+
Videos
69,000+
Photos
7+ million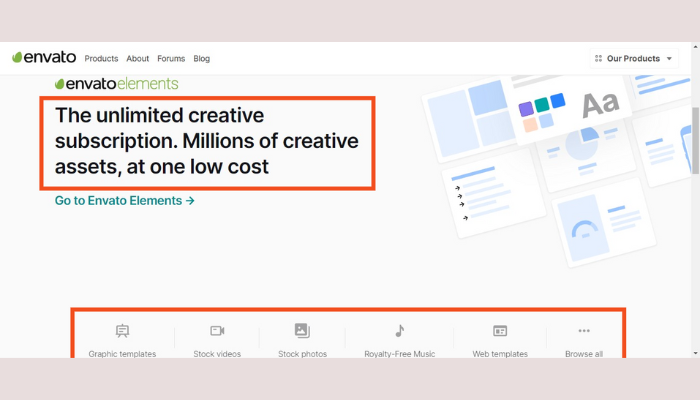 Envato provides a range of options for enhancing your brand with video content. They offer downloadable stock video footage for immediate use, along with customizable video templates that can be edited using an editing tool.
The video content available on Canva videos consists of video templates and stock footage, although they are significantly less complex and straightforward in comparison to the videos offered by Envato Elements.
Both Envato and Canva photos are of exceptional quality and ideal for incorporating into designs.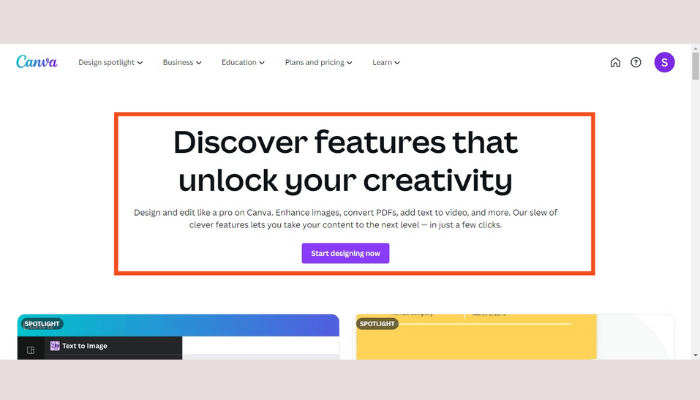 One aspect we appreciate about Canva is its ability to categorize photos into numerous categories, which proves helpful in refining your search. Simply select the photo of your preference and incorporate it into a design using Canva.
The filtering options provided by Envato are somewhat restrictive as they solely allow you to filter by background, orientation, and color.
Besides 3D graphics and sound effects, Envato offers WordPress templates.
2. Fonts
Let's compare the font offerings of Envato vs Canva in a head-to-head comparison.
| | | |
| --- | --- | --- |
| | Envato | Canva |
| Fonts | 33,000 | 3,000 |
Font Selection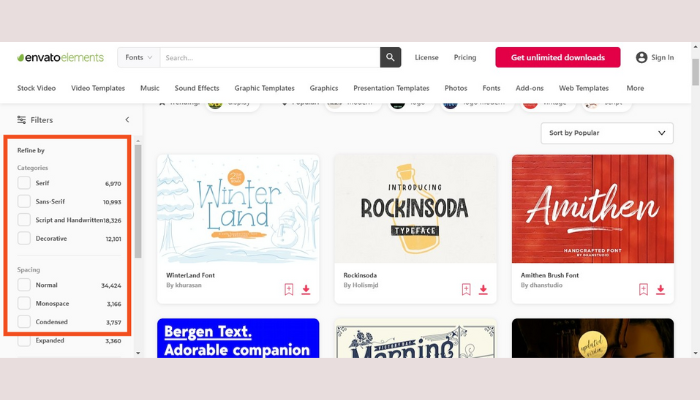 Envato offers a vast selection of fonts through its marketplace platform called Envato Elements. The font library covers diverse styles, including serif, sans-serif, script, display, and decorative fonts.
Canva curates its font library to include popular and trendy fonts suitable for various design purposes.
Quality and Professionalism
Many fonts on the Envato platform are created by renowned type foundries and experienced designers, ensuring that users have access to well-crafted and visually appealing typefaces.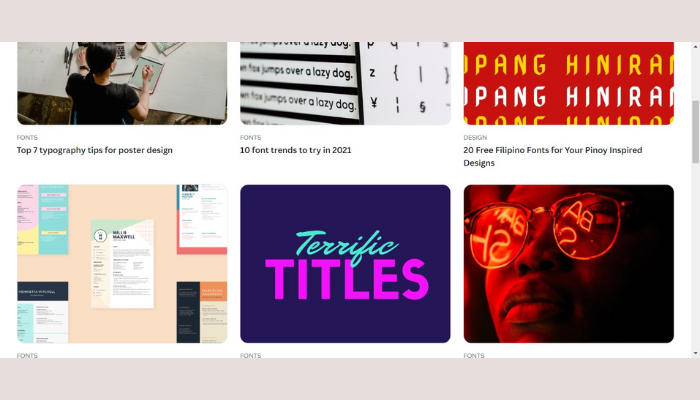 While the quality of fonts offered by Canva is generally good, they may not always match the level of sophistication found in professional font libraries.
3. Website Templates & 3D Graphics
| | | |
| --- | --- | --- |
| | Envato | Canva |
| Website templates & 3D graphics | ✅ | ❎ |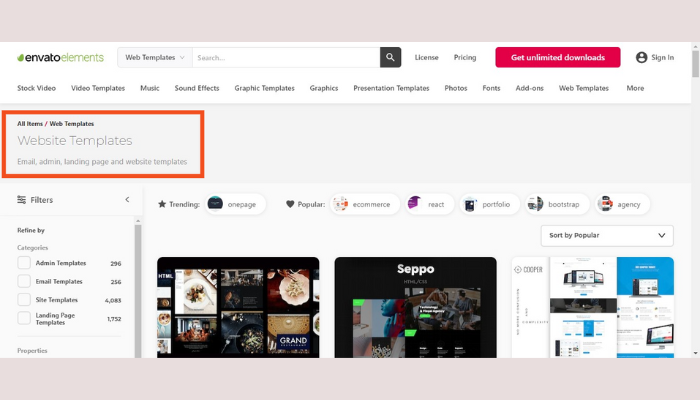 At Envato, one can discover ready-made website templates for various content management systems, including WordPress.
Nonetheless, it is necessary to utilize your design software, such as WordPress, Adobe Photoshop, Shopify Illustrator, DaVinci Resolve, Apple Motion, and various others, in order to modify the design components that you purchase from Envato.
Envato Elements is mostly needed by individuals who possess a proficient knowledge of design, including experienced designers as well as users who possess sufficient design knowledge.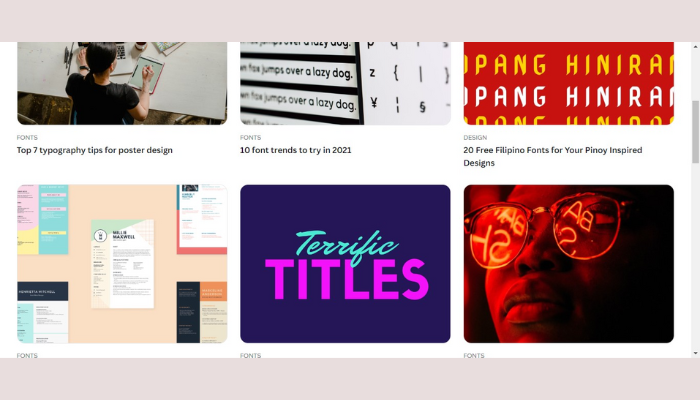 In Canva, you can create custom designs or use premade templates to create your own. It's an online graphic design tool that lets you drag and drop your designs. If you don't have your own images, graphics, or videos, you can use the Canva stock library.
It is possible to make changes to every design & template that is available on Canva directly within Canva itself, without requiring the use of any external tools. Even individuals without any prior experience can utilize Canva to generate diverse design creations.
4. Suitable for Beginners
Imagine you're an artist, and you want to draw a really cool picture. You could use different kinds of pencils and paints, right? Well, Envato is like a super-duper set of artistic tools for designers. It has all sorts of advanced tools that professional designers use to make amazing stuff. It's like having a big box filled with fancy art supplies.
On the other hand, Canva is like a special kind of paper that anyone can use. It's designed to be super easy, so even if you're not a professional artist, you can still create awesome things.
So, to summarize, Envato is for designers who already know a lot about design and want to use advanced tools. It's like a big box of professional art supplies. Canva, on the other hand, is for anyone who wants to create something cool without needing to be an expert. It's like having a magic notebook that helps you make awesome designs easily. Hope that helps in Envato vs Canva.
5. Price
| | | |
| --- | --- | --- |
| | Envato | Canva |
| Methods for pricing | Pricing is based on pay-per-use | Fixed Price |
| 1 user | Envato Elements' monthly charges are $16.50 | $12.99/month |
| 5 users | Monthly payments are $10.75/user | $14.99 for each user every month |
| Free version | Placeit only, but watermarks on designs | A limited range of features and content is available |
| Education purpose | Student discounts of 30% | Free |
| Free Trial | 7 days | 30 days |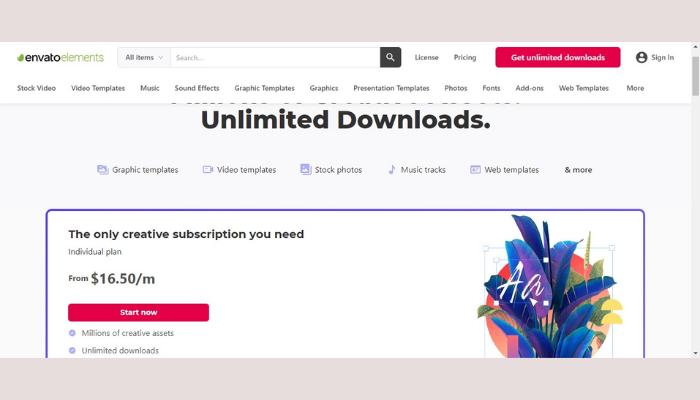 As you can see, if you're a designer who wants to access all the cool tools and content on Envato, you'll need to pay a monthly charge of $16.50 for Envato Elements.
On the other hand, Canva has a fixed pricing model. They offer a monthly subscription for $12.99, and this allows one user to enjoy all the features and content available on Canva.
But what if you have more people who want to use these design tools? Well, with Envato, if you have a team of five users, each user will need to pay $10.75 per month. So, the total cost for the team would be $53.75 every month.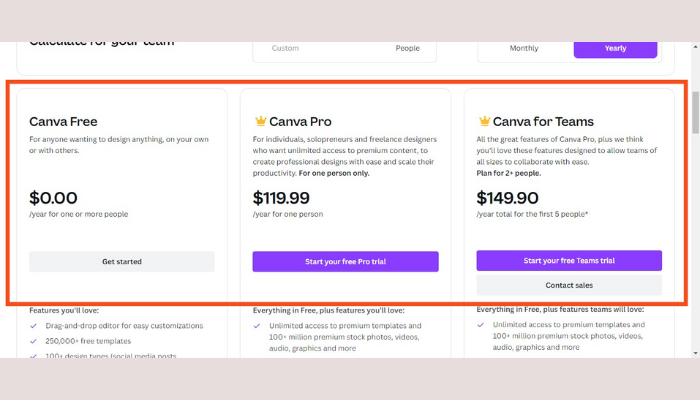 Canva, on the other hand, charges $14.99 per user every month if you have multiple users. So, if you have five users, the total cost for the team would be $74.95 per month.
Now, let's talk about the free versions. With Envato, they have a free version called Placeit, but there's a catch. When you use Placeit, your designs will have watermarks on them. It's like having a little mark to show that it's the free version.
Canva also has a free version, but it has some limitations. A free version does not give you access to all features and content.
Lastly, both Envato and Canva offer some benefits for educational purposes. Envato gives students discounts of 30%, which means students can enjoy a reduced price when using their services. Canva, on the other hand, offers a free version for everyone, so students can use it without paying anything.
And don't forget about the free trials! Envato offers a 7-day free trial, giving you a chance to explore all the features before committing to a paid subscription. Canva, on the other hand, is more generous with a 30-day free trial.
Which Is Better – Envato vs Canva?
In Envato vs Canva, both Envato and Canva serve as excellent design tools, although their applications and features vary. Consequently, they should attract different audiences.
The following criteria recommend using Canva:
If you lack extensive design experience but aspire to effortlessly and swiftly produce stunning graphic designs.
Your desire is to generate designs using pre-existing templates while also including straightforward modifications.
If you lack familiarity with sophisticated external design tools, you may prefer a drag-and-drop option to craft your designs.
Having brand and business designs created on a regular basis but not wanting to pay high costs to designers.
Your goal is to create simple graphics using a graphic design tool that is free and has fundamental functionalities and pre-made content.
If you're a student and seeking to use a top-notch design tool without any cost, then go for it.
If the following conditions apply, it is recommended to use Envato:
As a skillful designer, you require top-notch templates, videos, and graphics that are both advanced and of exceptional quality.
You own a high level of proficiency in using futuristic design software to modify complex designs from Envato, and you feel at ease while doing so.
To create an awesome website, you require various assets such as code, themes, and web templates that assist you in designing with a professional touch.
You have the opportunity to use a collection of 33,000 fonts, available for download and implementation in all your brand design endeavors.
If your sole intention is to find top-notch photos, you have the option of using either Canva or Envato. Placeit by Envato is one of the best tools for showing off your designs. It comes with thousands of mockup templates. With Canva Pro, you can use SmartMockups, which include simple mockups.
Here is a video with more information.
To Conclude
Ultimately, the choice between Envato vs Canva depends on individual needs, preferences, and skill levels. Envato suits professionals seeking a wide range of design resources and advanced customization options, while Canva appeals to beginners and budget-conscious individuals looking for user-friendly design tools at an affordable price. Understanding the unique strengths of each platform empowers users to make an informed decision that aligns with their specific requirements.
If you are new to Canva, then these Canva tips and tricks will help you learn a lot.
FAQs
Which is better Envato or Canva?
Both these tools and platforms cater to a wide range of use cases. For some use case Canva is better than Envato and for other Envato is better than canva. It completely depends on your needs and which platoforms caters to those better. Envato offers a wide range of creative assets, while Canva focuses on easy-to-use design tools.
Is there a better program than Canva?
There are many easy to use designs tools on the Internet. If you need finer control over image manipulation and in graphic design, then yes, Adobe Creative Cloud offers a comprehensive suite of design tools, including Adobe Illustrator and Photoshop, which are often considered more powerful alternatives to Canva.
Is Envato Elements worth the money?
Yes, Envato Elements is worth the money as it offers a vast collection of high-quality digital assets, including templates, graphics, and stock photos, for a single subscription fee.
Who is Envato market competitor?
Some of Envato Market's competitors include ThemeForest, Creative Market, and GraphicRiver, as they also offer digital products and services for creative professionals.
Can I earn money from Envato?
Yes, you can earn money from Envato by selling your digital products, such as themes, templates, and graphics, on their marketplaces. 20% of revenue from a sale or subscription download goes to the authors of assets and templates included in the purchase.