Writing will be easier with AI paragraph generators. Writing creative content is easy with AI-generated paragraphs. AI trends are gaining popularity. Check out this stat on AI-generated users.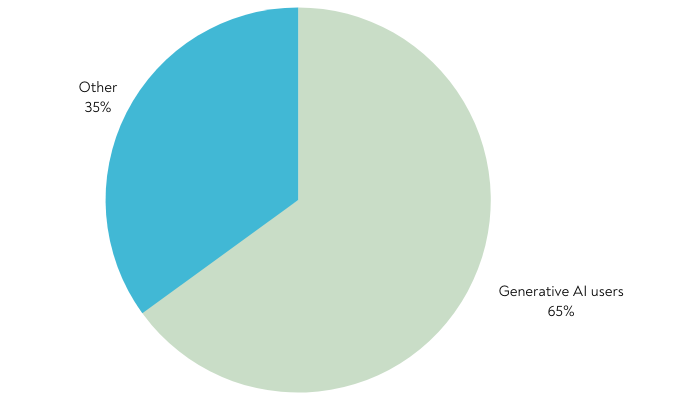 The Internet shows a lot of options, though. Which free tools should you trust out of all the ones available online? Free websites aren't always free.
Having done extensive research, we have compiled a list of 12 free AI paragraph generators for your content.
These free generators can help you create effective content, whether you are a blogger, professional writer, or student. The first thing we should do before we start discussing those tools is talk about what they are and the questions that surround them.
Table of Contents
What is an AI Paragraph Generator?
An AI paragraph generator can generate a whole paragraph with small text input. NLP and machine learning advancements make paragraph generators indistinguishable from humans.
Let us understand with an example. A tool made the decision to write a paragraph explaining how AI could help teams in marketing and sales in expanding their company. The input it used is as follows:
Marketers can create more campaigns with AI
Marketers can create better campaigns with AI
AI boosts marketing for sales teams
AI manages pipeline for sales teams
And here is the screenshot of this AI-generated paragraph:
If you polish a bit, you can create a clear and informative AI paragraph for a text-based campaign you launch.
Which Paragraph Types Can AI Write?
Any kind of paragraph can be written with the right prompts. You can use the online paragraph generator to create the following examples:
Narrative paragraph
Descriptive paragraph
Comparison paragraph
Introduction paragraph
Conclusion paragraph
Are AI-Generated Paragraphs Seo-Friendly?
Yes, the generator produces SEO-optimized texts. Simply insert your target keyword in the "Title" section, and the generators will take care of the rest.
Some people could have thought that fluency and readability would suffer because of optimization. Well, it's not true. When using an AI text paragraph generator, ensure that the article has to be optimized.
These tools create search engine-friendly content while optimizing user experience.
How to Use an AI Paragraph Generator?
When it comes to writing content fast and effectively, a paragraph AI generator is your best buddy because it can create paragraphs on its own with very small input. Here are four steps to effectively use a paragraph generator AI tool.
Find a trusted AI free paragraph generator
Give a prompt for input
Adjust the settings to personalize the result
Edit and review
An Ideal Paragraph Structure
A paragraph is an essential part of writing. It consists of a collection of sentences that together discuss the key concept. They comprise 3 primary parts:
Topic sentence introduction
A body with many sentences
A conclusion
We'll show you an example of a well-structured paragraph using a free tool for creating paragraphs.
Topic Sentence Introduction
The paragraph needs a clear first sentence. Most necessary information should come first.
Supporting Sentences – The Body
Back up the primary idea with more detailed sentences. The key idea is explained here.
A Conclusion
The paragraph ends with a reference to the primary idea.
List of AI Paragraph Generators
Check out these best AI paragraph generators.
Toolbaz
Quillbot
WriterHand
Ahrefs
Simplified
ClickUp
Rytr
Seo AI
Canva
Wordkraft AI
Scalenut
Copy AI
Top 12 Free AI Paragraph Generators
Here are 12 free AI paragraph generators for you to try.
1. Toolbaz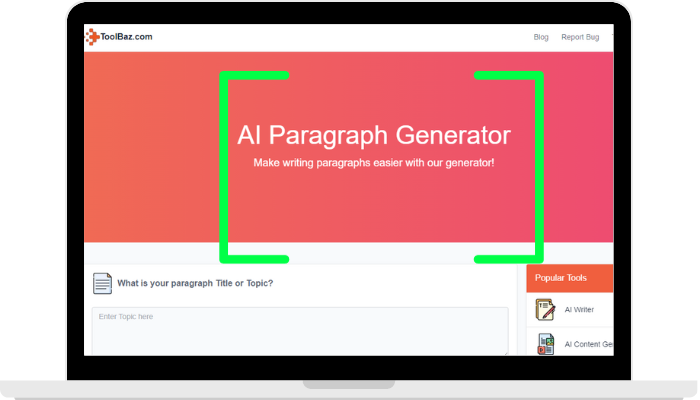 Is there a paragraph AI generator that generates 100% free high-quality content? With Toolbaz, you get leading AI solutions.
Features
Easy to use
Accurate multiple output
Built-in text editor
Excellent creativity
Limitations
Minimal word count
Ads
CAPTCHA verification process failed sometimes
Pricing
2. Quillbot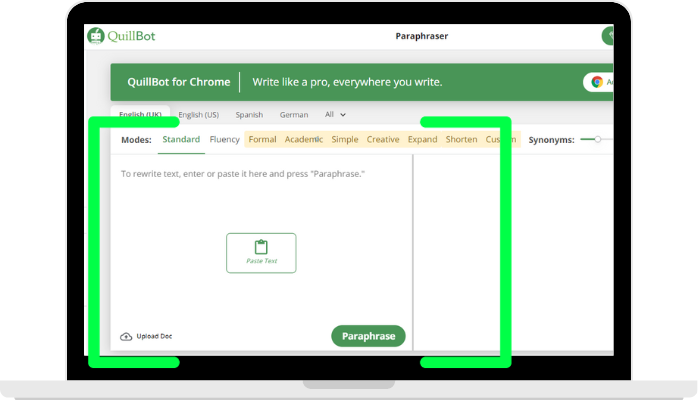 With Quillbot, reword as many words as you want with just one click, and do it faster to save time and complete more tasks quickly. Unlock Synonyms to improve your content.
Features
Paraphraser
Summarizer
Grammar checker
Translator
Co-writer
Plagiarism checker
Limitations
Only two modes are free
GPT writing unavailable
No AI content detection
Free plans have character limits.
Pricing
Free
Paid plan starts from $9.95/month
Note: If you are searching for a similar tool like Quillbot that is completely free, check Quillbot alternatives.
3. WriterHand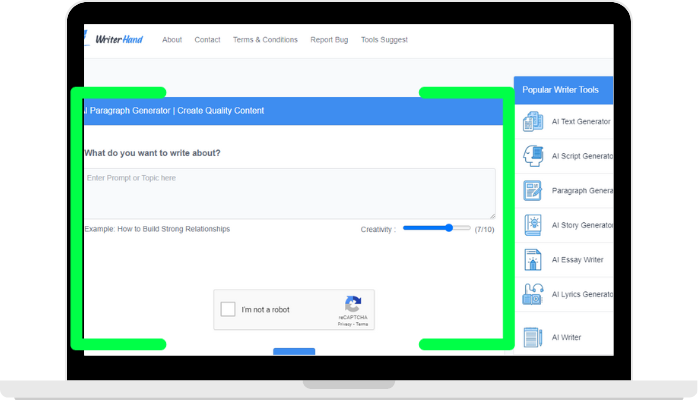 The WriterHand tool is absolutely free compared to many other AI tools. You won't be charged a subscription fee or any other hidden fees. You don't have to create your account or Sign up. It is simple for anyone to use, thanks to its user-friendly design. The software creates coherent, well-structured information.
Features
Limitations
Pricing
4. Ahrefs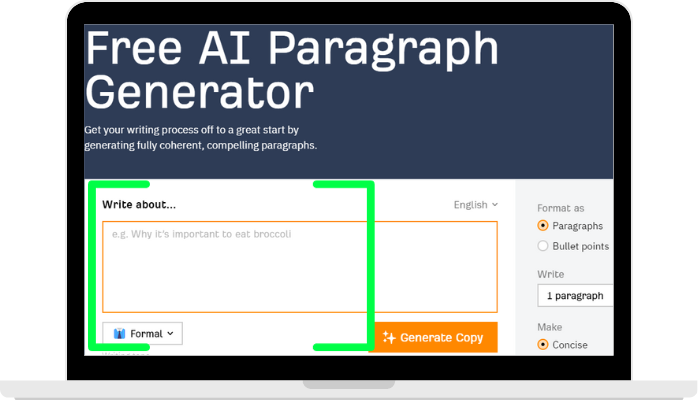 You can use Ahrefs' AI paragraph generator to rapidly create interesting and educational paragraphs. Content creators can save time by using the Ahrefs generator to create attractive paragraphs, whether it's for articles, blog posts, or Instagram captions for girls and boys.
Features
Advanced language model
Generate amazing human-like content
High readability score
Customize the style of writing
Limitations
The generator does not come with Ahref's SEO tools.
One paragraph only at a time.
Pricing
Free
Paid plan starts from $99/month.
Note: Ahrefs doesn't offer tool purchases separately, so keep that in mind. The plan you buy will give you access to all of your tools.
5. Simplified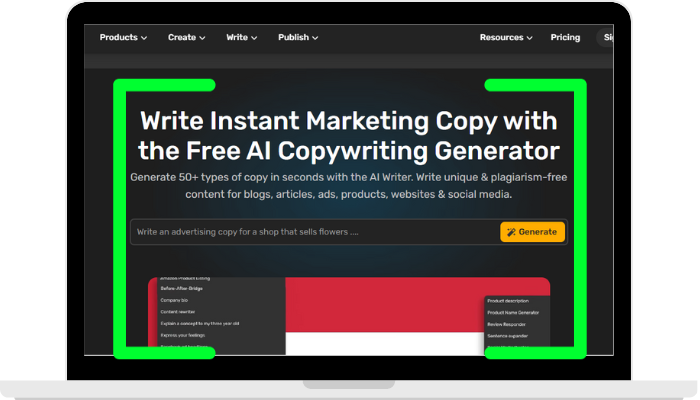 The Simplified paragraph generator generates meaningful sentences. People commonly use this tool for academic content, blogs, marketing content, or social site posts. After creating new content, you can quickly share it on social sites or schedule its release using the app.
The app includes a GIF generator and video editor. Rather, it's a rewrite generator.
Features
Provides more than 10 tones
50+ templates
Browser extension
30+ languages
Schedule posts
Creates plagiarism-free content
Limitations
Inaccurate results
Oversimplification can introduce errors
Pricing
Free
Paid plan starts from $20/month
6. ClickUp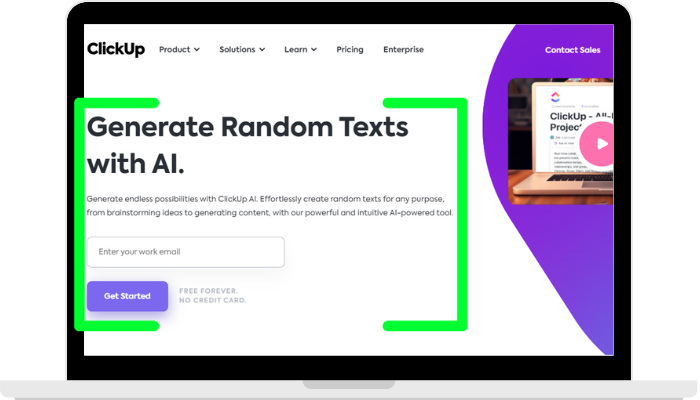 With ClickUp, you can do more than just create paragraphs. ClickUp is a tool that allows collaboration using Whiteboards and other means. With ClickUp's AI, you can easily make promo emails and meeting notes. Easily break long paragraphs up with headers, tables, and more.
Features
Template library
Quality content
High-quality text
Limitations
Free plans exclude AI tools.
Pricing
Free
Paid plan starts from $5/month
7. Rytr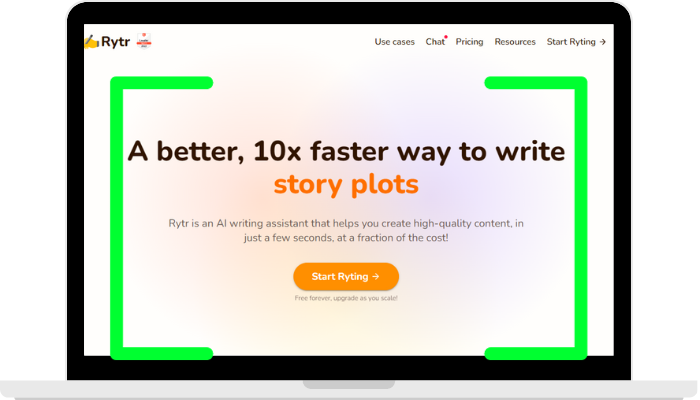 Use the Rytr tool to create fast and effective brief summaries on any subject. Choose your language and tone. Then, select your text. Lastly, hit the Paragraph option from the toolbar.
Features
Easy to use
Improve content
Rich text editor
Limitations
AI could have been better
Repetitive output
Pricing
Free
Starts from $9/month
8. Seo.AI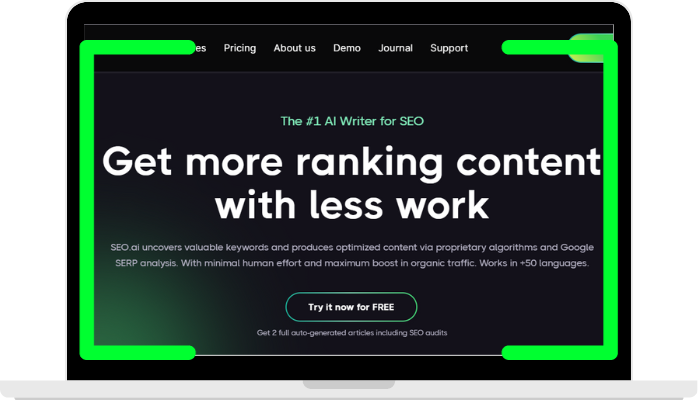 The SEO.AI generator uses advanced algorithms to produce original and logical text content. It provides correctness and relevancy while producing new content. Tap the "Generate Paragraph" box and get a fresh paragraph.
Features
Long seo-rich contents
Machine learning algorithm
Optimized content
Limitations
Sometimes, it generates inaccurate content.
Pricing
Free
Paid plan starts from $49/month
9. Canva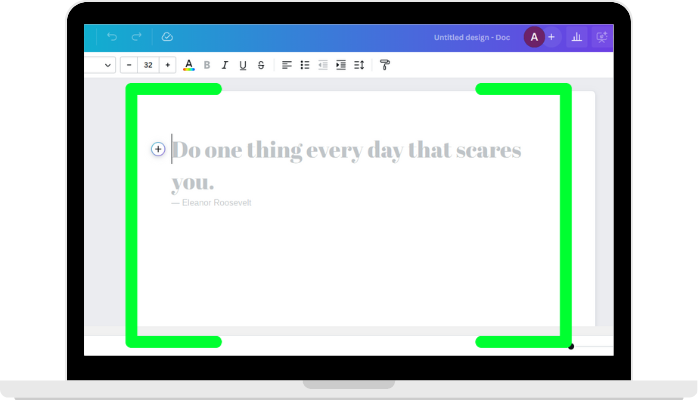 For business or personal use, Canva creates AI-generated selfies and artwork. But it has a great feature called "Magic Write" for writers.
Use Magic Write of Canva to create profiles and social media captions. You can get 50 free prompts in Canva designs. Use the Canva Paid plan to get additional inquiries.
Features
Easy UI
Save time
Powered by OpenAI
Generate in seconds
Limitations
Paid users get more benefits.
Pricing
Free (50 prompts)
Paid plan starts from $14.99/month
10. Wordkraft AI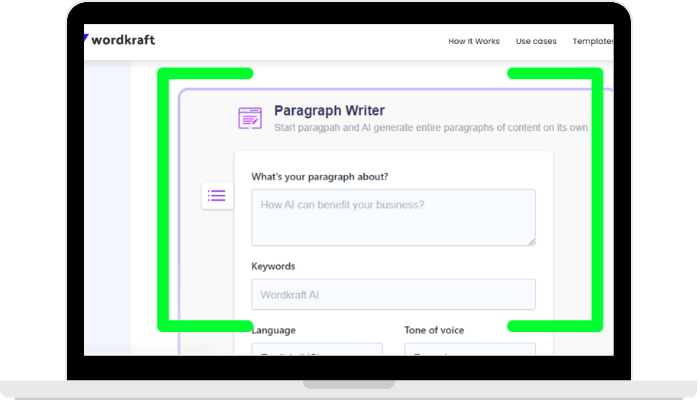 Wordkraft AI makes it easy to craft convincing paragraphs quickly. Create convincing paragraphs effortlessly with Wordkraft AI – the easy and quick way for any topic! If you love to write a marketer creating content or an essay, Wordkraft AI can assist you in doing it fast and easily.
Features
27+ languages
High-quality content
An integrated analytics tool
Limitations
1500 words for free plan users
Pricing
Free
Paid plan starts from $9/month
11. Scalenut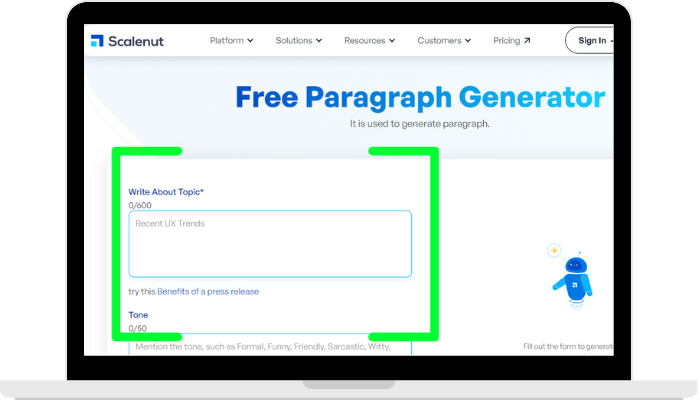 Scalenut's Paragraph AI Generator helps you make your points clear and captivating. Make well-written paragraphs that are error-free in spelling and grammar.
Features
Long paragraph generator
Save effort and time
Content optimizer
SERP analysis
Clean UI
Limitations
Repetitive
Some features are missing
Pricing
Free
Paid plan starts from $29/month
12. Copy AI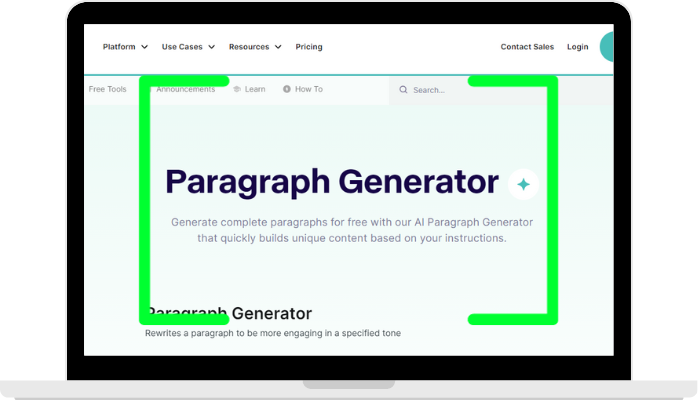 Copy.AI focuses on social networking, email writing, and blog writing content. You can summarize YouTube videos and make LinkedIn profiles bullet points. All you have to do is initiate a discussion with Copy.ai and specify your needs. Ensure the document aligns with the brand voice and sounds natural as you go.
Features
Great interface
Support several languages
Limitations
Limited word count for free visitors
Lacks extensive user input
Pricing
Free (2000 words)
Paid plan starts from $36/month
Examples of a Perfect Paragraph
To see what to expect from this kind of automated technology, take a look at this AI example:
"The AI paragraph combines keywords with information. Your text will flow better and provide a clearer point with high-quality paragraphs.
This software helps you communicate better and generate fresh ideas. For example, an AI paragraph generator can assist you in crafting attractive descriptions that highlight a new product's advantages and features while writing.
Using the tool, you can create a variety of attractive call-to-action messages that will grab your audience. To motivate readers to take action immediately, you can come up with a line like 'Learn how to get excellent benefits from the product today.'
Lastly, the AI generator is ideal for producing longer content like blog posts or white papers. You can use the AI-generated paragraph to create complete yet brief paragraphs with the right phrases and keywords."
Technology Behind Paragraph Generator
The paragraph generator AI tool provides the most recent developments and NLP (Natural Language Processing) to easily produce high-quality content. With ChatGPT language models, the tool mimics and understands human-like writing figures. This is why anyone looking for content for articles, blogs, or marketing should use the generator.
Benefits of AI Paragraph Generator Free Tool
The following are the key reasons for using AI to create your paragraphs:
Cost-effective and Time
The fact that AI-generated paragraph free tools save money and time is another important advantage. With these tools, businesses can generate and share content more quickly.
Flexibility
AI can make various written content such as news, product info, and social site posts. Also, some generators create AI paragraphs in various languages, which is useful for global business.
High Rates of Productivity
You can save time and resources with paragraph generators. Moreover, AI paragraph tools can be diverse and customized for particular audiences. Content generators improve accuracy and consistency.
Is a Paragraph Generator Necessary?
Finding a random paragraph makes sense when a phrase or word is enough. It can be helpful to write random paragraphs, even if they might not seem natural.
Examine Writer's Block
Writers who are stuck on a project they can't finish often encounter writer's block. Starting with an entirely random paragraph will help relieve some fears that could have initially linked to writer's block.
Boost the Content's Attractiveness
You can use random paragraphs to create interest in the customer or reader. A long and detailed story told in 1st person by someone you don't know might not be very interesting.
It will engage the reader more if a story puts them in the main lead's position.
To Set Up a Writing Routine
These incredible tools are also a great way to start a regular writing schedule. One method is to start with a paragraph that is random and then rework it while maintaining its real meaning.
The idea is to get the process of writing started early enough so words come easily to the writer when they sit down to write.
Generate Unique Content to Boost Traffic
Last but not least, including random paragraphs in your writing could be a great way to drive readers to your blog or website. You can increase readers' chances of taking action and coming back to your site by offering them a new perspective or idea on a subject they might have noticed previously.
Write Paragraphs That Are Error-Free
Adding random paragraphs to your writing can help boost your vocabulary and grammar, especially if your content has many mistakes. Make grammatical and unique content with the best AI paragraph generator.
What Is a Too Long Paragraph?
A paragraph that is rambling and too long, with 200 words or more, is considered very long. Writing this sort of paragraph will make the writing look unprofessional.
Does Google Accept AI Content?
Yes, with the help of an AI paragraph generator, good AI content can show up on Google if it's relevant and high-quality because Google cares more about content quality than how it's made. Check AI content for accuracy and sense.
How to Check if Paragraph Is AI-Generated?
The content detector checks AI paragraphs. The best AI detector tool is the Contentdetector.AI tool. Contentdetector.AI has an accuracy of almost 85% in identifying content written by Chat GPT. Both GPT version (3.5 and 4) generated content can be found with this ChatGPT Checker.
Conclusion
We talk about tools that have changed the way we write. They offer quick fixes that make sense in different contexts for a variety of tasks.
Related to your topic, just type in keywords in the AI paragraph generator online free tool that creates a great paragraph to kickstart your writing. For effective and quick solutions, you can edit and modify the paragraph.
FAQs
Can AI write a paragraph for me?
An AI paragraph generator can write a paragraph for you. You can produce informative and engaging paragraphs for a variety of content types very quickly.
Can AI reword paragraphs?
The free AI tool rewrites your text using synonyms and AI, creating unique content with the same meaning and word count as your actual content.
Can ChatGPT rewrite paragraphs?
To rewrite paragraphs, use the prompt "Rephrase <your text>" in ChatGPT. It helps you get a different version in your own words.