How do you present your work? Are you looking to create poster mockups? Is there any free poster mockup generator out there? Are you using your folio to showcase your designs?
Clients frequently struggle to visualize how a computer design will appear when printed and presented. And viewers in the portfolio will notice it more genuinely when you mock up a design to represent your work. 
Table of Contents
Whether you present your design with someone carrying a poster or displaying it on the street, an accurate or realistic design can change how your work is considered.
However, with Mockey, you can generate beautiful mockups. You can use pre-made poster templates to get the benefits of high-quality mockups that have already been shot with good lighting, with lots of free customization options.
If you want to avoid paying for a subscription to create a scene, this article will help you create 15 free poster mockup ideas to create the perfect poster for your needs with Mockey.
15 Stunning Poster Templates
Let's talk about the 15 Mockey poster mockup template. This can help you to show your work printed and displayed on the street or in the gallery or beautifully placed on a wall inside. There are several various designs of these posters.
Poster in Hand – PSD Mockups
Use these templates to showcase your design with a human touch by displaying a girl holding your design. You can use these mockup templates to customize your design or logo.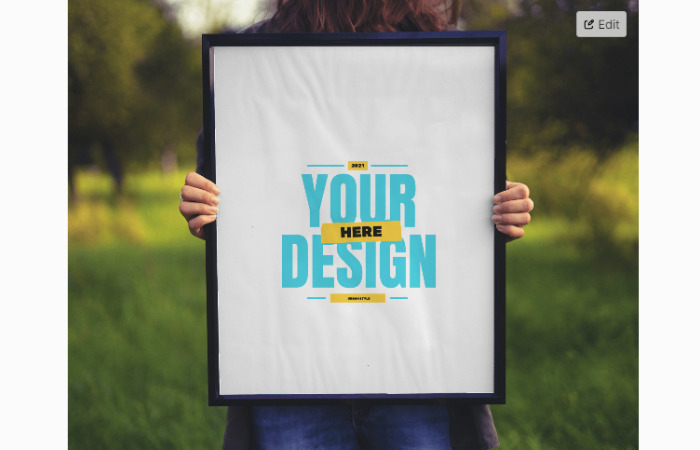 For instance, you can change the color of the poster if you want. You can adjust or resize your design and download it with high resolution for free without any watermark.
It is designed using accurate field effects, natural reflections, and expert viewpoints. Get a realistic representation of your work.
Billboard/ Urban Poster Mockups
Present your upcoming poster idea in a realistic setting to ensure your work stands out. These stunning mockups of the poster feature an urban billboard. The image is extremely realistic and clean, with vibrant colors and natural lighting.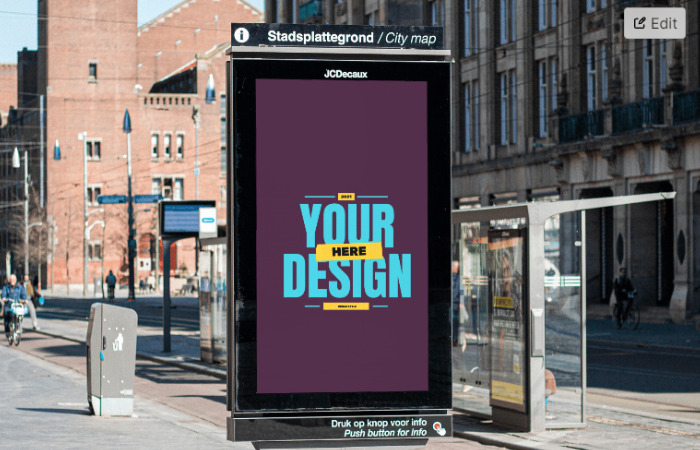 You can easily choose this option if you prefer a bright, sunny background for your outdoor billboard design. The image balance is properly detailed to highlight your design and look like a real billboard photograph.
With these street poster mockup templates, you can easily add your design to our mockup generator and customize other mockup elements.
Movie Poster Mockup
Our movie poster mockup templates are a pre-designed layout that allows you to visualize your poster's appearance in real life.
It offers filmmakers flexibility in design options while ensuring all elements are aligned and formatted correctly.
We understand how important lighting is in creating an impactful poster, and our template is designed to simulate real-world lighting conditions.
You can easily create an eye-catching advertisement that will grab moviegoers' attention.
With the help of these movie poster mockup templates, you can see how your poster will look on a wall, in a cinema, or even on social media before you print it.
At Mockey, you can download it for free. Just choose the template that best suits your needs and start customizing it.
Free Glued Poster Mockup
Free Glued Poster Mockup templates can be a great way to add creative flair to your marketing and promotional materials. These simple mockups allow you to easily create high-quality visuals for various projects, from posters to flyers and beyond.
It provides a realistic view of the finished product's appearance. The clean design makes it easy to customize the poster's color and adjust your design style with just a few clicks of the mouse.
The best part about these Glued Poster Mockup templates is that it's completely free! No hidden costs are associated with this tool, so you don't have to worry about breaking the bank when creating your visuals.
Studio-Style Poster Template
Now let's move to our next template. These templates have been specially designed specifically for creative professionals.
The high-res graphics can be used in both print and digital designs. One of the key features of these studio-style templates is the use of a solid background. This helps create a clean, uncluttered look that draws the viewer's attention to the poster.
Another important element is the use of professional lighting. It is designed to simulate the soft, diffused lighting used in professional photography studios, which helps to create a sense of depth and dimension in your poster.
Plus, the clean design gives your work a professional look straight out of the box!
Realistic Wall Frame Mockup
A wall art mockup is a great way to visualize how a particular piece of art would look in a specific setting or to showcase it to potential buyers. You can prepare the designs and send them to your clients right away.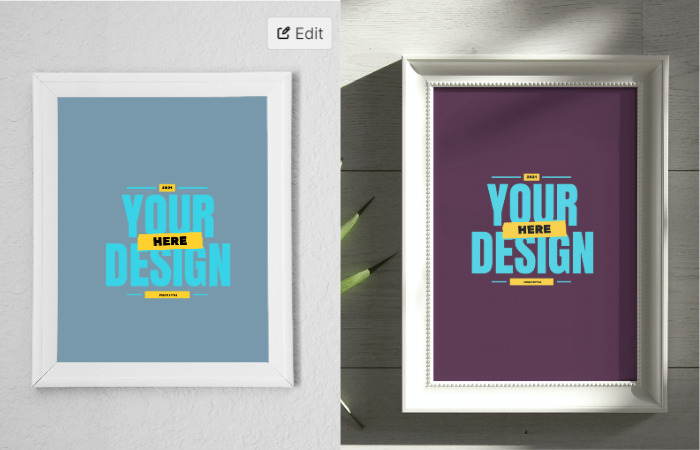 The posters showcase your work in detail, in high definition, and without interruption because the images and backgrounds have been trimmed and zoomed in.
3 Poster Mockup Templates
Our next template is 3 poster mockup templates. This means you can see 3 posters together in different places.
Designers can use our hanging posters, standing posters, and gallery poster mockup templates.
The templates also include text layers and drop-shadows that give your posters an extra bit of flair. The shadow effect is designed to be as real as possible.
All are created using high-resolution images that make your design look more realistic.
Restaurant Interior Poster Mockups
Whether you want to advertise a new menu item, special event, or grand opening, these customizable templates can help get the word out quickly and efficiently.
These restaurant poster mockup templates make crafting a compelling promotional message simple for any business owner.
The templates are customizable, so users can easily modify images and colors for free to fit their branding and design preferences.
Additionally, many of these mockups come with pre-made graphics that you can use to give your posters an extra touch of pizzazz.
Authentic Interior Poster Mockup
These interior poster mockups allow designers to create realistic designs in a virtual environment. Designers can accurately illustrate the effect of their work in an interior context.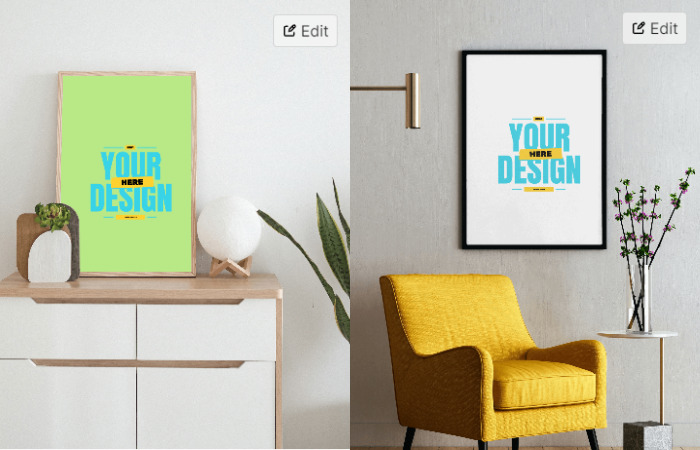 These minimalist frame templates are often simple and can come in various shapes and sizes. These frames are typically simple in design and made of materials such as acrylic or metal.
Placing these frames near a sofa or chair can help to create a focal point in the room. Similarly, placing the frame on a table helps create a sense of balance and symmetry in the room.
Urban Poster Mockups
A high-quality urban poster mockup is necessary for any creative professional or graphic designer. This type of graphic resource allows designers to create stunning visuals with minimal effort and can be used to show clients exactly how their graphics will look in the real world.
The key to creating an effective urban poster mockup is finding a template that accurately captures the essence of the city you're referencing. You can customize it for free.
With a few clicks, you can easily find an urban poster mockup that perfectly complements your design project and takes it to the next level.
Office Window Wall Poster Mockups
Our mockup templates showcase a window wall in an office setting which can help you to visualize how it would look in a real-life context.
Using our amazing templates on a window wall in an office will definitely help you to create beautiful mockups.
With that in mind, visit Mockey straight away and quickly customize the pre-made mockup with your artwork and the option to select the poster color.
To make the most of this unique product, consider using contrasting colors to stand out from other posters around your workspace.
Poster Mockups on a Metal Box
These mockup templates are perfect for you if you want to use your poster design in urban surroundings.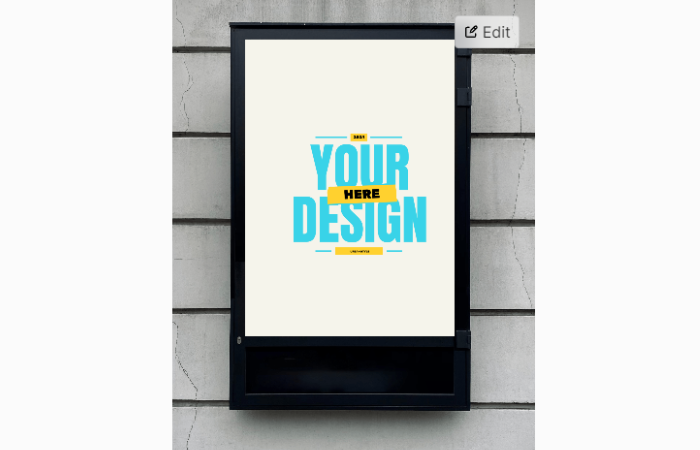 It features a black metal box, providing a unique and modern backdrop for the poster design.
If you want, you can also use other templates which will be available with different backgrounds with different colors.
After you upload your photo, you can also crop and reposition it.
Hanging Poster Mockups
Our free-hanging posters are a great template if you want to try your poster designs.
These kinds of advertising templates are powerful enough and affordable.
It shows a vertical poster in a hanging position with a fantastic ambiance. Whether you want an outdoor or indoor advertising poster or posters with solid concrete wall backgrounds, you can utilize our templates for free.
This style of hanging posters works well for retail stores, malls, trade fairs, and other occasions.
Subway Station Poster Mockups
If we talk about Subway station posters, you hardly need an introduction.
These locations are also the perfect place to share your message with a wide audience. Poster ads in subway stations provide an ideal way to spread awareness of a business, product, or event.
It is an affordable advertising option to reach millions of commuters each year.
By taking advantage of our free templates, businesses can reach their target audience quickly and effectively.
Restaurant Table Tent Mockups
The table tent poster for Restaurants is a great option if you own any food or beverage business or a restaurant.
Outdoor table tent templates are designed for restaurant owners to attract potential customers and promote their brand.
Various templates with different stores in the background encourage people to come in and try your food or drinks.
In fact, you can use our small table tents as a great way to display QR codes for customers to scan with their smartphones and access menus, promotional offers, or other relevant information.
Visit: Mockey
Realistically Showcase Your Art With Our Poster Mockup!
Your work must be displayed accurately, just as it would appear in the real world. People can more easily connect while customizing our templates.
Your digital art, design work, and posters feel even more real when displayed in an actual scenario. Grab our pre-made mockup templates of the poster to modify your design or logo.
Find the ideal option for your upcoming design project. Give visitors to your portfolio and customers a realistic impression of your work! Additionally, we have a huge selection of PSD mockup designs available on Mockey if you need to represent other products or artwork.
FAQs
What is a poster mockup? 

A poster mockup is a digital or physical representation of what a poster design could look like in a real-world setting. It allows designers to showcase their designs more realistically and helps clients visualize how the final product will look.
What are free poster mockup ideas?
Free poster mockup ideas are a collection of mockup designs that designers can download and use for free. They are often available in various formats and can be customized to fit specific design needs.
Where can I find free poster mockup ideas?
Mockey provides completely free mockup templates without any watermark, while some mockup generator sites may require a subscription fee or provide templates with watermarks.
What are the benefits of using poster mockups?
Poster mockups allow designers to showcase their designs more realistically and professionally. They help clients visualize the final product's appearance and allow for any necessary changes before printing. Poster mockups also save time and money by reducing the need for physical prototyping.
How do I use a poster mockup?
To use a poster mockup, simply download the Mockey app or visit the website. Then, choose the poster category. Click the "add design" option and customize with various options. Download your final design for free and use it for your project.
Can I customize a free poster mockup idea?
You can customize a free poster mockup idea to fit your design needs. Mockey allows easy customization of images, color, and other design elements.
What are some tips for using free poster mockup ideas?
To use free poster mockup ideas effectively, consider choosing a mockup that closely matches the size and orientation of your actual poster design. Use high-quality images and make sure the design is properly aligned and centered. Consider using different angles and perspectives to showcase different aspects of the design.