Enter the Wonder AI art generator. This web-based tool combines the power of machine learning algorithms with your own creativity to produce unique pieces of digital art.
As technology evolves, AI-generated art has been gaining more attention in recent years. And with the Wonder AI art generator, anyone can experiment with different art styles and techniques without needing to be an expert artist.
This article will deeply dive into the Wonder – AI art generator world. From how it works to its history and potential future impact on the art industry, we'll explore this innovative tool's fascinating aspects.
So, buckle up and get ready to discover the world of AI-generated art through the lens of the Wonder – AI art generator.
Table of Contents
Is Wonder AI Art Generator Good?
Wonder-AI uses AI to generate mesmerizing artwork from words. In seconds, Wonder will transform your idea into a reality based on your prompt, art style, and project. Many people think it's an amazing app, while others say some pro features cannot be restored. It depends on your preferences and experience.
Who Is the Owner of Wonder AI?
A prominent company at the forefront of artificial intelligence (AI) and media technology, Wonder Media AI is led by Patrick Charlier, an accomplished executive. In addition to his visionary leadership, Charlier has extensive expertise in the industry, which has revolutionized the creation and consumption of media content.
How the Wonder AI Art Generator Works?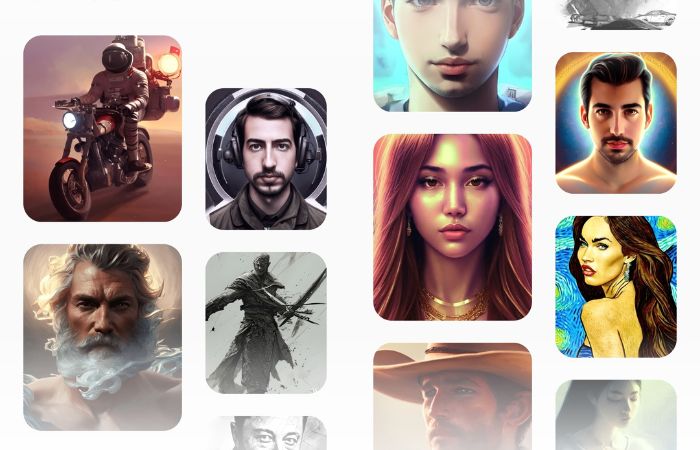 Alright, let's get technical for a bit. The Wonder app uses a machine learning algorithm called a neural network to create art. This algorithm is fed a large dataset of art pieces and learns the patterns and characteristics of different art styles.
When you use the Wonder AI, you input an image or choose from a range of preset styles. The neural network then generates a new piece of art that combines the characteristics of the input image with the style of the selected art genre.
But how does the neural network create the art? Well, it works by breaking down the input image into its components, such as lines, colors, and shapes. Then, it uses this information to generate a new image that follows the style of the selected genre.
The Wonder AI Art Generator offers a range of options for users to tweak the output image, such as adjusting the brightness, saturation, and contrast. You can also choose from various preset styles, including Cubism, Impressionism, and Abstract.
Examples of Art Created with the Wonder AI Art Generator
Here are a few examples of art created with the Wonder AI Art Generator: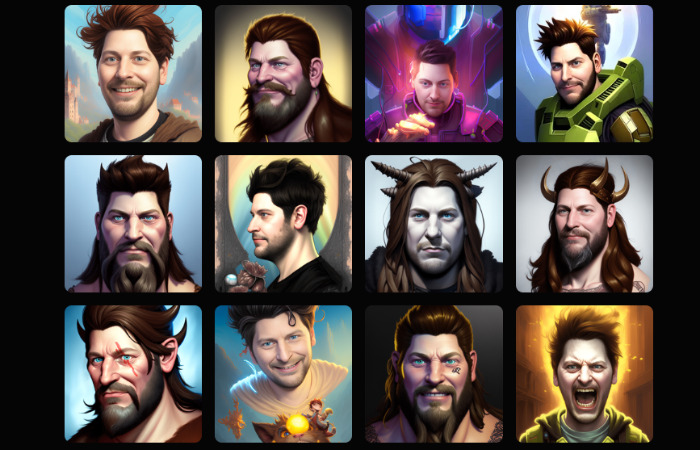 1. How to Use Wonder AI App?
Using this app is very easy. The steps I will tell you now will be for both Android and iOS.
After installation, launch the Wonder app and click on Get started. You can get complete information in the list below about the benefits of the premium version.
Unlimited artwork creation
Remove ads
Download high-quality artwork
50% off on AI avatars
Now click " Let's create" to create your avatars with this advanced AI tool. Then tap the "Try Now" option.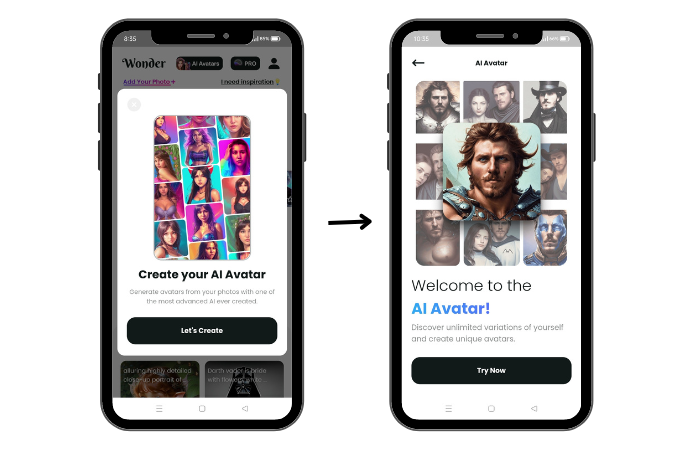 Now you have to choose your avatar type. I have chosen the "Person" option. Then, add 10 photos of yourself. Import will start as soon as you select it. After that, select gender, and finally, choose the plans. You can use the free version.
$2.99 for 50 unique avatars
$4.99 for 100 unique avatars
$6.99 for 200 unique avatars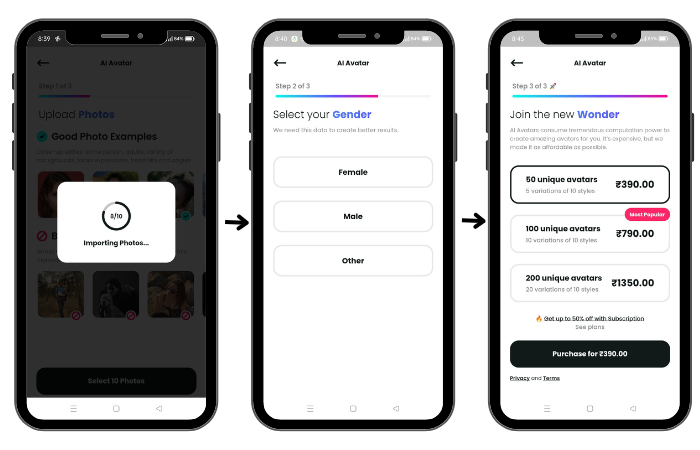 Note: When this page comes, and you do not want paid plans, then keep pressing the back button on the top left. You will come to the homepage as soon as you do it multiple times.
Once you come to the homepage, you can use the text prompt. But to generate the AI image, you have to watch an Ad.
Once the image is generated, click on the download option and save it on your device. Only premium users will be able to use the high-resolution feature.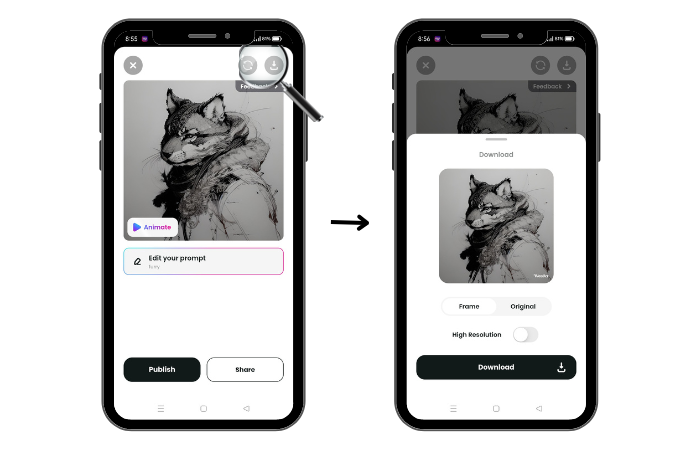 You can also publish and share your art. And one thing, you will not be able to convert your own image into AI. You need to buy the plans. However, you can do the rest of the options except for that feature.
Here, whatever prompt you enter will be generated in the same way.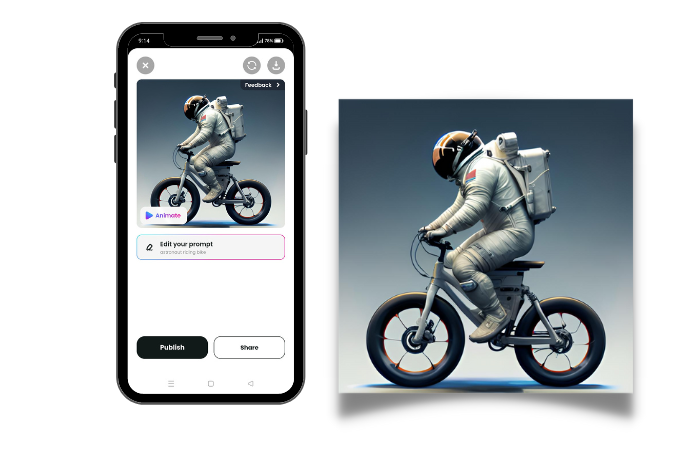 Tips: You will get 3 credits per day. If you want to create more than 3 images in a day, then uninstall this app and install it again. You will get 3 more credits.
2. How to Download Wonder AI Art Generator Mod APK?
If you want to download Wonder AI art generator mod APK, you can simply do a google search or just type " Wonder AI art generator mod APK" and choose between the top 3 sites. There, you can access a free download link.
However, If you think that premium plans will be free from there, then it is not. The cost of the premium options must be paid. Also, you can get the same features if you download the Wonder tool from these sites or the Store you will get the same features.
Note:
Downloading APKs from unofficial sources can result in malware, viruses, or other malicious software being installed on your device, leading to serious harm, including theft of personal information, financial losses, or device damage.
Moreover, downloading modded APKs can violate the terms of service of the app and can lead to account bans or other penalties.
Therefore, it is highly recommended that you download the Wonder AI Art Generator app from official app stores, such as the Google Play Store or the Apple App Store, to ensure that you are using a safe and legitimate version of the app.
By using official app stores, you can be more confident that the app you are downloading is free of malware or other harmful software and that it will work correctly on your device. So try to avoid the Wonder ai art generator pro APK files.
3. How to Use Wonder – AI Art Generator PC Version?
Yes, the Wonder AI Art Generator is also available on PC through its web-based platform. All you need to use is the Wonder – ai art generator pc APK file. I will tell you about 5 websites where you can download the APK of this AI Art generator.
1. BlueStacks
For an engaging gaming experience, BlueStacks is the ideal option for running the Wonder AI art generator on a PC.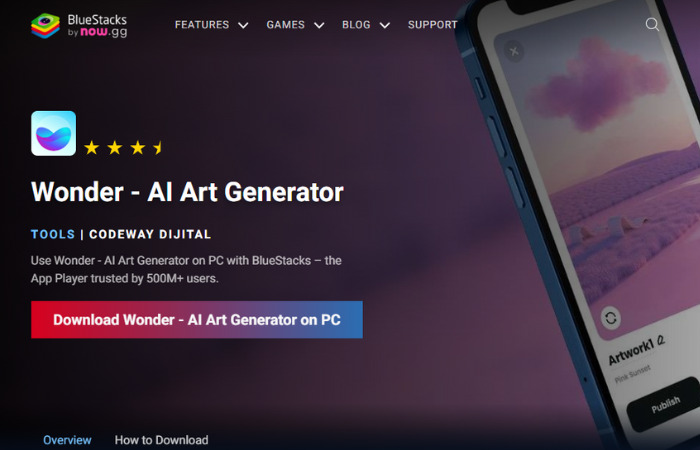 Downloading in Bluestack is slightly different.
To use Wonder on BlueStacks, you will need to follow these steps:
Install BlueStacks on your Mac or Windows device.
Open BlueStacks, then log in using your Google account.
Open the Google Play Store within BlueStacks and search "Wonder – AI Art Generator".
Install the Wonder app on BlueStacks and launch it.
Follow the instructions within the app to create and customize your mobile app.
Visit: BlueStacks
2. MEmu Play
MEmu Play is an Android emulator that allows users to run games and Android apps on their computers. You can install the Wonder – ai art generator pc version APK file there.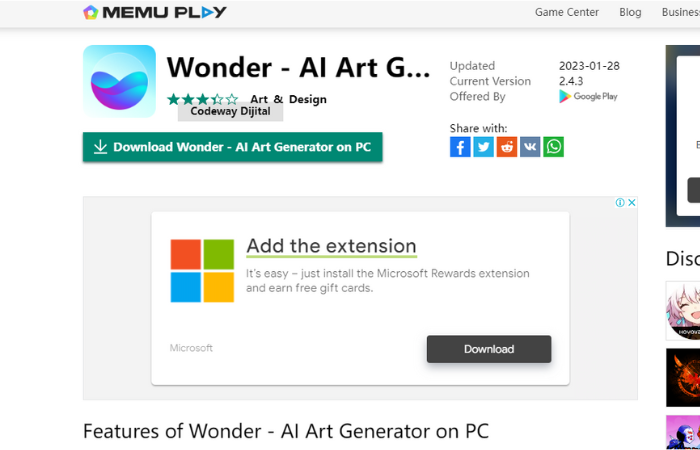 MEmu Play is a popular choice for gamers who want to play their favourite mobile games on a larger screen or with more precise controls.
Visit: MEmu Play
3. LDPlayer
Next is the LDPlayer website. You can download the APK version for free from this website.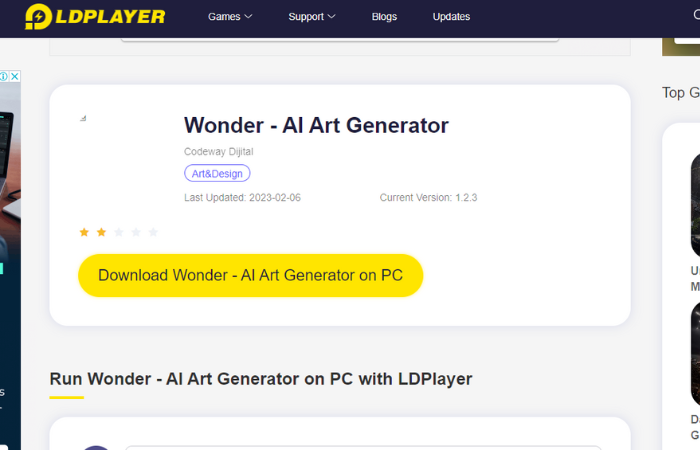 After installing the emulator from this website, you can explore Wonder AI Art Generator on a PC.
Visit: LDPlayer
4. Noxplayer
Now we will talk about Noxplayer.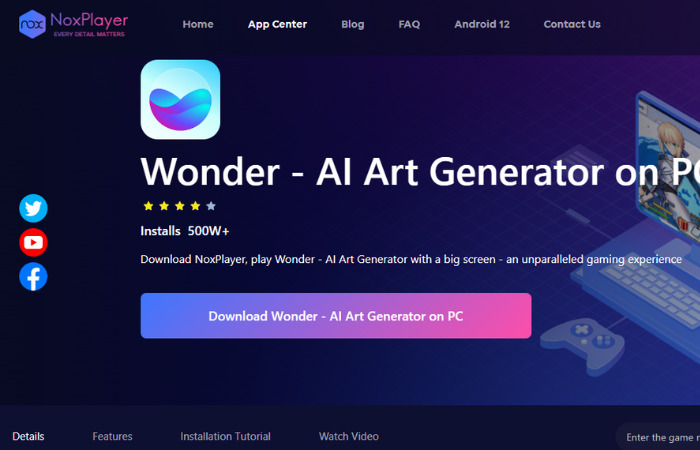 To use Wonder on NoxPlayer, you will need to follow these steps:
Download and install NoxPlayer on your Windows or Mac computer.
Start NoxPlayer, then log in with the Google account.
Open the Google Play Store within NoxPlayer and search for "Wonder – AI Art generator".
Install the Wonder app on NoxPlayer and launch it.
Follow the instructions within the app to create and customize your mobile app.
Visit: NoxPlayer
5. GameLoop
GameLoop (previously Tencent Gaming Buddy) is an Android emulator designed to play mobile games on Windows computers.
Tencent, the company behind popular mobile games like PUBG and Call of Duty Mobile, develops it.
Visit: GameLoop
Let's start with the benefits.
Benefits of using the Wonder AI Art Generator
Inspiration: The Wonder AI Art Generator can be a valuable source of inspiration for artists and designers looking for new ideas and creative directions.
Speed: It allows users to quickly generate unique and interesting pieces of art without spending hours creating them from scratch.
Customization: It offers various customization options, allowing users to tailor their creations to their specific needs and preferences.
Accessibility: It is accessible to anyone with an internet connection, making it a great tool for artists and designers worldwide.
Experimentation: Users are free to explore new ideas and push the limits of their own creativity because it promotes experimentation.
Limitations of using the Wonder AI Art Generator
Lack of Originality: While this can be a valuable tool for generating unique pieces of art, it is important to remember that the art it creates is not truly original and is based on pre-existing images and styles.
Dependence on Technology: The Wonder AI Art Generator depends on technology and may not be accessible to users without a computer or internet connection.
Over-reliance on AI: The use of AI in art creation raises questions about the role of human creativity and the potential for machines to replace human artists.
Copyright and Ownership: The ownership and copyright of art created using this tool may be unclear, raising legal and ethical questions.
Limited Scope: The Wonder tool may not be suitable for all types of art or for artists who prefer to create their art using traditional methods.
To Conclude
The Wonder AI Art Generator is a fascinating tool that offers many possibilities for creating unique and interesting digital art pieces. From Cubism to Impressionism to Abstract art, this AI Art Generator allows users to experiment with various styles and techniques and push the boundaries of their creativity.
Watch this video for more information about Wonder AI art generator.
While it is crucial to remember that the Wonder AI Art Generator is not a replacement for human creativity and artistry, it can be a valuable tool for inspiring and augmenting human creativity. Whether you are an artist looking to try something new or a hobbyist exploring the world of digital art, the Wonder tool is a great place to start.
With its user-friendly interface, a wide range of options and styles, and impressive results, the Wonder AI Art Generator is a must-try for anyone interested in digital art. So why not try it and see where your creativity takes you? Who knows, you might be amazed at what you can create with the Wonder AI Art Generator!
FAQs
Can you sell AI generated art from Wonder?
It depends on various factors, including the ownership and copyright of the original images used to create the AI-generated art, as well as the ownership and copyright of the resulting AI-generated art.
Is Wonder AI art generator free?
The Wonder AI Art Generator offers both free and paid versions of its software. The free version allows users to generate AI-generated art, but with some limitations, such as lower resolution and fewer customization options.
Is Wonder AI art generator safe?
Wonder AI Art Generator is generally considered safe to use. However, it is essential to note that downloading the APK file from unverified sources or using unauthorized versions of the software can potentially pose a risk to the user's device and personal information.
Is the Wonder software actually AI?
Yes, it is. Additionally, Wonder AI's image outputs are generally correct.