Which is the better tool in VistaCreate vs Canva? Find out which tool is best for your business by comparing these two. Both tools are designed to make graphic design easier for people who are not designers. By comparing the features of each tool, you can decide which is the best option for the business.
Table of Contents
A Quick Comparison of VistaCreate vs Canva
1. Stock Photos: VistaCreate offers 70 million images in its stock imagery collection, while Canva only offers 4 million images.
Winner: VistaCreate
2. Price: If you have a small team with up to 10 members, you can use VistaCreate to access team collaboration features at a lower cost.
Winner: VistaCreate
3. Variety of Features: Canva provides access to a variety of features than VistaCreate. With Canva, you can use tools to design whiteboards, charts, websites, documents, and websites that are not in VistaCreate.
Winner: Canva
4. Mobile App & Team Collaboration: The mobile app and collaboration tools of Canva surpass VistaCreate's equivalents significantly.
Winner: Canva
VistaCreate vs Canva: Short Verdict
VistaCreate excels in offering affordable stock photos. However, Canva stands out for its extensive range of features and robust team collaboration tools, making it a perfect choice for those who require a comprehensive design platform. Ultimately, the user will have to decide which is best for their specific needs.
VistaCreate and Canva: What Are They?
VistaCreate and Canva are design tools that make it easy for you to create top-notch visual content, even if you don't have much experience in graphic design. You can use both platforms to create a variety of designs, such as YouTube thumbnails, posters, digital art presentations, videos, social media graphics, and more. These platforms offer many templates and royalty-free images to help you with your designs.
Here's a comprehensive table comparing VistaCreate vs Canva.
| | | |
| --- | --- | --- |
| Features | VistaCreate | Canva |
| Userbases | Approx 10 million (Total till Now) | Approx 125 million (Per month) |
| Price | Free | Pro: $13/month | Free | Pro: $ 12.99/month |
| Templates | 100,000+ Total | 250,000+ (Free) | 610,000+ (Pro) |
| Stock Photos, Graphics | 1 million (free) | 70 million (Paid) | 1 million (free) | 4 million (Pro) |
| Create Video Contents | Yes | Yes |
| Storage | 10 GB (free) | Unlimited (Paid) | 5 GB (free) | 1 TB (Pro) |
| Apps & Integrations | No app library | 129 apps library |
| Easy UI | Yes | Yes |
| Photo Editing & Image Masking | Yes | Yes |
| Web Design & Embedding Projects | Yes | Yes |
| Export Option | Less | More |
| Print Products | Yes | Yes |
| User Review | 4.8/5 (iOS) | 4.4/5 (Android) | 3.4/5 (iOS) | 4.8/5 (Android) |
| Language | 17 | 130 |
| Customer Support | Live chat and Email | Email |
1. Userbases
Which is more popular? VistaCreate vs Canva user base analysis.
VistaCreate
In 2021, VistaPrint bought an online design platform called 'Crello' and changed its name to 'VistaCreate.' The platform has been known as Crello since 2017. Currently, VistaCreate serves approximately 10 million users and employs nearly 200 staff members to provide their services. The company has reported that they have created 100 million+ designs using the platform as of now.
Canva
Australian entrepreneurs Chris Obrecht and Melanie Perkins launched Canva in 2013. Canva has a larger staff and more users than VistaCreate. The company employs 3,400 people, and over 125 million individuals use Canva each month. The platform has achieved a remarkable feat by having 15 billion+ designs created in recent times.
VistaCreate and Canva are both popular and effective graphic design software options in the global market, even though they differ in user base and company size.
2. Price
Let's explore which is suitable for you by examining the comparison in VistaCreate vs Canva pricing.
VistaCreate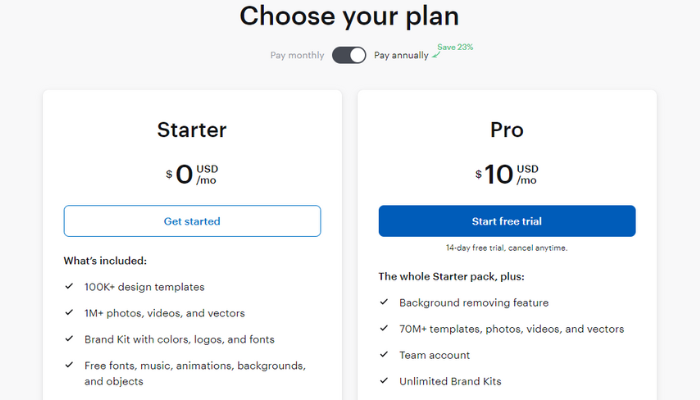 VistaCreate offers two plans: A free starter plan and a $13/month pro plan are available. The 'Pro' version is discounted if you prepay for a year. This means you only have to pay $120 for the whole year, which is the same as paying $10/month. You save 23% on the usual monthly fee.
VistaCreate offers a free trial of their 'Pro' plan which allows you to test out all of its premium features for fourteen days. During this trial period, you'll have access to brand tools, team collaboration, and stock assets.
Canva
Canva offers three pricing plans: Free, which costs nothing per month. The Canva Pro, which costs $12.99/month, and Canva for Teams, which costs $14.99/ month (5 members).
3. Templates
Let's discuss templates between Vista Create vs Canva.
VistaCreate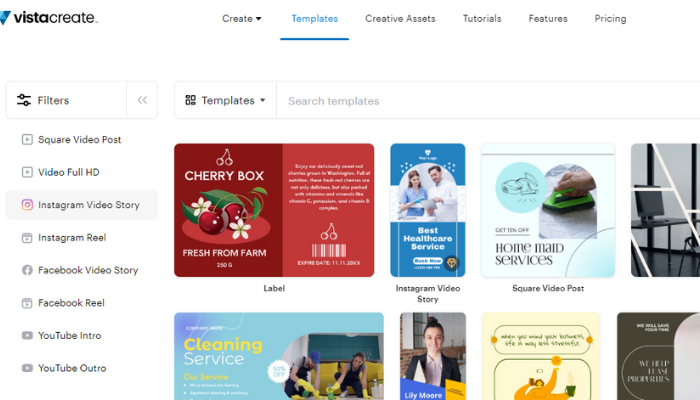 VistaCreate offers over 100,000 templates on all its plans. However, it has a smaller selection compared to Canva. The company adds approximately 5,000 latest templates each month, as stated.
When you look at templates for Instagram, VistaCreate will provide you with approximately 20,000 options.
Canva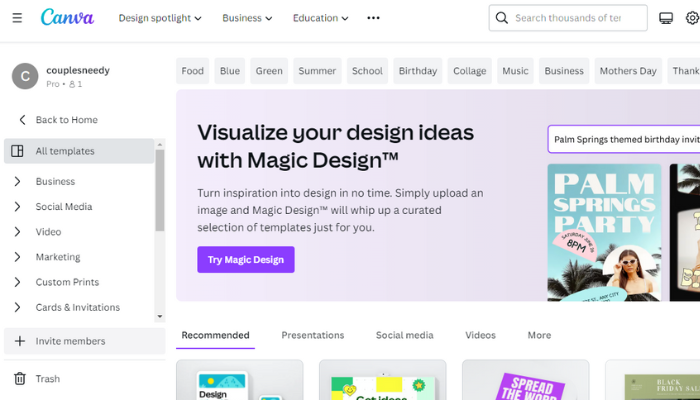 Canva offers 250,000 templates for free and more than 610,000 templates for its paid plans. Choose from over 470,000 designs on Canva, which is 20 times the number of designs offered by other platforms.
Both offer a wide range of templates to choose from. However, Canva has a larger template collection with more editable designs that some users may prefer.
We really enjoyed one thing about the collection of Canvas templates while testing the product: it provides personalized template suggestions to every user. If we say the final verdict between VistaCreate vs Canva, both offer high-quality templates that are diverse and professional.
4. Stock Photos and Graphics
Both provide a great advantage to users by giving them access to a vast collection of stock photos and graphics, including animations, vectors, and icons. You can access this collection with your subscription to these tools.
VistaCreate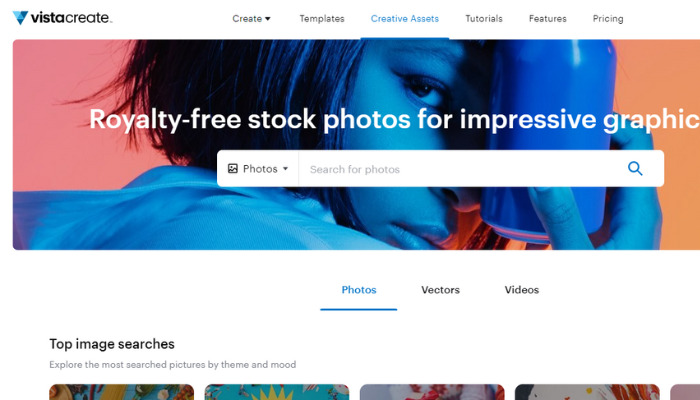 On the "Pro" plan, VistaCreate offers more than 70 million vectors, videos, and photos. VistaCreate owns a reputable stock photography firm called DepositPhotos. These resources are primarily from Deposit Photos.
If you use the free VistaCreate plan, you cannot include premium assets in your designs. It will prompt you to upgrade to a paid plan if you try to do so.
Canva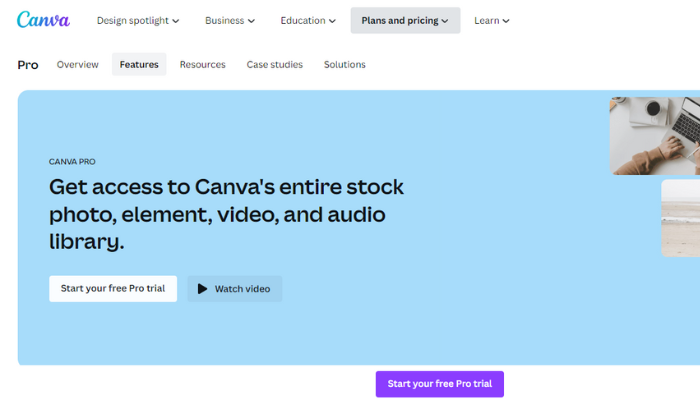 Canva offers more than 1 million stock resources on free plans. You will have access to 4 million+ stock assets if you upgrade to the paid plan.
Canva allows you to use a premium asset even with the free version, but it will have a Canva watermark on it. You have the option to download your design with a watermark or take it out for $1 one time.
The free plan of Canva provides a stronger option for those who need to do occasional design work because it allows more flexibility in working with premium/pricy assets.
5. Create Video Content
Canva and VistaCreate allow you to make or edit videos for various purposes and in many different formats. Let's discuss creating video content with both tools.
VistaCreate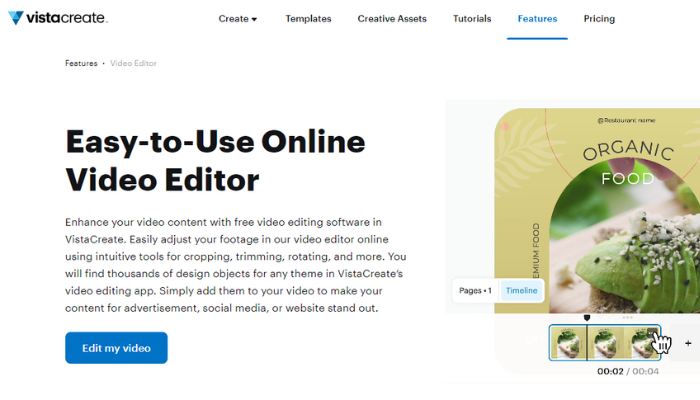 If you wish to include recordings of your videos on VistaCreate, you must first record yourself using external software and then upload the file to VistaCreate. Additionally, there is generally room for improvement in VistaCreate's audio.
Canva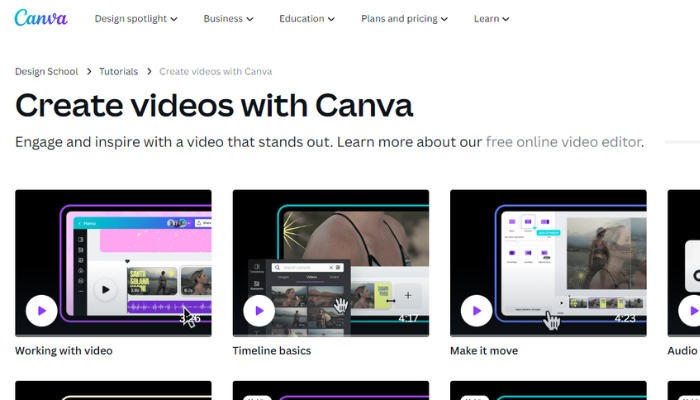 With Canva, you can use different video transitions to make your edited video look more professional. You can include transitions like 'color wipe', 'slide', and 'dissolve' between the clips to give them a polished look. Also, the video editor of Canva outperforms VistaCreate in terms of recording yourself. The software includes a "recording studio", which lets you use the camera and microphone. Also, You can easily add these recordings to the video.
Canva beats VistaCreate in the aspect of removing video backgrounds. With Canva, you can remove video backgrounds with just one click using an easy-to-use tool, while VistaCreate does not provide this feature.
The tool efficiently eliminates cluttered backgrounds from your video's primary subject, enabling you to add various design elements to the video backgrounds.
6. Storage
Let's explore which is suitable for you by examining the comparison in VistaCreate vs Canva storage.
VistaCreate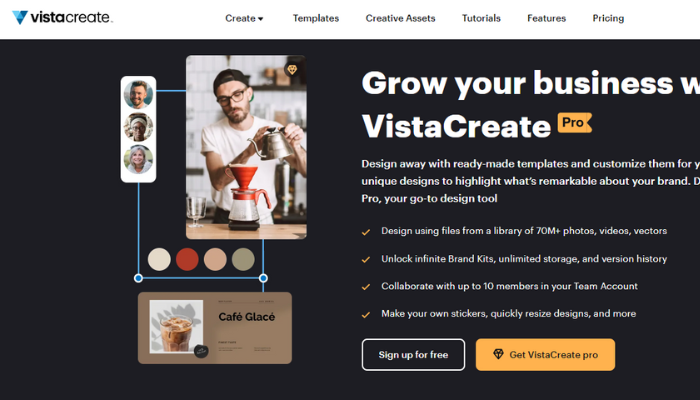 VistaCreate offers a free plan that includes 10GB of storage. Additionally, VistaCreate's paid plan offers more storage than Canva's paid plan. On the premium plan, VistaCreate offers you endless storage.
Canva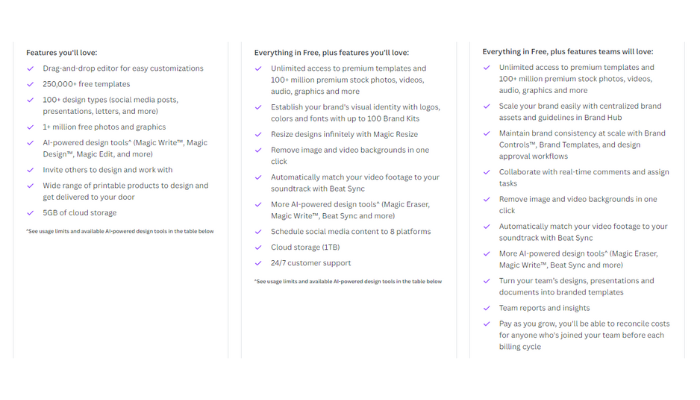 Canva offers 5GB of storage for their free plans. For users who subscribe to their "Canva Pro" plans, Canva provides 1TB of storage per user. To find out how much Canva storage you've used, you'll need to reach out to Canva's support team. Canva should make it easier by displaying your usage directly on the dashboard.
7. Apps & Integrations
Canva has a big advantage over VistaCreate because it allows users to add more features through third-party applications and integrations.
VistaCreate
VistaCreate operates differently as it has limited options. You can link your VistaCreate profile to a few social media sites, but there's not any app library to access. Also, you can only use the features that come with VistaCreate, and there's no way to add more.
Canva
As of now, Canva has 129 apps that you can access in its app directory.
Many apps in Canva allow you to add special effects like mosaic effects, paint effects, and skin retouches to your projects. Some apps offer even more useful features.
Canva has many apps that can improve its editing tools. These apps also allow you to connect Canva with well-known online tools.
You can link the Canva account to various services, such as Facebook, YouTube, Microsoft Teams, Google Maps, and Google Photos. Then, you can add content from these services to your designs.
8. Easy UI
Once you login to Canva or VistaCreate, both platforms will present you with two very similar dashboards. In fact, they are almost identical! The interface of both websites has a search box that helps you quickly discover template designs.
Head-to-head comparison on VistaCreate vs Canva easy interface.
Vista Create vs Canva
VistaCreate provides a limited selection of social media site design options. The search bar in Canva has labeled icons that let you quickly find templates for various formats, such as websites, documents, videos, and presentations.
At the top of the Canvas interface, there is a big button that says "Create a design". Once you click it, you can easily select from a variety of design formats.
The search bar in Canva has an icon for "Custom design" that allows you to enter your own project dimensions.
When you begin designing, you will observe that VistaCreate and Canva share many similarities in their editing interfaces. The left side of each tool has a menu that provides access to important features. On the right side, you can use the drag-and-drop feature to complete the design work.
Both editors have an excellent drag-and-drop feature. Both allow you to easily move elements within the design. If you want to make an element in your design smaller or bigger, you can do it easily by clicking on the item and pulling its corner.
Both tools provide a menu for detailed editing. The top menu comparison of VistaCreate vs Canva feels like using Google Documents when designing, making it easy to learn how to use these platforms.
9. Photo Editing & Image Masking
Let's discuss what adjustments both provide with photo editing and image masking.
VistaCreate vs Canva for Photo Editing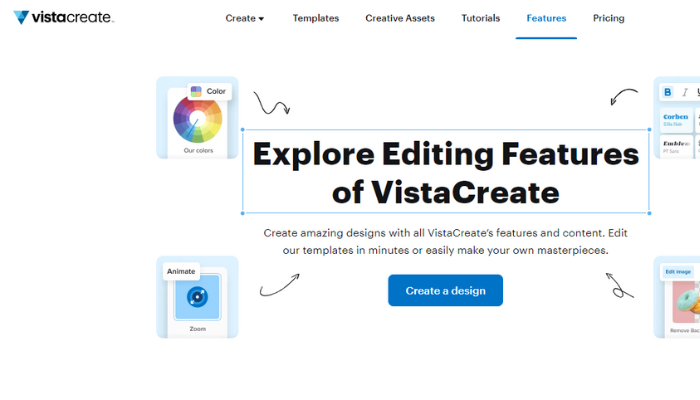 VistaCreate and Canva offer easy editing tools. This means they allow you to enhance and modify photos. You can work with either the pre-loaded stock photos or upload your own photos.
If you compare VistaCreate to Canva for photo editing, you can get a slight advantage in Canva over VistaCreate in terms of allowing you to make small and precise changes to the photos.
Canva offers more editing features than VistaCreate's photo editor.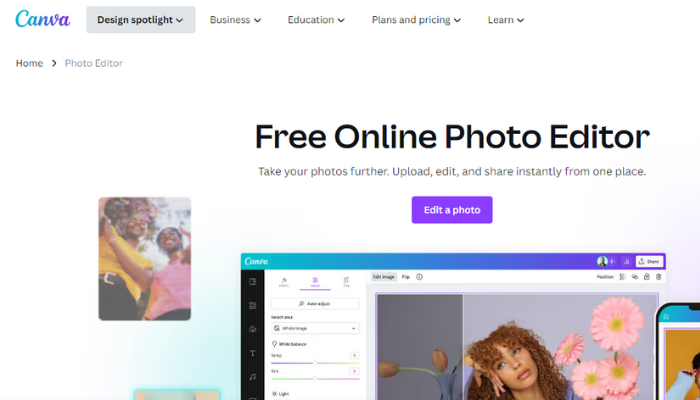 Canva offers more than the other tools in terms of filter effects. Both tools have standard Instagram filter effects such as 'retro', 'drama', 'black and white', and 'festive'. However, Canva has advanced options that are not available in VistaCreate.
For Example 1. Photogenic 2. Duotone 3. Liquify
If you have a pro plan, both tools offer a background removal feature.
VistaCreate vs Canva for Image Masking
With VistaCreate, you can impose shapes on any photo more easily than with Canva. The top menu of VistaCreate has a 'Mask tool' which allows you to quickly reshape the photos into various geometric patterns.
You can see "Shape masks" in VistaCreate. You can easily change the shape mask for your photo by clicking on the appropriate shape.
Canva's process for the same thing is more complex than doing it in VistaCreate. To use the frame tool of Canva, first, add a frame from the "Elements" section. Then, locate the picture and drag it to the frame.
10. Web Design & Embedding Projects
If we talk about a comparison between VistaCreate vs Canva in web design, both offer a lot in terms of web design. They pack their template libraries with an abundance of marketing assets and standard designs.
Vista Create vs Canva
If we talk about a comparison between VistaCreate vs Canva in web design, both offer a lot in terms of web design. They pack their template libraries with an abundance of marketing assets and standard designs.
Both tools offer an HTML "embed code" for adding any design to already-existing web pages.
When you embed design codes, any changes you make to the design on either platform will automatically update the content that's embedded on the site. This ensures that your embedded content remains dynamic and up-to-date with the latest changes you make.
When embedding the designs, Canva provides a range of valuable additional features.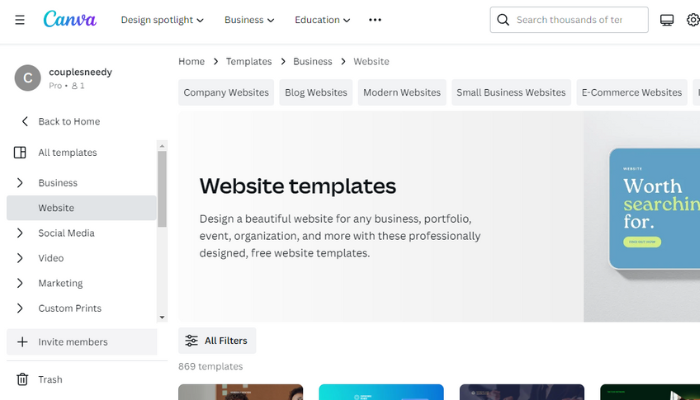 By embedding Canva designs within other projects, you can easily collaborate with other team members performing on a big design project. Also, conveniently modify their section based on responses from other members.
Canva offers analytics for the designs that are embedded within it.
11. Export Options
After you finish your design, VistaCreate and Canva give you various choices to share and export your design. Both platforms provide you with "share" links, which allow other individuals to view your designs online.
VistaCreate vs Canva
Canva offers a wider range of sharing choices. Canva allows you to share designs on well-known social media sites. Moreover, you can send the designs through messaging services.
VistaCreate allows you to export your designs to various file formats, including MP4, PNG, GIF, and JPEG.
Canva designers have the ability to export SVGs which they can use for further enhancement and editing in any design software like Adobe Illustrator. This feature is useful for them.
Canva provides a wide variety of choices for making presentations. You can choose from more than 12,500 templates, which is a lot more than the few hundred templates offered by VistaCreate. Additionally, Canva has features that allow you to record presentations and create slideshows.
Canva has stronger presentation conception features compared to VistaCreate.
12. Print Products
Discussion between Vista Create vs Canva print products, both allow you to design and print your work using their platforms. This is an interesting feature of these platforms.
Canva vs VistaCreate
Canva offers a wider selection of printed elements for purchase compared to VistaCreate. Canva allows you to not only order paper-based items but also create physical merchandise and print huge format items.
Currently, VistaCreate offers printing services in 21 countries.
The print service of Canva is available in more than 100 countries worldwide. People from these countries can use Canvas print service.
Both have similar pricing approaches for printing products. However, Canva is 20% cheaper, according to the research. On the other hand, VistaCreate provides superior value for office stationery and wedding invitations.
13. User Review
If we discuss VistaCreate vs Canva mobile apps, both offer Android devices and iOS, which allow users to create designs while they're on the move.
VistaCreate vs Canva
Most users have given highly positive reviews to both apps. They have rated VistaCreate 4.8/5 (iOS) and 4.4/5 (Android).
Android users have given the Canva app a good rating of 4.8/5 (Android). However, iPhone users rate it 3.4/5.
There are many features in the Canvas app that aren't present in VistaCreate, such as tools for whiteboards, documents, and creating charts.
The browser-based version of VistaCreate offers more features than its mobile app. However, the app does not have certain features like team accounts, eraser tools, and brand kits.
Overall, we definitely recommend using the web versions of both tools if you plan to work on designs for several hours. Both tools have good mobile versions for making visually appealing artwork quickly while on the go. The mobile version of Canva offers the most function for creating these visuals.
14. Language
Both offer multiple languages for their users' accounts. Users can easily choose their preferred language to show the UI for the platform in their language.
VistaCreate supports only 17 languages, but Canva operates in more than 130 languages.
15. Customer Support
VistaCreate has an advantage in customer support because it offers support through live chat and email.
| | |
| --- | --- |
| VistaCreate | Canva |
| Has a Help Center with articles and guides on various topics | Has a Help Center with articles and guides on various topics |
| Offers live chat and email support for users who log in to VistaCreate | Offers email support for all users and live chat support for Canva Pro and Canva for Enterprise users |
| Has a phone number for customer support: 1-888-663-3954 | Does not have a phone number for customer support |
customer support vistacreate vs canva
VistaCreate Lacks Certain Canva Features
Up until now, we have been comparing the numerous features that both share.
There are a number of additional tools in Canva that are simply absent from VistaCreate. Let's discuss them one by one.
Charts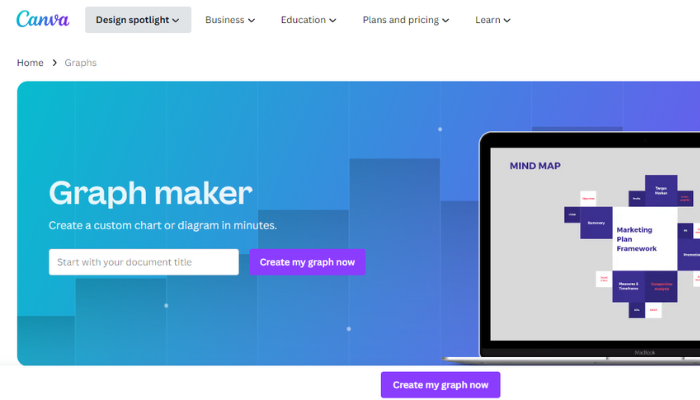 A clear winner between VistaCreate vs Canva in terms of chat builder is Canva. You can choose from 11 different types of charts, such as scatterplot charts, bar charts, and line graphs.
To create a chart using Canva, you can input the data into a table. Canva will automatically convert your data into the chart format you selected. Afterwards, you can customize the chart to your liking by changing its style.
With Canva, you can import big data sets to create more intricate charts by using their CSV file. Moreover, you can incorporate data into the chart from the Google account.
You can export these charts from Canva in various file formats. This allows you to display dynamic charts that show real-time data.
Docs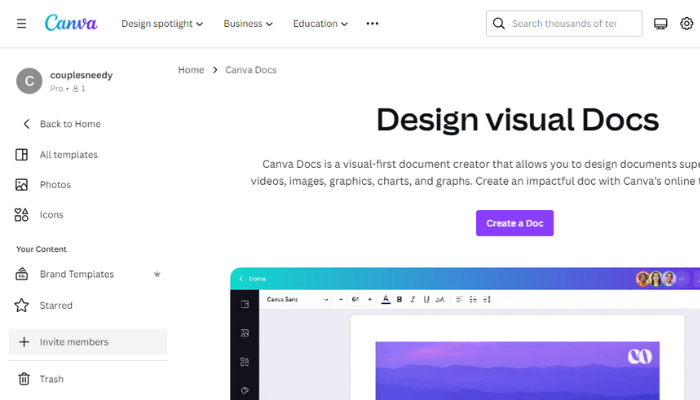 Canva has a tool called "Canva Docs" that allows users to create documents similar to Google Docs or Word. It is one of Canvas newest features.
Canva focuses heavily on the visual aspect of word processing. When making documents, you have access to a variety of templates and design tools offered by Canva, and you can easily add any of their visual assets to your documents.
Canva Docs has a feature called "Magic Write," which is an experimental text generator powered by AI. You can use this tool to make content for any document automatically.
Putting aside any problems with exporting, Canva Docs allows you to perform simple word-processing projects with great ease. Therefore, the fact that it's part of the Canva toolset is highly appreciated.
Infinite Whiteboard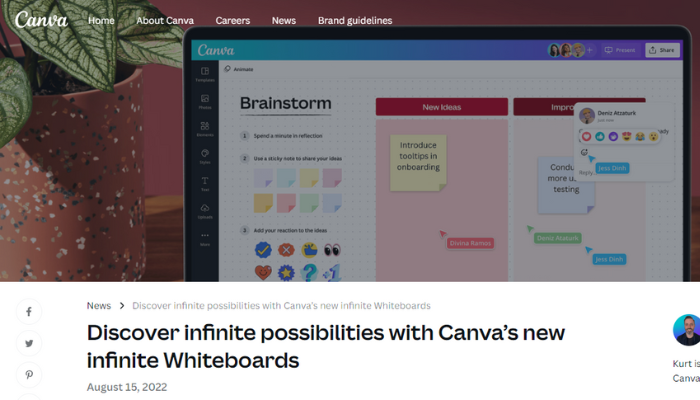 Canva has introduced a new tool called 'Whiteboard', which shows how Canva's expanding set of features can help not only with design but also boost the productivity and strategy of any new business.
Canva has a whiteboard feature that lets you and your team perform mind maps, wireframe designs, design sprints, and brainstorming workshops.
Canva's whiteboard tool allows for seamless collaboration, just like their other tools. If you are part of a team on Canva, you can work together and see what others are contributing. You can also comment and react to each other's work using the features provided.
Visit: VistaCreate | Canva
FAQs
Is VistaCreate the same as Canva?
VistaCreate and Canva are both online graphic design platforms that allow users to create various designs for personal and professional use. However, there are some differences in features, pricing, and user interface, which users may want to consider when choosing between them.
Which app is better than Canva?
There are several graphic design apps that offer similar or more advanced features than Canva, including Adobe Spark, Figma, PicMonkey, and Crello. The choice ultimately depends on individual needs and preferences, as well as budget and level of experience.
Is there any website better than Canva?
While Canva is a popular graphic design website, there are other alternatives available such as Adobe Spark, PicMonkey, and DesignWizard.
Is VistaCreate really free?
Yes, VistaCreate offers a free plan that allows users to create and download designs with some limitations. However, to access all features and remove the platform's watermark, users need to upgrade to a paid subscription plan.
Do professionals use Canva?
Yes, many professionals use Canva for creating graphics, presentations, and marketing materials. Canva's user-friendly interface and wide range of design templates make it a popular choice among small business owners, social media managers, and marketers who need to create eye-catching visuals quickly and easily.
Is Canva an Indian app?
No, Canva is not an Indian app. Canva is an Australian graphic design platform with various visual content such as posters, social media graphics, presentations, and more. Cameron Adams, Melanie Perkins, and Cliff Obrecht founded the company in 2012.
To Conclude
In conclusion, when it comes to the comparison of VistaCreate vs Canva, both graphic design tools offer a variety of features and options to create stunning visuals. While Canva has a larger user base and more templates, VistaCreate provides more design freedom and better print quality. Ultimately, the choice between Vista Create vs Canva comes down to personal preferences and the specific needs of each project. Whether you choose VistaCreate or Canva, both tools can help you create professional and eye-catching designs that will make an impact.
If you have any other doubts, watch this YouTube video on VistaCreate vs Canva.