Hi there! In today's world of online communication, Discord sticker ideas can add some extra fun and personality to your conversations.
If you want to make your Discord messages more interesting, we can help you. Whether you own a server or just want to try something new, we've got you covered.
This guide will show you lots of fun and cool stickers for Discord that you can use to express yourself and have fun with your friends on the app.
Let's explore how Discord stickers can make your online chats more fun and memorable.
Table of Contents
How Do You Get Better Stickers on Discord
If you want to improve the stickers you use on Discord, here's what you need to do:
Join Servers with Sticker Communities
Search for Discord groups that center on stickers. These groups usually exchange exceptional and one-of-a-kind sticker collections. You can find servers on websites like Discord.me or Discordlist.net or use Discord's own server search tool.
Use Sticker Bots
There are automated programs on Discord that can offer you different types of stickers. Sticker bots like Dank Memer, Mudae, or Pokecord have many stickers.
Explore Sticker Marketplaces
On some Discord servers, people can buy, sell, or trade stickers in special marketplaces. You can get really cool sticker packs in certain online places. But be careful when you trade and only use trusted websites to avoid getting ripped off.
Create Custom Stickers
If you want stickers that nobody else has, try making your own. On Discord, you can add your own DIY stickers to your group if you have permission. You can make them using programs like Photoshop or online sticker makers.
Support Creators
Lots of people who make things like art and videos sell stickers on websites like Patreon or Gumroad. If you help these people by buying their stickers, you can get really cute stickers and things that no one else can get.
Ask Friends
If your friends have cool stickers you haven't seen before, just ask them where they got them or if they know of any good places to find stickers.
Participate in Events
Sometimes, Discord has events or offers that give away stickers for free. To keep up with new chances, check out the Discord blog or announcements in Discord.
Browse Sticker Stores
Some servers have sticker stores where you can buy stickers with Discord Nitro or server-specific currency. Check out these shops for cool stickers that match the server's theme.
Keep in mind that the stickers on Discord might not all be very good. To find stickers you like, look around different places and groups. You might find really cool stickers for your server.
15 Best Discord Sticker Ideas in 2023
There are a lot of Discord stickers to choose from in 2023, but here are 15 of the best.
1. Hahaha
Hahaha, Discord stickers are a cool and funny way to make your chats more lively.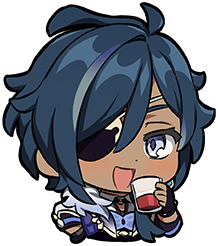 2. Punch
Punchy stickers make your chats awesome by adding colorful and emotional expressions to your messages.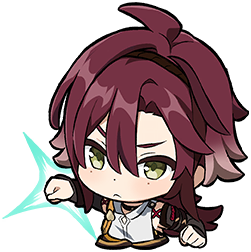 3. Disappointment
Make some sad stickers for when you feel let down or disappointed. Use a droopy face and a deflated balloon to show how you feel.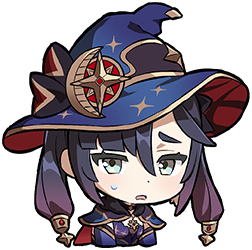 4. Wanna Date?
Looking for love on Discord? How about a 'Wanna Date?' sticker to add a fun and flirty touch to your messages!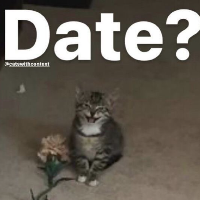 5. Smugbob
Make your Discord chats more enjoyable and memorable by using funny Spongebob expressions and iconic moments.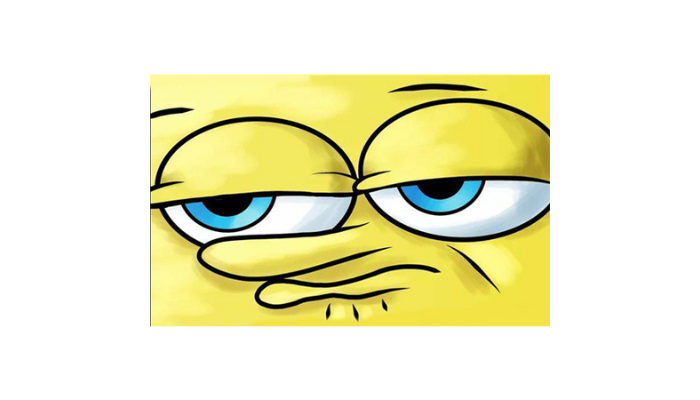 6. No Alive Chat?
Here's a fun way to start chatting on Discord.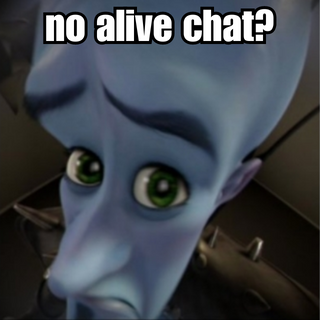 7. Popcorn
How about using an image of a popcorn kernel with a surprised face or a bucket overflowing with popcorn to represent exciting moments in your server?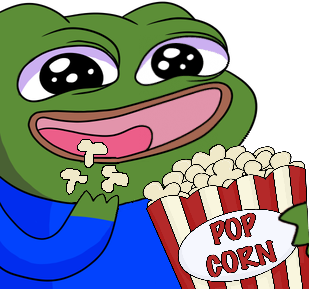 8. Ok Freak
Show off your individuality with fun and unusual designs to spice up your conversations.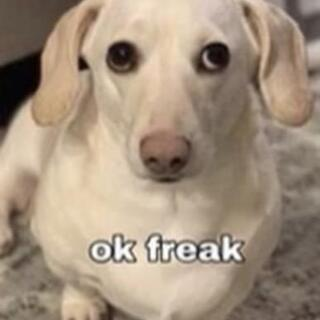 9. Good Night
An idea for a "Good Night" sticker design could be cute emojis of sleeping faces, stars, and moons to send nice thoughts before going to sleep.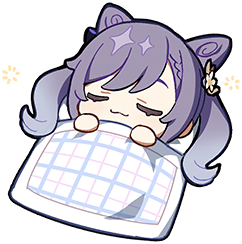 10. Congratulation
Congrats discord sticker:
11. Flooshed
Prepare to express strong feelings in your messages using blushing emojis with flushed faces.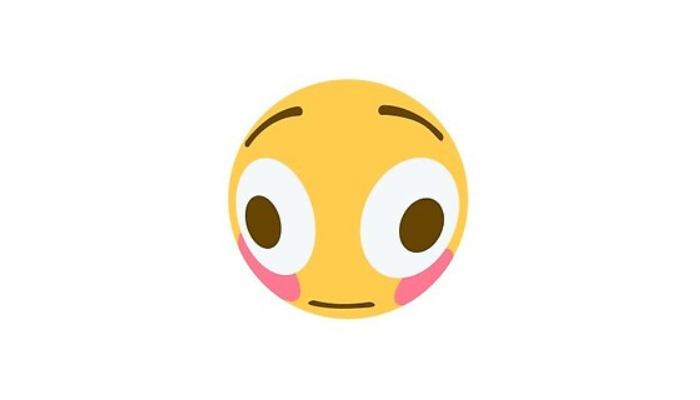 12. Frustrated
Do you want to use an emoji that shows you're frustrated with tech issues? You could use one with a furrowed brow or a character banging their head.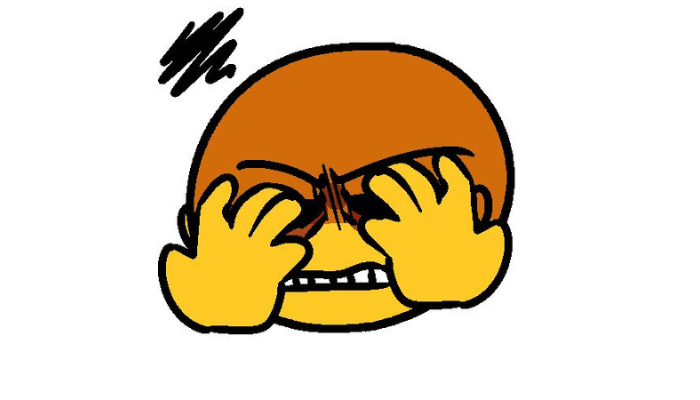 13. Love
Here is a cool and adorable sticker you can use on Discord to show your love.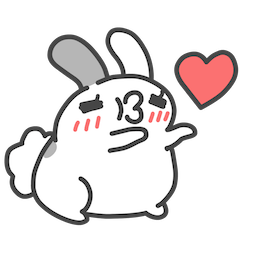 14. Cat Gun
Have fun with cute stickers of cats that can make your chats more playful.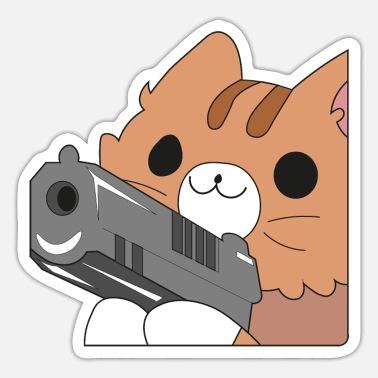 15. Pikachu Yeah
How about a set of stickers for Discord that have pictures of Pikachu on them? It could be really enjoyable!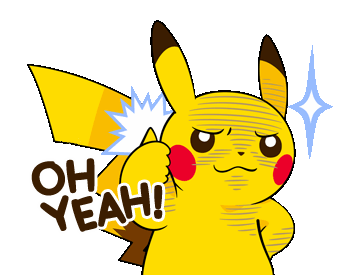 How to Get Funny Stickers on Discord
If you want to add funny stickers to your Discord messages, here's what you can do:
Check out Emoji.gg for tons of stickers to use on Discord.
Check out the different sticker categories and look up "funny" to discover stickers.
Choose the sticker you prefer, then copy the image's web address.
Click Server name < Server Settings < Emoji < Upload Emoji. You can add a custom emoji to your Discord server.
Paste the web link of that image and choose a name for it. Also, you can change how big it is and where it goes on the page.
You now have a funny sticker on your Discord channel! Just tap "Save Changes."
Create Mockups with Discord Stickers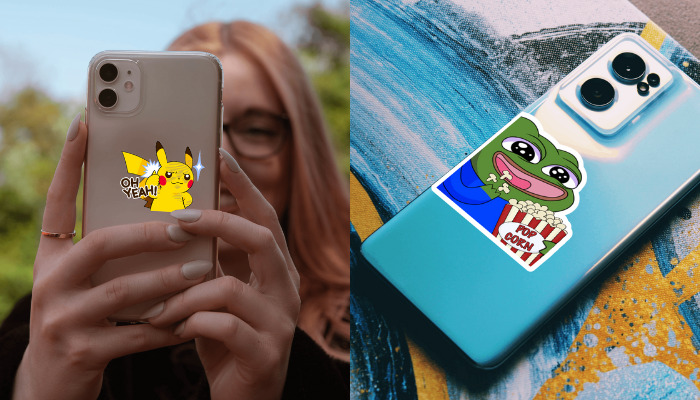 Once you come up with Discord sticker ideas, you can use those stickers on your phone, laptop, or pretty much any other device you want. It's a fun way to express yourself!
You can take a look at this mockup right above.
Additionally, you have the freedom to make and personalize these mockups using any products you like, and it won't cost you a thing.
Because the Mockey tool is totally free to make mockups, and you won't see any watermarks on your creations. You can download your mockups as many times as you like!
Feel free to use it without any concerns about your budget!
Conclusion
To put it simply, you can come up with any kind of Discord stickers if you use your imagination.
Stickers can make your chats more fun by adding emotions, jokes, and references that are specific to your group.
Try creating your own art or look at other collections to get ideas. Keep in mind stickers should encourage friendly communication and make people feel more connected.
Use your creativity to create fun and engaging Discord stickers for better conversations.
You can also add furry art stickers that are trending right now.
FAQs
What are sticker suggestions on Discord?
When you type messages on Discord, the app may suggest stickers for you to use. This is a helpful way to remember the awesome stickers you have available to use.
How do I make stickers on Discord?
To make stickers in Discord, you need to be a Discord Nitro member. To make your own stickers, go to the sticker section in your chat and choose "Create Sticker Pack." Then, upload your images, make any necessary edits, and organize your stickers. Once done, you can use them in your conversations and share them with friends.