With QuillBot AI, users are able to create, edit, and improve their texts with the assistance of artificial intelligence. In order to maximize writing efficiency, this brilliant paraphrasing tool includes a variety of features and modes. You'll learn all you must know about QuillBot AI's abilities and how you can get started with it today in this blog. Let us take a closer look at QuillBot AI from the beginning.
Table of Contents
QuillBot AI: What Does It Do
QuillBot AI uses NLP (Natural Language Processing) to understand and figure out all the important information in a piece of writing while keeping its original meaning intact.
QuillBot helps you change paragraphs, sentences, or even whole articles without losing their original meaning! It's got different modes like Formal, Creative, Fluency, Standard, and, so you can use it for all kinds of writing and make it just the way you want!
People use QuillBot AI for different things like writing for school, creating stories, and getting better at English.
You can watch this quick tutorial to use Quillbot.
7 AI QuillBot Features
In the next part, we'll check out all the tools it has! QuillBot AI keeps adding more and more tools to make your writing better. Let's show you some of the functions and features it can do!
| | |
| --- | --- |
| QuillBot Features | Price |
| Paraphraser | Free |
| Co-writer | Free |
| Grammar Checker | Free |
| Plagiarism Checker | Paid |
| Summarizer | Free |
| Citation Generator | Free |
| Translator | Free |
1. Paraphrasing Tool QuillBot AI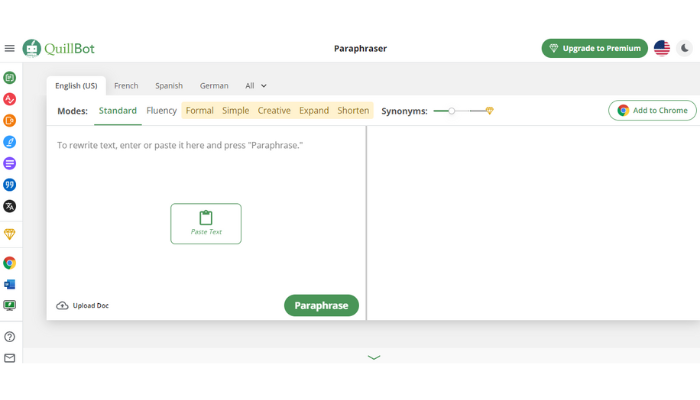 QuillBot has this amazing tool called the paraphrasing tool. So, if you want to make your writing sound even better, it picks out just the right words to use!
There are seven ways to use it. You have two modes that are totally free and five amazing premium modes. Here they are:
Standard Mode: Keeping the original meaning while maintaining readability.
Shorten Mode: This mode ensures that essential information is not lost in lengthy content.
Expand Mode: By adding relevant explanations and details, this mode enhances your content.
Formal Mode: For academic and business writing assignments, this mode provides more output.
Fluency Mode: The AI will perform this mode to maintain readability and fluency and, as well as to detect mistakes.
Creative Mode: Using premium mode inspires more unique paraphrasing styles.
Simple Mode: Text is presented in this mode to make it easier to understand.
2. Co-Writer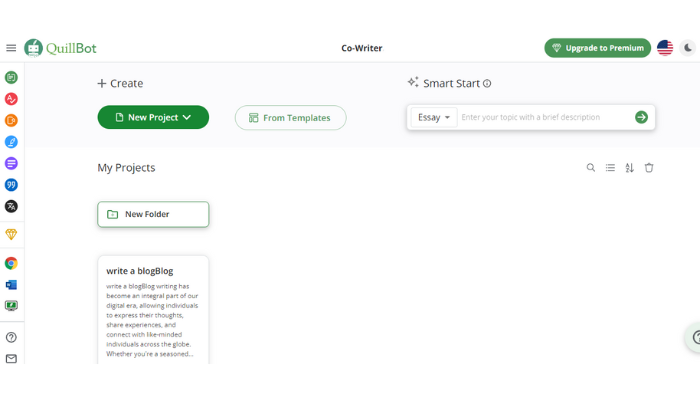 QuillBot's writing tools are upgrades for your writing! So, you'll be writing like a champ in no time! It helps you make your academic papers, articles, paragraphs, and sentences look awesome!
Suggestions for synonyms: To enhance vocabulary, QuillBot suggests synonyms and alternative words.
Sentence Expansion: Using QuillBot, you can expand your short sentence into a better and more comprehensive version.
Word swapping: You can flip your order of phrases or words to create a different structure with this feature.
3. Grammar Checker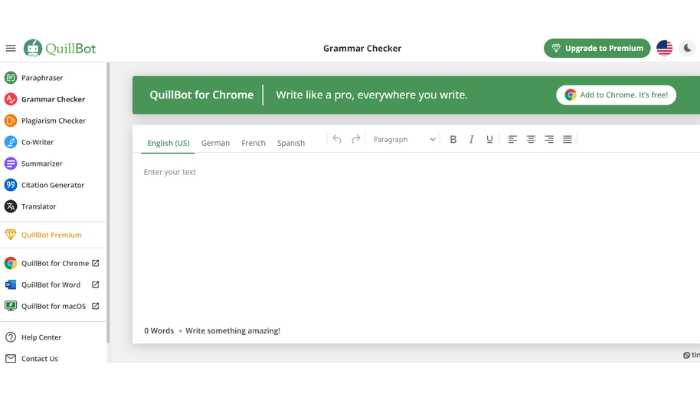 If you are looking for free grammar check Quillbot AI benefits, you might want to try Quillbot AI. This is a helpful online tool that enables quick and effortless rewriting, paraphrasing, summarizing, and grammar checking.
It can understand different ways people talk in English. So, if you're from the United States, the United Kingdom, Canada, or Australia, QuillBot can help you out in your own way of speaking!
4. Plagiarism Checker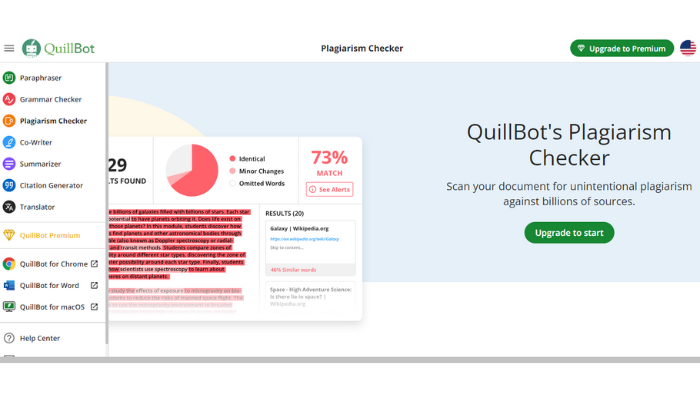 The plagiarism checker by QuillBot is a high-quality service designed tool to examine your text thoroughly, detecting any circumstances of plagiarism. You have the capability to conduct plagiarism analysis on text in more than 100 languages. However, page scanning for analysis is limited each month. With premium subscriptions, scan a maximum of 20 pages/month.
5. Summarizer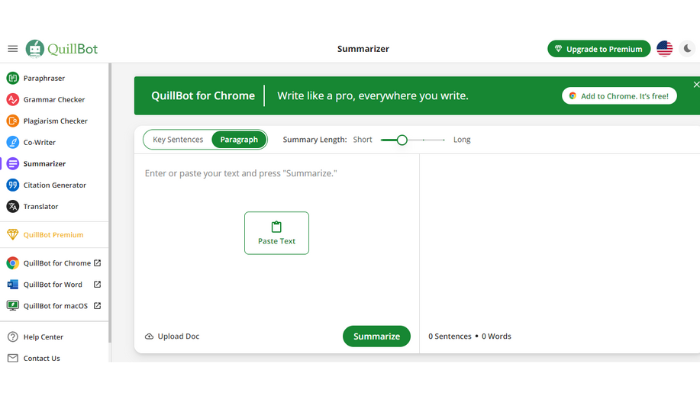 It provides a summarization function enabling you to compress lengthy texts into concise summaries. The summarizer identifies essential elements and primary concepts from a provided text, producing a brief summary that retains the core element of the actual content using advanced algorithms.
This feature proves to be highly beneficial for various tasks, including promptly learning the fundamental concepts of writing, summarizing lengthy passages, and extracting the primary concepts from a text.
6. Citation Generator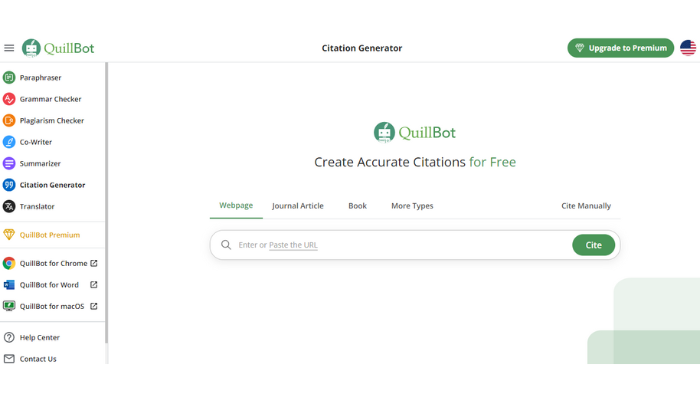 If you're ever unsure about how to give credit to a book or website you used for your school or work project, don't worry! You can use this feature to help you make proper citations in the style.
All you gotta do is copy the important thing from where you got your info, and then this generator will make a citation! There are many things you can cite with this tool, including a website, video, image, book, journal, and more.
7. Translator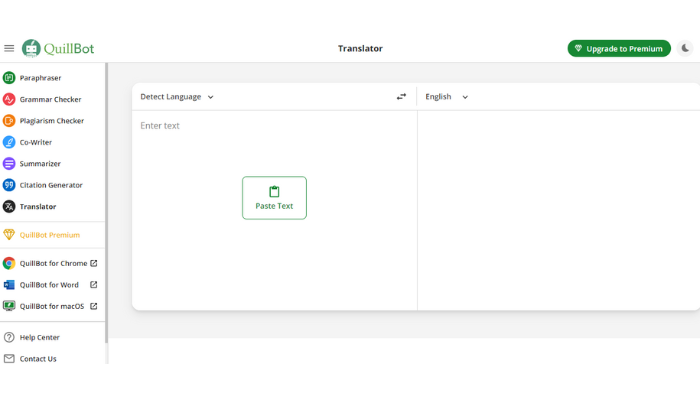 It has a translation tool! No application is required. There are now over 30 languages you can translate into instantly without having to download any application. It's perfect for kids learning a fresh language or even for people on vacation in foreign countries.
Is QuillBot AI for You
QuillBot makes writing way better for all sorts of people! It's helpful for professionals, bloggers, students, and even those learning new languages. This platform is helpful for different groups of people.
QuillBot AI Helpful for Students
So, you know how students have to deal with lots of homework? Well, there's this QuillBot that helps them make their writing even better!
Adding vocabulary and structure: It simplifies grammar and rephrases sentences.
Citation formats: Students can use QuillBot to adhere to APA, Chicago, MLA, and citation styles.
Preventing plagiarism: Integrated plagiarism detection prevents accidental plagiarism.
Time-saving: Students can save time and manage the writing approach if they use this AI tool.
Blogs and Professionals Use QuillBot
QuillBot helps professionals and bloggers from all over the world in so many awesome ways!
Excellent content: It creates well-structured, informative, and concise content.
Developing creativity: Creative mode encourages creative rephrasings.
Effective editing: It helps refine articles by providing they are error-free and fluent.
Keeping words short: Content management and editing are made easier with QuillBot.
Use QuillBot AI to Learn Languages
QuillBot AI is there to support them while they're on their writing adventure.
Fluency and grammar: Over 30 languages and four English dialects are supported by the AI paraphraser.
Developing vocabulary: By using this tool, learners can explore new vocabulary.
Accurate translations: Translating text quickly is easy with this translation tool.
Gaining confidence: Improved writing quality helps language learners communicate effectively.
Considering all these features, what does it cost? It could actually be totally free!
QuillBot AI Pricing & Plans
If you want to try out QuillBot AI, there is a totally free version for you! You can use most of the features they talked about, and the best part is it's easy to get to!
Join Quillbot AI for Free
So, if you want to use the QuillBot AI for free, here's what you gotta do! Listen up:
Visit QuillBot AI.
Start by clicking the "Get Started" option.
Sign up with your Facebook/Google profile.
To finish your registration, select one of the options.
You can sign in or register with your email address if you don't have one.
Join QuillBot AI Premium Version
Not only do they have a free version, but they also have a paid or premium plan that comes with lots of features like:
Being accessible in all 7 modes
Quicker processing times
Access to plagiarism checker
Multi-mode capability
Paraphrase multiple texts at once
Grammatical rewriting
If you want to get this service, you can pick from three different ways to pay for it.
| | |
| --- | --- |
| Plan | Price |
| Annual Plan | A yearly fee of $49.95 will be charged |
| Semi-Annual plan | A 6-month subscription costs $39.95 |
| Monthly plan | The monthly fee is $9.95 |
How to Join Quillbot's Premium Subscription
To become a QuillBot Premium member:
Use your Google or email account to access QuillBot.
You'll see an option to upgrade.
Choose your plan.
Hit the "Check Out" option after entering your debit or credit card details.
PayPal is also an option.
Enjoy the Premium service.
What Are the Limitations of QuillBot
The QuillBot tool can do summarizing, paraphrasing, and even checking if your grammar is all good. But, just like with any other tool, it's not perfect. It's important to know.
There is no human writer behind QuillBot. It doesn't really get the feeling, meaning, or why you write things like you do. That means, when you use it, you must be careful! Always check what it writes and make changes if you're using it for something important.
It can help you rewrite! But here's the thing, it has a limit on the number of words you can change at once. When you use the Paraphraser mode, you can only rewrite up to 125 words at a time. If you get the Premium version, you can do even more!
QuillBot doesn't understand all the languages yet. At the moment, it only works with English, Spanish, German, and French texts. The QuillBot team is working really, really hard to add more languages in the future!
Let's discuss some queries of people related to this topic QuillBot AI.
How does QuillBot Paraphrase Work
The QuillBot Paraphrase tool uses AI to create sentences, paragraphs, and articles that can be rewritten in a variety of ways, and the meaning and clarity of the original content remain intact.
Is Quillbot Summarizer Accurate
A QuillBot summarizer is a tool that can condense text into key sentences or paragraphs. Maintaining the original context is done using natural language processing.
Is There a Quillbot Extension
By using QuillBot's Chrome extension, you'll be able to access QuillBot more easily. When you use the Chrome extension, you don't have to keep going back to the QuillBot website to use their paraphraser AI. With the Chrome extension, QuillBot can work right where you are, no matter where you're working on the internet.
QuillBot Alternatives
Paraphrasing makes your writing awesome! It helps make your sentences sound better, clear, and smooth. But sometimes, changing words by yourself can take a lot of time and be tricky. That's when paraphrasing tools become super helpful! There are lots of other free tools on the internet that can do the same thing and make your writing even better. Let's talk about 7 of the best Quillbot alternatives.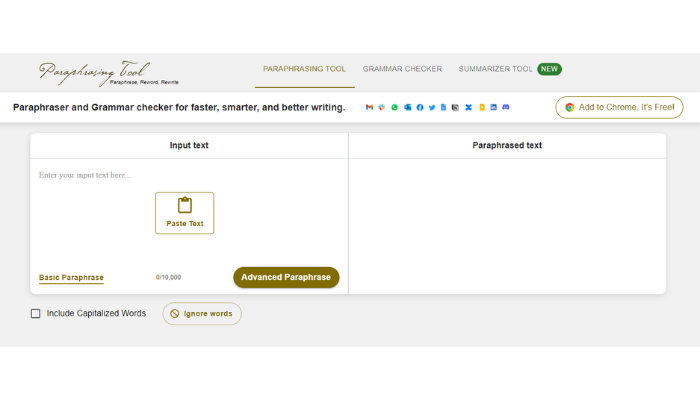 You can choose Basic or Advanced paraphrasing. The Basic way just changes the original words, while the Advanced one uses fancier words and really gets how the actual text is put together.
If you choose Basic, it will change the words right here. But if you go for the Advanced option, it will take you to Quillbot, where it will make the text tone super sophisticated!
ParaphrasingTool.AI – Perfect alternative to QuillBot!
Just like quillbot, this paraphraser has eight different modes for rewriting. If you want something simple, pick 'Free Rewriter' mode. Try ' Near Human ' if you need it to sound more human. It also has a mode to rewrite plagiarised content.
There are four tones to match your audience's mood. Besides text, it can paraphrase audio and image input as well. Moreover, built-in features like a plagiarism checker, text summarizer, and AI editor put it on par with Quillbot's paraphrasing tool.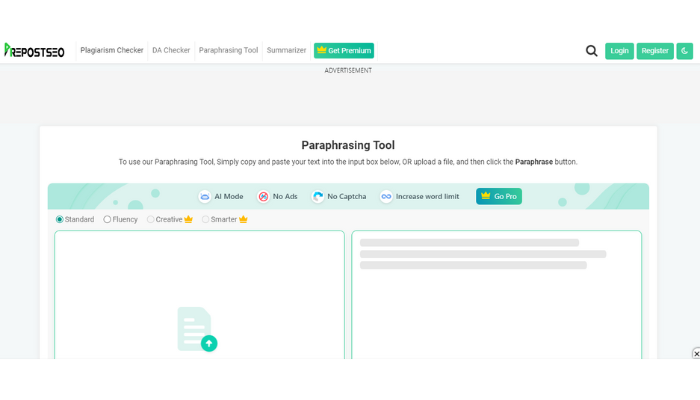 Prepostseo is just awesome! It can find out how good a website is, fix spelling mistakes, make a summary, and even change words around to say things differently!
4. SEOToolsCentre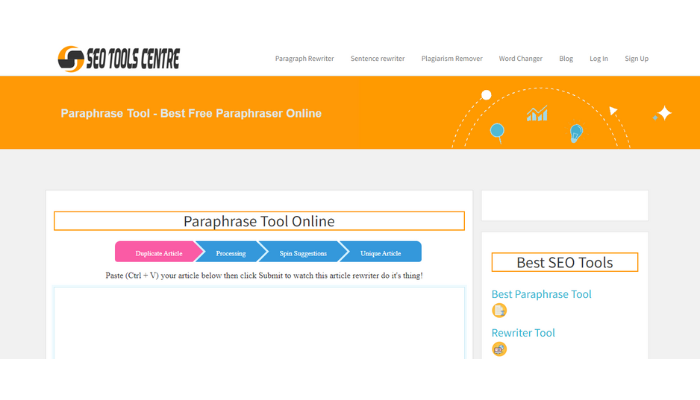 SEOToolsCentre offers a bunch of helpful tools to help you with writing and making your content awesome. All you can do is copy the stuff you want to change, put it in the box, pick your language from the menu, and click the Paraphrase button.
5. Paraphraser.io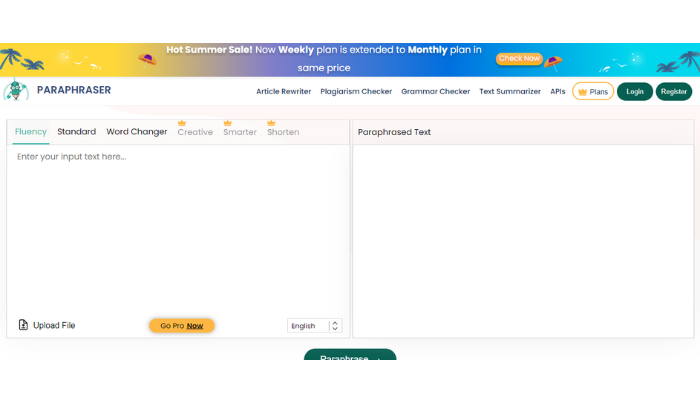 Paraphraser.io can help you change up to 600 words in different ways. It's got three options: Word Changer, Standard, and Fluency. So, when you need to make something sound different, you can use Paraphraser.io, and it'll do the trick!
6. SpinnerChief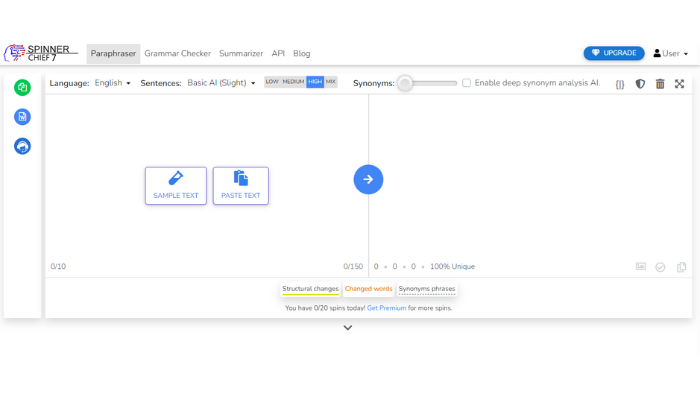 SpinnerChief has a free version that lets you change up to 150 words in one go, and you can do this up to 20 times every day. To begin, just copy and paste your text and pick how much you want to change the sentences.
At maximum, the slider can only be positioned in the middle. You can access SpinnerChief as either a desktop app or a web tool, providing you with versatility and ease while rephrasing your text.
7. Wordtune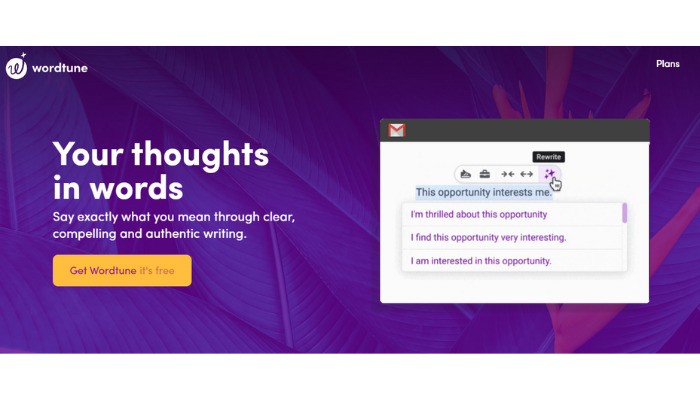 With Wordtune, simply select the text you wish to rephrase. The software will then provide you with multiple suggestions to pick from, and any altered words will be highlighted in purple. Additionally, you have the option to alter a single remark by selecting it.
To Conclude
QuillBot AI is here to make creating content totally amazing! It can change sentences around, check for copying, and make sentences longer! With QuillBot, you can make your writing better, get new ideas, and do more in less time.
QuillBot uses language models and advanced algorithms to provide users with an interactive and user-friendly interface, enabling them to enhance their writing abilities and generate top-notch content.
Though QuillBot should be recognized as a tool rather than a replacement for critical thinking and human creativity, its capacity to help in diverse writing tasks unveils fresh opportunities and speeds up the process of creating content.
QuillBot AI is undeniably transforming the approach to writing, making it more efficient, convenient, and ultimately enjoyable, regardless of whether you're a professional, writer, or student!
You can watch this full tutorial to use all Quillbot features.
FAQs
Is QuillBot detected as AI?
QuillBot AI helps you summarize, paraphrase, and check your grammar. Many plagiarism checkers do not detect QuillBot as AI. QuillBot creates unique, human-like words using deep learning and natural language processing.
Is QuillBot cheating?
QuillBot is not cheating but a helpful tool for improving your writing skills. QuillBot is not a substitute for your own creativity and critical thinking.
What is better than QuillBot?
Some possible QuillBot alternatives are:
Bing chat mode
Grammarly
Hemingway Editor
Is QuillBot paraphrasing good?
The QuillBot paraphrase tool uses state-of-the-art AI to rephrase sentences, articles, and paragraphs. It can help you improve your writing, avoid plagiarism, and save time. Use its Chrome, Word, and Google Workspace integrations for free or try it on their website.