Some free Freepik alternatives are Mockey, Vexels, FreeImages, and Unsplash for every designer and marketer.
Table of Contents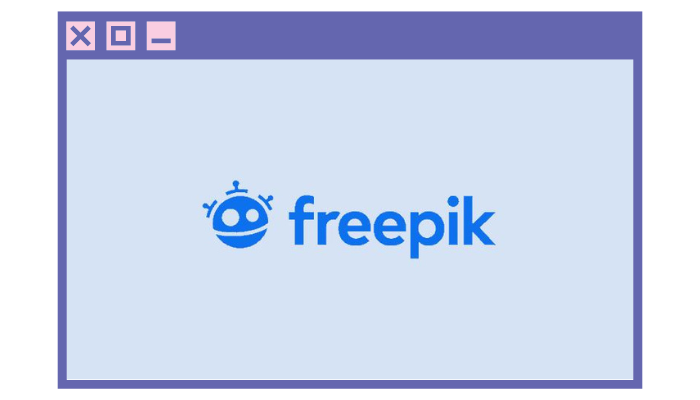 Introduction
If you're not a fan of Freepik or don't trust it, it's a good idea to explore some free Freepik alternative tools that are just as good.
The issue is that Freepik tries to do everything but lacks being a master. Whether you're a designer, video editor, or marketer, there are better sites similar to Freepik for your specific needs.
In our opinion, Freepik is an excellent addition to free tools, but it can't stand alone as a replacement for top industry standards like Mockey, Vexels, FreeImages, and Unsplash.
If you want to find a good alternative to Freepik, we choose these 10 Freepik alternatives free tools to look at.
What is Better than Freepik
Here is a comparison of the best Freepik alternatives:
10 Free Freepik Alternatives & Competitors
Listed below are 10 Freepik competitors and sites similar to Freepik that you can try for free.
1. Mockey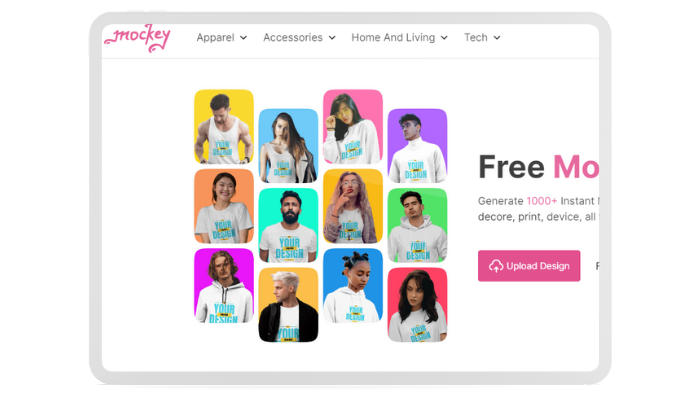 Mockey is the best and most free Freepik alternative for designers if you are looking to generate mockups because Mockey is the only platform that has more than 20+ categories and 1000+ mockup templates that are free. You can download mockups without any watermark in PNG format. Download high-quality mockups now. Mockey is the perfect Placeit alternative and Smartmockups alternative. You can also download the Mockey app available on the Play Store.
2. Vexels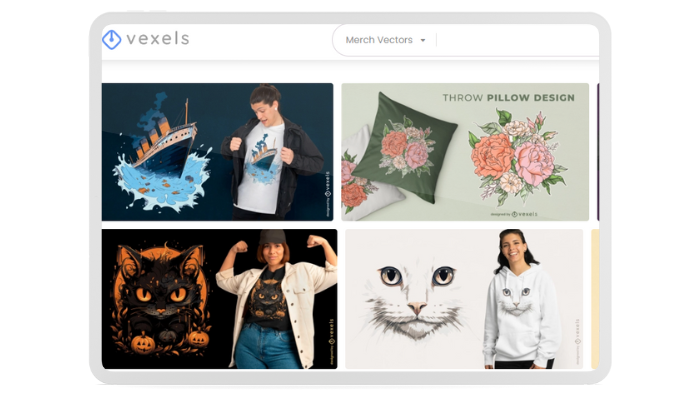 Vexels and Freepik are similar because they both provide free graphics. But, although a few photos are free, you have to pay a small price to download or use the rest on your device. This website has vector art that you can change and make bigger or smaller as much as you like. You can discover great photos here, or if you've made your designs, you can share them with us. You can save these images and convert them to AI images on websites like Wonder AI and use them as stickers on Discord mobile and have fun with your friends.
3. FreeImages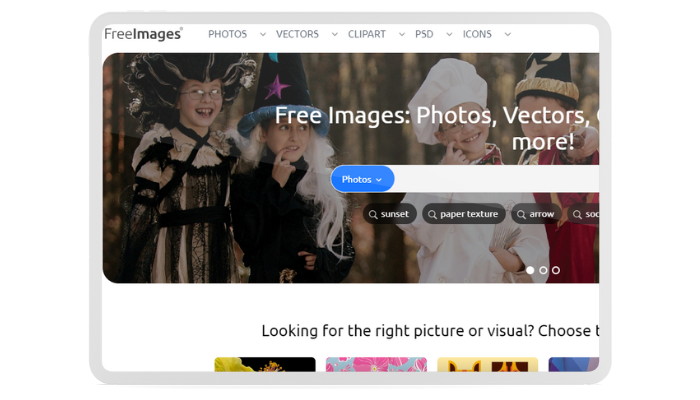 FreeImages, a Freepik alternative, offers a huge collection of icons, Photoshop files, clipart, vector graphics, illustrations, and photos that you can get for free. Their photography is made available for use by people across the globe. You can access different categories easily, as they have great landing pages. Get special discounts with their Promo Codes for iStock. Don't miss out on exclusive savings! They also offer a wide variety of pictures you can use without paying royalties, as well as high-quality images and graphics you can buy.
4. Unsplash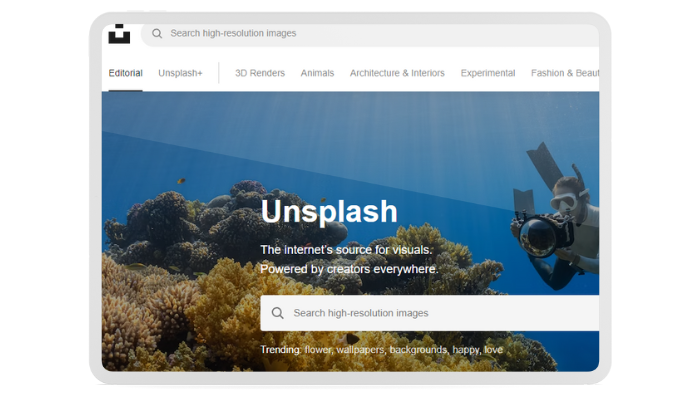 There are more than 3 million high-quality pictures, all thanks to the kind photographers in the Unsplash community. They carefully choose each picture and only pick the finest ones, ensuring you can always discover precisely what you're searching for on this platform. Unsplash started because they had trouble finding good pictures to use, and they weren't the only ones. That's why today, millions of people worldwide have downloaded more than 4 billion images for making presentations. Unsplash is one of the best Freepik alternatives for a vast collection of vector images.
5. Simplified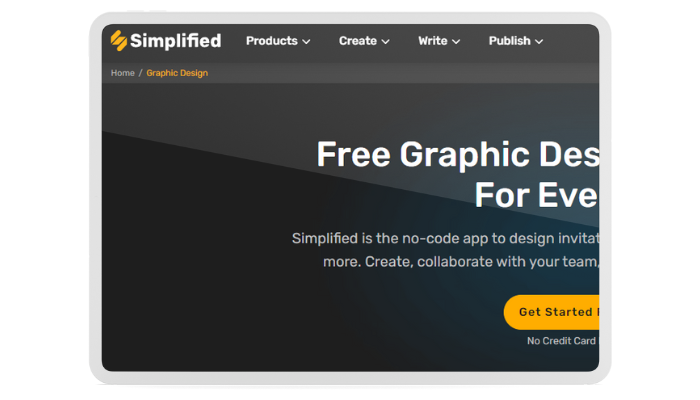 Most people know about Simplified; it is an AI writing website like Quillbot, an AI GIF generator, and a text-to-speech generator website like 15.ai or an alternative to Speechify. But Simplified is also one of the best Freepik alternative tools according to the design template. Simplified offers a forever-free plan that includes lovely, high-quality pictures from Unsplash to generate a design that is simple and enjoyable! Furthermore, you have the option to include your own fonts and use vector images and icons at no cost!
6. Vecteezy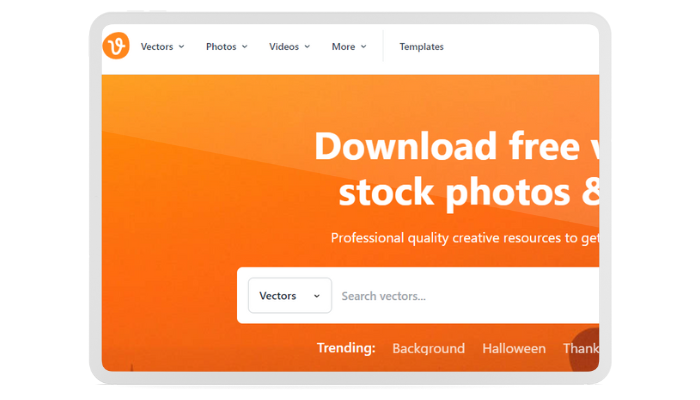 Discover incredible photos, videos, and beautiful vector illustrations with the Vecteezy Freepik alternative. Resources that are completely assured for either personal or business use. The people in their group are always adding new content to their collection. Whether you require a single resource or a multitude, they offer a range of choices to suit your needs.
7. Vectorportal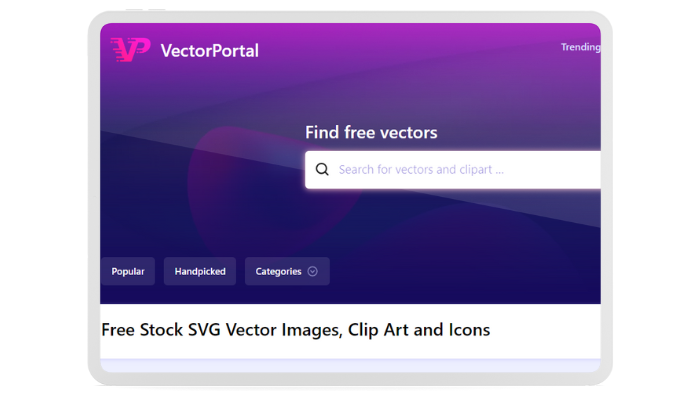 VectorPortal, one of the Freepik alternatives' free tools, helps as a primary destination for accessing royalty-free vector icons and illustrations. Designed for both beginners and experienced designers, VectorPortal provides top-notch vector graphics that come with a Creative Commons Attribution license. This means you can use the content you find on their site for your personal and business projects without any cost. VectorPortal is a well-known website for designers around the world. Many design websites have ranked it among the best 10 free places to find vector graphics. People trust it a lot.
8. 1001FreeDownloads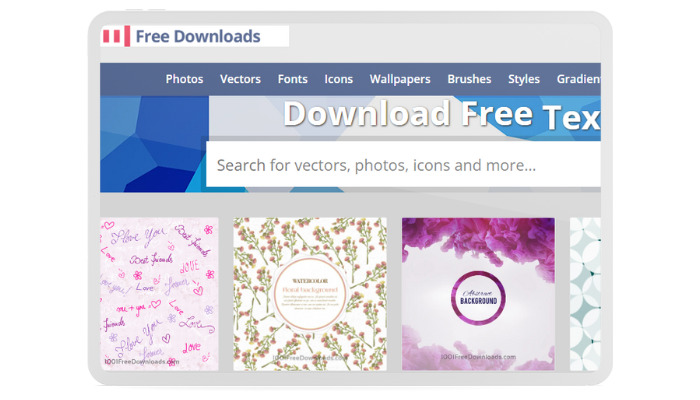 Another one of the websites like Freepik is 1001FreeDownloads. At 1001FreeDownloads, they search the internet to find the finest and most eye-catching free illustrations for designers. Their website is user-friendly and enjoyable for finding the images you need quickly. They have lots of templates, and they keep adding more all the time. Right now, they have thousands of free PSDs, gradients, brushes, photos, and vectors, and they plan to add even more in the future. They make their own excellent graphics and only provide them on their website.
9. Pixlr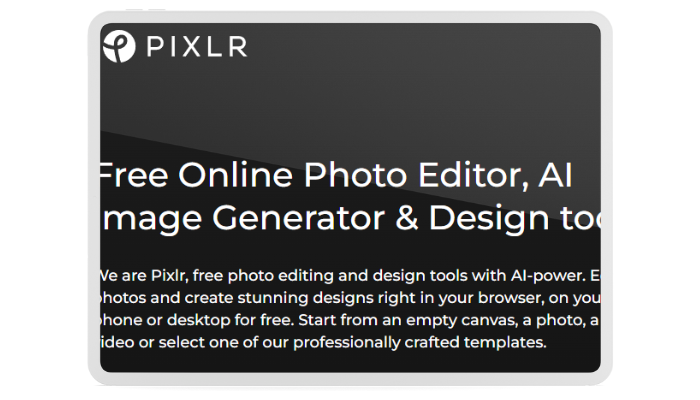 Pixlr offers photo design and editing tools that use AI technology. You can edit images and make beautiful designs in your web browser or on your computer without any cost. You can begin with a blank canvas image or pick from their expertly made-templates. Make awesome pictures effortlessly and for free! Photomash Studio quickly takes out backgrounds from the photos to make awesome profile pictures.
10. Pixabay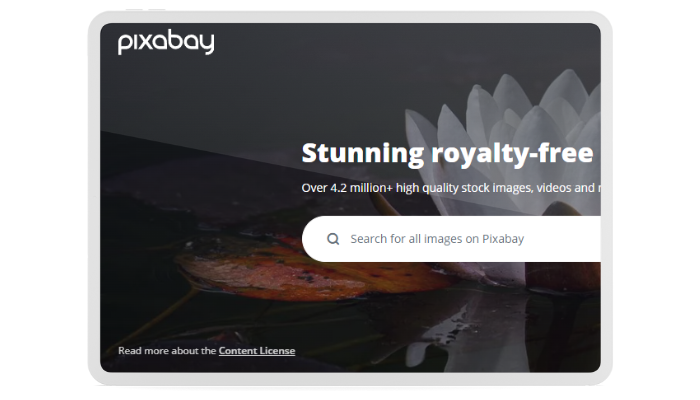 Freepik similar website, Pixabay, has a talented community that has shared more than 4.2 million excellent stock images, videos, and music for everyone to use. Pixabay is a cheerful group of creative people who share free images, music, videos, and more. Everything on Pixabay can be used without asking or giving credit to the artist, and it's even okay for some business purposes because of their special Content License.
That's it. We have covered the top 10 websites similar to Freepik. Based on your requirements, please choose from the above options.
Freepik vs Mockey
This guide will explain why Mockey is a great free option for design mockups, better than many others in this Freepik vs Mockey comparison table.
| | | |
| --- | --- | --- |
| Basis | Mockey | Freepik |
| Pricing | Free forever | $10.49 |
| Unlimited personalized options | Yes | No |
| High-Quality Design Templates | Yes | Yes |
| One-click Background Remover | Yes | No |
| No watermark | Yes | No |
| Mobile Friendly | Yes | No |
Does Freepik Have the Best Stock of Media
Freepik has lots of free and premium vectors, illustrations, icons, and images to choose from. They have 41 million+ assets you can use for your creative projects. You can easily find what you are looking for on this site.
Freepik Pros & Cons
Let's take a look at the good and bad sides of using Freepik.
Pros
Free assets
Affordable plans
Easy UI
3 assets for free/day
Cons
Smaller library
File types limited
No latest features
Conclusion
There are lots of websites similar to Freepik, making it tough to pick just one. That's why we picked out 15 great websites, some with free features like Mockey and some you need to pay for.
If you want a website that has almost the same qualities as Freepik, Vexels is your top choice. It has many vectors and images to pick from, and they don't cost anything at all.
Alternatively, if you're looking for something like mockups, Mockey is an excellent option. It offers a vast collection of excellent templates that you can use for free.
FAQs
Which is better Freepik or Vecteezy?
Freepik and Vecteezy both offer great resources, but Freepik has a rating of 4.7/5 stars based on 120 reviews; Vecteezy boasts a similar rating of 4.7/5 stars based on 3,010 reviews.
How do you download Freepik designs for free?
On the resource's right side, there's a button called "Download." Click it to begin your download. If you're using the free version, the button will be green when you want to download a free image.
Is Freepik worth it?
Many websites have lots of visual assets you can use, but if you want really good mockups, choose the Mockey tool.
Can I sell Freepik?
Freepik's resources cannot be directly sold. As a stand-alone product, Freepik does not allow for resale or redistribution of its resources. Resources are usually available for personal or commercial use under specific licensing terms.