If someone you care about a lot has passed away, you might consider in loving memory sticker ideas that you put on the windshield or bumper of your car. These stickers help you remember and honor the person who has passed away.
We will cover the best 15 in loving memory sticker ideas for your closed one.
Table of Contents
List of in Loving Memory Sticker Ideas
Here is a list of in loving memory sticker ideas.
Setting sun
Praying hands
Disintegrating feather
Motorcycle wing
Infinity sign
Heart sign
Circle photo
Angel or wing
I will hold you
Half of my heart
I carry your heart
Until we meet again
Your wings
Dragonfly
forever
Best 15 in Loving Memory Sticker Ideas
Here are the top 15 in loving memory sticker ideas.
1. Setting Sun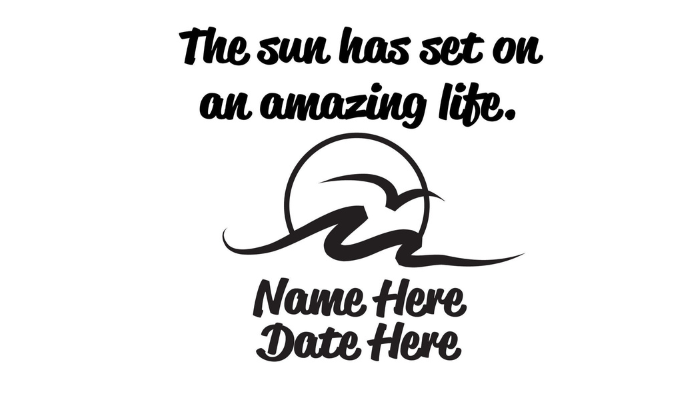 When a person passes away, we commonly express it as the sun setting in their life. This comparison makes the idea of death more comforting and less gloomy.
These in loving sticker ideas could show a sun going down below the horizon. This offers a more delicate and artistic approach to such stickers.
2. Praying Hands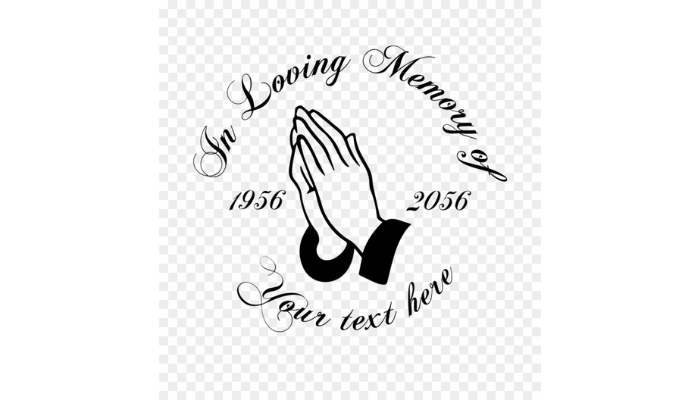 Another well-liked religious symbol in loving memory sticker ideas is the addition of hands folded in prayer. A memorial sticker that features clasped hands is undeniably a memorial decal.
Also, you can include the person's name below the years they lived, which makes the sticker even more special and unique.
3. Disintegrating Feather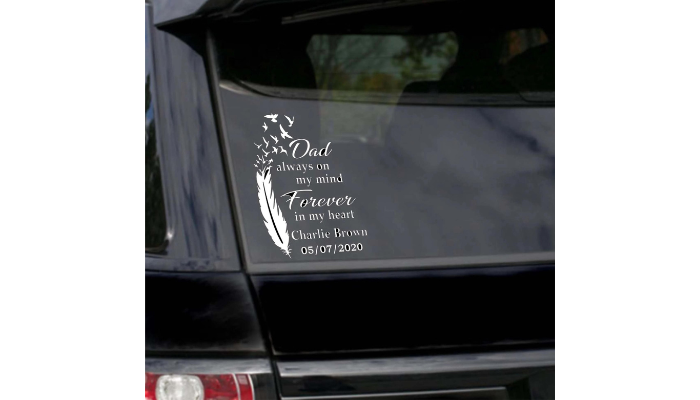 This could symbolize that the person who passed away is now your guardian angel. However, you can consider feathers in another creative manner.
A common memorial decal design shows a feather breaking at its edge. Yet, if you observe closely, the part that is breaking away is actually turning into birds flying far away. This symbolizes a person changing after they pass away.
Also, it shows that the person who died has moved on from their physical body.
4. Motorcycle Wing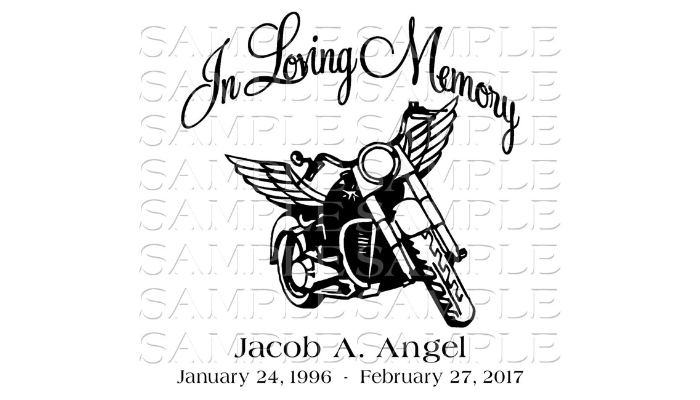 You flew with the freedom of wings, and now you're soaring with the angels in heaven. Although you left too soon, your presence will always remain with us. We remember the passionate riders who lived for excitement, cherished the feeling of wind in their hair, and relished the sensation of the road beneath their wheels.
5. Infinity Sign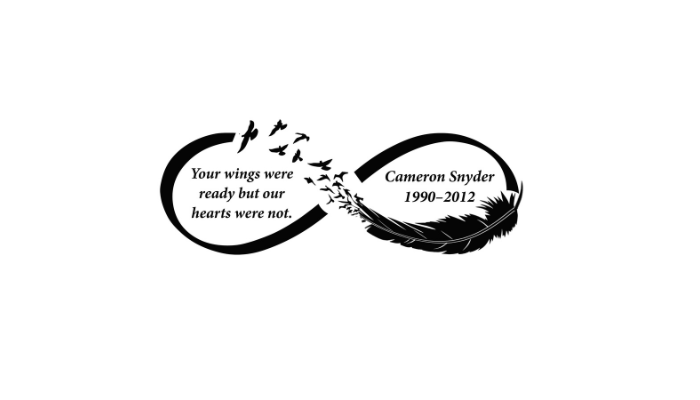 When someone dies, our love doesn't end. Love is limitless. Using a memorial sticker with a sign of infinity is an appealing way to honor a loved one we've lost.
A basic symbol shows that the person who passed away will last even after they're no longer here. You are not alone during your grief when you look at the infinity symbol.
6. Heart Sign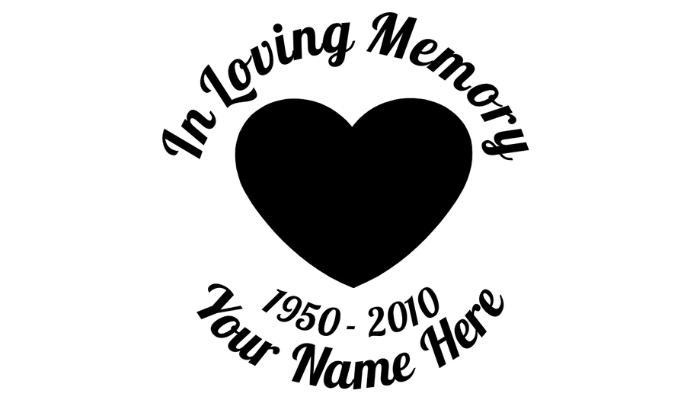 Most importantly, memorial stickers are a way to express that you're holding a dear person in your thoughts. A plain memorial decal in the shape of a heart can convey this feeling wonderfully.
In the heart, names and dates of birth and death can be engraved. You can embellish the heart in any way you want.
7. Circle Photo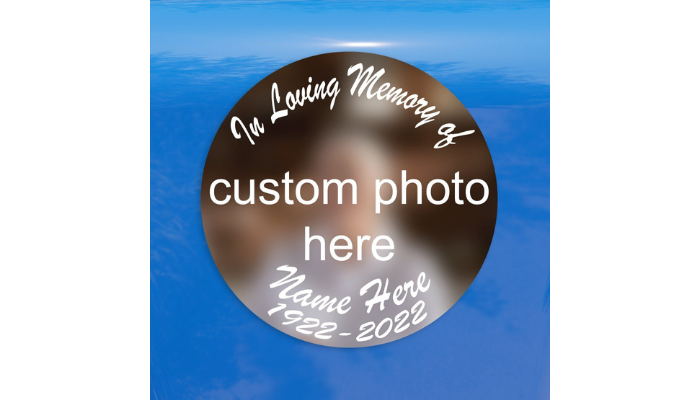 Your smile brought happiness like sunlight, and your kind heart was always genuine. We'll always hold you dear in our hearts, never to be forgotten.
You were a source of joy and laughter, spreading warmth and kindness. You've left us with cherished memories that can never fade away.
We remember with love someone who touched many lives and gave selflessly. Your presence will always be appreciated and bring us peace.
8. Angel or Wing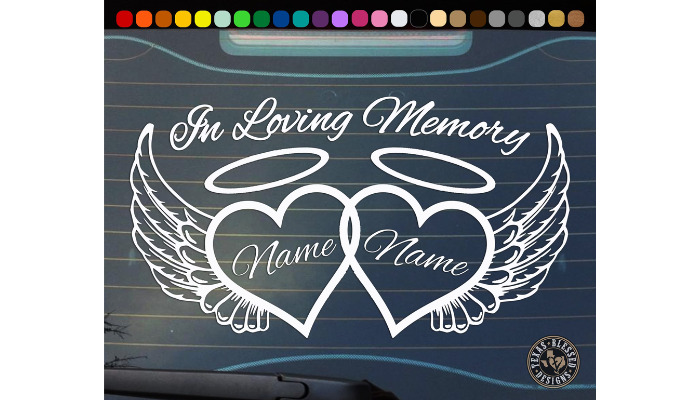 There are times when we find comfort in picturing our dear ones as guardian angels after the passing of our close ones.
This idea helps us feel better, knowing that even though they're not visible, our loved ones are still watching over us. In loving memory sticker ideas can honor this belief.
Angel silhouettes are great for decals. Also, angels can be shown with separate wings. If you add the person's name and their birth & death dates, it will show that this sticker is meant to remember them.
9. I Will Hold You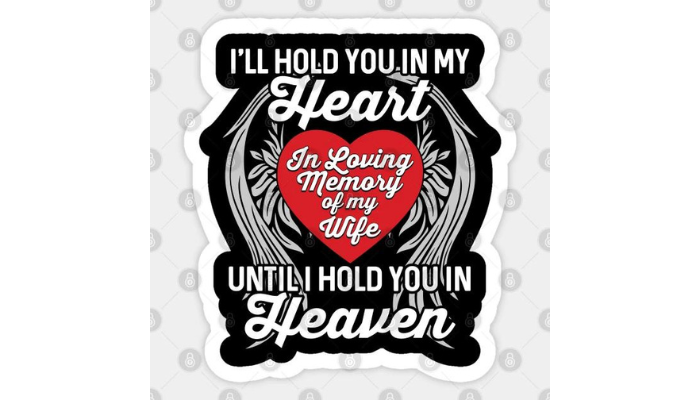 As we said before, many people feel better thinking they'll meet their loved ones after they die.
This message nicely hints at that idea. It talks about how it's sad to miss someone but reassuring to know you'll meet them again one day.
10. Half of My Heart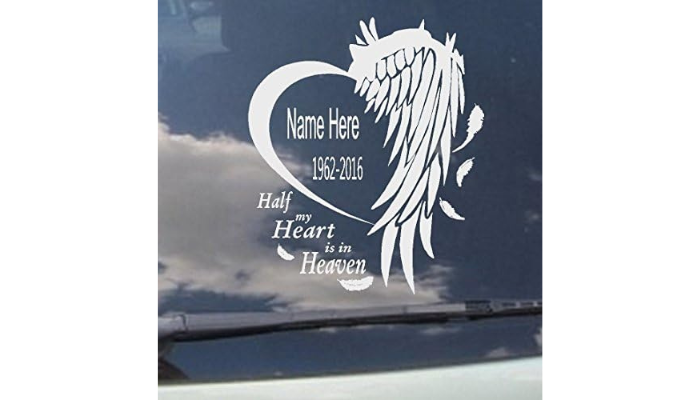 At times, when you deeply care for someone, it can seem as though they are part of who you are. Children or spouses often receive this kind of love. This message will fit perfectly on a memorial sticker for somebody you have a strong connection with.
11. I Carry Your Heart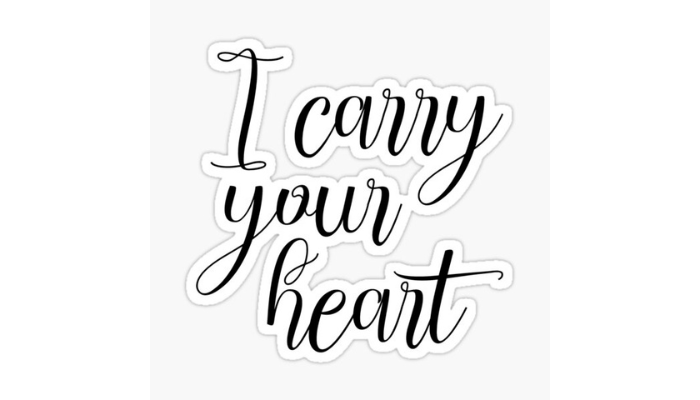 Whatever you do in your life, you're never alone because the love you have stays with you. This sentiment is nice for a sticker to remember someone, especially if they loved reading.
12. Until We Meet Again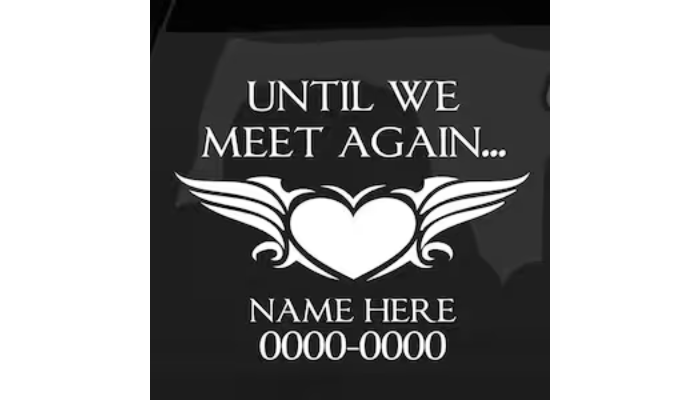 A lot of people think that when we die, we'll meet our close ones again one day.
Different religions have many ideas about what happens after we die. If you have faith, having a sticker on your car that shows your belief might make you feel better.
13. Your Wings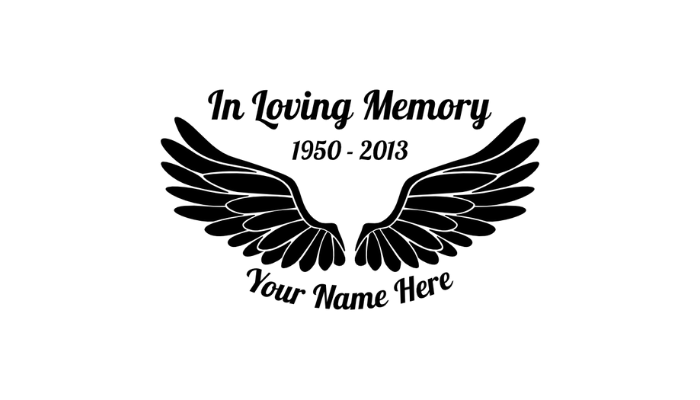 Lots of people feel better when they imagine their loved ones who have passed away as angels. However, if you think your close ones are now angels, it might not always make you happy.
This decal shows this mix of feelings really nicely.
14. Dragonfly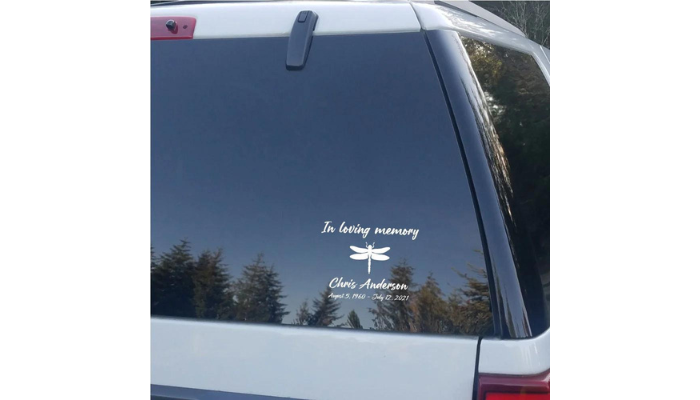 You were like a dragonfly in our lives, a lovely and brief present. You left us too early, but your spirit will always make us feel better.
Your life was similar to a dragonfly, a shining and elegant light. You will forever be in our hearts a valuable and enduring image.
We remember you fondly as someone who lived with happiness and grace and who shared love and wisdom with us. You are our dragonfly, our precious inspiration.
15. Forever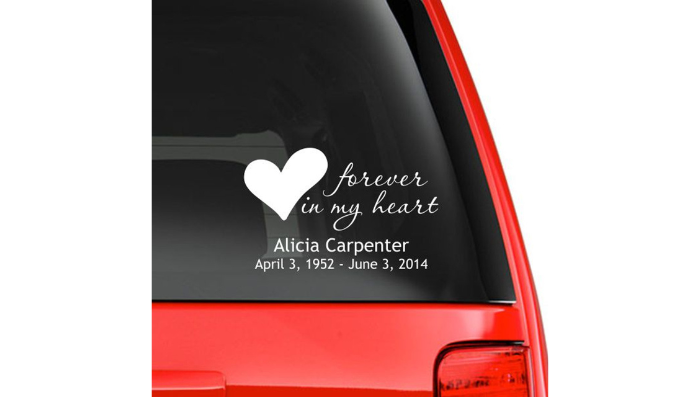 The people we care about don't truly go away forever. If we keep them in our thoughts, they continue to exist in their special manner. A memorial sticker with such a message demonstrates how devoted you are to preserving the memory of your loved one. If you wish to include the deceased's name, you can do so.
The Benefits of in Loving Memory Stickers
Every person buying in-loving memory stickers has their own personal reasons for making the purchase.
Certain people use these stickers because it makes them feel more connected to their loved one, as it brings back memories of the person who passed away every time they enter their car.
It can also comfort people who are sad because they believe their close one is always with them, no matter where they are.
People buy these things to help others remember to value their own closed ones, as nobody knows when something might happen to them.
Another reason people use memorial stickers is to raise funds. If you've set up a fund in memory of your loved one who passed away, the sticker design ideas can help inform people about how they can contribute to the fund.
Tips on in Loving Memory Sticker Ideas
Numerous types of memorial stickers are for sale. Picking the best one depends on your preferences and what would be meaningful to your loved one.
You can buy a decal with just words like "In Loving Memory" followed by the person's name, dates of life, and a beautiful message.
Also, you can discover options that have all those specifics, including an image. You're free to pick an image you enjoy or one that represents your dear one.
Since these memorial stickers can be personalized, most sellers will let you choose the words you want. This works because the sticker is printed, giving you lots of choices.
Mockup Generate With These Sticker Ideas
Once you have In loving memory sticker ideas, the next step is to create mockups featuring your designs. It helps in providing a visualization of how the product will appear in real life.
For that, you will require a tool that is free of cost. Mockey is the solution to that problem. Downloading mockups without watermarks is made easy with this tool. Users enjoy its hassle-free interface.
Conclusion
We have covered 15 in loving memory sticker ideas for your close one.
In the same way that memorial t-shirts have become a niche item, memorial decals are becoming a popular way to observe someone's life. It's a distinct way to remember a closed one that seamlessly integrates into your daily routine.
With the widespread availability of POD services like Blinkstore, memorial stickers are now easy to get and budget-friendly.
Collaborate with a creative friend or designer to make a unique keepsake. Memorial stickers are a subtle and imaginative approach to paying tribute to someone special.