Are you looking for new settings or a guide to send a Snap with the cartoon face Lens? If yes, it's great that you are here because the top articles ranking for this keyword do not use the correct method of sending a Snap with the cartoon face Lens.
Why so? The main reason is they are writing the steps from reference articles rather than using the practical method. This means All the previous articles have used the old method.
Now, the Snapchat app has been updated. New updates bring some changes.
The top articles could have applied the same steps on Snapchat to see if the steps were working or not.
Don't worry. This article will show you the correct steps to show you how to send your cartoon face Lens Snap. If this article ranks, then all of you will get an idea of ​​its correct steps. Otherwise, it's not in our hands.
Table of Contents
What Are Cartoon Lens on Snapchat?
This popular cartoon filter came out in 2020. Disney-style characters inspired it. With the cartoon face Lens, your face becomes a Disney character, letting you notice yourself in that fun, animated style. If you are searching to send a Snap with the cartoon face Lens, use these filters and find out which Disney character you look like the most! Enjoy an activity with your friends using the feature!
Is Snapchat's Cartoon Filter Popular?
Ever wonder why cartoon face filters are everywhere on social media? Users can become famous characters, like those from Pixar or Disney, with cartoon effects.
Users of Snapchat can share videos pretending to be princesses and mimicking famous movie characters.
You can make your picture more attractive by adding cute cartoon eyes using a cartoon face Lens. Using the cartoon face filter in your Snap will get you extra attention. Right now, this cartoon face Lens is very popular on Instagram, TikTok, and Facebook.
So, how to use it then? Look at this quick guide on how to send a Snap with the cartoon face Lens.
Quick Method to Send a Snap With the Cartoon Face Lens
If you don't have enough time to read our full article, understand the settings quickly.
Here is a quick guide to send a Snap with the cartoon face Lens:
Open your Snapchat. The camera will open automatically.
Swipe left the Lens.
Click the magnifying Lens option in the bottom right.
Type "Cartoon" in the search box and choose any Lens.
Once you have taken the Snap, click next.
Lastly, send your Snap with your friends.
Brief Guide to Send a Snap With the Cartoon Face Lens
If you don't understand the quick guide completely, read this brief guide. We have discussed briefly step by step.
1. Open your Snapchat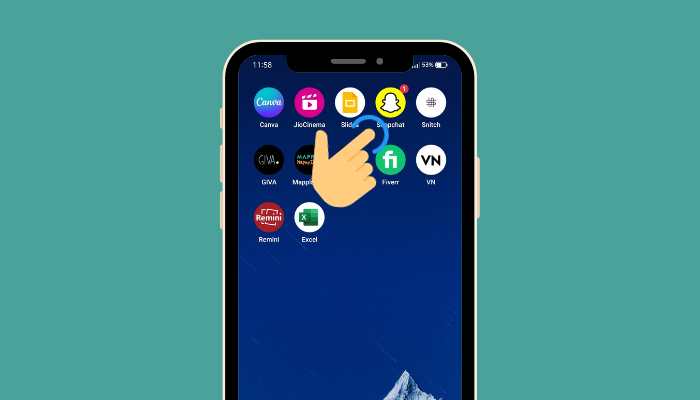 On your mobile phone or tablet, open the Snapchat application. As soon as you open Snapchat, the front camera screen will automatically appear. To switch to the rear camera and use the cartoon Lens on somebody else, just click the two arrow icons at the top.
Lenses are magical filters that instantly change the look of your camera by detecting faces.
Lenses are applied before you capture a Snap. You can apply both filters and lenses in one Snap.
2. Swipe Left the Lens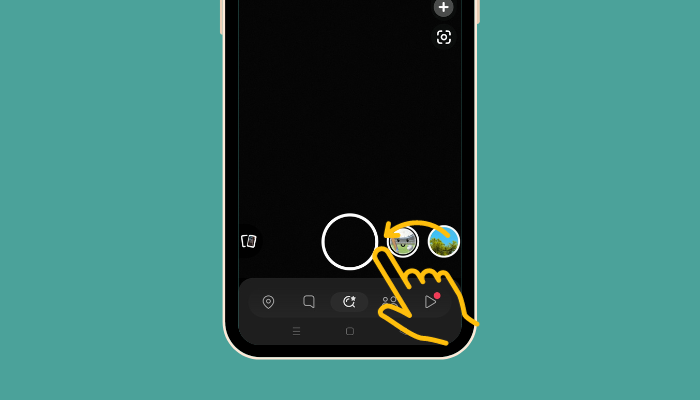 The next step is to swipe the Lens to the left. The Lens carousel will expand.
When taking pictures of someone with lenses, make sure you capture their whole face in the area of the frame. Ensure that the room is dark because poor lighting can affect the performance of facial recognition.
3. Click the Magnifying Lens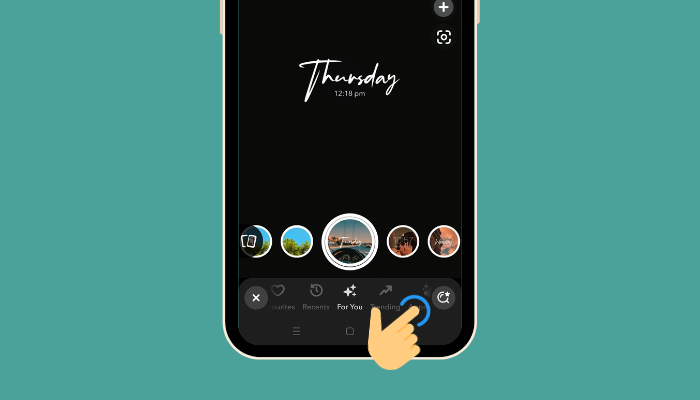 In the next step, click the magnifying Lens option in the bottom right-hand corner.
4. Type "Cartoon" in the Search Box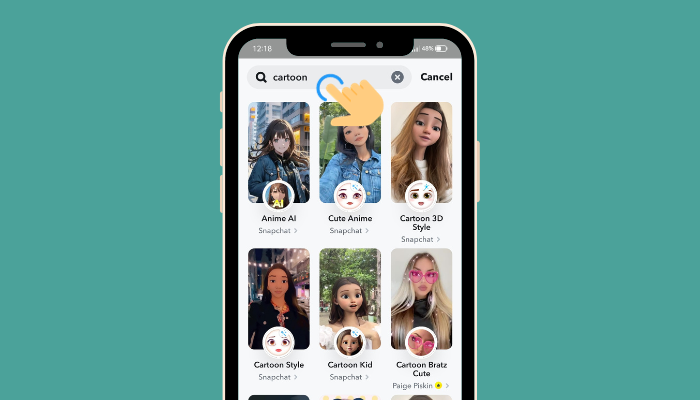 Now, type "cartoon" in the search box. Snapchat offers various cartoon Lenses, such as "Cartoon Anime AI" and "Avatar Cartoon." Choose the one you prefer from these options. If you really enjoy this Lens, just tap on "Favorite" to save it to your Favorites. After that, locate it easily later on.
5. Take Your Snap with the Lens
After you discover the cartoon Lens, press the Capture button and hold it to make a video using that Lens. If you prefer to Snap a picture, just click the Capture option once. If you've Snapped a picture, just touch the stopwatch symbol on the preview's right side to decide how long your friend can see it.
6. Share Your Snap with Your Friends
After you click Next, a page will show up with a list of friends who can receive your Snap, and you can also choose to add to the Story. Choose a friend and then click on the icon of an airplane. You used a cartoon face filter in the Snap you sent!
That's it. We have covered in this thoroughly how to send a Snap with the cartoon face Lens.
Where Are the Favorite Lenses in Snapchat?
The Cartoon Face Lens is widely used on mobile devices, making it popular and leading to various versions being available. Certainly! The cartoons on Snapchat are not restricted to just a few; there are numerous Lenses to choose from. We've chosen the top 4 favorites for you to use.
1. Anime AI Cartoon Face Lens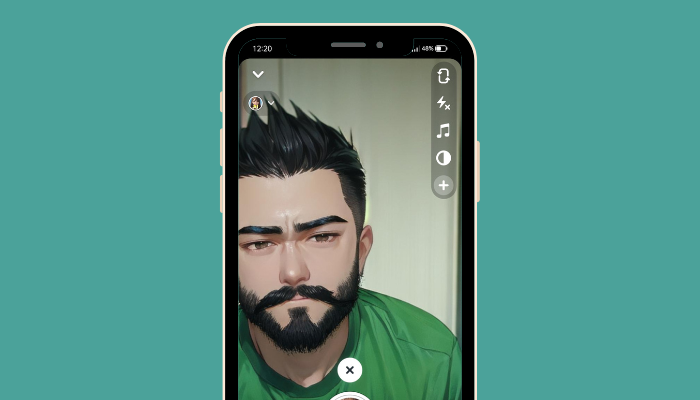 This Lens transforms your photos with a Japanese art-inspired look. You don't need to use any anime AI art generator to create images. This Lens can help your photo turn into anime. It became popular in 2020 after being shared on TikTok, leading to the creation of viral videos.
2. Avatar Cartoon Face Lens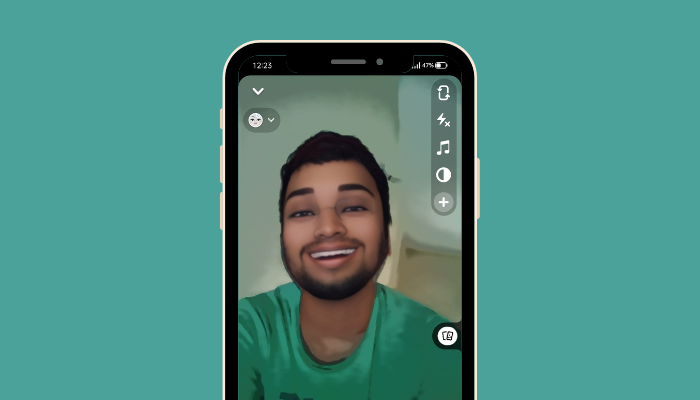 This Lens is popular because it transforms us into characters that look similar to AI avatars with the use of an AI avatar generator. Many people love to share these cute avatars on popular social sites such as Instagram. This avatar is so good that you can upload your image to your Instagram and use an excellent Instagram caption to amaze your friends.
3. Cartoon Kid Lens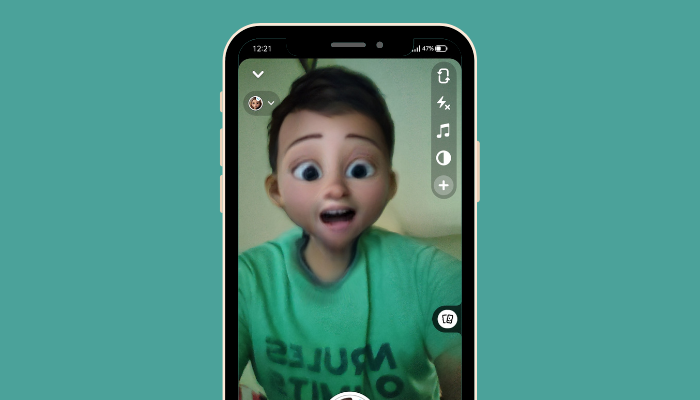 This filter not only turns your look into a Cartoon but also shrinks it, making it look like a child's head.
4. Cartoon Style Lens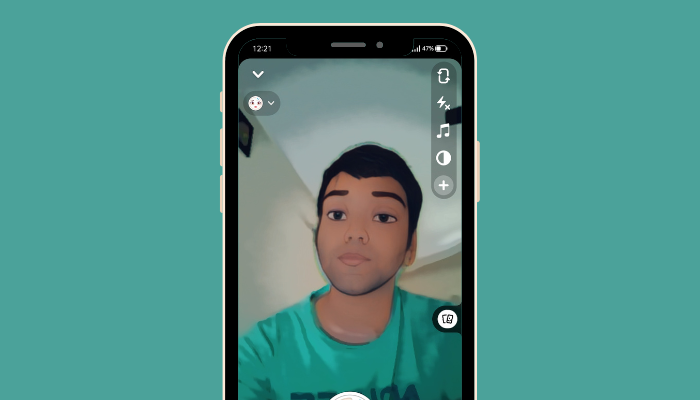 Snapchat made this Lens in the year 2020 to transform your appearance into a Disney personality by changing your hair, eyes, and eyebrows.
Apart from the cartoon lens, you can also unlock the butterfly lens, which is popular.
Cartoon Lens vs Anime Filters: What's the Difference?
A Lens is like a dynamic virtual animation, while a filter is a fixed picture overlay.
Snapchat filters are static images or effects placed on top of photos or videos, while Lenses are more dynamic and interactive. The Lenses of Snapchat are animated effects that not only change how you look on your screen but also change your voice.
Problems and Troubleshooting
When using Snapchat's Cartoon Face Lens, you might face some common problems. Ways to fix them:
Ensure that you use the latest Snapchat app for the Cartoon Face Lens to work correctly. If you have the new version, just close and reopen the app.
Sometimes, the Cartoon Face Lens might make your experience laggy or slow. This might happen if your device is running out of space or doesn't have enough memory.
Make sure you're in a good area if the Cartoon Face Lens isn't showing up correctly on the face.
If you can't save or send Cartoon Face Lens snaps, review the connection of your internet.
Make sure your Snapchat ID and password are entered correctly if you're having difficulty accessing your account.
Bottom Line
Thanks to Snapchat's filters, transforming your appearance to match your favorite cartoon character is now a breeze.
These 6 step guides can definitely help you to send a Snap with the cartoon face Lens.
Send your friends a Snap with the cartoon face Lens every day, creating a chain called a streak. Snap cartoon selfies daily and compete with friends to keep the longest streak. Having more friends means more enjoyment, and you won't be bored anymore!
Still, if you need help regarding this topic, here is a quick video tutorial: send a Snap with the cartoon face Lens.
FAQs
How do you get the Cartoonify picture on Snapchat?
When you open Snapchat, you will be redirected to the camera section automatically. Or Find the camera option and swipe left all the Lens carousel. Choose Explore and look for the cartoon you like by typing cartoon in the search box.
Can you send filters on Snapchat?
To send a Snap with the cartoon face Lens with your friend, just click Next and look from the Recent option to share in the Chat.
How do you use cartoon filters on Instagram?
To use cartoon filters on Instagram:
Use your Instagram camera and swipe left to find your saved filters.
Keep swiping left and click on Browse Effects.
Find the filter by searching for names like Cartoon Face.
To try, tap the filter and save it to your camera.
Try out filters on videos or photos and share them with friends!