The quick steps will show you how to change Snapchat AI gender regardless of the level of experience you have with Snapchat.
Say hello to the Snapchat world, a popular and successful social media platform famous for its creative features and continuous growth. Snapchat gives you a chance to personalize your AI experience, for example, the AI gender and the AI chatbot representation.
We'll explore how to change your AI gender on Snapchat in this entertaining and informative post and walk you through the quick steps of customizing your Snapchat experience.
Table of Contents
A Quick Guide on How to Change Snapchat AI Gender
Follow this quick guide to change AI gender on Snapchat:
Open your Snapchat.
Go to the Chat option.
Look at the My AI profile and open it.
Click the Profile image of MY AI.
Click Customize, then select Avatar.
Select the gender of your choice.
Modify the skin tone, eyes, and hair features.
Lastly, Click Save.
What Is Snapchat Actually Used For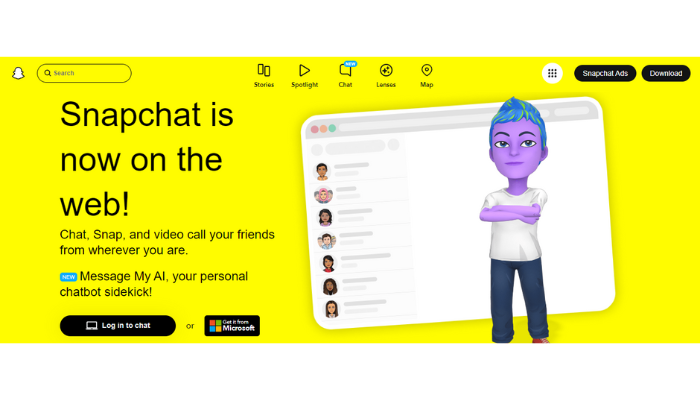 Snapchat is a popular software and messaging platform built in the USA. Its primary components comprise text and images, which remain viewable to recipients for a limited time before becoming inaccessible. Now, it's not just about photos anymore. They've added stories in the last 24 hours. Discover where businesses and people can show us short ads.
Following OpenAI ChatGPT's success, numerous competitors emerged in AI chatbots. Snapchat My AI stands as a noteworthy contender among them.
Why Change Your Snapchat AI Gender?
In My AI, you can modify your gender, but you can also customize how it represents your real self. Why it works is as follows:
Appropriate representation: Your Snaps will always reach those who need them and be customized to their tastes.
Excellent Interactions: When your My AI effectively captures, it makes connecting with people more meaningful and promotes genuine connections.
Individuality and Self-determination: By customizing the AI gender, you can accept your individuality and express yourself freely.
Brief Guide on How to Change AI Gender on Snapchat
This is a brief guide on how to change AI gender Snapchat.
1. Open Your Snapchat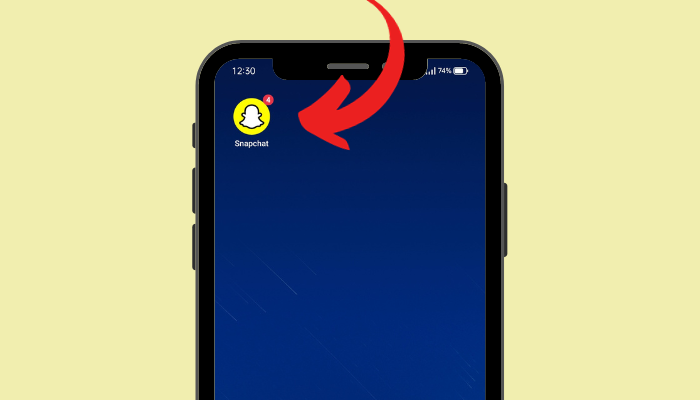 It's obvious you must have already downloaded the Snapchat app. Now, open your account. You need to be logged in to Snapchat in order to use it.
2. Go to the Chat Option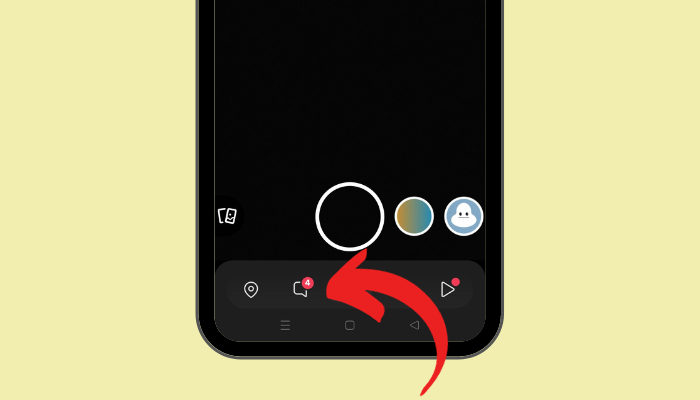 When you first download the app, a pop-up will appear asking you to access the camera if you haven't already. Please allow it. Then, from the options that are listed below, click on the Chat option that appears.
3. Open the My AI profile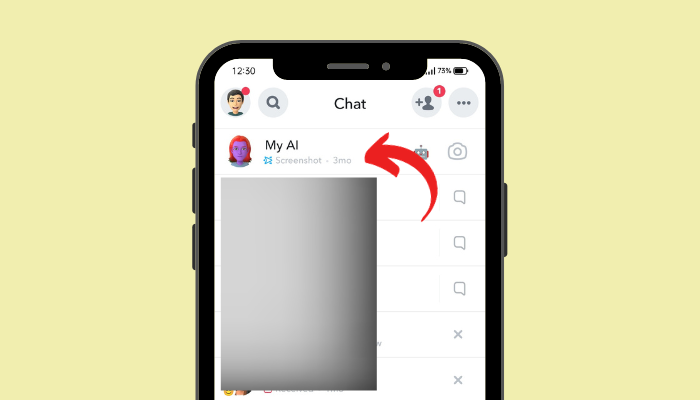 Then, please open the My AI profile on Snapchat and take a look at it.
4. Click the Profile Image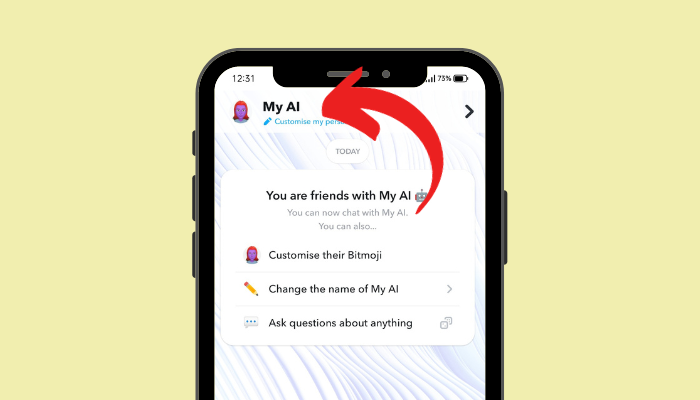 The next step is to click on the profile icon of My AI at the top left corner of the screen.
5. Click Customize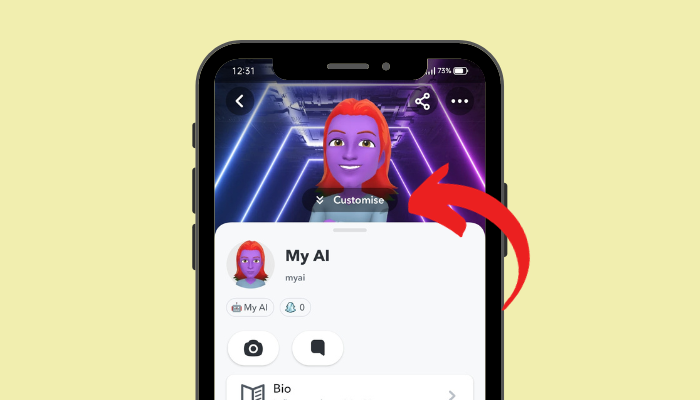 You can now see the option Customize on the centre of the page. Then click on the option that says Avatar.
6. Select the Gender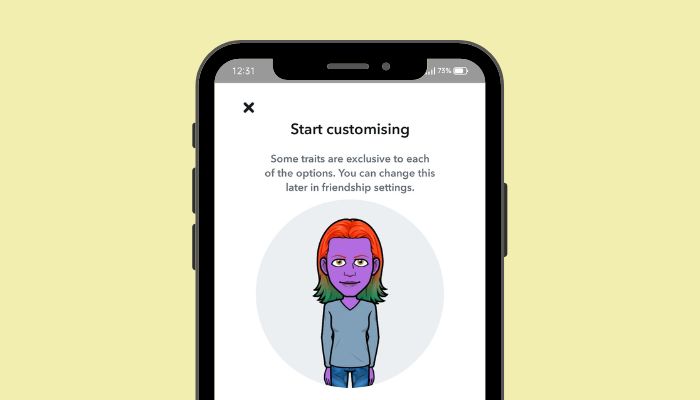 Select the gender of your choice. It is possible to change this later on the friendship settings page.
7. Modify the Skin Tone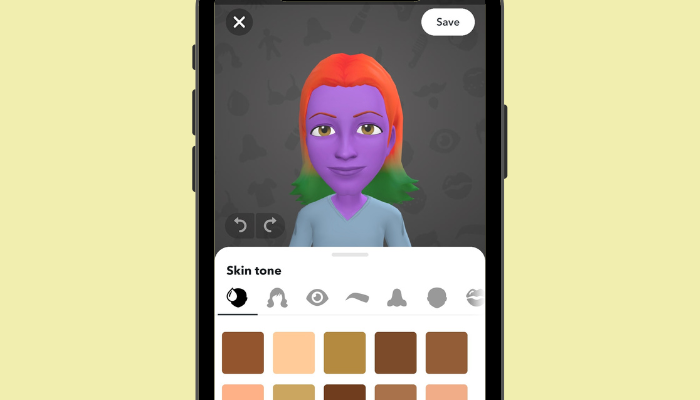 The last step in the process is to modify the skin tone, the eyes, and the hair features.
8. Click Save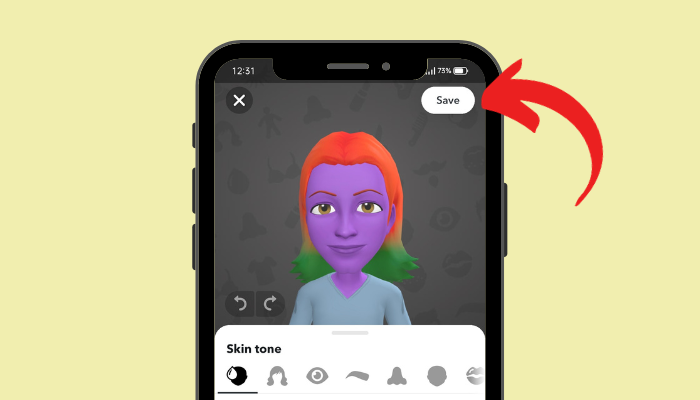 Once you click the "Save" option, your personalized AI chatbot will be provided to you immediately.
How Do You Customize Your Snapchat AI?
To customize Snapchat My AI avatar:
Navigate to your My AI friendship profile and select the 3D Bitmoji heading.
Select "Avatar" to modify the Bitmoji's appearance. Click "Save."
Select "Outfit" from the menu to see an extensive range of clothing options for the Bitmoji. Select "Save."
Customization Features of My AI
With My AI, you can customize the Avatar, outfit, chat wallpaper and color features according to your needs.
Avatar: Customize skin tone, hair color, hairstyle, hair treatment, eye shape, eyelashes, eye size, eye spacing, eye color, eyebrows, eyebrow color, nose, jaw, face shape, mouth, ears, right and left hearing aid, cheek lines, forehead lines, eye lines, body type, chest size, earring pairs, right and left earring, nose piercings, right and left brow piercings, lip piercings, tongue piercings, eyeshadow, blusher, lipstick, glasses, and headwear.
Outfits: Customize tops, bottoms, dresses, footwear, socks, and outerwear.
Wallpaper
Chat color
Snapchat AI Gender Key Features
You can modify the hairstyle, face tone, and clothing of your AI.
Your AI's gender and look will change.
As often as you like, you can alter the gender of your AI.
How to Use My AI on Snapchat?
Just start a discussion with another buddy to use My AI.
After that, you are free to discuss whatever is on your mind. As a human, my AI can speak on a variety of topics as a person does. Getting information for your schoolwork or requesting dinner suggestions can be done through the chatbot.
As with any other user, My AI can be added to your group chats. Like true friends, My AI learns more about you with each face and evolves its responses to be more useful over time.
You are able to delete any discussion you have by navigating to Settings < Privacy Controls < Clear Data < Clear My AI Data.
Does Snapchat Have an AI Filter?
Yes. Snapchat offers an AI filter capable of turning your face into an AI anime character. To access and use the Anime AI lens, follow these steps:
Hit the search icon on Snapchat to start searching.
To use the Anime filter, enter "Anime AI" and hit it.
Touch the screen while aiming the camera at your face.
Does Snapchat AI Filter Gender Accurate?
In spite of its impressive results, Snapchat's AI gender filter is primarily an entertainment feature. Depending on factors like features of the face and lighting conditions, the transformation can be inaccurate.
How Does Snapchat's AI Gender Filter Work?
With the AI Gender Filter on Snapchat, you can change the gender appearance of the AI chatbot, also called "My AI." As a result, you can now communicate with a virtual friend to express your personality and interests.
My AI is more than just a typical chatbot because it is supported by ChatGPT, an A language model created by OpenAI. It aims to be a kind of virtual buddy of yours and able to hold deep discussions, provide insightful answers, and make sure you have a fun and educational Snapchat experience.
Consider interacting with an AI chatbot on Snapchat that knows you, adjusts to what you want, and boosts your experience like never before.
How Do I Change My AI Name?
Personalized chatbots can have names that reflect their personalities. The following are steps to take:
Open your My AI Friendship Profile.
Tap the "My AI."
You can change your nickname in the box that will appear.
Select the name you prefer, then hit "Save."
How to Clear My AI Chat History & Delete AI?
When you delete all your interactions with the AI and any data it may have collected about you by following these steps:
Click the Bitmoji.
Then, hit the Setting option.
Tap "Clear My AI Data."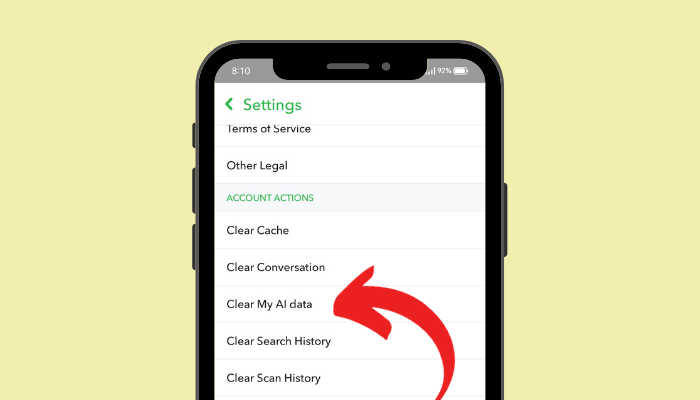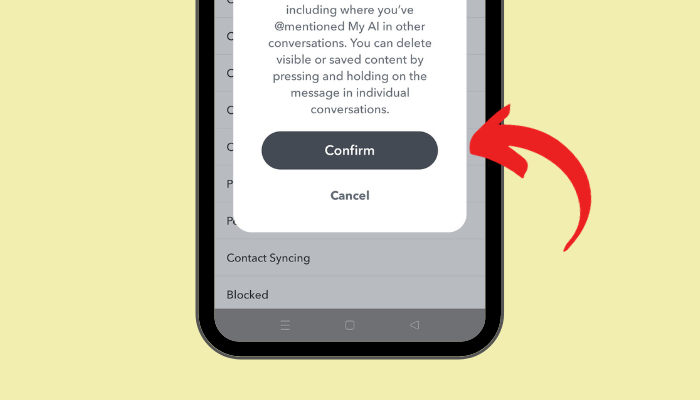 This will allow you to remove the Snapchat AI from your account completely by following these steps.
Visit the Snapchat app.
On the screen's upper left corner, tap the Bitmoji you want to use.
Tap the setting option.
Click "Account Actions" after scrolling down.
When prompted, select "Delete My AI" and give your confirmation.
Clear My AI Chat History for Phone
Once you open Snapchat, swipe right from the camera screen.
On the conversation list, tap "My AI".
Start your conversation.
By clicking the "+" icon, you can add to your group chat and select "My AI."
Choose Privacy Control < Clear Data to delete a communication with My AI.
Confirm "Clear My AI Data".
Who Developed Snapchat and Why?
Reggie Brown, Bobby Murphy, and Evan Spiegel founded Snapchat while students at Stanford University. Additionally, this social network highlights user engagement, virtual stickers, and natural objects in a mobile-first approach. 293 million Snapchat users were active as of 2021, a 23% increase from last year. Every day, over 4 billion people use and send snaps. There are many privacy concerns raised by this platform, especially among people under 16 years of age.
Ethics and Privacy: A Summary
Snapchat highlights the value of responsible usage and privacy while allowing you to change AI gender and customize the AI chatbot. It's important to use extreme caution when it involves customization power. Like all the private details, your data is handled with the best care and privacy concerns.
Snapchat provides an easy and hassle-free way to start again or modify certain parts of the AI chatbot at any time. To access the "Privacy Controls" option, simply navigate to the Snapchat settings. You can delete the data associated with the AI chatbot in this part, which will give you a fresh start when it comes to customizing it. We have also covered in detail how you can delete the data. Keeping your privacy in control is up to you, and Snapchat makes it easy.
Take Advantage of Snapchat AI
With the filter of Snapchat's AI Gender and AI chatbot features, users can communicate honestly and freely in great ways. The AI chatbot can be made to look and feel just like you, engaging you in a unique experience. The AI chatbot turns into your virtual friend, improving social media activities by participating in group conversations, one-on-one discussions, and enjoyable exchanges.
With Snapchat, you can fully use Snapchat AI, no matter if you are on Android or iOS. The AI chatbot is a part of your Snapchat ID, which makes using this dynamic social media network even more enjoyable. Thus, control how the AI chatbot is customized, delete the AI data whenever you want, and enjoy the freedom to express yourself honestly with your AI friend.
More Information on How to Change Snapchat AI Gender
As long as users of Snapchat have the most recent version installed on their Android or iOS smartphone, they can use Snapchat AI gender from anywhere.
Even though users can change the filters and accessories, the basic modification is automated by considering the user's facial characteristics and can only be modified in certain ways.
If every face is visible and properly aligned in the camera frame, then more than one face can be filtered with the same gender.
It is currently restricted to making videos and capturing pictures within Snapchat; video calls are not supported.
Is the Effort Worthwhile?
Snapchat's customizable interface and AI gender filter let users rethink how they engage with the service, creating a more welcoming and private experience. By following a few easy steps on how to change My AI gender on Snapchat, users can make sure that "My AI," their virtual friend, adds pleasure. To guarantee a safe, entertaining, and engaging Snapchat experience, users must continue to practice privacy management as they adopt this technology.
Conclusion
To sum up, this blog has offered a simple and quick explanation of how to change Snapchat AI gender. You can change your appearance in a few easy steps, including your skin tone, hair color, and attire. The chatbot you create with a little dedication can be almost identical to you. Feel free to customize your Artificial Intelligence to give it an amazing touch that remembers your nature!
Whether creating amazing stories for YouTube, Instagram, TikTok, Snapchat or other social sites, Speechify alternative tools help you change text into audio. But why Speechify alternatives? Why not the Speechify software?
The answer is Just because Speechify is not free, and we have an article discussing free Speechify alternative tools.
Many people want to remove My AI on Snapchat. We discussed how to get rid of My AI on Snapchat in our previous article. You can check.
The following YouTube video tutorial will explain how to change Snapchat AI gender as well: 
FAQs
Can I change Snapchat AI avatar?
Yes, it's true that you can customize the AI avatar. The steps are as follows:
Head to My AI Friendship Profile < 3D Bitmoji heading
To change the Bitmoji's appearance, tap Avatar. Click Save.
Choose 'Outfit' to explore clothing for your Bitmoji.
How do you get rid of Snapchat AI?
Snapchat AI can chat and answer questions. If you are not fond of it, you have the option to delete it from unpin it or the chat feed from the settings. You must pay $4/month for a Snapchat+ subscription in order to achieve that.
Is Snapchat AI safe?
It acts as if it is a friend and is a practical chatbot on Snapchat. It uses the technology of OpenAI and has been trained on a variety of books. Teenagers can not always feel safe using it though because it sometimes results in improper, incorrect, or destructive reactions.
How do you get my AI on Snapchat?
The My AI chatbot offers a variety of functions, including chatting with you, answering questions, and generating content. Update the Snapchat app, hit the My AI chat, and then swipe right. My AI chat is now available on Snapchat.
What devices support the Snapchat AI gender filter?
Most Android devices and iOS support AI gender filtering. For this feature to be accessible, Snapchat's latest app version is required.
Do Snapchat filters work on two people?
Yes. The Snapchat AI gender filter is capable of analyzing and changing many faces in a single image. Just make sure that every face is visible and placed correctly throughout the camera's field of view.