Are you a content creator looking to make your YouTube channel look more professional and polished? Well, you're in luck because today, we're going to talk about 10 websites where you can get free YouTube channel banner templates!
These templates are a great way to make your channel stand out and capture the attention of your viewers.
So, whether you're a seasoned YouTuber or just starting, stick around and let's explore these amazing resources together!
Table of Contents
10 YouTube Banner Template Websites:
Here are 10 websites where you can get free YouTube channel banner templates:
Canva
FreePic
Picmaker
Fotor
Placeit
Adobe
Visme
Snappa
Pixelied
Wepik
Each of these websites offers a variety of templates that you can customize to fit your channel's branding and style. So, explore and find the perfect template for your YouTube channel!
1. Canva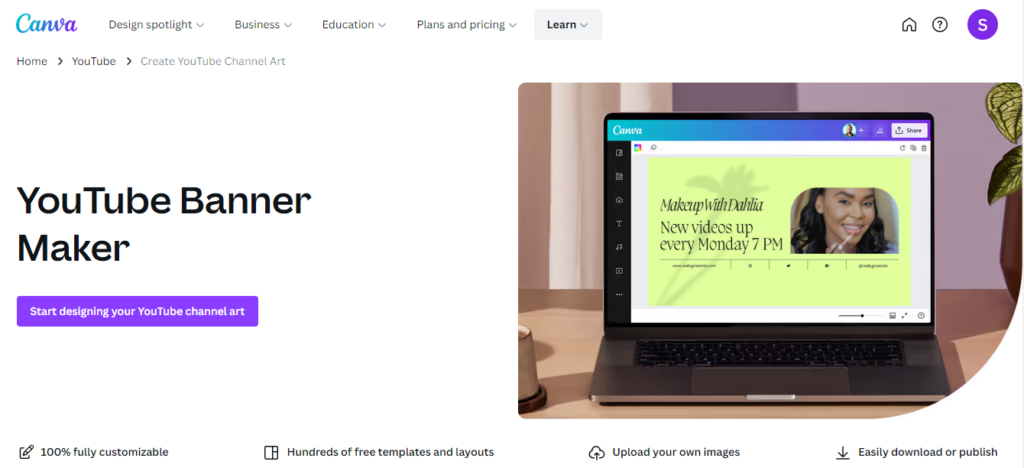 Canva is our first choice when it comes to customising banner templates for your YouTube channel. You can use a variety of tools for free. Easy Signup process.
Key Features:
Customizable templates
Mobile app
100+ free templates
Upload your own images
Easy download
Keep in mind that your artwork must be 2560* 1440 pixels. Each of the designs is specifically made to meet banner requirements.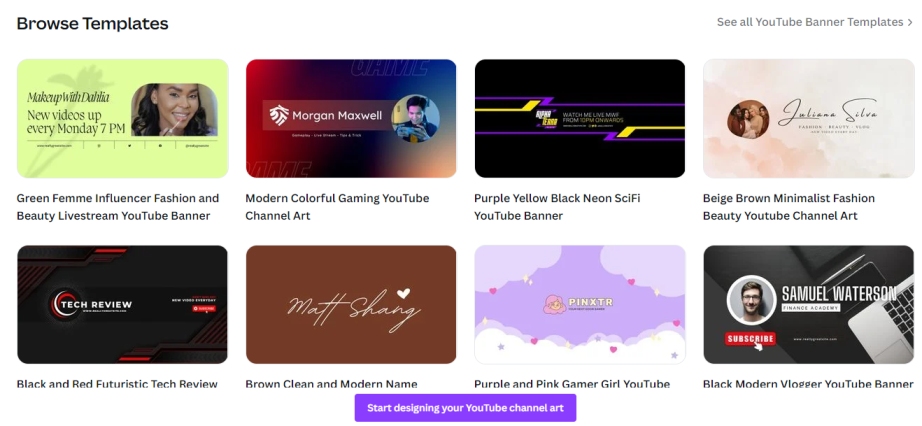 If you have your design, you can instantly upload it and customize it with various tools. Adding all of your design requirements in one place can save time on marketing.
Visit: Canva
2. Freepik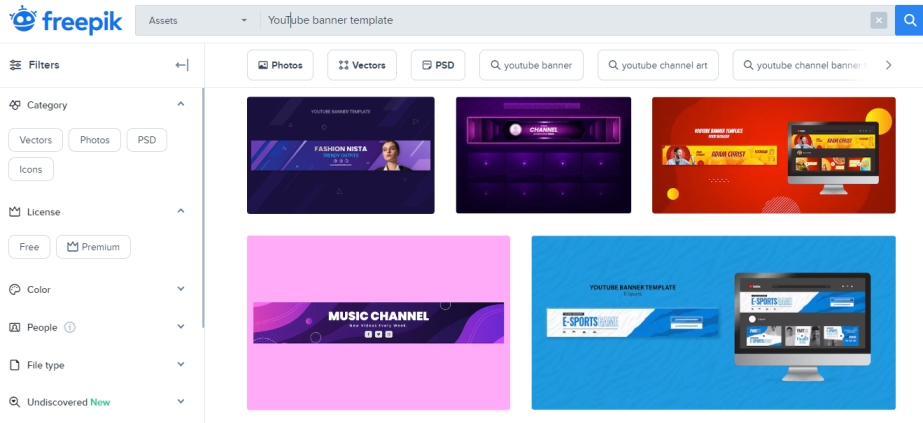 In Freepik, you can get a vast collection of templates. But one thing you need to remember. If you want to customize the template, you must download the preferred template as PSD files and edit it in Adobe Photoshop or other compatible software.
You can customize it in Freepik. You must be thinking, why are we suggesting this website to you? Because this website has 1000+ vectors, PSD files and stock photos. Look at other key features.
Key features:
High-quality images
Free to use
User-friendly interface
In the filter, select the free option to see all the free templates. Don't forget that your channel needs to have a large number of viewers, just like your videos do.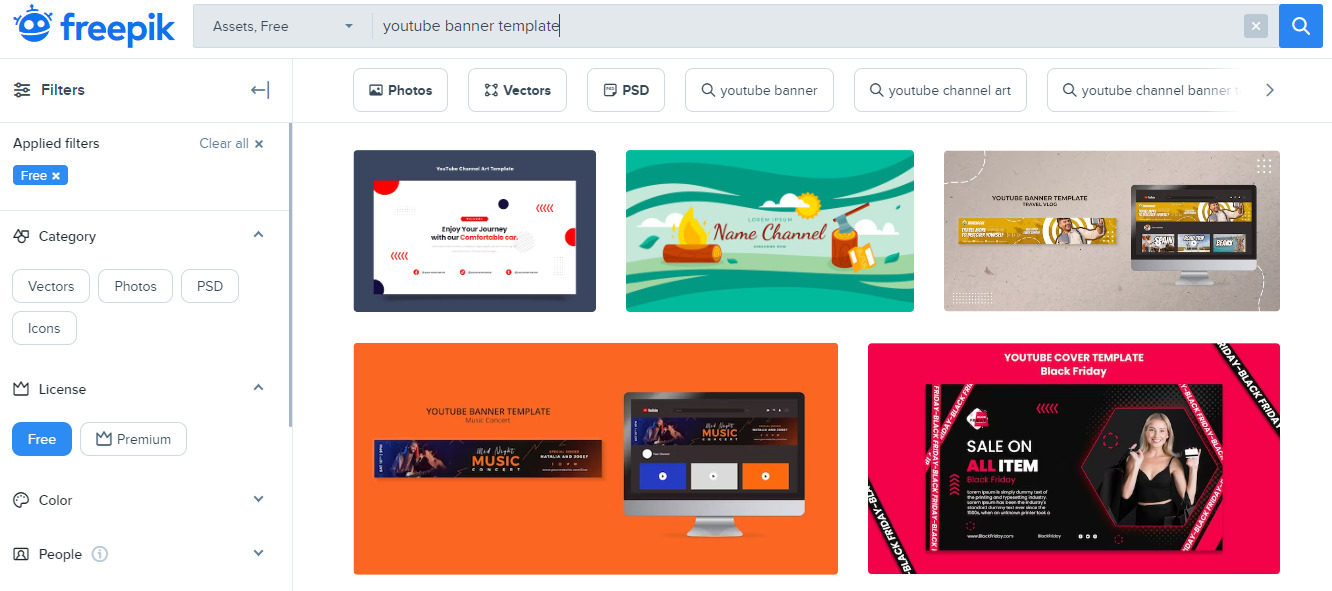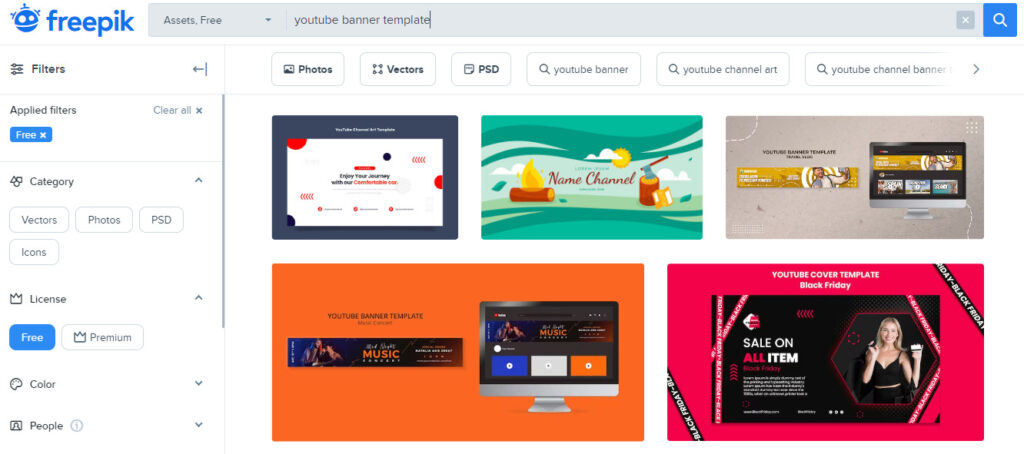 However, if you want the premium version, you can get it, which starts at 1200rs per month (individual).
You can get 46,364,000 images, fonts, and icons in the premium version.
Visit: Freepik
3. Picmaker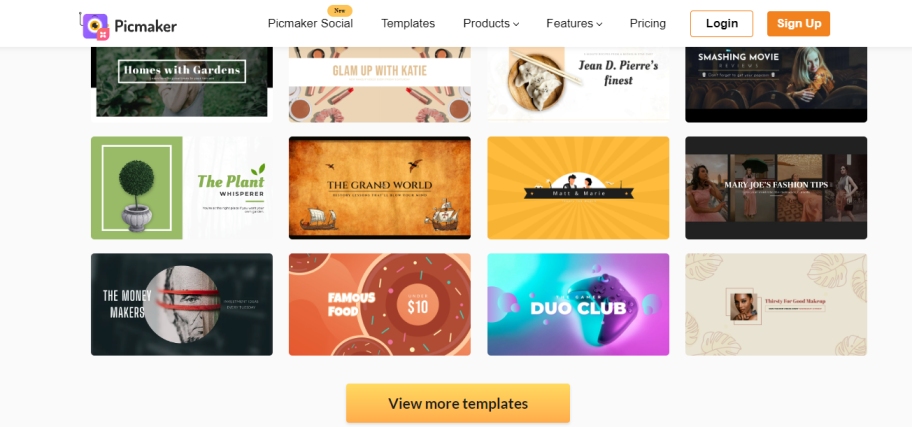 With Picmaker, you can create 2560 * 1440 banners easily, fast, and for free, whether you are a vlogger, gamer, or artist. You can quickly create stunning designs using Picmaker's PSD templates.
Key features:
100% customizable
Upload your images in seconds
Royalty-free images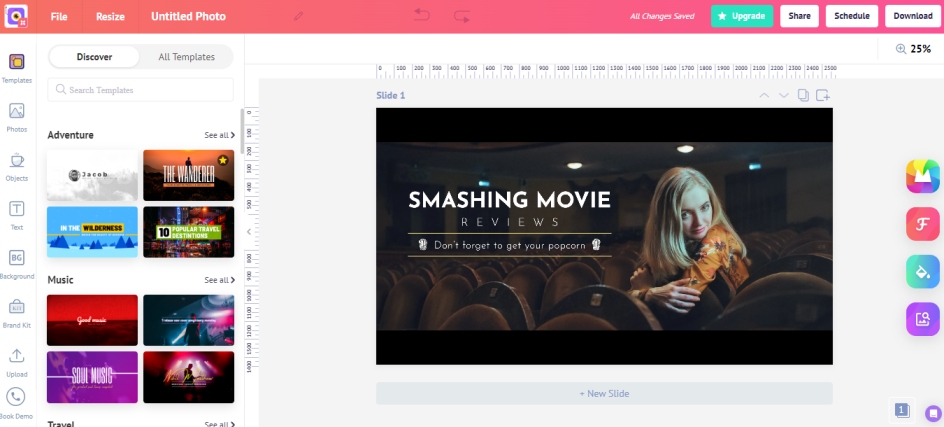 Play with colours, texts, and pictures that your user will find easy to recall. You can include important links to your site and social media pages. Also, you could use a "Subscriber" link to attract more users.
More than 1.5 million+ designs have been created in Picmaker.
Visit: Picmaker
4. Fotor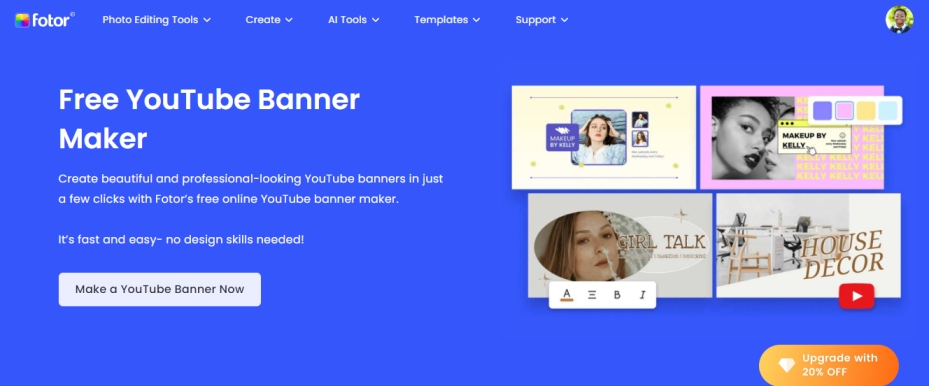 With Fotor's free YouTube banner generator, you can quickly and easily create attractive, professional-looking banners for your YouTube channel.
No skills are necessary. That's why you can make it fast and with ease. It has 1000+ banner templates. Simply select the design that best fits your channel and edit it.
Key features:
Drag and drop interface
Remove background
Royalty-free images
You can design a YouTube banner that accurately captures the aesthetic and theme of your YouTube channel thanks to the availability of illustrations and clipart.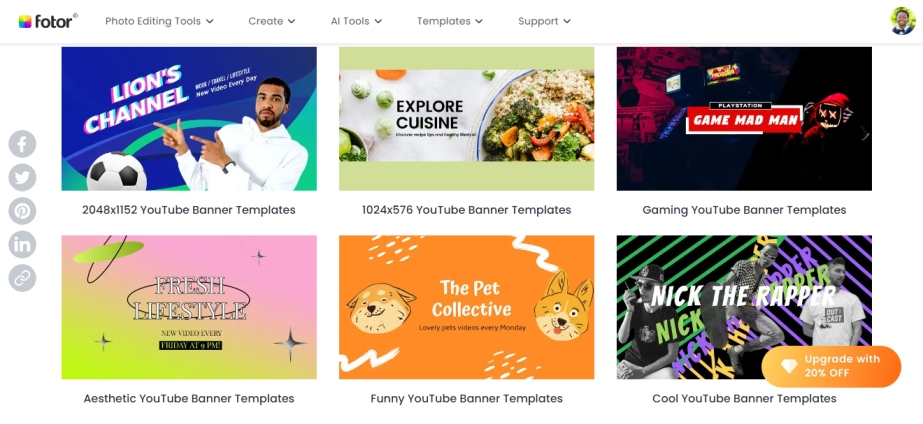 The banner templates from Fotor are the ideal dimension for YouTube. Additionally, you can simply resize the banner design to suit other social media platforms with just one click.
Visit: Fotor
5. Placeit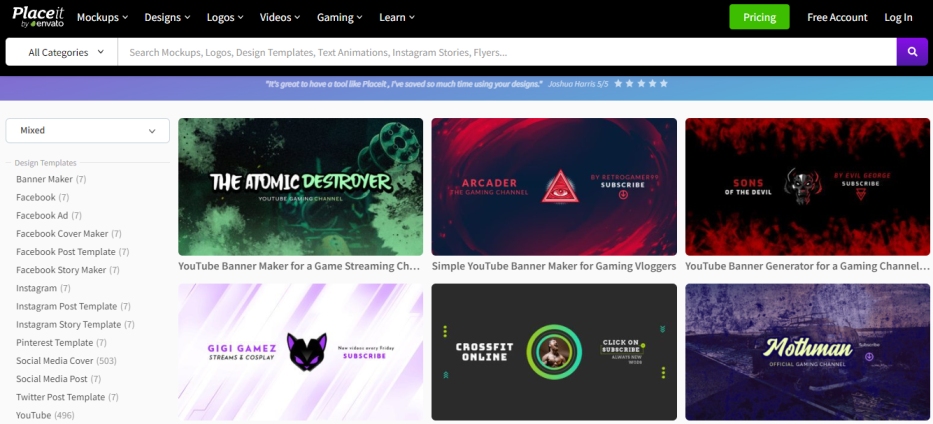 Make compelling and unique banner templates in seconds with Placeit. Placeit has 500+ templates to customize.
You can select from a wide variety of textures and backgrounds and add graphics, images, font styles, and more.
Key features:
Upload your own images
100% customization
User-friendly
You must ensure that your YouTube channel art expresses the purpose of your channel and the benefits it provides subscribers and viewers. You can then start creating your channel banner.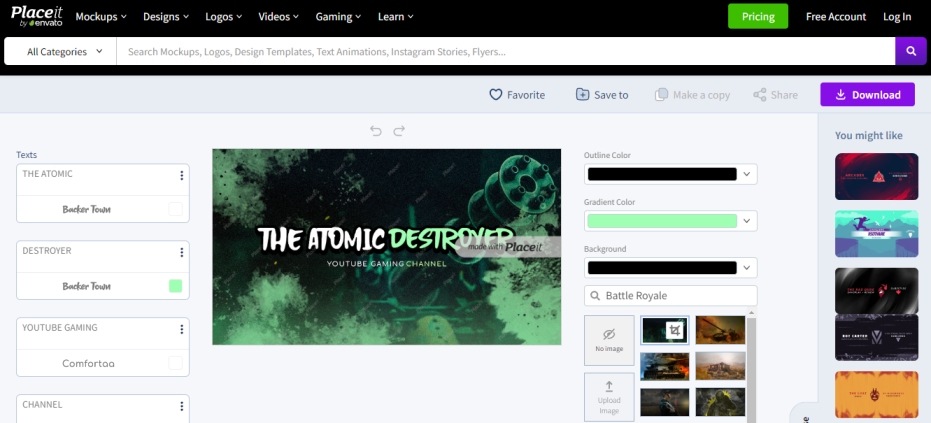 As you know, it serves as the face of your YouTube channel and supports in helping viewers differentiate you from your rivals.
Visit: Placeit
6. Adobe Express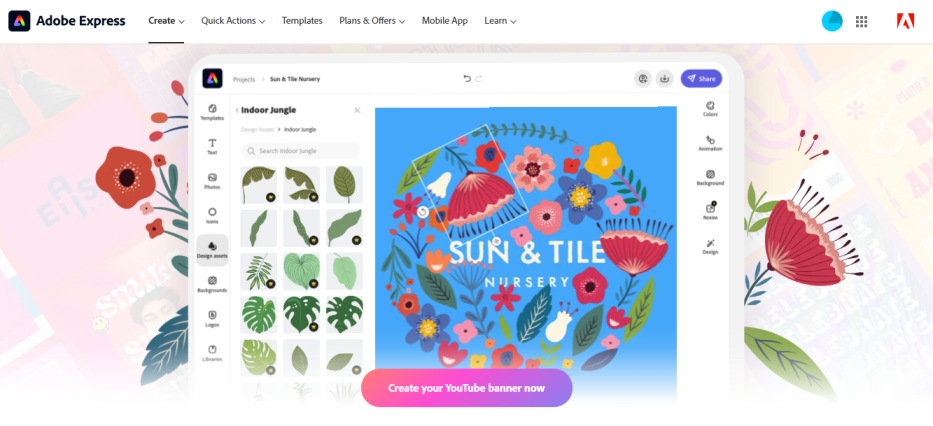 Use Adobe Express editor to quickly create unique YouTube channel banners using free images, icons, templates, symbols, and design resources.
No matter what level of design experience you have, you can use this website for YouTube banner makers to mix eye-catching imagery with the essentials of your own brand. The question is, what could you get with a free plan? Look at the key features.
Key features:
2000+ Adobe fonts
1000+ templates
2GB storage
Royalty-free image collection
Generate on both mobile and web
Some people think that using Adobe is very complex. No, it's easy to use.
First, open the free Adobe Express app on your computer or smartphone. Signup is required.
Then, discover the huge collection of templates. Upload your photos or pick one from the collection of stock photos.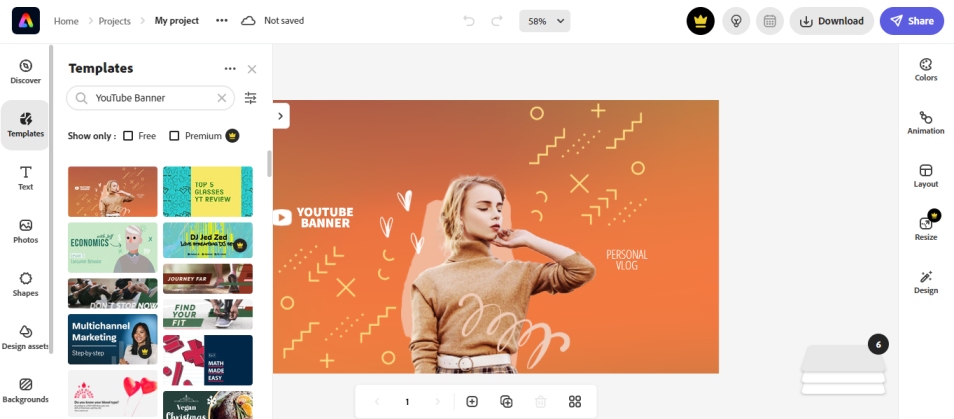 Personalize it. Also, you can insert your logo.
Lastly, download it. That's it.
So grab your ideas and start your journey with Adobe Express.
Visit: Adobe Express
7. Visme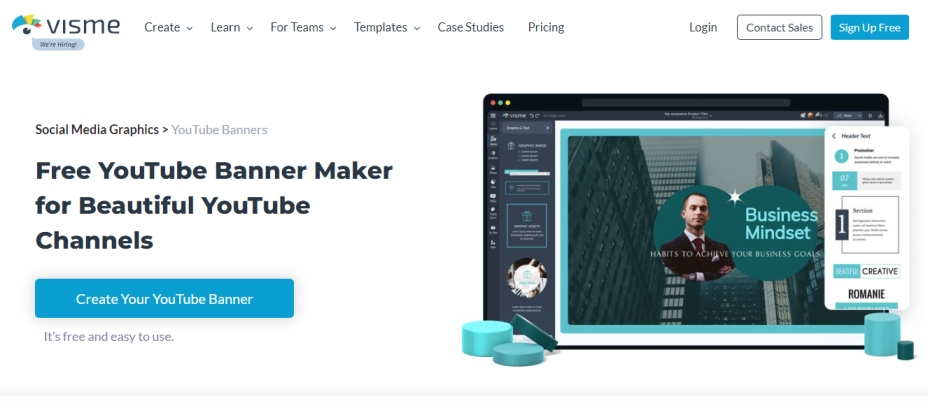 Make the best YouTube channel banner templates with Visme. It's free to use. It is the first choice of 18,235,768+ marketers, executives, communicators, and educators.
Key features:
1000+ high-quality background photos
Drag and drop tools
Custom animation
Stock photos
Easy to use
Every single design fits perfectly in the banner space. You can customize it with various features. Save your design in the JPG or PNG file types to your device.
Try Visme today and take your YouTube channel to the next level!
Visit: Visme
8. Snappa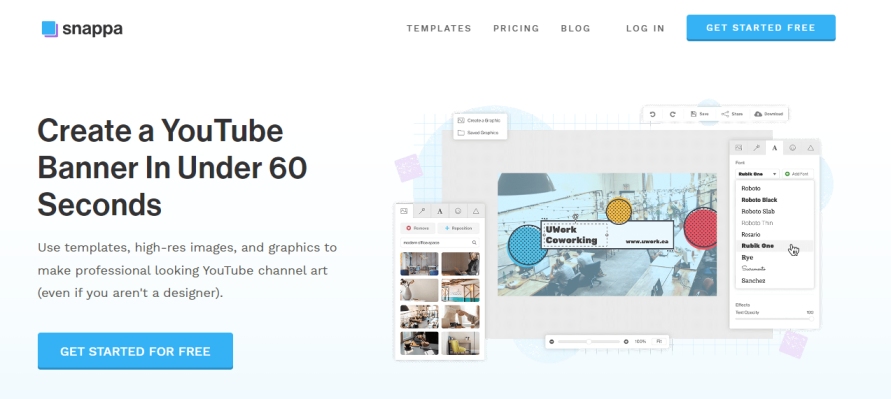 Generate your banner in 60 seconds. No skill is necessary. Seeing its best features, you will know why it is the choice of 100,000+ YouTubers.
Key features:
Intuitive editor
Collaboration tools
Time-saving features
Access the library's 5,000,000+ high-res, royalty-free stock images that aren't cheesy.
It has a wide selection of pre-made templates that are designed specifically for YouTube, which means you don't need to spend time creating a banner from scratch.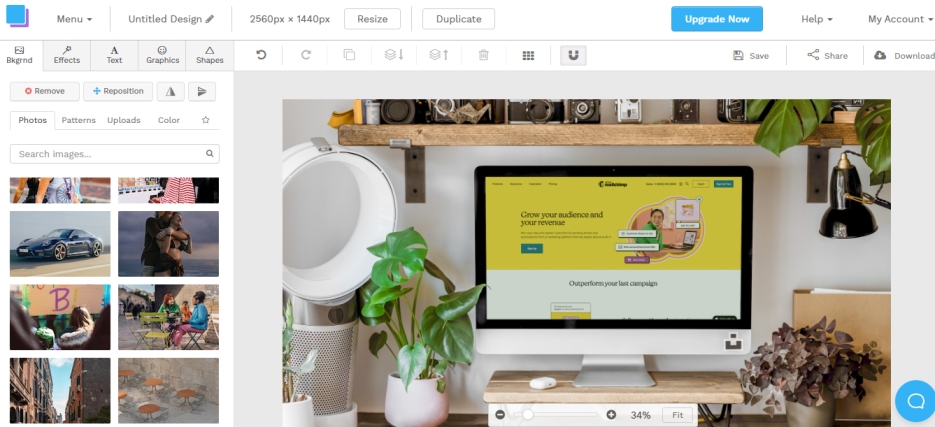 Customize with modified text, shapes, and graphics until the final product is perfectly what you had in mind.
Visit: Snappa
9. Pixelied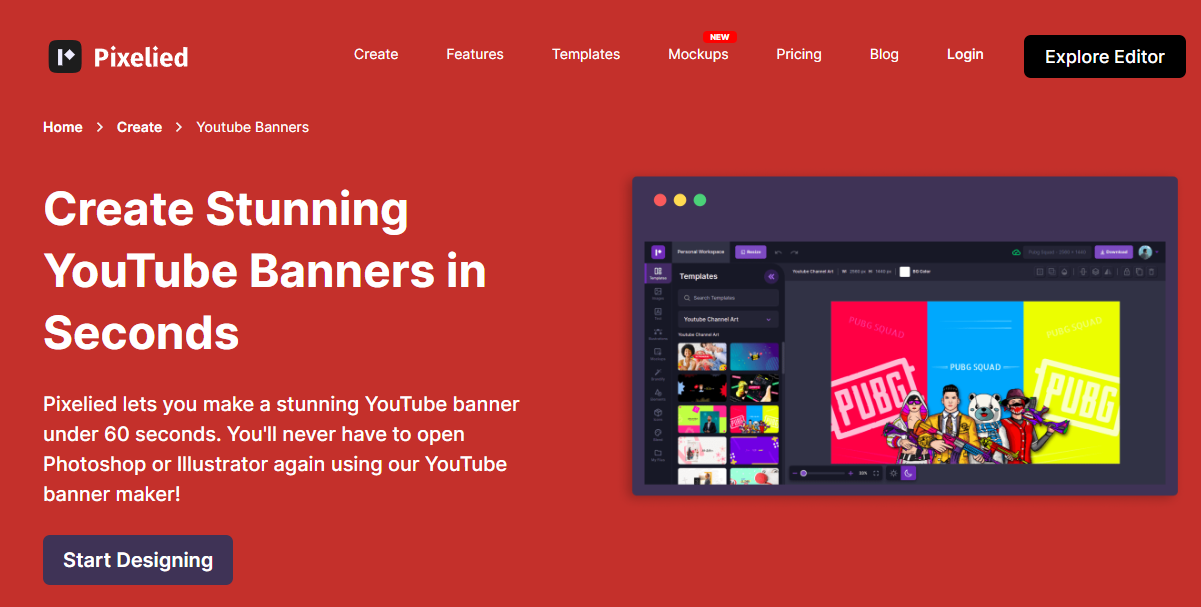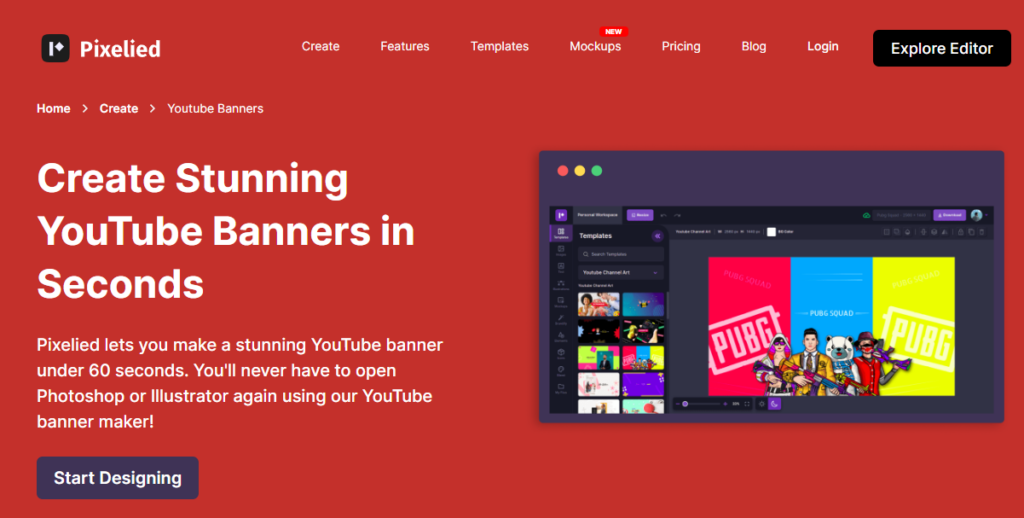 Signup now and explore free youtube channel banner templates. Using Pixelied YouTube banner maker, you won't ever have to access Photoshop again!
The Pixelied YouTube banner generator offers all design editing features in one place to help you quickly and easily create epic banners.
Key features:
Pre-made templates
Background remover
Stock photos
Give your images, objects, and elements a drop shadow effect to improve your banner.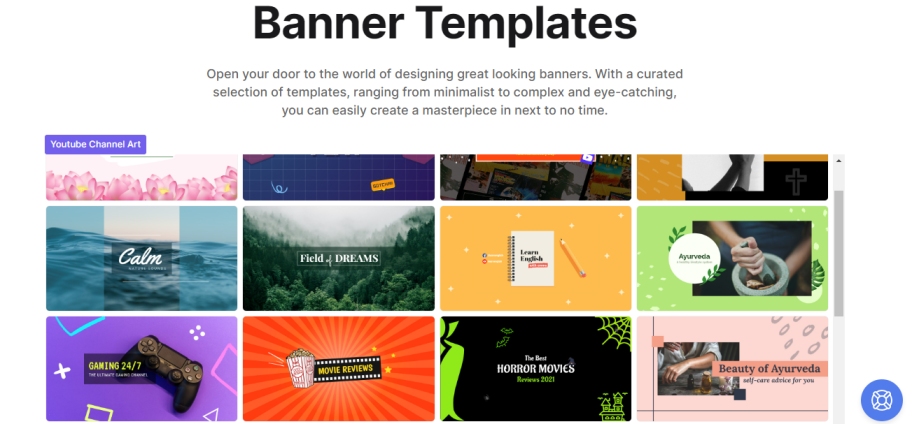 Utilize the 1000+ hand-drawn artworks in Pixelied's library to modify them easily. Every design is accessible for both personal and business use. As a result, no credit is necessary when using these graphics.
Visit: Pixelied
10. Wepik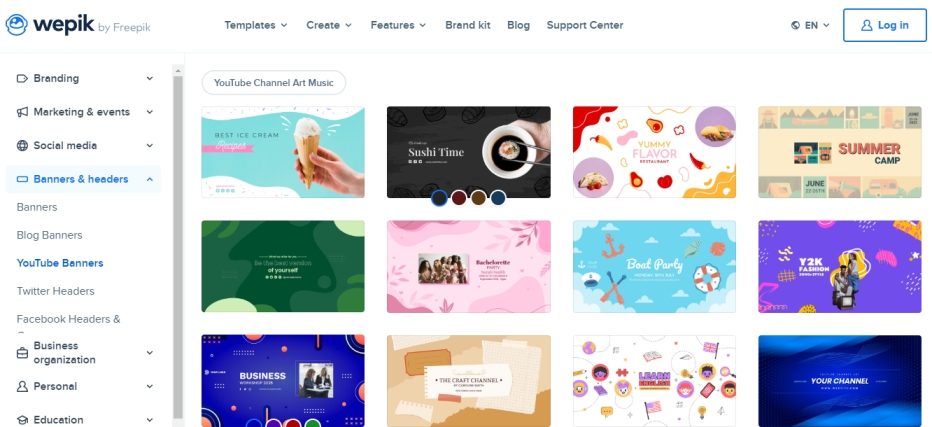 Wepik enables you to give your channel a unique visual identity, attract visitors, and eventually promote success online. YouTube banners come in various formats, from straightforward static pictures to animated, musical, and interactive content.
Key features:
Background remover
Brand kit
Mobile friendly
The banner's dimension also matters; there is no size or fixed shape as long as it sticks to YouTube's advised 16:9 aspect ratio.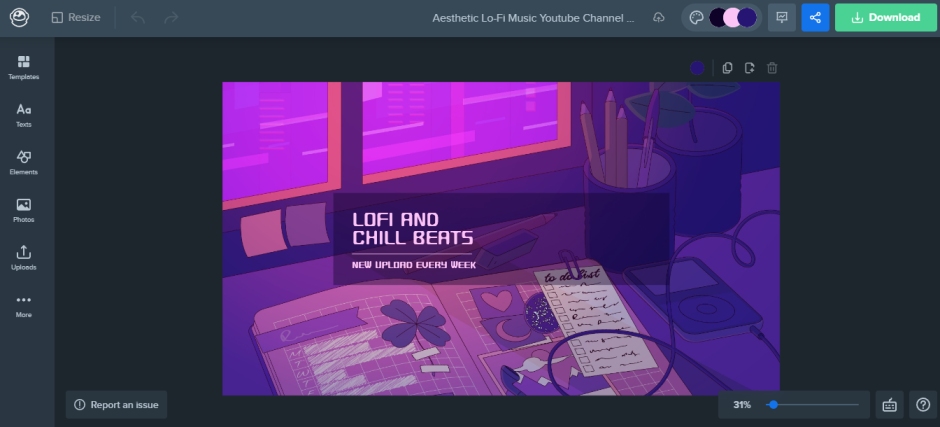 Different shapes, such as rectangles, squares, and custom sizes, increase user interaction and give the website a more classy look.
Finally, you can use design software like Wepik to make your design or modify pre-existing templates.
Visit: Wepik
Once you have your banner ready, look for streaming background ideas that help you when you stream online.
FAQs
What application is used for the YouTube banner?
Canva is excellent for those who want to design beautiful YouTube thumbnails and banners; also, it has additional features. It also has a capable free trial and premium edition and is a professional video and photo editor. Advanced tools are available in the premium edition to help you create original YouTube channel content.
Will any image size work for a YouTube banner?
Ensure that any portion of your picture that is necessary for the YouTube banner is 2560 * 1440 pixels. You don't wish anything on the YouTube channel to appear awkward because that could turn off prospective viewers.
How can I make my YouTube banner my own?
Hover over your profile picture on YouTube, scroll down, and select "Upload Banner Image" to modify the YouTube banner. Additionally, you can submit a new banner picture using the YouTube settings' customise channel feature.
How can I modify the Canva banner's size?
Click the "Resize" button in the menu area above the editor. Alternatively, you can select the icon, followed by Resize. Enter your dimensions or choose one of the standard design size options. Tap Resize to change the design's size.
Create Free YouTube Channel Banner Templates on These Websites
Well, there you have it! If you're looking to spruce up your YouTube channel with a new and eye-catching banner, there are plenty of websites out there that offer free templates to choose from.
Whether you're into gaming, beauty, music, or any other niche, you're sure to find something that suits your style and helps your channel stand out from the crowd.
So go ahead and try it – make the best YouTube Channel banner templates with so many options available for free with no watermark. There's no reason not to give your channel a little boost today!