Read this article to find out how to change Snapchat AI gender and learn how to do so. The following article shows on customizing the appearance of your AI, including clothing, hair, and skin tone. Learn how to change Snapchat AI gender by exploring related keywords like Snapchat AI bot and changing AI gender on your Android device.
Table of Contents
What Is Snapchat Actually Used For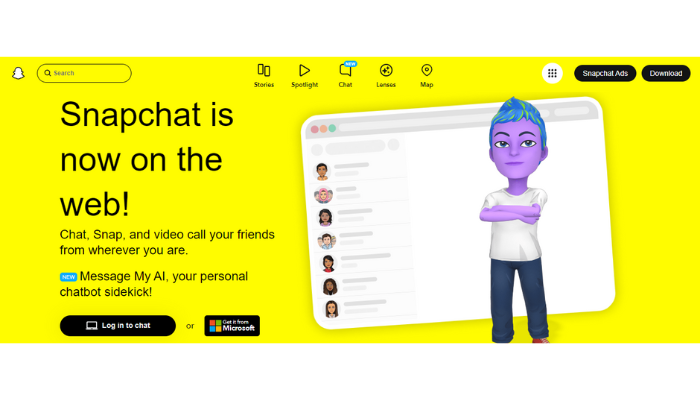 Snapchat is a popular software and messaging platform that was built in the USA. Its primary components comprise text and images, both of which remain viewable to recipients for a limited time before becoming inaccessible. Now, it's not just about photos anymore. They've added stories in the last 24 hours. Discover where businesses and people can show us short ads.
Following OpenAI Chatagapt's success, numerous competitors emerged in the field of AI chatbots. Snapchat My AI stands as a noteworthy contender among them.
Does Snapchat have an AI filter
Yes. Snapchat offers an AI filter capable of turning your face into an AI anime character. To access and use the Anime AI lens, follow these steps:
Hit the search icon of Snapchat to start searching.
To use the Anime filter, enter "Anime AI" and hit it.
Touch the screen while aiming the camera at your face.
Does Snapchat AI Filter Gender Accurate
In spite of its impressive results, Snapchat's AI gender filter is primarily an entertainment feature. Depending on factors like features of the face and lighting conditions, the transformation can be inaccurate.
A Quick Guide on How to Change Snapchat AI Gender
Here's a quick guide to changing Snapchat AI gender.
Go to My AI Friendship.
Click on Bitmoji.
Customize your avatar by clicking Avatar.
Save your changes.
Click Outfit to customize your clothing.
Full Guide on How to Change Snapchat AI Gender
The question is how to change Snapchat AI gender? While selecting a precise gender for the Bitmoji is not possible, you have the flexibility to personalize its appearance by choosing from a range of female or male clothing, hairstyles, and facial feature options to create a more feminine or masculine look. Another option is to design a particular impression for the Bitmoji by experimenting with vibrant skin tones and hair colors, giving it an alien-like appearance. Here's a step-by-step guide:
Open the My AI Friendship Profile.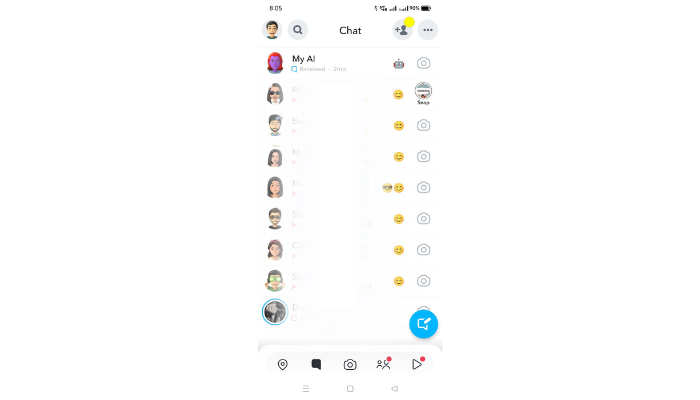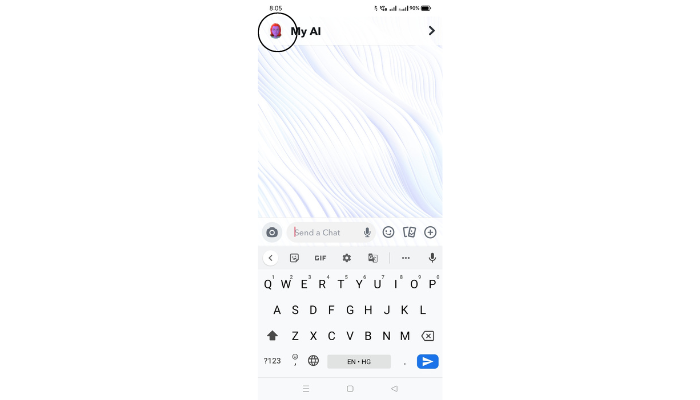 Choose the "Avatar" button, then customize the way it looks to your taste.
To modify your clothing, select the "Outfit" button.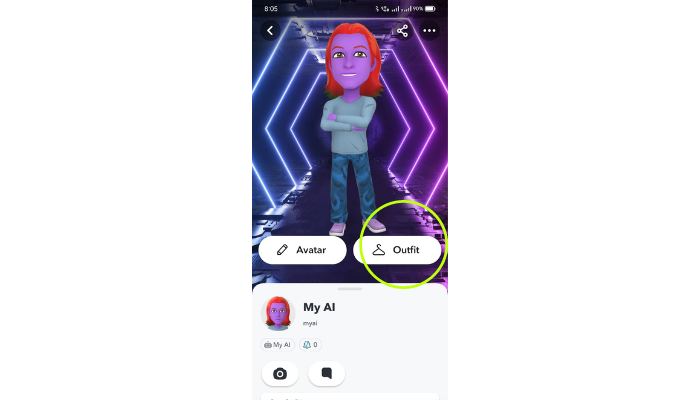 How to Customize Snapchat AI
Customize the Snapchat AI so that it behaves and looks like you. Following are steps to take:
Visit the My AI chat on Snapchat by opening the app.
Tap the profile symbol.
Click the "Customize."
You can modify the following from here:
Avatar: The clothing, eyes, hair, skin tone, and gender of the avatar are all customizable.
Personality: You can select the personality qualities of the avatar, such as they are humorous, imaginative, or helpful.
Interests: The interests of the avatar can be chosen, such as sports, movies, or music.
How to Clear My AI Chat History & Delete AI
When you delete all your interactions with the AI and any data it may have collected about you by following these steps:
Then, hit the Setting option.
Click "Clear My AI Data" after scrolling downward.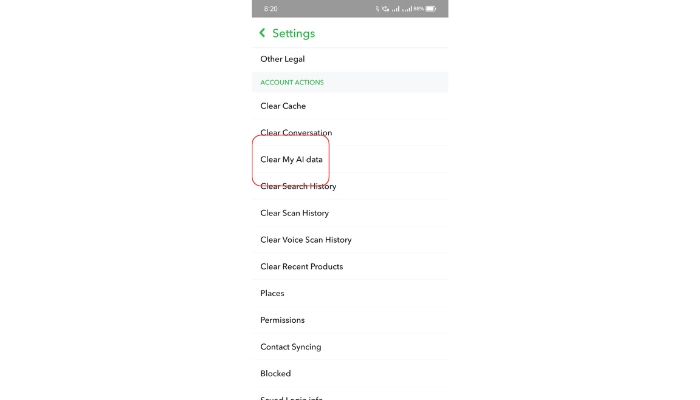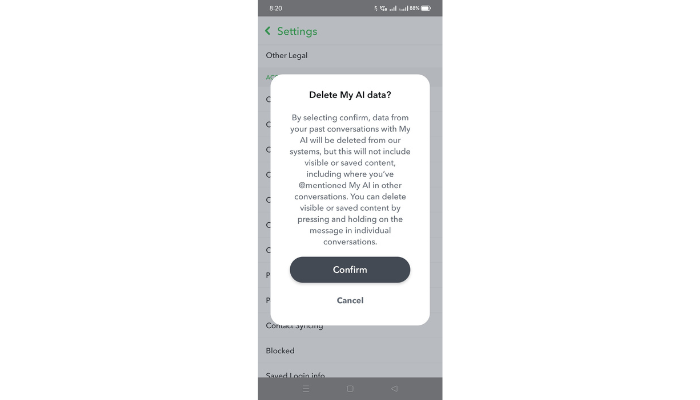 This will allow you to remove the Snapchat AI from your account completely by following these steps.
Visit the Snapchat app.
On the screen's upper left corner, tap the Bitmoji you want to use.
Tap the setting option.
Click "Account Actions" after scrolling down.
When prompted, select "Delete My AI" and give your confirmation.
Snapchat AI Gender Key Features
You can modify the hairstyle, face tone, and clothing of your AI.
Your AI's gender and look will change.
As often as you like, you can alter the gender of your AI.
How to Rename Your AI on Snapchat
Personalized chatbots can have names that reflect their personalities. Following are steps to take:
Open your My AI Friendship Profile.
Tap the "My AI."
You can change your nickname in the box that will appear.
Select the name you prefer, then hit "Save."
Snapchat My AI Step-By-Step Guide for Phone
Once you open Snapchat, swipe right from the camera screen.
On the conversation list, tap "My AI".
Start your conversation.
By clicking the "+" icon, you can add to your group chat and select "My AI."
Choose Privacy Control < Clear Data to delete a communication with My AI.
Confirm "Clear My AI Data".
How to Use My AI on Snapchat
Just start a discussion with another buddy to use My AI.
After that, you are free to discuss whatever is on your mind. As a human, my AI can speak on a variety of topics as a person does. Getting information for your schoolwork or requesting dinner suggestions can be done through the chatbot.
As with any other user, My AI can be added to your group chats. Like true friends, My AI learns more about you with each face and evolves its responses to be more useful over time.
You are able to delete any discussion you have by navigating to Settings < Privacy Controls < Clear Data < Clear My AI Data.
Why Change Your Snapchat AI Gender
In My AI, you can modify your gender, but you can also customize how it represents your real self. Why it works is as follows:
Appropriate representation: Your Snaps will always reach those who need them and be customized to their tastes.
Excellent Interactions: When your My AI effectively captures, it makes connecting with people more meaningful and promotes genuine connections.
Individuality and Self-determination: By customizing the AI gender, you can accept your individuality and express yourself freely.
Who Developed Snapchat and Why
Reggie Brown, Bobby Murphy, and Evan Spiegel founded Snapchat while students at Stanford University. Additionally, this social network highlights user engagement, virtual stickers, and natural objects in a mobile-first approach. 293 million Snapchat users were active as of 2021, a 23% increase from last year. Every day, over 4 billion people use and send snaps. There are many privacy concerns raised by this platform, especially among people under 16 years of age.
FAQs
Can I change Snapchat AI avatar?
Yes, it's true that you can customize the AI avatar. The steps are as follows:
Head to My AI Friendship Profile < 3D Bitmoji heading
To change the Bitmoji's appearance, tap Avatar. Click Save.
Choose 'Outfit' to explore clothing for your Bitmoji.
How do you get rid of Snapchat AI?
Snapchat AI can chat and answer questions. If you are not fond of it, you have the option to delete it from unpin it or the chat feed from the settings. You must pay $4/month for a Snapchat+ subscription in order to achieve that.
Is Snapchat AI safe?
It acts as if it is a friend and is a practical chatbot on Snapchat. It uses the technology of OpenAI and has been trained on a variety of books. Teenagers can not always feel safe using it though because it sometimes results in improper, incorrect, or destructive reactions.
How do you get my AI on Snapchat?
The My AI chatbot offers a variety of functions, including chatting with you, answering questions, and generating content. Update the Snapchat app, hit the My AI chat, and then swipe right. My AI chat is now available on Snapchat.
What devices support the Snapchat AI gender filter?
Most Android devices and iOS support AI gender filtering. For this feature to be accessible, Snapchat's latest app version is required.
Do Snapchat filters work on two people?
Yes. The Snapchat AI gender filter is capable of analyzing and changing many faces in a single image. Just make sure that every face is visible and placed correctly throughout the camera's field of view.
Conclusion
To sum up, this blog has offered a simple and quick on how to change Snapchat AI gender. You can change your appearance in a few easy steps, including your skin tone, hair color, and attire. The chatbot you create with a little dedication can be almost identical to you. Feel free to customize your Artificial Intelligence to give it an amazing touch that remembers your nature!
Many people want to remove My AI on Snapchat. We discussed how to get rid of My AI on Snapchat in our previous article. You can check.
The following YouTube video tutorial will explain how to change Snapchat AI gender as well.